We noticed that ever since Hostinger reduced their prices, many users are closing their accounts with Liquid Web.
Liquid Web is a superb hosting provider in many respects. However, since it focuses on medium to large organizations, it's certainly not the best host for everyone's needs. In
Liquid Web
's efforts to provide more tech-savvy clients with the functionality they need, beginners seem to have been left behind. This means if you're new to hosting, it can be much harder and more time-consuming to complete simple tasks like connecting your domain. If this sounds familiar to you, then you might be better off with a host such as
GoDaddy
or
Flywheel
, which both provide custom dashboards that are far more accessible. Let's take a look at Liquid Web's cancellation process.
Cancellation and Refund
Unfortunately, Liquid Web doesn't offer any money back guarantees for its managed WordPress hosting.
In fact, it only offers refunds for Cloud VPS plans. Even then, this is just a prorated refund
according to how many days are left on your current billing period. You won't find a button you can click to cancel your account and get a refund. Instead, you'll need to submit a cancellation/non-renewal ticket via your account management dashboard: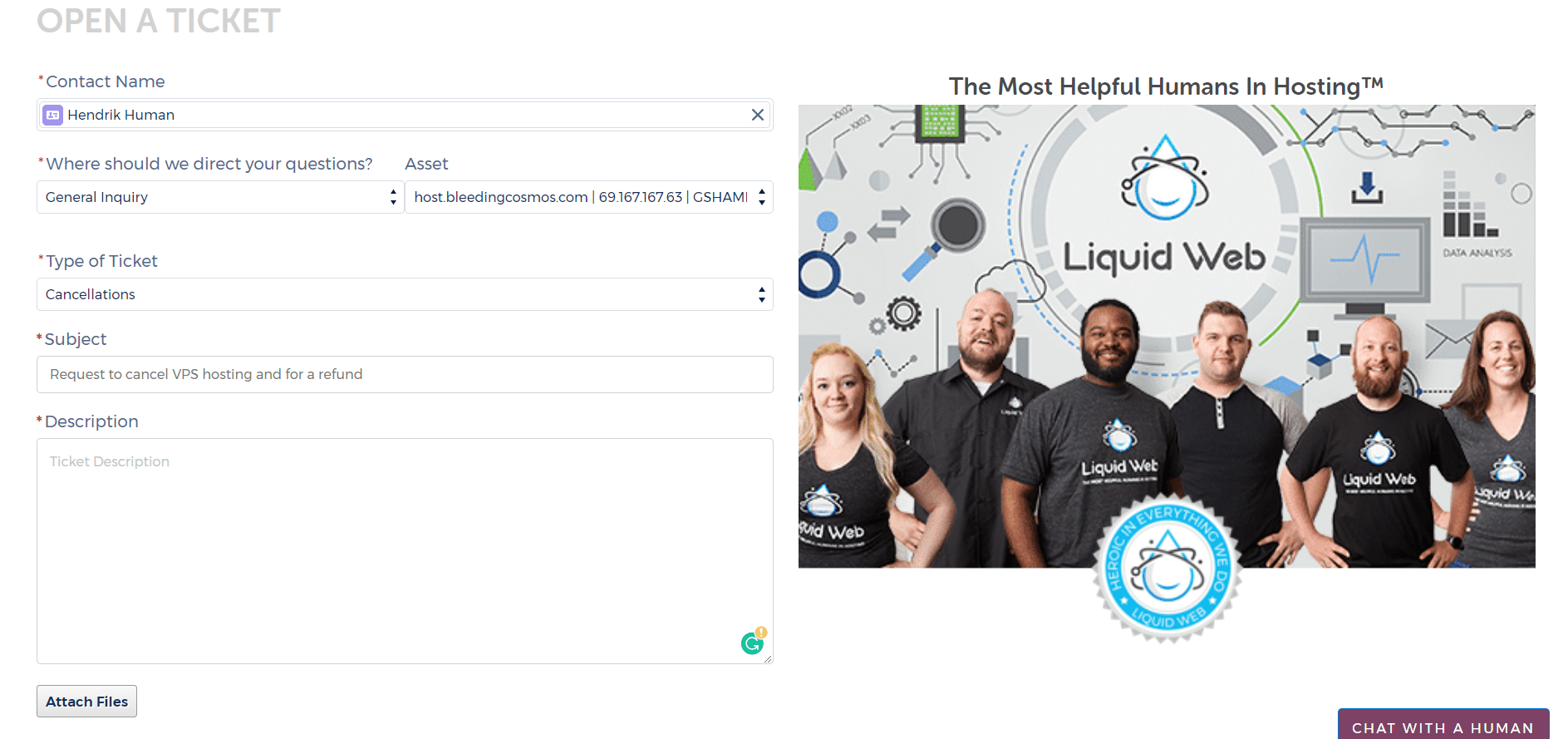 After submitting my cancellation request, I got a reply in about two minutes. However, this email was just to inform me that my request would be forwarded to the appropriate team, who'd then give me the steps forward: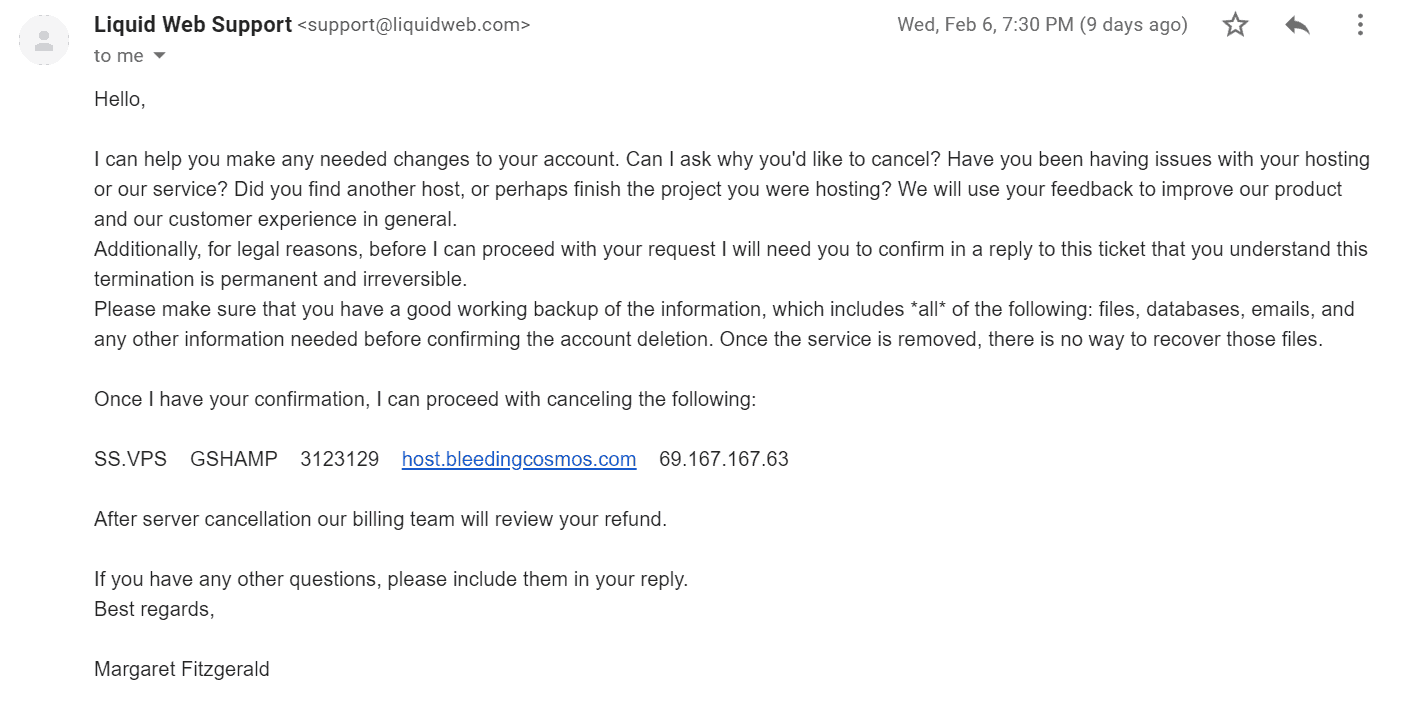 About two hours later, I got another email. In this one, the agent asked me a number of questions regarding why I canceled. Answering these questions is optional,
but you'll need to confirm that you understand you'll lose access to your account
. A couple of hours after responding, I received two more emails. The first confirmed that my account would be canceled, and the second one stated, yet again, that my refund request would be forwarded to the billing department.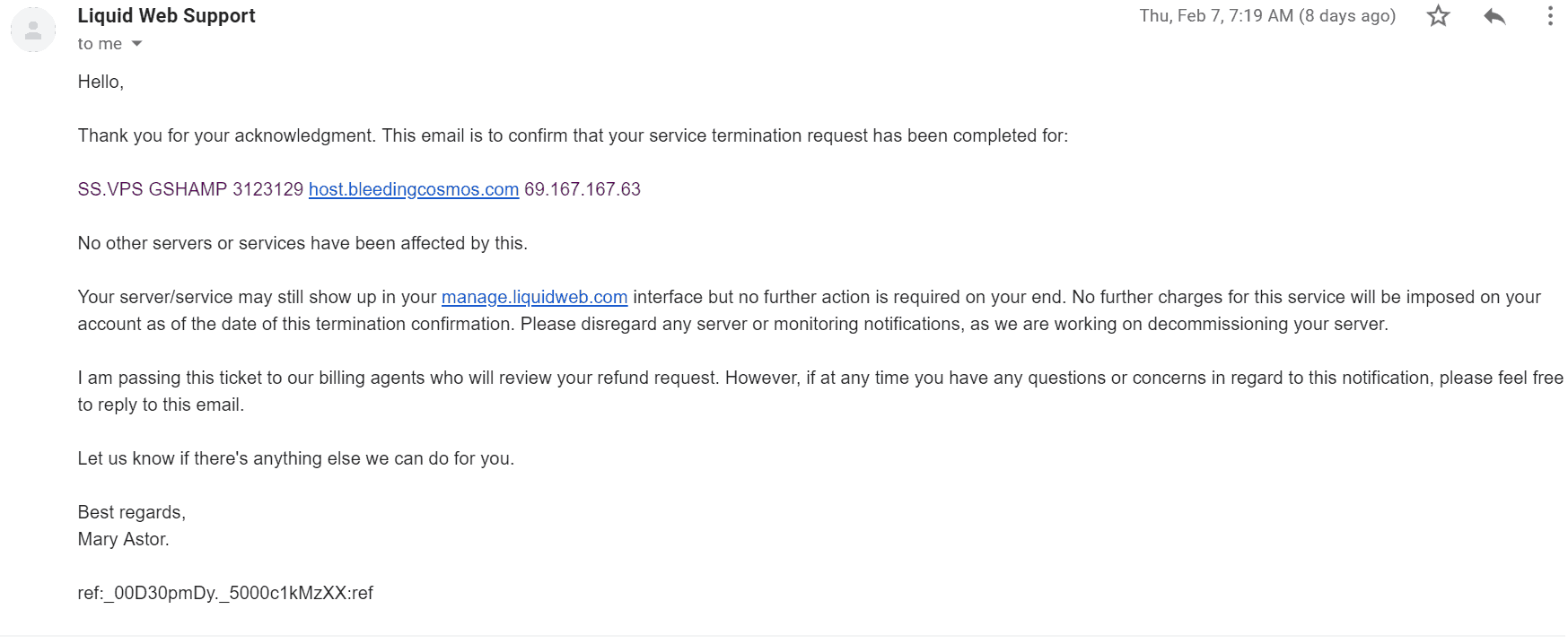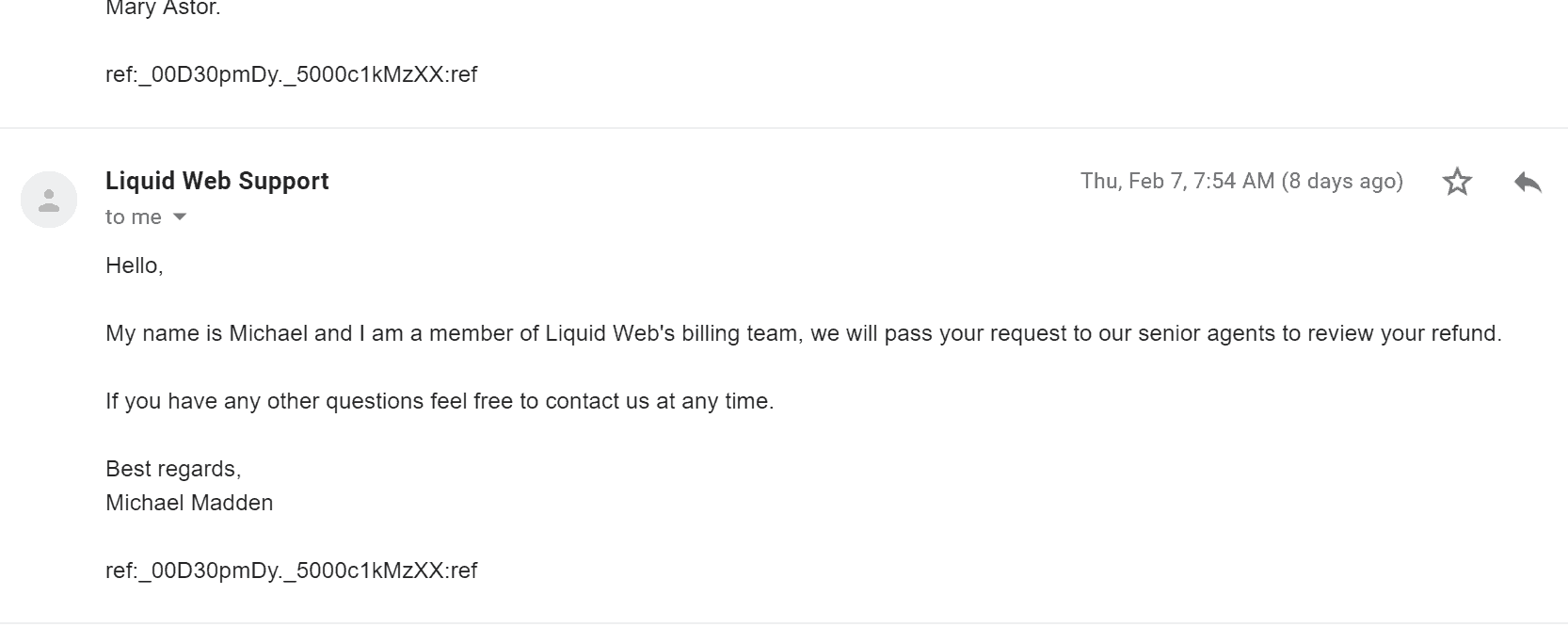 Seven hours later, I received this receipt. It basically indicates that $1.25 was reserved for the time I actually used my Liquid Web hosting and that I'd been refunded $58.85 on a prorated basis: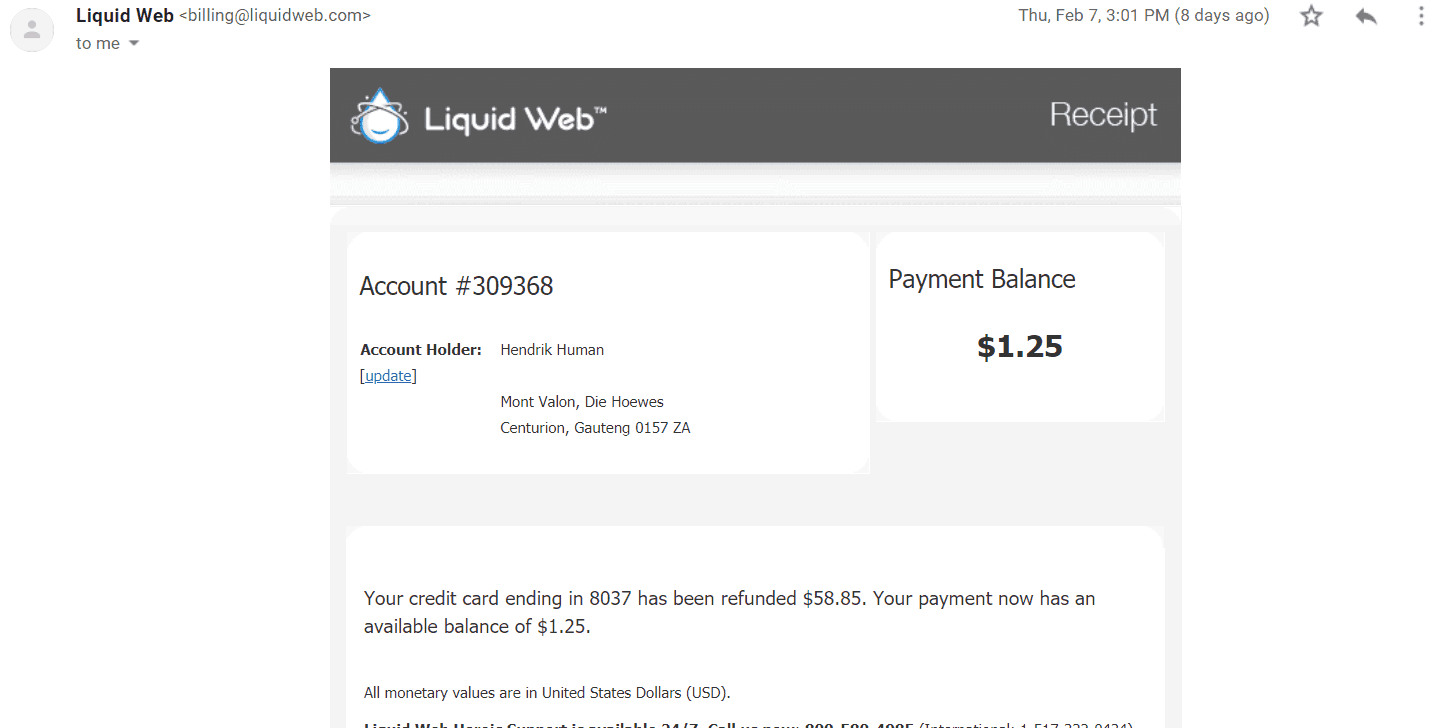 I also received a final email confirming the refund and asking if I had any further questions: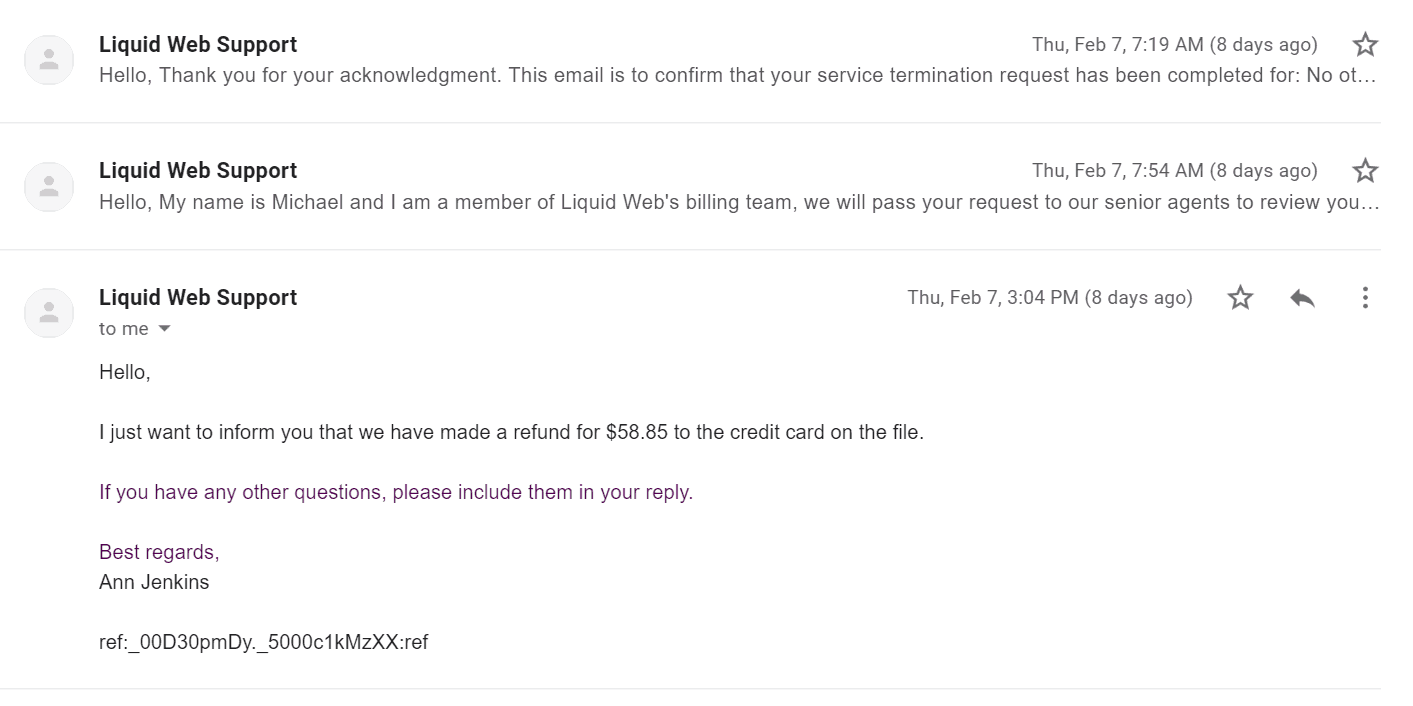 The next day, the money was back in my account. Usually, it takes at least two days for hosts to refund your money, so this was quite impressive for Liquid Web. Since the refund amount was more than I'd expected, I asked them how it had been calculated.
They replied to this email within five hours, which I appreciated, considering many other hosts will ignore you once you've left
: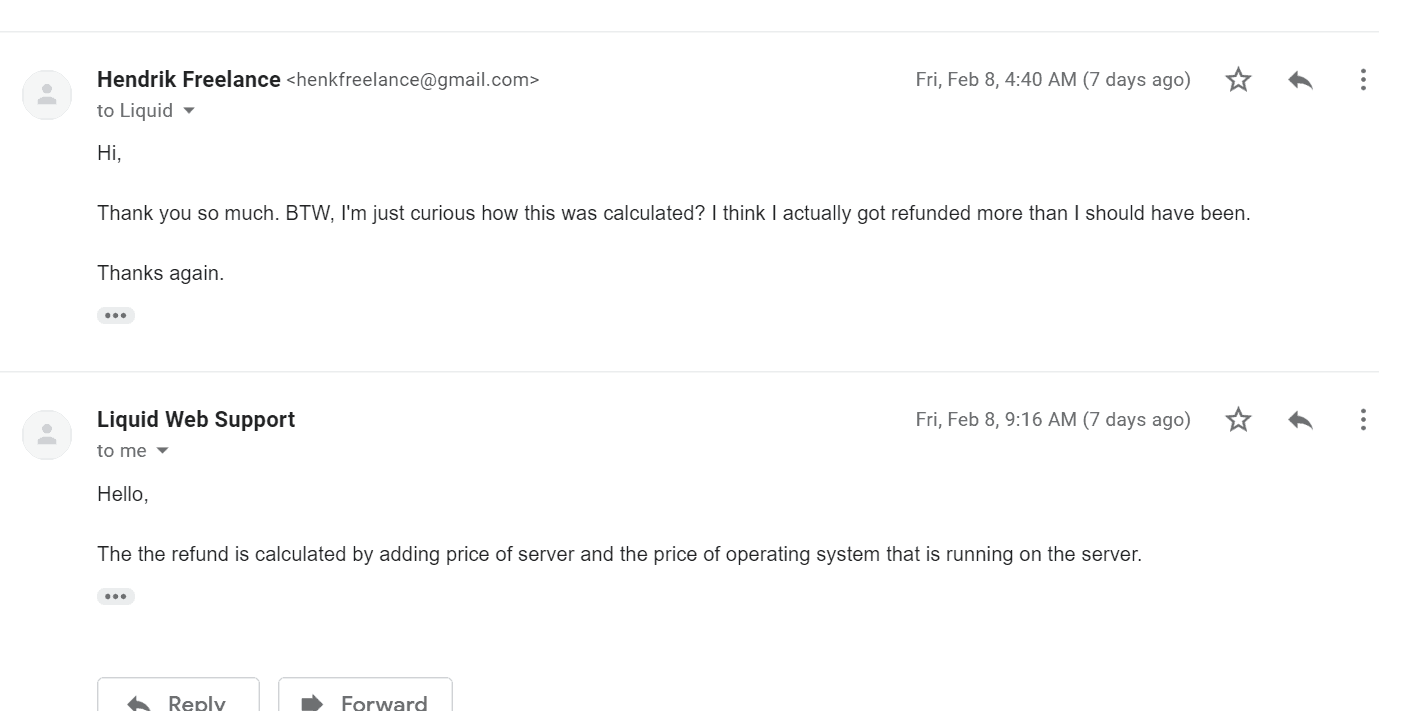 A Tedious but Reliable Refund Process
In total, I received eight emails from Liquid Web and had to send many in response as well. Although they didn't make things difficult,
it was definitely a lot more long-winded than most refund processes I've tested
. The entire process took a little under two days. However, to be fair to Liquid Web, it's not exactly a straightforward refund, as they need to manually review your account to calculate the prorated amount. Stil, I fail to see how it would be possible to resolve your cancellation and refund within the same day unless you initiate the process early, belong to the U.S., and experience some luck. Therefore, it appears once more that if you are in a rush, Liquid Web might not be the most suitable option.
That said, they were respectful during the entire process and did provide a refund in the end
. It was also more money than I'd expected, which tells me that they don't try and count pennies. If you're looking for an overall quicker and more beginner-friendly host, then
Flywheel
 is a fantastic option for organizations or multi-site hosting needs. Considering that the refund is only prorated and that it's a bit harder to get, you'll also want to make sure Liquid Web is the best option for you before you pay anything. My detailed
Liquid Web review
should help you make that decision.