We noticed that ever since Hostinger reduced their prices, many users are closing their accounts with Flywheel.
Perhaps the developer-focused Flywheel was starting to get just a bit too expensive. Or maybe you're a power user who prefers the flexibility and features offered by cPanel. Or maybe you just like keeping your options open. Whatever your reason for wanting to cancel your Flywheel account, in the following guide I'll walk you through the entire process and see how easy it is to get a refund. If you're canceling your Flywheel account because you're not a fan of the custom WordPress management panel,
InMotion Hosting
is a great alternative with cPanel WordPress hosting. If you're reading this because you haven't made up your mind about Flywheel just yet, check out my full
Flywheel review
to get an in-depth look at the platform.
Cancellation and Refund Step-by-Step
Flywheel offers a
no-questions-asked money-back guarantee
for all its hosting plans. Note that if you're on a monthly plan, you only have three days to cancel and make the refund request. If you're on an annual contract, you get an entire month. The same goes for any add-ons you've purchased, such as a CDN. To cancel your account, go to your dashboard and then to the
Billing
tab. Under the ellipse, there will be a drop-down menu with the
Cancel subscription
option.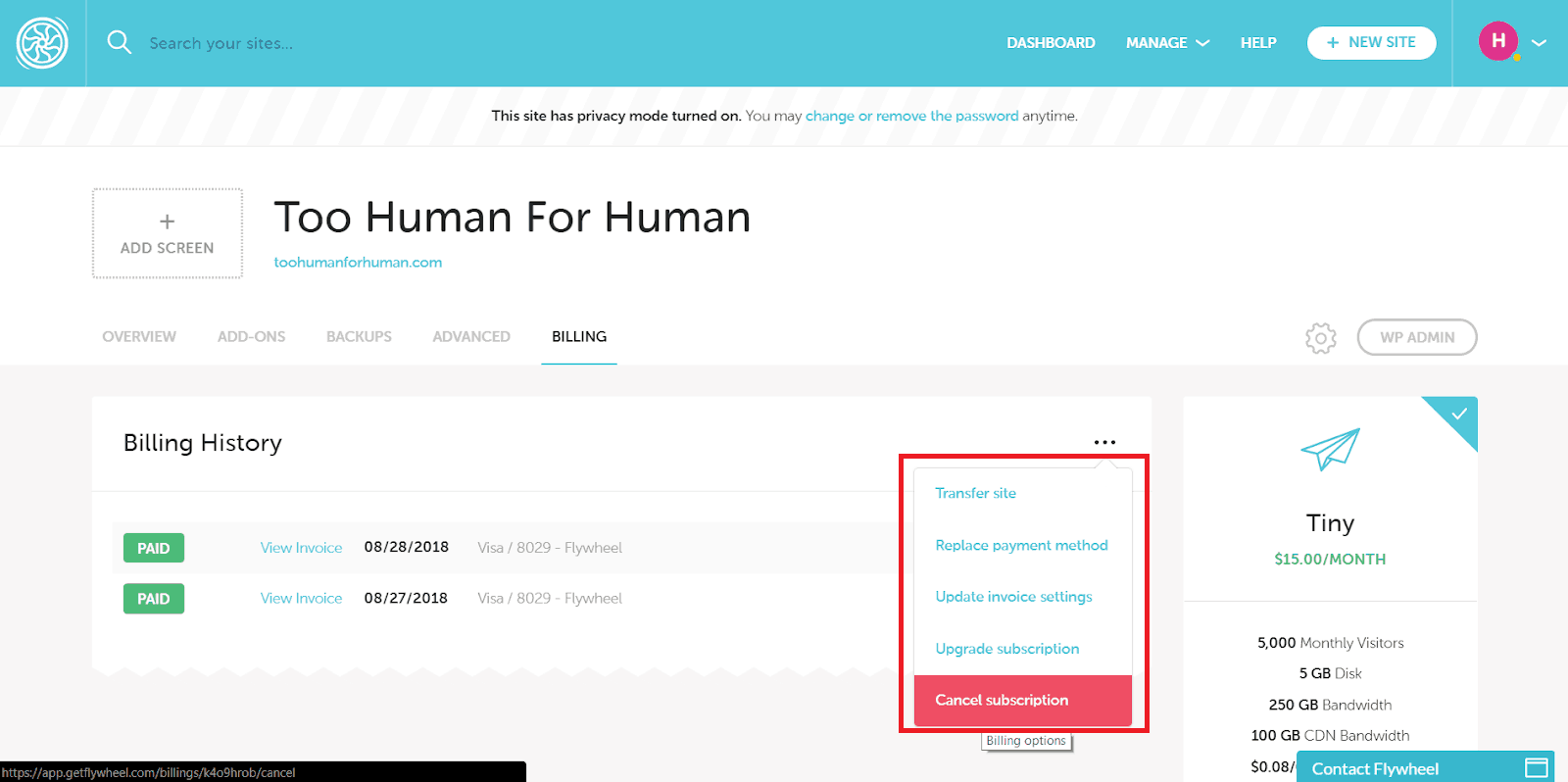 After clicking on
Cancel subscription
, you just need to fill out the following form. There are only five fields to complete, including putting in your password for security reasons. The text box with
Additional comments or suggestions
is compulsory, but you won't get any follow-up calls about your feedback as Flywheel has a "no questions asked" cancellation policy.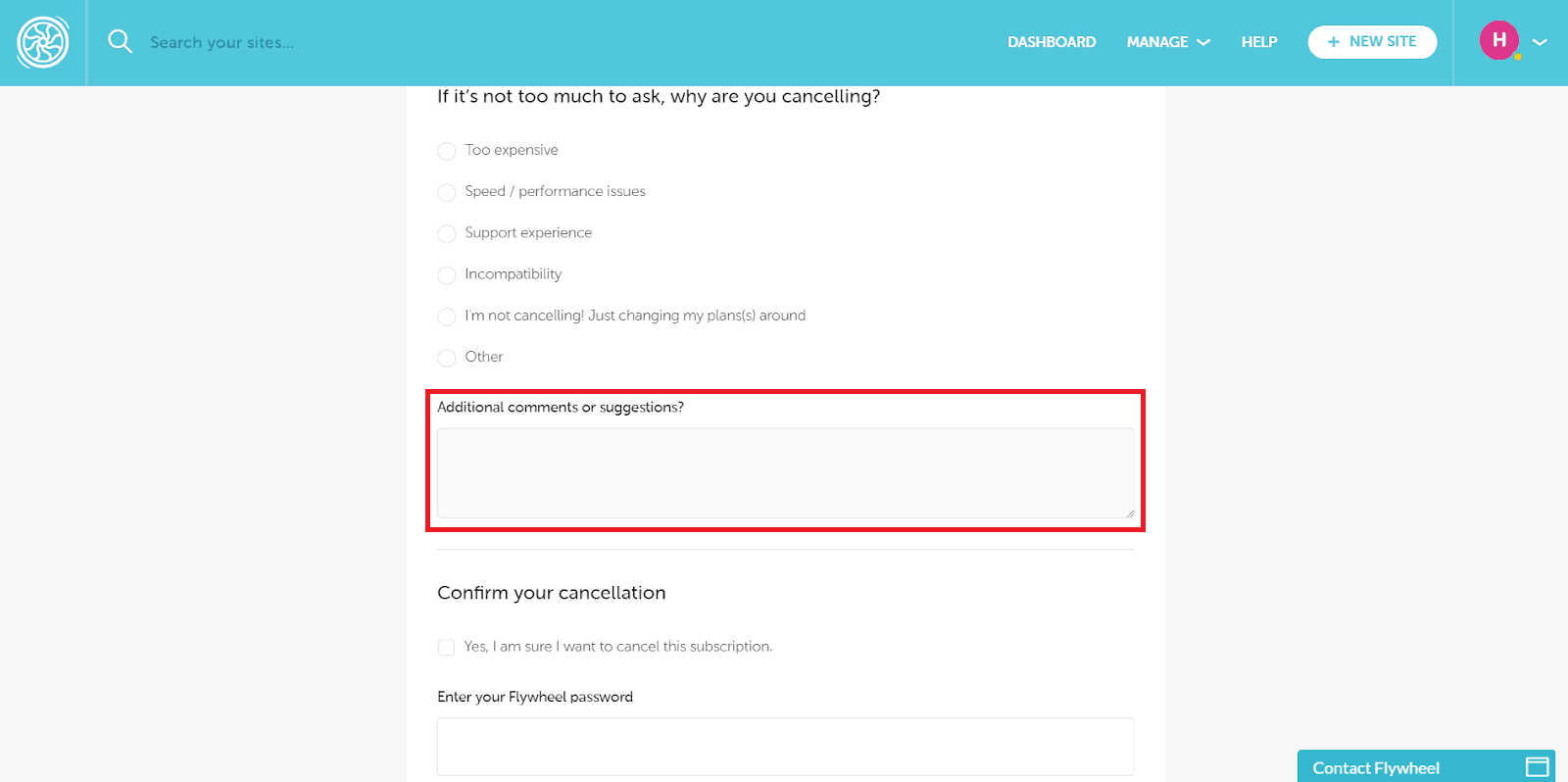 After you've canceled your plan, there'll be a countdown on your dashboard marking the number of days you'll still have access to your site. This is a nice feature to make sure you're always aware of how much time you have left so that you can make the proper arrangements.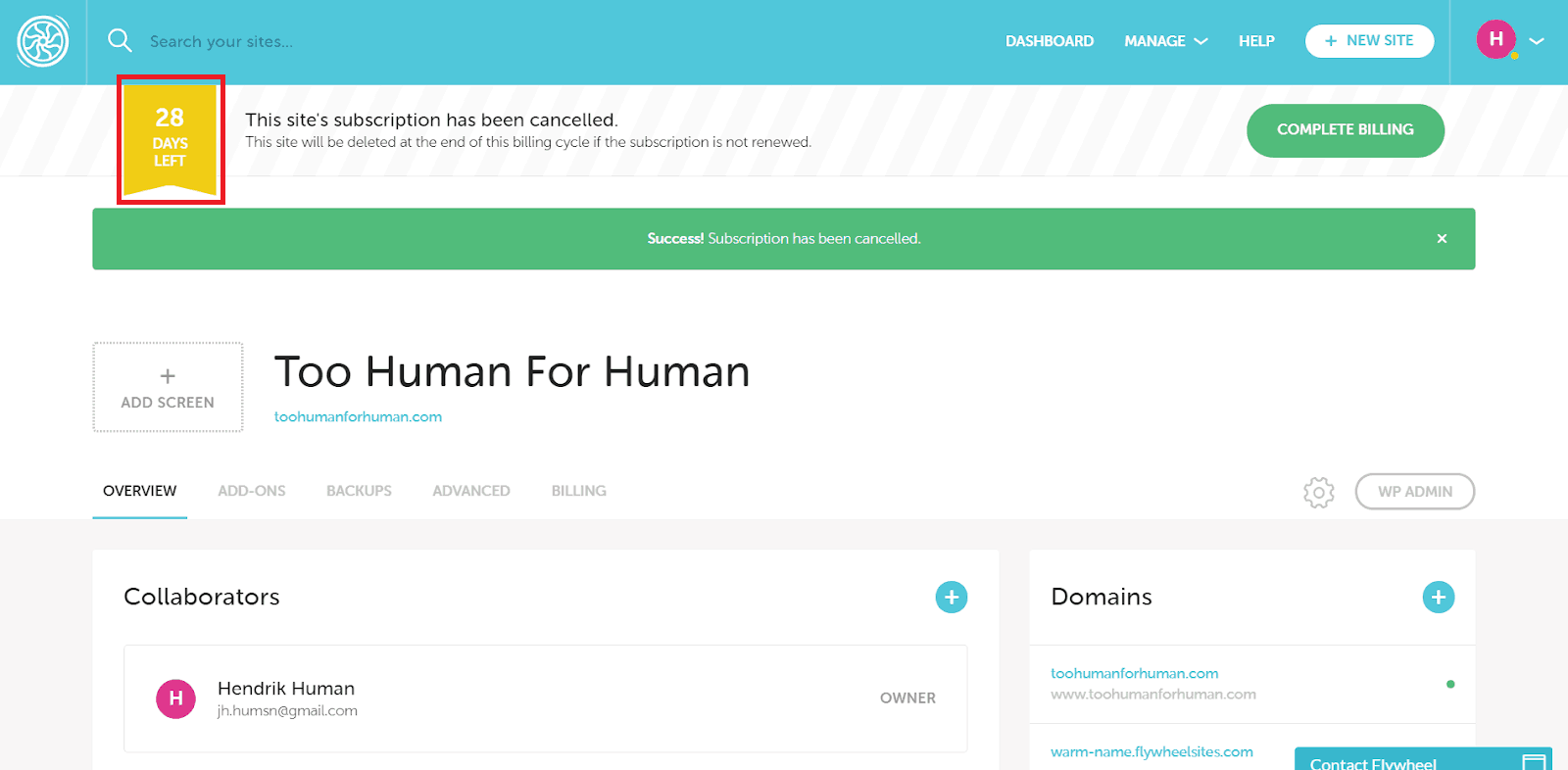 You'll also receive this final email confirmation. It will tell you to email the billing team with any further questions: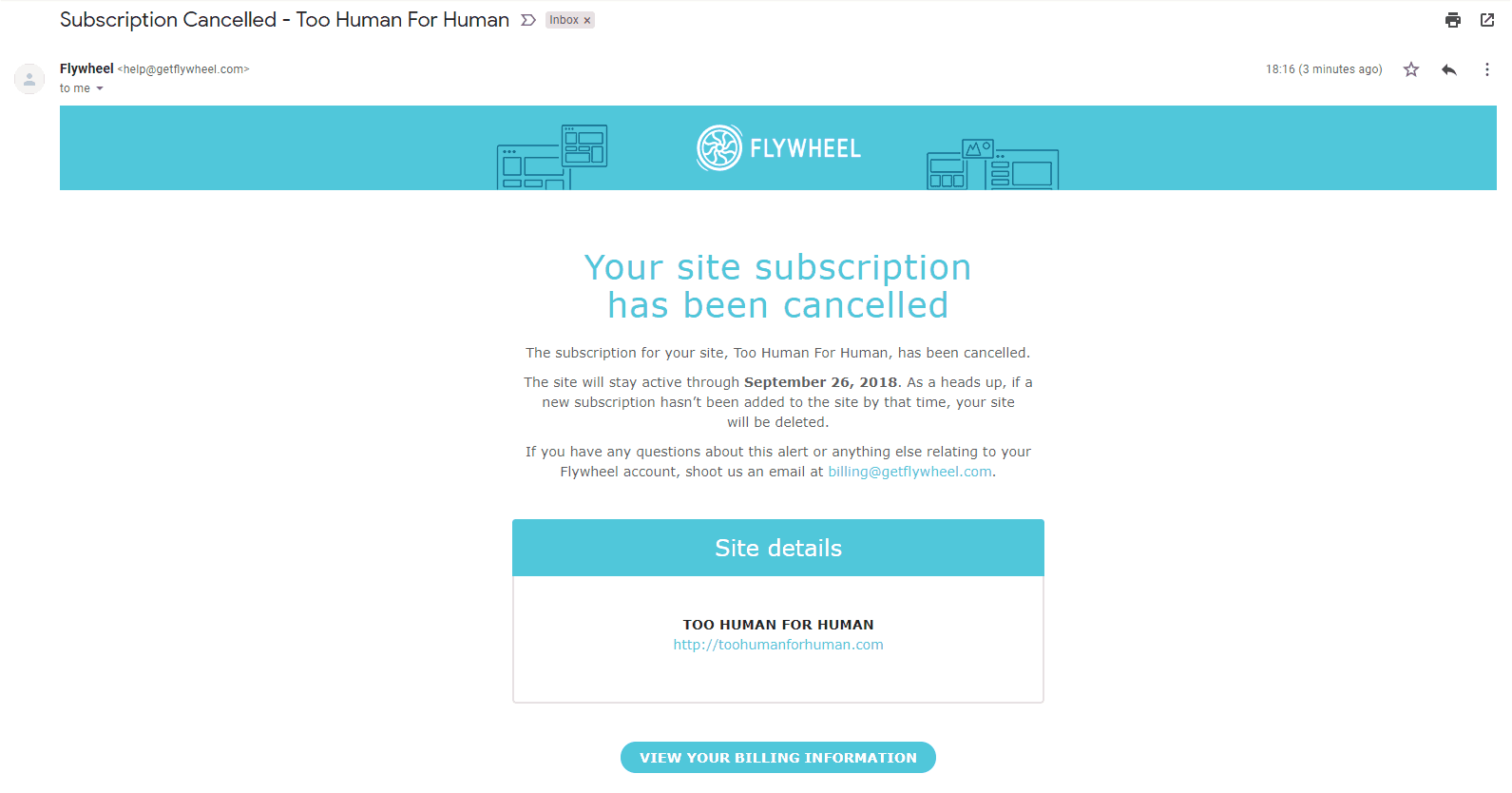 I wasn't clear on how the refund works, since the information in the documentation is minimal
. So, I took the opportunity to try out Flywheel's ticket support for the last time and see whether the company would use any delay tactics to lock me out of the refund period. To their credit, they replied within five minutes: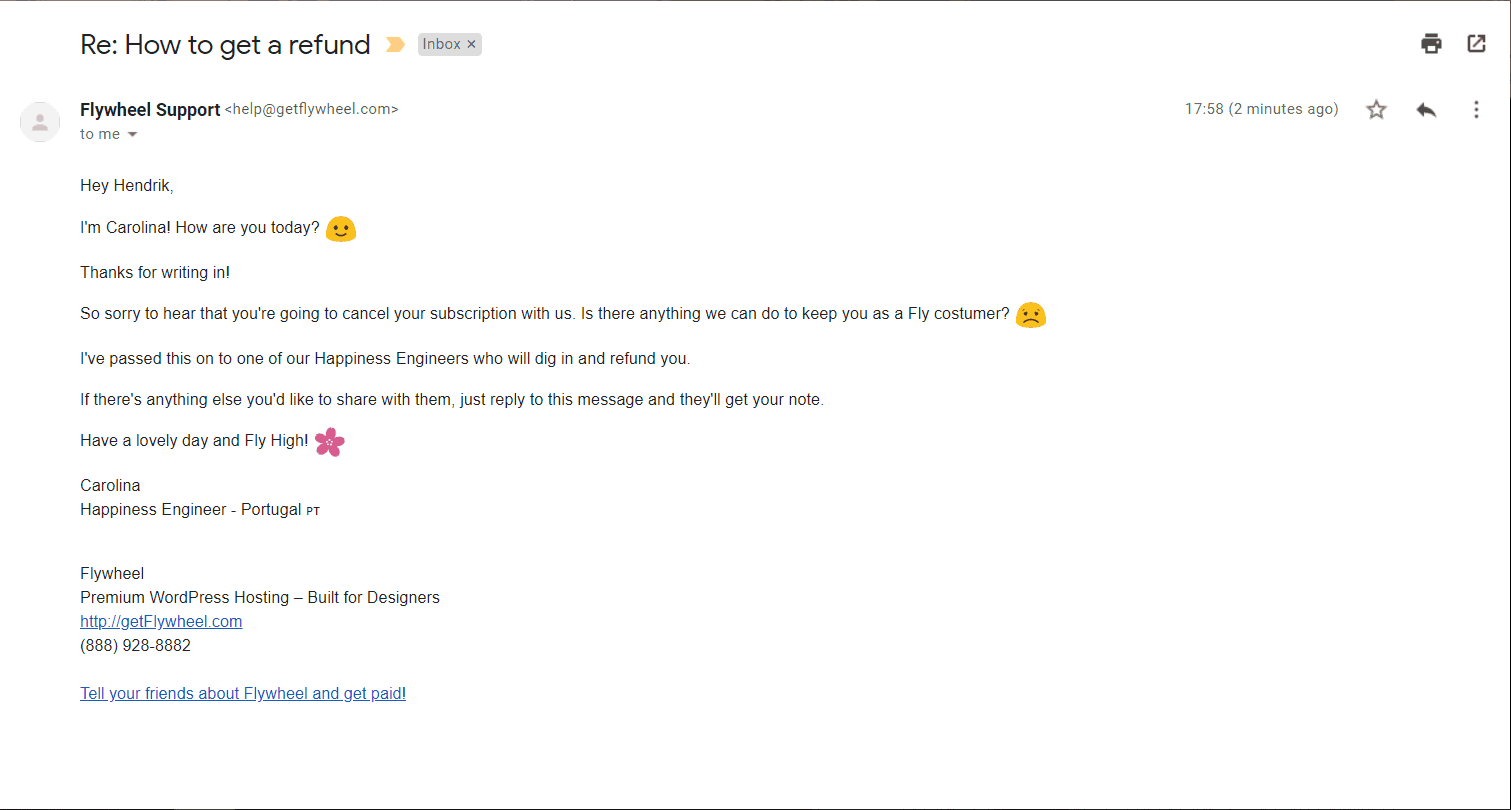 As you can see, there was neither guilt-tripping nor any awkward questions that I was obliged to answer. The representative had already forwarded the refund request on my behalf and told me to use this thread to check on the progress. Later that same day, they emailed me to make sure I understood that applying for the refund meant losing my website: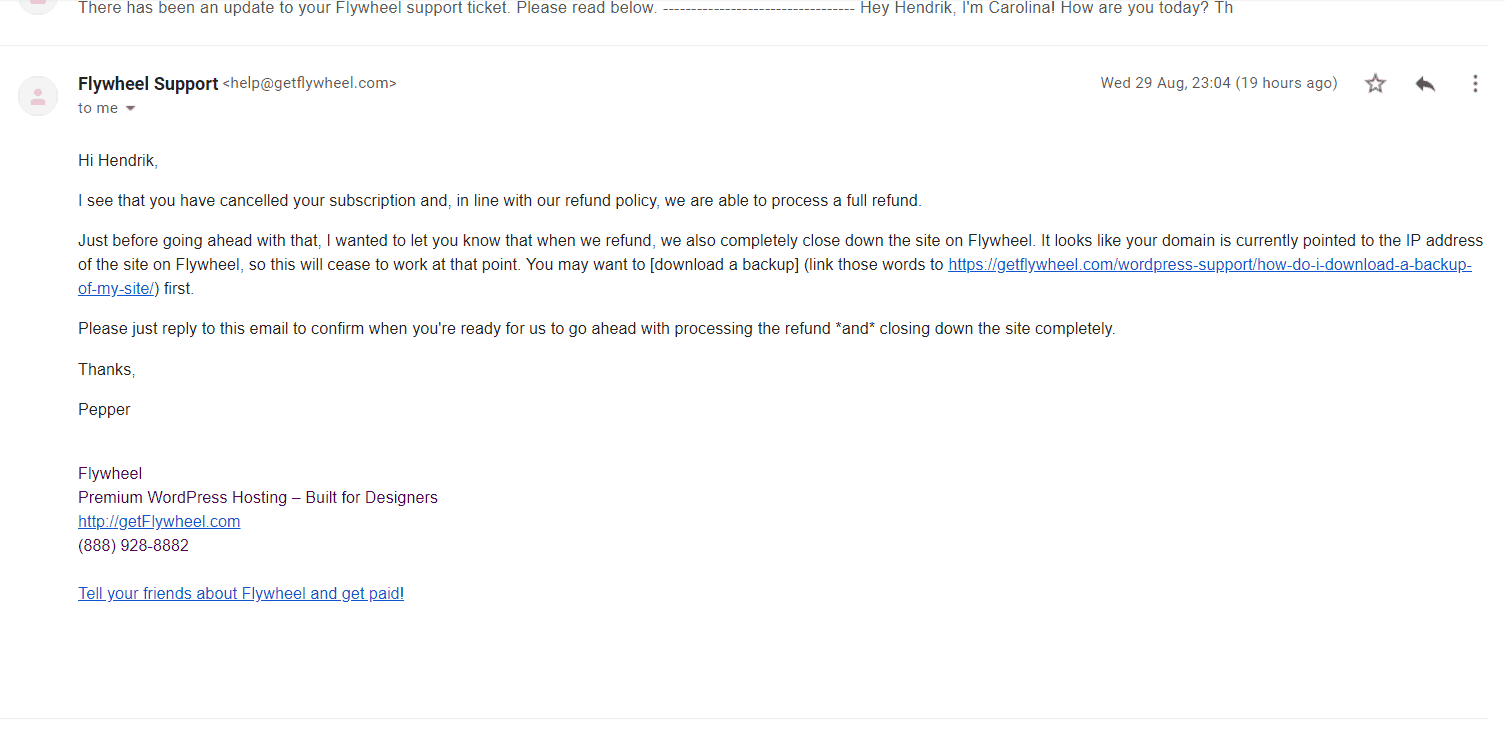 The next day, I got this final email from Flywheel's billing team letting me know that they had processed the refund and that my website was being shut down: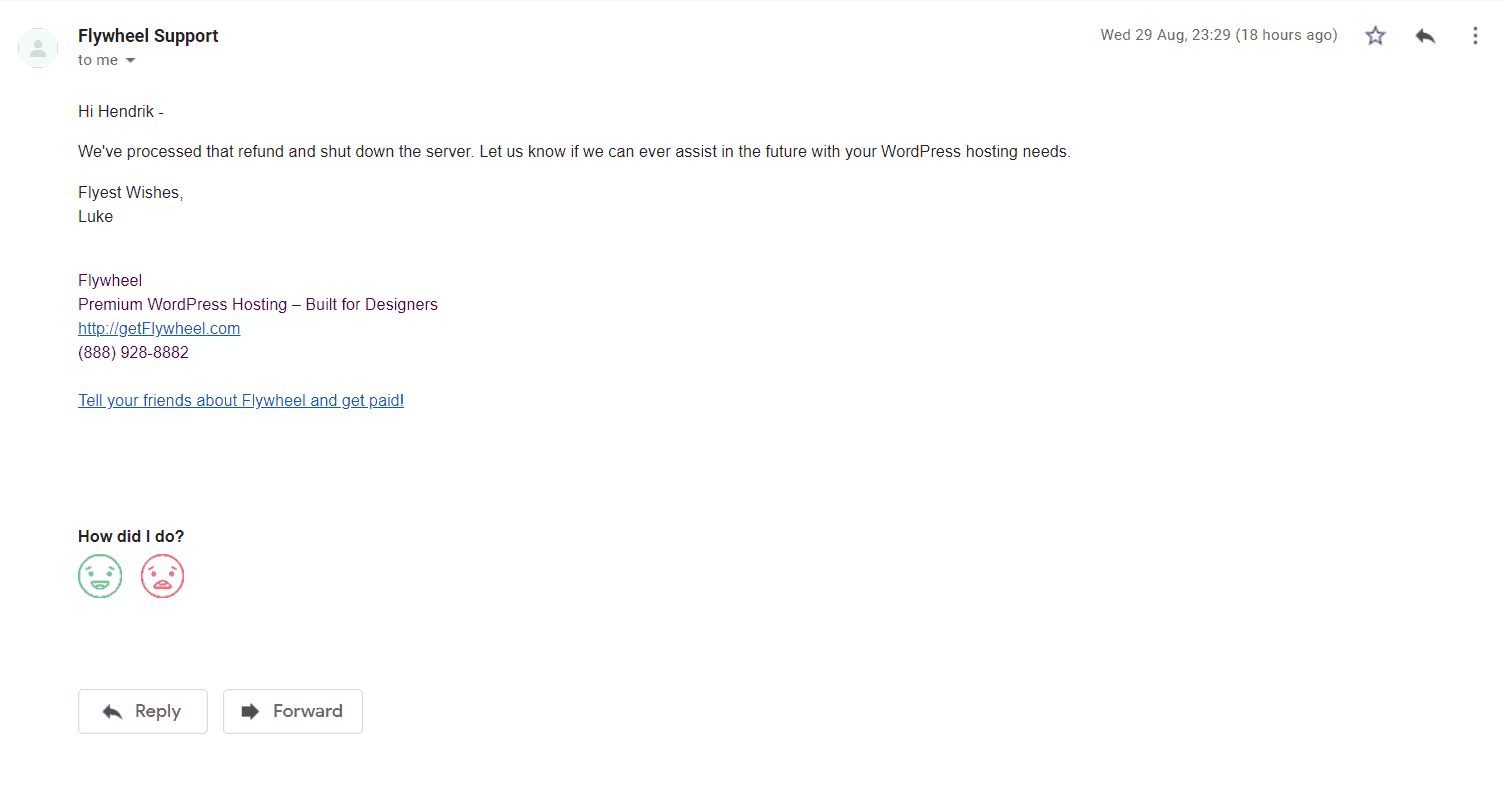 I also got the following notice that I would be receiving a refund for my hosting plan: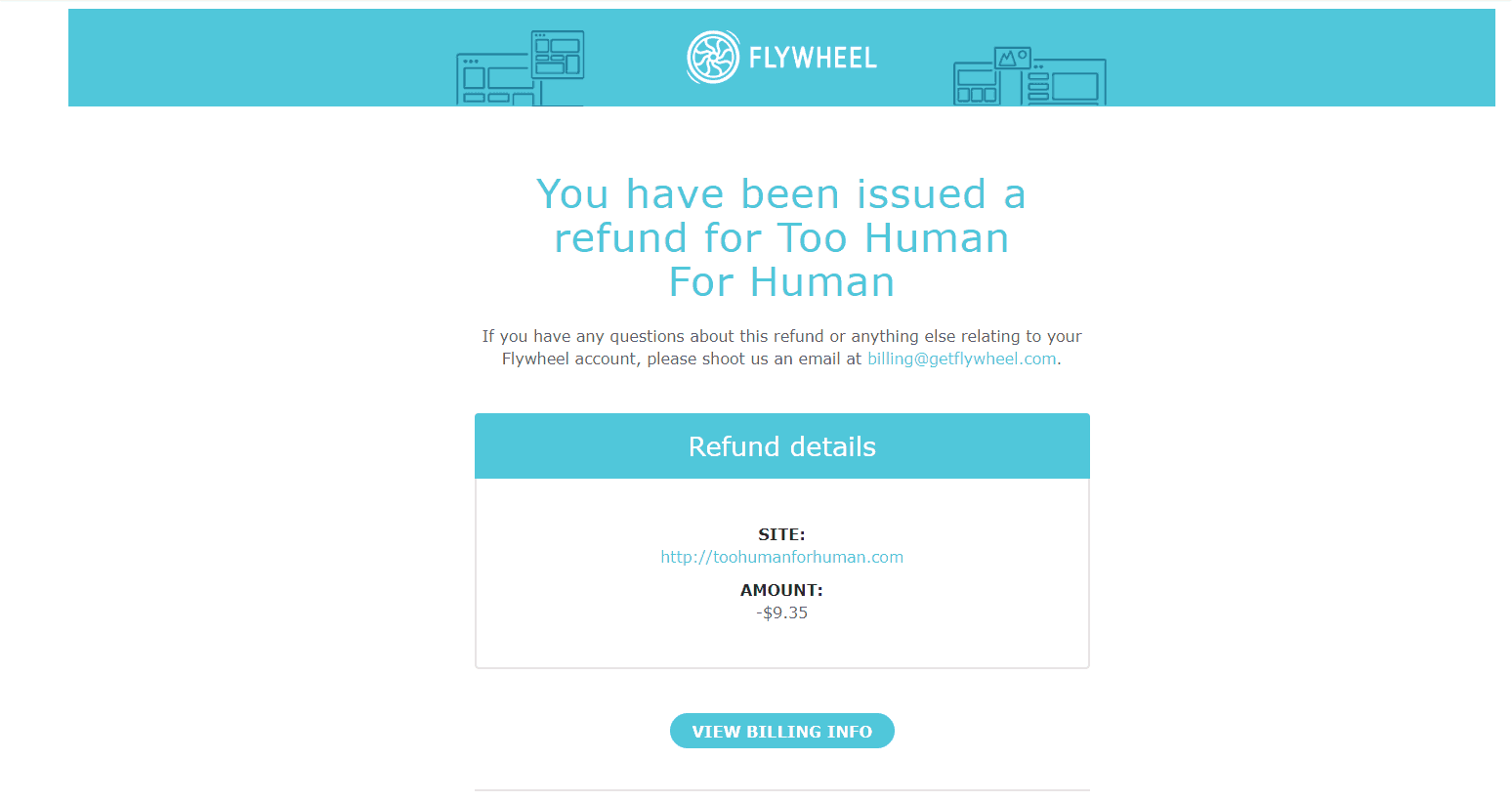 I'd actually completely forgotten about my CDN subscription. Luckily, Flywheel automatically assumed that I required a refund for it (which I didn't expect to get) and I was pleasantly surprised to see the email notice that it too would be refunded: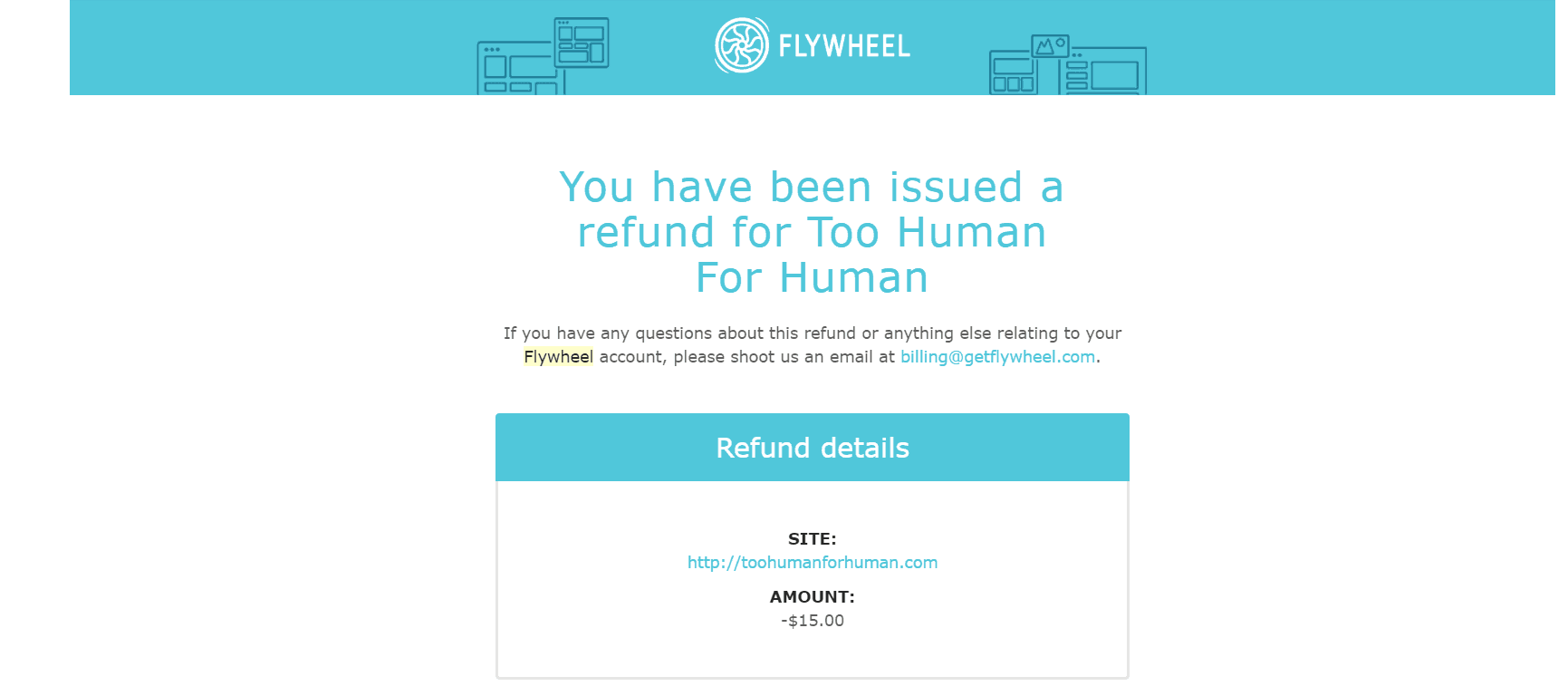 It wasn't even 36 hours later that I had the refunds for both my hosting plan and the CDN subscription back in my bank account!
Easy, Quick, and Guilt-Free Refunds
In total, I probably spent less than five minutes on the entire process. What's more, I could cancel my plan directly from the dashboard and was never obligated to speak with the support staff. On top of that, the support staff were friendly and accommodating without ever using any guilt-trip tactics or trying to convince me to buy anything else. Considering my overwhelmingly positive experience using the Flywheel platform and the amazing customer support, I had high expectations.
Flywheel delivered
. That said, if you found that Flywheel isn't for you,
GoDaddy
is an excellent option if you're looking for an even more beginner-friendly host. However, GoDaddy's refund process is not quite as pleasant. It might also be that you prefer a cPanel hosting environment that provides even more features and control than the custom Flywheel interface. If this is the case, you'll want to give the affordable
InMotion Hosting
a try, as they have equally superb support staff. The way Flywheel handles cancellations and refunds is certainly a good reason to sign up. If you want the full picture to truly know whether this is the host for you, read my in-depth
Flywheel review
.