Maintaining a blog is an essential digital marketing strategy in the modern age.
If done properly, a business blog will enhance your website's SEO, build authority in your brand, and humanize your product, in turn attracting new visitors and upping your conversion rates.
As for individuals, a blog is an ideal platform to transmit your ideas to a global audience. Who knows? You could potentially even monetize your thoughts further down the track.
Beginners might be tempted to opt for a free blog hosting service when they first start out, just to test the waters. (If this is you, you might want to check out our article on how to build a free blog on WordPress.)
But for the serious blogger – both businesses and individuals – it's worth signing up for a paid service from the get-go.
Here are the best tried-and-tested web hosts for bloggers in 2018.
WP Engine
As you may have inferred from the name, WP Engine specializes in helping businesses grow their blogs through the WordPress Content Management System (CMS). Big names such as WebDev and SoundCloud rave about their services.
What They Offer the Blogger
The company sells three tiers of WordPress hosting plans that provide a wide range of in-depth services aimed at medium to large businesses. Bandwidth, the level of support, and the number of potential monthly visitors increase with each tier.
Where They Shine
WP Engine has a particularly good reputation for its managed WordPress service. Through it, the company seamlessly takes care of all optimization and updates on the client's behalf.
All plans include a free Content Delivery Network (CDN), an SSL certificate, free migrations, and over 35+ snazzy StudioPress Themes.
A 60-day money back guarantee allows users to sign up risk-free.
Where They Could Improve
WP Engine charges substantially more than their competitors.
Whom They're Good For
Customization and optimization are the major selling points here, making WP Engine a solid option for premium WordPress content creators who yearn to get the most out of their blog. However, a high price point puts them out of reach of many individuals and low-budget online enterprises.
For more information about WP Engine, read our expert review.
iPage
Since the late 90s, iPage has built a solid reputation for providing reliable hosting services for a ridiculously cheap price.
What They Offer the Blogger
iPage's most popular product is a one-size-fits-all shared hosting plan that costs a few paltry dollars per month. With it, users can choose from the Pixelpost, b2evolution, or WordPress blogging platforms, or even CMSes such as Joomla! or Drupal.
WordPress bloggers, however, will probably prefer one of their two specialized WordPress plans.
Where They Shine
Unlimited disk space, domains, MySQL databases, and a free SSL certificate makes iPage's cheap shared hosting plan a pretty sweet deal. Not to mention a free one-year domain and a free installation of their enhanced security suite.
The WordPress plans, on the other hand, are popular for their wide range of pre-installed themes, plugins, and a customizable control panel. Their high-end WordPress plan also includes expert WordPress-specific customer support as well as SiteLock Security and malware removal.
Whichever you choose, expect an uptime of around 99.98%.
Where They Could Improve
iPage isn't famous for being super quick. But considering the price, who could complain? Also be aware that, like many web hosts, the monthly fee increases considerably after the initial payment period.
Whom They're Good For
iPage is great for small business and rookie bloggers who value savings over faster speeds. Their flagship one-size-fits-all plan doesn't include many features, so it's worth considering one of the WordPress plans instead.
Want to learn more about iPage? Don't miss our in-depth review.
Liquid Web
Liquid Web is a premium web hosting service that offers a variety of high-end plans that'll satisfy even the most demanding business blogger's needs.
What They Offer the Blogger
Dedicated, cloud, and cloud VPS plans are available. However, most enterprises would prefer to run their blog through any one of Liquid Web's four different managed WordPress plans, each of which takes care of all the technical details. The upper tiers provide extra add-on domains and hard drive space.
Where They Shine
Liquid Web optimizes their managed WordPress plans in-house for performance and security, while simultaneously offering unlimited traffic and plugins.
Assistance with migrating an existing website from another provider, free SSL, automated backups, monitoring, and load balancing are thrown in as well.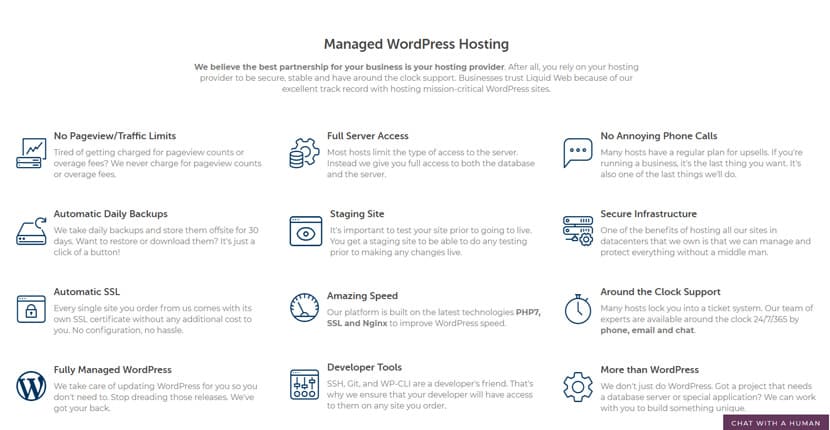 Where They Could Improve
You won't get much help actually creating your blog through the managed WordPress plan, although all the tools are indeed at your disposal.
But most importantly, given the hefty monthly fee, Liquid Web isn't worth considering for small-time bloggers.
Whom They're Good For
Larger enterprises and agencies will get the most out of this web host, particularly those who would prefer to leave the technical details to someone else.
Click here to read our in-depth Liquid Web review.
SiteGround
Bulgarian-based SiteGround is one of the few web hosts with an official WordPress endorsement, meaning it's an excellent option for those who prefer blogging with the dominant CMS.
What They Offer the Blogger
Unlike Liquid Web, SiteGround is remarkably cheap.
SiteGround has three separate managed WordPress plans available, all of which include a free SSL cert, free Cloudflare CDN, 24/7 support, email capability, daily backups, auto-updates, unlimited traffic, and unlimited MySQL databases.
Upgrading to the second plan gets you a free professional WordPress website transfer service, priority tech support, a nifty WP SuperCacher tool, and backup restores. Finally, the third tier includes advanced features such as Git, on-demand backups, PCI compliance, and extra resources.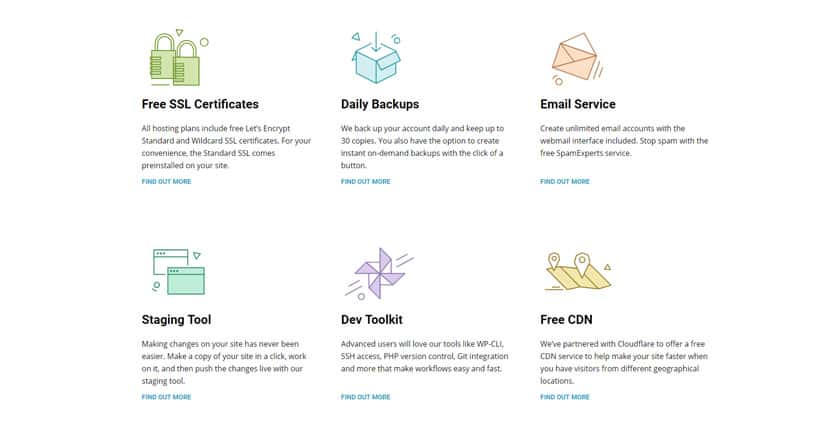 Where They Shine
WordPress endorses SiteGround for their excellent functionality, user-friendliness, and competitive rates. The fact that it's a managed service is nice as it negates the need for technical know-how.
U.S., Europe, and Asia-based servers allow for fast webpage load times across multiple regions, while uptime is close to 100%.
Where They Could Improve
SiteGround is all about WordPress.Therefore, there isn't really much on offer for those who would prefer to blog through a competing CMS.
Note that high renewal costs apply to all their plans.
Whom They're Good For
SiteGround is perfect for individuals or SMBs looking to get the most out of WordPress without breaking the bank.
Learn everything you need to know about SiteGround in our expert review.
GET STARTED WITH SITEGROUND NOW
A2 Hosting
Don't have your heart set on WordPress? Then check out A2 Hosting, a lightning-quick web host that works with dozens of alternative blogging platforms.
What They Offer the Blogger
A2 Hosting sells three separate plans which are compatible with and optimized for countless blogging platforms such as Ghost, b2evolution, and – of course – WordPress, just to name a few. Unlimited full-stack SSD storage, bandwidth, and a free SSL come as standard, while upgrading your plan adds additional speed, features, and websites.
Where They Shine
A2 Hosting is synonymous with speed, thanks to their clever use of advanced caching techniques and SSD storage that cover the files, OS, and databases. The highest-tier plan allows access to their Turbo Servers that they claim run up to 20 times faster, effectively reducing website load times to under a second in most regions.
Furthermore, their anytime money back guarantee is another popular selling point.
Where They Could Improve
Some tests have measured their uptime at 99.91%, which may be too much for the most demanding users.
Their Turbo Servers, which are arguably their best feature, are only available in the top-tier plan.
Whom They're Good For
A2 Hosting is ideal for SMB bloggers who value speed and would prefer a blogging platform other than WordPress. U.S., European, and Asian servers allow them to offer fast webpage load times across various regions.
Read our expert review for a closer look at A2 Hosting.
Choosing the Best Web Host For Your Blog
All of the above providers offer an excellent blog hosting service, each aimed at varying business requirements and budgets.
Compare the prices and inclusions of each before you start publishing your amazing blog content.
---
Sources:
The Top 10 Benefits Of Blogging On Your Website: https://www.forbes.com/sites/jaysondemers/2015/05/28/the-top-10-benefits-of-blogging-on-your-website/#293c2701177a