When searching for a decent web host, you'll often find the same few companies listed again and again on blogs and review websites. In some cases, these companies actually do provide decent services. However, the reality is that they're not necessarily being recommended because they offer the best features.
The real reason these hosts are recommended so often is that they run attractive affiliate programs, incentivizing bloggers and reviewers to rave about their services.
For example, you'll find plenty of websites that rate Bluehost as the #1 web host. Can you guess why? That's right – it's not because Bluehost is the best service in the world, but because the company offers one of the most lucrative affiliate programs out there.
You won't find Bluehost at the top of our list here at Website Planet. Sure, Bluehost is okay, but it's definitely not the best, and we care about providing our readers with honest, unbiased reviews. That's why we thought you might like to know about these top-notch hosting services that don't get mentioned often enough.
Our Favorite Web Hosting Services:
What We Look For in a Great Hosting Service
We evaluated dozens of services to provide you with this list. The companies we've shortlisted all offer:
Reliability: Uptime matters. We've focused our search on web hosting services that offer 99.9% uptime guarantees or better, and that actually deliver on the promises they make.
Affordability: To compete with big-name hosting providers like Bluehost and GoDaddy, these services must be able to offer low prices or exceptional value for money.
Performance: Your website's loading speed affects your business, so we've sought out hosting providers that give you the best possible server and website performance.
Security: With the number of malicious attacks and DDoS attacks increasing as we speak, security is more important than ever. We've looked for hosting services that will prioritize the protection of your website.
No Affiliate Program? No Problem!
Comparison websites make their living from affiliate deals – they make money when you click a link and buy a service. And while that is a fine business model, it means many good web hosts fall by the wayside because they don't offer affiliate programs, and therefore no comparison website mentions them. (Or does mention them, but on page 15, and who scrolls through 15 pages of web hosts?)
We want to highlight a few web hosts that provide great services, but do not pay for any marketing nor have an affiliate deal, and are, therefore, hidden from your search results. Maybe you haven't heard of them, and that's OK – we will tell you about them.
1. Incendia Web Works – Budget Hosting with Cloud Speeds
Budget web hosting company Incendia Web Works offers a variety of different plans at really low prices. However, don't take these low prices to mean second-rate services. Incendia's Enterprise Web Hosting packages offer the latest technology and super-fast SSD storage.
Key Features
When you sign up with Incendia, you can customize your hosting plan with a range of optional features. These features include managed hosting, extra memory and in-memory server-side caching. You're also able to choose from three servers – USA, Australia, and Germany

If you want to add web applications such as forums, online stores and blogs to your website, Incendia gives you Installatron, a simple, one-click installer
Pros
All shared hosting plans use CloudLinux-based servers which improves stability and security – you're less likely to be affected if other websites on the shared server experience traffic surges

Every website is powered by LiteSpeed, giving you up to 50% better speed than some shared hosting providers

With Incendia you can get the latest version of PHP7, as well as the ability to choose another PHP version if you need legacy support for older extensions

Each website uses MariaDB as an alternative to MySQL, giving you more cutting-edge features and offering greater levels of performance

There's no need to worry about your website's performance because Incendia uses NGINX and HTTP2 to deliver better speed and less resource consumption
Cons
While you have SSD storage for better performance, on the economy plan you are restricted to 512 MB and even the most expensive plan is limited to 10GB

If you want to host more than one website, you either need to purchase multiple hosting plans or sign up to Incendia's reseller hosting

There's no free domain name – and domain name purchases when you sign up are more expensive than other domain name services
Choose Incendia Web Works If:
Your website's speed and stability are your priority and you want the fastest technology at low prices

You're tired of searching for the right website hosting plan and want a host that allows you to configure your hosting package how

you

want it
| | |
| --- | --- |
| Free Domain? | No |
| Free SSL? | Yes, on all plans |
| Unlimited Bandwidth? | No |
2. Closte – Pay-as-You-Go Cloud Hosting For WordPress
Offering WordPress cloud hosting with a 7-day free trial is a bit unheard of, but Closte has it. Rather than offering set price plans, Closte charges you for what you actually use. This is perfect if you're looking to start out small and grow your website over time, without having to change plans or migrate your website.
Key Features
While many web hosting companies now offer cloud hosting, Closte is one of the few that uses pay-as-you-go pricing

Closte has data centers on five continents, so you can choose the closest server to your target audience to improve your website performance

Closte uses both LiteSpeed and Google Cloud Platform to deliver high performance that's optimized for WordPress
Pros
Migrate your existing WordPress website to Closte for free is done by an experienced web developer without any downtime

Use Google Cloud CDN and Litespeed Cache to experience fast website speeds

Take advantage of a range of more advanced development tools like SSH, WP-CLI and Custom PHP

Use Closte's staging environment to test new features and other changes to your website without 'breaking' your live website

You get automatic daily backups, a Web Application Firewall and CloudScan to detect malware
Cons
Closte is not as beginner-friendly as some other hosts and it can take some time to figure out how to make the most of all the available features

There's no domain name included, and you have to buy your own domain name

and

make the necessary DNS changes

Because pricing is pay-as-you-go, you can never be certain in advance how much your monthly payments are going to be
Choose Closte If:
You're relatively experienced in using WordPress and are happy to take on some more technical setup tasks in order to have high-performance web hosting

You're a startup business owner wanting to steadily grow your business online and want the flexibility of pay-as-you-go pricing that won't restrict you as your traffic increases
| | |
| --- | --- |
| Free Domain? | No |
| Free SSL? | Yes, a wildcard SSL is available by request |
| Unlimited Bandwidth? | No, it is all pay-as-you-go |
3. NixiHost – An Excellent Choice for Small Businesses
Texas-based NixiHost provides shared hosting, VPS hosting, and dedicated hosting plans to cater for your needs whether you're a blogger, a business or a large corporation. Its plans are not the cheapest in our showcase – but the plans are very affordable and great value for money.
Key Features
Tier-1 secure hosting facility designed to give you the best possible security and stability, including redundant power systems and generators 

24/7 support available, and sometimes the CEO will even step in to help 

Free website migration is available
Pros
Bandwidth and disk space are unmetered on all shared hosting plans, so there are less of the restrictions that you often find with low-cost website hosting services

SSD storage is used on all servers, giving you faster loading web pages and greater levels of reliability

Security features include DDOS protection, protection from botnets, and 24/7 security monitoring

MultiPHP is available on all plans

COMODO PositiveSSL commercial-level SSL certificate is included on the Shared Hosting Professional plan
Cons
The cheapest shared hosting plan doesn't include a free domain name and only provides Let's Encrypt 'support' for SSL rather than automatic Let's Encrypt installation

NixiHost doesn't use some of the more advanced technology such as NGINX and LiteSpeed, so cannot offer the highest possible performance levels

Servers are only located in the US – which isn't a problem if you're doing business in that part of the world. If you're based (or have a customer base) in Europe or Asia, however, you may encounter slow load speed
Choose NixiHost If:
You're a small business owner wanting to create a large store, with lots of products, and expect to get a large amount of traffic – without worrying about bandwidth or storage limits

You're new to web hosting and need low-cost, reliable hosting that you can get dedicated support with around the clock
| | |
| --- | --- |
| Free Domain? | Yes, but only on selected plans |
| Free SSL? | Yes |
| Unlimited Bandwidth? | Yes, on all plans |
Web Hosts Not as Big as Other Affiliates
Not all affiliate programs are created equal. Often, the web hosts with top billing in comparison websites 'bought' their place on the list by offering an attractive deal. Does this mean they truly are the best web host? No. It just means they are willing to pay more for marketing. These next web hosts have affiliate deals, but are often seen as not as lucrative as others, and therefore are banished further down the list.
Please note: To show you that we are serious about offering the best deals and not taking your money, none of the links below are affiliate links. We are not going to make a single cent if you click the link. We just truly believe in these web hosts.
1. Hostinger – Excellent Security at Affordable Prices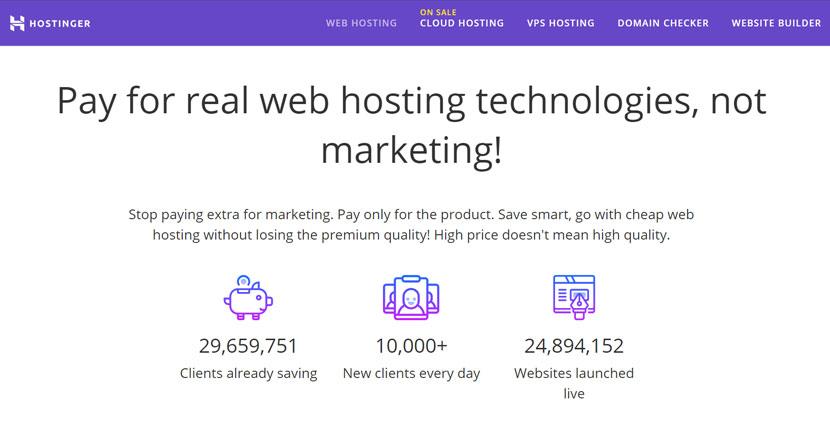 Lithuania-based Hostinger stands out in its commitment to making web hosting accessible to the masses. It provides low-cost hosting, allowing millions of people to grow their businesses and personal websites.
Hostinger offers a range of shared hosting, cloud hosting, and VPS plans that can accommodate most (if not all) web hosting needs.
Key Features
All of Hostinger's plans have BitNinja included, to protect you from malicious attacks and hacking attempts
Beginner-friendly tools include a drag-and-drop website builder with professionally-designed templates and easy installation for WordPress, Joomla, and many more
Hostinger uses SSD storage, which results in page loading speeds up to ten times faster than regular HDD
Pros
All shared hosting plans include a custom-built caching solution for better load times
An easy and intuitive cPanel with Windows-style tiles makes website management simple. Rather than sticking with the default cPanel setup, Hostinger has modified the interface to make it much more user-friendly
Comprehensive security features such as Cloudflare and SpamAssassin are included free; many other hosts will charge extra for the additional protection
Scored 100/100 on Google's PageSpeed Insights, demonstrating a commitment to maintaining an exceptional level of performance
Comprehensive knowledge base and tutorial section
Cons
To get the lowest advertised prices, you need to sign up for a four-year term
The entry-level plan doesn't include a free domain, SSL certificate, or backups
Customer support, while knowledgeable, can be slow to respond during peak hours
Choose Hostinger If:
You care about speed and security, but you don't want to pay extra for them. Hostinger includes these features in most plans
You're a total beginner to website building and you need a low-cost solution with an easy-to-use website builder
| | |
| --- | --- |
| Free Domain? | Yes, on the Premium and Business plans |
| Free SSL? | Yes, but only on the Business plan |
| Unlimited Bandwidth? | Yes, on all but the entry-level Single plan |
2. Superb Internet – Exceptional Reliability, Guaranteed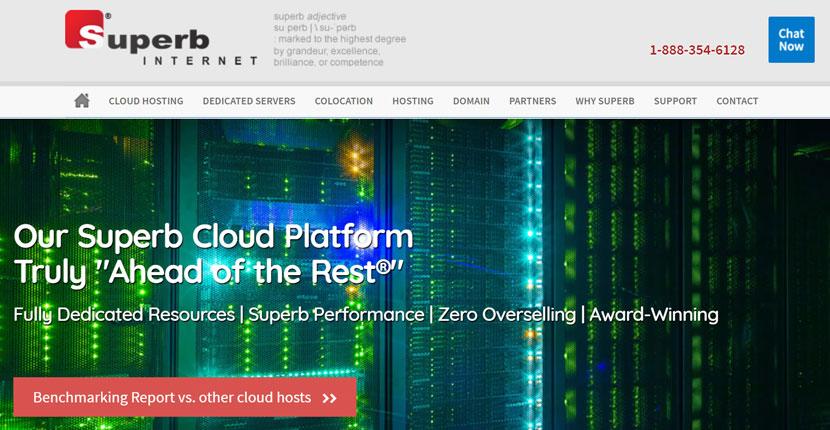 Superb Internet is a veteran hosting company that's received numerous awards. With its user-friendly tools and top-class servers, it focuses on providing reliable web hosting that can cater to every need. Superb Internet's services include shared hosting, dedicated hosting, and cloud hosting plans.
Key Features
Superb Internet promises 100% uptime and guarantees that in the rare event of any equipment failure, your replacement hardware will be live within two hours — or you'll get credit as compensation
The cloud-based shared hosting plans give you flexibility and guaranteed resources, so your website's performance won't be impacted by other users sharing your server. This service provides a level of security and performance comparable to lower-tier dedicated servers, but without the high costs of a dedicated server
Pros
Unlimited monthly traffic with all shared hosting plans
Daily backups included with all plans
Superb Internet's custom-built cloud-based platform has demonstrably superior performance compared to other cloud hosting providers
An industry-leading 100% network and server uptime Service Level Agreement (SLA) that'll refund you a full day of credit for every hour of downtime
24/7 customer support that guarantees a response within 30 minutes
Cons
Superb Internet doesn't offer cPanel or Plesk. Instead, it gives you the more basic myCP control panel, which has fewer features and tools to manage your web hosting
Pricing is not as cheap as the other web hosts on this list
Superb Internet's auto-installer includes only 30+ apps, compared to the 300+ you'll find with other providers
 Choose Superb Internet If:
Your business depends on having zero downtime
You need to be able to cope with traffic spikes, but you don't have the budget for a VPS or dedicated server. With Superb Internet's cloud-based shared hosting, you can be sure you'll get the performance you need.
| | |
| --- | --- |
| Free Domain? | Yes, when you sign up for at least a 12-month plan |
| Free SSL? | Yes – on all plans |
| Unlimited Bandwidth? | Yes – on all plans |
3. FastComet – Superfast Speeds with Cloud Hosting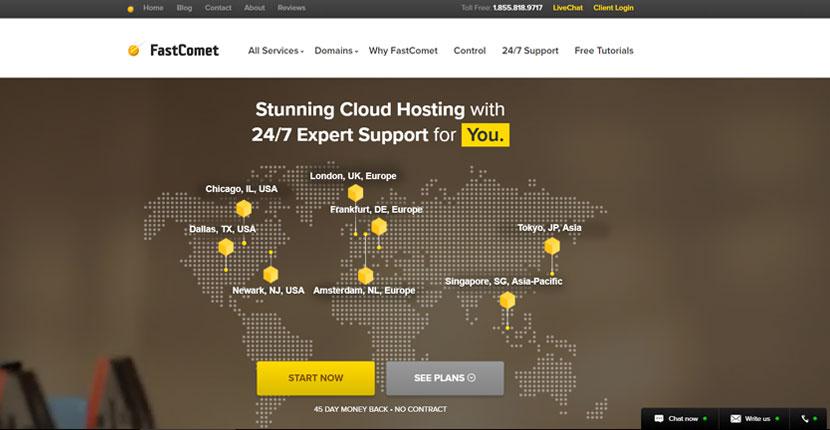 FastComet is a cloud-based provider that offers excellent features. For example, its custom-built RocketBooster package includes a number of server-side performance optimizations that'll speed up your website considerably. You'll also get daily backups included free with all plans.
Key Features
Free domain for the entire lifetime of your FastComet hosting plan
You'll never have to worry about data loss or hard drive failure, as FastComet uses SSD storage with a RAID10 configuration — something you won't find with many other hosts
FastComet includes an impressive array of security features on all plans. These include protection against brute force attacks, BitNinja server protection, two-factor authentication, and 24/7 server monitoring. The security options extend to SSL, too, giving you free Let's Encrypt SSL and Cloudflare CDN SSL
Pros
Free website transfers on all plans – performed by real people, not automated
Free web application firewall that prevents malicious attacks and other threats before they can do harm to your website. Plus, there's also free malware removal and virus scans to increase your level of protection
Cloudflare CDN (content delivery network) for even better speed
FastComet gives you a money-back guarantee of 45 days, compared to the standard 30-day money-back guarantee most hosts offer
No contracts – you can cancel anytime, and renewal prices are fixed
Cons
There's a setup fee if you want to pay monthly rather than annually
On the cheapest plan, you can only host one website
No dedicated IP address available with shared hosting (not even at an additional cost)
Choose FastComet If:
Performance is what matters most to you, and you need your website to be as fast as possible
You want consistently low renewal rates, rather than being surprised by promotional prices that increase dramatically after the initial term
| | |
| --- | --- |
| Free Domain? | Yes – free for the lifetime of your plan |
| Free SSL? | Yes – on all plans |
| Unlimited Bandwidth? | Yes – on all plans |
4. MacHighway – "Green" Hosting That Doesn't Compromise on Performance
MacHighway offers some standout features that have earned it a place on this list. It isn't the cheapest, but you'd be hard-pressed to find a more affordable Mac-dedicated service elsewhere.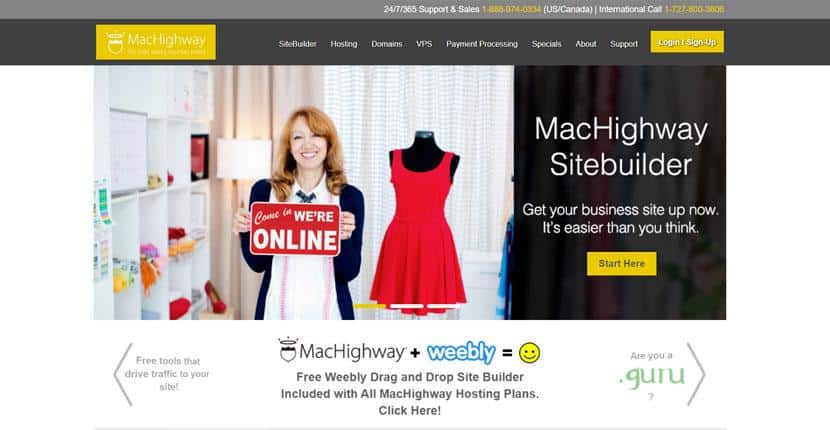 Key Features
In addition to 24/7/365 customer support, MacHighway's knowledge base has step-by-step tutorials for Mac users
All plans come with the free Weebly Website Builder, which is one of the most intuitive around. With the drag-and-drop editor, you can build your website in minutes
The 100% wind-powered servers make MacHighway the most eco-friendly host on this list, meaning you can do your part for the environment while enjoying the reliability and performance the company offers
Pros
Redundant SSD-powered servers with fast network speeds and connections to multiple internet service providers for high levels of reliability
For Mac users, having support that's tailored to Mac OS X is a refreshing change
Free Attracta SEO tools to help your website rank in search engines and get you noticed by your target audience
$100 Google AdWords credit included with all plans
Free cloud storage from JustCloud, so you can store backups of your website files and access them from anywhere
Cons
Limited security features that will only protect five pages per day via SiteLock Lite, though you can upgrade this for better protection
No free SSL certificate
Listed prices require you to sign up for three years upfront
Choose MacHighway If:
You're a Mac user who's tired of customer support staff who don't have enough expertise in troubleshooting on Mac devices
You want to use a "green" hosting service that's both affordable and powerful
| | |
| --- | --- |
| Free Domain? | Yes – on yearly plans |
| Free SSL? | No |
| Unlimited Bandwidth? | Yes – on all plans |
5. SherlockHost – Unlimited Plans That Won't Hold You Back
Besides the adorable company name and branding, U.K.-based SherlockHost offers plans with unlimited storage space, a free domain name, and top-class web hosting at affordable prices.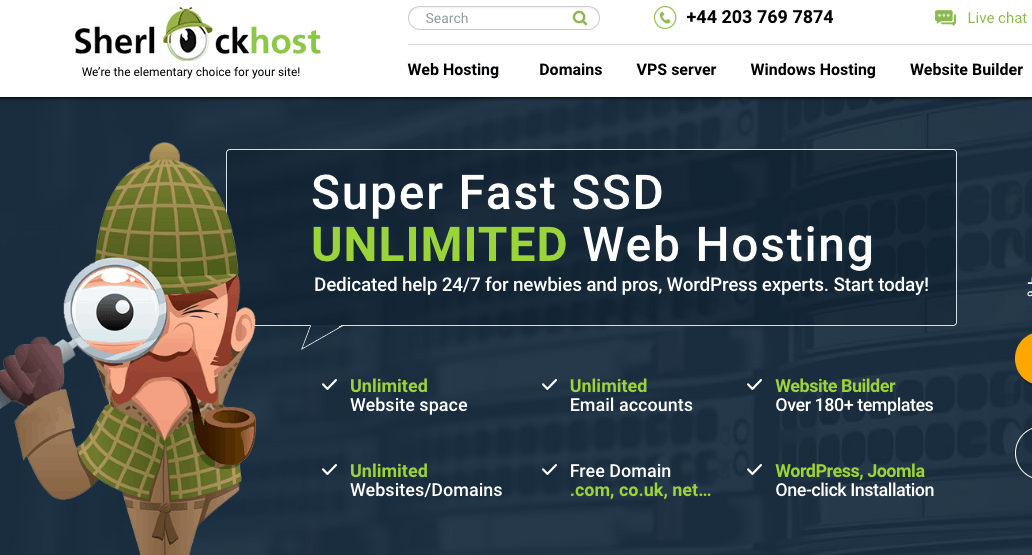 Key Features
Unlike many hosting services, SherlockHost offers unlimited space and bandwidth on all plans
Free website migration service that can be completed within an hour, limiting the time that your website is unavailable to your visitors
A seven-day free trial means you can try out SherlockHost's features at no risk
Pros
Protection against viruses, spam, and DDoS attacks with 24/7 monitoring and the use of Tier III data centers for optimum security
Support for multiple scripting languages, including PHP 7.1, Ruby, and Python
Over 310 one-click app installations — more than any other company on this list
Average uptime of 99.98%
Both Linux and Windows plans available
Cons
Daily backups only apply to websites up to 5GB in size
Live chat and phone support are only available Monday to Friday 8AM to 6PM U.K. time, and phone support is via a U.K. number only
No free SSL certificate
Choose SherlockHost If:
You're looking for a hosting provider that doesn't require you to sign up for a higher-tier plan to get unlimited space and bandwidth
You want U.K.-based hosting with a website builder and decent auto-installer
| | |
| --- | --- |
| Free Domain? | Yes – on yearly plans |
| Free SSL? | No |
| Unlimited Bandwidth? | Yes – on all plans |
The Hidden Gems of Web Hosting
Just because the hosts we've showcased here don't show up in the usual recommendation lists doesn't mean that they're second-rate. When you're looking for a web hosting company, it's tempting to just go with the provider that everyone seems to recommend (I know, I've done it myself!). But when you do that, you risk missing out on some hidden gems.
There are great deals to be found if you're prepared to look beyond the big name hosting providers. The vendors we've showcased might not show up on page one of Google's search results, yet they have equal – or even better – features to offer than those that do.
To get the best hosting service with the right features and at the best price, you should consider digging deeper. User reviews can give you an unbiased view of what counts as the "best" hosting service as well, so be sure to check out our web hosting reviews.
| | | |
| --- | --- | --- |
| Hosting Provider | Standout Feature | Included Free on All Plans |
| Hostinger | A custom-built caching solution for faster speeds | Cloudflare and SpamAssassin security |
| Superb Internet | Cloud-based shared hosting with guaranteed resources | SSL, unlimited bandwidth |
| FastComet | Free domain name for the lifetime of your plan | Domain name, SSL, unlimited bandwidth |
| MacHighway | 100% wind-powered for eco-friendly hosting | Unlimited bandwidth, Weebly site builder |
| SherlockHost | Over 310 one-click applications available | Unlimited space and bandwidth |