But then you learned that if you wanted better features for your plan, you'd have to pay for a ton of addons
. I know the feeling. Even with VPSDime's one-time charge for Offloaded MySQL, Varnish, and FTP server setup, the costs add up. Not to mention you'd need to pay a monthly fee for nightly backups, and there's no managed VPS plan. If you want server management, you have to pay for it
per minute
. Unfortunately, with VPSDime's 3-day free trial, you can't really make an informed decision about its hosting plans. That's why I've tested the most popular VPS hosts to find
good alternatives for a variety of website types
, from a multi-page corporate site to a growing e-commerce store. In addition to VPS hosting, my top picks offer a wide range of hosting solutions, including dedicated and cloud hosting. Some offer managed VPS plans, while others have better security features for their plans. Best of all,
they're affordable, have trusted customer service, and consistent performance.
Short on Time? These Are the Best Alternatives to VPSDime in 2023
Hostinger – Affordable VPS plans for Linux and Windows, backed by strong security and a 30-day money-back guarantee.
Kamatera – Global, highly scalable, and powerful cloud servers with self-managed and fully managed options.
Liquid Web – Fully managed, feature-packed cloud VPS with lots of advanced security features.
What We Look For in the Best Alternatives to VPSDime
Powerful security features. VPSDime doesn't provide important security features such as DDoS protection, which is one of the top things I looked for in my alternatives list.
Available customer support. You might be tempted by VPSDime's cheap plans and promises of easy hosting, but unless you know how to manage a VPS server, you'll get little help from its experts. The alternatives on my list offer significantly better support.
Value for money. Sure, VPSDime offers budget-friendly VPS plans, but you can get better value for your money with my recommendations. You'll get more reliable performance and more secure hosting than VPSDime.
Practical refund policy. Let's be realistic: VPSDime's 3-day money-back guarantee isn't enough to evaluate any service. I searched for hosting providers that offer at least a 30-day money-back guarantee.
If you're looking at VPS hosting as a high-performance upgrade from shared hosting, you might also have considered cloud hosting. Both have their advantages and disadvantages, depending on your needs. Don't make a decision until you've seen our expert list of
pros and cons for VPS and cloud hosting in 2023
.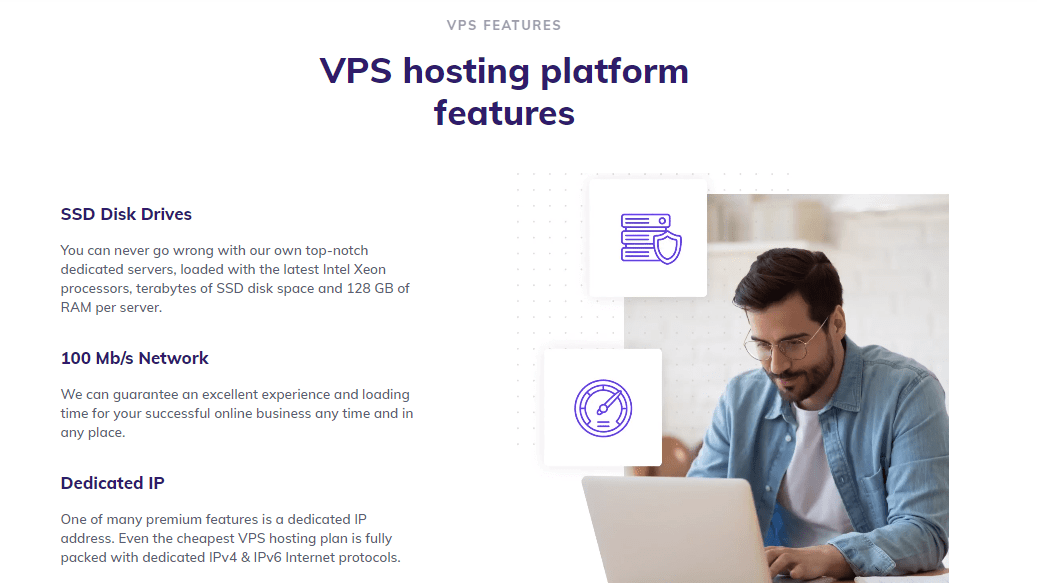 Hostinger offers VPS hosting
for both Linux and Windows operating systems. With Linux VPS, you can choose your preferred distro (CentOS, Ubuntu, Fedora, Debian, or Suse). All
VPS hosting plans are powered by SSD storage and come with full root access, dedicated IP, and IPv4 and IPv6 support
. Most of
Hostinger's VPS plans come with more resources than VPSDime
 – and at cheaper prices too. While VPSDime's Linux VPS plans only offer 4 CPUs – regardless of which plan you choose –
Hostinger's eight VPS plans have scalable CPU power that ranges from 1 vCPU to 8 vCPUs
. Not only does Hostinger include a wide range of security features with its services, but
it also applies its security measures on multiple levels
. You can expect Wanguard anti-DDoS traffic analyzer and intelligent firewall rules on switch level, Bitninja or Immunity360 (Web Application Firewall) on each server, and custom web server rules to protect against any attacks.
A free domain name is included with some hosting plans from Hostinger
Features
Round the clock support. Hostinger's customer support is available through email and support ticket, and its live chat is quick and responsive. Helpful experts are available 24/7 to help you with any hosting plan you choose.
Global server locations. While VPSDime has servers in the US and Europe only, Hostinger delivers its services through multiple data centers located in these regions, plus South America and Asia.
Free features. All of Hostinger's plans come with a wide range of useful features, including free domain, CDN, and free weekly automatic backups.
Wide range of hosting plans. Other than its VPS hosting, Hostinger specializes in a wide range of hosting solutions. Minecraft server hosting, cloud hosting, WordPress hosting, email hosting, CMS hosting, and e-commerce hosting are all available here.
For performance results and more, read our expert Hostinger review
.
Unmanaged hosting / Managed hosting

✔

/

✘

VPS vCPU cores available

1 – 8

Customer support

24/7 live chat, email, and support ticket

Starting price

$

1.99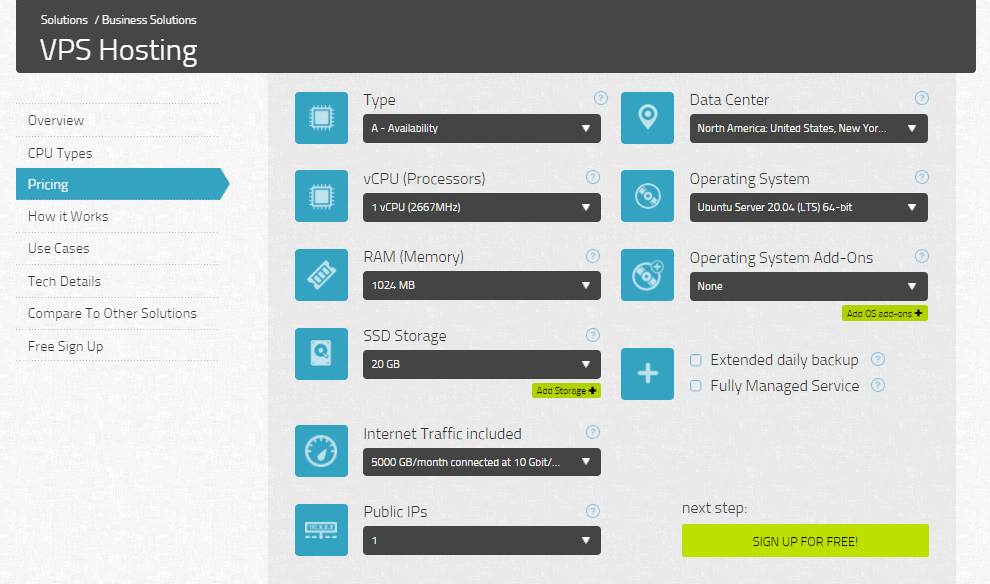 While VPSDime offers fixed VPS plans with few features,
Kamatera gives you the option to fully personalize your plan
. With Kamatera, you can choose your preferred operating system (Linux and Windows OSs), or you can use your own licensed OS. Another big plus is
Kamatera's high resource allocations – which can truly be powerful
. Depending on your plan, you can get up to 104 vCPUs, over 500GB of RAM, up to 4TB of SSD storage, and up to 4 public IPs. You can even
add or remove firewalls with a single click.
For an extra fee, Kamatera also lets you choose from a number of cPanel accounts (up to 100 accounts) or Plesk domains (up to unlimited domains). Best of all, cloud and VPS plans are billed hourly (or monthly, if you sign up through the no-frills Kamatera Express server deployment), so
you only pay for the resources you're actually using
. You can manage your own server or have it fully managed by one of its experts.
Features
Free trial. Kamatera offers a full 30-day free trial. That's ten times longer than VPSDime's measly 3-day money-back guarantee and enough time to help you decide whether Kamatera is right for you.
Cloud-based server hosting. Cost-effective and worry-free (since you won't have to worry about hardware maintenance or losing data to natural disasters), Kamatera's cloud hosting is just as affordable and powerful as its VPS offering
Ease of use. Kamatera's interface is polished, intuitive, and beginner-friendly. When you sign up, you can also easily set up your server in under a minute.
Prompt support. Even though it doesn't provide live chat or ticket support, you can reach Kamatera's expert and helpful support team via email or phone 24/7. The sales and billing teams are only available during business hours.
Take a look at our in-depth Kamatera review for more details
.
Unmanaged hosting / Managed hosting

✔

/

✔

VPS vCPU cores available

1 – 104

Customer support

24/7 email and phone

Starting price

$

4.00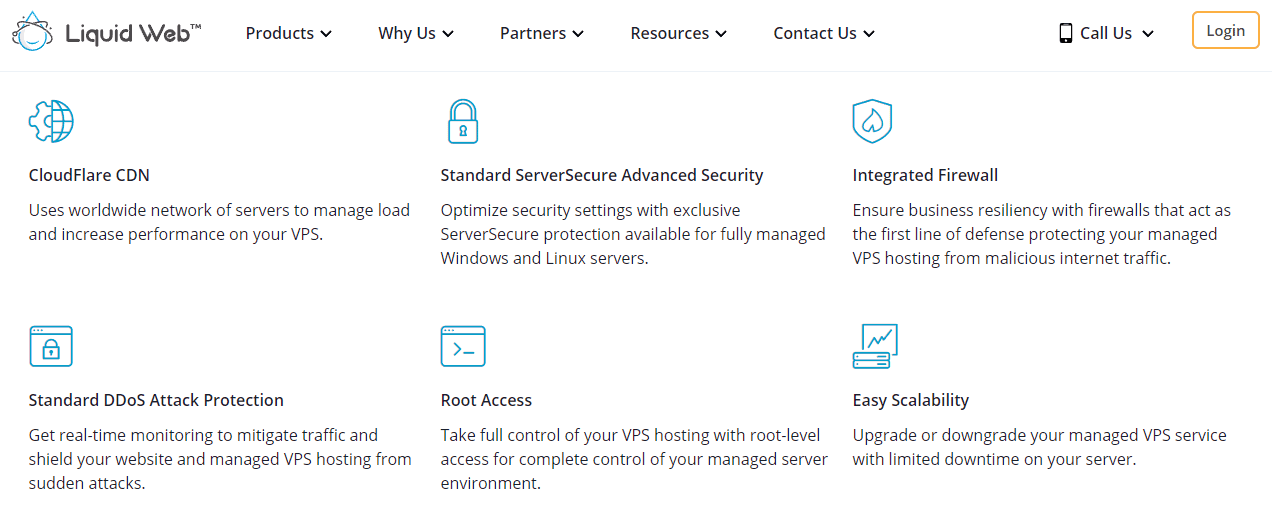 Liquid Web isn't exactly cheap, but if you're looking for
plans packed with free features right out of the box – especially for usability, performance, and security
– then Liquid Web delivers on this front. You can also have someone manage your server fully, saving you many headaches and a lot of time.
Liquid Web's managed VPS plans
(a total of 8 scalable plans) include free control panel licenses (InterWorx, Plesk Web Pro, or cPanel Admin), full root access, and a generous 10TB of bandwidth per month. The Value Bundle plans (which are roughly a few dollars more per month) also include a fully managed Premium Business Email account. In terms of security, you really can't go wrong with free Cloudflare CDN, free SSL, integrated firewall, multi-level DDoS protection, and
proactive server monitoring to get your site back up and running if there are any problems
. In other words, things that you don't automatically get with VPSDime.
Features
Responsive customer service backed by an SLA. Liquid Web takes its customer service seriously – so seriously, in fact, that it's in the service level agreement. Based on a 59 minutes for help desk/59 seconds for phone/59 seconds for live chat initial response time, you can receive a hosting credit for any broken guarantees.
Free backup. To safeguard your data, all cloud and VPS packages come with a 100GB daily backup, completely free of charge. You can choose to store your data at Liquid Web's data centers or offsite at Acronis's data centers.
Owned data centers. Unlike VPSDime – and many other web hosting providers for that matter – Liquid Web owns its data centers. It has more than 25,000 servers in Europe and the US.
More managed services. In addition to VPS and cloud hosting, Liquid Web also has managed plans for WordPress and WooCommerce (through its shared hosting subsidiary, Nexcess). These plans are wholly scalable and include free email accounts, a site builder, and themes.
Read our comprehensive Liquid Web review for more details
.
Unmanaged hosting / Managed hosting

✘

/

✔

VPS vCPU cores available

2 – 8

Customer support

24/7 live chat, support ticket, and phone

Starting price

$

15.00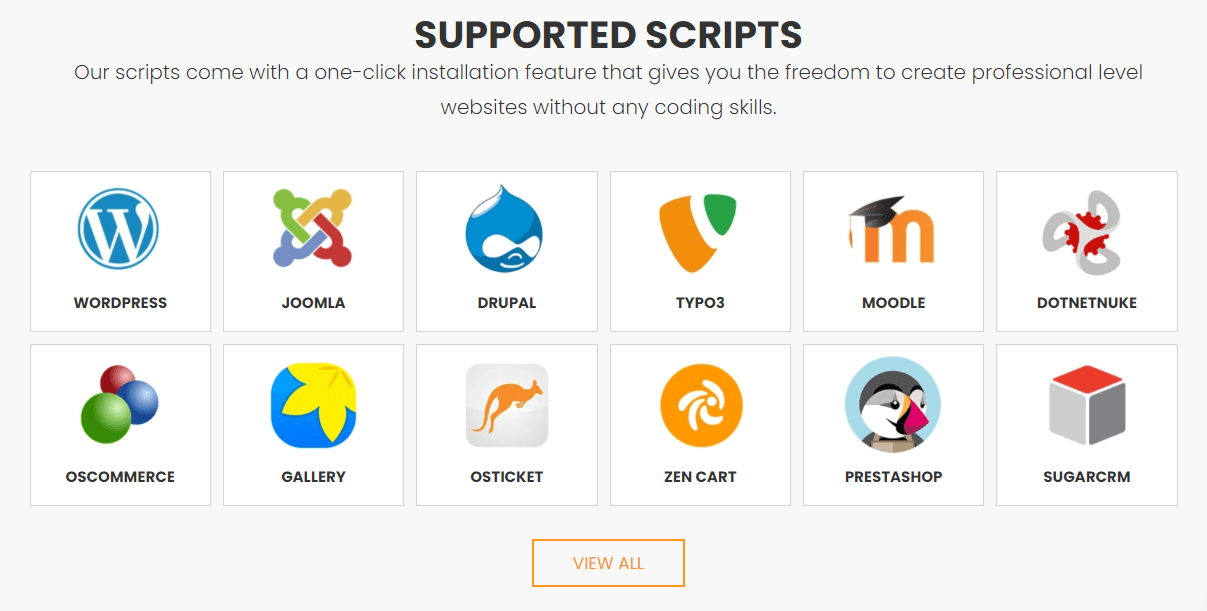 InterServer offers several cloud VPS options, which are sold by the "slice" and can be scaled from 1 to 16
. These configurations are mostly based on the number of CPU cores and number of TB for transfer that you'll need – for example, one slice will give you 1 CPU core and 1TB of transfer. Overall, InterServer's prices are cheaper than VPSDime's, and it offers more value-added features. Take its self-healing hardware, for instance. Even though InterServer's VPS is hosted in the cloud,
its AI system can automatically detect and heal any problems or glitches on their hardware systems almost instantly
. And because it's all cloud-based, it will redirect your site to another node.
InterServer's VPS plans can be integrated with the user-friendly Webuzo control panel,
making it easy to manage blogs, forums, e-commerce, or image galleries. In addition, you can easily deploy programming languages such as Python, Java, and Perl.
Features
VPS for WordPress. InterServer has WordPress VPS configurations that use the same pricing scheme as cloud VPS, but come with WordPress-optimized features like Nginx servers, optimized WordPress cron, fast cache plugin, and OPcache PHP accelerator.
Free website migration. InterServer offers a free website migration, regardless of account type, by one of its experienced technical support agents.
Multi-lingual support. InterServer's phone support is available 24/7 through native speaking call centers in the US, UK, Mexico, Brazil, and Israel.
Uptime SLA guarantee. InterServer offers 99.9% uptime SLA for its plans. Best of all, if the company fails to deliver its promised network uptime, you can get up to 50% compensation of your monthly fee.
For more about InterServer's plans, take a look at our expert review
.
Unmanaged hosting / Managed hosting

✔

/

✔

VPS vCPU cores available

1 – 16

Customer support

24/7 live chat, email, and support ticket

Starting price

$

6.00

A2 Hosting specializes in both
managed and unmanaged VPS hosting
, and each plan is divided into two categories – Standard VPS and Turbo VPS.
Turbo VPS plans are placed on A2 Hosting's Turbo servers
, which are optimized, in terms of both hardware and software, to deliver the fastest possible loading speeds. Besides Turbo Servers, all plans come with performance-boosting features such as a free CDN and a dedicated IP address. The Standard VPS plans have SSD storage, while
the Turbo VPS plans use next-generation NVMe storage
. All plans can be scaled to accommodate an uptick in your website's traffic. All of A2 Hosting's plans come with
a wide range of advanced security features combined into one all-inclusive package
. The Perpetual Security package includes KernelCare (daily, automatic, and rebootless Kernel updates), reinforced DDoS protection, BruteForce protection, and Hackscan malware protection.
Features
Decent speeds. While A2 Hosting's servers aren't exactly lightning fast, they're still pretty impressive. Our experts were able to achieve pretty good loading speeds (an average of 1.3 seconds), even on the most basic non-Turbo plans.
Experienced 24/7/365 support. You can reach A2 Hosting's support agents through live chat, phone, and support ticket. Customer support is also the place to go to request your site migration (one free for most plans, up to 25 for VPS and dedicated plans). Site migrations usually take about 24-48 hours from the time of request.
Uptime guarantee. A2 Hosting often exceeds its 99.9% uptime guarantee. Tracked over a two month period, our experts found that A2 Hosting achieved a 100% uptime, which is pretty rare.
Any time money-back guarantee. Even after A2 Hosting's 30 day money-back guarantee has ended, you can cancel your subscription at any time and still receive a prorated refund for the remainder of your plan.
Read our full A2 Hosting review for more details
.
Unmanaged hosting / Managed hosting

✔

/

✔

VPS vCPU cores available

1 – 32

Customer support

24/7 live chat, support ticket, and phone

Starting price

$

2.99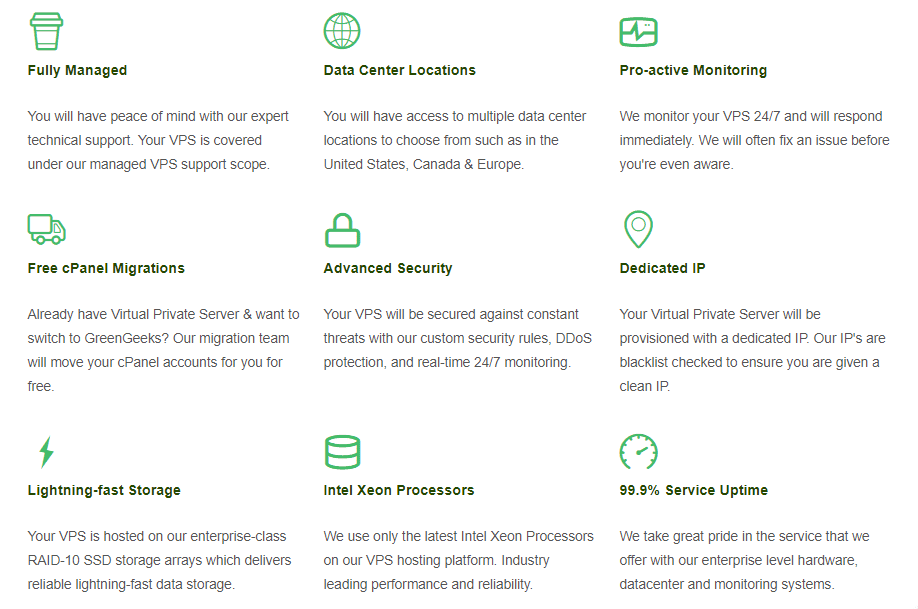 GreenGeeks is a 100% eco-friendly hosting provider that offers fully managed VPS hosting.
Even though its VPS hosting plans are limited to three options, they all come packed with features
such as SSD storage, free SSL certificate, free Softaculous license, and 10TB of transfer. You'll also get a site migration for free. GreenGeeks has data centers in the US, Canada, and Netherlands that deliver consistent loading speeds throughout North America, South America, and Europe. Like most hosts, GreenGeeks has a 99.9% uptime guarantee, and
when we tested it over a long period of time, it actually exceeded expectations
.
Support is one of GreenGeeks' strongest points
. It's accessible 24/7 through live chat and email. There's also phone support, but it's only available during specific hours (Monday to Sunday, 9:00 AM – 12:00 AM EST). Wait times are usually very short, and even if you sign up for the fully managed hosting plan, you'll still appreciate having this level of customer service.
A free domain name is included with some hosting plans from GreenGeeks
Features
Refund policy. GreenGeeks backs its plans with a generous 30-day money-back guarantee. This applies to all its hosting services, including VPS hosting.
100% eco-friendly. All of GreenGeeks' data centers run on 100% renewable energy. It has also partnered with One Tree Planted initiative, and plants one tree for every hosting plan sold.
Strong security features. We provide custom security rules, DDoS protection, and round-the-clock server monitoring with all hosting plans. Our server monitoring serves a dual purpose – ensuring security and keeping a close watch on server statuses.
Free daily backups. Unlike VPSDime, you won't have to pay extra to back up your site. GreenGeeks has a daily automatic backup for all of its plans, and will keep the backup on its server for 48 hours.
Read our expert GreenGeeks review for more details
.
Unmanaged hosting / Managed hosting

✘

/

✔

VPS vCPU cores available

2 – 8

Customer support

24/7 live chat and support ticket; limited phone hours

Starting price

$

2.95
Which VPSDime Alternative Is Right for Your Needs?
When choosing the best web hosting service as an alternative to VPSDime, you shouldn't only focus on affordability, but also on value for money, security levels, and reliability (performance
and
support).
Go for my top choice, Hostinger
, if you don't need fully managed VPS but value a secure and reliable VPS environment at low cost. If your business is growing and you're looking for scalability and flexibility,
Kamatera is your best option
. While you have full control and freedom over your server, you can also choose to let its expert team handle everything from their end. If price isn't a problem and you prefer a fully managed VPS solution that's also loaded with features and top-level security,
you can't go wrong with Liquid Web
. On the other hand, if you're looking for a more affordable provider,
A2 Hosting is a great choice that also offers managed VPS plans
. Use this table to compare the best VPSDime alternatives.
Standout Feature
Free Backups
Money-Back Guarantee
Starting Price
Hostinger

Generous resource allocations for VPS plans with multi-level security measures

Weekly

30 days

$

1.99

Kamatera

Completely scalable VPS plans billed per hour

Daily

30 day free trial

 

$

4.00

Liquid Web

Fully managed VPS plans with 100GB of backup space

Daily

30 days (depending on the plan)

 

$

15.00

InterServer

User-friendly host with affordable cloud-based VPS plans

Weekly

30 days

 

$

2.50

A2 Hosting

Impressive speeds for managed and unmanaged VPS plans

Daily (on some plans)

30 days

$

2.99

GreenGeeks

Professional and responsive customer service for all plans, including VPS

Daily

30 days

 

$

2.95
FAQ
Which host is better – VPSDime or InterServer?
InterServer is better than VPSDime for several reasons. Not only is it more affordable, but it also offers more types of web hosting plans, including cloud VPS for both Linux and Windows, and it gives you more value-added features and security solutions than VPSDime. InterServer also tops our expert list of the best cheap VPS services in 2023.
Which alternative hosts offer more affordable VPS hosting?
Kamatera offers affordable and highly flexible VPS and cloud hosting that can be billed by the hour. With Kamatera, you're in control of your resource allocations and features, and you can easily scale individual resources to suit your needs. Hostinger is another affordable provider that offers decent VPS hosting for Linux and Windows. Hostinger's VPS plans start as low as

$

5.99

per month and offer many of the perks that don't normally come with low-tier plans, including a dedicated IP address and full root access. It also offers excellent discounts and coupons with its subscriptions.
Can I cancel my hosting services with VPSDime?
VPSDime's plans are billed on a monthly basis, so you're not bound by a contract and can cancel at any time. However, it only offers a 3-day money-back guarantee and if you cancel afterwards, you won't be refunded. However, all the hosts on our list of best web hosting services in 2023 have a no-hassle 30-day (or more) money back guarantee.