Not every web host can provide the important features you need for your small business. Regardless of what they might claim.
You don't want to end up locked into a long-term plan, only to discover your website loads slowly, doesn't load at all, or remains vulnerable to hackers. These could all result in a significant loss of revenue
, and quite a bit of extra weight on your shoulders.
I've been running a small business for 10 years, and I've tested many different web hosts to see which ones would be best for my needs.
This list includes only the hosting services I'd feel comfortable trusting with my own websites.

InterServer earns the top spot thanks to its easy-to-use and affordable service.
Its the ideal option if you want to set up hosting quickly and go back to placing your focus on your business. However, each of these services has something unique to offer depending on the needs of your business. 
So, keep reading to discover the ideal host for
your
business, or get started with InterServer right away!
Short on Time? These Are the Best Web Hosts for Small Businesses in 2023
InterServer – Simple hosting plans and low pricing make InterServer ideal for microbusinesses and startups.
Hostinger – Growing businesses will like Hostinger's unlimited resources and superb tech support.
A2 Hosting – Turbo plans provide excellent loading speeds for small business websites.
What We Look For in the Best Hosting Services for Small Business
Ease of use: Most small business owners aren't developers, so I look for a simple, intuitive control panel with a shallow learning curve.
Software: Website builders can be helpful if you need to get a business website up and running quickly. For more established businesses, one-click installers for WordPress, Joomla, and Drupal, as well as automatic updates, help save time.
Security: Business data loss is disruptive and expensive. The best hosts offer different security features and solutions to prevent this, from SSL certificates to ensure your customers' data is secure to daily website backups.
Support: It's important that your host responds quickly. Small businesses typically don't have IT teams ready and waiting, so hosts should take ownership of problems and resolve them fast.
InterServer has one shared hosting plan
 with unlimited storage, unlimited bandwidth, and capacity for unlimited email accounts. I contacted InterServer's support team, and they confirmed that you can also create an unlimited number of sites on this plan.
As far as security, InterServer's Inter-Insurance service will clean up your site if it's hacked.
And to further protect your business data, shared hosting comes with a security package that includes hack blocking, virus scanning, and a machine learning (ML) firewall that constantly learns to detect and block new threats. When I tested InterServer support and found that the response on live chat was near-instant. If you log into your InterServer account, you can also open a ticket.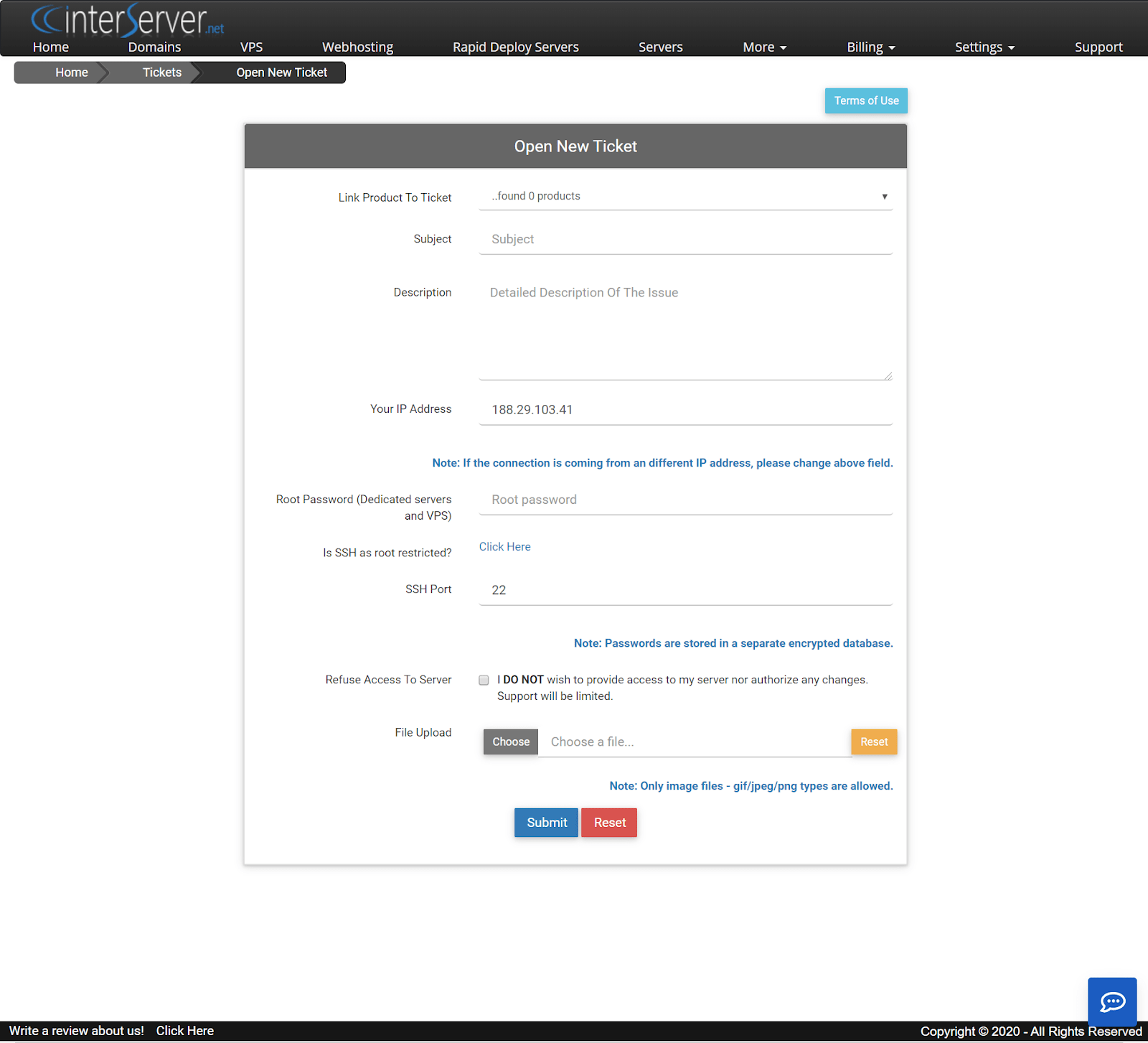 Features
One-click installers: These get WordPress, Drupal, and dozens of other applications running within a few minutes, so you can avoid paying a developer to get everything set up.
Free migration and website builder: InterServer's support team will migrate your current business website for free, or if you're starting from scratch, you can create a site using the simple drag-and-drop SitePad website builder.
VPS hosting: Quickly and easily scale your website with VPS (virtual private server) hosting. Your virtual "slice" of a server is insulated from other sites and can be useful if you need guaranteed resources for a business web application.
Caching: Software and hardware caching ensure your website loads quickly and that your customers or clients aren't tempted to click away because of slow speeds. The extra speed boost could also improve your search engine rankings.
For a full list of features, check out our expert InterServer review
.
Starting Price

$

2.50

per month
Available Hosting Types
Shared, VPS, WordPress, dedicated servers
Money-Back Guarantee
30 days
Customer Support
24/7 live chat, ticket system, tutorial articles
Automatic Backups
Daily
Free SSL
Yes
Uptime Guarantee
99.9%
Hostinger is a good all-rounder for small businesses
,
whether you need a small website, or more room to grow.
Its
Business Shared Hosting plan
 includes unlimited websites, bandwidth, email accounts, and disk space. While the Business Shared Hosting plan is the most expensive (though still relatively cheap) of its three shared hosting plans, it has some important features that I think are worth paying for, like daily automatic backups and a free SSL certificate. Its pricing is still business-friendly, though with price breaks available on longer contracts.
You'll get the best price at Hostinger by signing up for four years.
A free domain name is included with some hosting plans from Hostinger
I'm always impressed with the quality of Hostinger's support.
You can get in touch via ticket or live chat (the latter is just for paying customers). Responses are quick, detailed, and clear.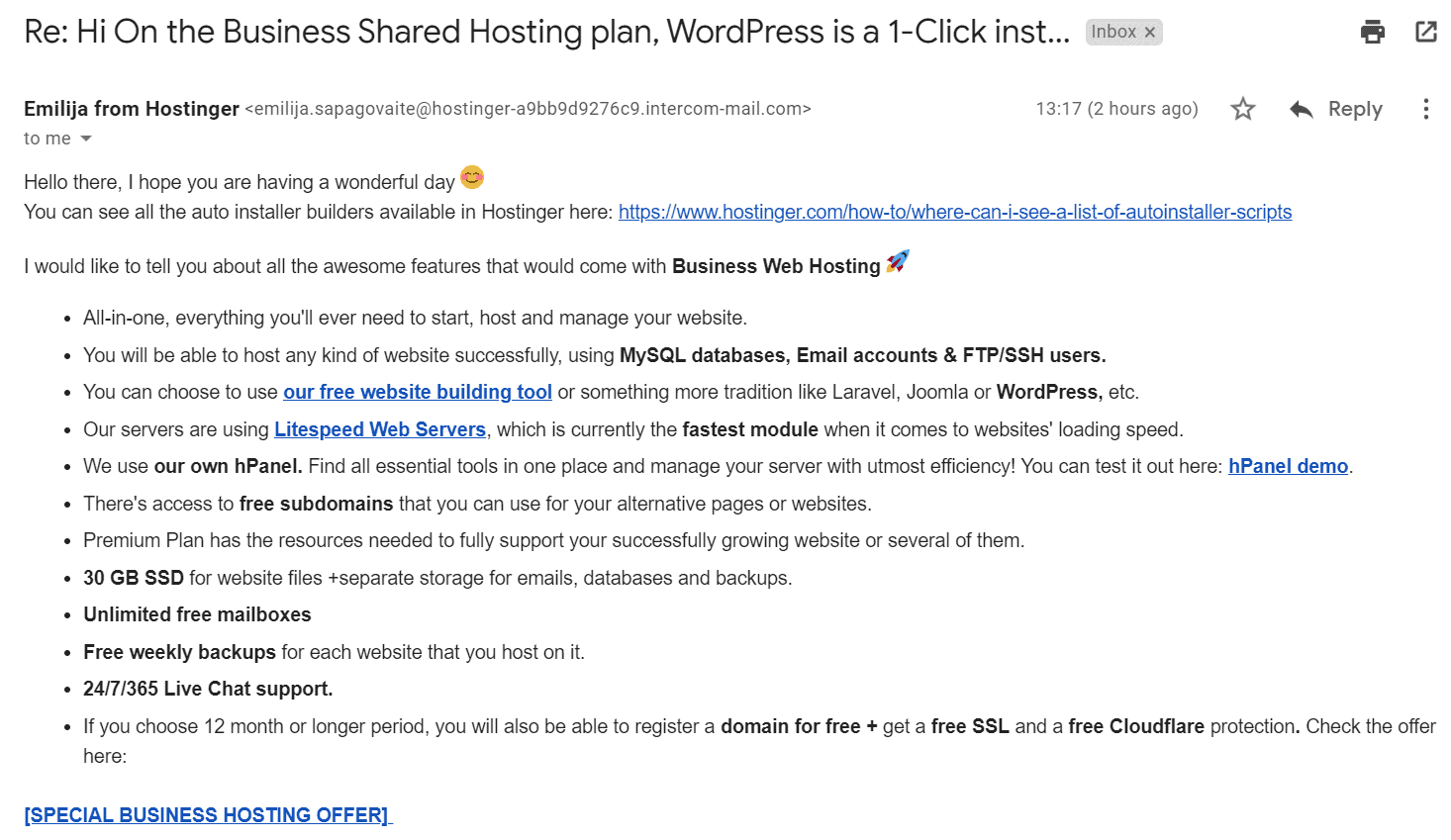 For businesses that need extra power and capacity, Hostinger has two options.
 Its cloud hosting is easy to use, just like shared hosting, but uses cloud-based infrastructure for improved reliability, scalability, and speed. And if you need to run more complex web applications, a Hostinger VPS gives you guaranteed resource and developer features like root access.
Features
Stepped-up security: Hostinger has security modules installed to harden its servers – this is vital to keeping your business data secure. You can switch on two-factor authentication so that your login is combined with a one-time SMS code, which will prevent unauthorized logins to your control panel.
Free migration: If your business has outgrown its current web host, Hostinger offers hassle-free migration, so you don't have to put in extra hours to move everything yourself.
Easy to use: If you want to use a CMS (content management system) like WordPress for your website, you can install it with a single click. If you just need a simple site and you're looking for an even easier solution, you can use  Hostinger's own website builder (Zyro). You won't need to hire a developer to get everything set up.
Caching: LiteSpeed cache helps to speed up loading times, and a faster site can give you a ranking boost in Google search results.
My colleague tested Hostinger's performance over a period of three months.
Find out what he discovered in our in-depth Hostinger review
.
Starting Price

$

1.99

per month
Available Hosting Types
Shared, cloud, VPS, WordPress
Money-Back Guarantee
30 days
Customer Support
24/7 live chat (customers only), ticket system, knowledge base, tutorials
Automatic Backups
Yes (12+ month or Business Shared plans)
Free SSL
Weekly/daily dependent on plan
Uptime Guarantee
99.9%
A2 Hosting provides the most options for developing your own small business website, including shared hosting, WordPress hosting, VPS, and more.
You can choose between A2's shared hosting and WordPress hosting, as the pricing is the same.
The 'Drive' plans keep your business' growth in mind – with capacity for unlimited sites, unlimited storage, unlimited email accounts, and unlimited data transfer. Consider an upgrade to a Turbo plan if you want the fastest possible loading times.
Purchasing a plan is risk-free, thanks to A2's anytime money-back guarantee. While most web hosts offer a 30- or 60-day guarantee,
A2 Hosting lets you cancel your plan at any time
 and get a refund for the time you haven't used.

A2 is very beginner-friendly, but it has some interesting features for developers as well. For instance,
you can create a staging site, which is essentially a cloned copy of your site.
 Rather than disrupting your site visitors by changing the live website, you make changes on the staging version instead, then push them out to the live version when you know for sure that everything is working. If you're looking to develop your own plugins or web apps, or you're creating a complex e-commerce store, the "Guru Crew" support will be very valuable. In testing, I found that
A2's tech support team can handle complicated support requests quickly
, without the need to pass tickets around to different departments. There's one downside, and that's the lack of scheduled backups.
A2 Hosting does back up your site, but it doesn't commit to a schedule.
 For most businesses, the reassurance of a daily snapshot is essential, guarding against data loss caused by rogue plugins or hackers.
Features
Solutions for scaling: A2 Hosting offers three VPS hosting packages. Unmanaged VPS is great for businesses that have developers on-site, while the Core or Managed options are best for business owners who still want the host to take care of basics like software installation.
Choice of data center location: A2 Hosting has data centers in the US, Europe, and Asia. Choosing a data center near your target audience will usually boost speeds.
Developer-friendly: A2 Hosting is great for businesses that are just starting to work with developers on more advanced applications. You, or your developer, can choose the version of PHP and Python, even on a shared hosting account.
Free migration: There's no need to set aside a weekend to move your business site from your old host – A2 Hosting takes care of it for you.
Read our in-depth review to learn more about the pros and cons of A2 Hosting
, and find out whether it's the right choice for your small business website.
Starting Price

$

2.99

per month
Available Hosting Types
Shared, VPS, WordPress, dedicated servers
Money-Back Guarantee
Anytime
Customer Support
24/7 live chat, phone, ticket system, knowledge base
Automatic Backups
Yes
Free SSL
Yes
Uptime Guarantee
99.9%
HostPapa's Business shared hosting plan gives you unlimited bandwidth, disk space, and email accounts, and you can launch as many websites as you need. Migration is free, and one-click installers are provided. If you have an online store or are looking to start one,
HostPapa supports all of the main e-commerce applications
, such as PrestaShop, Magento, OpenCart, and more, and you can install any of them with its one-click installer on any shared hosting plan.
A free domain name is included with some hosting plans from HostPapa
There's a website builder too, so you can get a professional website started quickly if you're not ready to use WordPress. However, there's a drawback:
HostPapa's website builder is limited to just two pages on the Starter or Business plans
. The Business Pro plan lifts the limit to 1,000 pages.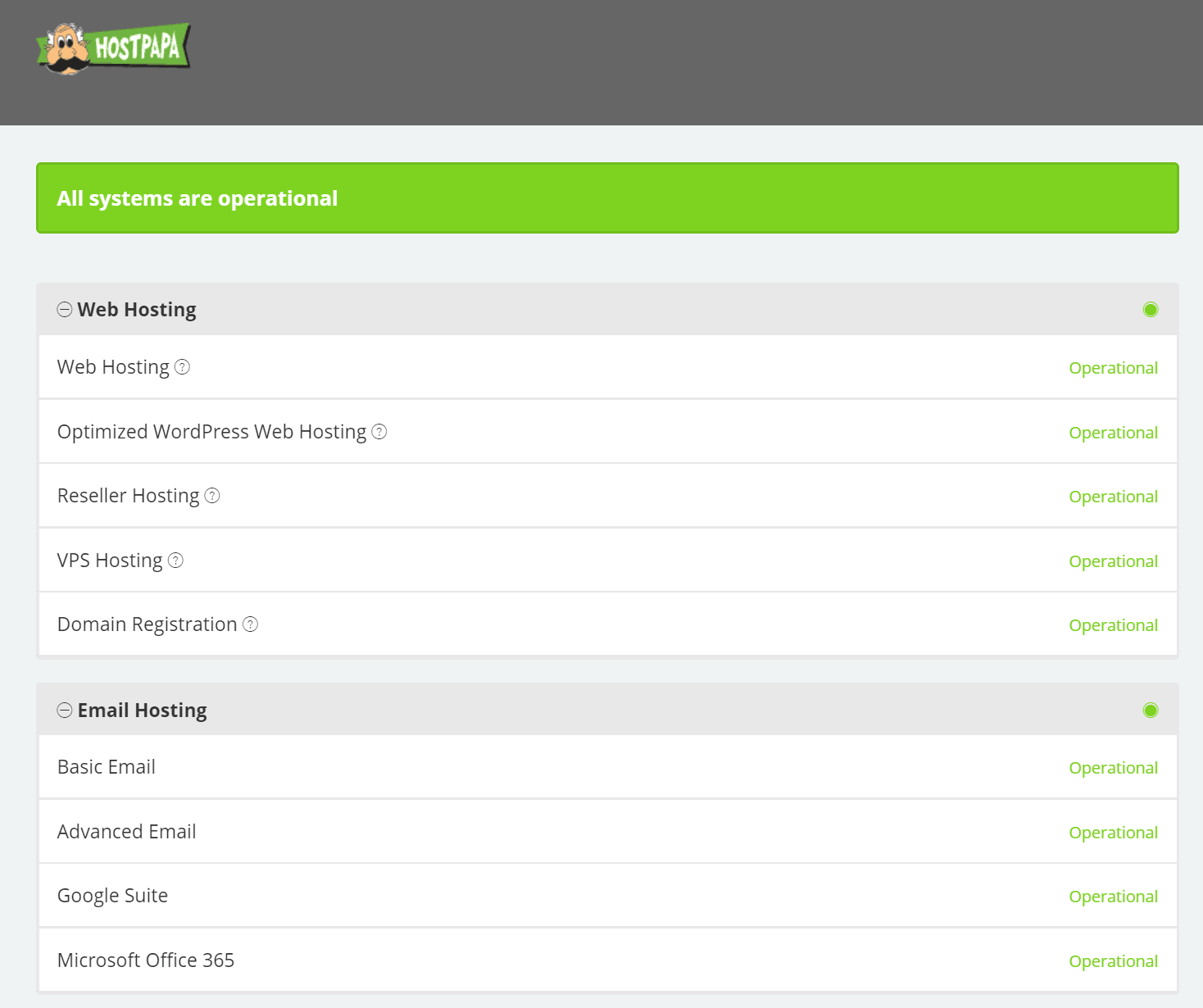 HostPapa is the only host on our list that offers multilingual support.
 Operators speak English, French, Spanish, or German. It would be a good choice for a business with offices in different countries that might need to contact HostPapa in their native language.
Features
Included security: With all HostPapa's plans, you get a firewall, constant server monitoring, network monitoring, and a hack detection system to help to prevent business data loss.
Free SSL: Assign an SSL certificate to your site using Let's Encrypt, or pay for an upgrade to HostPapa's advanced SSL for increased security.
Developer options: If you're developing a complex website, such as an e-commerce store, HostPapa lets you tweak the version of PHP on your account.
Free resources: HostPapa has software libraries to help you build your website quickly.
Learn more about HostPapa's services in our expert review
.
Starting Price

$

2.95

per month
Available Hosting Types
Shared, VPS, WordPress
Money-Back Guarantee
30 days
Customer Support
24/7 live chat, phone, ticket system (English, French, German, Spanish); tutorials, knowledge base
Automatic Backups
Yes (but not on cheapest two shared hosting plans)
Free SSL
Yes
Uptime Guarantee
99.9%
SiteGround provides two key features that can save your business time and money:
Collaborators can have their own dashboard logins, so they can help you to maintain your site without you having to share your password.
White label hosting allows you to ship finished sites to your clients, complete with the full suite of SiteGround management tools under your own branding.
Collaborators can be added on the GrowBig or GoGeek plans (but not the base-level StartUp plan), while the white label hosting is reserved for GoGeek customers.
Both of these plans also give you access to a staging server
 so you can create clones of your websites for further development. The GrowBig plan has a storage limit of 20 GB, and GoGeek is limited to 30 GB. But
 you can host unlimited websites, create unlimited email accounts, and there are no bandwidth limits on either plan
.
A free domain name is included with some hosting plans from SiteGround
To secure your business data, SiteGround has developed its own firewall rules and custom security patches. Backups are taken daily on all SiteGround's shared hosting plans, which is impressive – few hosts provide this on their cheaper plans.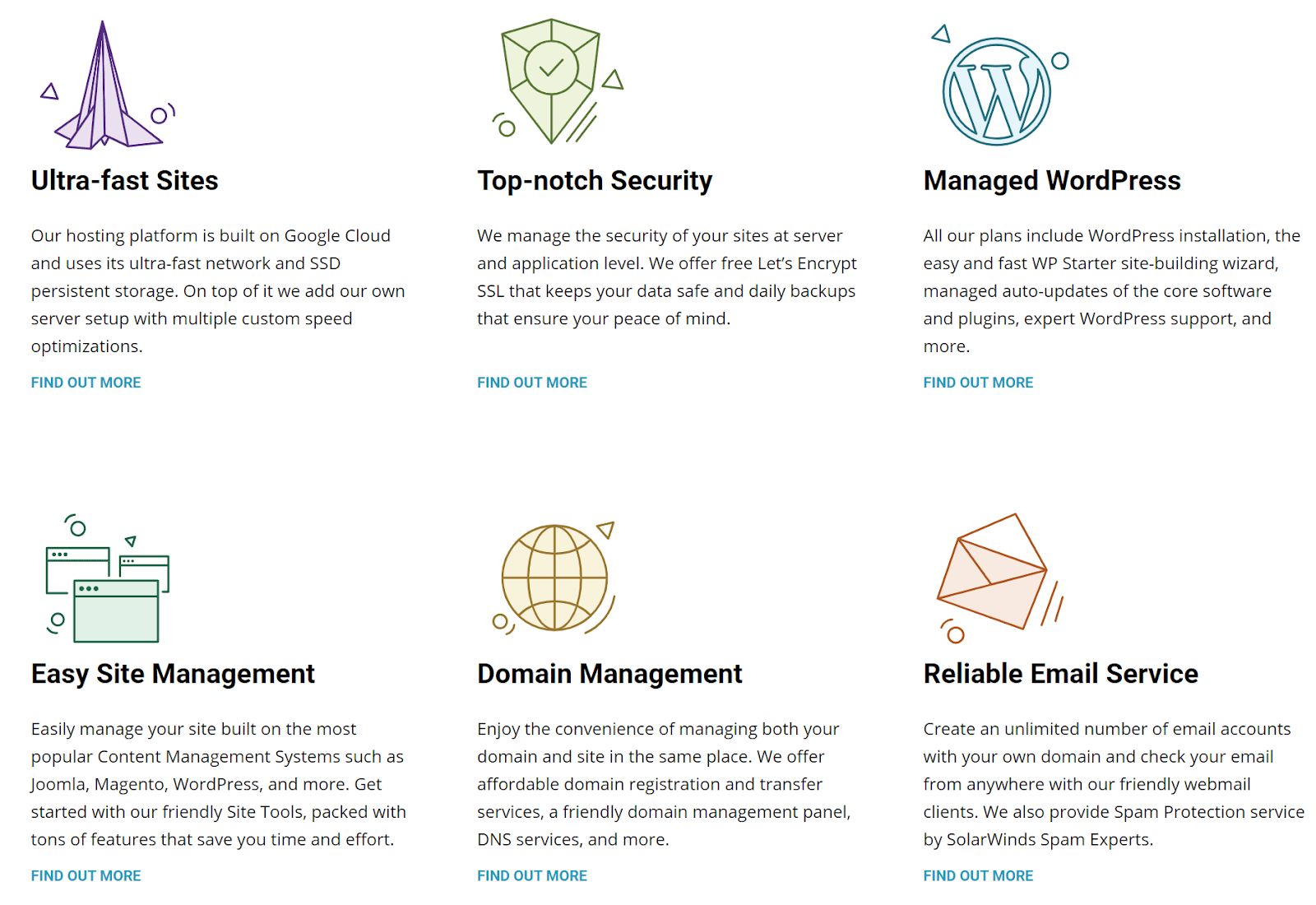 SiteGround is a little more expensive than its competitors. But
if your business manages or co-manages websites for clients, the extra tools you get will add huge value.
Features
Free migration plugin: SiteGround will migrate one website for free. Beyond that, its WordPress Migrator plugin lets you migrate your clients' websites to your SiteGround account without hassle.
Weebly built-in: For customers that aren't quite ready to develop websites using a CMS, SiteGround includes the Weebly website builder. Weebly will allow you to create a functional business website quickly.
WordPress auto-updates: Keep all of your customers' WordPress installations up-to-date effortlessly.
Options for scaling: Businesses that outgrow shared or managed hosting can step up to a cloud VPS for guaranteed resources.
Starting Price

$

2.99

per month
Available Hosting Types
Shared, cloud, WordPress, WooCommerce
Money-Back Guarantee
30 days
Customer Support
24/7 live chat, phone, ticket system, tutorials, knowledge base
Automatic Backups
Daily
Free SSL
Yes
Uptime Guarantee
99.9%

Nexcess
caters to businesses looking for premium hosting solutions.
You won't even find shared hosting at Nexcess
; instead, it offers managed WordPress hosting, managed WooCommerce hosting, managed VPS, and a variety of other premium hosting solutions.
This makes it a good upgrade path for a business site that's hit the ceiling of a shared hosting plan elsewhere. Pricing is comparable for all three plan types, so your choice will come down to whether you want an optimized WordPress or WooCommerce platform, or a VPS with the capacity to run other applications too.
The lowest-tier managed WordPress plan allows for one site, 15 GB storage, and unlimited email accounts. Price-wise, you won't spend much more than a top-tier shared hosting plan elsewhere, but features like staging servers, advanced tools for developers, and full WordPress management really ramp up the ease of use.
Nexcess
can migrate your WordPress site if it's already live on another host. Once your site is on Liquid Web's servers, it'll take daily backups and automatically apply WordPress updates for you. In addition,
it has a 100% network uptime guarantee, which sets it ahead of all the other business web hosts I looked at.
Features
Staging sites:

Nexcess'

 staging feature lets you clone and change your site before pushing changes to the live version.
Developer-friendly: Root access on

Nexcess

'VPS plans allow you to deploy any application you need, and it also offers Git, SSH, and WP-CLI.
Free SSL: SSL certificates are included with all

Nexcess'

 plans.
Included marketing tools.

Each one of Nexcess' managed WordPress plans includes a full suite of hubspot-powered marketing features.
Get more information in our expert Nexcess review.
Starting Price

$

15.83

per month
Available Hosting Types
 VPS, Managed WordPress, managed WooCommerce
Money-Back Guarantee
Only on cloud VPS plans
Customer Support
24/7 live chat, phone, ticket; knowledge base
Automatic Backups
Yes
Free SSL
Yes
Uptime Guarantee
100%
My Recommendations for the Best Small Business Hosting
Every small business possesses its own uniqueness, even in terms of website requirements. Your selection of hosting should mirror the current demands of your business and your envisioned path for future growth.
InterServer is the most affordable host I looked at.
 Any new business on a budget will enjoy the features it offers at an incredibly low, locked-in price.
A2 Hosting is a good step up for ambitious businesses
that want to develop their website further. That all-important "Guru" support will be your safety net as you explore new ways to serve your customers online.
SiteGround's hosting is great for any business
that develops or manages websites. Having those collaboration and white-label features on a shared hosting plan offers the potential for new income streams.
| | | | | | | |
| --- | --- | --- | --- | --- | --- | --- |
| Feature | InterServer | Hostinger | A2 Hosting | HostPapa | SiteGround | Nexcess |
| Unlimited Websites | Yes | Yes | Yes | Yes | Yes | No |
| Unlimited Storage | Yes | Yes | Yes | Yes | No | No |
| Free Domain | No | Yes | No | Yes | No | No |
| SSD Storage | Yes | Yes | Yes | Yes | Yes | Only on managed VPS |
| WordPress Auto-Updates | Yes | No | No | No | No | Yes |
| | | | | | | |
FAQ
What is the best host for small businesses?
There is no single best host for all small businesses, the ideal host for you will vary depending on the nature of your business, your level of experience, and a million other factors.

If you're just starting out,

InterServer

offers outstanding hosting for beginners

 at affordable rates.

Small businesses with more complex requirements should look at hosts like A2 Hosting, which supports growing sites and have developer-friendly features. Before you make any final decisions, you should check out our coupon page to see the best hosting deals available right now.
What is the best email host for small businesses?
Most small business hosting packages include the capacity for unlimited email accounts, so you can have email addresses for no additional fee. If you need a dedicated email host, Hostinger offers affordable email hosting as a standalone service.
Is Bluehost good for small businesses?
We don't recommend Bluehost for business websites. When we tested Bluehost, we found that sites hosted on its servers load more slowly compared to the best small business web hosts. We also found that the Bluehost dashboard has fewer features than competing hosts.

If you're looking for an ideal option for your small business, t

ake a look at out detailed list of the best hosts for small businesses in 2023.
Is shared hosting good for small businesses?
Yes. Shared hosting can be a great alternative for small businesses, especially when you don't yet have the resources or expertise for a VPS or dedicated hosting. However, you need to know how to pick your hosting. 
Though there are some great shared hosting options for small businesses out there, there are also plenty that promise more than they can deliver. If you are searching for the perfect hosting for your business, check out our list of the best hosts for small businesses in 2023.