Although there are a lot of hosts to choose from, not all of them offer a positive user experience.
In the past few years, I wasn't happy with DomainFactory's page load times and price increases.
Because of the slow server response time, my bounce rate increased by almost 33%, which cost me potential new business
. (Not to mention that a website designer should always have a reliable website.) When I contacted customer support – several times – they were slow to respond and unhelpful. I checked out some web design forums and found that many people also shared my opinion. I was determined to find an alternative to DomainFactory that could provide me with a better performance, not only in Germany but in other locations as well. I tested all the major website hosts and found 6 affordable services with
reliable speed, security, and customer service
.
Short on Time? These Are the Best DomainFactory Alternatives for 2023
Hostinger – Wallet-friendly hosting options with impressive server speeds and consistent uptime.
GreenGeeks – Excellent customer support, reasonable prices, and a user-friendly cPanel interface.
A2 Hosting – Great flexibility with multiple upgrade options, including VPS, and an anytime prorated money-back guarantee.
What We Look For in the Best Alternatives to DomainFactory
Great customer service. From my experience, DomainFactory lacks knowledgeable staff, and even though customer service is available 24/7 through multiple communication channels, it's difficult to receive a prompt reply.
Flexible and affordable plans. I looked for web hosts that, unlike DomainFactory, give me the freedom to choose from a wide range of hosting options that can be scaled, depending on my needs. These hosts also needed to offer inexpensive plans and relatively low renewal rates.
Value-added features. DomainFactory covers all the basics for shared and WordPress hosting, but there are hosts that automatically include a content delivery network (CDN), SSL for every domain, and speed and SEO solutions for much less.
Reliability and server locations. With servers located in Germany and France, DomainFactory largely targets businesses in Germany and Austria. However, there are hosts that also have servers in Europe and beyond that can provide more consistent uptime and faster loading speeds.
Better security. DomainFactory is standard when it comes to security, but quality hosting services should be more proactive about securing their servers and my website – such as through multiple layers of security.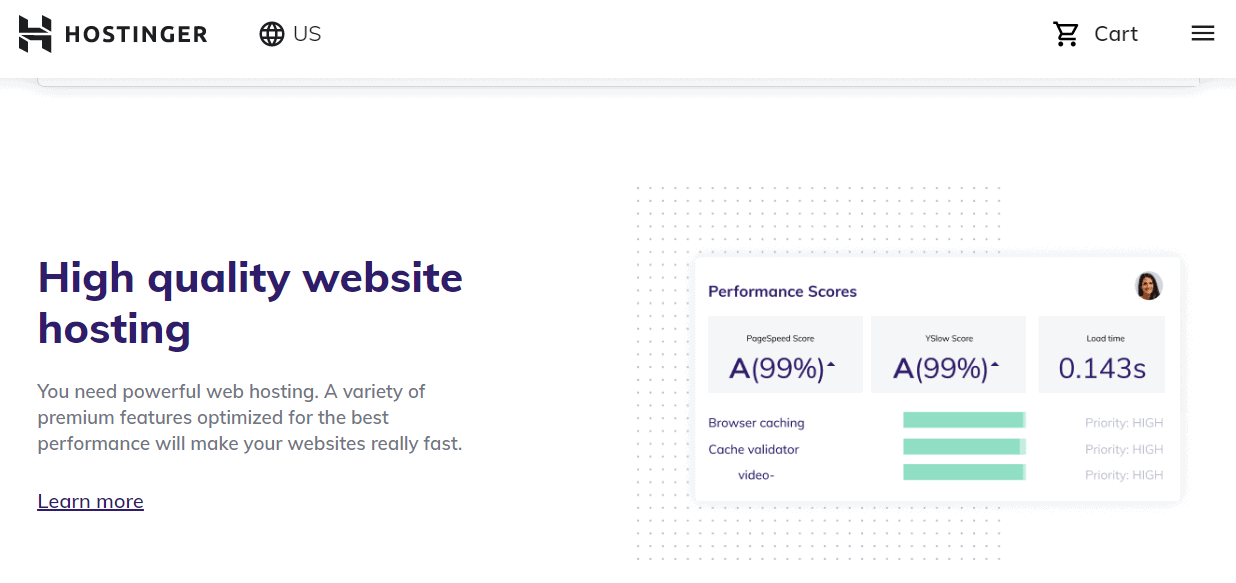 Hostinger is a crowd favorite because of its
cheap but feature-packed shared hosting plans
, which include free SSL for your domain, WordPress Litespeed Cache, and a 99.99% uptime guarantee. With CloudLinus OS, every customer can expect lightning-fast page loading speeds. Hostinger offers competitive discounts, which is an added bonus because its plans are already very affordable. This host has one of the cheapest long-term plans in the market.
If you sign up for the basic 48-month term plan, you pay about

$

1.99

 per month
– that's less than the price of a small coffee. Unlike DomainFactory,
Hostinger's mid-level shared hosting plans come with several unlimited perks
, including bandwidth, MySQL databases, email accounts, FTP accounts, and Cron Jobs. Its top-tier plan also offers daily backups, which means saying goodbye to hours of manual back-ups.
A free domain name is included with some hosting plans from Hostinger
Features
Multilingual support. Hostinger provides multilingual assistance and customer service is available around the clock.
Cheaper renewal costs. There's no competition here. Compared to DomainFactory, Hostinger has cheaper renewal costs for shared hosting.
Impressive load times. When it comes to server speeds, Hostinger is one of the best when it comes to performance. It also has servers in Asia and the Americas, so visitors from these regions can load your website in less than 2 seconds.
Unlimited resources. Hostinger's medium- and high-tier plans are perfect for growing websites and businesses that want unlimited bandwidth, databases, FTP accounts, and hosting for up to 100 websites.
Read our full review for more on Hostinger's speed tests
.
Server locations

US, UK, the Netherlands, Lithuania, Indonesia, Singapore, Brazil

Customer support channels

24/7 live chat, email, and support ticket

Money-back guarantee

30 days

Starting price

$

1.99

GreenGeeks has servers in the US, Canada, and the Netherlands, which means that clients trying to access your website from North America and Europe will likely experience fast loading speeds. Even though DomainFactory offers a wide range of prices for its plans, GreenGeeks' overall prices are cheaper – and its cheapest shared hosting plan comes with unmetered data transfer, free CDN, nightly backups, and unlimited databases.
GreenGeeks also offers a website migration for new customers
, which you'll appreciate if you need to switch hosting plans but don't have the time (or patience) to do it manually. GreenGeeks includes a wide range of security features with all its plans. On shared hosting plans,
its Hosting Account Isolation securely isolates your account from other accounts
to protect your website from external threats.
A free domain name is included with some hosting plans from GreenGeeks
Features
Highly responsive customer support. Always available, GreenGeeks' customer support is considered one of the most accessible customer support systems in the market.
Green hosting. GreenGeeks is a web host with a conscience. Its data centers run on 100% renewable energy and are built to be as energy efficient as possible.
Value-added features. GreenGeeks' web hosting plans go beyond what DomainFactory offers, with unlimited SSD storage, bandwidth, databases, and email accounts available for Pro and Premium plans.
Reliable speeds and uptime. When I tested GreenGeeks' uptime, it exceeded its guarantee. Its global page loading speeds were also quite impressive.
Read our expert GreenGeeks review for more details
.
Server locations

US, Canada, the Netherlands

Customer support channels

24/7 live chat and email, limited phone (9:00 a.m. – 12:00 a.m. EST)

Money-back guarantee

30 days

Starting price

$

2.95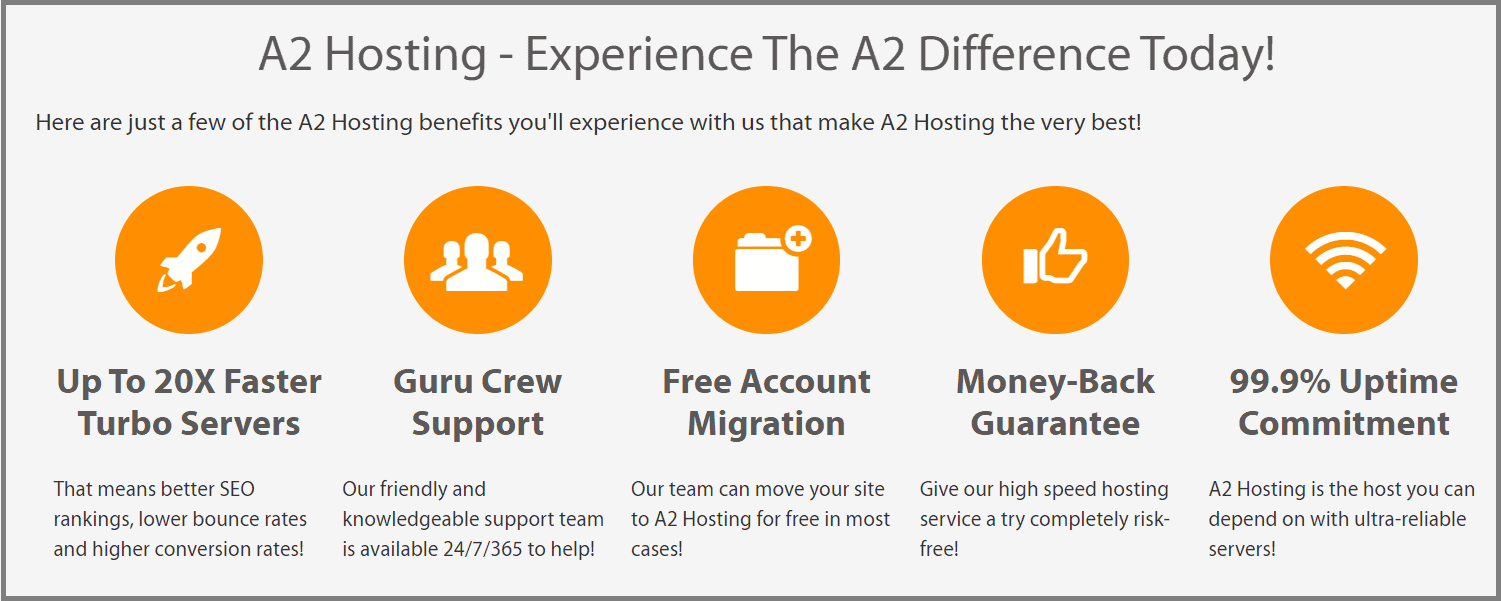 While DomainFactory's web hosting plans have limited storage and resources, A2 Hosting's wide range of hosting solutions have you covered.
Its smallest plan, the Startup, has unlimited bandwidth and a generous 100GB SSD storage allocation
. Shared hosting plans also come with a
custom A2 SiteBuilder, which is an easy drag-and-drop website builder
designed to get your website up and running with minimal effort. The SiteBuilder is great for beginners, but it's on the basic side. If you're looking for something more robust, A2 Hosting also offers other types of website builders for free: Elementor, RapidWeaver, Dreamweaver, Bluefish, and more. A2 Hosting has data centers in the US, the Netherlands, and Singapore, and gives you the option to choose your data center location. If your target audience is in North America, Europe, or Asia, they'll experience decent page loading speeds. This host also provides a slew of speed-enhancing features, but unfortunately these are only available for the top-tier plans.
Features
Powerful security features. A2 Hosting's security features are some of the best out there. KernelCare, Cloudflare ServerShield, HackScan, and Auto-Heal hosting protection are included with every plan.
Any-time money-back guarantee. In addition to its 30-day money-back guarantee, A2 Hosting goes one step further and allows you to cancel at any time. You can receive a prorated refund for the unused period.
Turbo servers. A2 Hosting uses Litespeed Web Servers that are optimized to deliver the best possible speeds.
A Lite plan that's not so light. The Startup plan doesn't skimp on resources. You'll have more than enough for your website with 50GB of web space and unmetered data transfers.
Exactly how fast are Turbo servers? Read our A2 Hosting review to learn more
.
Server locations

US, the Netherlands, Singapore

Customer support channels

24/7 live chat, email, and phone

Money-back guarantee

30 days and cancel anytime for a prorated refund

Starting price

$

2.99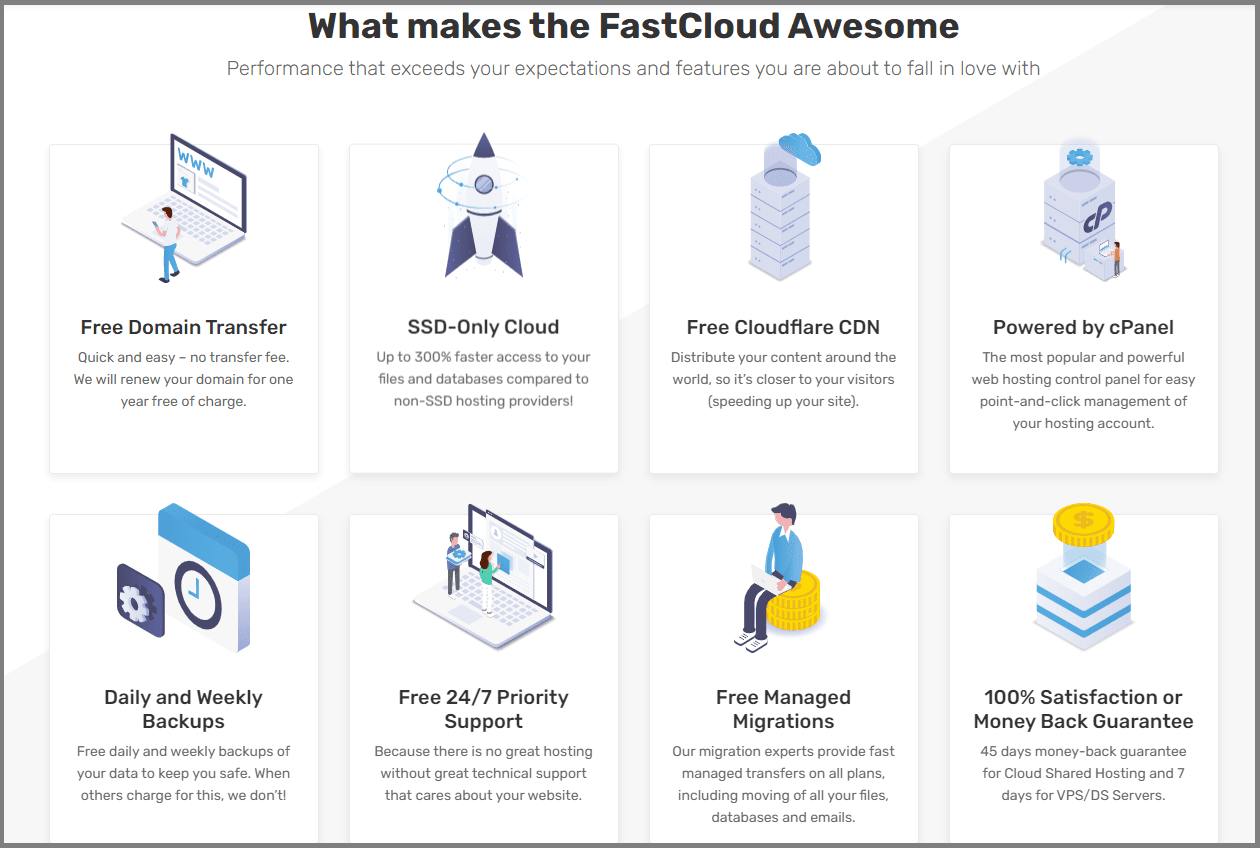 When it comes to data centers, FastComet's 11 locations are nothing to scoff at.
Centers span North America, Europe, Asia, and Australia, which means fair loading times for target audiences in these regions.
However, FastComet still relies on Apache technology, which might seem sluggish compared to other hosts that use Litespeed technology, like Hostinger and SiteGround. On a brighter note, FastComet promises a 99.9% uptime guarantee and in the long run, its actual uptime rarely falls below this number. In fact,
FastComet is so confident about its uptime that you'll receive partial refunds for any time your website is offline.
FastComet will also compensate transferring customers who have unused time with other hosting providers.
You can receive up to six months of free hosting
 when you sign up to one of its 3-year plans.
Features
A basic plan big on resources. The budget-friendly FastCloud plan has a ton of unlimited resources, and if you're new to website building, its website starter kit might be just what you need. You'll get an easy 1-click WordPress install with app installations, and over 350 free templates included in its site builder.
Gzip for your website. Gzip can compress your website to half its size, reducing transfer sizes and boosting loading speed.
Responsive support channels. Both DomainFactory and FastComet advertise quick response times for customer support. The difference is that FastComet's support department came through. They responded to my support ticket in less than a day and swiftly resolved my DNS issue.
Content management systems (CMS) hosting. FastComet offers WordPress hosting and supports a wide range of other CMS platforms, including Joomla.
For more on plans, check out our full FastComet review
.
Server locations

US, Canada, UK, the Netherlands, Japan, Singapore, Germany, India, Australia

Customer support channels

24/7 live chat, email, support ticket, and phone

Money-back guarantee
45 days
Starting price

$

2.74
Pro tip:
Gzip is a lightweight and useful compression tool that can help speed up your website's loading time by reducing bandwidth. If you're not sure if your existing website needs – or even supports – Gzip, check out this handy
Gzip Compression Checker
.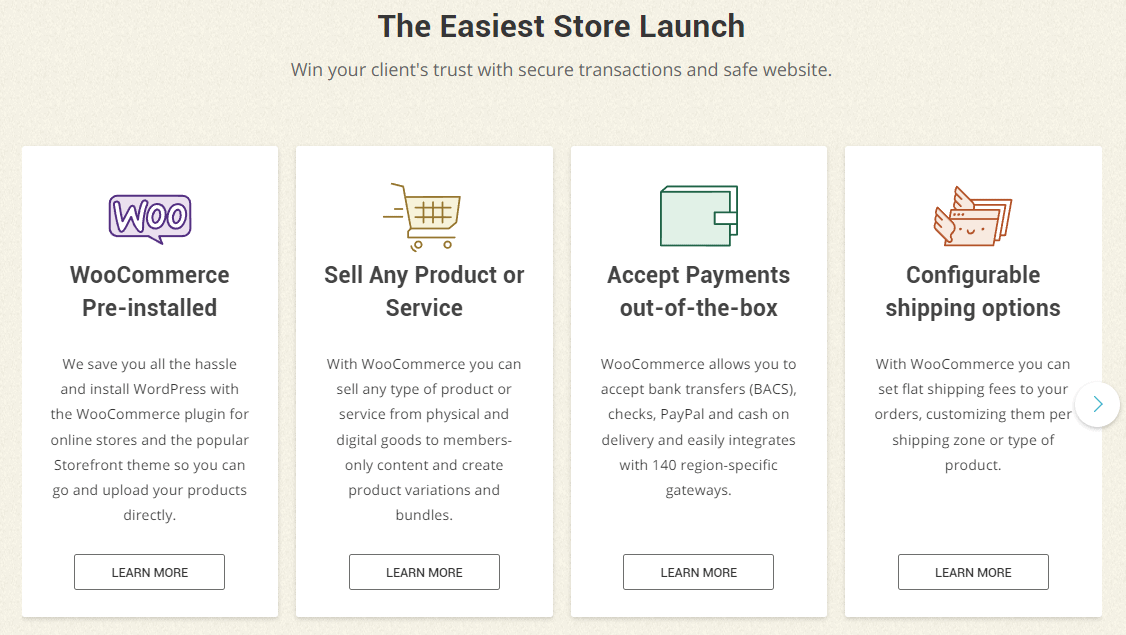 While SiteGround's package renewal fees don't fall on the cheap side, this Bulgarian host provides premium add-ons for free. With a pre-installed WordPress command-line interface (WP-CLI) and SSH access, free shopping cart installation, and optimized services specifically for WordPress and WooCommerce,
SiteGround is a solid WordPress host
.
If you don't like cPanel but still want an easy-to-use control panel, you'll appreciate SiteGround's Site Tools.
With a simple and user-friendly interface, you can easily manage your email accounts, create MySQL databases, check up on your website security, and analyze your site statistics. SiteGround has servers in Asia, Europe, and the US, and
uses NGINX web server technology, SSD storage, and GZIP compression to deliver high speeds
. Because of these impressive features, I expected SiteGround's overall speeds to be much faster than the competition. But with satisfactory page load speeds, SiteGround falls somewhere in the middle.
A free domain name is included with some hosting plans from SiteGround
Features
Loaded plans. SiteGround isn't cheap, but it offers premium features that other providers offer at an additional cost or simply don't provide at all.
Take control with Site Tools. SiteGround's own in-house control panel is more polished and user-friendly than industry standard panels, and can do the same job as cPanel.
Tight security features. SiteGround offers a variety of security protocols, from advanced intrusion detection and prevention systems (IDPSs) to ModSecurity firewalls and automatic daily backups.
Ship sites in an instant. A great feature for website designers, shipping sites allows you to smoothly transfer ownership of a finished website to the client in just a few clicks.
Read our comprehensive SiteGround review for more information
.
Server locations

US, UK, the Netherlands, Denmark, Australia, Singapore

Customer support channels

24/7 live chat, support ticket, and phone

Money-back guarantee
30 days
Starting price

$

1.99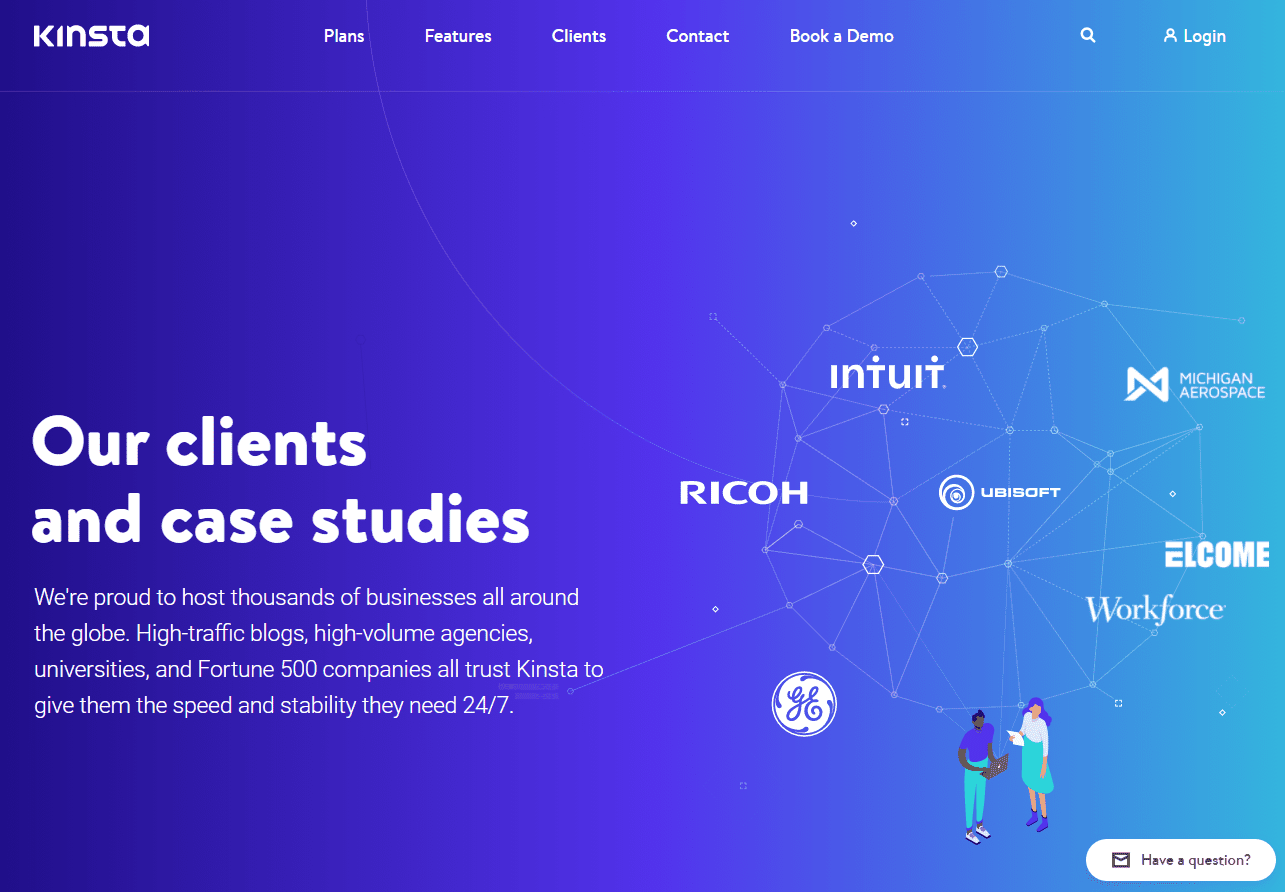 If you don't mind spending more to get an exceptional,
fully managed WordPress hosting service
, then you should consider Kinsta. Kinsta caters to
growing or established medium- and large-sized businesses
, and its plans are tailored to meet those needs. Free, value-added features such as CDN, SSL certificates, staging environments, white-labeled cache plugins, and multi-user environments increase security and improve consumer confidence. Unlike the other website hosts on this list, Kinsta's hosting is handled by the Google Cloud platform. Kinsta also piggybacks on Google's data centers, which are located on every continent except Africa. With Google's exceptional technology and infrastructure, it's no surprise that Kinsta delivers
incredibly fast speeds across the board
.
Features
Google Cloud infrastructure. Because Kinsta runs on Google Cloud, you can expect exceptional infrastructure and unparalleled technology that have become synonymous with Google.
Outstanding performance. With access to Google's largest fiber network and its own CDN (no more trying to connect to CloudFlare's free plan!), Kinsta can process data at astounding speeds. And with server checks every 2 minutes, you're almost guaranteed a perfect uptime.
Dedicated support. Kinsta's highly trained customer support is available via live chat and ticket system around the clock. Self-help options are also available through Kinsta's extensive Knowledge Base.
Premium features for your growing business. Kinsta doesn't skimp on price, but it does offer great resources and it's equipped to manage and support high-traffic sites. Unfortunately, if you're looking for a one-stop shop here, you're out of luck. Kinsta doesn't sell domain names or offer email hosting, so you'll have to buy that elsewhere.
Read our expert Kinsta review for details on support and pricing
.
Server locations

US, Canada, UK, Taiwan, Hong Kong, Japan, South Korea, India, Singapore, Indonesia, Australia, Poland, Finland, Belgium, Germany, the Netherlands, Switzerland, Brazil, Chile

Customer support channels

24/7 live chat, email, support ticket, and phone

Money-back guarantee
30 days
Starting price

$

35.00
If DomainFactory Isn't Right for You, Try These Alternatives
Ultimately, the best alternative to DomainFactory should offer competitive prices with no hidden paywalls, scalable plans, reliable speeds, and professional customer service. With this in mind,
Hostinger comes out on top
.
Its long-term plans are dirt cheap
, the average page load time is less than 2 seconds, and its uptime is one of the best you can find.
For shared and VPS hosting, A2 Hosting is a close second
. You can choose from a wide range of managed or unmanaged VPS plans, or sign up to its affordable, feature-packed shared hosting plan. If security is your main priority, and you don't mind exceptional customer support, I'd suggest GreenGeeks.
Its Lite plan has all the resources you need
 to start a professional website
, including a free domain name (for the first year), a free SSL certificate, 50 email accounts, and a managed WordPress option. Take a look at our comparison table to see which DomainFactory alternative fits your needs.
Standout Feature
Type of Hosting Plans
Basic Plan Resources
Starting Price
Hostinger

Wallet-friendly plans with tons of value-added features

Shared (including WordPress), Cloud, and VPS

1 website, 30GB SSD storage, 10,000 monthly visits

$

1.99

GreenGeeks

Shared hosting plans with exceptional security protocols

Shared, WordPress, VPS, Reseller

1 website, 50GB SSD storage, unmetered bandwidth

$

2.95

A2 Hosting

Unlimited resources on all plans, including shared hosting plans

Shared, Managed WordPress, VPS, Dedicated, Reseller

1 website, 100GB SSD storage, unlimited bandwidth

$

2.99

FastComet

11 data centers across four continents and 200 global CDN locations

Shared, Cloud VPS, Dedicated

1 website, 15GB SSD storage, 25,000 monthly visits

$

2.74

SiteGround

Optimized servers for WordPress and WooCommerce

Shared (including WordPress), Cloud, and VPS

1 website, 30GB SSD storage, 10,000 monthly visits

$

1.99

Kinsta

Managed WordPress Hosting scaled for mid- and large-sized businesses

Managed WordPress

1 WordPress website, 10GB SSD storage, 25,000 monthly visits

$

35.00
FAQ
Which host offers better shared hosting plans – DomainFactory or Hostinger?
While DomainFactory and Hostinger are neck-in-neck when it comes to storage on their basic plans, there's no denying that Hostinger performs better in almost every other aspect. With cheaper long-term subscriptions and better performance speeds and uptime than DomainFactory, Hostinger is the winner hands-down. And Hostinger often has some great deals – check out our coupons and deals page to get yours.
Why should I not choose DomainFactory for hosting?
For many years, DomainFactory was a good option for hosting in Germany. Unfortunately, increased prices, slow speeds, and poor support have left many customers dissatisfied. But rest assured, there are better options out there. A2 Hosting's Drive plan, for instance, is much cheaper than DomainFactory's basic plan, and comes with unlimited resources. You can read more about our other expert picks in our list of the best web hosting services in 2023. These hosts provide affordable rates, fast performance speeds, and attractive plans for all types of websites.
Is it easy to cancel my plan with DomainFactory?
DomainFactory offers a fairly straightforward 60-day money-back guarantee. To cancel your hosting, log into your account and click on "Online Notice." Here you'll find the "Online Cancellation" button on the "On" or "Off" position. Depending on your selection, you can either terminate your account online or download a PDF to be sent by fax or mail.