Udemy does not screen their instructors.
Udemy has so many courses it's hard to find the right one for you.
Udemy does not let you talk to the professor or other students, which can really limit the learning potential.
Udemy certifications aren't necessarily going to boost your job prospects.
Udemy students are often unhappy with the course quality.
Since the number of online learning sites can be overwhelming, we spent the past couple of weeks becoming experts (in our own minds, at least) on the different options. Now we are ready to help you find the right one for you.
Short on time? Here are our top picks for Udemy alternatives:
What We Look For in the Best Alternatives to Udemy
We like Udemy
. We have taken courses on Udemy. And we will take courses again. But before you plug in your credit card information, make sure you know the drawbacks of Udemy and what we looked for in Udemy alternatives.
Instructor screening. Your time and money are valuable. You deserve instructors that are both experts in their field and know how to teach.
Interaction. Learning is social. And you often have questions. Being able to talk to the professor or other students can make a big difference.
Easy to find the right course. You don't want to spend more time looking for the right class than actually taking the class.
Student satisfaction. Overall, course quality is the most important factor. We looked at reviews to make sure that most were positive for the majority of classes.
Certifications. Sometimes you need a piece of paper to help you land that job or raise. But Udemy's certifications don't carry much weight. So anything you take is really just for you.
For freelancers, time is money and searching for the right course is time you aren't working on billable projects. Enter
Fiverr Learn
,
which has courses specifically for freelancers
. Yes, the course selection is small – around 30 digital marketing and creative options –
but all projects and instruction are geared specifically to the needs of freelancers.
To see the course selection without having to sign up,
go to the Fiverr homepage
, scroll all the way down to the bottom, and click on the
Learn
link in the footer.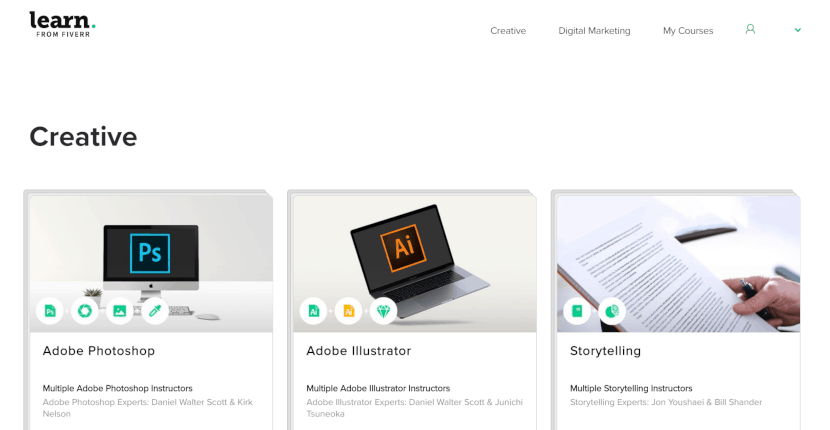 Fiverr also specifically invites expert teachers, which means the quality is higher than that of other courses. There is a range of prices, but most of the courses are between $25 to $40. You pay for each course, and there is no unlimited plan, but Fiverr Learn does offer specials and coupons.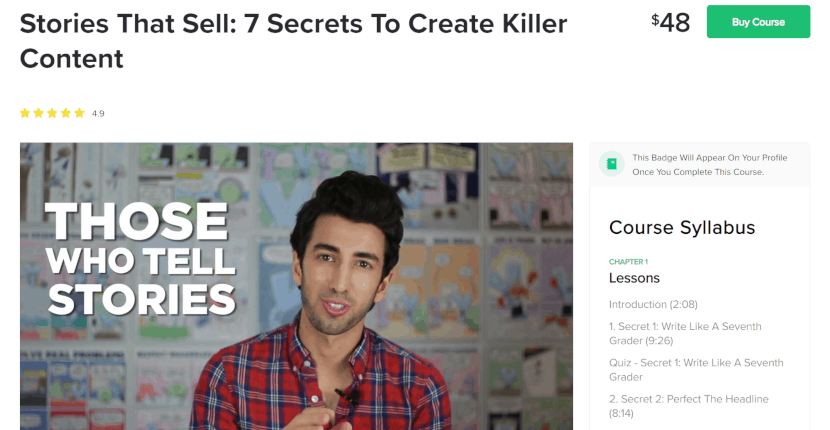 Our biggest issue with Fiverr Learn was one we had with other sites as well – lack of interaction.
But if you are using Fiverr to look for work, then you should consider Fiverr Learn since it can increase your attractiveness to clients.
Features
Detailed syllabus: Fiverr Learn provided some of the most detailed syllabuses of the sites we reviewed.
Badges: Each time you take a course, you earn badges that potential clients can see. Not only are you learning skills, you are increasing your marketability.
Programs: Fiverr Learn offers bundles of related courses at a discount. This helps you save money and can motivate you to learn even more about a topic.
Short courses: Most take a few hours or less to complete. But the one we took packed a lot into that time.
| | |
| --- | --- |
| Mobile App | No |
| Free Trial | Refunds on uncompleted courses available within 30 days |
| Free Classes | No |
| Professor Screening | Yes |
Want to
really
go back to school? Then Coursera is your best bet. We have taken five Coursera courses and were impressed with the quality each time.
The biggest difference is that you can earn certification through an accredited university, which is much more likely to be recognized by employers.
The courses in the
Coursera catalog
 are structured like typical college courses with set start and end dates – although they are generally much shorter than a typical semester, with the length depending on the course. But this means that you might find yourself working during your vacation, since there are hard due dates.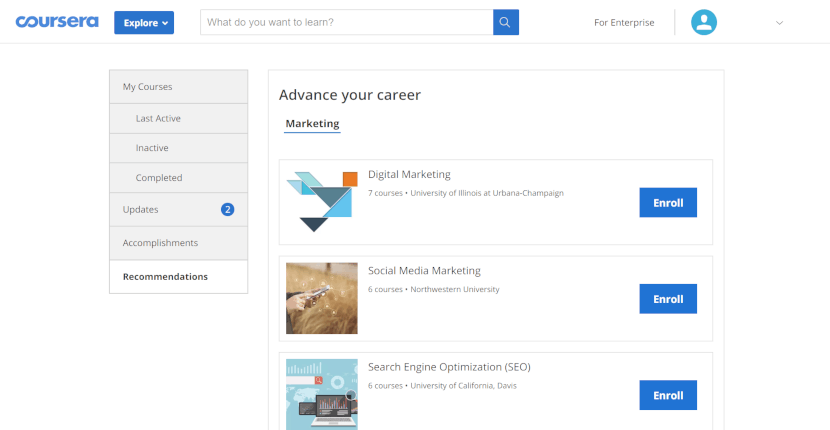 And you actually have graded assignments (unless you opt to audit the course for free), which you turn in for your peers to grade. We loved seeing other people's assignments – yes, we are a bit nosey. We found no busywork, just relevant and interesting assignments, like the Brand and Content Marketing Class we recently completed. And if you want to learn website coding, Coursera has lots of options.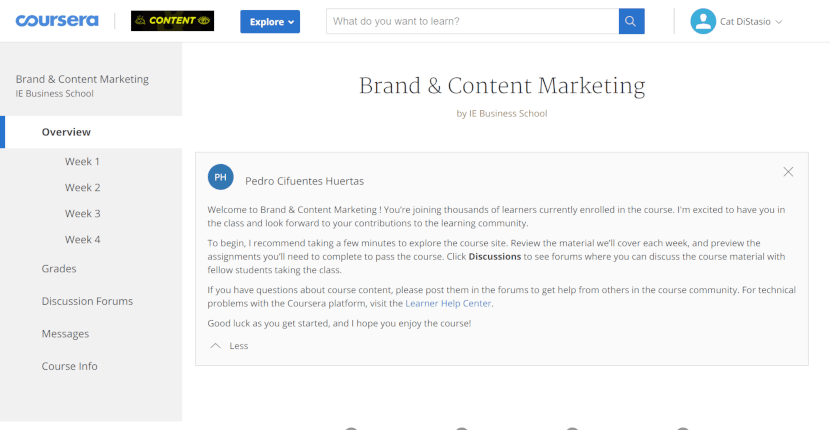 The payment options vary based on the university, with some courses allowing auditing for free and others offering only paid options.
The prices tend to be higher than on other platforms, but that is balanced out by the high quality – in our opinion.
You can also
buy a yearly subscription to a specialization
. This saved us last year when we got busy at work and had to retake one course – ok, we will be honest, three courses – to finish.
Features
Financial aid available: You can apply for scholarships and aid for Coursera courses. The process takes around 15 days.
Trial period: You have seven days to try out a specialization for free before paying. During the trial period, you have free access.
Peer interaction: With peer-graded projects in many classes, you increase your learning by interacting with other students.
Teacher interaction: Most courses allow you to contact the professors during the course. Teachers will often upload additional resources answering the most commonly asked questions.
| | |
| --- | --- |
| Mobile App | Yes |
| Free Trial | 7-day trial for some courses |
| Free Classes | Yes |
| Professor Screening | Significant |
3. Skillshare – Learning by Doing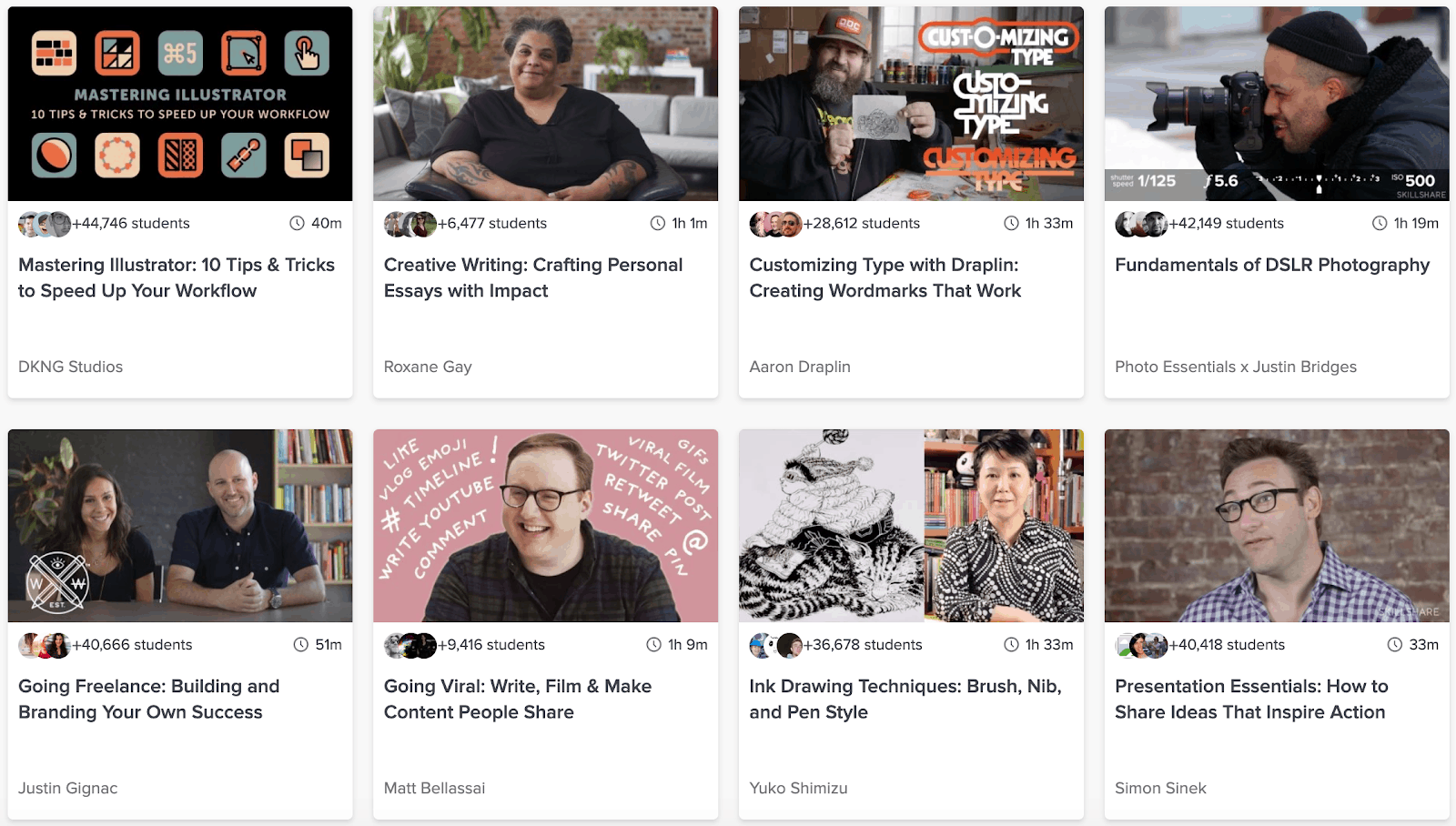 While Skillshare offers fewer courses than Udemy does – although over 28,000 different classes is still a lot – the courses and instructors have all been approved by Skillshare. To us, this is a huge advantage.
We found a dramatic difference in the quality of Skillshare courses compared with Udemy's.
Skillshare is best for people who like online classes and want to take a lot of them. With their $15 unlimited-classes premium membership, it can be a great value. However, the free membership is a bit deceiving, since you can only watch portions of most classes. Skillshare's real strength is creative classes – writing, design, photography and music. And if you, like we do, zone out with reading and lectures, you will love the project- and action-based approach of Skillshare classes. But if you don't want to do projects, then Skillshare isn't for you. The other thing that we love about Skillshare is just how
easy it is to take a look at past reviews.
Who is this course best suited for? What factors did students like the most? Were their expectations met, or not so much? This is all super important info that's available on every course page.
Features
Month-to-month membership: You can cancel the premium membership at any time. Although some customer reviews did mention issues with cancellation.
Tight-knit community: Unlike Udemy, you can connect with other students in the Community section of each course.
Course outline: Each course shows you exactly what will be covered in the class, not just the objectives.
Project preview: With the projects listed in the course description, you can see the main assignment as well as examples of other student projects.
| | |
| --- | --- |
| Mobile App | Yes |
| Free Trial | Yes, 7 days |
| Free Classes | Many |
| Professor Screening | More than Udemy, less than others |
4. Learning.ly – Best for Entrepreneurs
This site is owned by The Economist, so the quality of the courses is – not surprisingly – higher than those of Skillshare and Udemy. And the professors are experts, not just someone with an iPad who really knows (or really
thinks
they know) their stuff.
Learning.ly screens both the professors and the courses – and it's evident in the results.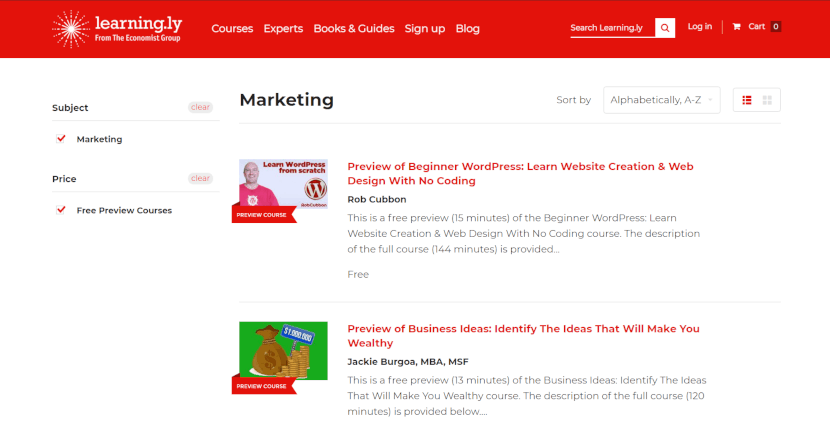 Learning.ly's strength lies in professional development and entrepreneurship – with courses from "Become a Speed Demon" to "Mastering Emotional Intelligence." If you want to improve yourself and your career with proven techniques, head to Learning.ly. We really like how the course descriptions state specifically who should take the course, to help you get the right fit.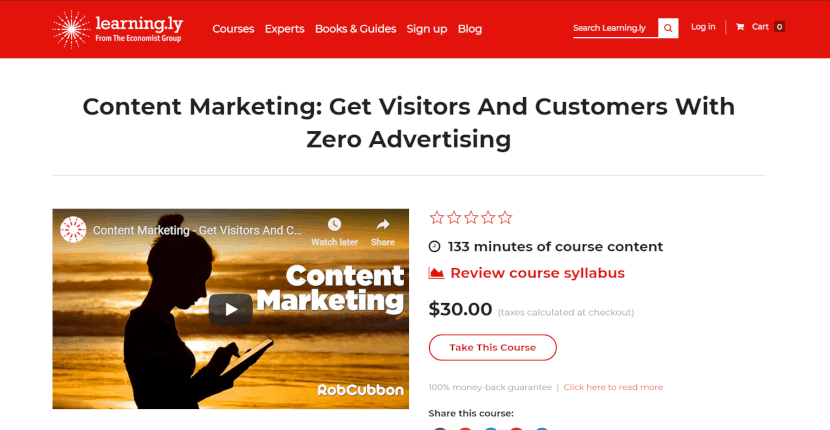 And our favorite part of Learning.ly was that we could do it on our own time. Unlike Coursera, there are no start and end dates. We could do our class over a month or while hunkered down in our house during a weeklong heat wave. And no graded assignments.
Features
Satisfaction guaranteed: Don't like a course? You can get your money back with the 100% refund policy.
In-depth syllabus: You can see exactly what you are getting with a detailed syllabus listing each lesson and topic.
Books and guides: The site also sells related books and guides for the courses, helping you expand your learning.
Discount for becoming a member: When you first join, you get coupon codes and discounts.
| | |
| --- | --- |
| Mobile App | Yes |
| Free Trial | Yes, 7 days |
| Free Classes | Many |
| Professor Screening | More than Udemy, less than others |
5. MasterClass – Best for Hobbies and Fun
Want to improve your jump shot? Or learn to beat your son in chess? Maybe you want to up your cooking game. MasterClass has you covered. And even better,
the classes are taught by celebrities,
such as tennis with Serena Williams, cooking with Gordon Ramsay, and screenwriting with Aaron Sorkin.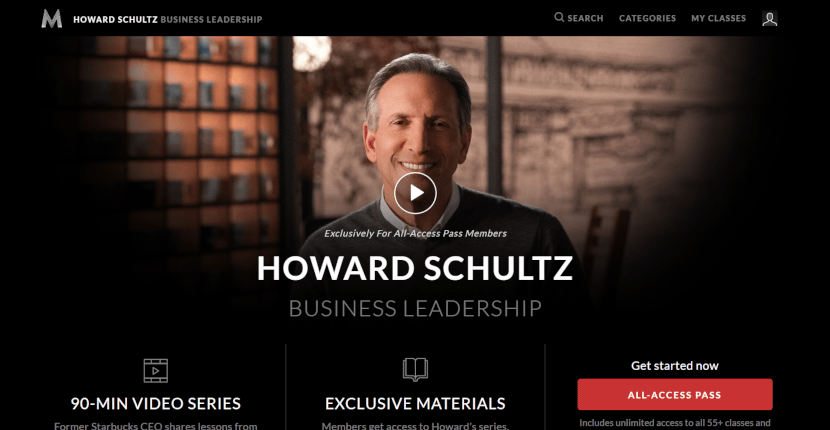 We watched a lot of videos when researching this article. And the quality of these courses was by far our favorite – interesting and professionally produced. The celebrities in the classes we watched weren't just good at their respective crafts but also at sharing their passion and knowledge. Yes, this site is a bit different than the others. But we highly recommend it for anyone who wants to learn from the best. When else will you have the chance to learn writing from James Patterson or Judy Blume?
Features
All-Access pass: For an annual fee you can access all the courses you want for an entire calendar year.
Short, but many lessons: With the average lesson being only ten minutes, you can absorb the information in bite size chunks. But with most classes having around 24 lessons, you also get in-depth learning.
Gifting: Looking for a gift for someone who has everything? You can easily gift a class or All-Access pass.
Watch on Apple TV: Unlike the other platforms, MasterClass lets you watch your lessons on your big TV through the AppleTV device.
| | |
| --- | --- |
| Mobile App | Yes |
| Free Trial | Refunds are given up to 30 days after purchase |
| Free Classes | No |
| Professor Screening | Significant |
A Quick Look at Your (Many) Options
The options can be overwhelming, especially if you are trying to compare specific courses. So we boiled it down in this handy dandy chart for you.
| | | | | |
| --- | --- | --- | --- | --- |
| Website | Certifications | Payment | Interaction | Best For |
| ]Fiverr Learn | No, but you earn profile badges | Per class | No | Freelancers |
| Coursera | Yes, from accredited universities | Per course or certification | Yes | Professionals |
| Skillshare | No, but you can share your class project | Per course or monthly pass | Yes | Anyone |
| Learning.ly | No, but platform is highly recognized | Per class | No | Entrepreneurs |
| MasterClass | No | Per course or annual membership | No | Hobbyists |
You have lots of options. And we've provided lots of information. But the short answers are:
If you are looking for a new skill or hobby, MasterClass just blew us away.
If your goal is to advance your career, then Coursera is the way to go because of the certifications and specializations.
If you are an entrepreneur or want to improve your financial skills, then Learning.ly should be your go-to.
If you are a freelancer and want to get more clients on Fiverr, then put Fiverr Learn on your to-do list.
If your budget is limited, look for sales on Skillshare.
The real truth is that finding a course is pretty easy. Buying a course is also easy. But raise your hand if you have purchased a course that you've never watched at all. Yep, you are not alone. We would be raising our hands, feet, and a couple of toes. For all classes except Coursera's, which require several weeks' (or more) commitment, we recommend buying at
the exact moment
that you want to take the course.
You have the time. You have the desire. Do it now. Right now.
But if that doesn't work for you or you fall into the trap of a sale or offer or all the other tactics that have led to our own unwatched courses – then treat the course like a commitment. Put it on your calendar. Make milestones.
Improve your productivity
. Even bribe yourself to complete it. Learning is relatively cheap. From wherever you are.
All you have to do is make the commitment to take advantage of it.