you can get high-quality work at a better price by hiring a freelance voice actor
. That is, if you know where to look for one. A bad freelance site can leave you with a shoddy voiceover or an artist who doesn't deliver what you asked for. I've done the legwork for you and compared the most popular sites to find the very best voiceover websites.
My personal pick is Upwork for its wide range of talent and prices
– you can get very affordable voiceover jobs from beginners, or spend extra for proven expert voice actors. But no two sites performed the same, and you might find a different freelance voiceover site is better suited for your
needs. Keep reading to see each site's pros and cons, as well as what each is best for. I'll also show you how to better make use of these sites to really help your search.
Find a Voiceover Artist on Upwork >>
Short on Time? These Are the Best Freelance Websites for Voiceover Artists in 2023
Upwork – Experienced pro voiceover artists with solid work history and client reviews.
Fiverr – A large market of voiceover artists and niche services at every price range.
Freelancer.com – Cheap beginner voiceover artists and crowdsourcing platform.
What We Look For in the Best Freelance Websites For Voiceover Artists
When testing for the best voiceover websites, I made sure each site helped connect buyers to freelance voice actors both easily and safely. A great site will excel in these areas:
Professional Voice Talent: At any pay scale, the quality of the voiceover artist matters most of all. Expert freelance voice actors should have good equipment and a home studio. The best voiceover websites will have a wide variety of professional voice actors, so you can be sure you'll end up with professional-quality work.

Project Management Tools: Communication is key, so a freelance site that lets you easily message, video chat, sign contracts, and share files with your voiceover artist is instantly a cut above the rest.

Advanced Search Engine: Trying to find the best voiceover artist can be frustrating and time-consuming, so a good freelance site will make this process easier. It should have search filters that let you narrow talent by what you need. I also appreciate tools like a job posting function or talent scout, which help voice actors find you instead.

Secure Payment: A good freelance website has a responsibility to protect you and your money. Escrow payments, refunds, and an effective dispute center should be made available to you.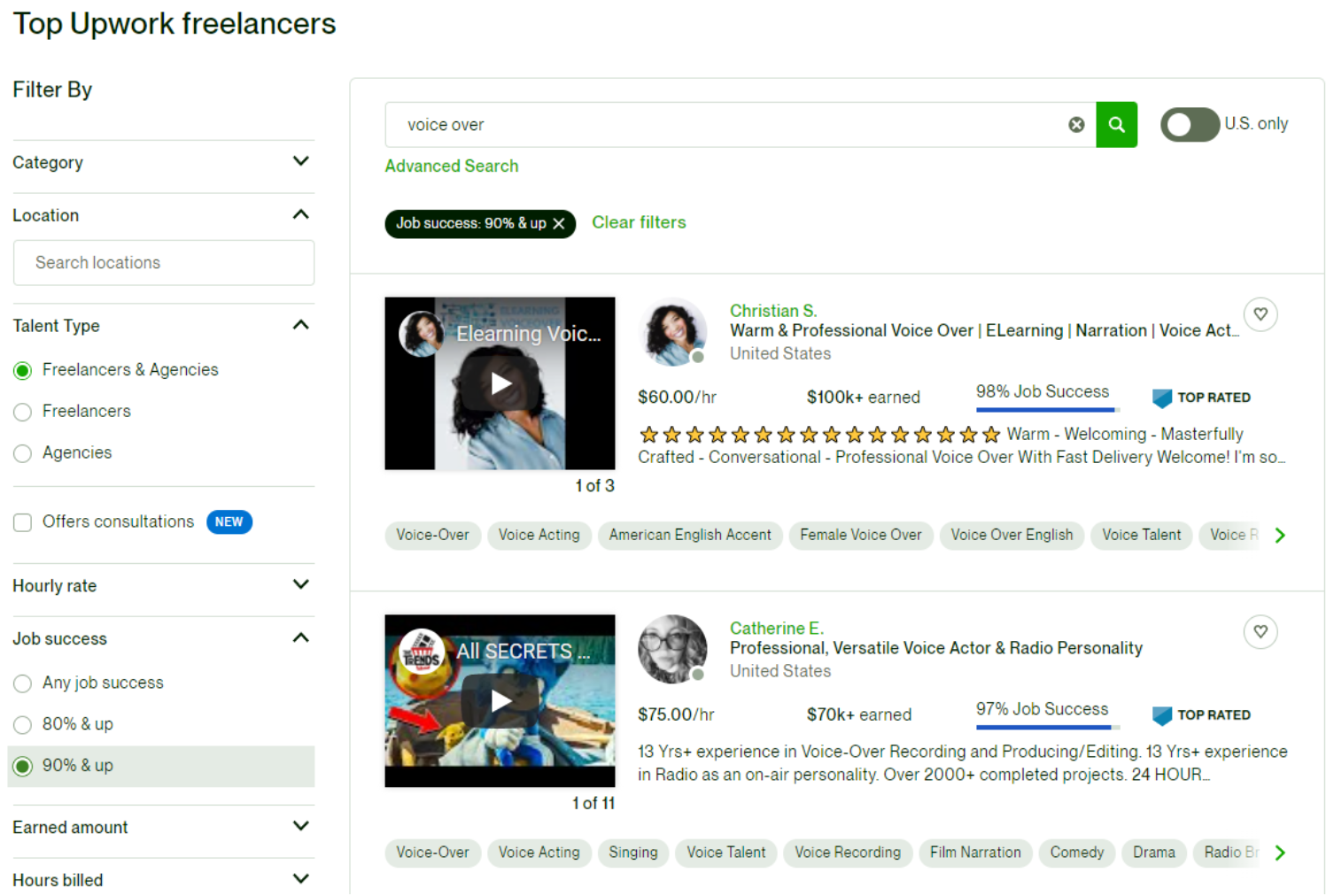 Upwork has an impressive list of highly experienced voiceover artists.
Upwork covers every purpose you can think of
, such as narration, characters, and audio editing. Plus there's a ton of diversity in tone, gender, location, and accent. In my experience, the sound quality and talent were almost always top-notch.
Upwork can be pricier than other sites, but you get access to certified professionals and voice acting agencies.
If you're willing to pay a higher hourly rate, I think it's worth it for the veteran talent.
I found it very easy to screen voiceover artists on Upwork.
You can see how many hours the freelancer works per week, their average response time, and their completed jobs and client reviews.
Features
Proposal Reviewing: Post a job on Upwork with your specifications, and freelance voice actors can apply and submit proposals. You can review their submissions and pick your favorite to hire. I suggest adding as many details as possible, so the voiceover artist knows what you want.
Project Catalog: Save time browsing through voiceover projects freelancers have posted. I recommend a cursory look through the catalog first to see if there's a good fit for your needs, as these listings are often very affordable.
Project Management: File sharing, time tracking, a chat function, and video messaging make the process of working with your voiceover artist a whole lot easier. I like how you can stay in the know as the work develops, rather than waiting until the final delivery.
Mobile App: Upwork's mobile app works on iOS and Android and lets both clients and freelancers keep in touch on the go. This is awesome if you like regular communication and updates.
Read our Upwork review
to see why it got
4.9
out of 5 stars.
| | |
| --- | --- |
| Voiceover Talent Pool | Experienced voice artists and talent agencies, as well as some more budget-friendly beginner freelancers. |
| Search & Project Tools | Project catalog, job posting, and advanced search filters. |
| Payment & Refunds | Billing cycle or milestone payments through bank transfers or third-party vendors. 180-day refunds. |
| Fees | 5% buyers fee per transaction |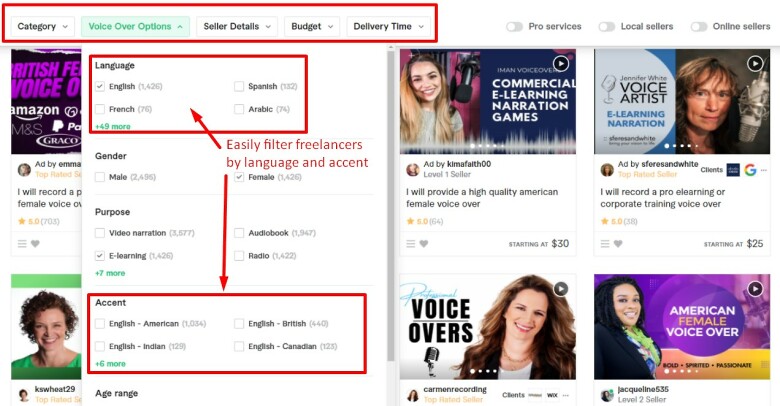 Fiverr has one of the largest networks for freelancers I've seen
, with over 20,000 voiceover artists to choose from. I found a huge market of voiceover talent from all over the world, specializing in many different types of work.
Fiverr also makes it super easy to filter voiceover artists
and find the exact type of voice you're looking for. You can even find more obscure niches, like an old wizard for your fantasy game. Plus it has some of the most affordable freelancers out there, being a go-to site for voiceover jobs for beginners.
You can save a lot of money hiring a freelance voice actor who is just starting out,
as their rates will be lower than established veterans. We've even rounded up
our top voiceover artists to hire on Fiverr
for you, from as little as $5.
Features
Detailed Freelancer Profiles: Before deciding to hire a voice actor, Fiverr lets you check customer reviews, education, work portfolio, language, and specialized skills. You can get a really good idea of a freelancer's communication skills and reputation by looking at reviews from past clients.
Seller Levels: Freelancers are divided into seller levels based on the number of jobs they've completed and customer ratings. For example, top-rated sellers must maintain a 4.7-star rating and a 90% job completion rate. If you want to improve the chances of getting a good voice actor, pick a freelancer with a higher seller level!
Expedited Delivery: If you're on a time crunch, you can pay extra for faster turnaround. This can speed up delivery from 7 days to as little as 24 hours.
Full Refunds: If your freelancer fails to deliver or you're unhappy with the voiceover work, Fiverr will give you a full refund. You have 14 days after the job is marked as completed to request a refund, which is a generous window to decide.
Check out my colleague's
Fiverr review
for more tips and a deeper insight into its pros and cons.
| | |
| --- | --- |
| Voiceover Talent Pool | A wide range of freelancers, from beginners to veterans. |
| Search & Project Tools | Advanced search filters, file sharing, and communication |
| Payment & Refunds | Escrow payments, cancellations, and 14-day refunds. |
| Fees | 5.5% buyers service fee per gig |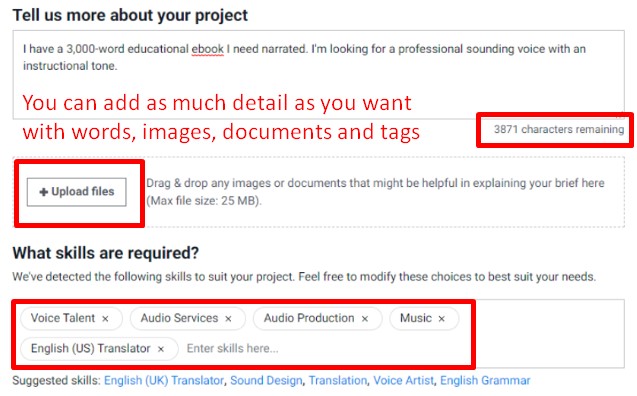 Freelancer.com has a huge pool of voiceover talent – more than any other freelance website out there. But more freelancers means more scammers and often poorer service, too. That's why
it's essential to properly screen your voiceover artist
before hiring. You can
maximize your chances by posting a project or starting a contest instead of browsing for freelancers.
When you
post a project on Freelancer.com
, voiceover artists will apply with their rates and details. Screen your applicants to weed out red flags, then pick the voice actor you like the most. It's a secure way to avoid scammers and low-quality work, plus it saves you a lot of time by calling voice actors to you.
You can also crowdsource work by starting a contest.
You'll actually get competing voiceover work to choose from, which all but eliminates the risk of receiving poor work.
Features
Desktop App: Use Freelancer.com's desktop app to collaborate with your voiceover artist. It allows you to share notes and track your freelancer's hours to ensure accurate payment.
Milestone Payments: Your funds are protected by Freelancer.com and only released when your voiceover artist successfully completes the work or reaches an agreed milestone.
Project Success Manager: Contact one of Freelancer.com's success managers to get feedback and support on issues that come up. A success manager can also help you find the perfect voiceover artist for your job.
Live Chat: You can talk to your freelancer as they work to stay updated on the project.
Check out our
expert Freelancer.com review
to learn more.
| | |
| --- | --- |
| Voiceover Talent Pool | A huge market of voice actors…but with some duds mixed in. |
| Search & Project Tools | Job posting and contents |
| Payment & Refunds | Escrow payments released when the job's milestones are reached. |
| Fees | 3% of the project cost |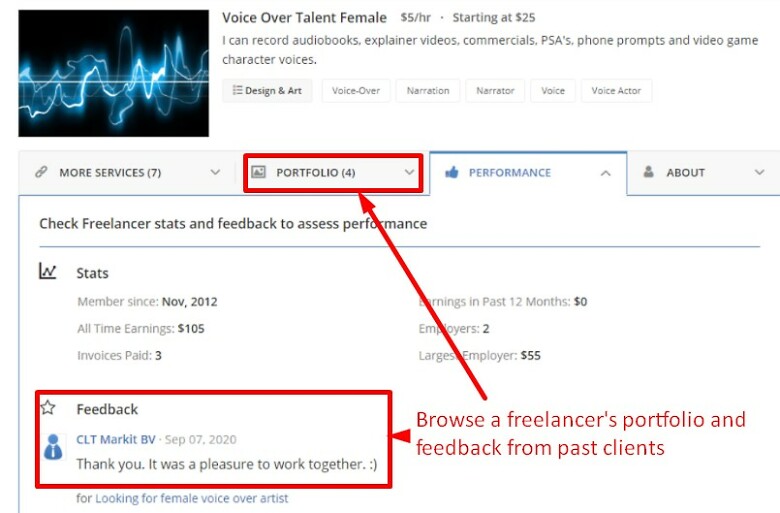 Guru is very easy to navigate.
You can browse a large market of voiceover talent and
find experienced veterans at mid to high hourly rates
. Before you hire on Guru, you can check out a voice actor's profile to see their work portfolio and site statistics (earnings, employers, and date joined). You also have budget options with Guru. You can
post a job and have voice actors apply and propose rates
– and freelancers will often offer lower rates
to outbid competitors. You can then pick your favorite applicant in your preferred price range. Despite being so user-friendly, I did have an issue with Guru's handling of refunds and disputes.
Guru views all payments to its freelancers as final.
If you want a refund, you must first request one from your freelancer. After 3 days, Guru will "follow up with the freelancer", which is rather noncommittal. So,
there's really no guarantee you'll get your money back.
Features
Global Market: You can hire voiceover artists from all over the world.
WorkRooms: Once you hire a freelance voiceover artist, you can collaborate in your designated WorkRoom. Here you can manage payments, share files, and chat. I also really like that you can add more team members for bigger projects, so everyone can work together in the same place.
Fee Rebate: If you pay your freelancer via eCheck or wire transfer, Guru will give you a rebate, which reduces your payment fee to 0%. I haven't seen this option elsewhere, so it's a huge plus for people on a budget.
Versatile Payment Methods: You can pay in a number of ways on Guru – via check, bank transfer, PayPal, and credit card. Your funds are protected in SafePay before being released to your voiceover artist once the job is complete.
We cover more tips for success in our
Guru review
.
| | |
| --- | --- |
| Voiceover Talent Pool | A global network of beginner and experienced voiceover artists. |
| Search & Project Tools | Advanced search filters |
| Payment & Refunds | Escrow payments, but low chance of a refund after final payment. |
| Fees | 2.5% processing fee on every payment |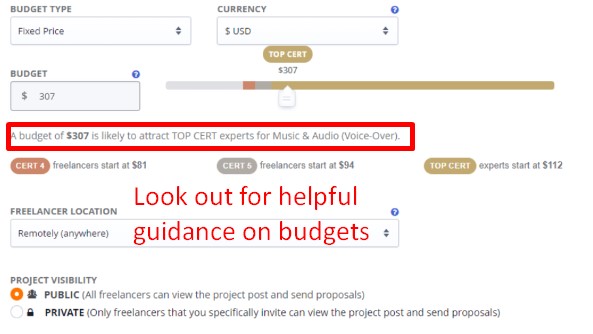 Peopleperhour is a user-friendly freelance site with over 1,500 voiceover artists, primarily from the US and UK.
Hourly pay rates range from under $15 to well over $60
, so there are a lot of options for different budgets. You can
browse freelance voice actors on Peopleperhour
, or post a project with your requirements and budget. I really like the job posting feature on Peopleperhour. It's incredibly easy to use, with a handy budget slider to pinpoint the quality of work you'll get for the price.
One downside to Peopleperhour is the high fees (10%!) you have to pay per job.
You also have to pay more for NDA forms. Because of this, I feel going for less experienced, cheaper freelancers isn't even worth it.
I recommend sorting voice actors by Cert 5 sellers
instead. You can also look for Top Cert freelancers to ensure you get the best voiceover work possible.
Features
Project Offers: Browse through offers freelancers post at a fixed rate (not counting buyer fees). You could save time checking here first to see if a voiceover project suits your needs.
WorkStream: You can send messages, attach files, send invoices, and manage disputes with your voiceover artist using your capabilities. To improve message organization, you have the option to tag messages in your inbox with project labels, which is especially beneficial when overseeing multiple ongoing projects.
Profile Bookmarking: As you browse voiceover artists, you can bookmark any freelance profiles you like for later review. This is very handy if you want to compare a lot of options before hiring.
On-Site Hires: If you want a non-remote voiceover artist to come to your studio, you can find freelancers with that option.
Learn more about what to expect in
our expert Peopleperhour review
.
| | |
| --- | --- |
| Voiceover Talent Pool | A moderately sized listing of reviewed and certified voiceover artists. |
| Search & Project Tools | Filter by reviews and ratings. Inbox messaging and management. |
| Payment & Refunds | Escrow payments. High fees and add-ons. Refunds handled through inbox and reviewed by the team. |
| Fees | Buyers fees for most payment methods (approx 10%) |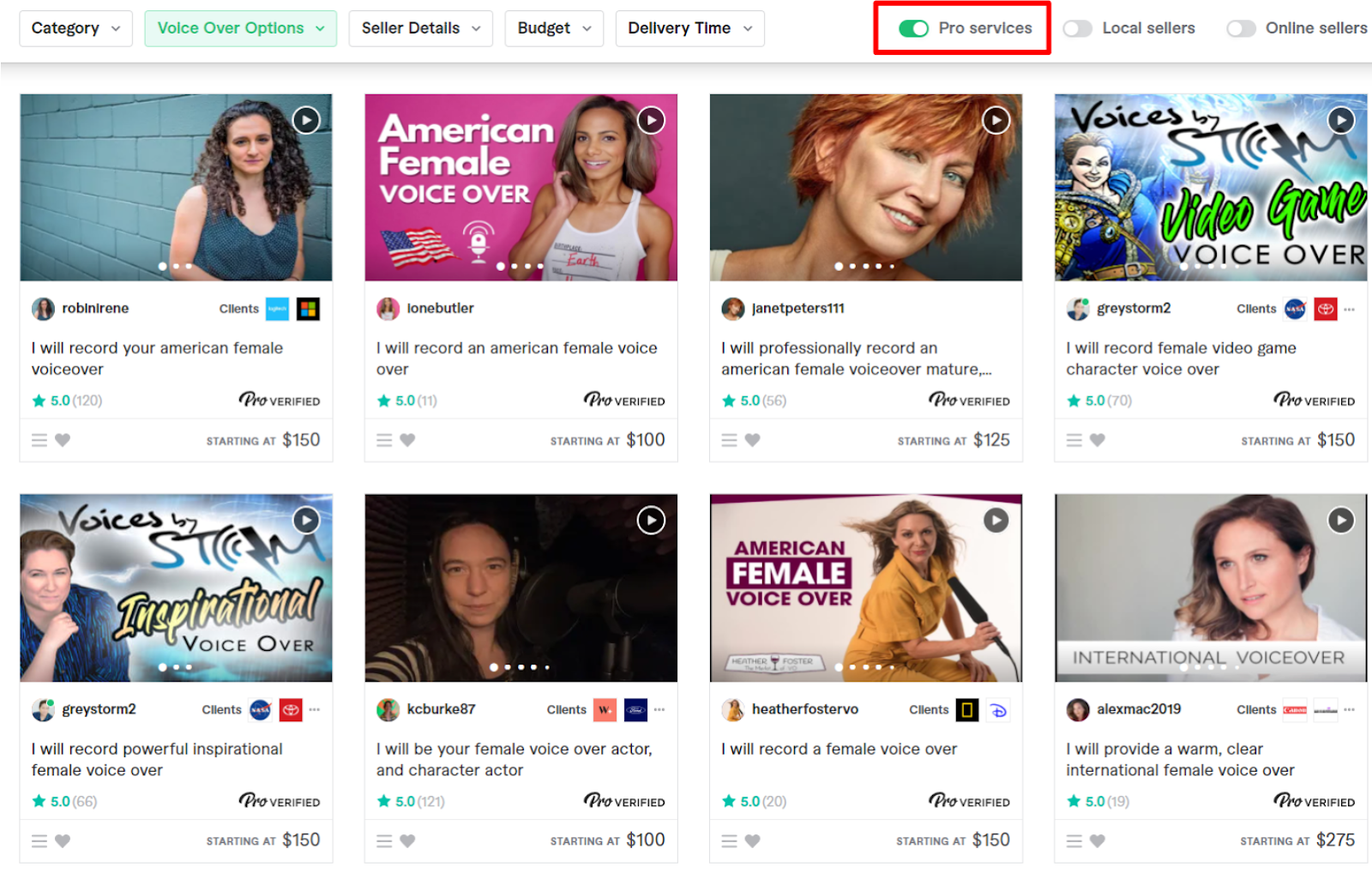 Fiverr isn't just good for finding cheap voiceover jobs online – you can also
search for higher quality voiceover work on Fiverr Pro
. You end up paying a higher rate for pro freelancers, but the voiceover work far exceeds what you get with budget options.
In order to become Pro Verified, freelancers must be vetted and approved by Fiverr's team.
Applicants are screened for their work experience, education, and any notable projects they've completed outside of Fiverr. Pro Verified voice actors need to maintain a high customer rating, response time average, and job completion rate.
These requirements all but guarantee you're getting the highest quality work
. In my opinion, Fiverr Pro bumps Fiverr to one of the best voiceover websites out there.
Features
No Extra Fees: While Pro Verified voiceover artists will charge more, you don't have to pay any added buyer fees or pay for a membership.
High-End Professionalism: Voiceover artists on Fiverr Pro have proven themselves to be reliable and the best at what they do, so you'll get prompt communication, fast delivery, and high-quality voiceover work.
Experienced Veterans: Pro Verified voiceover artists often have experience working with big names and companies. It's not hard to find a voiceover artist with an excellent reputation in the industry.
Faster Turnaround: Efficiency comes with experience, so Pro Verified voiceover artists are far more likely to have faster delivery and fewer revisions than voiceover jobs for beginners.
Learn about
the benefits of Fiverr Pro in our Fiverr review
.
| | |
| --- | --- |
| Voiceover Talent Pool | Vetted and experienced voiceover professionals. |
| Search & Project Tools | Advanced search filters. |
| Payment & Refunds | Escrow payments and full refunds. |
| Fees | $2 service fee on purchases up to $40, 5% service fee on purchases above $40. |
Are You a Voiceover Artist Looking to Sell Your Services?
If you're a voice actor who wants to start freelancing, I recommend getting started on Fiverr.
Fiverr is a great way to build your portfolio if you're just starting out, as it draws in a lot of clients due to its popularity.
Plus, signing up is totally free and can be done in about 10 minutes. To get started, simply
navigate to Fiverr's homepage and click "Join"
 in the top right of the screen. Your username is what potential clients will see, so be sure to make it both professional and memorable.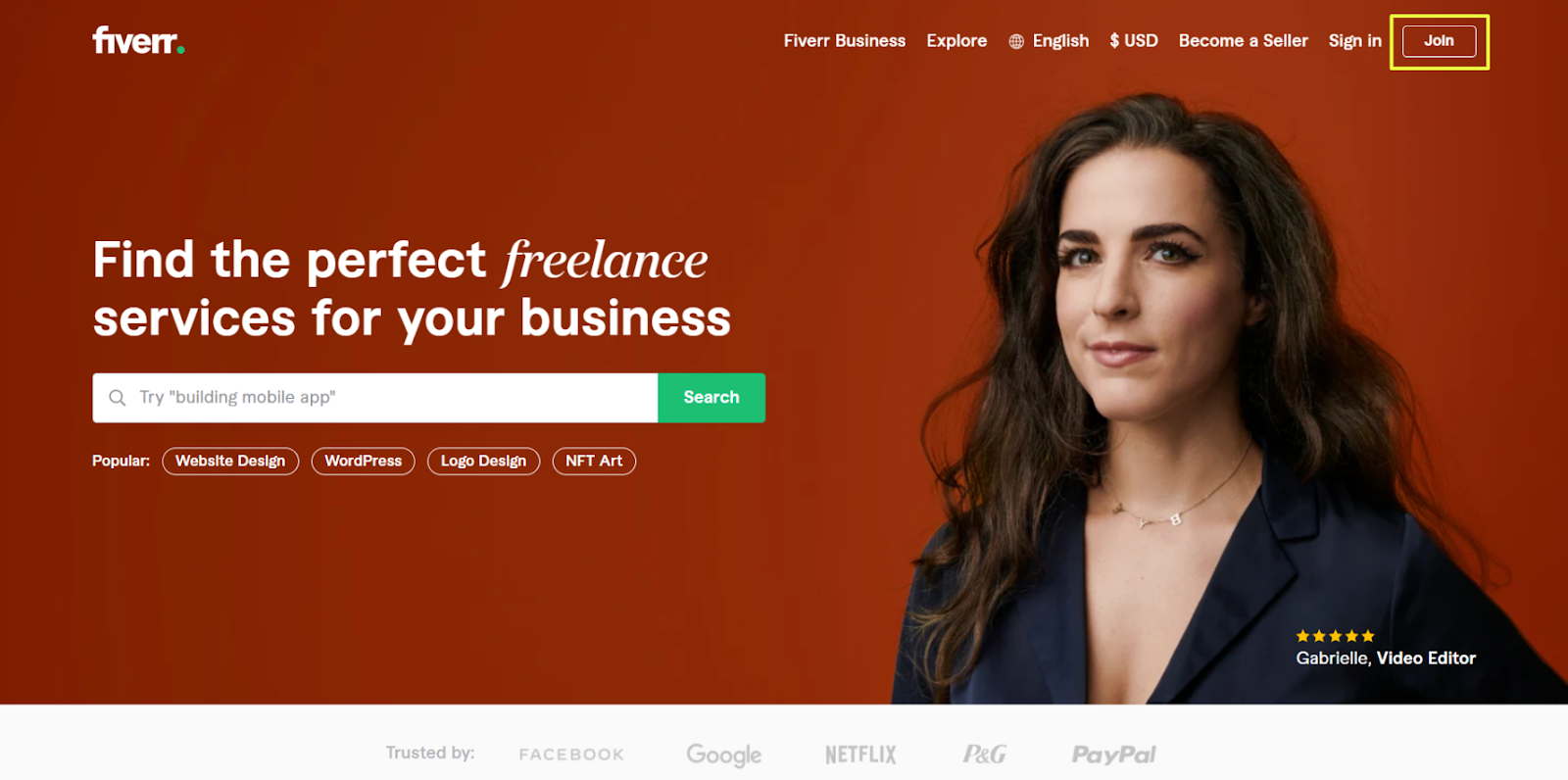 Now it's time to set up your seller profile.
While logged in, click your user icon and select "become a seller" from the dropdown menu.
This will open a new page, where you'll have to click "become a seller" one more time.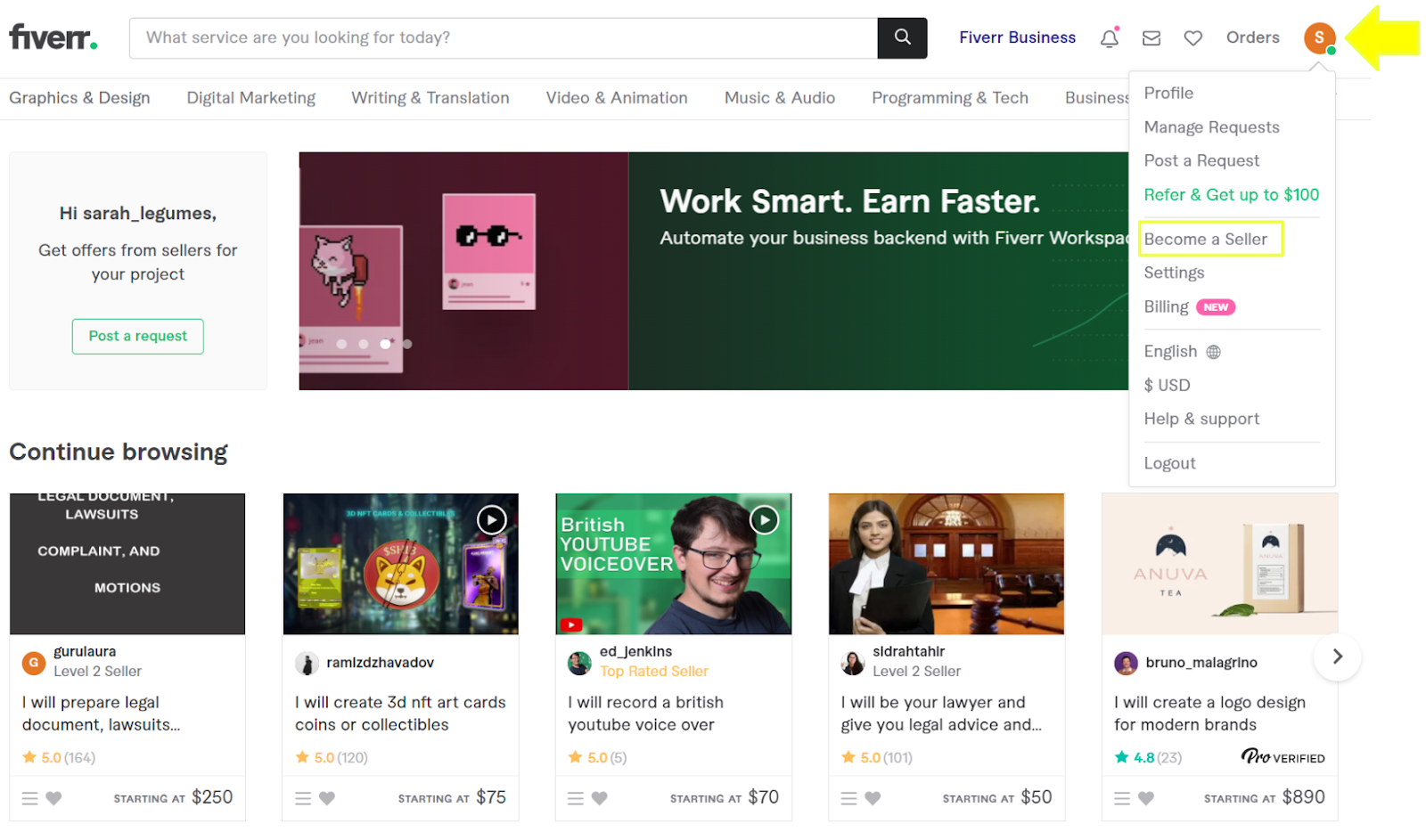 Fill out all the personal info and work experience Fiverr asks you for.
Your bio is what sets you apart from other voice actors, so make it stand out.
Really dive into which voices you specialize in, what equipment you have in your home studio, and anything else that makes your voiceover unique.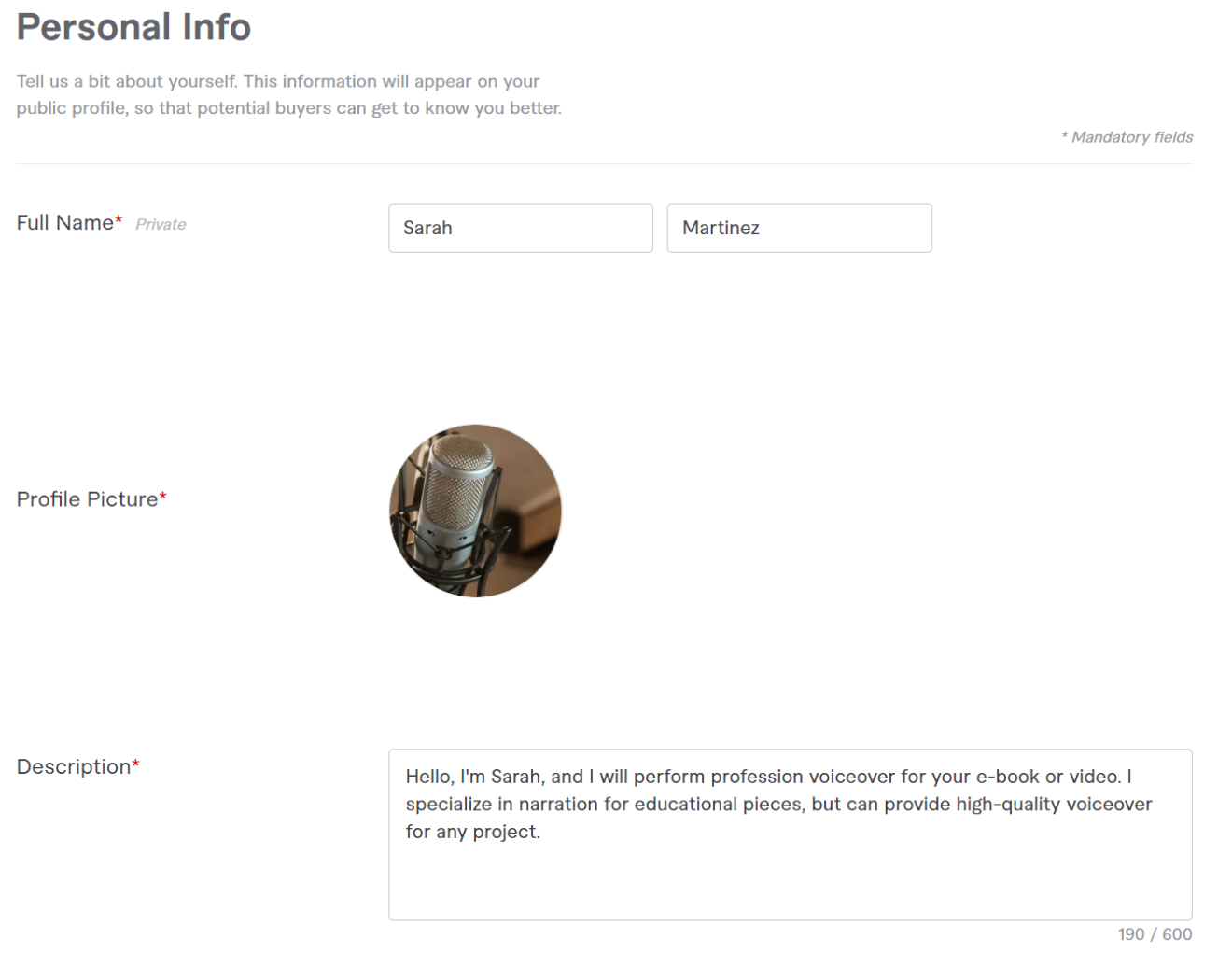 There you have it! You can create your first voiceover gig and get started right away.
If you don't have a very big demo reel yet, I suggest setting a low price at first.
Once you get positive customer reviews and voiceover work you can show off, then start raising your prices. Want to do the best job on your profile? Check out our full
guide to successful freelancing on Fiverr
, and also have a read of our expert
Fiverr review
to make sure you understand all the ins and outs of the platform.
Get Professional Voiceover Work From a Freelancer
If you need top-notch storytelling for your task, you can cut costs and still receive excellent service by employing a freelancer from our selection of the finest voiceover websites. If you're looking for voiceover work at the best value,
I recommend Fiverr, my top budget pick
. You can find affordable voice actors within many specializations, like niche character work. Alternatively, you can also
browse Fiverr Pro to find top-quality voice actors
. If hiring an experienced voiceover artist is your main concern,
check out Upwork
. It has a network of freelance voice actors from all over the world, who you can screen based on their voiceover income and job completion. Or, if you want something a little cheaper and requiring less work on your part,
post a project on Freelancer.com
and let voiceover artists come to you.
| | | | | |
| --- | --- | --- | --- | --- |
| | Pricing | Best Feature | Best For | |
| Upwork | $$ | A global market of top-tier voiceover artists. | Employers looking to hire pro voiceover artists with experience. | |
| Fiverr | $ | A large pool of voiceover jobs and niche services. | People in need of niche voiceover services and those on a budget. | |
| Freelancer.com | $ | Project posting and crowdsourcing voiceover work. | People who want to cut out the work by letting freelance voice actors come to them. | |
| Guru | $ | Intuitive user interface and team collaboration. | Employers on a budget and/or running a team project. | |
| Peopleperhour | $$ | Easy-to-use job posting for voiceover work. | People who want guidance on how to make the most of their budget. | |
| Fiverr Pro | $$$ | Vetted voiceover artists with extensive experience and an excellent track record. | People who want the highest-quality voiceover work and professionalism. | |
FAQ
How can I find voiceover artists?
You can find voiceover artists by checking out any of the freelance sites in this article, then using the search function to filter for freelance voiceover jobs. Some sites will have audio and voicework categories to browse, too.
How do I get professional voiceovers?
Hire someone! You can pretty easily get professional-level voiceovers by browsing voiceover jobs online. Before you do, check out what we look for in freelance sites for voiceover work to make sure you get a good freelancer.
What equipment do voice-over artists need?
In order for voiceover artists to work from home, they need their own studio. They need a microphone, pop filter, studio headphones, and acoustic treatment to reduce background noise and echo. Top-grade equipment makes all the difference, so it can be worth investing in a freelancer from Fiverr Pro, who will have a professional home studio setup.
How much do voiceover artists charge?
The price for voiceover work depends on the freelancer's experience. Reputable voiceover artists will typically cost more, or you can save money by hiring beginner voice actors with lower rates. Keep in mind that some freelancers charge a fixed rate for a service, while others charge by the hour.