During my time as a freelancer, I've had experience working on many of the
best freelance platforms
available. And while
Guru may not be as large or well-known as some of the others, it still boasts an impressive amount of both clients and freelancers
. While the freelancing giant Upwork is largely considered the best available freelance platform (
read our review of Upwork here
), their strict screening process means that it's not an option for many freelancers, especially those who are just starting out.
Therefore, platforms that lack a screening process, such as Guru or Freelancer.com , are fantastic for those trying to gain experience and build your portfolio
. Guru can also be an excellent backup platform for those times when the others lack any appealing job options.
Skill Categories on Guru
There's a wide range of projects on Guru, applicable to a variety of skills. That being said,
the large majority of work on this platform falls under the Programming & Dev skill category (a clear winner with 1,218 job listings out of 2,793 total at the time of writing)
. Other skill categories have so few jobs available (Legal, Business & Finance) that if your expertise lies in one of these categories you may want to give this platform a pass altogether.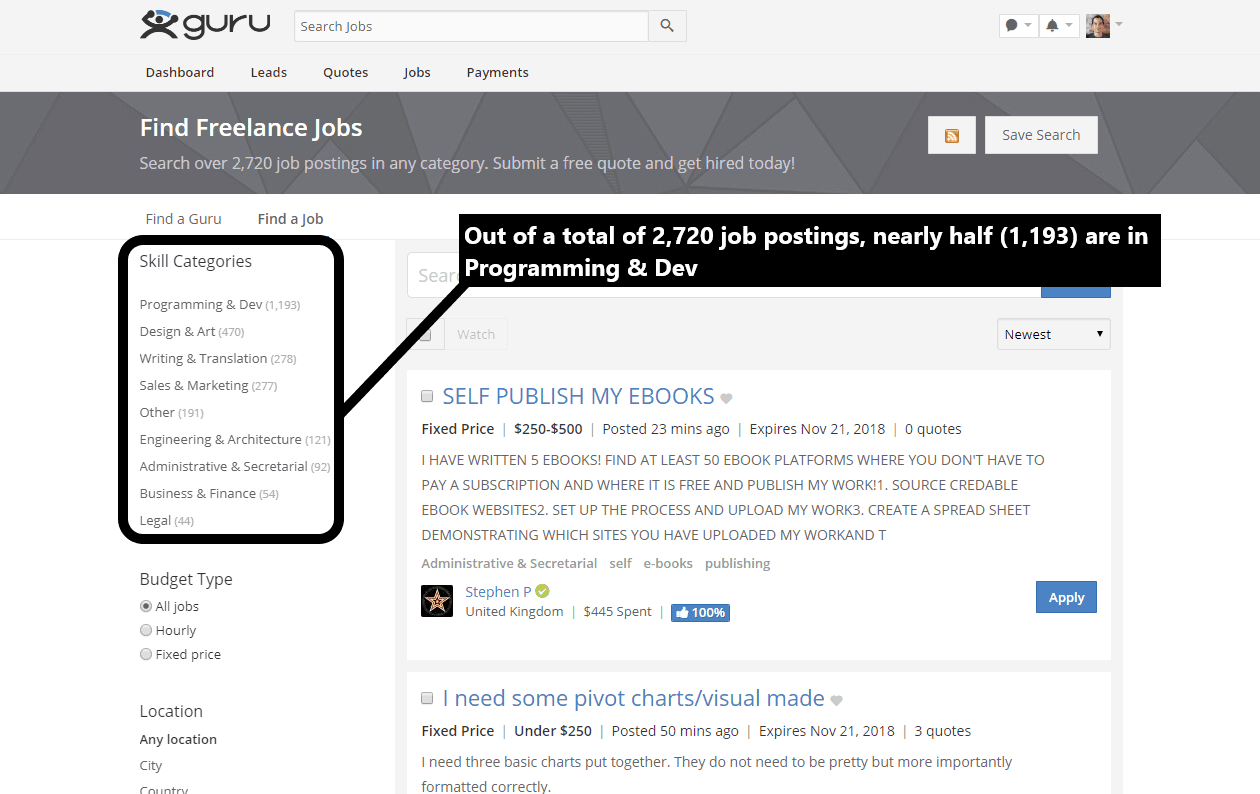 Although, for programmers and others who have a fair amount of available projects in their given fields of expertise, finding work on Guru can still be a struggle.
This is because there are about two million freelancers offering their services on the platform, meaning that there could be a thousand qualified individuals—or more—for every job posted
. Therefore, if you're just looking to expand your job options this is a useful platform, but you probably shouldn't count on it as your primary source of income.
The Signup Process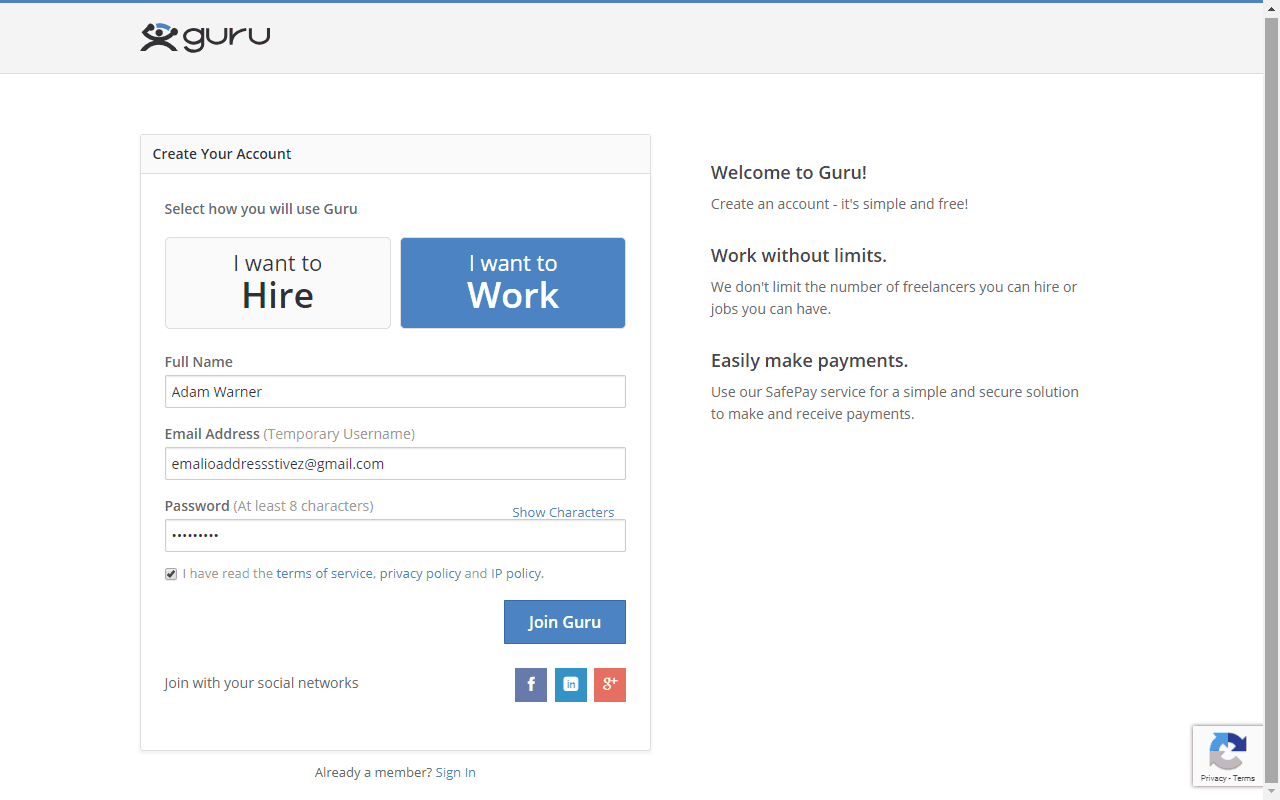 Creating an account on Guru is fairly straightforward, you can either create one through a social network such as Facebook, or use your email address and a password. If you use your email address, you'll need to go through an additional verification step. Once you've verified your email, you'll next be asked to input your address and location.
If you're living abroad make sure to put the country that you do your banking in, otherwise it could complicate things when it comes to payment
.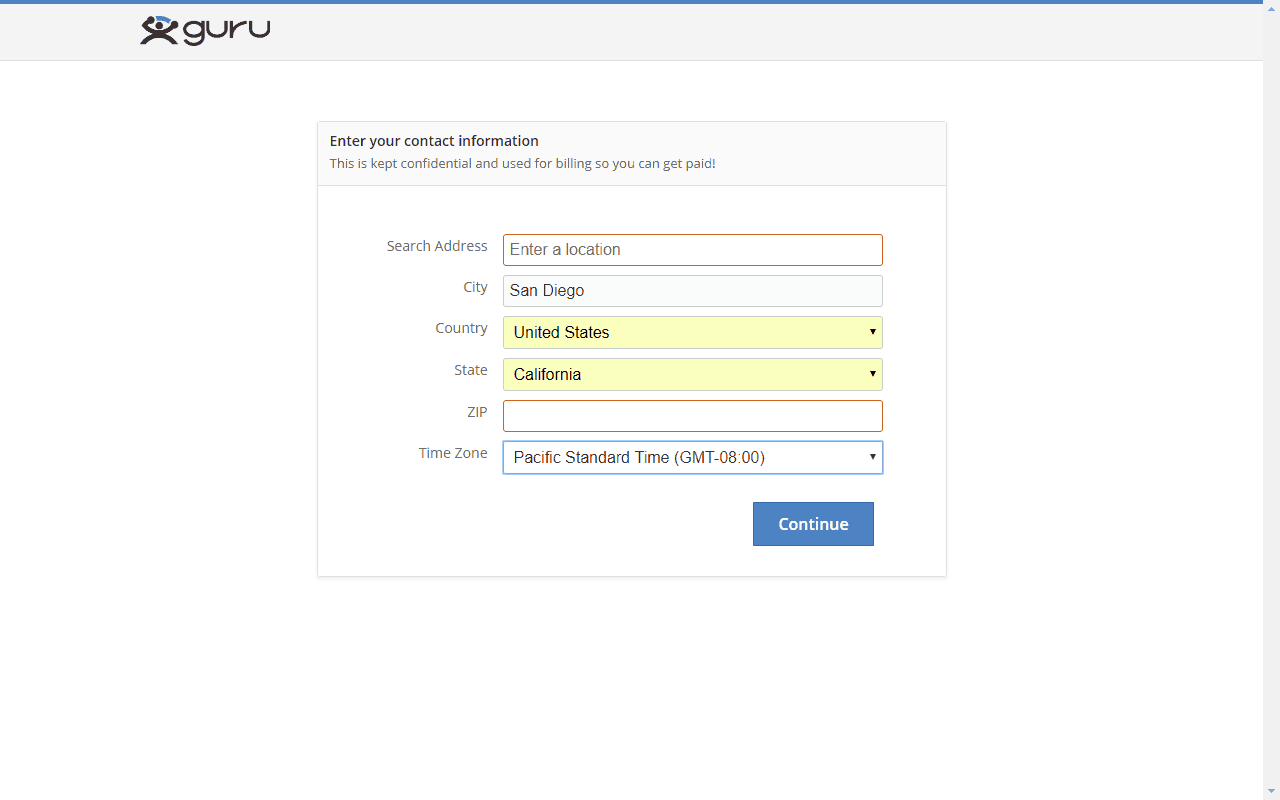 Listing Your Services
After you've submitted your contact information, you'll be asked to create your first service. "Services" are a somewhat unique feature to Guru, and work similar to the postings that freelancers create on Fiverr (
read our review of working on Fiverr here
). Basically, you create a listing that explains what it is that you do, and how much you'll charge to do it.
It's essentially a small ad so that clients can find you based on the skills they're looking for
. While I think this is a cool feature, the vast majority of jobs on Guru are won by freelancers submitting proposals to job postings, as opposed to clients reaching out to freelancers directly.
Creating an Effective Profile
Once your account is created and your first service is active, it's time to fill out your profile.
Up until you've gained a few positive reviews, your profile is the most important aspect of your Guru account
. It serves as your resume and your portfolio. It's also where you have a chance to set yourself apart from the other freelancers, display some work samples, and delve into your prior experience and education.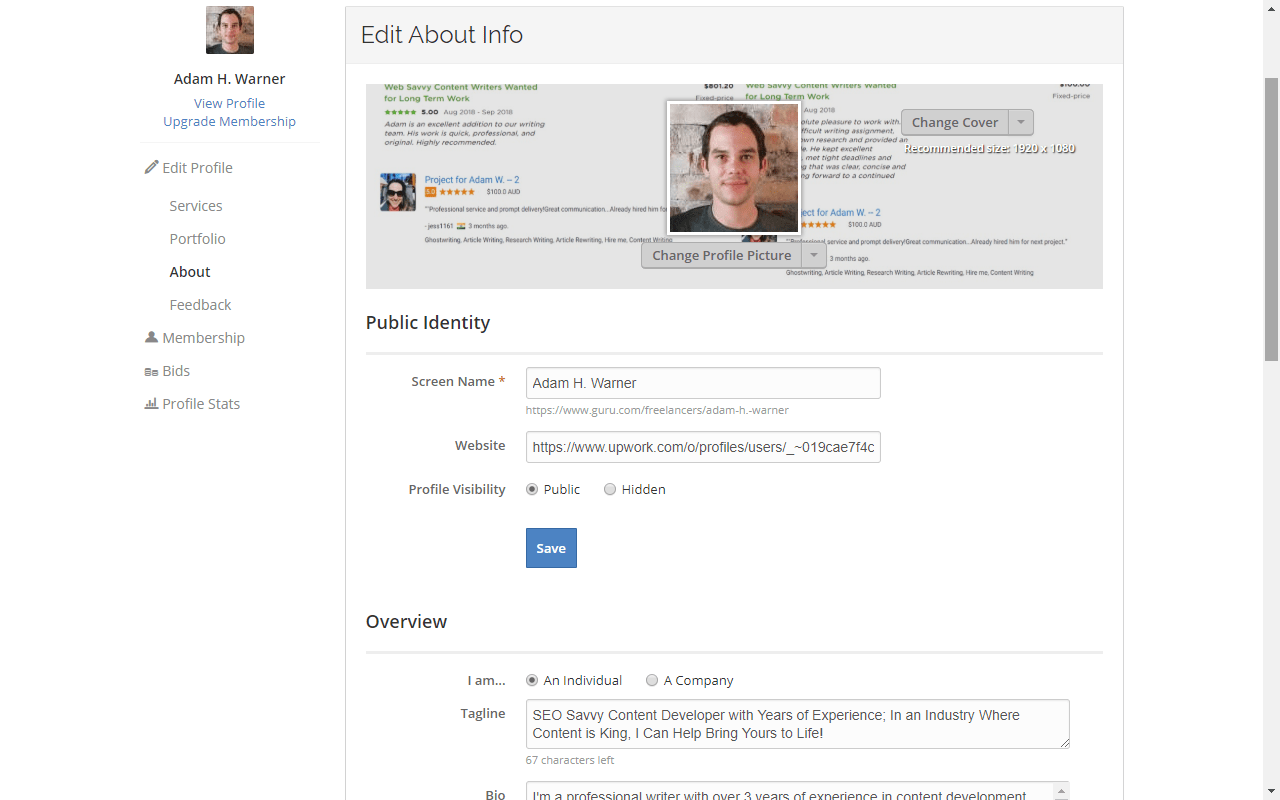 There are several important aspects included in creating an effective profile, which you can
read more about here
:
Photo: Choose a headshot that looks friendly, yet professional.
Screen Name: This is the name that'll be displayed to your potential clients. It's a good idea to use your real name here, as an alias or company name could lessen a client's trust.
Website: Here you can link to your personal website, social media account, or even your profile on another freelance platform. I linked to my Upwork account as I have more feedback there that a potential client on Guru may be interested in.
Tagline: This is similar to the title on Upwork, or headline on Freelancer.com. Your tagline is incredibly important, as it's the first thing a potential client will see before reading your bio. Your tagline should be specific, giving readers a clear idea of what it is that you do, and encourage them to want to learn more about you and your skills. It's also a good idea to use keywords that people may be searching for.
Bio: Your bio is where you're meant to tell potential clients a little bit more about yourself. It's important to keep a professional tone in your bio, but try not to make it dry or boring. Things that should be included here are your years of experience, what makes you a superior choice over your competitors, your niche skills, and relevant accomplishments and certifications.
Work Terms: This is where you can inform a client about things such as your availability, for example, if you are willing to work weekends. You should also include how you'd prefer to handle payment, what your preferred method of communication is, and any other terms that could be important.
Skill Tests: Skill tests are short, multiple-choice exams that are used to prove your proficiency in certain skill categories. These are available through most freelance platforms, but the problem with skill tests on Guru is that they charge a relatively high fee ($4.95 for Basic members, and $2.95 for Basic+ members) in order to take them. Those with Professional, Business, or Executive memberships receive unlimited free tests. Primarily, these tests are only relevant to freelancers that are just starting out, as once you've established yourself with good feedback ratings you no longer need skill tests to prove your abilities.
Portfolio: Your portfolio is where you get a chance to show off your prior work, giving potential clients a chance to see what you're capable of. Building a portfolio is incredibly important in the beginning, as without any feedback to show, it's some of the only evidence available to show that you're actually capable of the skills that you've laid out in your profile. If you don't have any work to show just yet, don't worry too much. Just try and pick up some low-priced gigs in order to start building up a few solid work samples.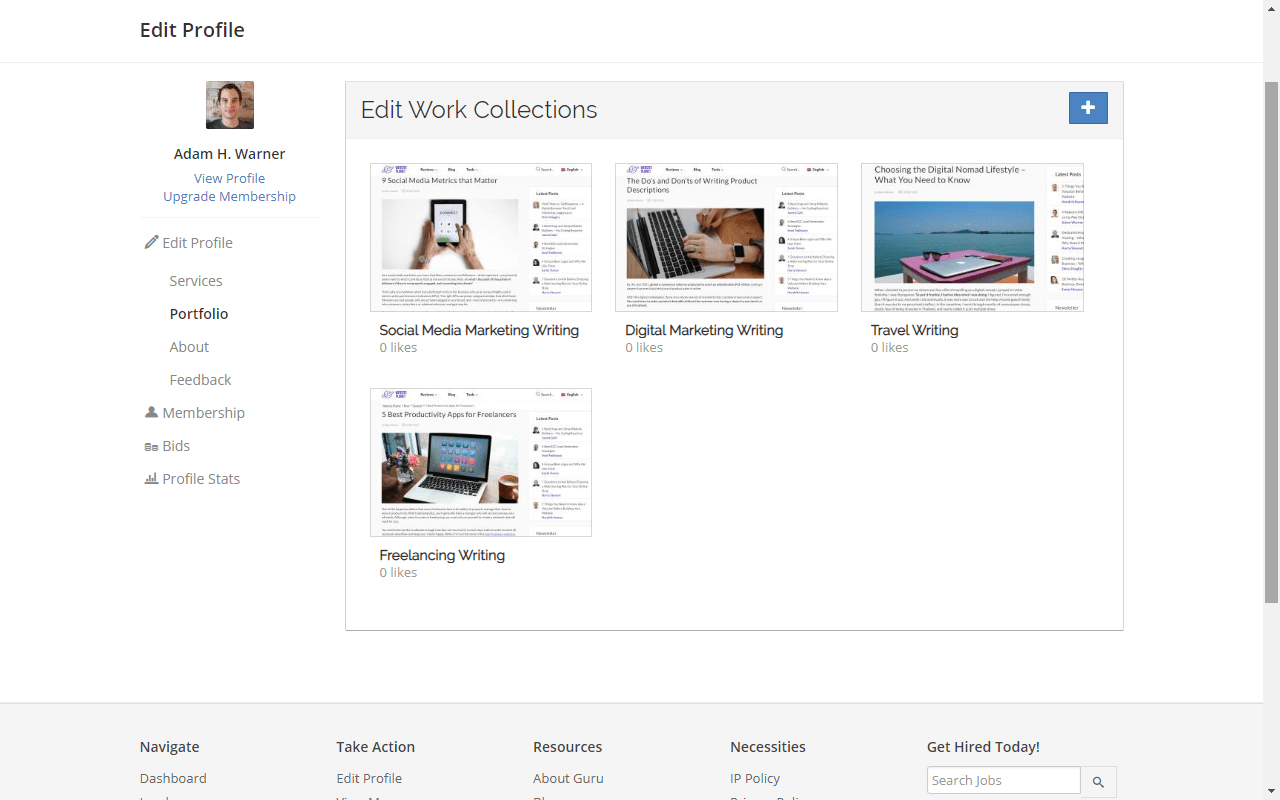 Membership Accounts
Guru has five different levels of membership, each of which has its own advantages and associated costs. Depending on your specific needs, the Basic or Basic+ memberships should suffice. Although, if you decide to make Guru your primary job finding platform (something that I wouldn't advise), you may be interested in one of their higher membership options. The five basic memberships and associated fees are:
Basic: The free membership option includes 10 bids per month (120 per year) and an 8.95% job fee (one of the perks of this platform are the low job fees, even for free members)
Basic+: $8.95 per month and includes 50 monthly bids (600 per year)
Professional: $15.95 per month, and is the same as Basic+ other than you have access to free tests and a lower job fee (6.95%)
Business: $24.95 per month, the main difference here is a lower job fee at 5.95%
Executive: $39.95 per month, and again, the main advantage is a lower job fee at 4.95%
There are a few other benefits to some of the higher membership options, such as access to premium jobs and the ability to have a certain number of your bids rollover each month (all paid memberships receive the same number of bids, 50 per month).
In my experience, Guru is a great backup platform for when you're struggling to find work, but not good enough to actually pay any amount for their services
. This will vary freelancer by freelancer, as Guru simply isn't the best platform for individuals with my skillset (writers, bloggers, marketers), but, as was mentioned earlier, is better for developers and programmers. Therefore, you'll have to determine for yourself whether or not the memberships make sense for you and your particular skill set.
Finding Work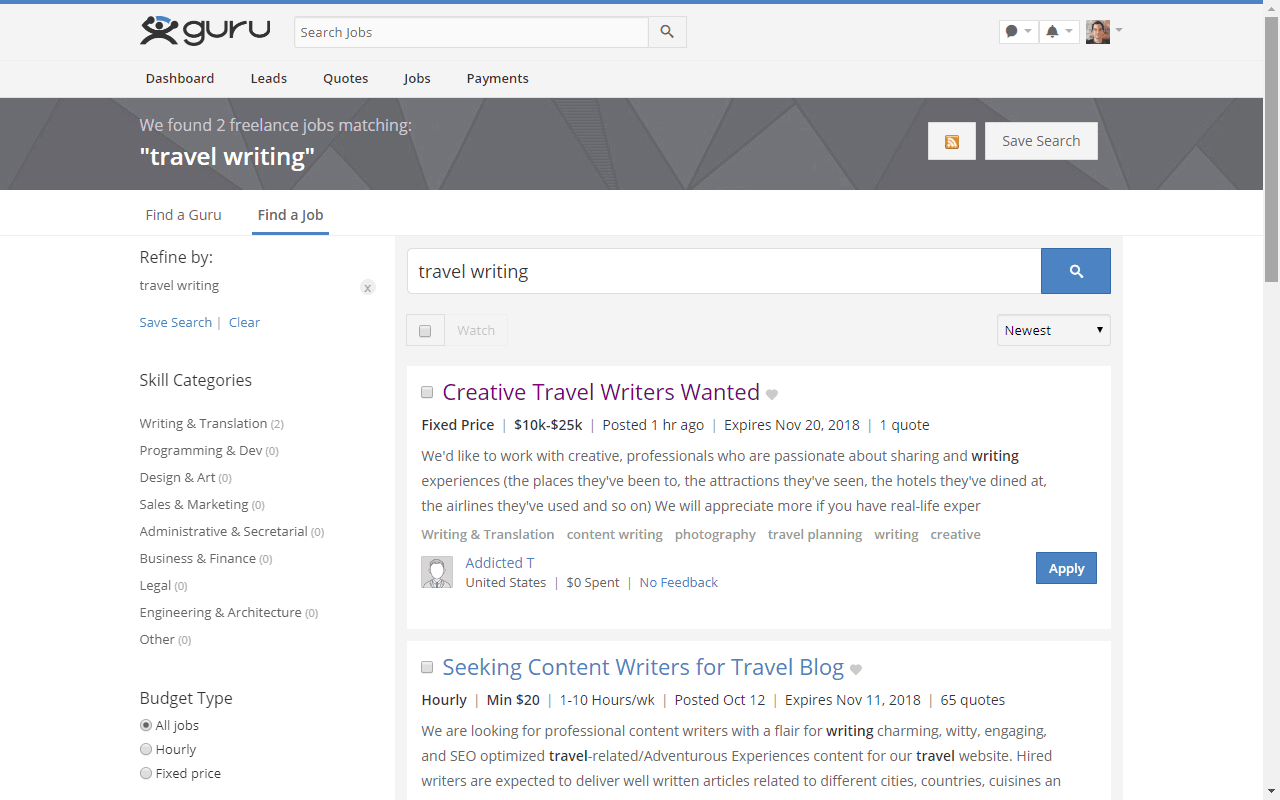 On this platform, you can get work either by submitting a quote for a job posting you've found or by creating a service and hoping that the work comes to you. When starting out, there's very little chance that someone is going to stumble across your service and hire you, as you don't have any feedback and there are just too many other freelancers available. In fact, chances are
you're going to have to find jobs yourself the majority of the time, and shouldn't count solely on your service listings
. Therefore, you're probably going to have to apply to quite a few jobs before earning your first feedback. When it comes to searching for a job, Guru doesn't have the greatest filtering options, so it can be somewhat difficult to narrow down the options.
The best way to find projects that are appropriate to your skills is through a keyword search or searching by skill category
. If doing a keyword search, the more specific keywords you use the more the results will be narrowed down. If you want to do an exact keyword search, you should put quotation marks around the words or phrase. Once you've found a job that seems to suit you, click the "Apply" button.
Applying for Jobs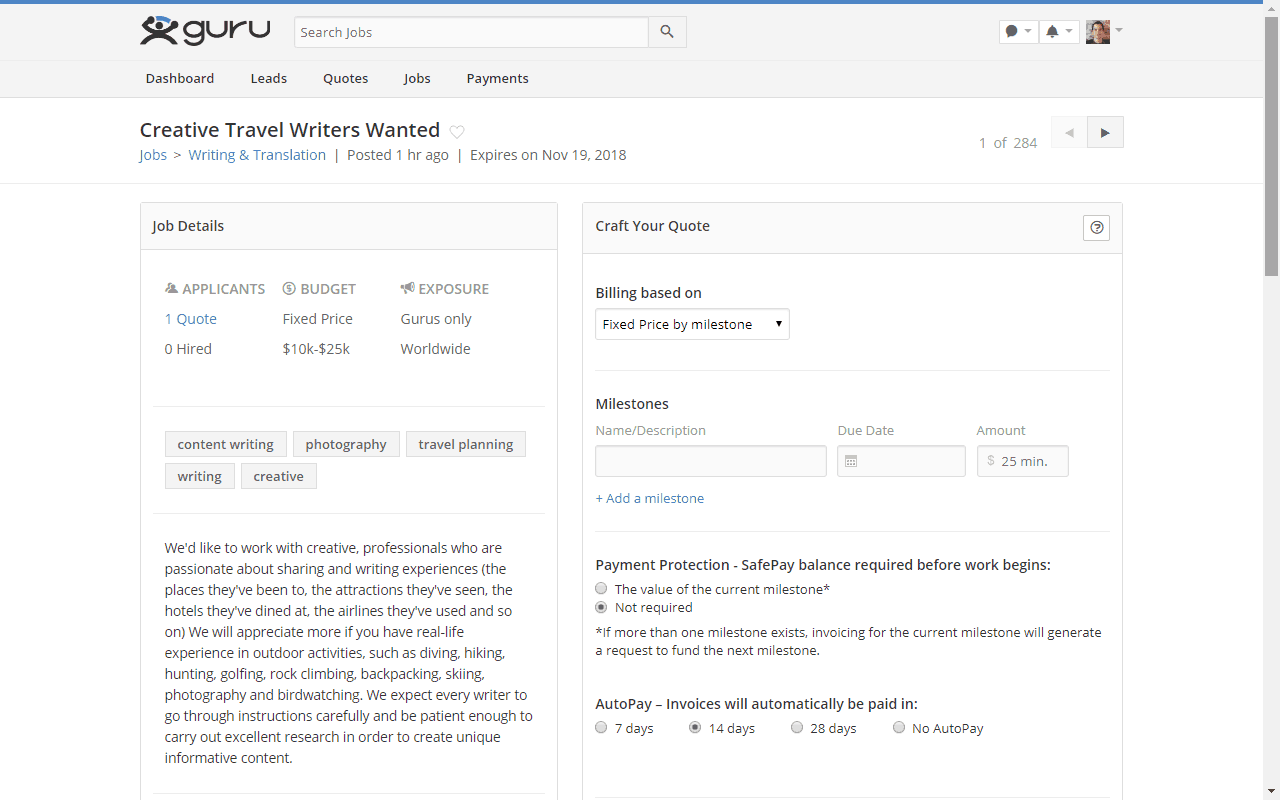 There are two possible job types that you can choose from: hourly or fixed-price. Regardless of the job type, the process to apply is fairly similar. When applying for work on Guru, the important things to pay attention to are:
Billing Based On: Choose whether you prefer to work on a fixed-price or hourly basis.
Milestones: Here you can suggest milestones for your client to use. Milestones break the job up into multiple steps, upon the completion of which you will be paid a portion of the total job amount. Milestones are only relevant to fixed-price jobs.
Payment Protection: Choosing to have the job payment protected means that if the client decides to work with you, they must put the total amount of your next milestone into escrow, and Guru will release it to you upon job completion. This greatly reduces the ability of a client to scam you, and I recommend taking advantage of it.
AutoPay: This is the payment cycle that you'd prefer, and includes weekly, biweekly, monthly, or you can decline them altogether.
Status Updates: How often you're willing to give job status updates (e.g., daily, every other day, weekly).
Scope of Work: In this field, you lay out your timeline, how you intend to go about completing the project, what makes you a good match, and the steps that you'll take to do a good a thorough job. The Scope of Work on Guru is similar to the proposal section on other freelance websites. It's the most important part of your application, so it should be original and well thought out. Make sure to fully read the job description and ask any relevant questions here as well. This will demonstrate your expertise in the field, and set you apart from all of the generic proposals that clients regularly receive.
Getting Paid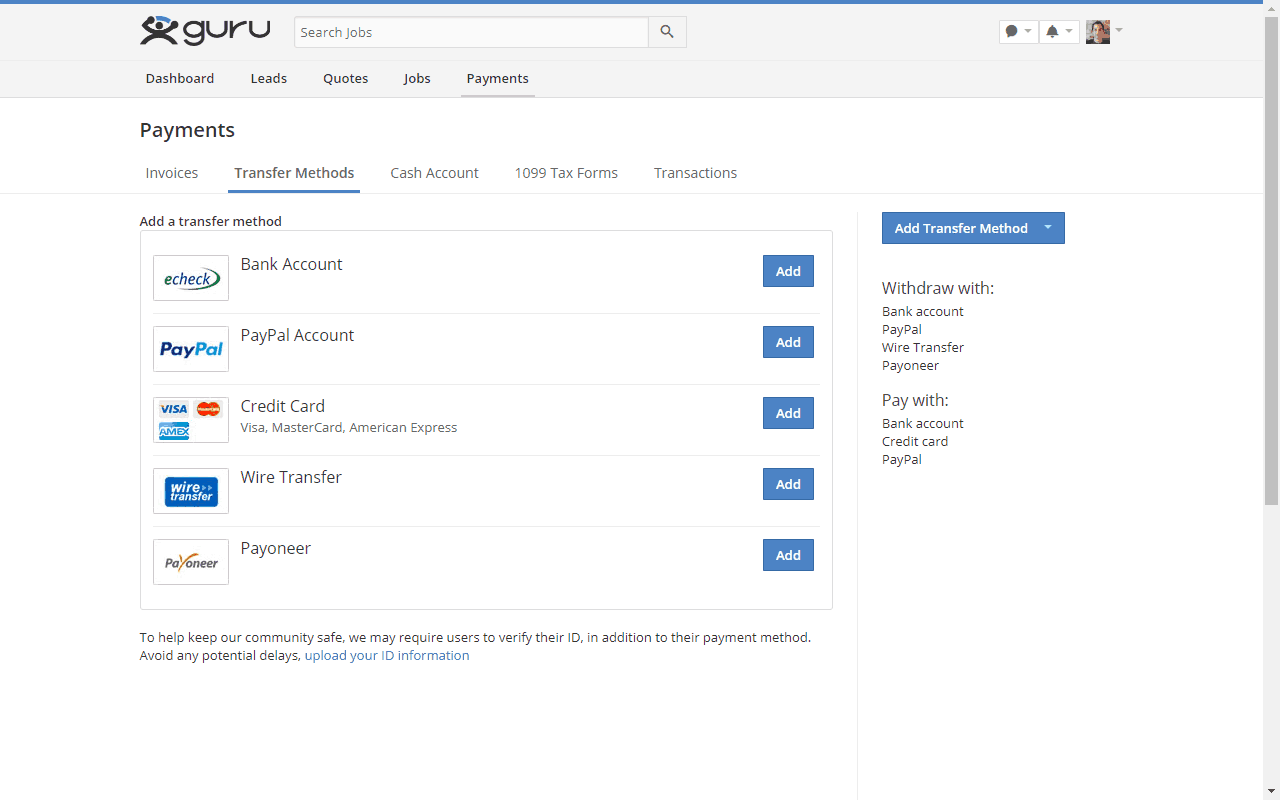 Guru gives you two options for invoicing a client, you can either submit invoices independently or through SafePay. Just as the name implies,
going through SafePay is the safer route, and should be chosen unless you already have an established relationship with the client
. This is because, when you invoice independently there's no option for dispute resolution, which leaves you with very little recourse if a client decides not to pay. If you choose to go the SafePay route—and you really should unless you know and trust the employer—
you need to look for clients who have a verified payment method. You can determine this by looking for a blue check mark next to an employer's name
.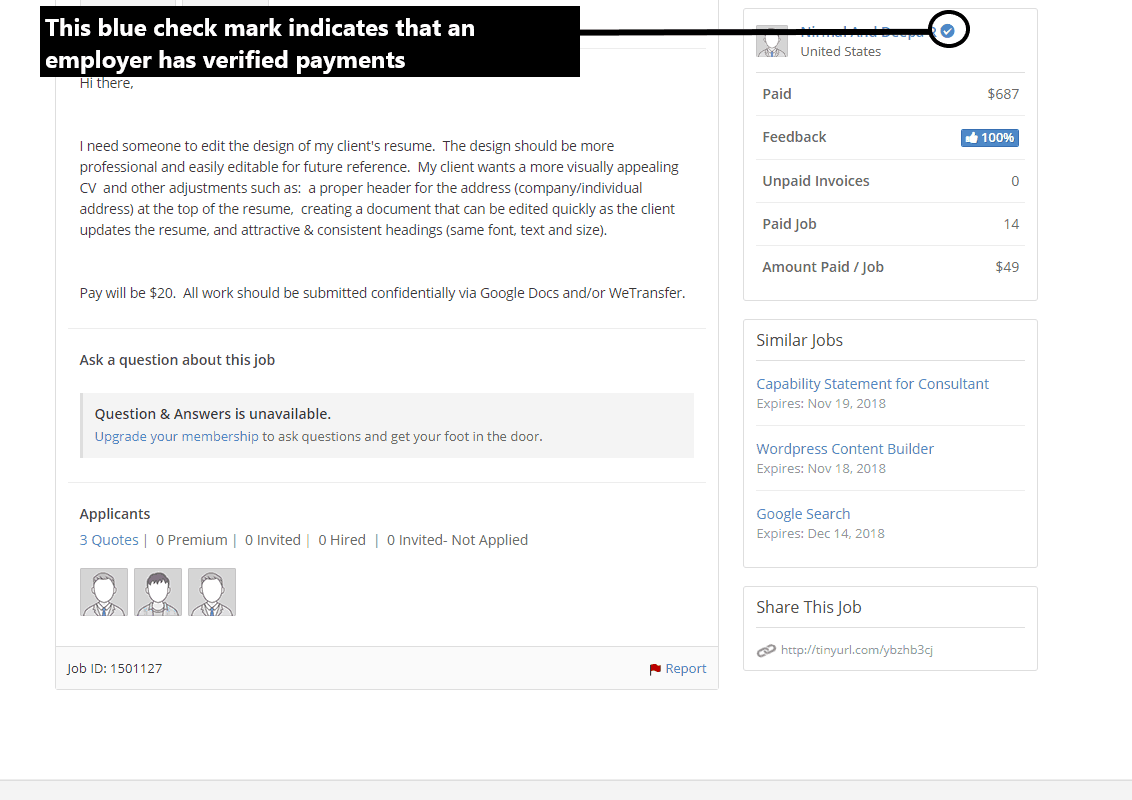 Once the work has been completed and approved by the employer, your money will be released minus the transaction fees (4.95% to 8.95%, depending on your membership level).
SafePay gives you a variety of options for withdrawing funds, such as PayPal, Payoneer, e-check, or wire transfer
. If for any reason a client refuses to pay you for work that has been completed, you can raise a dispute through Guru's dispute resolution services—but remember, you can only do this if you're using SafePay!
Dispute Resolution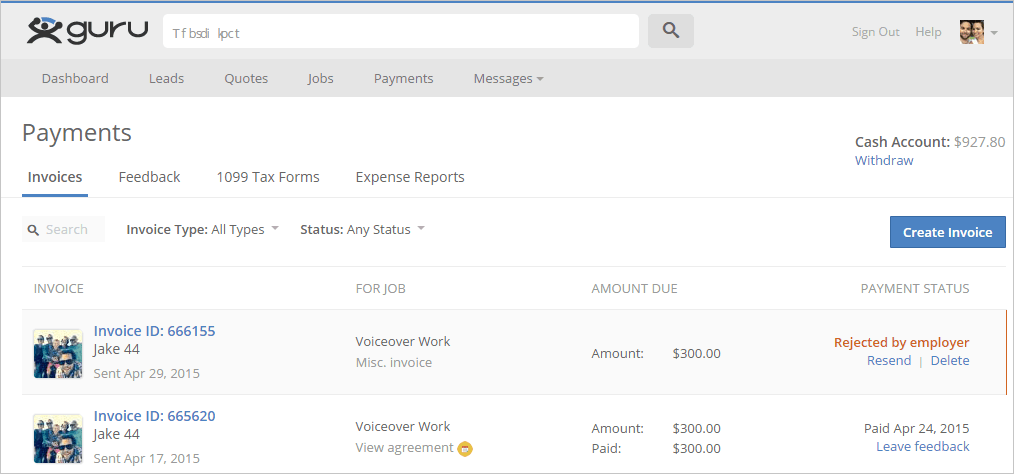 On Guru, it's possible for either the client or the freelancer to raise a dispute, but only if SafePay was part of the initial agreement. Raising a dispute is only possible in one of the following two scenarios:
A client can dispute a milestone invoice if he or she believes that a freelancer has not held up his or her end of the deal; or
A freelancer can dispute a SafePay refund request, which is when a client believes that the freelancer did not complete the work according to the agreed upon contract.
When a dispute is initiated, the freelancer and the client will conduct all subsequent communications on the dispute page. In this context, Guru anticipates that both parties will make efforts to reach a mutual agreement. Each party is provided with the opportunity to suggest a resolution to resolve the dispute. If an agreement cannot be reached between the client and the freelancer, the next course of action involves escalating the dispute to arbitration.
Arbitration
Here's where the system gets a little ridiculous in my opinion, because
in order to raise a dispute to arbitration both parties are expected to pay $25, or 5% of the disputed amount (whichever is larger)
. This policy is naturally in the employer's favor, as who wants to pay a $25 arbitration fee for a project that's only supposed to pay $20 in total? For larger jobs, paying arbitration is certainly worth it, and should be pursued. When you escalate the dispute to arbitration both parties are given two days to submit any evidence that supports their respective claims (e.g., screenshots of conversations, work completed, contracts signed). Next, the arbitrators will go over all of the supplied evidence and reach a ruling which cannot be appealed. It appears as though, no matter who wins the arbitration, both parties lose the arbitration fee, which means that you could not only lose out to your client but to Guru as well. For this reason, I believe
this platform makes it far too easy for employers to scam freelancers, especially on smaller projects
. And while I've fortunately never had to raise a dispute on Guru, the fear of being scammed is one of my least favorite aspects of this platform.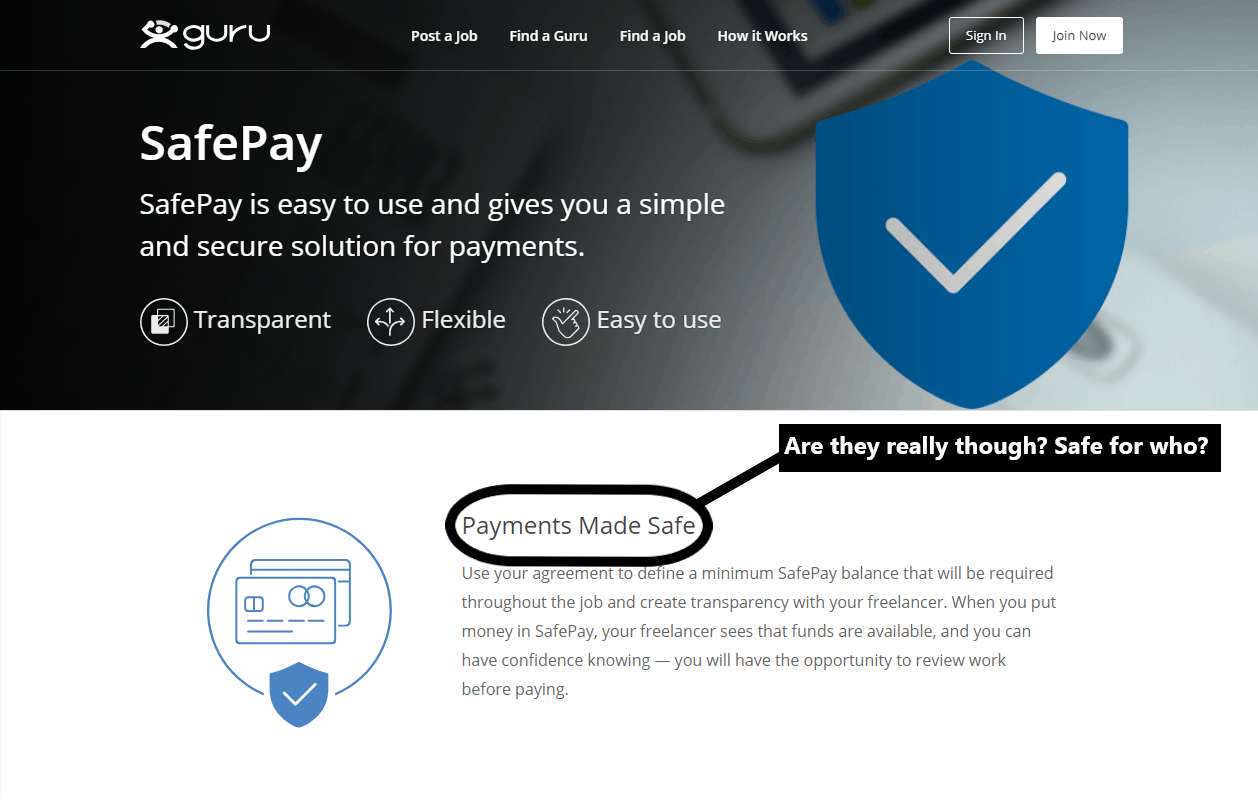 The Takeaway
While I do actively use a Guru account,
I would not count on it as my primary source of income
. That said, it can be a good idea to have a free account here, as it has some of the lowest fees when compared to other platforms, and great jobs do spring up from time to time. Issues such as not having enough quality jobs compared to the number of freelancers, the high prevalence of scammers, and a terrible dispute resolution system make this platform not nearly as attractive as alternatives such as
Upwork
. But, if you are having difficulty getting submitted on other freelance platforms or just want as many job options as possible (which as a freelancer is probably a good idea), then give Guru a try—just don't count on it to pay the bills on its own.