With over a third of the US workforce (36%), and nearly half of millennials (47%) now working as freelancers
, statistics keep showing us that the gig economy is not going away anytime soon. Due to the upsurge in freelance workers, a number of platforms—such as Freelancer.com—have sprung up in recent years to help remote workers connect with clients. Even the
best freelance websites
are not without their problems, which is why many freelancers decide to use more than one in their never-ending mission to score more "gigs." So, if you're thinking about
quitting your job and joining the freelance lifestyle
, or if you already have and are just curious as to whether or not it's worth it to make an account on Freelancer.com, keep reading. I'll get into detail about what's good and what's not so good about working on the platform.
Setting Up an Account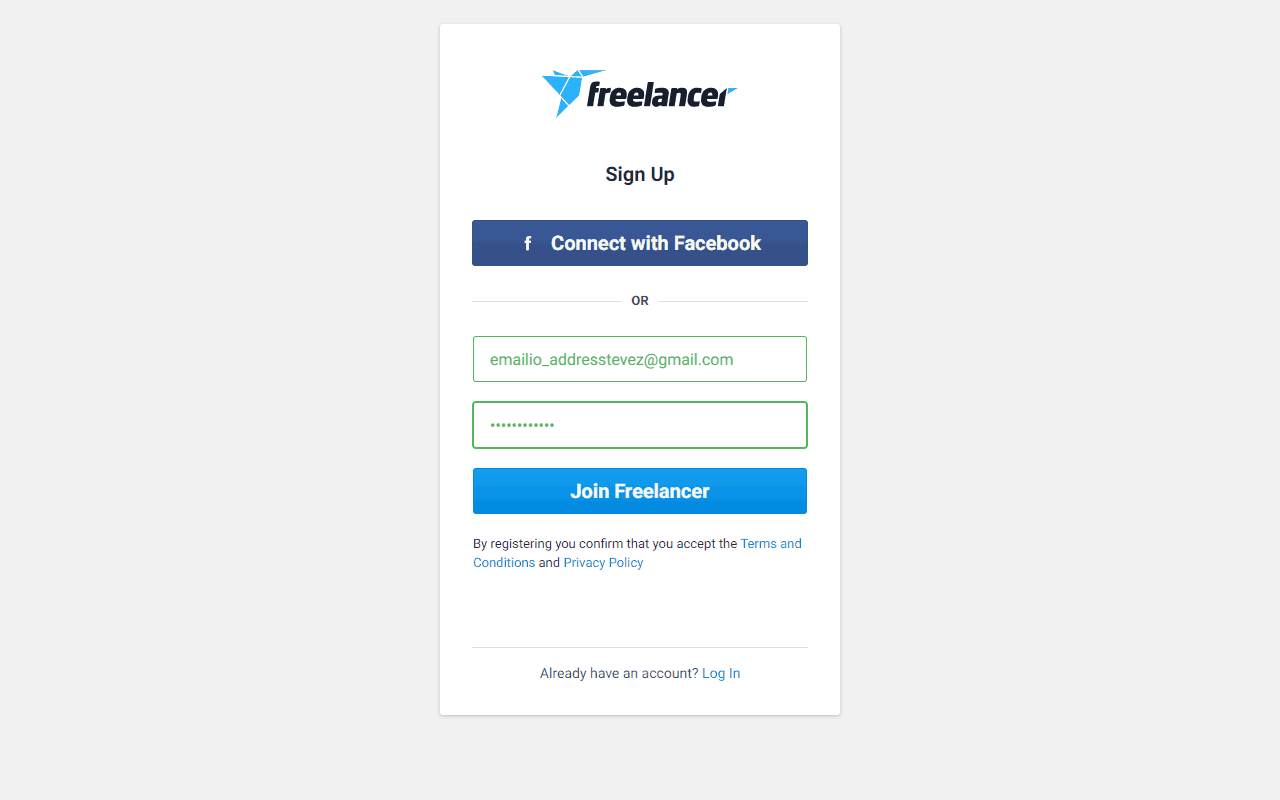 Creating an account on Freelancer.com is pretty straightforward.
You have two options for signing up
:
Using your Facebook account
Using your email and creating a password
After this, you'll be asked to create a username that'll be used to sign in later. This isn't the name that will be visible to clients, so feel free to make it whatever you'd like.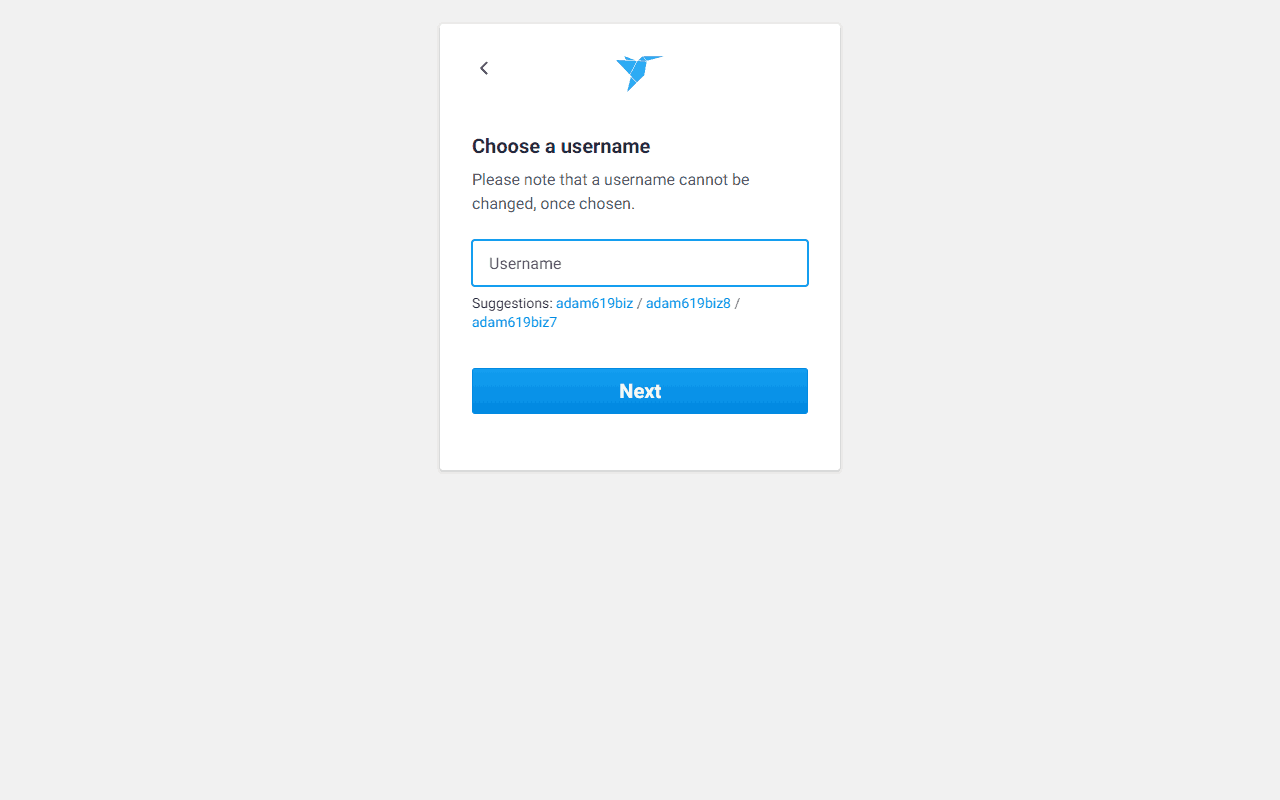 Next, you'll be asked what type of account you want to create: to work or to hire. Since you're a freelancer, you'll want to choose a worker account.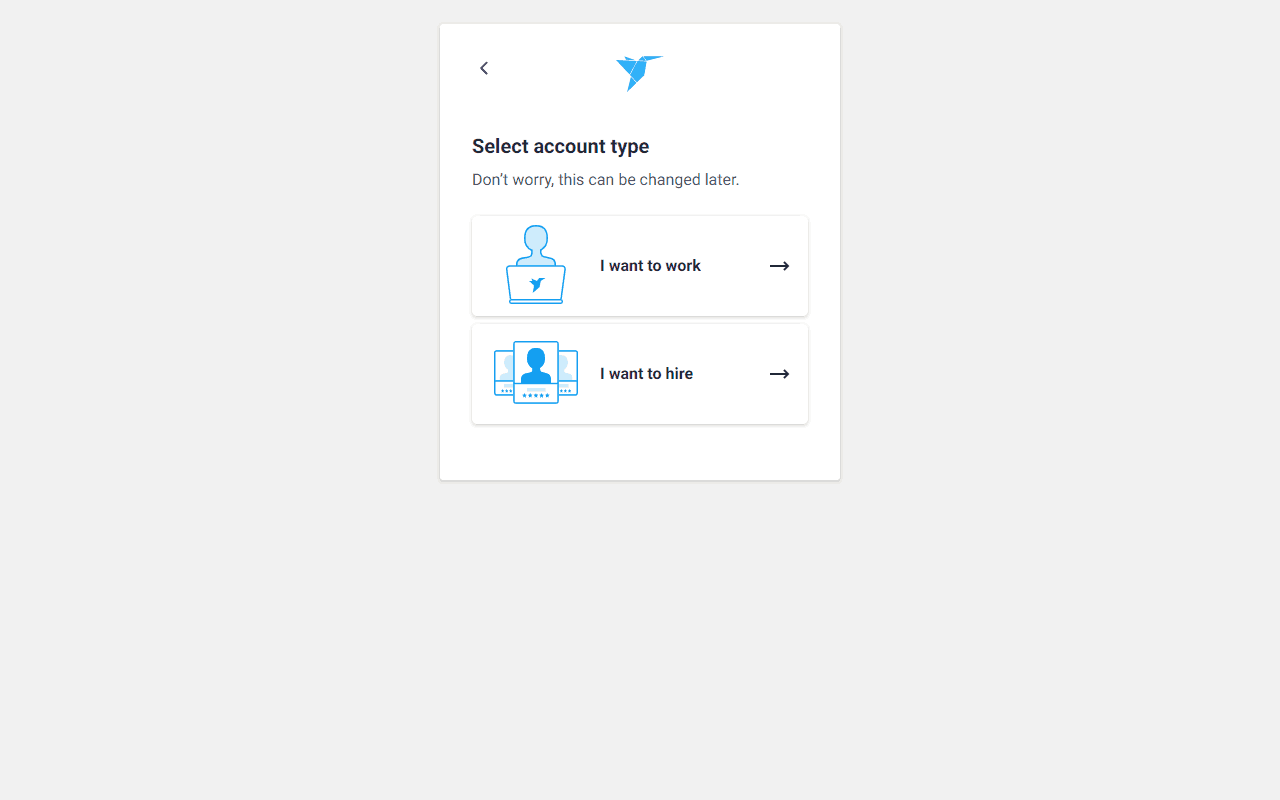 You'll then be asked to choose which relevant skills you have out of hundreds of available options.
With the free account, you're allowed to pick up to 20 different skills and it's a good idea to use them all
. Paid accounts get more, but this amount was more than enough for me. During this step, you may notice that each skill category will tell you the precise number of jobs available requiring that specific skill set. This tool was great to help me determine how much of a need there was for my skills, and where I should be focusing my efforts.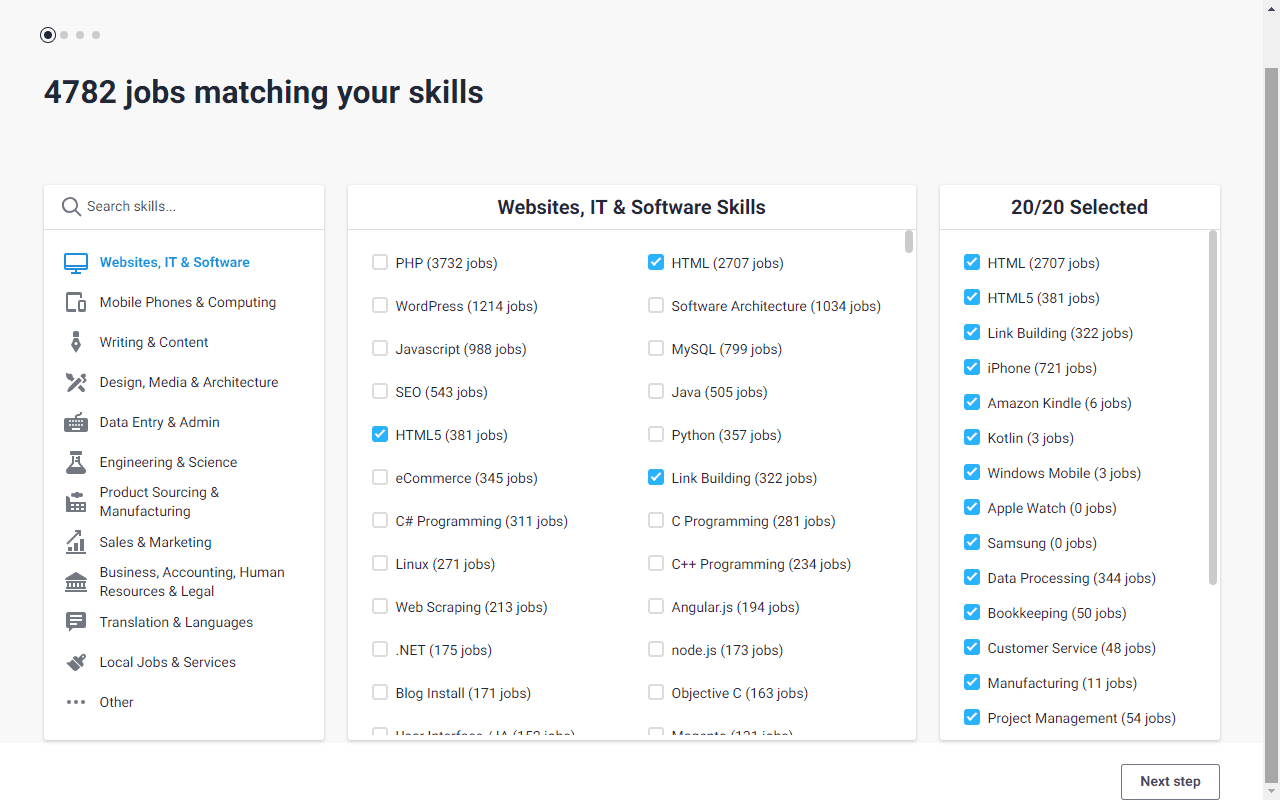 The next window you'll go to will ask your name, what languages you speak, and your skill level in your chosen field. This is the name that'll be displayed on your profile, and will usually be your real name as this makes you appear more trustworthy to clients.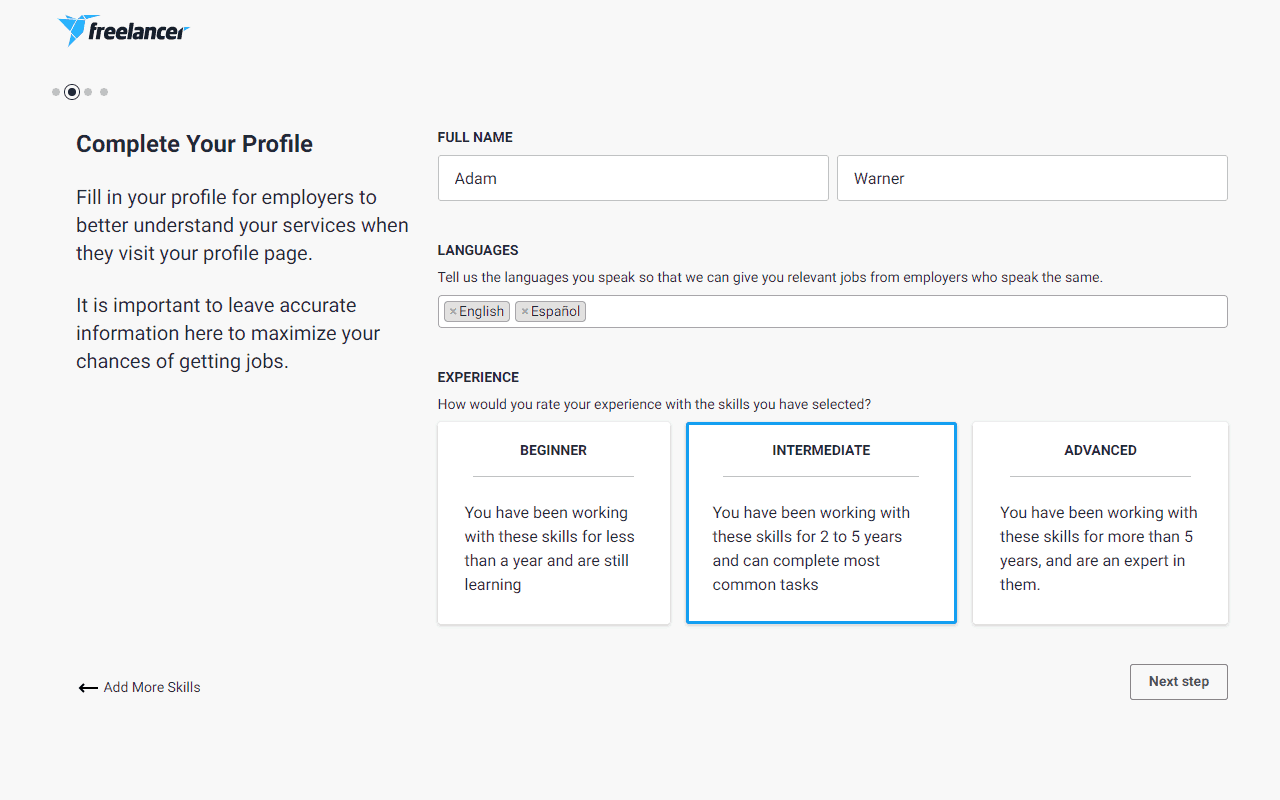 You'll then be asked to verify payment by using either your debit or credit card or through PayPal. While this step isn't necessary, it helps confirm your identity, so those with verified payments appear more trustworthy to potential clients. Therefore, I suggest that you do this, as
you should do everything in your power to increase client trust, especially in the beginning as you have yet to earn any feedback.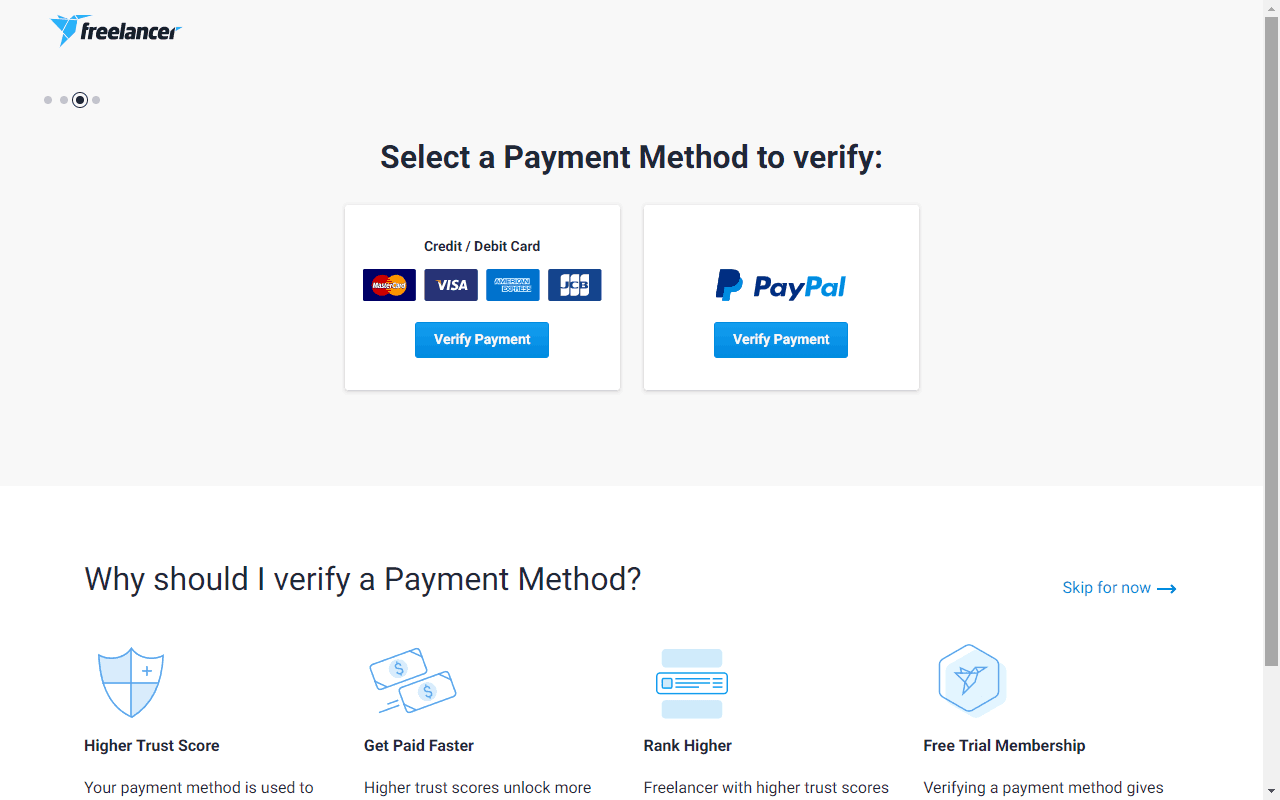 At the time of writing, accounts being set up were offered a one-month free trial. If given the opportunity, this is definitely something you should accept, as the 92 additional bids that it gives you will come in handy in that first month when you're trying to build up a bit of feedback and rapport.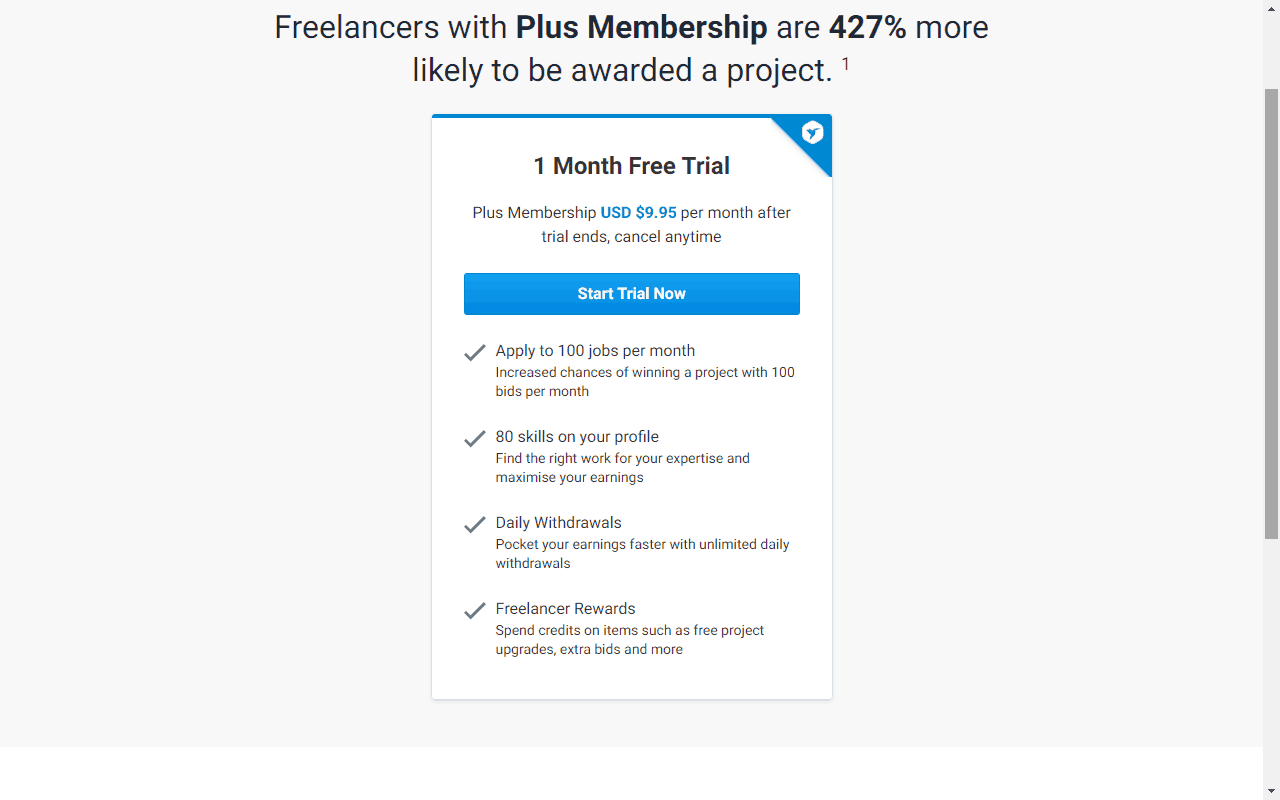 And that's it, you now have an account on Freelancer.com!
There's no screening process as there is on Upwork, so you won't have to worry about whether or not you'll be accepted
. In fact, it's this lack of a screening process that makes Freelancer.com's marketplace so oversaturated with talent. At the time of writing, there is over twice as many workers as there are job listings, about 30.3 million vs. 14.7 million, respectively. This is the platform's greatest drawback.
The inordinate amount of competition coming from freelancers in places like India and Pakistan, who are willing to work for insanely low-rates, make finding work on Freelancer.com a little exhausting at times
. For this reason, it's essential that you create a strong profile that can effectively sell your expertise, help you stand out amongst the crowd, and ultimately win some of those higher paying gigs.
Crafting an Effective Profile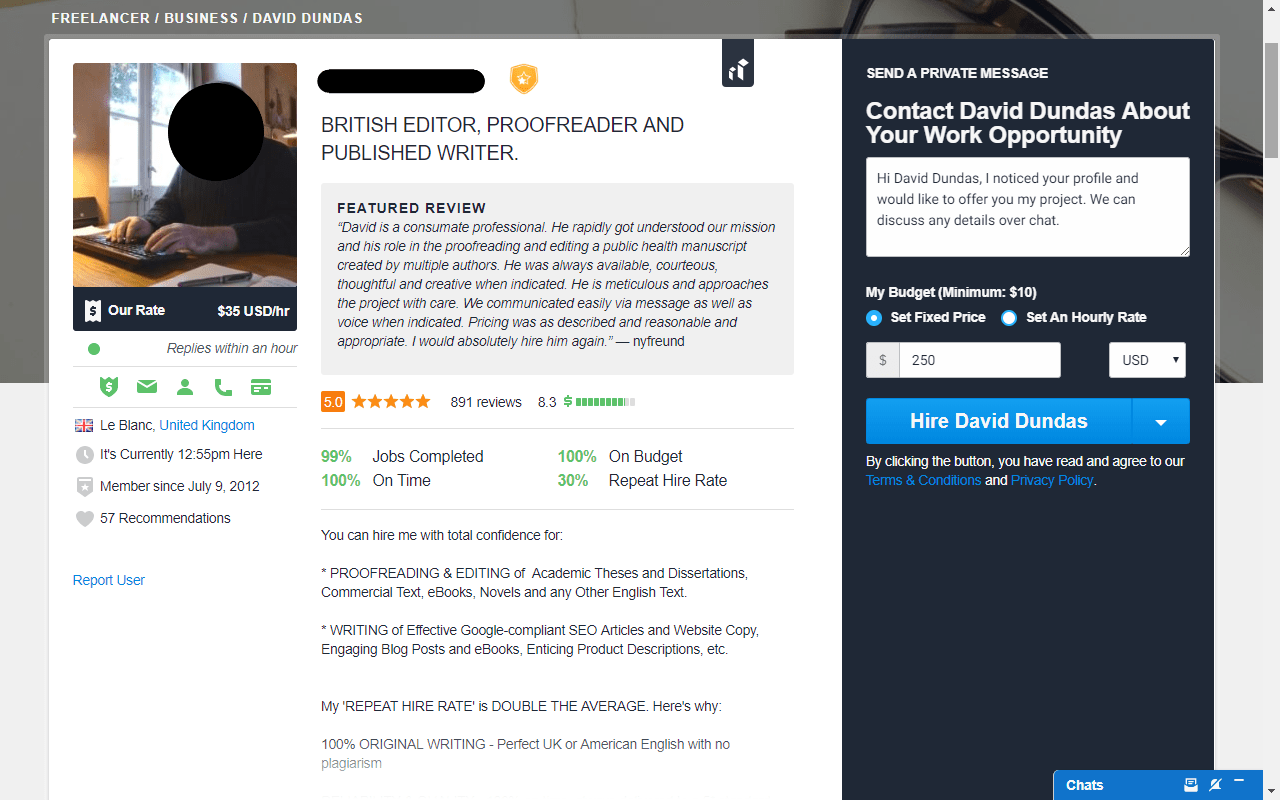 Once you're done creating your account, it's now time to work on your profile.
Creating a good profile
that helps you stand out is vital to getting those first few projects. Until you have some feedback to vouch for your work quality, it's the only information available to impress potential clients. Your profile works much like a resume, and includes several components.
Make sure that you fill out all possible fields, giving any potential client as much relevant information as you possibly can.
When creating your profile, the things that you need to include are:
#1: Headline
Your headline is incredibly important, as it's often the first thing people see when looking at your profile. When crafting your headline, make sure it gives prospective clients a clear idea of what it is that you do. You should also try and make your headline as specific as possible. For example, instead of saying "Freelance Writer" say something like "SEO-Savvy Content Developer," as it will sound more professional as well as make it easier for clients to determine your area of expertise.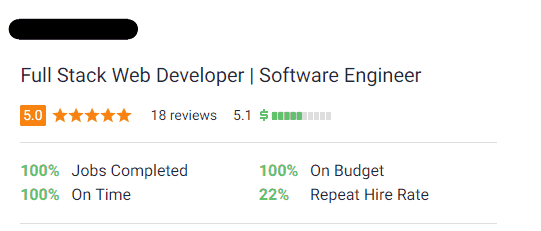 #2: Personal Bio
This is one of the most important parts of your profile. It is where you get to tell prospective clients why you'd make a superior choice over your competitors. Just keep in mind that Freelancer.com gives you a pretty limited amount of space to do so, so use it wisely. Your bio should include:
Your years of experience
Any skills that make you stand out
Past accomplishments and/or accolades you may have received
Anything else that you believe would increase your odds of getting hired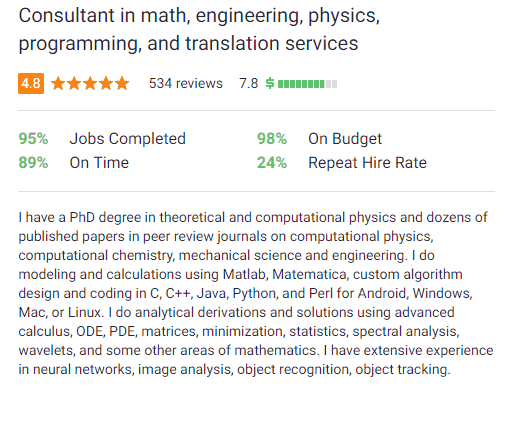 #3: Portfolio
Here is where you get to showcase examples of your past work. Your portfolio is a great way to show your first clients that, despite your lack of reviews, you
do
have experience in your field. Within your portfolio you should try and include a quality example of each of your listed skills. If you don't have any samples yet, don't worry, in time you'll have plenty.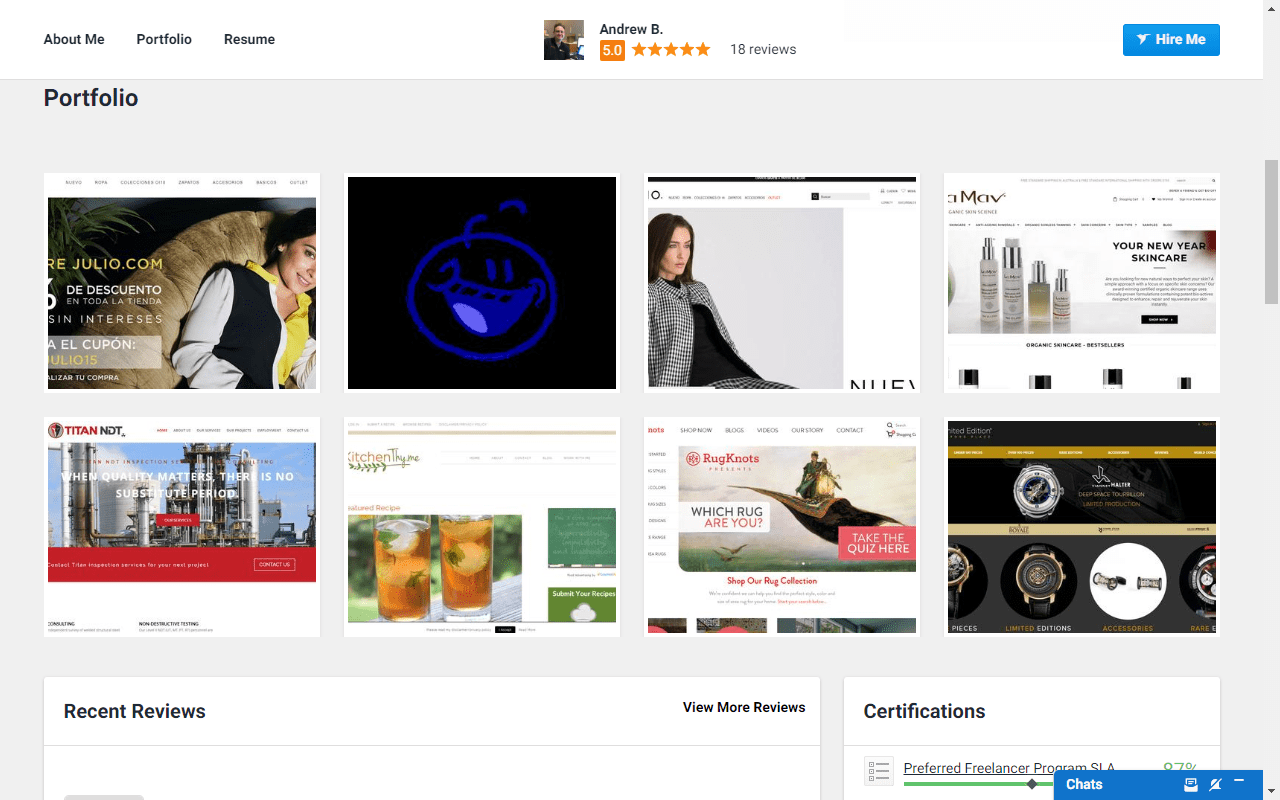 #4: Work Experience
Include all relevant work experience. You don't need to get too detailed here, just incorporate your past experience that pertains to the work you'll be doing on the platform.
#5: Education
Whether or not you got your degree you should try not to leave this field blank. Even if you've only completed a few semesters of college or trade school, include it, as it's better to have something here than nothing.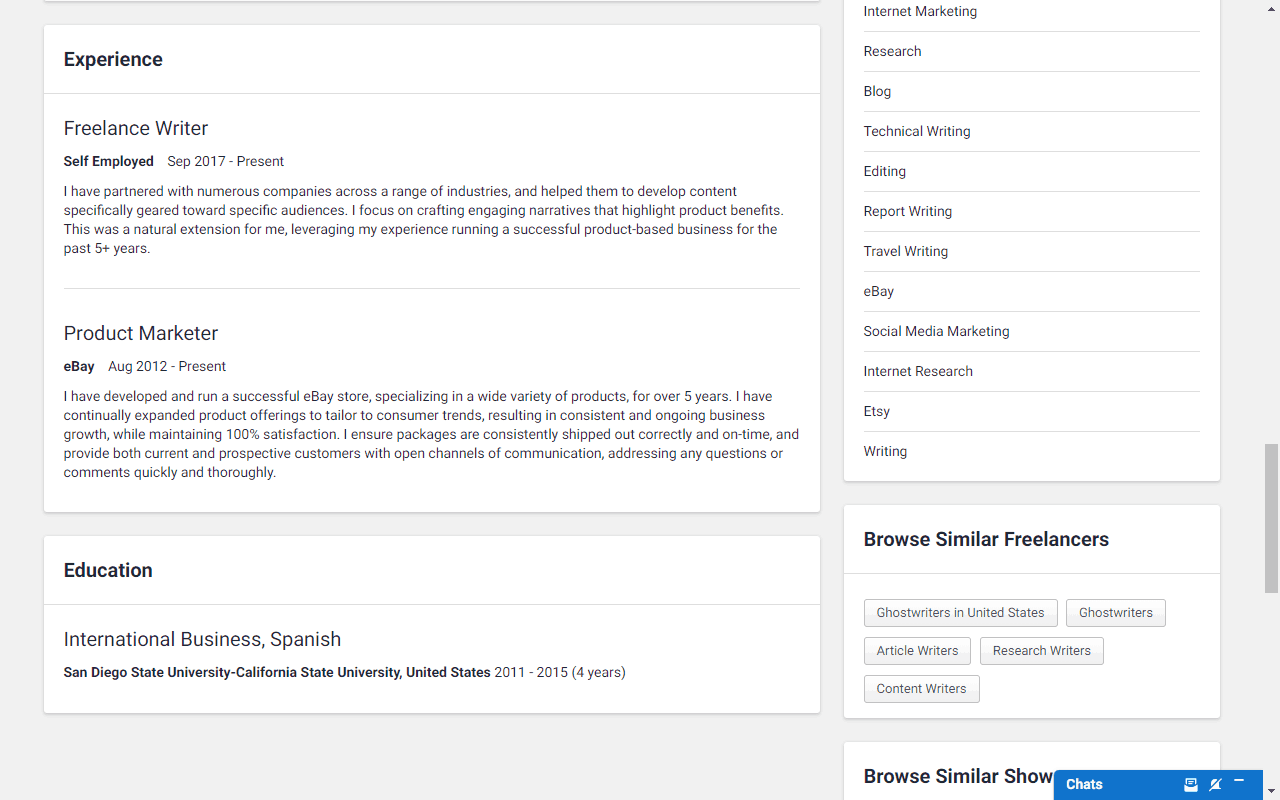 #6: Set Your Rate
When setting your rate it's vital that you make sure to account for all fees, taxes, and other expenditures that are involved with living and working as a freelancer
. Although, in the beginning, you're going to need to keep your rates fairly low as you don't have any feedback to show. But don't set your rates too low, as you don't want to undersell your skills too much, either. Once you've gained a few feedbacks you can begin to raise them.
#7: Certification Exams
Certification exams are tests that you can do in order to demonstrate your expertise in a multitude of fields.
One thing that I really dislike about Freelancer.com is that they charge money for them.
And they're not cheap, as a level one exam is $5 USD, and a level two exam costs an outrageous $10. On top of this, some jobs will require that you have passed these exams in order to apply, regardless of your actual experience level. These tests are an obvious money grab, and every other platform that I've tried offers any tests or certifications that they have for free. So take the ones that are necessary for your field of work if you must, and save your money on the rest.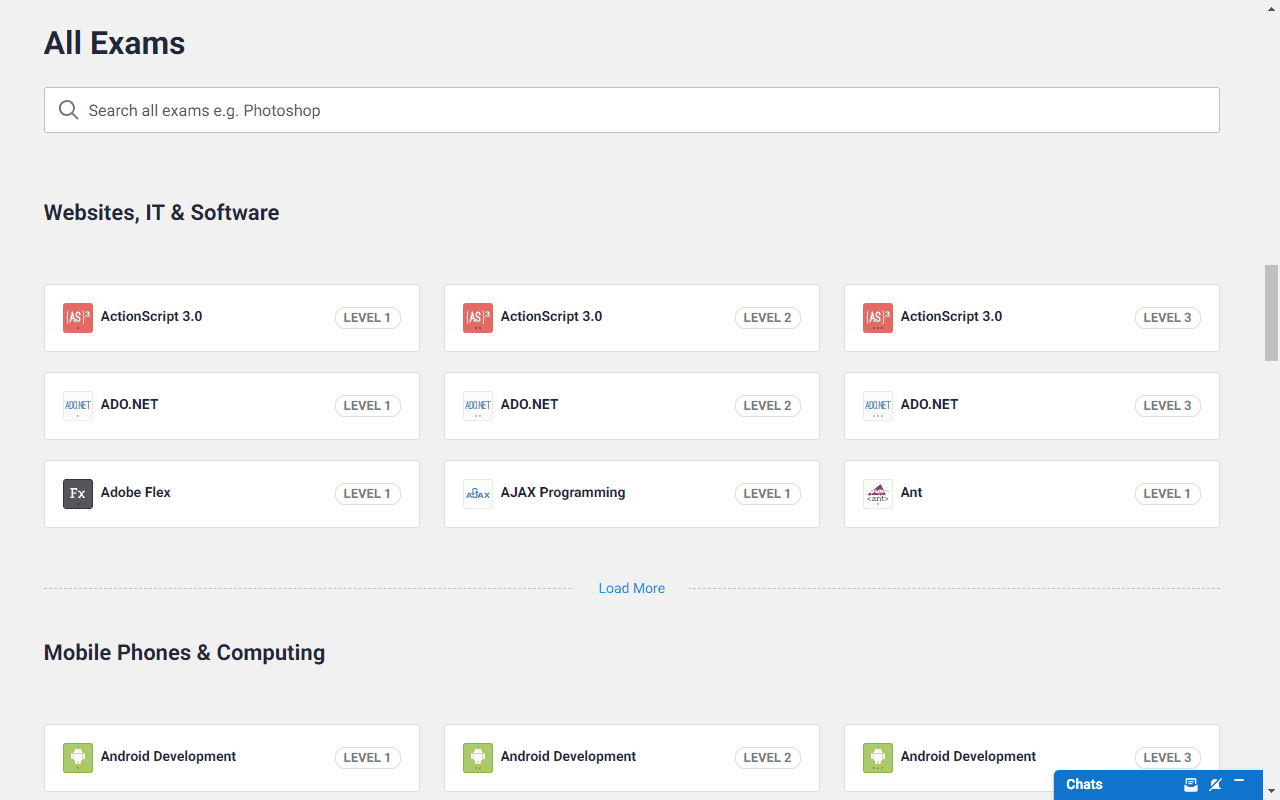 Bids and Membership Options
One of the major drawbacks to this platform is that you're almost forced into signing up for a paid membership. This is because, with the free membership, you're only given eight bids every month. This isn't enough to land your first gig in most cases, and while the one-month free trial you receive will help you to get started, if freelancing is your career and this is your primary source of income, you basically have no option but to pay for your membership. There are various levels of membership available at a range of monthly prices. The biggest differentiators between the different levels include:
The number of monthly bids that you receive
How often you are able to withdraw earnings
The number of skills that you can list on your profile
The ability to tailor your job posting notifications
I recommend starting at a lower tier and then
adjusting your membership accordingly
based on your personal and professional needs. Keep in mind that these may change over time.
Finding Work on Freelancer.com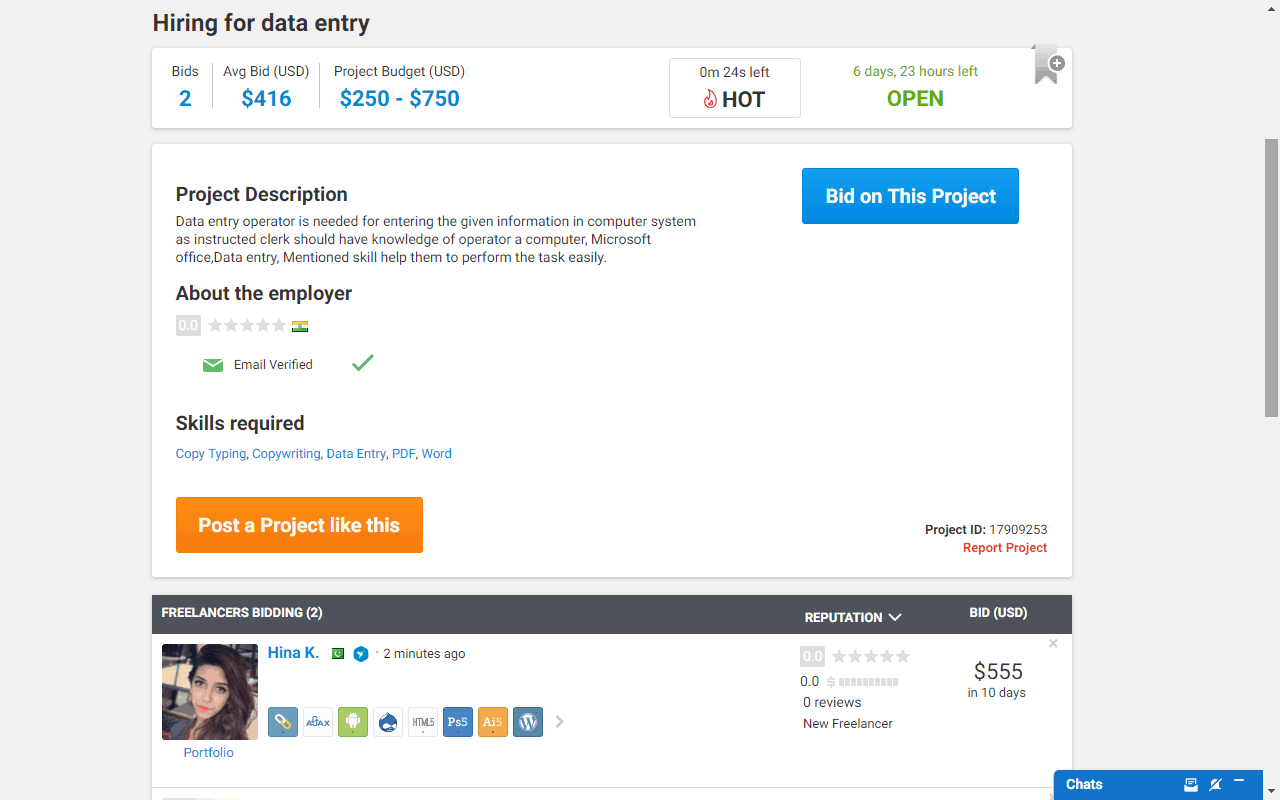 There's a lot of work, but without the screening process that platforms like
Upwork
have, there's also a lot of competition. On top of this, much of the available work is of low-quality or listed at insultingly low rates. Be aware that
there are also a large number of scammers using this platform
. That said, with some experience, their postings become easy enough to recognize (if it looks too good to be true, save your bid, because it probably is). This doesn't mean that there isn't good work available, you have to search a little harder to find it. The large amount of cheap work can be advantageous in the beginning, as it makes it far easier to nail your first gig. If you're well qualified in your field, chances are that you'll stand out when bidding on a poorly priced job, increasing the likelihood that it'll be awarded to you. Just try not to be too insulted by the low rates, and
keep in mind that you're working for reviews the first few gigs
, not money.
Job Types and Fees
Compared to other platforms, the fees on Freelancer.com aren't the worst, although they're not the best either (especially when you take the membership costs into account).
Freelancer.com has five primary job types, and each one has a different associated fee structure.
#1: Hourly Projects
On these projects, you and a client agree to an hourly rate, and you're paid according to the amount of time you put in. There are a number of
tools available
to help you to track your time, including one that's built into the Freelancer.com platform. With hourly projects, you're charged 10% of your hourly rate.
#2: Fixed Projects
With this project type you're paid a flat price that you and a client agree upon in advance. Since you're paid a set fee regardless of how much time is spent working, finishing your work quickly is key on fixed price projects.
As issues do come up, and sometimes things take longer than they should, these jobs are slightly riskier to take on than hourly.
The fees on fixed projects are as follows: you're either charged 10% of the total project cost or $5, whichever number is greater.
#3: Contests
These jobs are when a number of freelancers compete for a client's money. What this essentially means is that several freelancers will do the work, submit it, the client will pick whichever he or she likes best, and then only pay the winning freelancer.
Honestly, I really don't understand contests, or why a freelancer would participate in them.
They're clearly only beneficial to the client, as they're given multiple choices in work, and only have to pay for one of them. And, as a freelancer, you're asked to do work knowing perfectly well that there's a pretty good chance that you won't even get paid. Regardless, if you for some reason decide to do a contest, Freelancer.com will take 10% of your "winnings."
#4: Services
Services are job offerings that are posted by the freelancers themselves. This works similarly to platforms like
Fiverr
, where you choose what service you want to offer, create a posting, and hope that the clients come to you. The fees for services are slightly higher at 20% of the total project cost.
#5: Preferred Freelancer Program
This program is available to freelancers who fall within certain criteria, and are eligible for special job postings. These jobs generally pay higher, as only freelancers who have proven their skills are able to bid on them. There is also a higher fee associated with them at 15%.
Filters
The filters available for finding work on Freelancer.com are fairly minimal and include:
Project Type: Here you can choose between hourly or fixed price projects; contests are listed under another tab
Skills: The skills required for the job listings shown
Listing Type: Choose from six listing types with options such as full-time or urgent
Fixed/Hourly Price: The minimum and maximum price that you'll accept; there's a slider bar available for both fixed and hourly job types
Location: You can choose the city, country, or continent in which you'd like to find work
Language: The language in which the job will be completed
Writing Proposals
When you bid for a job on Freelancer.com, you're first asked to put the amount you're willing to accept as payment, then you're asked to write a proposal. This is probably the most important step when trying to get work.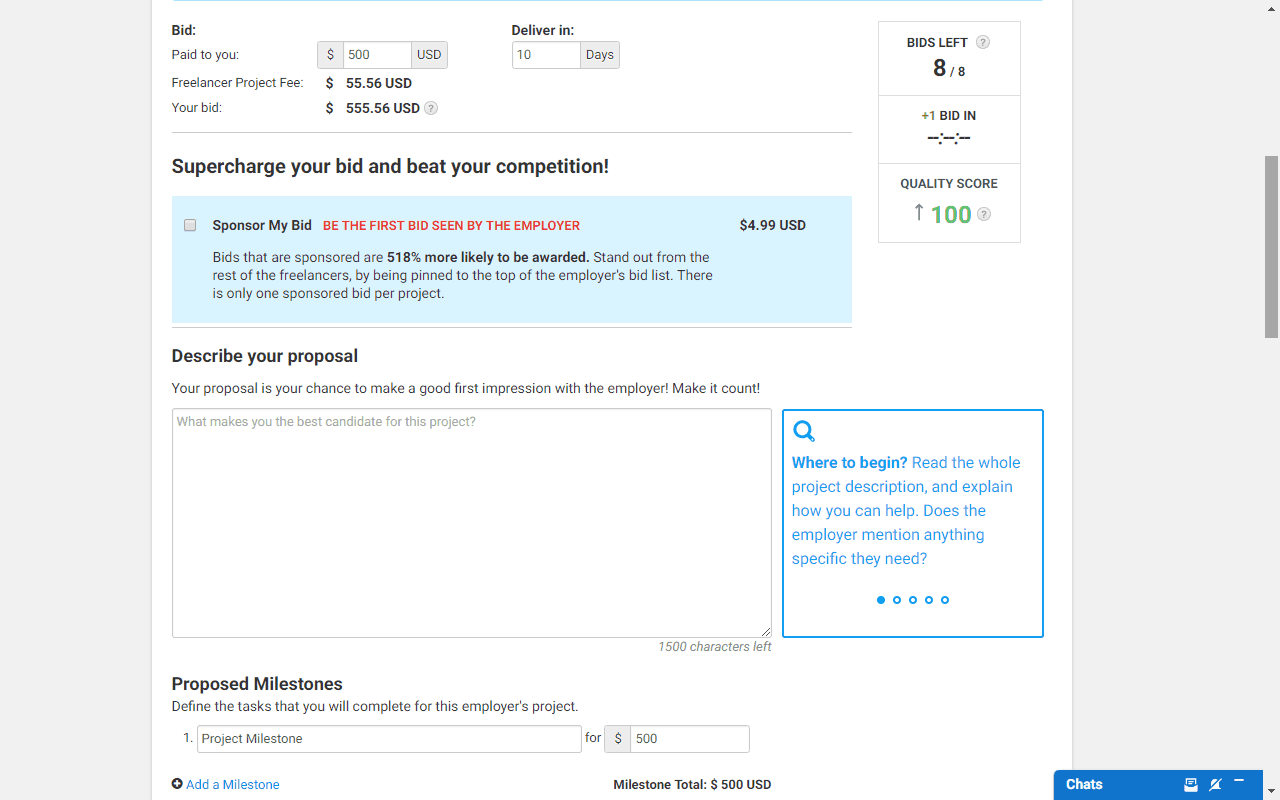 Some of the primary things to consider when writing a proposal include:
Read the Whole Job Description: You'd be surprised how many people don't even read the job descriptions when bidding for a project. It's so common that many clients will include things in their descriptions like, "If you read this to the end, write 'tomato' as the first word in your proposal" just so they can quickly eliminate those that copy and paste bids. Simply by reading the whole description, you're already doing better than a lot of the competition.
Ask Relevant Questions: If the job listing is missing an important detail, or something is unclear, don't hesitate to ask questions. This will show that you're knowledgeable in your field and that you paid close attention to the listing.
Make It Original: Writing proposals can get exhausting, and much of the time it doesn't even pay off. For this reason, many freelancers just copy and paste the same proposal for every job. While this may be tempting, resist the urge to do this! You should always write an original proposal that addresses specific things that are written in the job description. You should also try to be personal by addressing the client by name, when possible. Personalizing your proposal shows that you paid attention to their listing, and will help grab their attention.
Give Work Examples: While you should have work examples in your profile, don't expect a prospective client to go there to look for them; include some links to work examples, where possible.
Milestones
This seems to be fairly standard across all freelance platforms. The client creates a milestone based on completing certain criteria—such as submitting a first draft—and agrees to release a portion or the total amount of the project's value once it's completed. You can also request milestones when bidding, although this option is rather useless, in my experience, as the client will make the milestones as they wish regardless. The client must be pleased with the work prior to releasing the funds, which could get frustrating when dealing with picky customers (fortunately I've been lucky in this regard).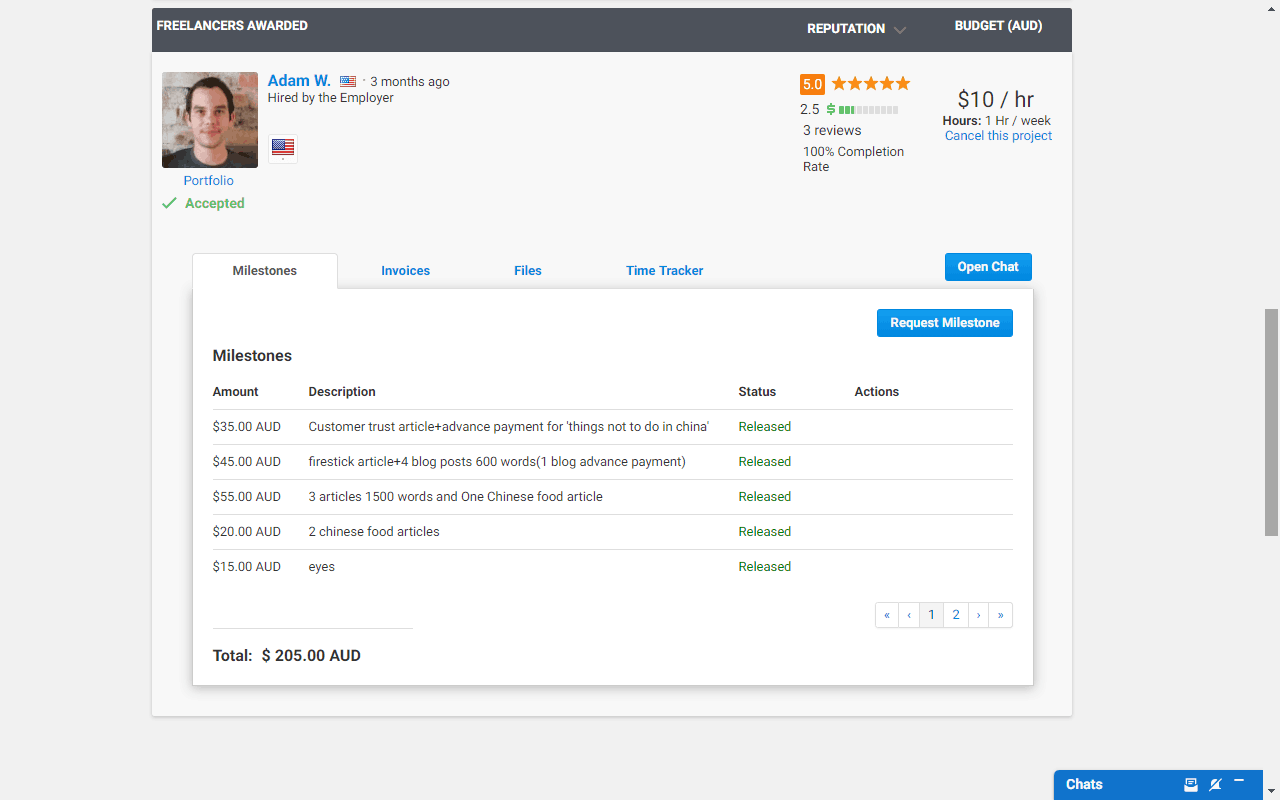 On hourly projects milestones work pretty much the same, only you can set up auto-payments for the time that was tracked through Freelancer.com's tracking tool.
Dispute Resolutions
Although I have never personally needed to file a dispute, I did come close with a client who took over a month to release funds for completed work. Other than that one issue, I have been fairly lucky on the platform and was always paid on time. Although, from others' experiences that I've read, when push comes to shove
Freelancer.com generally sides with the client
, leaving the freelancer to lose out. While this isn't always the case, this is, unfortunately, a problem with this platform. For those that do need to file a dispute, the process goes like this:
Open a dispute in regards to a specific milestone, or a number of milestones, if the client refuses to pay and you can't come to an agreement. Once opened, the client has 14 days to respond, and if he or she fails to do so you automatically win and the funds will be released to you—yay!
If he or she does respond, you must write a description of the problem that occurred, and attach any files related to the project and submit it to Freelancer.com.
At this point, you're expected to try and work it out with the client (although you probably wouldn't have filed a dispute if you hadn't already tried this).
If you can't come to an agreement, you have to pay a fee in order to take the dispute any further (Freelancer.com is all about the blatant money grabs). The fee varies at either $5 or 5% of the total dispute amount, whichever is higher. Both parties pay the fee, and if one party does and the other fails to do so, the party that paid the fee automatically wins.
com gives both parties a chance to submit any final evidence, after which they come to a ruling. The party who wins will have their arbitration fee refunded at least, although the team at Freelancer.com keeps the losing party's fee.
The Final Takeaway
Freelancer.com can be a great platform for those who are just getting their freelancing career started. There may be better alternatives—particularly if you already have a lot of experience in your chosen field—however, it is often more difficult to get accepted on these platforms. While I personally wouldn't want to rely on Freelancer.com for my sole source of income, it can be a good platform to fall back on if you're not having luck finding clients through
Fiverr
, and can't seem to locate any good jobs on
Upwork
. I think it's a good idea for any freelancer to have an account on a few freelancer platforms, as finding clients can be tricky at times and giving yourself more options can only be helpful in your quest for remote working freedom!
*Please note that fees and percentages are current as of October 2018, and are subject to change.
---
Sources
20 Mind-Blowing Freelancing Statistics That Prove Remote Work Is The Future: https://freelancinghacks.com/20-mind-blowing-freelancing-statistics-remote-work-future/ Freelancing in America: https://s3-us-west-1.amazonaws.com/adquiro-content-prod/documents/Infographic_UP-URL_2040x1180.pdf All images: https://www.freelancer.com/