avoid paying the higher fees and start minimizing your costs
. Take it from someone who has been freelancing full-time for years: You have more control over your finances than you think. Let me explain.
Strategy 1: Develop Long-Term Business Relationships
When it comes to freelancing, there are many benefits to working with long-term clients:
Reliable and stable sources of income
Clear understanding of requirements and expectations
Reassurance that clients can be trusted to pay
Established rapport and professional relationships
Increased likelihood for positive reviews and ratings
Ability to quickly build your portfolio
Long-term relationships benefit all parties involved. This is why many platforms, such as Upwork, reward ongoing work with reduced fees for freelancers. Read
our expert review
of what it's like to work as a freelancer on this platform.
Upwork
fees work on a sliding scale and are charged according to what's known as your "
lifetime billings
," i.e., the total amount you have earned with a particular client, across all projects. Here's the breakdown:
20% fees (80% net earnings) for lifetime billings up to $500
10% fees (90% net earnings) for lifetime billings of $500.01-$10,000
5% fees (95% net earnings) for lifetime billings that exceed $10,000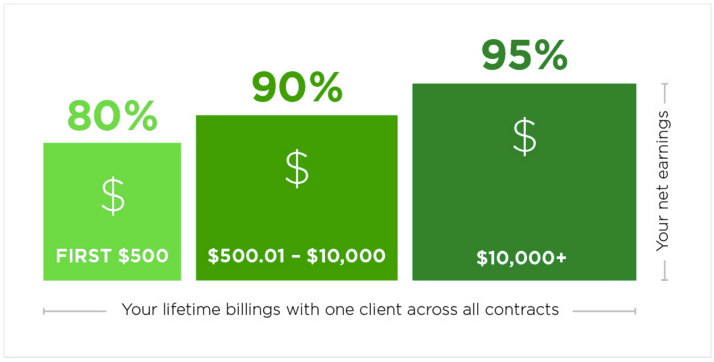 For example, if you earn $1,300 on a project, the first $500 is charged at a rate of 20%. That's $100. The remaining $800 is charged at a rate of just 10%, which equals $80. That means your total amount of fees are $180 and you take home $1,120. If you continue the relationship, then these fees will eventually drop to just 5%. You'd find it difficult to discover any other freelance platform that only takes 5% with that volume of jobs available, so the encouragement is definitely there.
PeoplePerHour
is another freelance platform that uses a sliding scale and offers an advantage to long-term business relationships. Freelancers are charged a service fee of 20% for the first $700. The rate then drops to 7.5% for funds between $700-$7,000. After $7,000, you only pay a rate of 3.5% for long-term business relationships.
Strategy 2: Use a Third-Party Processor
Once a project or contract is complete, the freelance platform takes its percentage and there is a waiting period before you can transfer your money. It varies by platform and type of project. On
Upwork
, for example, you must wait five days from when the client approves a project milestone. If you have an hourly contract, the wait is typically longer. However, in order to actually receive your money, sometimes you have to pay an additional fee. The platform
Freelancer.com
has express bank transfers, but they aren't offered for every country. If your country does not accept the platform's express option, you have to pay $25 for a wire transfer each time you want to be paid, with a minimum withdrawal amount of $500. This is never included in the percentage the platform takes from your jobs, but you will need to pay it in order to receive your funds. To avoid additional costs when closing a job,
simply transfer your money to a third-party processor, and then to your bank
. PayPal is generally the best option, as it's usually free to transfer funds to your bank account – but don't forget to check if there are any fees to transfer to an account in your country. You may also have to pay a small fee to transfer your funds to PayPal, depending on the freelance platform. If you want PayPal to instantly transfer funds to a bank card, the fee is 1% of the amount you are transferring, with a maximum of $10. This method puts the funds on your bank card the same day. If you're in the U.S., you can get a PayPal debit card. This allows you to leave your funds in PayPal without needing to transfer to a bank. You can then use the card for any transaction just like a bank card.

The freelance platform
Fiverr
also gives you the option to transfer to a PayPal account for no charge. Additionally, the platform offers a Fiverr Revenue Card. It is supported through Payoneer (another third-party processor) and powered by MasterCard. This card can be used just like a debit card, but it has a minimum withdrawal of—so ironically—five dollars. Fiverr also charges you a $1 fee to transfer to the card, so keep that in mind when sending small balances.
Strategy 3: Consider Going Off-Platform
The last option to save on costs is to simply run it all yourself. There is no denying that moving away from freelance platforms can save you money, but it can also devastate your business.
If a client doesn't pay, you'll be out a lot more money than simple fees
. There is no promise of payment without the protection of a freelance platform—take it from me: I had a client once for two years on a freelance platform. We worked really well together, and they always paid on time. After we left the platform, their very first payment was late and the second one never came. Even after two years of working together. So, there is no guarantee of payment when you don't use a freelance platform, and that can be scary (and costly). Freelance platforms have protections in place to ensure you receive your money when a job has been successfully completed.
Upwork
has a Fixed-Price Protection plan that uses escrow to make sure the client receives the work they have requested, and the freelancer gets paid as promised. It's a simple system. Clients make a deposit into an escrow account associated with a project's milestone. When work is completed and accepted, the client then releases the funds. If there is ever a dispute, the funds will be held by Upwork until it is resolved.
Freelancer
also offers a Milestone Payment™ System that works in the same way. Funds go into an escrow account as a milestone. Freelancers can refund or make a claim against their client via the Dispute Resolution Services the platform offers.
This is just another layer of protection a freelance platform can offer you
, that you won't find on your own.

Additionally, if you have worked hard to build a reputation on a freelance platform, you don't want to violate the rules.
Most platforms explicitly state you cannot ask clients to work off-site
. This is likely a violation of the platform's "Terms and Conditions." When you violate the rules,
you can be punished for your actions
. Upwork will put your account on hold (the length of time depends on the offense). These holds will negatively impact your stats and affect your Top Rated status for 90 days. If you offend again, you may be removed from the platform completely.
Going off-platform can save you money, but it's a big risk
. The decision should be weighed heavily.
A Creative Way to Combat Costs
Minimizing costs on freelance platforms may pose a challenge. You need to employ creativity in your approach to the fees. Opting for a platform with an incentive program or utilizing a third-party processor constitutes excellent choices, yet they entail some limitation in exerting full control over your financial matters. One of the more innovative ways of saving on costs is simply to
raise your rates
. This is a guarantee that, whatever job you take, the platform's fees will not affect you. If you are charging $60 an hour and the fees are leaving you with an end balance that is not enough, start asking for $75.
There is no rule that states that you can't cover the fees with your own rate-hike
. Freelancing is a hustle, but it's the passion that drives us. The benefits of freelancing far outweigh the costs. It's a lifestyle that allows you to set your own standards and take control of your work. You'll always be your own boss with a flexible schedule and a paycheck as big as your ambition. If you're just starting out,
our ultimate guide to freelancing
is a great resource. It's also important to continuously educate yourself as you work. As the market for freelancing continues to expand, knowing the right tricks will ensure you always have work at a decent rate. And that's all we ask for anyways, isn't it?
---
Sources
www.support.upwork.com
www.freelancer.com
https ://blog.peopleperhour.com
https ://threestepsbusiness.com/freelance-site-comparison/
https ://contentwonk.com/freelance-writers-survey/
Image Credits
Upwork.com
Paypal.com
Freelancer.com