what's involved, how you can get started, and how to achieve quick wins
. By the end you'll have a checklist of blog monetization strategies that can help your blog earn money for you while you sleep.
1. Optimize Your Content
The single most important thing you can do to monetize your blog is to improve the content. That means focusing on search engine optimization (SEO). Why? Because if you don't, nobody will find your blog, which makes all of the other blog monetization strategies irrelevant. SEO is about optimizing content so people find it in search results.
When your content is relevant to what people are searching for, that brings traffic to your site
. And you need traffic to make money from monetizing your blog. Here's a quick way to get started. First, use a keyword search tool to find what people are searching for related to your niche. We list some options in
5 Free Tools to Improve Your Blog
. Second, use that information to decide what content you should publish. Third, optimize your content by including related terms, known as LSI keywords, in your articles, reviews, and blog posts. You'll use these in headlines, subheads, and throughout the content. Here's an example of an LSI keyword search on LSIGraph.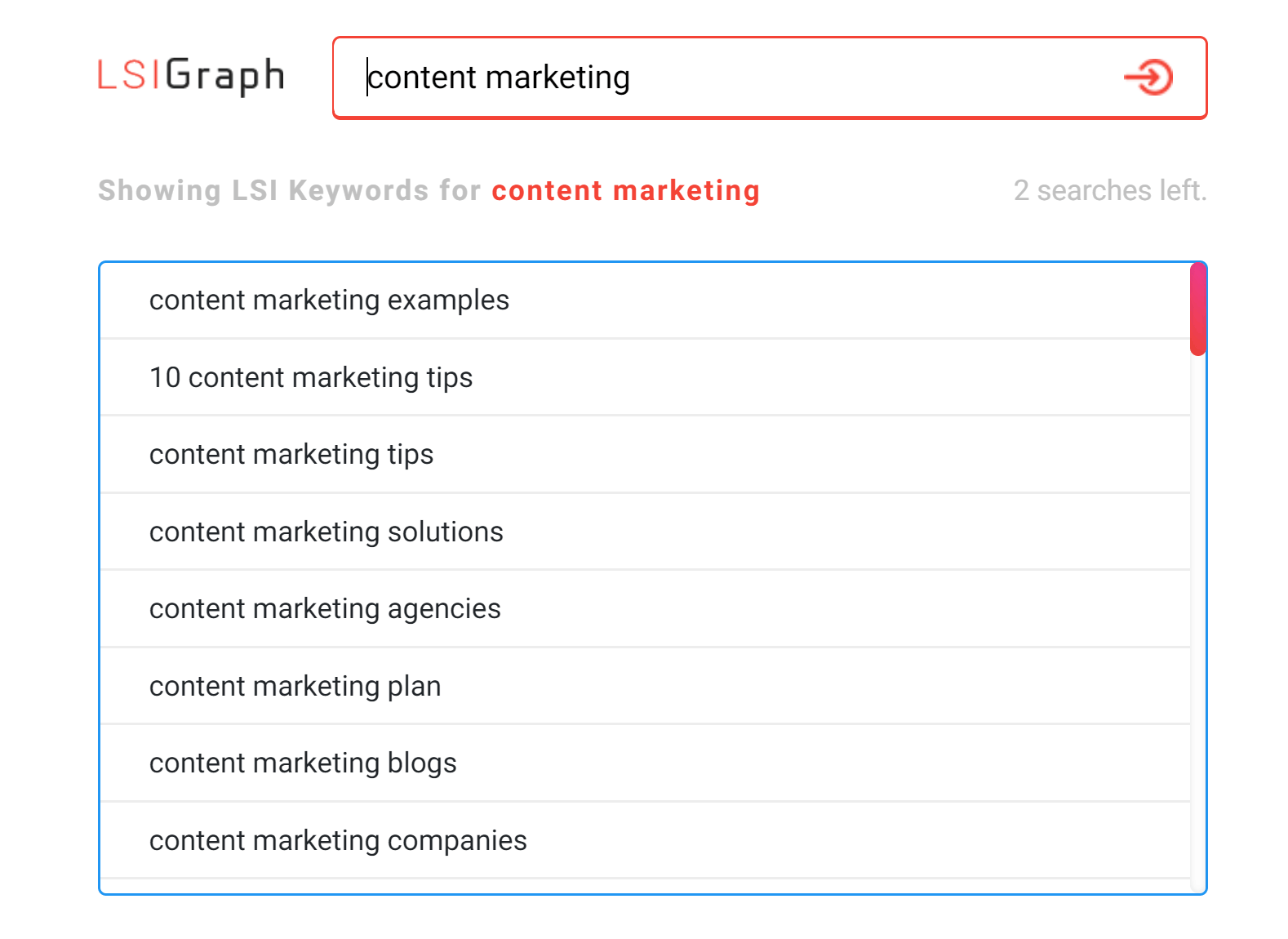 Pro tip: You can easily find LSI terms at the bottom of a Google search results page, flagged as "searches related to…"
Want to achieve a quick win with content optimization? Type your search terms into BuzzSumo and you'll see what content is already getting shared online. Use the headlines as inspiration for your own, and you'll be halfway to getting more traffic.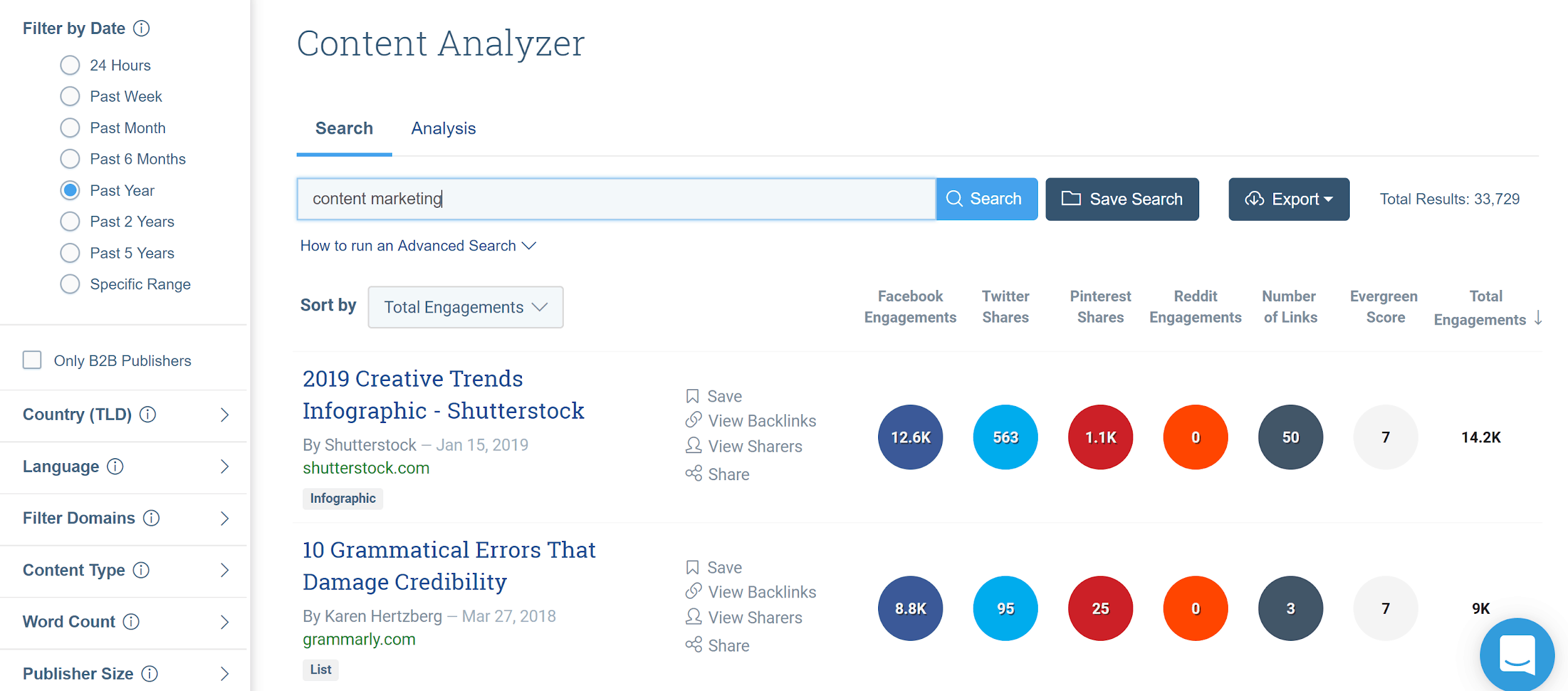 2.  Set Up an Email List
After optimizing content, setting up an email list is the next most important blog monetization strategy. Why email? Because it's one of the best ways to keep in touch, since 99% of us check it daily. And you need to be in contact with people regularly before they'll consider buying anything based on your recommendation. You won't earn much from your list at the start. But over time,
this will be a key way to promote all the other blog monetization strategies you use
. To get started, 
choose your email marketing software
. 
AWeber
is easy to set up, and you get a
30-day free trial
to test it out. Don't forget to put a signup form on your site. Offer potential subscribers something in exchange for their email address. This is called a
lead magnet
. You can create one fast by:
Using the content research you did for your blog to come up with a popular new topic
Expanding an existing piece of content and making it available as a short ebook
Taking key points from an in-depth piece of content and making a checklist or worksheet
If your lead magnet is valuable and relevant to visitors, they'll join your list. Then use your emails to let them know about new content, and the deals you're offering. Here are some more ideas for
creating engaging email newsletters
.
3. Use PPC Ads
Pay per click (PPC) ads can be a great passive blog monetization method.  They work like this.
You put ads on your site based on certain keywords and categories, and you get paid when people click on them
. Want to get started fast? Join the
Google AdSense program
. It's quick and easy to set up. There are also other PPC programs to try,  like Chitika, BidVertiser and others. PPC ads don't work well for everyone. If you're showing ads from a high-paying niche (like health, weight loss, or technology), you can make a lot of money.  But if your blog is brand new, and you're in a less popular niche, it may take a while.
Avoid the temptation to increase clicks artificially
. This is called click fraud and can get you banned from a PPC program. And think about how your site looks: if it's covered in PPC ads, it won't be attractive to visitors, and your traffic may decline over time.
Pro tip: Be selective about where you place ads. Use the ad provider's advice on the highest paying areas to decide on ideal placement. That's how you make the most money from PPC ads
4. Sell Your Own Ad Space
If you've already got traffic, and an active audience,  consider monetizing your blog by selling ad space. There are a couple of ways you can do it. First, you can sign up for a program like
BuySellAds
, which lets you sell ad space via their marketplace.  When you sign up, say what your site is all about, set a price, and install the BuySellAds code on your site.  Ads can appear automatically, or you can choose to approve them. You can also sell ads on your own. Just decide what type of ads you want, and where you want to place them.
Make it clear your site is open for business by creating a page with advertiser guidelines
. You'll need:
Information about your site and audience
Data on your recent traffic
Information on where you'll put the ads (such as on your site or in your newsletter)
Ad size requirements
The cost
Here's an example from Phil Simon's site: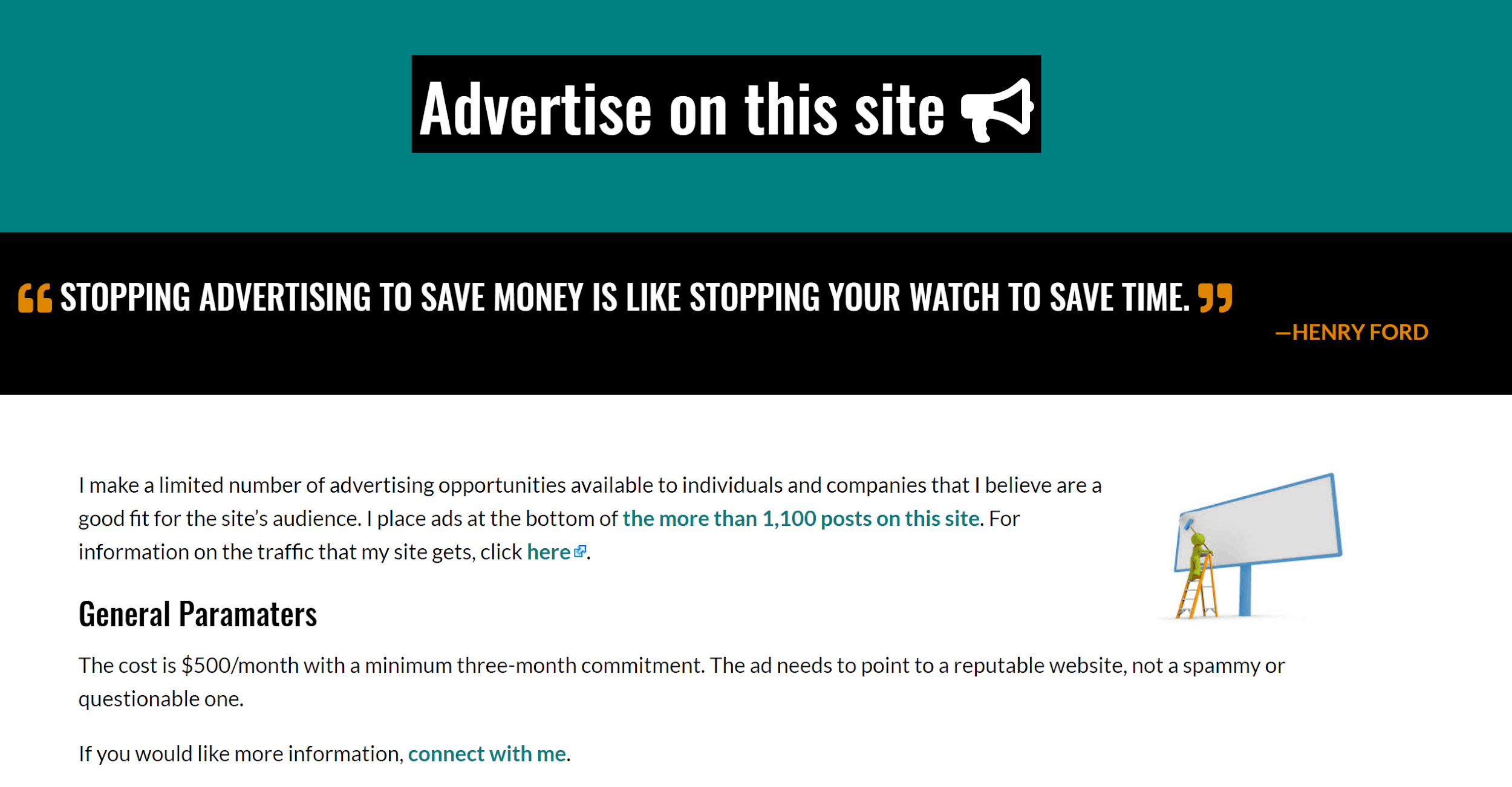 Pro tip: If you use an ad management plugin, you can manage both your own ads and PPC and other external ads
5. Become an Affiliate Marketer
Speaking of niches, they also help with our next blog monetization method: becoming an affiliate marketer. That means
promoting products or services on your blog, and getting paid when people buy them
. All you have to do is find the right product to promote. One approach is to go to a site like
ClickBank
or
ShareaSale
,  and find products you think your audience will like. Then you can sign up for the affiliate programs. When you're ready to sign up, you'll need some of the following information:
Name and other contact details
Website URL and niche
How you plan to promote the product
Payment details
Account approval takes a few days. Once you're in, grab links or banners and put them on your site (or include them in your newsletter). But there's an even better way:
become an affiliate for products and services you already know, like, and use
. This makes it easy, and helps build trust with your audience. The more they trust you, the more likely they are to accept your recommendations. Be aware that in the US, under FTC rules, you need to disclose any affiliate relationships. You can find a sample affiliate disclosure online, and customize it for your own site.
Pro tip: Just because you're promoting a product, you don't have to like everything about it. Honest reviews win sales, too, and you need to think about your long-term relationship with your audience.
Pro tip: Some companies give you text you can use to promote products via your email newsletter or on your blog. Always edit this to make it your own. Try to avoid sounding too salesy; aim for being human instead.
6. Write Sponsored Content/Paid Reviews
A related option is to publish sponsored content on your blog. Again, you'll need to disclose that you have a relationship with the company paying you for the content. Options for sponsored content include:
Adding sponsored links to content that's already on your blog
Writing a post that includes sponsored links
Publishing a guest post that includes sponsored links
Being paid to review a product
One of the downsides of this approach is that
visitors to your blog may not think content is trustworthy if most of it is sponsored
. You'll have to decide if that bothers you or not. Consider carefully the ratio of "real" content to sponsored content. If you're looking to get started with sponsored content, check out
Izea
, an influencer marketing platform.
7. Create an Ebook
If you're looking for a quick way to monetize your blog content, consider using it to create an ebook. This works well if you already have a series of posts around the same theme. To make an ebook quickly, gather posts together in a Google Doc or in Microsoft Word, and edit them so they read like a whole book instead of a series of different posts. That's exactly the method used to create the ebook below: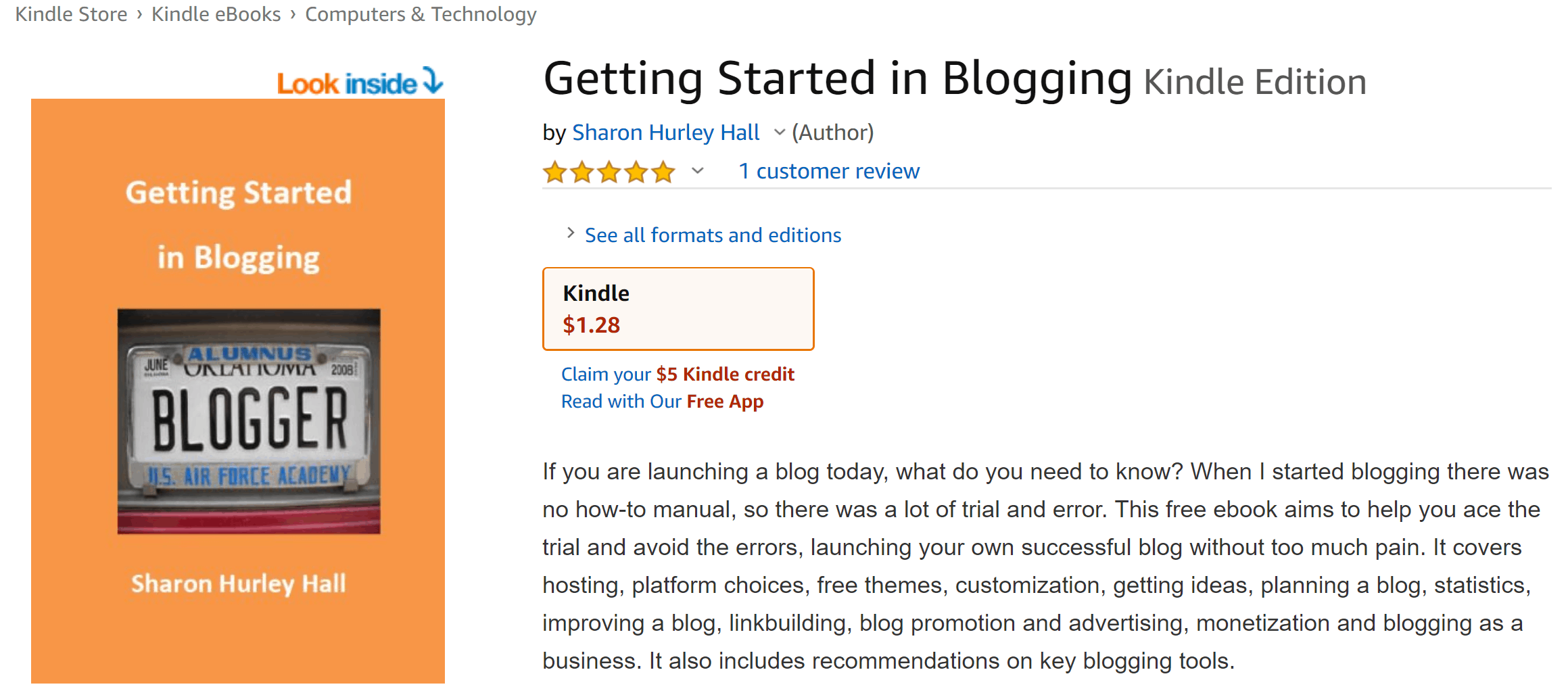 Then use a tool like
Designrr
to design your ebook and export it in Kindle format. Use your Amazon account to sign up for Kindle Direct Publishing, then upload and publish your ebook. If you've already got your content, you can do this in a weekend, and start making money. An alternative is to use a tool like
Beacon
to grab posts in a particular category and create your ebook that way. Either way, it won't take long till you have your first ebook.
8. Launch a Course
If you have expertise in an area, and it's something your audience wants to know about,
create an online course, and promote it on your blog
. This takes a little more work than some of the other blog monetization methods, but it can really pay off. This works better when you have a large email list and blog and social audience, but even a small list can work if you're offering the right course. The most important thing is to
offer value to your audience
. If you do, they'll tell others, making it easier to sell the course next time round.
9. Sell Your Services
Your blog's also a great place to sell services related to your skills and knowledge. For example, you can:
Help people learn to set up blogs
Sell services in creating blog content
Consult with people about online services
Coach other people looking to do exactly what you do
To do this, you'll need:
A page on your blog where you list your services
Optionally, prices for those services
A contact form where people can buy your services
A way for people to pay you, such as Payoneer or PayPal
Pro tip: You can also sell your services via an external platform like Fiverr. The website has a pro platform where you earn much more than $5 a service. And it uses an escrow system, so you can guarantee you'll get paid. The one downside? The platform's 20% fee
10.  Create an Online Tool
You're the expert in your niche, and you know what people need. One option for bringing people to your site is to create an insanely useful online tool. Think of something like Hubspot's
Website Grader
, CoSchedule's
Headline Analyzer
, or All Freelance Writing's
Hourly Rate Calculator
.
All these tools help attract traffic to sites
. That makes it easy to get more email subscribers so you can promote your offers. It also helps you earn more from ads, courses, and ebooks. Unless you're a coding genius, you'll need a developer to execute your idea.  To help you, check out this
comparison of freelance platforms
.
Pro tip: If you make the tool free, it's like a lead magnet on steroids. If it's good enough it will keep traffic coming to your site, so you can make money from other blog monetization methods
Conclusion
That's it! Now you know 10 ways to monetize your blog that work for both new and established bloggers. No matter where you are in your blogging journey, optimize your content and set up your email list. If you want to get started fast, focus on PPC and other ads, sponsored content, and affiliate marketing. And if you have more time, think about ebooks, courses, services, and tools. Which blog monetization method will you try first?
---
Sources:
https ://optinmonster.com/ultimate-seo-guide/
https ://dma.org.uk/research/dma-insight-consumer-email-tracker-2017
https ://www.thebalancesmb.com/best-selling-niches-to-make-money-online-4109702
https ://ppcprotect.com/what-is-click-fraud/
https ://www.philsimon.com/about-phil/advertising/
https ://videofruit.com/blog/product-launch-recap/