Being a freelancer can bring you a good income and the freedom to work according to your own schedule.
Once you're established as a freelancer, you might want to find ways to grow your income and advance your career
. As a freelancer, the amount you can earn is linked to how much work you can do yourself. Once you are charging the highest you can reasonably charge for your time, and working the maximum number of hours you want to each week, there's nowhere else to go. You can't increase your income anymore… or can you?
Try these steps to advance your career beyond your own freelance work
.
Move from Freelancer to Agency Owner
Many freelancers choose to set up a creative agency when they outgrow their freelancing business. The term "creative agency" can be interpreted in different ways, but it basically means that
you run a company that provides a service to your clients
. You're the owner of the company, the one who negotiates with the clients and who allocates tasks to others. You'll employ other workers or freelancers in order to provide the necessary services to your clients. When you make the choice to build an agency, you'll gain the ability to earn more money than you would as a freelancer. It's a different model to freelancing, where you are the one who directly provides the services. It can take time to adjust to this new way of working.
Some successful creative agencies that began as freelancers include Craig Thompson, founder of Flo Design; Moving Brands, which began when a small group of freelancers decided to collaborate; and Chris Davis, who moved from freelancing to starting his own agency that eventually grew into The Swizzle Collective.
Here are some reasons to open an agency:
You've hit an income plateau, where you can't raise your prices again or take on any more work, but you want to earn more money
You have to turn away projects you love because your time is already accounted for
You're already collaborating with other freelancers, and you want more control over that process
Your clients are asking you for skills that you can't provide, but you don't want to let them down
You already have a network of other freelancers whose skills complement your own
You're good at collaborating and enjoy working with other people
You're willing to put in whatever time is necessary to market and promote a new business
Opening a creative agency brings a number of benefits:
You won't be limited by the number of hours you can work
You won't have to turn away good clients
You can draw on the skills of experts in many different fields
You can share your triumphs and your disappointments with partners who share your journey, instead of working alone
You can control a multi-skilled project from end-to-end, even though you don't have all those skills yourself
You can offer your clients a more holistic service – for example, you can provide a full marketing campaign that includes content writing, SEO services, social media management, graphic design, and website programming, instead of only providing content writing as part of someone else's project
You can enjoy the excitement of a new challenge – growing a multi-faceted company instead of a single independent contractor business
Moving from freelancing to owning an agency can be a very big step. Here are some issues to consider:
You'll no longer only be answerable to yourself: as a freelancer, you can choose to take fewer projects one month so that you can go on vacation, but when you have employees who rely on you for work, that's won't be an option
You'll have extra expenses, such as employee benefits, insurance, and salaries
You'll have to work around your employees' vacation days and sick days
You'll need to take on the responsibility of hiring – and possibly firing – workers according to your country's laws
You could end up managing much larger projects, with multiple people collaborating on them
Be Careful: Working as the owner of a creative agency requires a number of skills you probably did not need as a freelancer. You may have to learn the ropes all over again as you start working within the freelance industry at a different angle. Give yourself some time to make the mental shift.

If you're ready to make the shift from freelancer to agency, congratulations! Here are some of the steps you'll need to take:
Choose what services to offer. 
You might want your agency to continue with the exact same projects you took on as a freelancer, or you might choose to expand the services you offer. For example, a freelance writer could open a content writing agency, or offer social media management, SEO optimization, or graphic design services.
Come up with a business name. 
Up till now, you probably worked under your own name. Now that you're opening up your own business, you need a business name that reflects the services you offer and your unique skills.
Find a workspace. 
Some agency owners succeed while still working from home, employing workers who also work from home. But it's quite common to use office space once you've formed an agency. This could mean finding office rooms in a co-working space or renting your own premises.
Check out the legal side of things. 
You'll need to set up your agency as a limited liability company or other registered business. You might also need to register as a business in your city or state, depending on the regulations for your area.
Decide whether you want to hire employees or use freelancers. 
Employees are available for a guaranteed number of hours per week. Usually, employees are paid less per hour than freelancers, and because they have a contract of employment, you won't have to worry that they might find a better project elsewhere.
On the other hand, with freelancers, you won't have to pay employer contributions or take on part of their tax burden. You'll pay them only according to the work completed, which means that if you have a slow month, you won't have to pay their regular salaries. Of course, you could also use a combination of fixed employees, alongside freelancers who cover the gaps when your workflow surges.
Note: Some freelance platforms, like Upwork, invite agencies to use their platform. Each agency member registered on Upwork can use the service to find clients. Using freelance sites like Upwork also provides access to collaboration and administration tools to help make you more efficient.
Fulfill your employer obligations. When you become an employer, you'll have legal responsibilities to your employees. That includes employer contributions to social security, health insurance, and retirement plans. You'll have to make sure that you have the right insurance setup, such as workers' compensation insurance, and you'll need to ensure that all of your employees have a safe work environment.
You don't have to go from freelancer to full-on agency overnight. You can transition gradually from one to the other, by collaborating with other freelancers or subcontracting some of your work to others. If this doesn't work out, you can pull away from the whole idea, and you'll know it's not for you (at least, not yet).
Create Sources of Passive Income
A great way to break free of the boundaries that restrict how much you can earn is to find ways to make passive income.
Passive income means money that you earn without having to do anything
. Sounds good, right? Well, it's not exactly money for nothing. You will likely have to put in some effort, but the idea is that you create an item once, and then keep earning from it again and again. For example, if you design a logo for a client, you get paid for it once. But if you design a template for a logo for law firms, many law firms can buy and use your template. You may have put in the same amount of effort to design the template as you did to create the logo, but you'll get paid for it again and again and again. That's passive income. Some freelancers might find it easier to think of ways to get passive income than others, but if you think about it enough, you'll come up with a good idea. Here are some suggestions for passive income items which are relevant to many fields: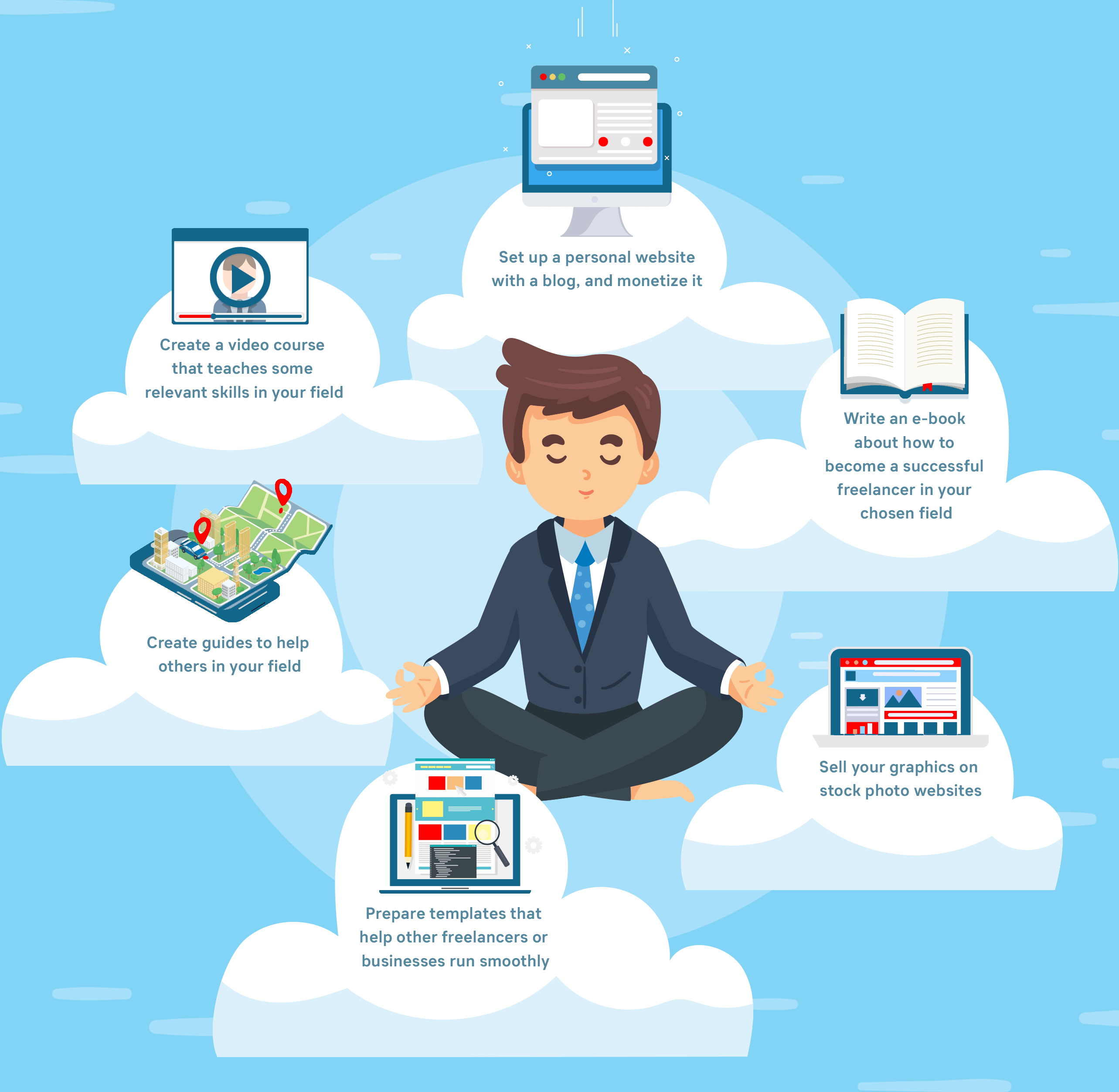 Write an ebook. The possibilities are endless: maybe write about how to become a successful freelancer in your chosen field?
Create a video course that teaches some of the skills you use. YouTube videos are easy to monetize – you can earn money every time someone views the video.
Prepare templates that help other freelancers or businesses. For example, marketers could sell a template for creating great landing pages; accountants could make templates for calculating your end-of-year tax burden; web designers could make templates for homepages; graphic designers could make templates for business cards, etc.
If you're a visual creative in a field such as photography, videography, graphic design, etc., you could sell your photos or graphics on websites like iStock, Unsplash, or Dreamstime, where people can purchase visual content. Sound artists and producers can use similar sites for audio content.
Writers and designers can create evergreen content or images that can be sold again and again.
Set up a personal website with a blog, and monetize it – you can use affiliate marketing links to earn money when people buy products through links on your website, or sell advertisements for related products or services.
Sell Your Experience
One more way to expand your income as a freelancer is to market your experience. It's worth remembering that your experience as a freelancer or as a veteran in your line of work is very valuable. You can
find opportunities to run workshops, lead seminars, and deliver lectures at networking meetups and industry events
. Some of these might ask you to speak for free, but as you gain experience and reputation, you'll be able to set and raise your prices. You can also
create your own online webinars and live or prerecorded workshops
that you share on your own website. These bring several advantages:
You'll boost your reputation even more as you become known for your workshops and webinars
If you record live workshops, you can then remarket them for viewing and turn them into a source of passive income
You'll make more connections with high-paying clients and fellow freelancers who can refer work and serve as good partners for other projects
Action Items
Determine if opening a creative agency is the right move for you in regards to growing your freelance career.
Think about which sources of passive income you are best suited for.
Feel free to share this article and/or copy this post or parts of it to your website, blog, or social networks. All we ask is that you attribute it to WebsitePlanet.com