Feedback is a powerful tool in the world of online marketing. After all, Consumerist states that
almost 70% of people look at reviews before they make a purchasing decision
. And this goes far beyond the purchasing decisions of homewares and clothing, but also when it comes to both sides of the gig economy. Whether you're a dedicated freelancer looking for a job, or an experienced client searching for talent, seeing a negative review could make a difference regarding whether or not you choose to pursue a professional relationship.
Why? Well, one bad review doesn't just obscure hundreds of positive reviews, but it can hinder your chances of future collaborations. Testimonials and social proof build trust in the freelance market, which is key to success as a freelancer or the hiring party.
If you've recently received negative feedback on one of the best freelance hiring platforms, not to worry—it happens to the best of us. There are several ways that you can move forward while making sure that it has minimal impact on your ability to lock down future work.
#1: Request Change
With basically all freelance marketplaces, both the freelancer and the client will be notified when a project has been completed and it's time to provide feedback. For example, when work has been completed on Freelancer.com, a notification will pop up on both parties' dashboard stating that they have 90 days to provide feedback.
Once one party submits feedback, the second must do so within 14 days
.

If you've given your collaborator a glowing review, only to notice that you've received less than favorable feedback in return—you still have the ability to request a change on
some
of the platforms. Freelancer and Fiverr do not allow this, but on Upwork you have up to two weeks to contact your collaborator and ask them to amend their feedback. To do so, you'll need to go into the "Terms & Settings" section of your contract, and click the "Enable [freelancer or client] to change feedback" link.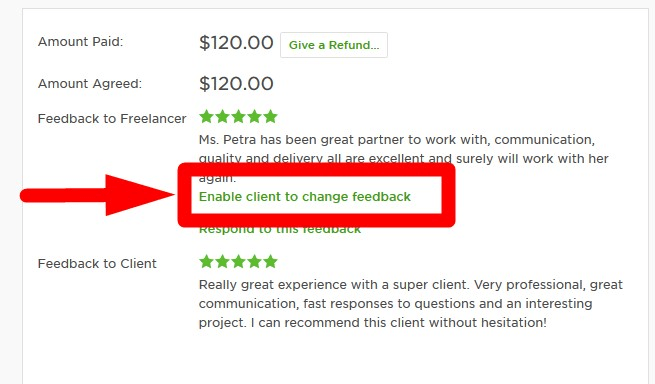 When you speak to the other party, keep in mind these pointers:
Be polite and explain your side of the story without placing blame
If you made a mistake, own it and apologize
Consider offering additional changes to the work, or a full or partial refund
Let them know the impact that their negative review might have on your future career
Kindly ask them to modify their feedback within the required time frame
If this conversation doesn't end up going according to plan, or the collaborator refuses to retract their feedback,
you might want to consider escalating the issue to the freelance marketplace adjudicators
. For more information, read our
expert review
of Upwork, as well as our review of
working as a freelancer on the platform
.
#2: Fight for Removal
The fight for removal of certain feedback isn't always easy, but it
can
be possible. However,
different freelance marketplaces have different rules
. Freelancer.com rarely removes negative reviews. They state that this is because reviews serve as reference points for future collaborators, and changing or deleting written feedback undermines the reputation system of the platform. However, you are invited to dispute the matter through Customer Service if you can provide evidence that the testimonial's information is false. It's crucial to provide evidence such as written messages from an employer who acknowledges receiving your submitted work, even though they presently assert that you never delivered it. Another scenario could involve a freelancer with whom you collaborated, asserting constant communication during the project, while you possess evidence demonstrating no email correspondence from them for weeks. For more information, read our
expert review
of Freelancer.com, as well as our review of
working as a freelancer on the platform
.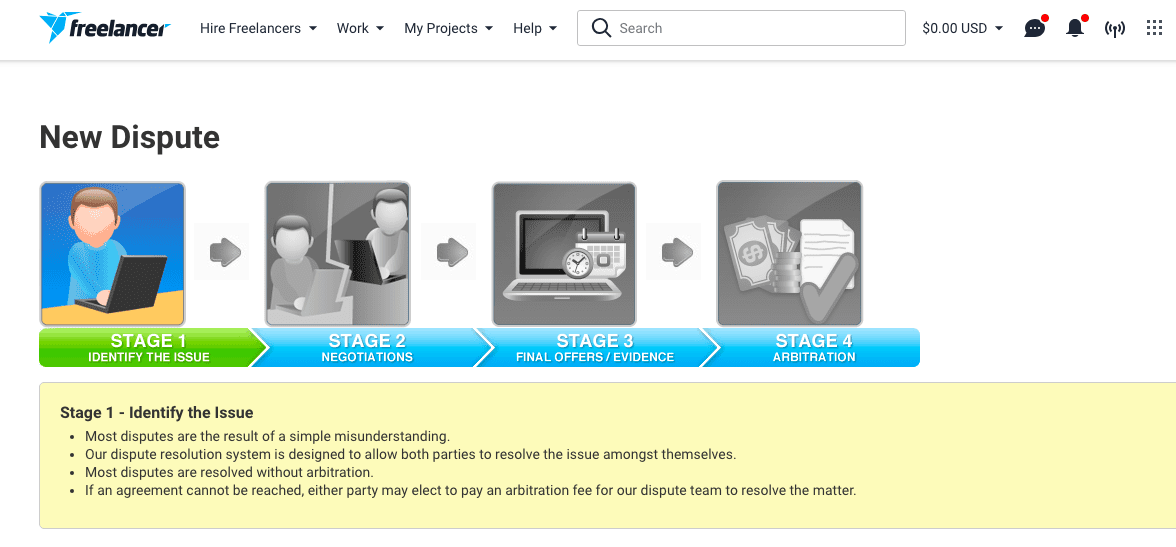 Are you a member of Upwork's Top Rated community?
You're in luck
. Top-Rated freelancers and agencies on this platform are renowned for their high-quality collaborations, which means that they get special perks. The best being the ability to
request to remove the feedback for one job on their profile
.
#3: Publish a Response
If you've tried to get a negative review removed or amended and your efforts were unsuccessful, then
there's only one thing left to do: respond to it
. It's worth noting that, if you have the option,
responding to feedback is always a good idea
, regardless of whether it's positive or negative. On Fiverr, for example, sellers have the ability to write a reply to any review. For more information, read our
expert review
 of Fiverr, as well as our review of
working as a freelancer on the platform
. If you feel like you've been given a testimonial that's an unfair representation of what actually happened when you worked with a particular collaborator, then
you have the right to say so
. Keep in mind that, if you do go down this route,
you need to be diplomatic
. After all,
whatever you say will be displayed on your profile for future collaborators to view
. For instance, as a freelance writer, I previously worked with a client on Upwork who gave me a negative rating for no apparent reason. It puzzled me, especially because he'd given me such positive feedback. I contacted him and, unfortunately, he was unable to amend the feedback in time,
which gave me no choice but to publish a response
. I ensured that I stated the facts, remained polite, and ended the response on a positive note.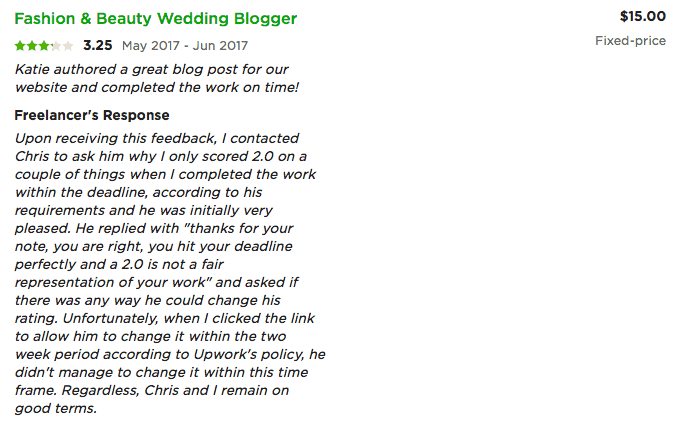 It's important to apologize if you need to, and to own what you could have done better. But—ultimately—
if you state exactly what happened in a reasonable, level-headed way, you won't go wrong
.
See It as a Learning Curve
Receiving a negative review on your freelance profile is never easy; however,
it's best to deal with the situation with class and grace
. If the other party refuses to modify their feedback, take it up with the freelance platform's support team, or publish a clear and considerate response. However, if there's nothing else that can be done, it's time to accept the situation and forget about it.
At the end of the day, you know your own character and what you're capable of work-wise—and that's all that matters
. See the whole experience as a learning curve and move on. It won't be long before you find new collaborators who will treat you with more respect and know your worth.
---
Sources
https ://consumerist.com/2015/06/03/nearly-70-of-consumers-rely-on-online-reviews-before-making-a-purchase/
https ://www.freelancer.com/support/project/changing-the-review-i-gave-an-employer?keyword=
https ://support.upwork.com/hc/en-us/articles/211062208-Enable-Freelancers-to-Change-Feedback
https ://www.upwork.com/blog/2010/12/recovering-from-bad-feedback/
https ://support.upwork.com/hc/en-us/articles/219801228-Top-Rated-Perk-Feedback-Removal?flash_digest=ee6acc7ac49f9776a49d7c9511c1e1fc4533d8b4
Image Credits
https ://unsplash.com/photos/11tff4dfKDo
https ://www.freelancer.com/support/
https ://support.upwork.com