Fiverr
? You're not the only one. With thousands of service providers to choose from—including many whose gigs look and sound the same—it can be hard to know which copywriter will suit you and your project best. After all, you don't just want any copywriter; you want an amazing copywriter. You want someone who can write compelling words that bring leads and sales to your business. You also want someone who is professional, reliable, and will work well with your team. The good news is,
there are plenty of amazing copywriters on Fiverr—including many that provide great deals and fast turnaround times
. You just need to know how to find them. These ten steps are packed with tips that will help you eliminate unsuitable candidates and narrow down your favorite copywriting geniuses fast. Let's get started.
1. Choose the Right Subcategory
Fiverr's got a big search bar at the top of the page, but if you start your search there, it could take longer to find the perfect copywriter. (There's one exception, which I'll mention in a moment.) Instead of doing that,
save time by choosing the Fiverr subcategory
that matches the service you want.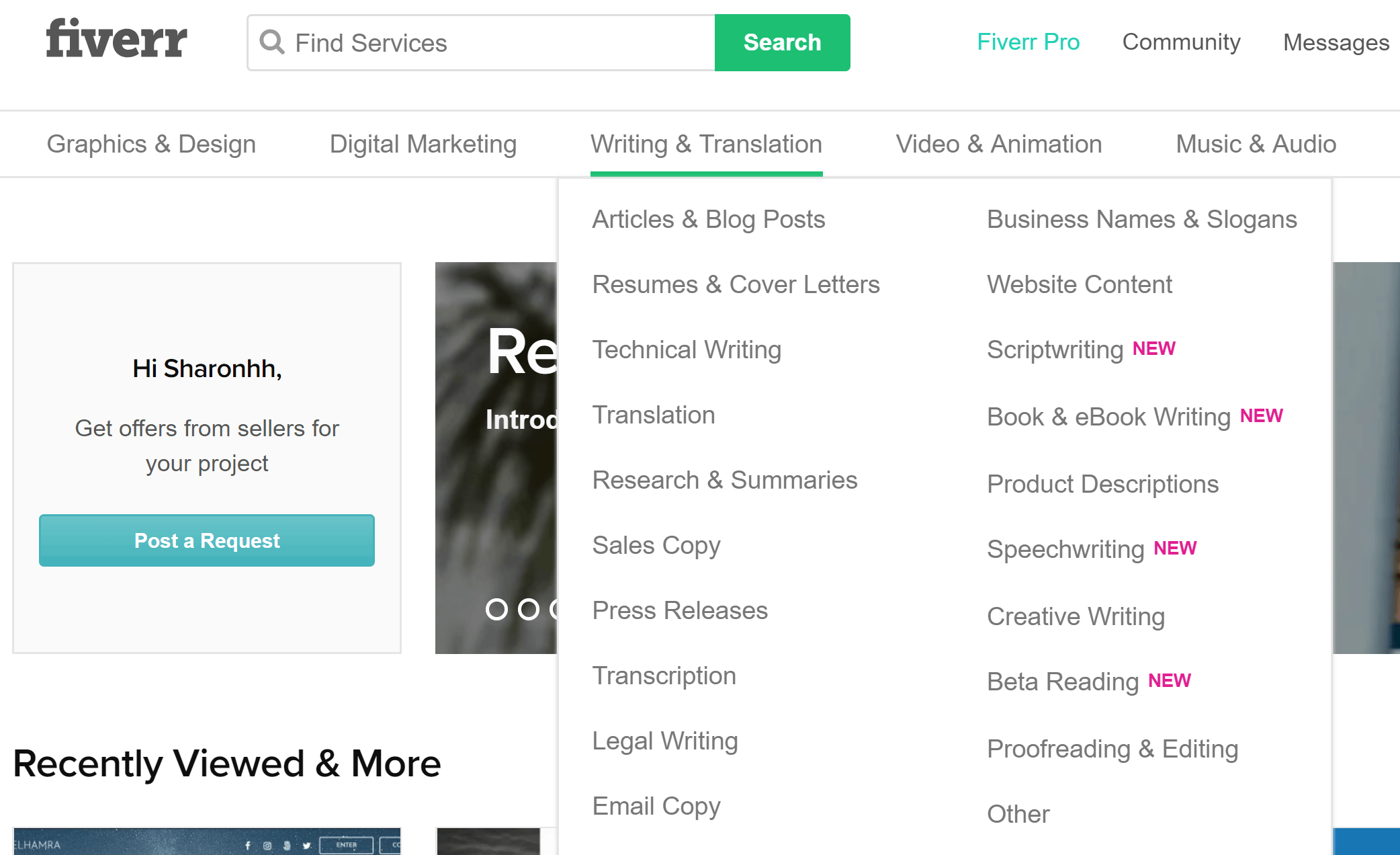 There are two ways to do this:
Click on the Writing and Translation subcategory from the home page. This'll take you to a page where you'll find the most popular copywriting specialties. Choose the copywriting service you want, such as sales copy or email copy.
Hover over the Writing and Translation subcategory to see a menu of all the copywriting specialties available on Fiverr. Choose the one that's closest to the service you want.
One exception: If you want something that's not a main copywriting specialty, use the onscreen search bar to search by keyword.
2. Filter For Excellence
Once you're on the right copywriting service page, you've still got hundreds of copywriters to look through. That's way too many, especially when you're busy. Luckily, Fiverr's filters provide a LOT of ways to
refine your search
. This is one of the reasons
Fiverr gets such good reviews
. For example, on the left of the page, you can sort by:
Recommended – the copywriters Fiverr recommends
Bestselling – the ones that have been hired the most
Newest arrivals – people who've recently joined Fiverr
Which should you choose?
If you go with recommended or bestselling copywriters, you can be pretty sure they can do the job
. But don't discount new arrivals. Sometimes these can simply be professional copywriters who've just found the platform, and one of them might be the perfect fit. Use the other tips in this guide to help you decide.
Fiverr's editors highlight promising newcomers with the Rising Talent badge
, so look out for those as a starting point.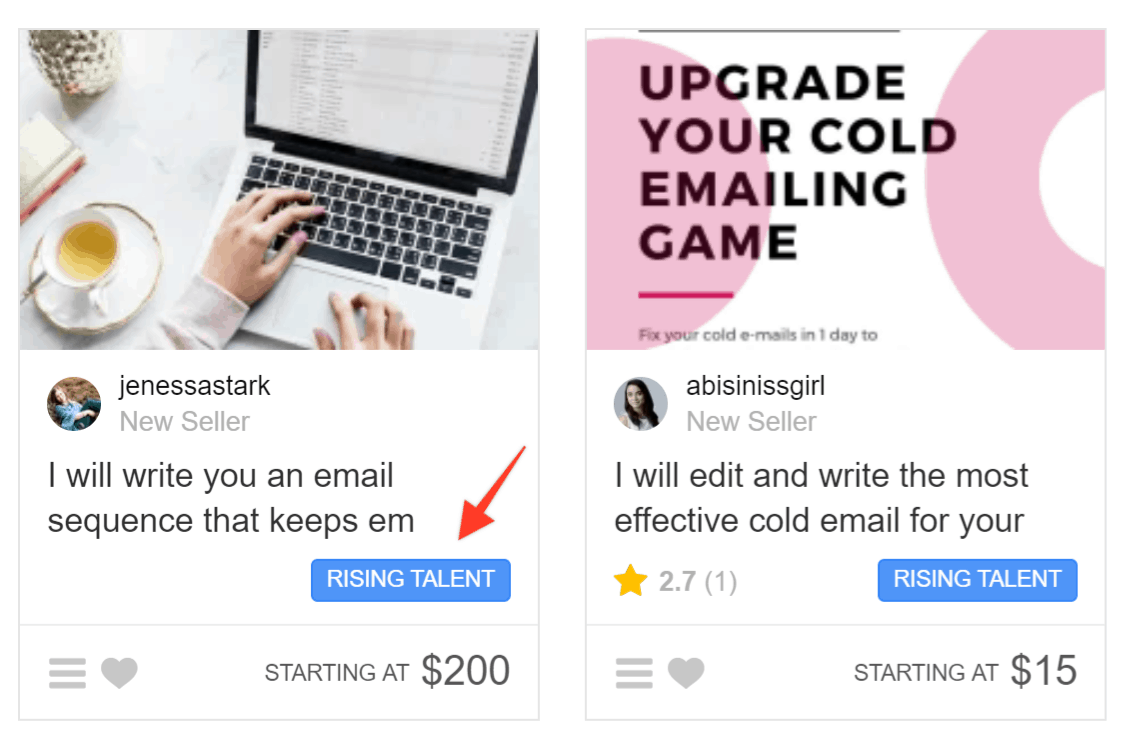 Fiverr's also got more filters on the left of the page. Here, you can filter what you see by:
Delivery time (useful if it's a rush job where you need a fast turnaround)
Price range (which helps you set a budget for copywriting services)
Online status (useful if you want to have a conversation with the copywriter right away)
Seller level (which helps you find those who've done a lot of projects and have great reviews)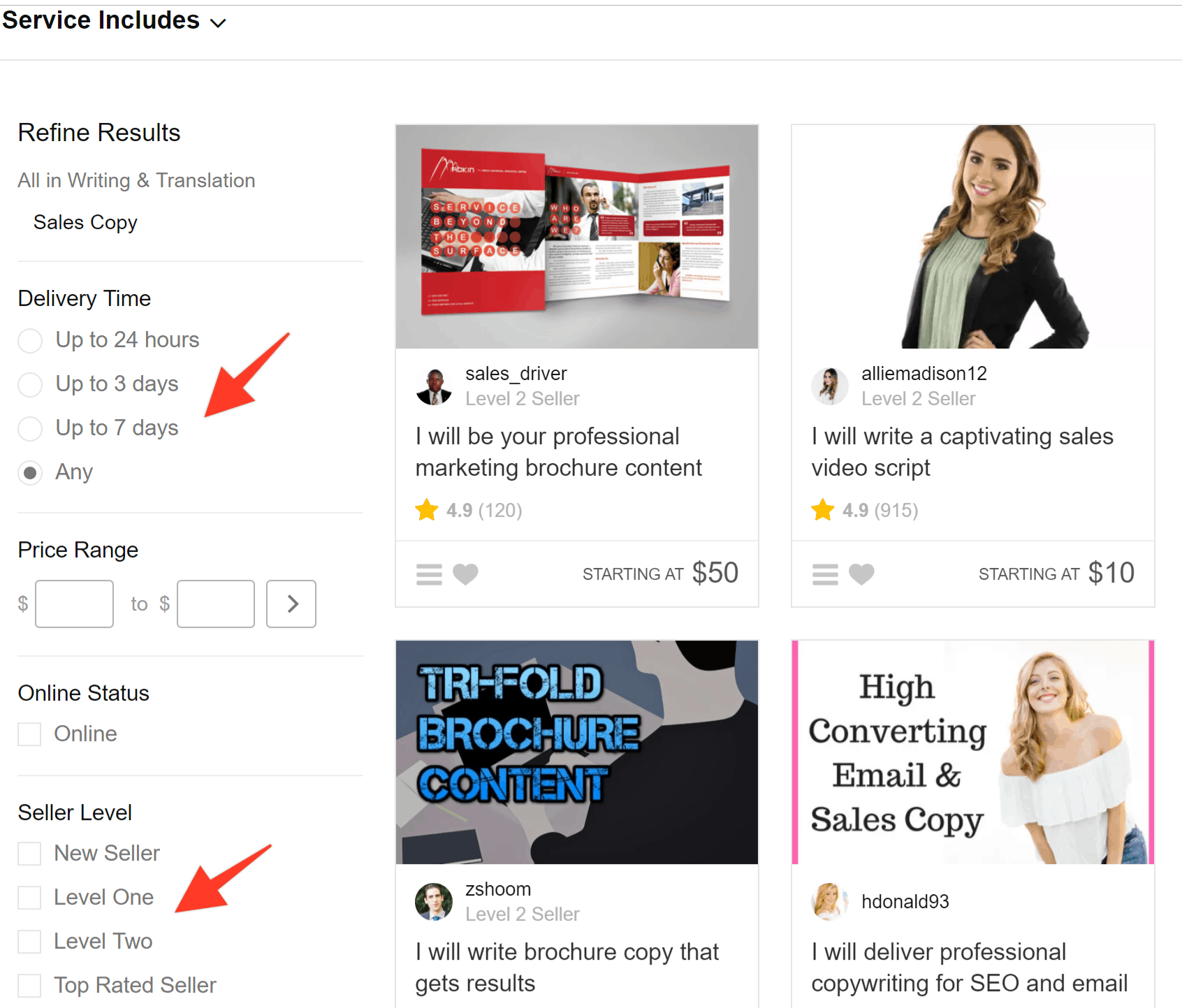 Other filters cover what's included in the service (like competitor research for sales copy), languages, location, and more. You can select multiple filters at the same time. I recommend that you always
filter for top sellers and level 2 sellers
, so you are choosing from the best copywriters available on the platform.
3. Go Pro For Amazing Copywriting
Although Fiverr built a name on $5 gigs, if you want an amazing copywriter, be prepared to spend more.
A good place to start is with Fiverr Pros
. These are professionals in their field who've been verified by Fiverr. To find them, skim the copywriter profiles and look for the
Pro Verified
badge. You can also scroll to the page footer and click on the Pro menu item to see only Fiverr Pros.

You'll pay more, but you'll also get a professional service from a copywriting expert. If you decide to go this route, then follow the rest of the steps to continue to narrow your search.
4. Skim to Eliminate or Save
Even after doing this, you'll still have hundreds of possible choices. Now it's time to narrow down even further. Here's how you do that.
Skim read the two line summary
that appears on each gig. If there are any errors, move on. This shouldn't take long.
Be wary of copywriters who promise they can do everything
. The more specific they are about what they offer, the more likely it is you'll get a service that suits your needs.
Look for copywriters that have hundreds of ratings
(or even better, thousands). This gives you security, because you know they've done amazing work over a long period of time.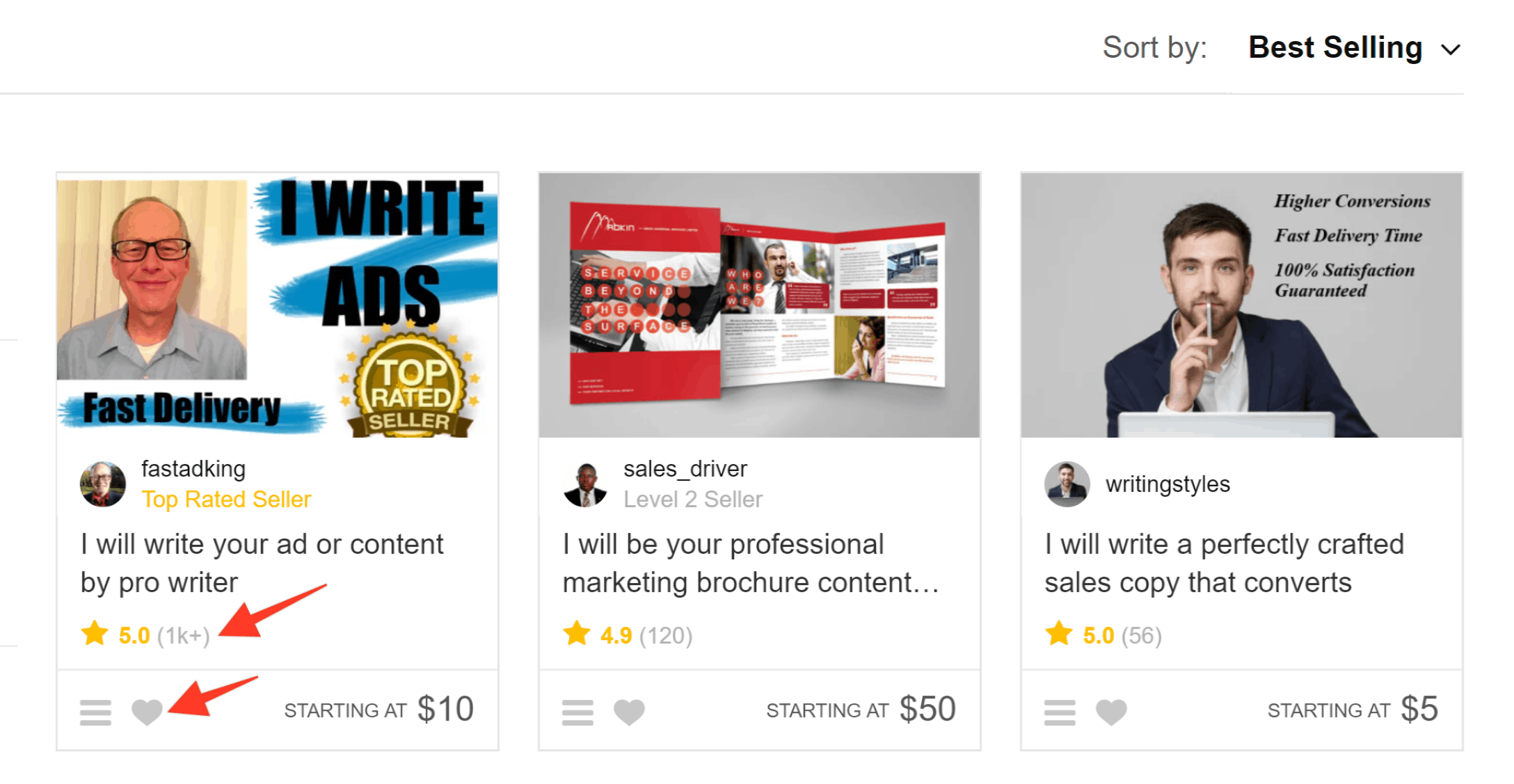 If any copywriters stand out at this stage,
click on the heart icon to save
them.
5. Read Copywriting Reviews and Responses
Next, go to
Saved
in the top menu. This'll take you to the
Gigs I Love
list. Click on each gig you've saved, and scroll down to the reviews.
You're interested in the recent ones
. It doesn't much matter what they did five years ago; it's all about the customer service they're delivering now. You'll want to see positive reviews that refer to the actual service you want the copywriter to deliver. And look for the copywriter's response. If it's not well-written or respectful, then maybe their writing or personal skills aren't as good as they seem, and the copywriter won't be a good fit.
6. See What's Included (and Excluded)
By now, you should be down to just a few potential copywriters. This is when you look at their gig descriptions in more detail. A typical gig description includes:
An overview of what they offer
Service packages
Reviews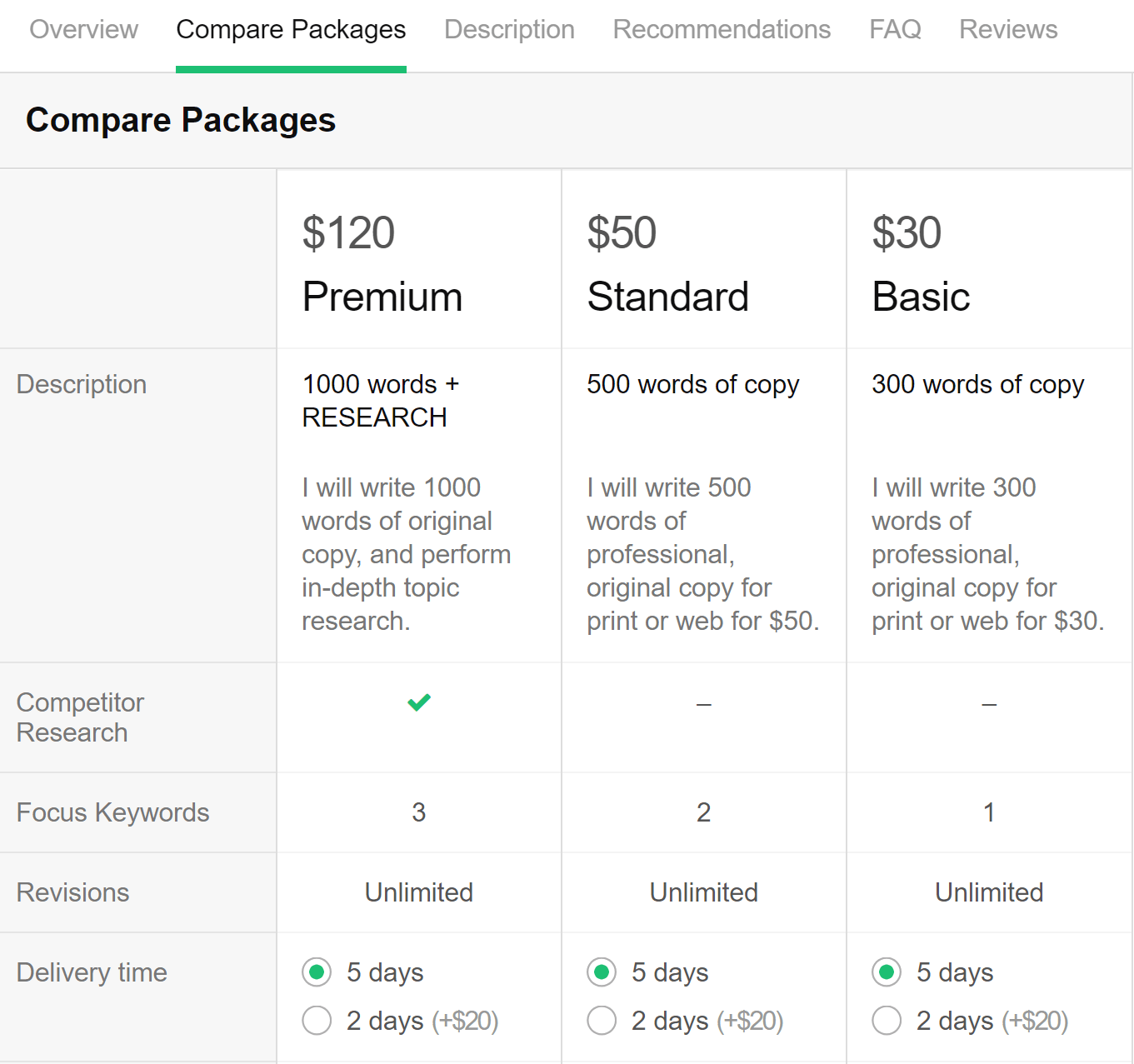 Some service providers also have FAQs about their copywriting gigs. Explore the gigs carefully to see that the service includes everything you want. Depending on the copywriter you choose, you might find they include:
Competitor research
SEO keyword research
Image creation
And more
It's also wise to
pay attention to what's NOT included
. Copywriters who explain this upfront know their business and value their services. That's the kind of copywriter you want to work with. Look for copywriters who are clear about
what they will need from you
in order to do the work. That's a sign that they're professionals who are likely to give the service you need. Delivery times are important, too. But remember that
a fast turnaround doesn't always mean a better service
. In the long run, you're better off with someone who takes pains over their work. A longer turnaround can show this.
7. Message Them on Fiverr
Fiverr's got a great messaging service that you can use to get to know the copywriters you're thinking of working with. Press the
Contact Me
button on any gig description to start a messaging thread.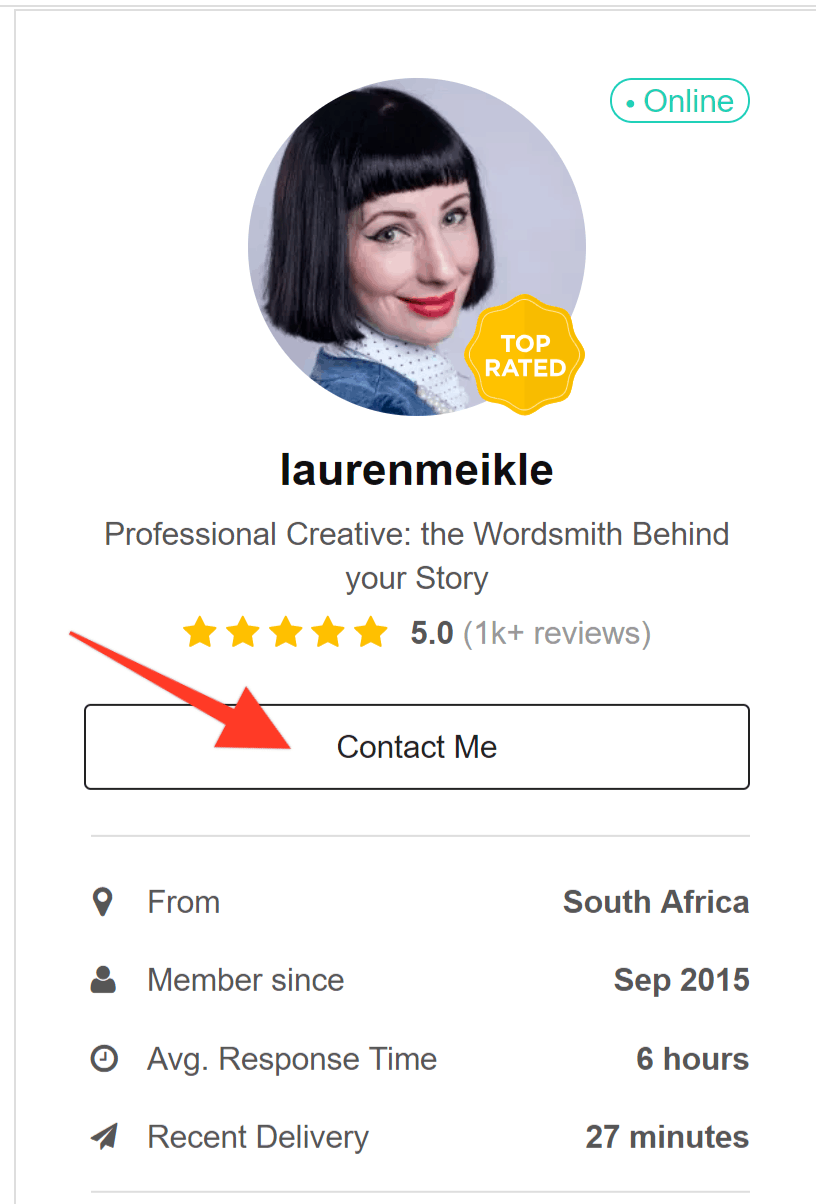 This is a good time to:
Ask for more specifics about the process of working together
Get more information on any parts of the gig description that weren't clear
Outline your particular requirements to find out if the copywriter can handle them
Don't be surprised if the copywriter asks you questions, too.
A true professional will want details from you before agreeing to take on a job
. Be wary of those who are too eager to take the work without asking any questions.
8. Ask For Copywriting Samples
Some Fiverr sellers include samples of previous work on their gig description, but don't be afraid to ask for more. You'll want to see recent examples of the actual type of copywriting you need. Many copywriters do work for hire, which means they can't always publish examples publicly. However, most professionals have samples they can share on request. Take a look at these before you make a final decision.
9. Check Them Out on the Web
Most pro copywriters have a presence beyond Fiverr, so check them out there, too. Things to do include:
Visit their website
Look for other external portfolios
Check out their LinkedIn profile
Examine their work history or resume, additional samples, testimonials, and recommendations. Once you verify everything, you move a step closer to hiring an exceptional copywriter. Only one final check remains.
10. Do a Paid Trial Project
Finally, offer your chosen copywriter a trial project. This is a minor investment in getting the overall service you want. Throughout the project, pay attention to:
Communication and creating a good working relationship
Meeting milestones and deadlines
The final product
If the project works out, then you've likely found an amazing copywriter for all your future copywriting needs.
Your Fiverr 10-Step Program
This may seem like a lot of steps, but most of them don't take long. Use the first few steps to create your shortlist. Then spend an hour or so vetting your top candidates. You'll be working with an amazing copywriter in no time at all. And if you need another service on
Fiverr
, you can use exactly the same process to find those service providers, too.