Upwork
is a fairly straightforward process – but nobody wants to end up sifting through a bunch of useless proposals from unqualified freelancers. If you want your job posting to be as effective as possible, there are several tips you should follow. From creating an account to taking your first project live, you're going to need to learn how to post a job offer that will attract plenty of qualified professionals. We're going to lay out all the steps you'll need to take to
create an Upwork job posting that really gets the job done
. We also have some
exclusive pro tips for you
. By the time you reach the end of this article, finding quality help on this fantastic platform should be a breeze!
Step #1: Create an Account
In order to post a job on Upwork,
the first thing you're going to need to do is create an account
. Fortunately, Upwork makes this process very simple for clients seeking freelancers. You'll start by clicking on the bright green "Post Job" button in the top right corner of the homepage. Then, you'll be taken to the signup page, where you'll be asked for your name and email address.
Upwork prefers that you use a work email address to sign up
, but if a professional email address is unavailable, any
email will do
.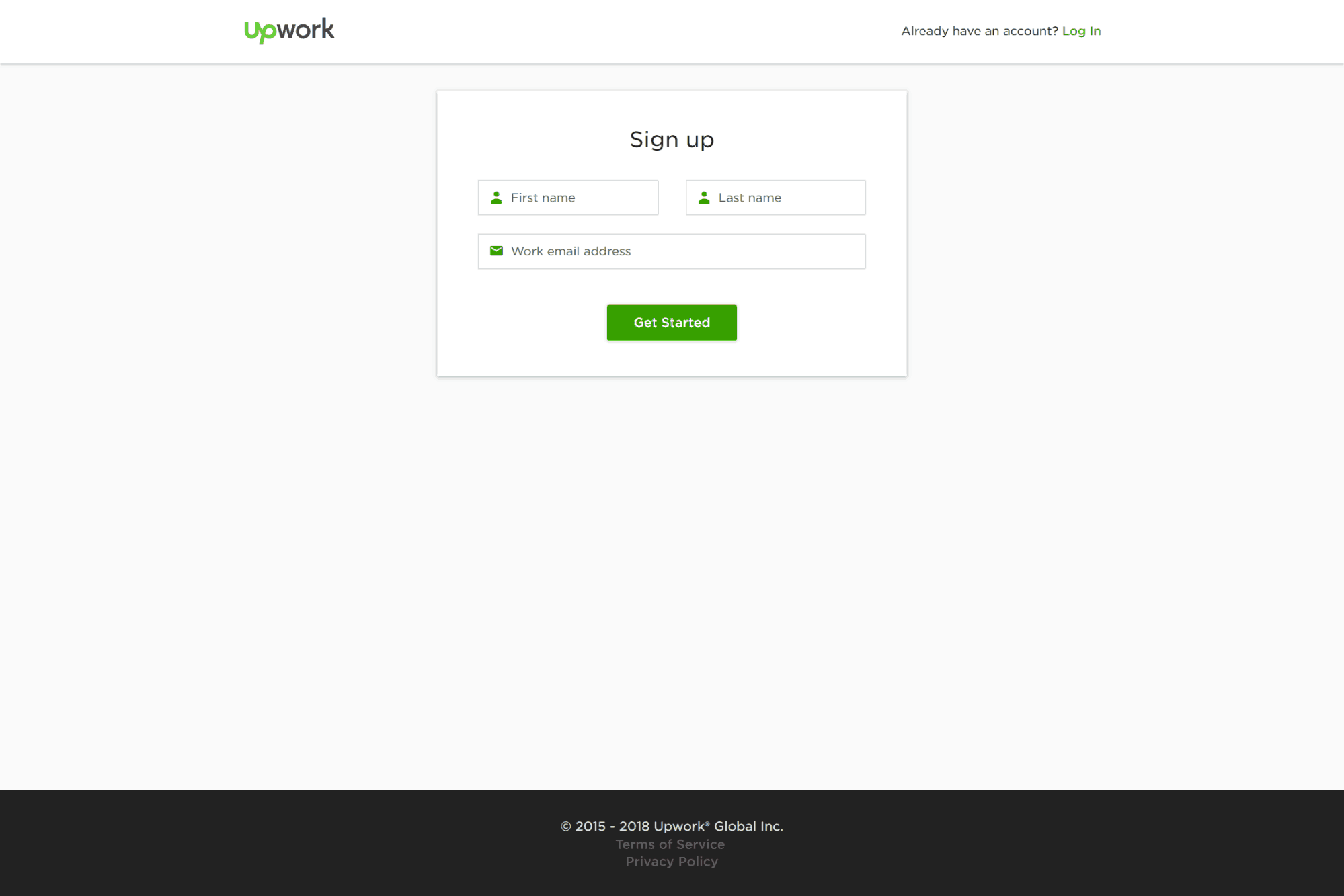 Next, you'll be asked to create a password, and choose what you'll be using your account for. Since you're an employer, click the "
Hire for a Project
" option.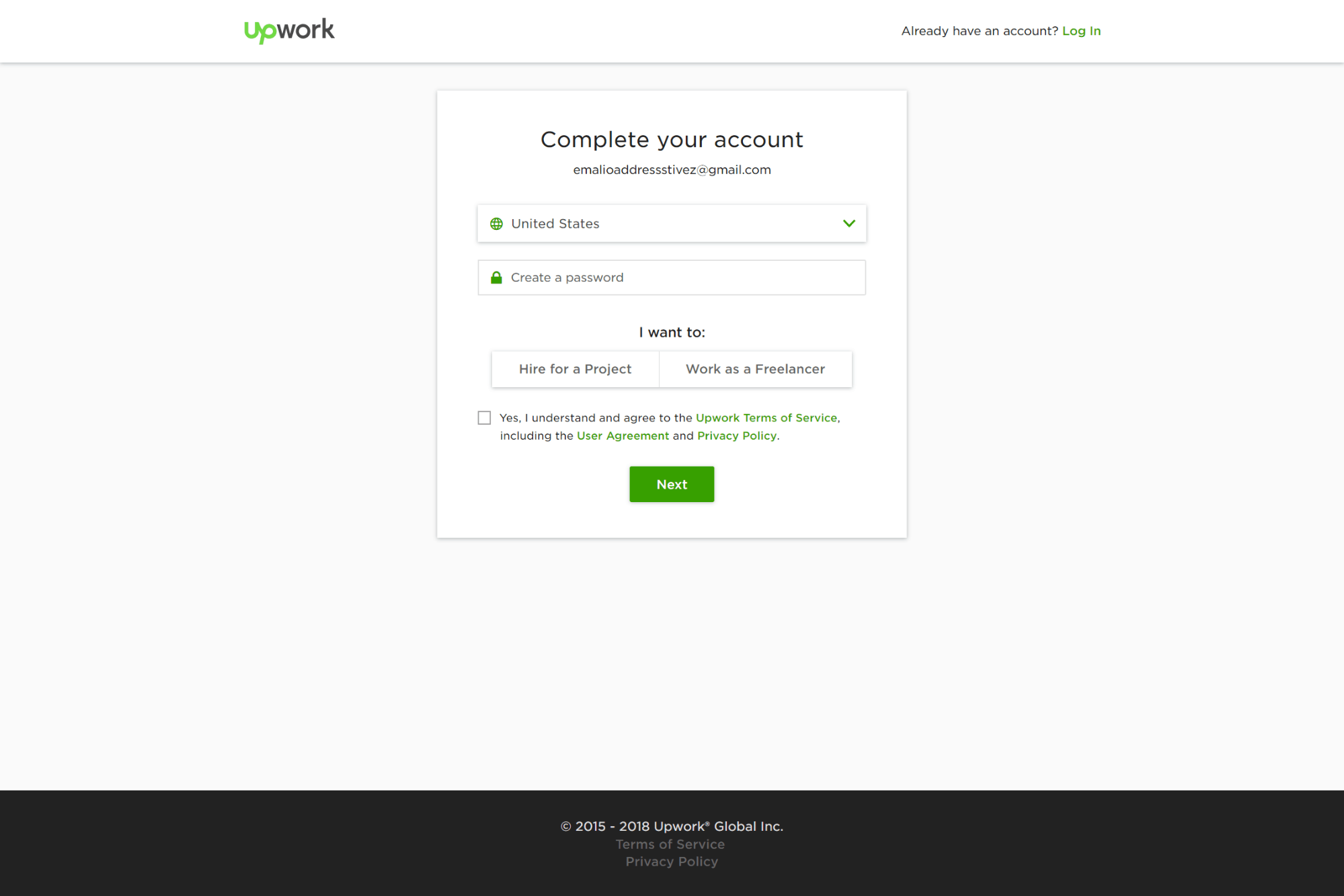 Once your account is complete, you can move on to creating your job posting.
Step #2: Choose a Job Name and Category
Job Name
The first thing you'll be asked to do is to create a name for your job post.
This is one of the most important parts to creating a quality listing, so choose your job name wisely
. The ideal name depends on the type of job that you're posting.
Pro Tips for a Great Job Title
:
Keep the title clear and concise – you want freelancers to know exactly what the job entails
Upwork only allows 50 characters in the title, so make each word count
Use keywords that are likely to be searched for by those with the skills needed for your project
Instead of
:
Looking for Good Writer ASAP
Try
:
2K Word Article on Healthy Desserts in 48 Hours
Instead of
:
Design Expert
Try
:
Graphic Designer for Company Logo – InDesign Skills
Job Category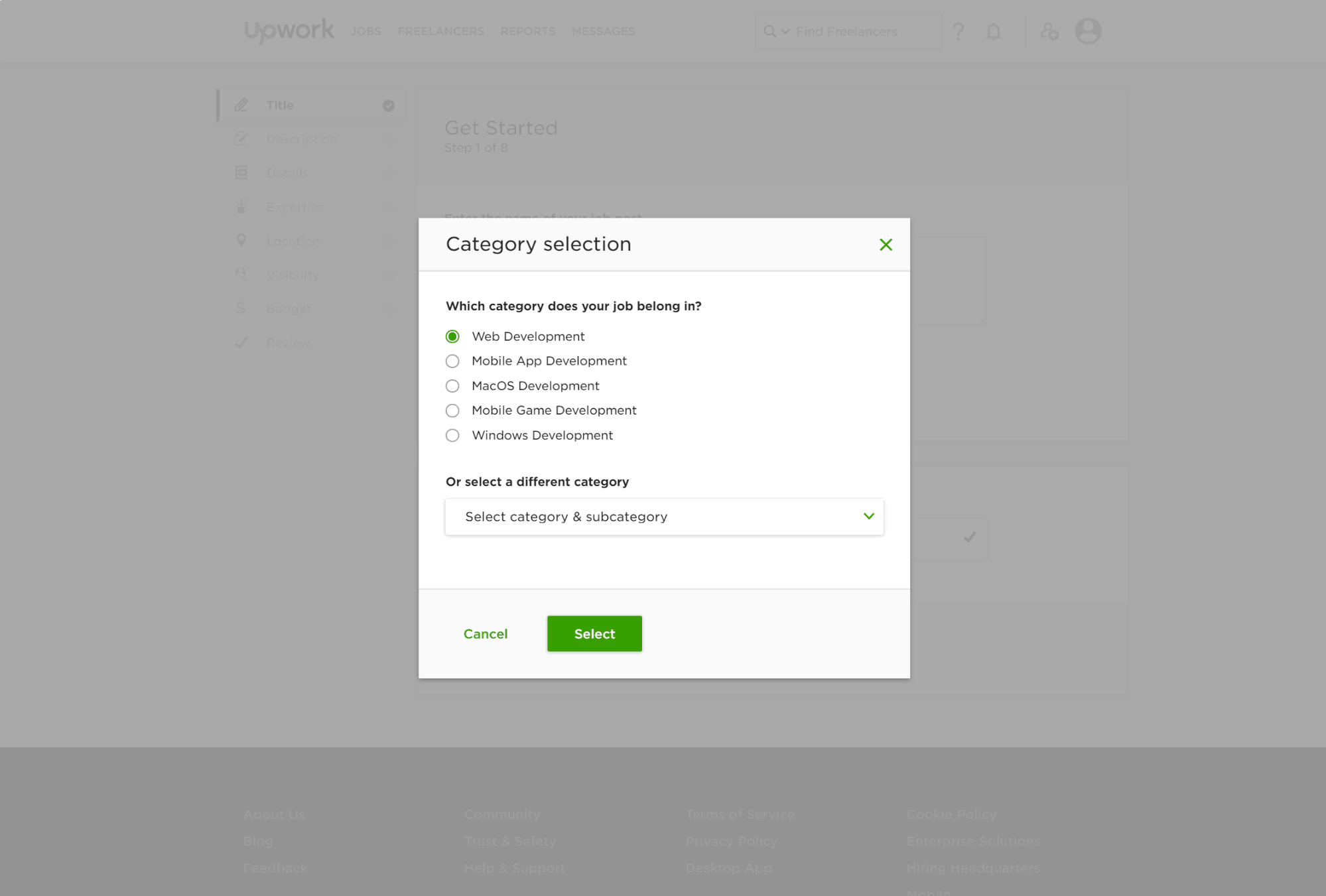 Once your title is complete, you'll be asked to choose a job category. This is rather simple, as Upwork does a pretty good job of guessing the correct category based on your title.
If you don't like the categories that Upwork selects, you always have the option to choose your own from a drop-down menu
.
Step #3: Write an Effective Description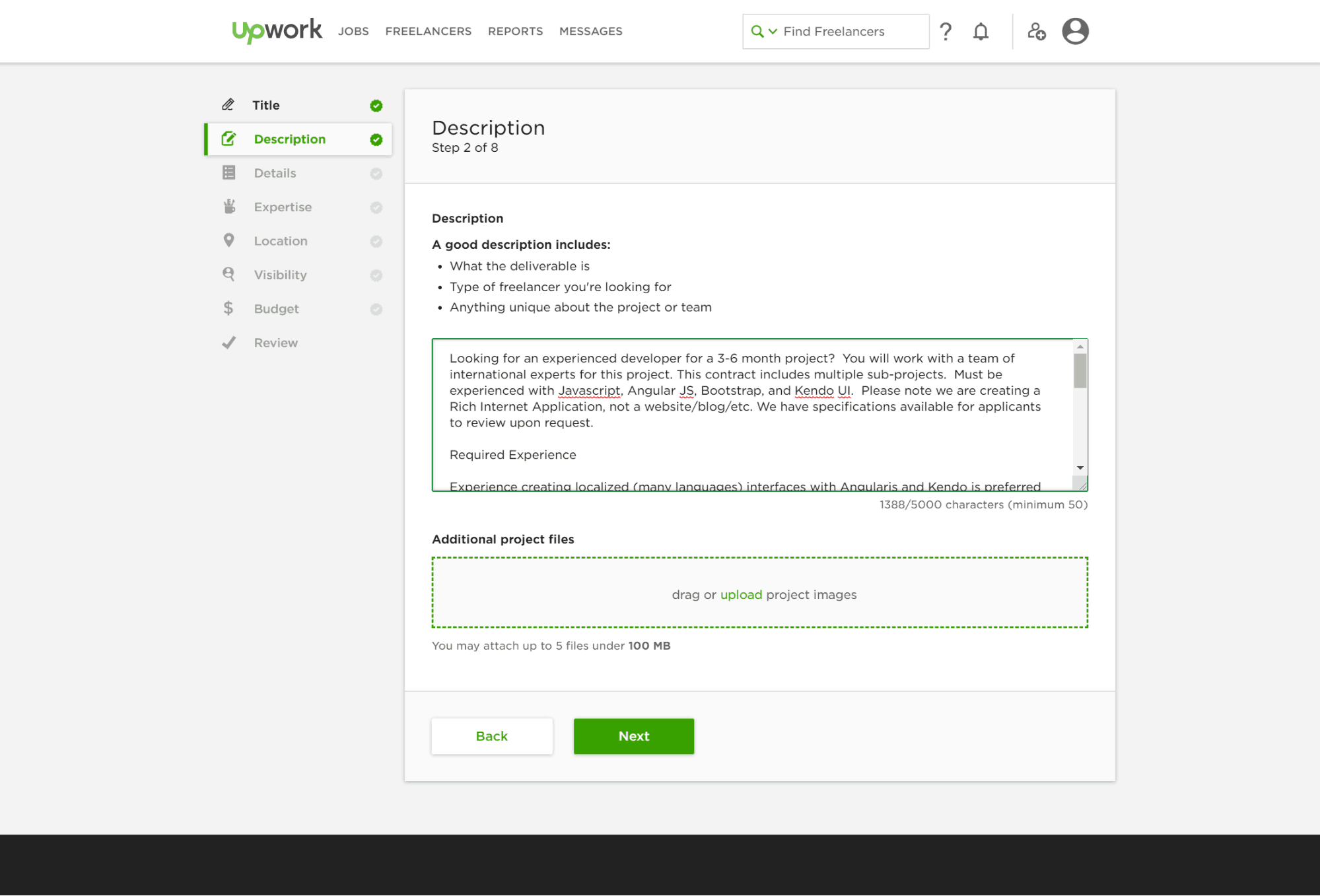 Along with the title of your job, your description is one of the most important aspects of creating a great job posting.
In this section, Upwork allows up to 5,000 characters
, so feel free to be as descriptive as possible. This way, potential
candidates will have a clear idea as to whether or not they qualify
for your project, and will be less likely to submit a proposal if they don't.
Pro Tips for an Effective Job Description
:
List the experiences and skills necessary for an ideal candidate
Give a clear and thorough explanation of the scope of the job, and what it will entail
Include how long the job is expected to take, e.g., is it a long-term position or a short-term project?
Make note of any contracts, such as an NDA (which you definitely should consider) that a freelancer may be required to sign in order to work on the project
The purpose of the job, and any challenges that may be necessary for a successful freelancer to overcome
Consider including a question for potential candidates – this way, you can quickly eliminate those that didn't thoroughly read your description by checking to see if your question was answered
Make sure to proofread your description, as any spelling errors will make it appear unprofessional and discourage high-level applicants
Step #4: Supply Your Project Details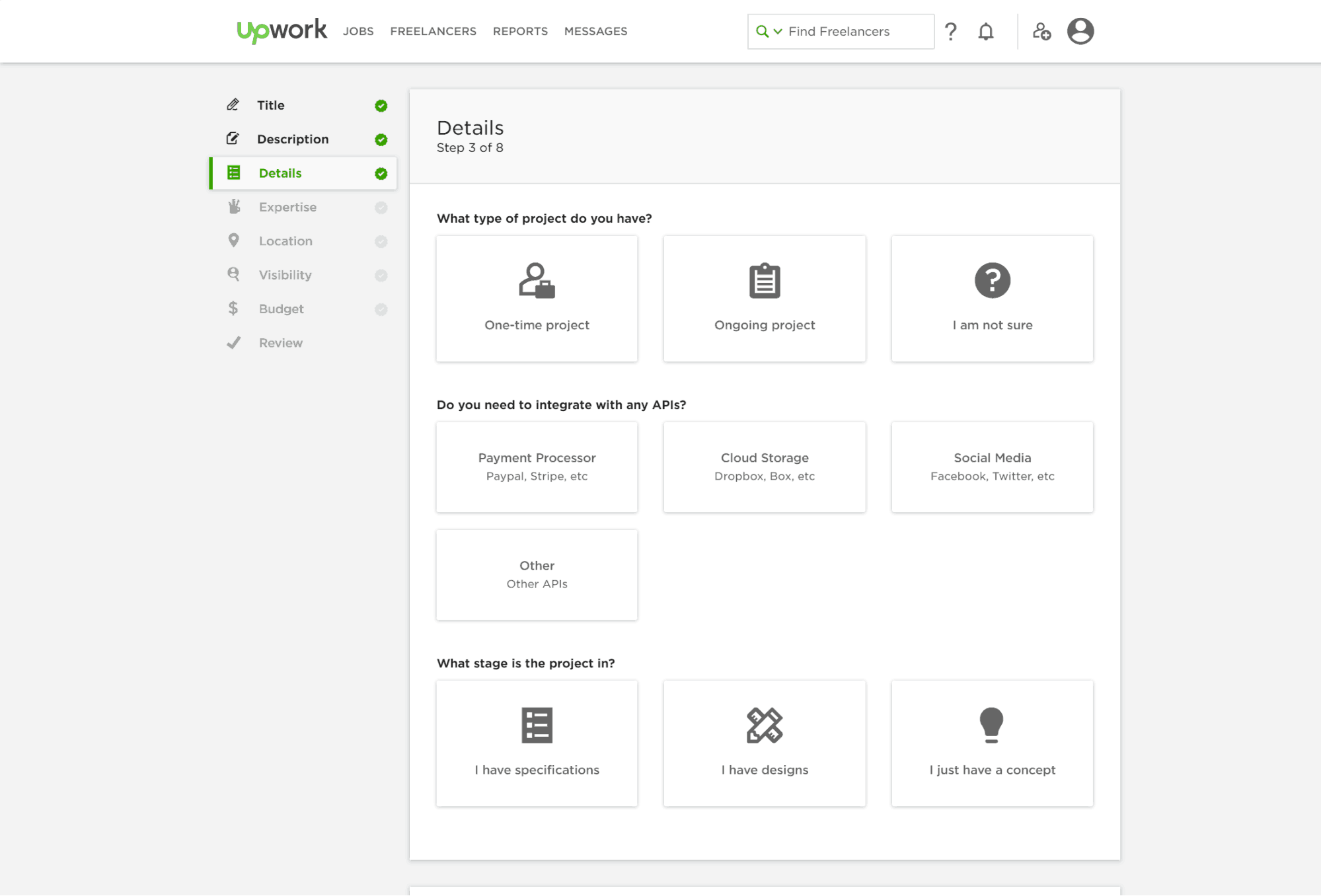 When filling out your project details, you have several important things to pay attention to; these include the project type, API integration, and your project's stage.
Project Type
Here you'll need to choose whether this is going to be
an ongoing or one-time project
. If you're not yet certain for any reason – for instance, you'd like to get a sense of a freelancer's performance before committing or you need to see how the project develops – Upwork gives you an option for that as well. Just click the "I'm Not Sure" button.
API Integration
At this point, you'll need to decide if there are any existing applications that you'd like to integrate your job posting with.
You can pick from a variety of payment processors, cloud storage options, social media accounts, etc
.
Project Stage
To finish up the project details page, you want to let Upwork know how far along your project currently is. Upwork gives you three options:
I have specifications: Choose this option if you have a strong understanding of what you are looking for and specific directions to provide a freelancer
I have designs: If you have already started the process and have a design that you would like brought to life, go with this option
I just have a concept: For projects that are still vague and in their initial phases, this is the best choice for you
Step #5: State Your Required Expertise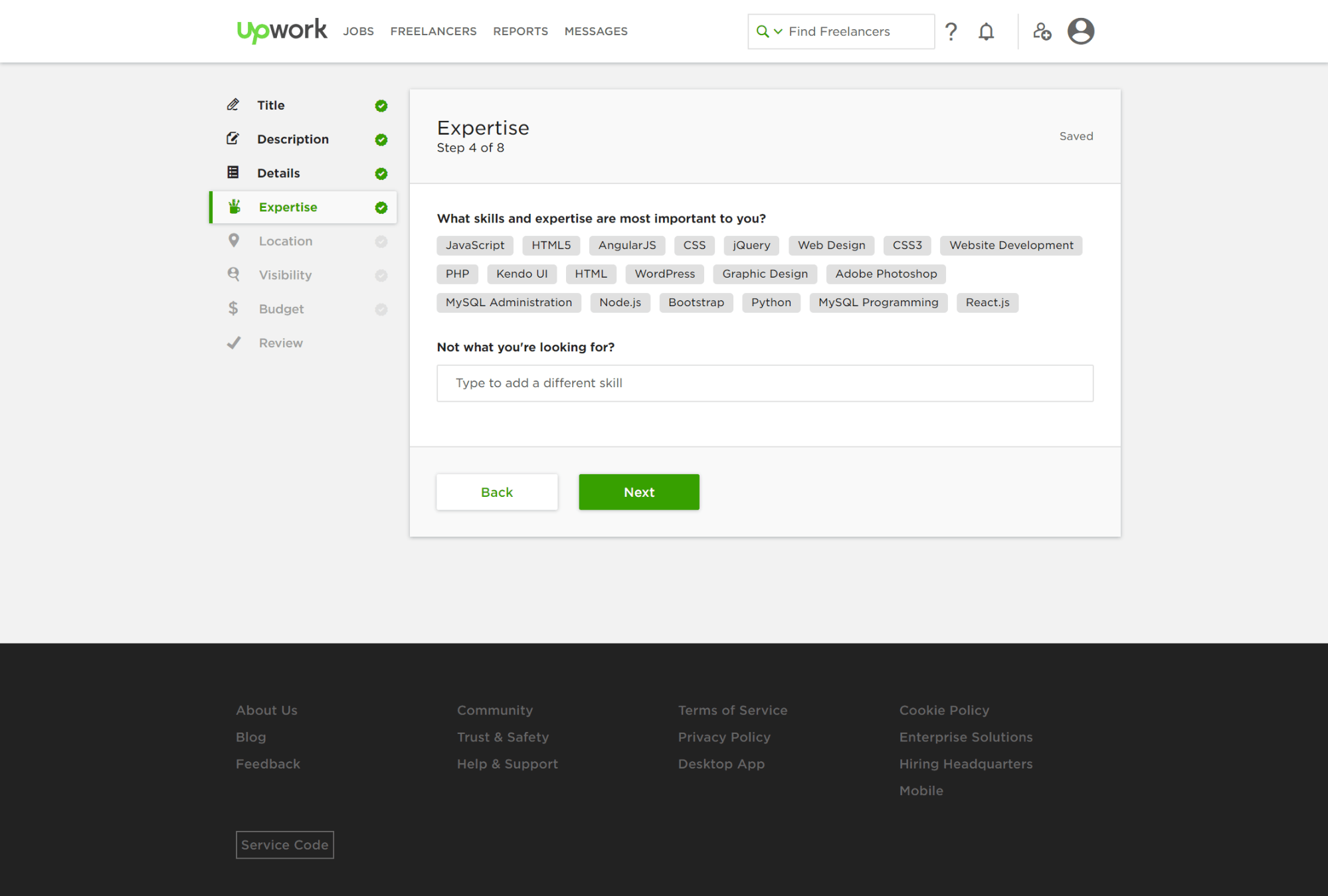 This short and simple step requires you to choose the skills and expertise that are important for the successful completion of your project.
You will be given a number of options to choose from, based on the job category you've selected
. If you don't see an option that you'd like to include, Upwork allows you to manually type in any additional skills in the bottom text box.
Pro Tips for Selecting the Best Areas of Expertise
:
Be as specific as possible: Many of the best freelancers are able to be selective about the jobs for which they apply, and will search for the key terms that they are most interested in. For example, "CSS3" and "HTML5" are better choices than "web programming"
But don't go overboard: Including too many areas of expertise can sometimes do more harm than good. A huge list of required skills may put you in a situation where there are no qualified freelancers available to submit applications – or only ones that will charge you an enormous rate
If you aren't sure, ask an expert: You may not have a good sense of the type of skills that will be required to successfully complete the job – and that's okay! That said, it's best to get the opinion of someone who is familiar with the industry (searching on Google also works), to ensure you get the most highly qualified candidates submitting applications
Step #6: Indicate Your Freelancer's Location
Now you'll be asked if you have any preferences as to which country or region your freelancer originates from.
This is especially important if your project requires an individual to speak a certain language, or be familiar with a specific culture
. You can manually choose any region or country you'd like, or stick to only offering your project in your domestic market. If your domestic market is chosen, you'll be allowed to
choose the time zone
you'd prefer. This can be helpful in cases where timing is a potential issue for work hours or availability. Just remember, you're working with freelancers, which means that not everyone works regular hours.
Step #7: Determine Who Can See Your Project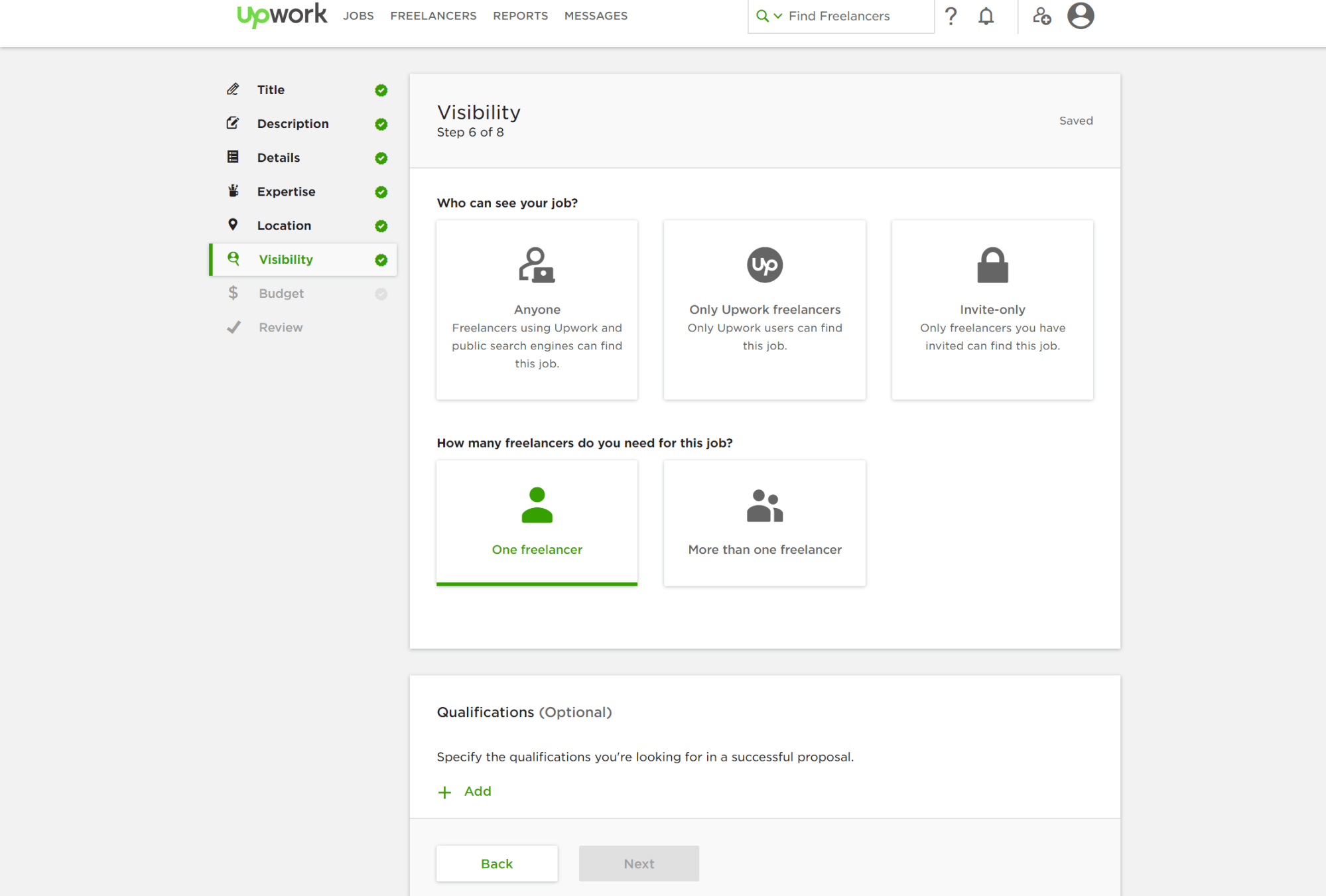 Next, you'll need to choose who can view your job posting. Upwork gives you three options:
Anyone: Choose this option if you want your post to be visible to people both on and off the Upwork platform; e.g., Google search
Only Upwork freelancers: This will make it so your post is only visible to freelancers already working on the Upwork platform
Invite only: Just as the name suggests, choose this option if you only want those that you've invited to be able to see your post
To finish up this step, you'll need to let Upwork know how many freelancers you'll require for your project. You're given two basic options: one freelancer or more than one freelancer. If you are looking for multiple freelancers, you'll have an opportunity to state how many you'd like to hire. You'll also be given the choice to
add additional qualifications to help narrow down the number of freelancers your post will be visible to
, although this step is entirely optional. These qualifications include freelancer type, job success score, level of English, and the number of hours the freelancer has billed on Upwork (which indicates their experience on the platform).
Step #8: Decide How Much You Are Willing to Spend
Depending on how you intend to pay your freelancer, Upwork will give you entirely different payment options. So, firstly, you'll need to decide whether you'll want to
pay by the hour, or to pay a fixed price for the whole project
. Regardless of how you decide to pay,
determining an appropriate budget is a big decision
. One of the big reasons that clients hire via freelance platforms is because it can be much
more cost effective than hiring a full-time employee
. That said, it's always a good idea to treat the freelancers that do great work for you very well, so that you can
develop lasting relationships
and avoid the application process in the future.
Pay by the Hour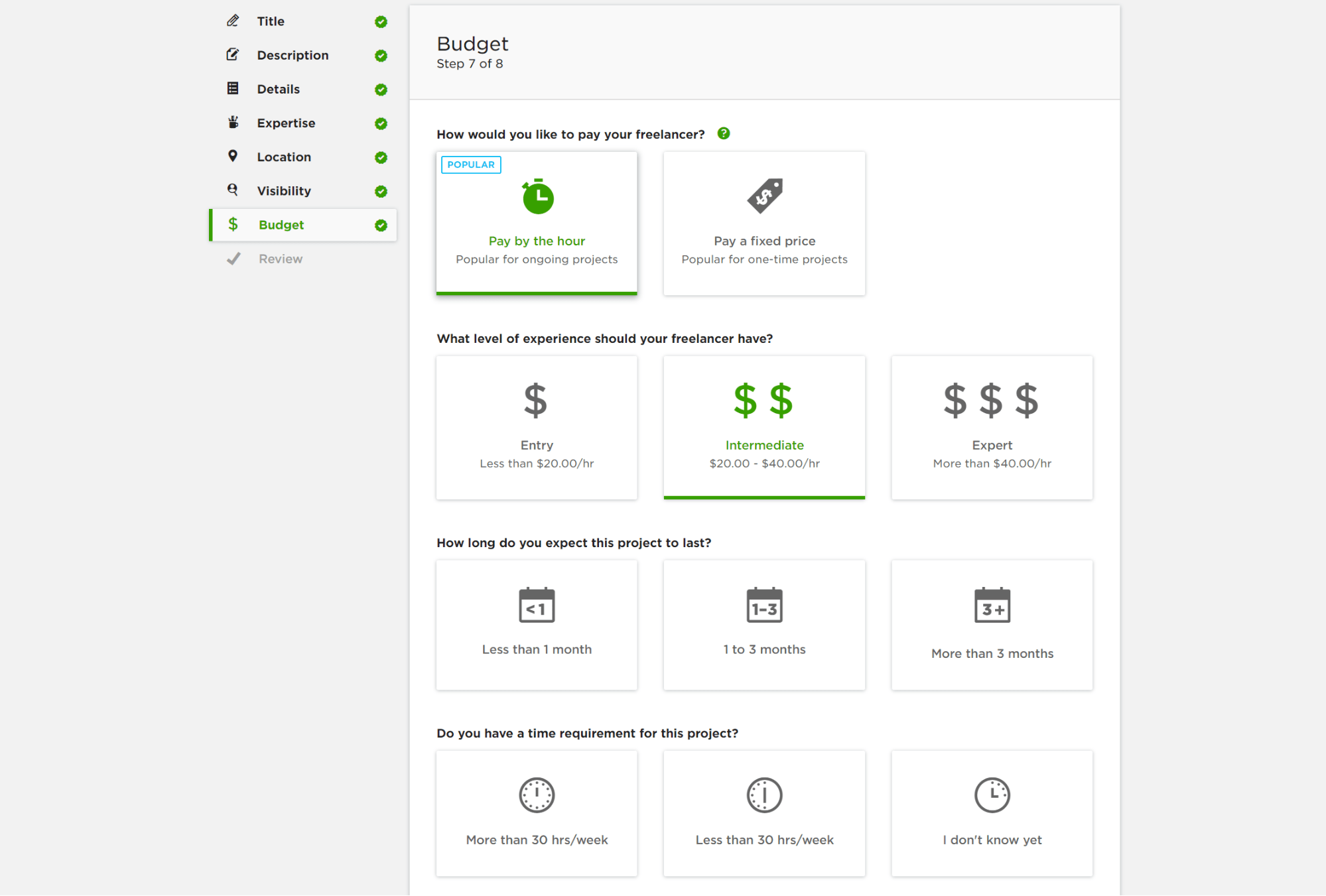 If you decide you'd like to pay by the hour, Upwork asks for a bit of additional information, including:
Freelancer's experience level: This will help to determine an appropriate hourly rate. You're given the option to choose an entry level freelancer, an intermediate freelancer, or an expert freelancer
Length of project: Here you'll let potential applicants know how long you'll require their services. Again, you're given three self-explanatory options; less than one month, one to three months, and more than three months
Time requirement: This is where you'll inform potential applicants of the weekly time commitment your project requires, including more or less than 30 hours per week. There is also an option if you are not yet sure
Pay a Fixed Price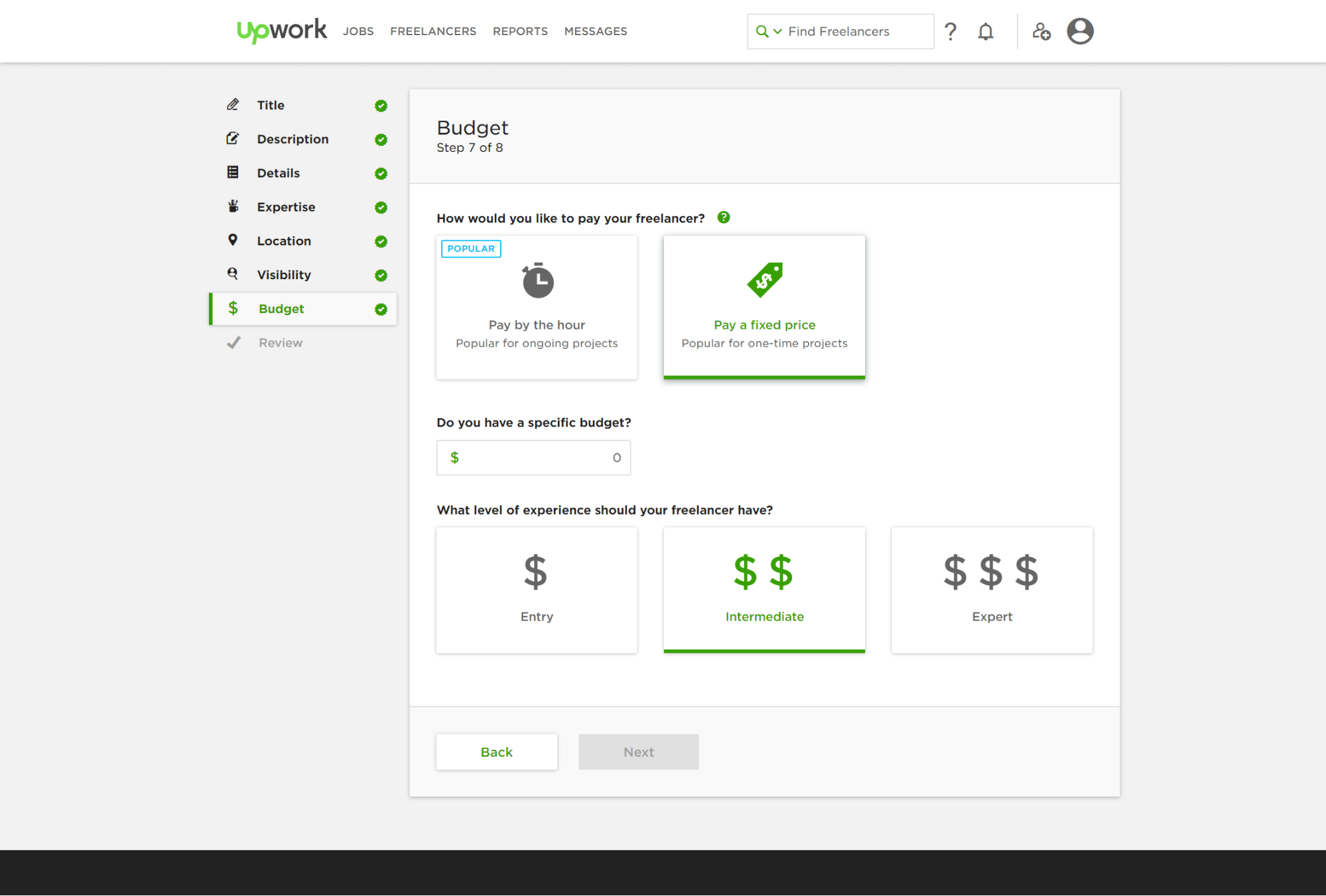 If you choose to pay a fixed price, you'll be given two simple options to choose from:
your project's budget, and the experience level
of the freelancer you'd like to hire. For the budget, choose an amount that's around how much you'd like to spend on the project.
This number doesn't need to be exact, as it's only an estimate
. Freelancers will let you know how much they'll be willing to do the project for during the proposal process. Next, you'll choose if you want an entry-level, intermediate, or expert freelancer.
The higher the level of experience you'd like, the higher your budget price should be
.
Step #9: Review Your Posting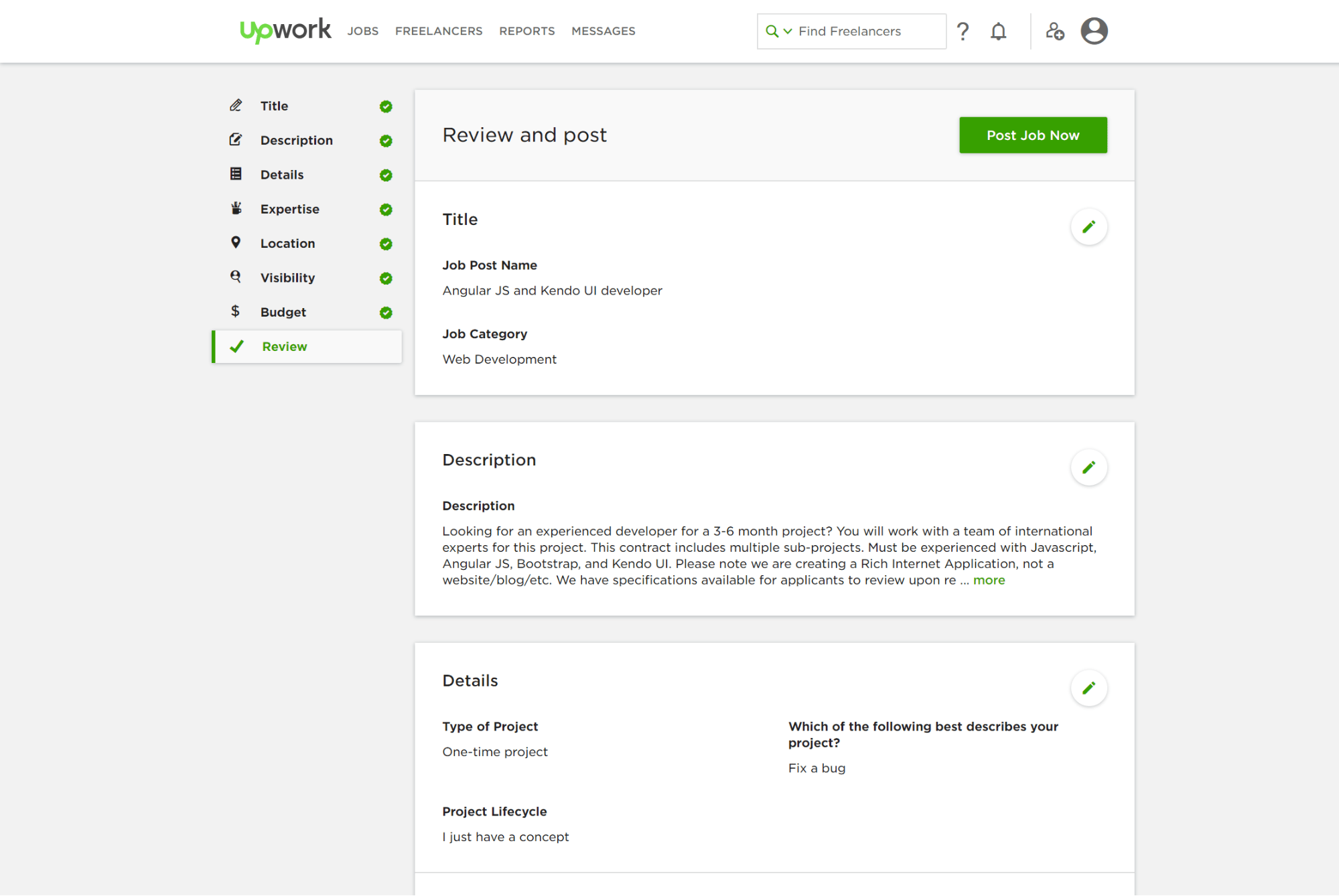 The final step is to review your job posting.
Make sure that everything is grammatically correct, that the options you have chosen match your project's requirements, and that your budget is set at the right amount
. Other than this, you have very little to do on this page, although Upwork does give you a couple options, including:
Boost Your Job's Visibility
This option allows you to feature your job post for a one-time fee of $29.99 USD, which has several advantages:
A "featured job" ribbon is attached to your post
A short list of ideal job candidates will be emailed to you
Your posting will be moved to the top of the search results
Top rated and rising talent freelancers (i.e., freelancers that Upwork has recognized as being the best of the best) will be offered a discounted platform fee for taking on your project
Email Your Coworkers
If you have coworkers that you'd like involved in the hiring process, here's where you reach out to them. Simply insert their email addresses and attach a short message before hitting the "Post Job" button. However, if you don't want others to be able to hire and pay your freelancers, make sure to uncheck the box labeled "Also allow these coworkers to hire and pay with this account." Once you're done with your posting, and you've ensured that all information is inputted correctly, simply click the green "Post Job Now" button, and your job will go live.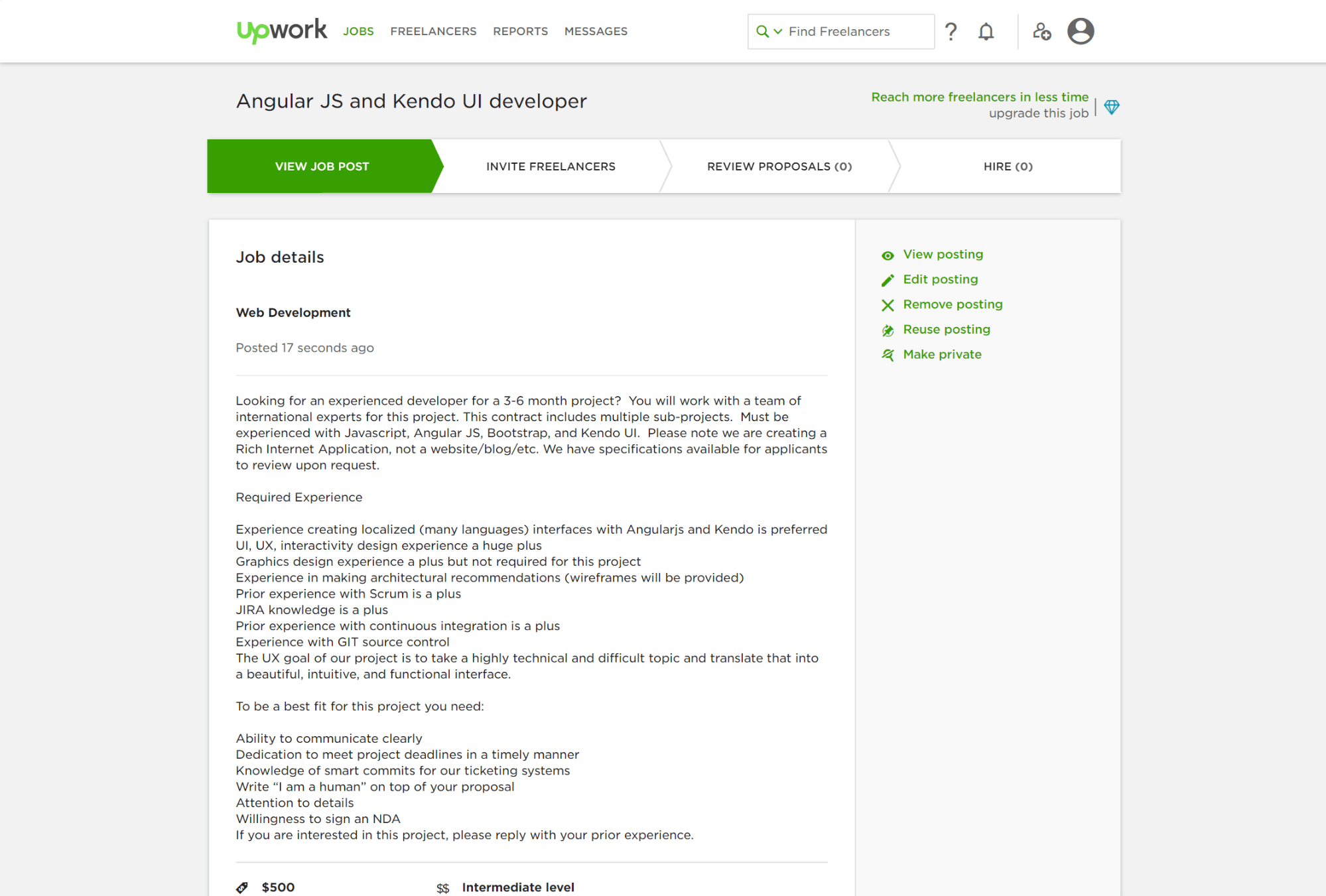 Reviewing Qualified Candidates
While there's no guaranteed way to ensure that low-quality freelancers aren't submitting proposals, following the steps and tips above will maximize your chances of receiving more qualified candidates. As the proposals begin to come in, make sure to watch out for those you'd like to dismiss immediately. This will help you weed out unqualified or unmotivated candidates right from the start. Such proposals will become evident over time. For instance, you might come across proposals where the applicant clearly hasn't read the job posting or has simply used a generic cover letter. Upwork can be a fantastic tool for finding qualified freelancers, and knowing how to use it properly will help you locate the best candidates for any and every project!
---
Sources:
https://support.upwork.com/hc/en-us/articles/115010165067-Featured-Jobs
https://www.statista.com/statistics/921593/gig-economy-number-of-freelancers-us/