you need to find the right option fast, so you can improve your skills or get a better job.
In this article, I'll compare both popular and new Coursera alternatives, so you can decide which online learning platform works best for you.
Short on time? Check out our top alternatives to Coursera!
Fiverr Learn – best for freelancers getting started with digital marketing
Udemy – best for those looking for a large course selection
What We Look For in the Best Alternatives to Coursera
In trying to find the best alternatives to Coursera, here are some of the key features we looked at:
Course selection: How many courses are available? What broad areas do they cover?
Course length and format: How many hours are typical courses? What's included in course delivery, such as videos, projects, and so on?
Instructor quality: What type of experience do the instructors have? Are they vetted by the course platforms?
Certifications: Do these Coursera alternatives provide course completion certificates? Will completing the courses help with employment?
Price: How much is a typical course? Do the online learning platforms use a subscription or a pay-as-you-go pricing model?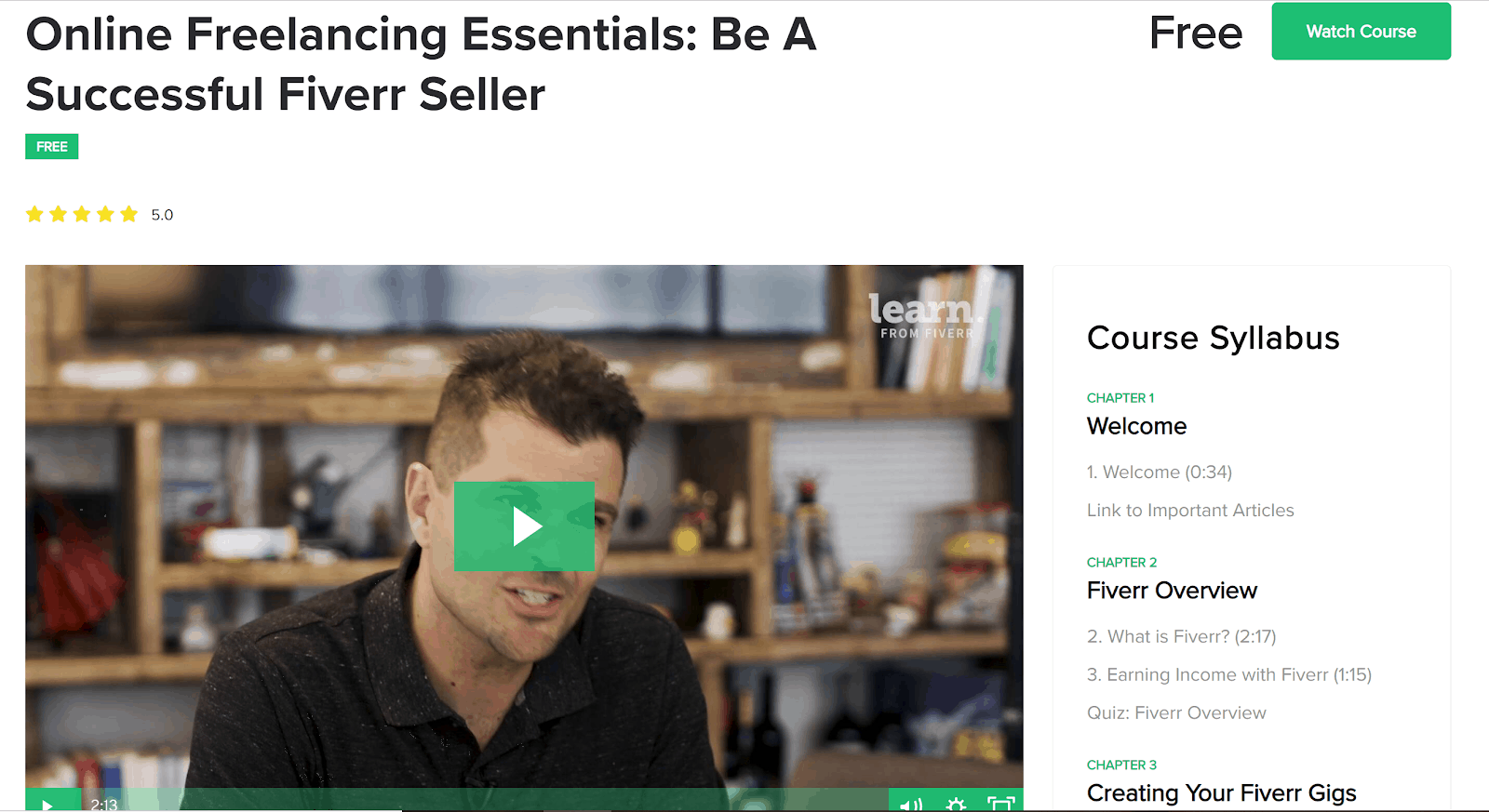 If you're a Fiverr freelancer (or a small business owner who's just starting to promote your business), Fiverr Learn is a good place to get some
elementary digital marketing skills.
You'll need a Fiverr account to get access to courses, but since you can
sign up as a seller for free
, that's not a big issue. Current Fiverr courses cover digital marketing and creativity, with a focus on
practical skills that you can implement immediately.
They're particularly useful if you're planning to sell services on Fiverr. That's because
completed courses can help with winning gigs
, as they'll be displayed on your seller profile. One of Fiverr Learn's big advantages is that the platform uses vetted industry experts to create courses. That means you
get up-to-date information from people who really know the business.
But there is one slight disadvantage. At the moment, Fiverr Learn only has about 30 courses. That means it's got the smallest course portfolio of any of the Coursera alternatives. Plus, since most courses are beginner level, if you already have digital marketing skills, it's probably not right for you. Fiverr Learn courses are delivered via video, and are available on a pay-as-you-go basis. All courses are less than $100, and you'll find a lot for under $50. That makes them pretty affordable.
Features:
Practical courses to help Fiverr freelancers achieve better sales
Courses are video based, and most can be completed in a couple of hours
There's a free course to help you get more from using Fiverr, which is useful if you're using the freelancing platform
There are no subscription fees
So, is Fiverr Learn really a viable Coursera alternative? If you're a new Fiverr freelancer, it's definitely worth a look. Learn more in our
Fiverr Learn review
.
| | |
| --- | --- |
| Number of courses | ~30 |
| Instructor quality | Professionals at the top of their fields |
| Certificate issued | No, but you get a profile badge |
| Payment type | Pay-per-course (and you must be a Fiverr member) |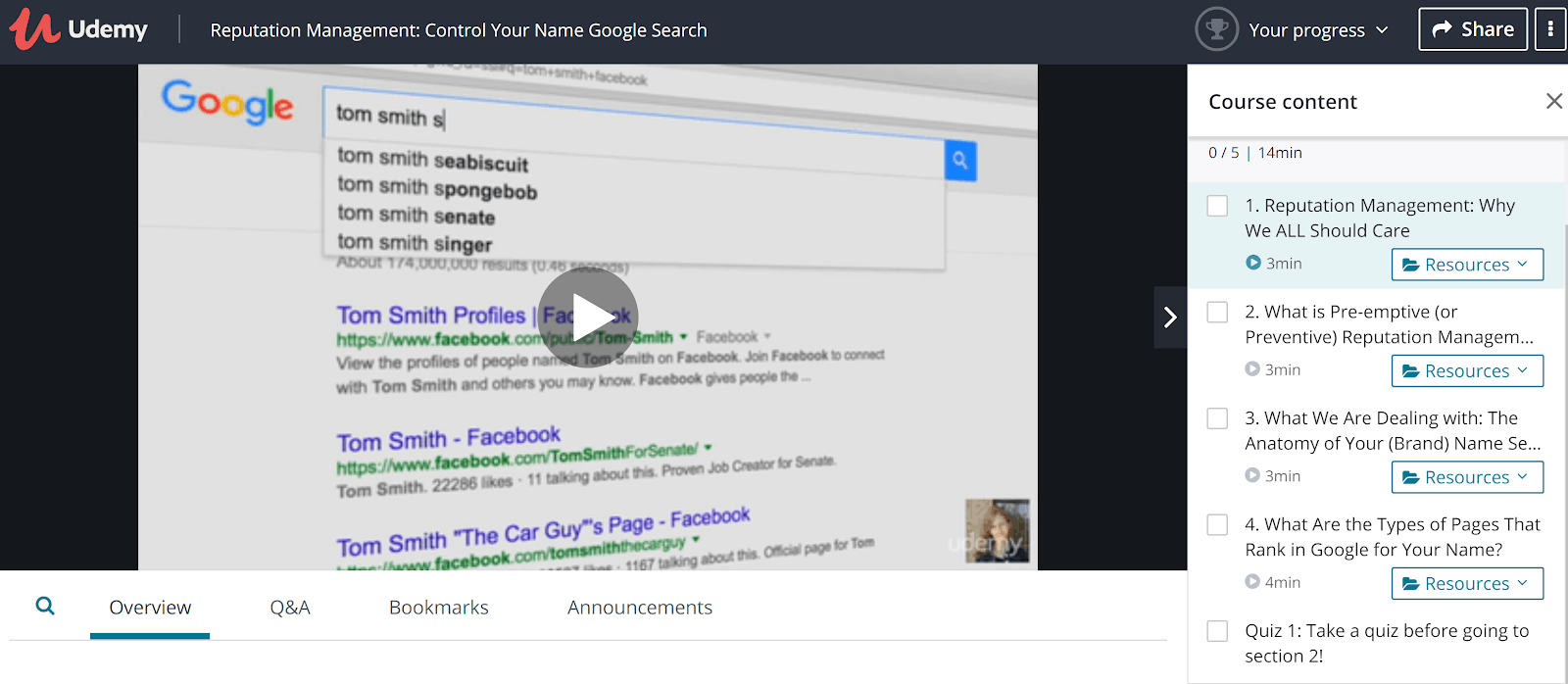 Udemy says it has the
biggest selection of online courses
 – and with more than 100,000 listed on the platform, it's hard to argue! You can find a course on just about anything, from business and marketing to music and personal development. There's so much available that your biggest problem might be wading through all of the options to find the perfect online course. Luckily, the navigation menu has plenty of categories and subcategories to help you refine your search. One downside of Udemy is that
anyone can become an instructor, so course quality can be variable.
It's worth checking your instructor's credentials via a Google search, and using student ratings and reviews before deciding to start an online course. On Udemy, most courses are delivered via video, and some include projects and tasks you can complete outside the site. Most courses are at least eight hours and some may be as long as 50! That's still shorter than some of the longest Coursera courses, though. Once you've completed a course on Udemy, you'll get a certificate that says so. This could help you market your skills, especially if the course was taught by an expert instructor. There's wide variation in course pricing. A few are free, but most have a cost. You can pay anything from $20 to $200, depending on the course you choose. Keep an eye out for course discounts, which are often available.
Features:
Once you pay for a course, you have lifetime access so you can revisit it and refresh your memory at anytime
When you sign up for Udemy, you can get personalized course recommendations by answering a few questions
There are no prerequisites for courses
You can learn anything on Udemy, thanks to the extensive course catalog
If you're a true lifelong learner and want to dabble in a wide range of topics, then Udemy is a great alternative to Coursera. You can read more about Udemy in our
expert review
.
| | |
| --- | --- |
| Number of courses | 100,000+ |
| Instructor quality | Variable, as anyone can create a course |
| Certificate issued | Yes |
| Payment type | Pay-per-course |
3. Skillshare – Best for Group Collaboration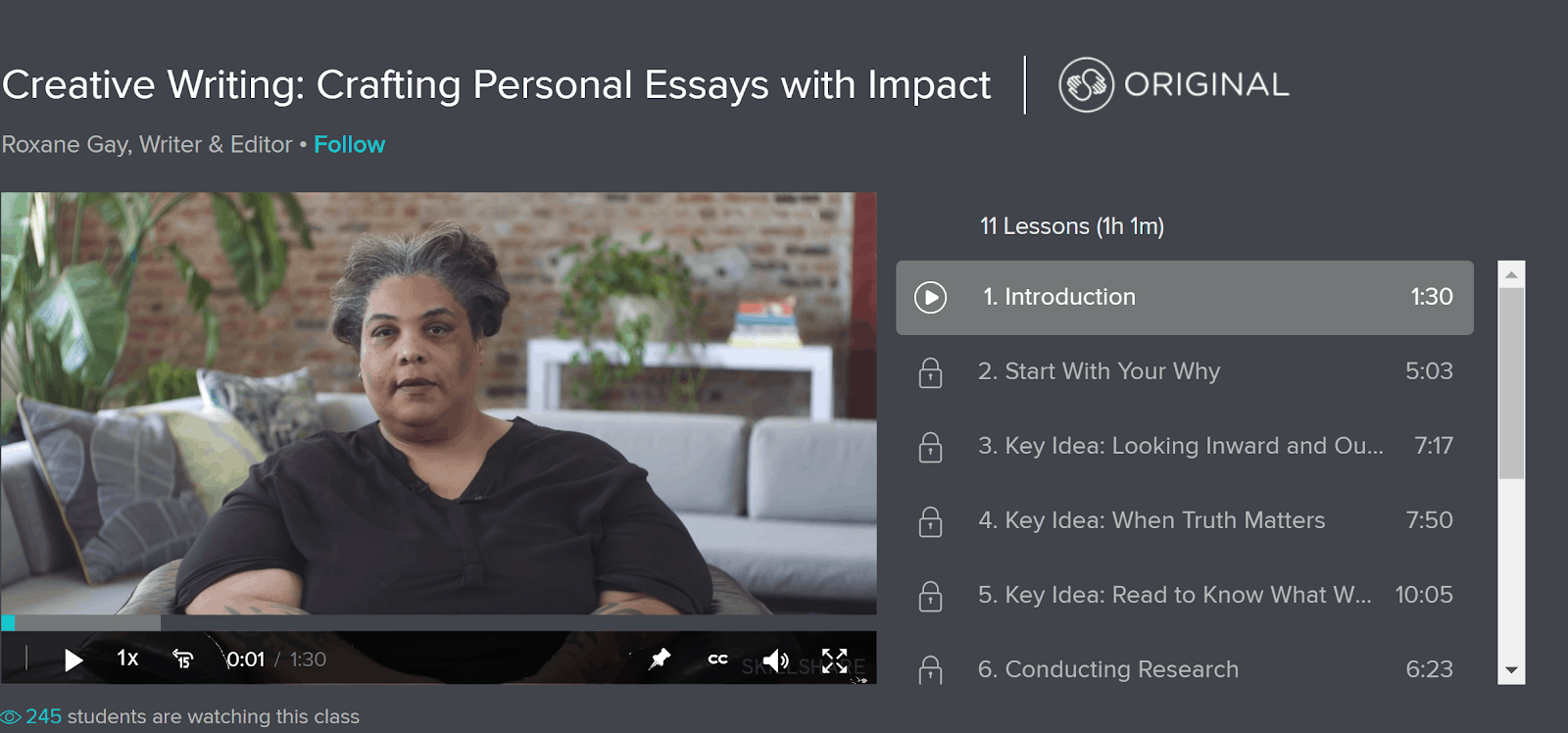 Skillshare offers more than 28,000 classes covering business, technology, lifestyle, and more, so there's plenty of choice. The online learning platform has a strong student community of millions of learners, where you can ask questions and share advice. One of its key features is a "learn by doing" approach,
so each class has a project for students to complete.
If you like a hands-on approach to learning, this is appealing. You can check out recent class projects when deciding which course to take. Classes are delivered via video lessons. With Skillshare,
teachers are entrepreneurs, creators, and professionals who are passionate about sharing their skills and knowledge.
You don't need prior experience to teach a course (plus you can post one for free), though Skillshare does provide guidance for new instructors. Some instructor profiles are pretty sparse – we'd have liked to see more information to help make a decision about which instructor is the best fit. Some classes are available for free. But if you want access to the full course catalogue, you'll need a subscription, which you can pay for on a monthly or yearly basis. Skillshare does not provide certificates. Instead, class projects are used to show you have acquired the relevant skills.
Features
Skillshare includes team plans, which give discounts and admin access for companies looking to improve skills company-wide
There are thousands of free classes available, so you can test out the platform and lesson format
Hands-on projects make Skillshare different from other Coursera alternatives
Skillshare Originals are classes produced in-house; many are led by professionals at Moz, Trello, Bench, and more
Your subscription includes offline and ad-free access to classes
| | |
| --- | --- |
| Number of courses | 28,000+ |
| Instructor quality | Variable, as anyone can create a course |
| Certificate issued | No |
| Payment type | Subscription model (monthly or yearly) |
4. Udacity – Best for Tech Jobseekers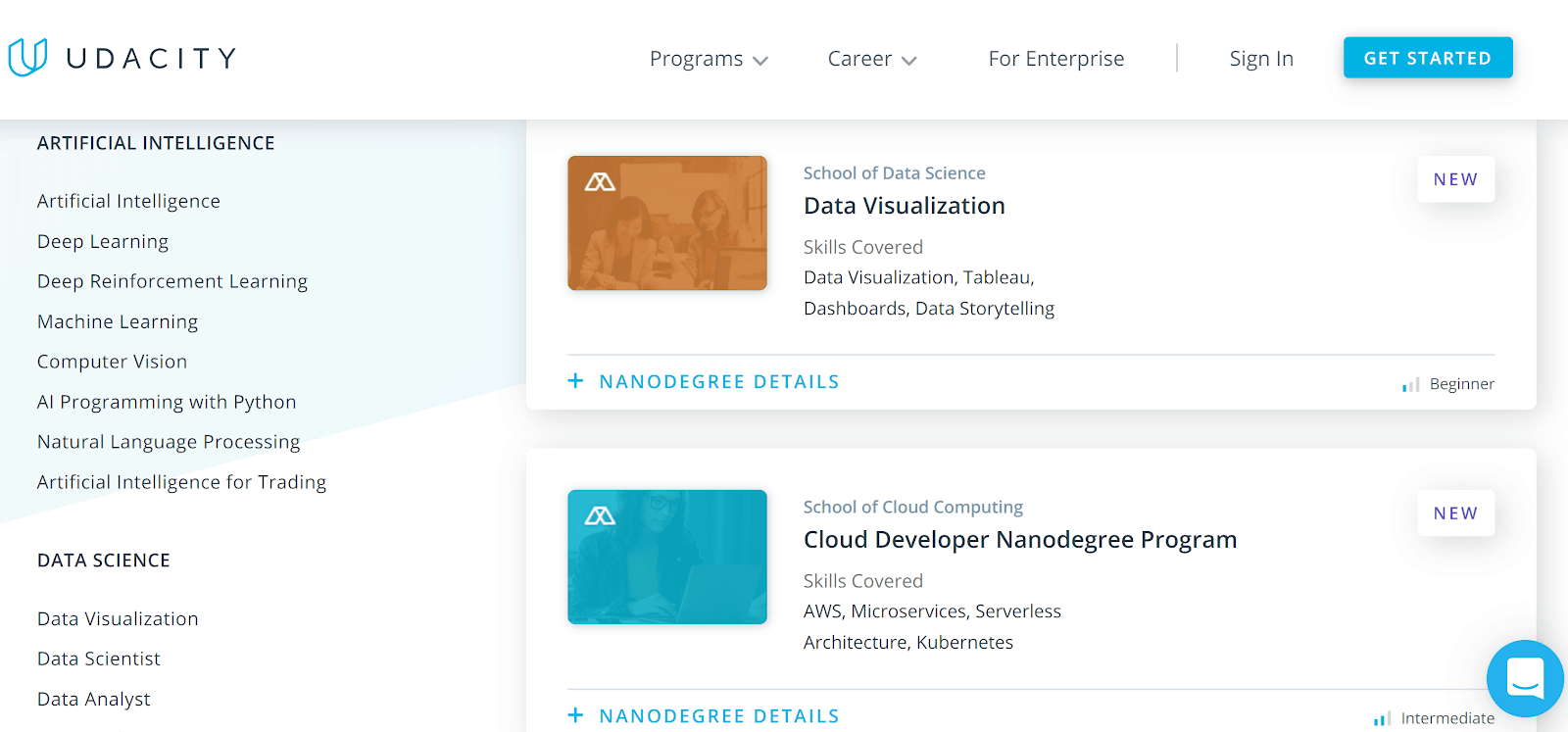 Udacity only offers about 200 courses, but their course portfolio is high-quality. One of their key features is "nanodegrees" – mini degree courses in bite-sized chunks. Though there are business courses, Udacity is best known for tech training. Their curriculum includes courses by expert instructors on cloud computing, data science, artificial intelligence, and more.
This keeps students up to date with the latest innovations.
Taking a Udacity course is definitely a commitment. A lot of courses run over several months, with many hours of video training. You're expected to put in multiple hours a week, in addition to course time. While a few courses are offered for free, many cost several hundred dollars. If you're in the tech world, this investment might be worth it.
Udacity's certifications are recognized by Silicon Valley companies
and could help you get a job.
Features
Udacity Connect offers in-person one-on-one sessions to accelerate learning
The program includes real-world projects where students work with instructors and peers
There are live chats with industry leaders
All programs include personal career coaching, individual mentoring, and a tailored flexible learning plan
| | |
| --- | --- |
| Number of courses | 200+ |
| Instructor quality | Teachers are vetted industry experts |
| Certificate issued | Yes |
| Payment type | Pay-per-course |
5. LinkedIn Learning – Best for Business Education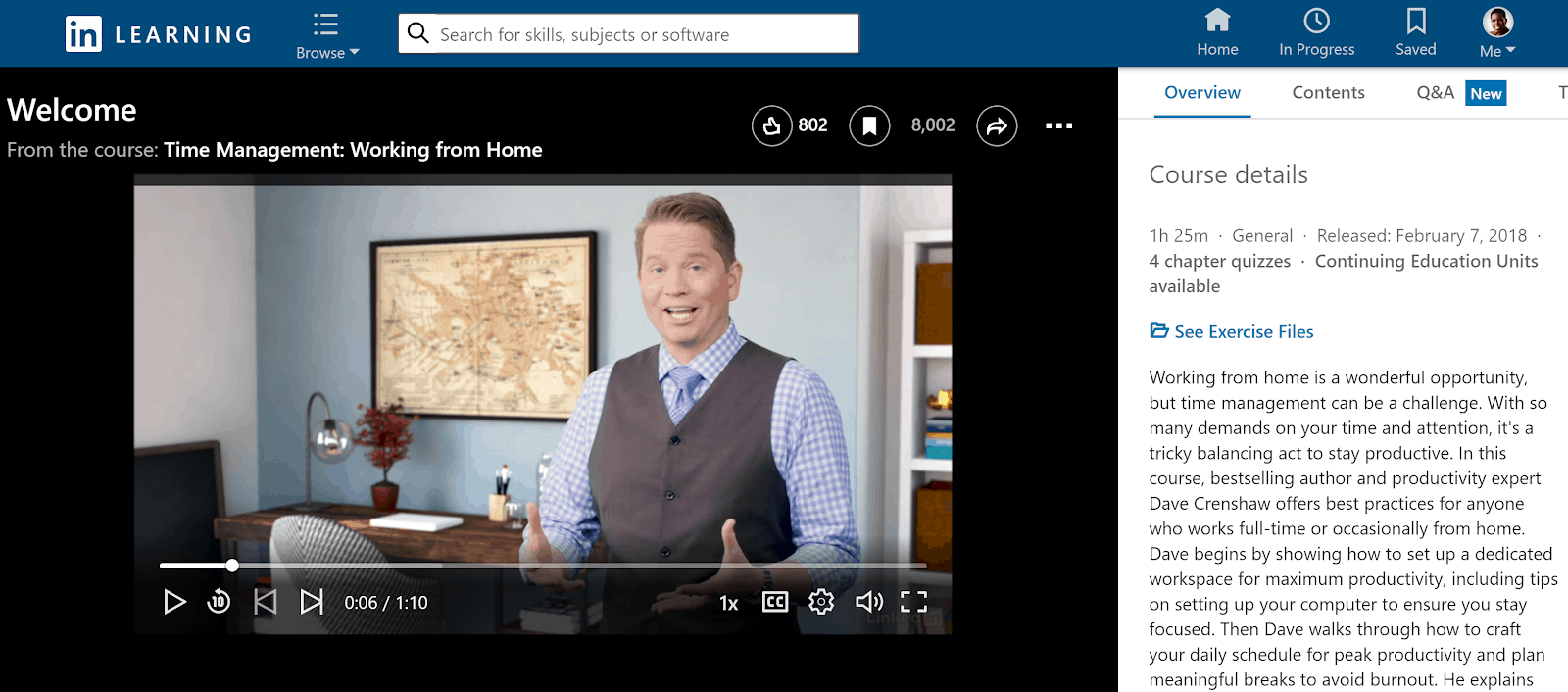 Since LinkedIn Learning (formerly Lynda.com) is part of the LinkedIn suite of services, it's no surprise that it's very focused on the business world. Offering around 13,000 courses,
the platform covers business, technology, and creativity.
Its instructors are acknowledged experts in their fields. LinkedIn vets instructors via an application process, and requires evidence of skills or knowledge in the area they want to teach. This brings peace of mind for students. Courses are delivered via video tutorials, and many include project files so you can practice the skills you're learning. You can watch courses on any device, or even offline, and you'll get a certificate on completion. In addition to improving your own skills, if you're a business owner you can
use LinkedIn Learning for employee training.
You can test out LinkedIn Learning for free with a one-month trial.
Features
Some courses are unlocked to LinkedIn members for free every month, which is a good opportunity to improve your business skills without having to pay
The platform makes personalized course recommendations based on your learner profile
Access additional source materials (like quizzes) to check your progress
LinkedIn's Career and Business plans include access to LinkedIn Learning courses
| | |
| --- | --- |
| Number of courses | 13,000+ |
| Instructor quality | Instructors are vetted experts in their fields |
| Certificate issued | Yes |
| Payment type | Monthly subscription |
6. Learning.ly – Best for Disrupting Your Business with Innovation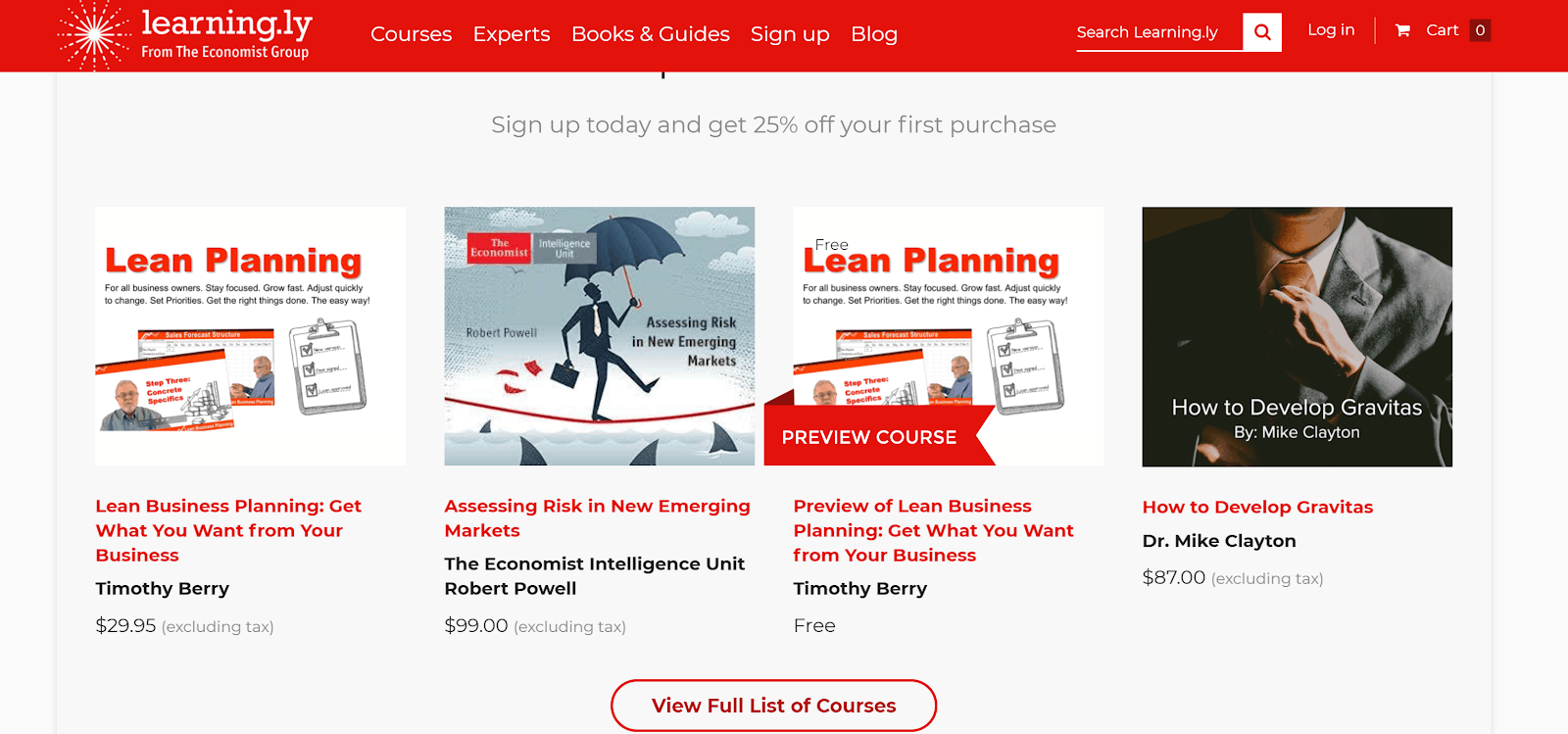 Learning.ly is an online learning platform from The Economist, so you can rely on the quality of the instruction. Learning.ly instructors are experts in their fields, with practical experience, as well as publications and awards. Courses cover a wide range of topics, from business, marketing, and entrepreneurship to productivity, people management, and more.
Some courses provide continuing education credits,
which is useful for professions that need to keep their skills up to date. The course content typically comprises videos, presentations, and audio. Upon course completion, you will receive a certificate. Learning.ly provides a selection of free courses, although the majority do require payment. Although prices may differ significantly, the majority of courses are reasonably priced. Will this Coursera alternative help you get a job? While there are no guarantees, a certificate backed by The Economist definitely carries some weight.
Features
Courses are vetted by the Economist, so you know they are good quality
There's an introductory discount of 25% on all course content
Students also gain access to events led by industry experts
There's a 100% refund guarantee for dissatisfied students
| | |
| --- | --- |
| Number of courses | 250+ |
| Instructor quality | Experienced professionals in their respective fields |
| Certificate issued | Yes |
| Payment type | Pay-per-course |
Which Coursera Alternative Should You Choose?
As you can see, there are a lot of useful alternatives to Coursera out there. But which one is right for you? Check out the summary table below, then read on for our recommendations.
| | | | | | |
| --- | --- | --- | --- | --- | --- |
| | Number of Courses | Instructor Quality | Certification | Payment | Best For |
| Fiverr Learn | ~30 | Expert | No, but you do get a profile badge | Pay-per-course; Fiverr membership required | Freelancers new to digital marketing |
| Udemy | 100,000+ | Variable, since anyone can be an instructor | Yes | Pay-per-course | Lifelong learners looking for a wide course portfolio |
| Skillshare | 28,000+ | Variable, though some courses are delivered by experts | No, the class project is evidence of taking the course | Subscription | Learners who enjoy hands-on projects |
| Udacity | 200+ | Expert | Yes | Pay-per-course | Tech learners; Udacity has links with Silicon Valley |
| LinkedIn Learning | 13,000+ | Expert | Yes | Subscription | Business learners looking to improve skills and knowledge |
| Learning.ly | 250+ | Expert | Yes | Pay-per-course | Business innovators |
Want our top recommendations? If you're just
getting started as a Fiverr seller
, try improving your prospects by
taking Fiverr Learn courses
. If you want to pursue a new hobby or gain some other lifestyle-based skills, Udemy and Skillshare are your best bets. If you're looking for jobs in the tech or business world, Learning.ly or Udacity courses can give you an edge, and some great skills too. And as a LinkedIn member, don't ignore the potential of unlocked LinkedIn Learning courses. These will help you improve your skills without busting your budget. Now, over to you. Which Coursera alternative appeals most?
Check out our online course comparison to help you decide
.