Fiverr
or
Freelance.com
and you will see that many writers themselves don't even know where they stand. When I started my journey writing for blogs and websites, I had no idea which title to choose. So I decided to check the definitions of copywriter and content writer in the Merriam-Webster dictionary. Here's what I got: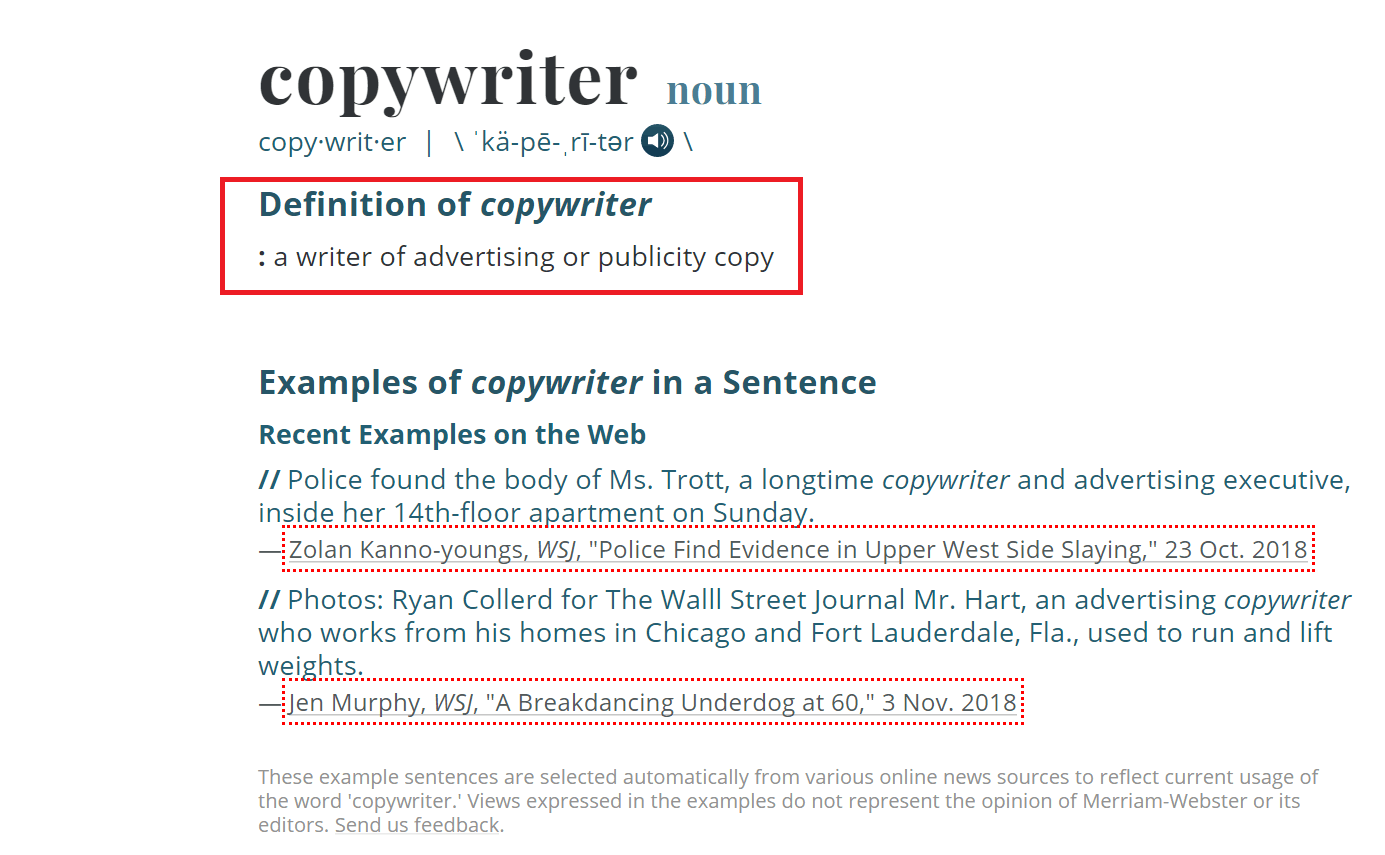 A
copywriter
is someone who writes advertisement or publicity texts. I wasn't doing that back then, so not me. Perfect. But then I checked
content writer
and got this: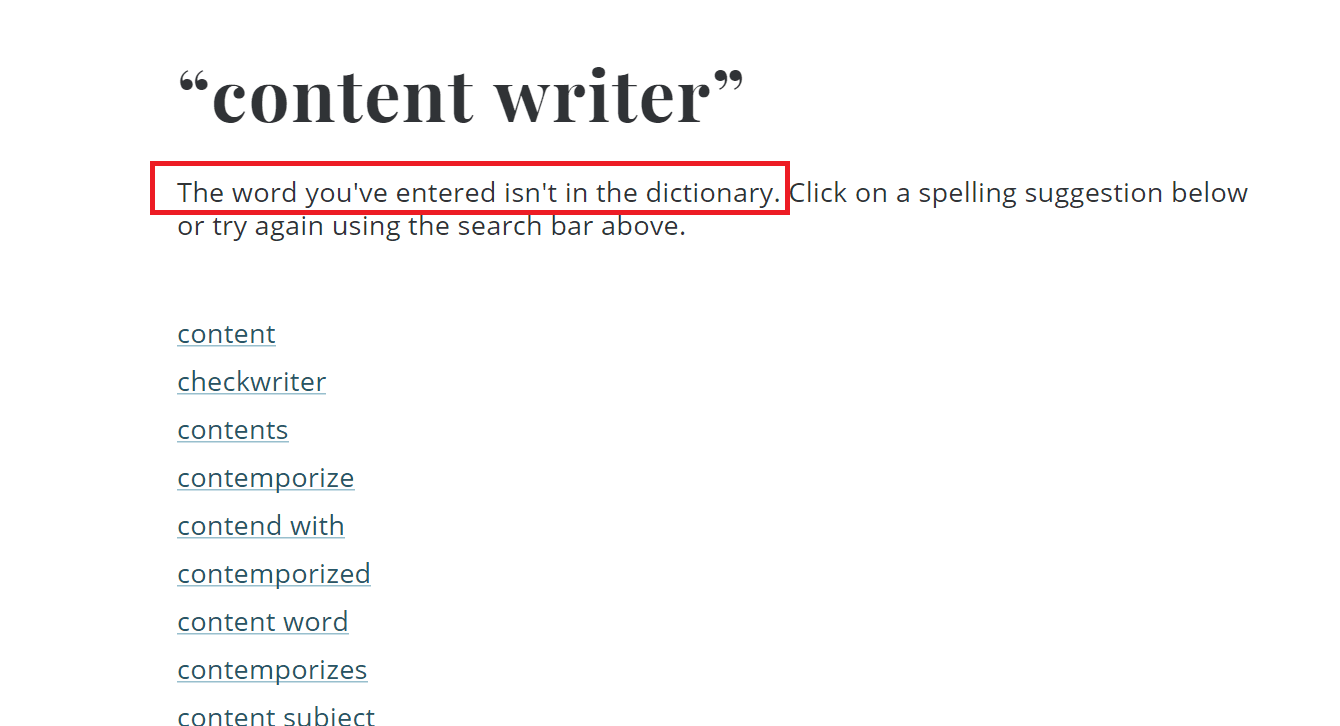 Not helpful. Now, I knew I wasn't a copywriter, but
content writer
didn't seem to exist. So I looked into
content
. Here's what I got: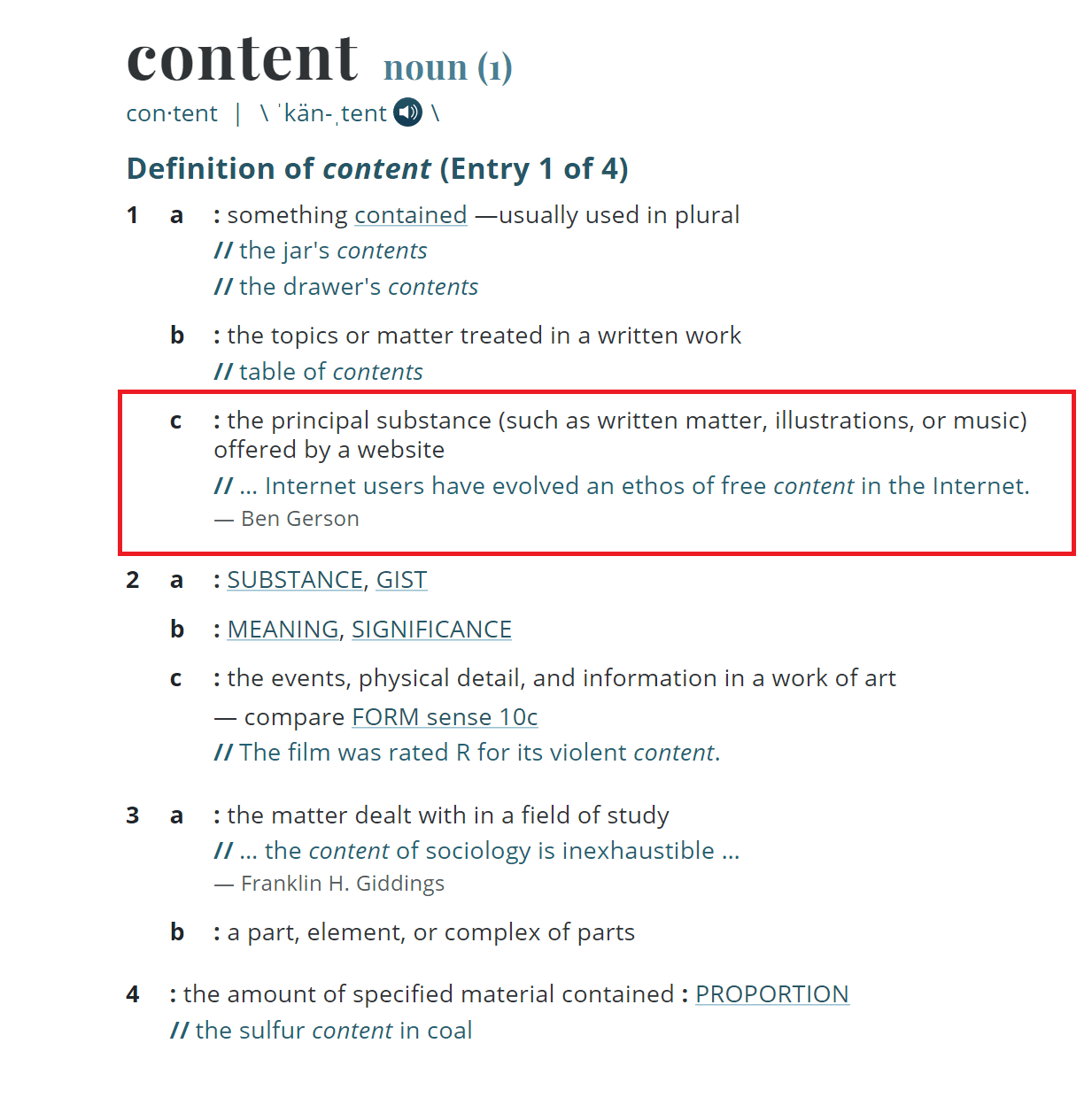 Ah…much more helpful. And I really appreciated the use of the word
substance
in this context, because
content writing is about providing something meaningful to readers.
So, it was decided! I was a content writer.
What Content Writers and Copywriters Have in Common
Unfortunately, the distinction between copywriters and content writers isn't so simple in real life. And this is because
some aspects of their jobs overlap.
But this is good news for you, the client. It means that,
in some cases, you can hire either one.
They focus on your business's goal
Whether it's the launch of a new product, a sales increase, or brand awareness, both content writers and copywriters will help you make it happen. In other words, they aren't artists creating a piece for the beauty of it.
They have a business-oriented mindset.
They write for all senses
Content writers and copywriters
don't write pieces only for reading.
They deal with words that can be either seen or heard. So, you can also hire them to write scripts for videos, podcasts, virtual reality games, etc.
They don't create images or videos
Yes, they can think visually. A content writer can create an article like this one, where screenshots play an important part. A copywriter can suggest what image will match a particular ad.
But they won't create images or videos themselves.
"Ah, but my friend hired someone, and she does both." Fantastic, that person has
two separate skills.
You might be lucky and find a multitalented professional who is good at both writing and design, but this is rare. It's more likely that the person is exceptional at one of these skills and has an acceptable knowledge of the other one.
They don't write fiction or technical manuals
If what you want is to publish a series of novels featuring your company's mascot as a superhero, you need a
fiction writer.
Both copywriters and content writers deal with real facts.
Manuals, instructions, and other technical materials are created by
technical writers.
They specialize in certain industries and know the right style and lingo. Copywriters and content writers
use easy-to-read language to reach a broader audience,
even when they are explaining technical information.
What Content Writers and Copywriters Do Differently
I agree with Merriam-Webster's definition.
Copywriters create advertisement materials.
This is why they are also known as "sales writers."
Their ultimate goal is to persuade your customer to buy your product
as soon as possible. To do so, they will often:
Use as few words as possible, while including strong adjectives and action verbs
Create urgency and inspire deep feelings
Work with graphic and web designers to enrich the copy with visual elements
A copywriter will create ads, email marketing, sales pages, landing pages, and brochures for you. They produce both print and online pieces. On the other hand,
content writers go for the long run. They want to inform or educate an audience.
To achieve it, they will often:
Prepare long-form texts based on statistics and thorough research, which can make audiences think (and can also instill an emotion response)
Make it look like their text isn't intended to sell, even at times when it is
Apply SEO, user experience, data analysis, and other techniques to attract and engage your customers
Content writers provide blog posts, articles, ebooks, white papers, and case studies. They can work on print materials, but they are mostly into online pieces. But, above all,
copywriters and content writers go about their jobs very differently.
Let's see some examples of pieces that often cause confusion: social media writing, Google Search results, and website content.
Social Media: Ad or Post?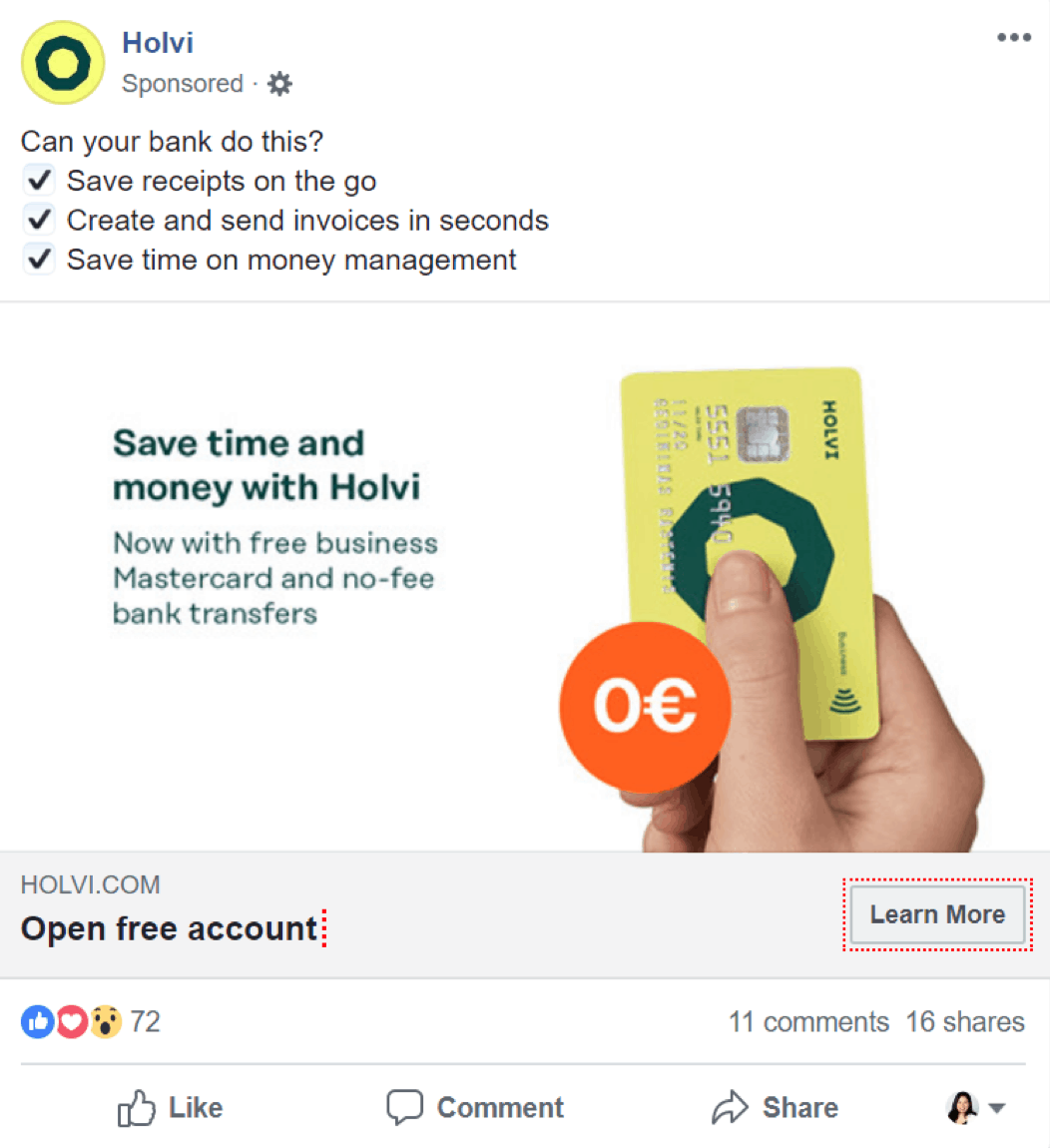 This is a Facebook ad, and its copy is typical copywriting.
Look at the text in the image. It uses two sentences to persuade you to open a free account with Holvi. The first tells you the advantages of doing so: it saves you time and money. The second explains why this is true: free business Mastercard and no-fee bank transfers. The checklist gives you more reasons to choose Holvi.
On the other hand, Holvi's Facebook page has posts aimed at educating its audience. And this is content writing.
This post suggests ways to improve your business, save money, and make investments, without selling any product: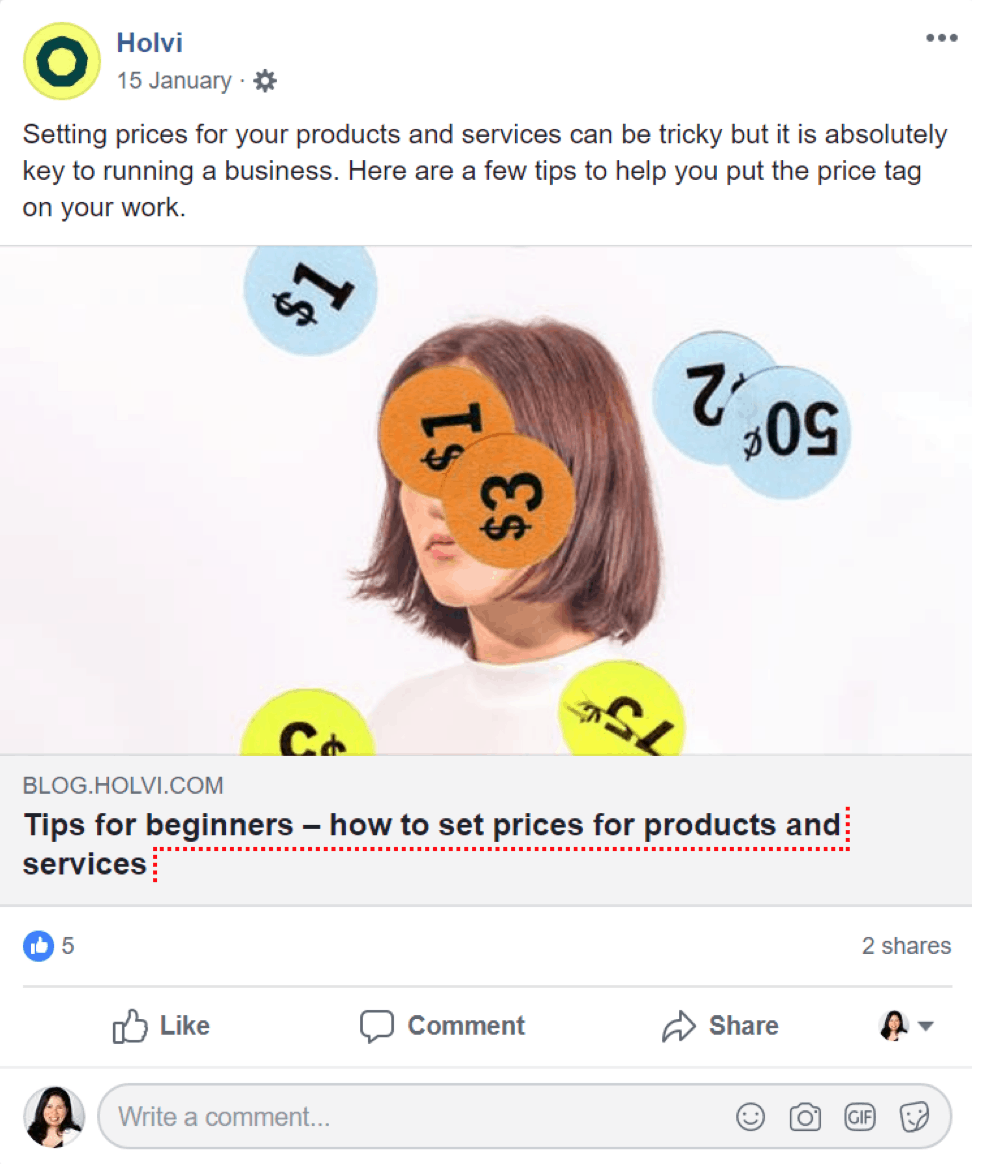 Check the word choice. It makes the post sound helpful (
tips
,
how to
). See how they create empathy by showing they understand what you are going through (
can be tricky
). On the other hand, they suggest you must take the issue seriously (
absolutely key
). No word about Holvi. But wouldn't you be just a little curious about this company that just gave you a great tip? You probably would. And a goal could be achieved there: brand awareness. But this doesn't mean that a content writer will never talk about your product directly. It can be done,
but the tone will be different compared to what you would get from copywriting.
It will be more discreet, like the example below: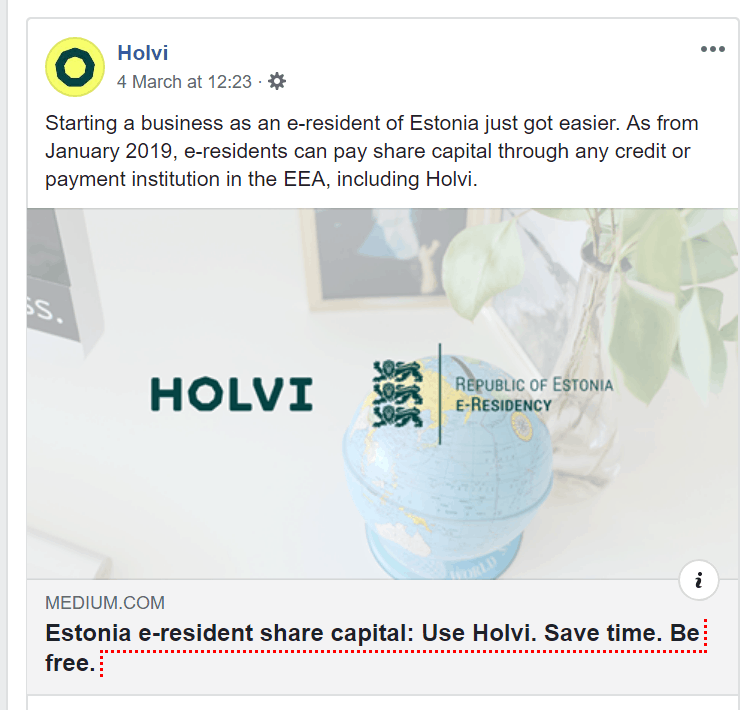 Notice that it's the information (Estonia e-residents can pay share capital through new ways) that is more important here, not Holvi. The post even goes the extra mile to be transparent and say that Holvi isn't the only company offering this service. This is content writing selling a product.
Google Search: Promotional or Informative?
The text published on Google search page results is another type of content that might get you confused about who gets it done. Here's the short answer:
Google Ads are a copywriter's task. Title tags and meta descriptions are created by content writers.
For instance, I searched "best laptop for students" and got this ad at the very top of the page:

See how it sounds like a salesperson talking. It mentions discounts, offers, low prices, deals. The ad highlights how simple the payment is.
This is copywriting.
Now look at this result:

This copy tries to be helpful and very clear about what you will get once you click on the link. It tells you what the best college laptops are beforehand, so if you decide to read the article, there will be no surprises.
This is content writing.
Website Content: Sell or Educate?
Another tricky task is to decide who to hire to create website content. Both professionals sound perfect for creating website content. But their approach to the job is quite different. This is Nespresso's sales page of Vertuo coffee machine. Look how straight to the point the copy is. There is an image of the product, key selling points, price, and a purchase button.
This page
gives you what you need to decide to purchase the product and nothing else
so you don't get distracted. And to make it more exciting, there are extra offers. If you need something like this, a copywriter is your best bet.
But copywriting doesn't need to be short.
Have a look at a partial view of another Nespresso page below. It gives more information about Vertuo, so you can decide if this is the right coffee machine for you. See this example below: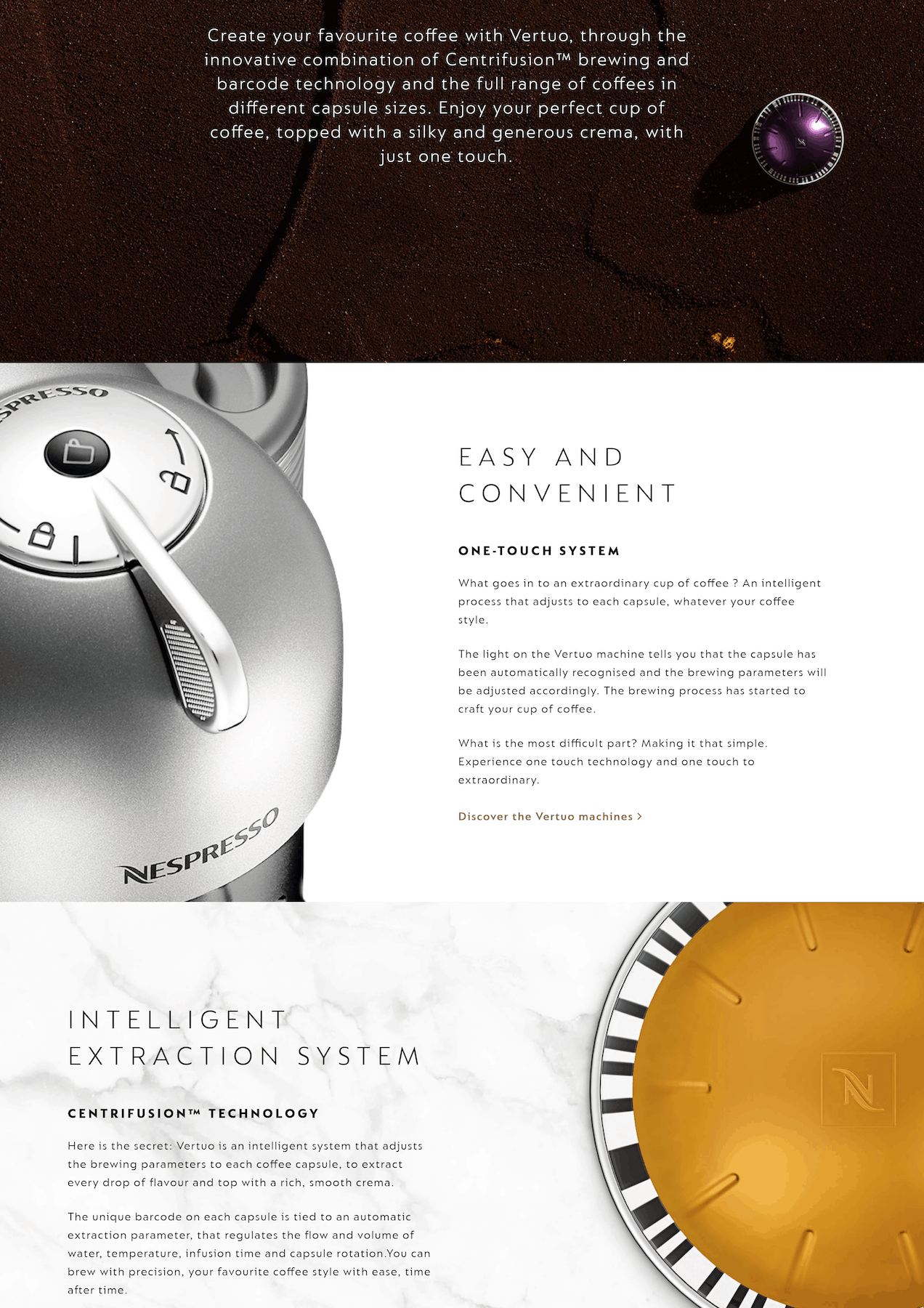 This is also copywriting. The use of the words
exceptional, unique, try them all,
and
passion
are a giveaway.
Here, the goal is to trigger an emotional response and persuade you to buy the product.
Now, I will show you
how content writers sell products through website content.
It's likely to be through your blog. Here is something from Nespresso's blog: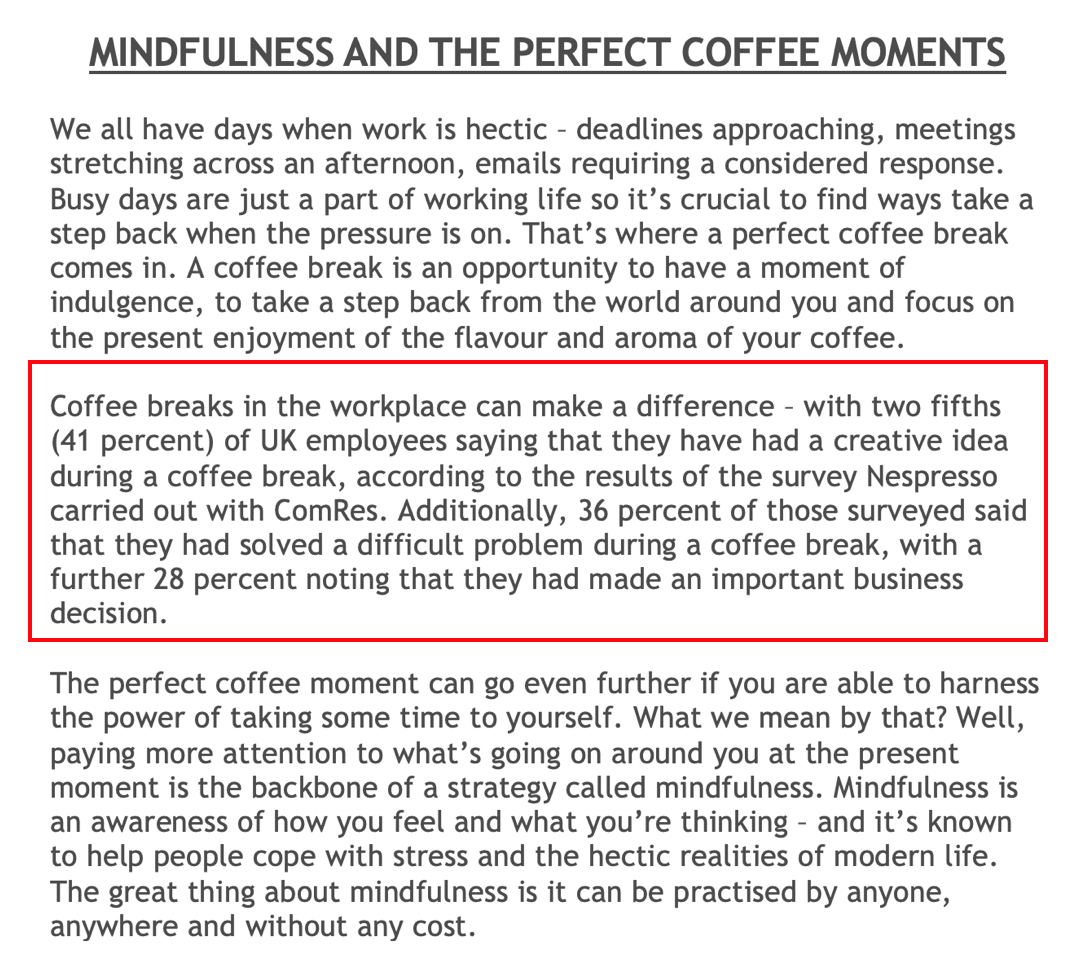 This is certainly not the best piece of content writing you can find online. But it's a great example to illustrate this point. Forty-one percent of U.K. employees had a creative idea, 36% solved a difficult problem, and 28% made an important business decision during a coffee break? I need a coffee then! And because my coffee breaks are short, I need a coffee machine. I also want the best ideas, so I will buy the best coffee machine, which is…yeah, you got the memo. As you can see
the sale is there, just not as explicit.
The goal of the piece is to share research information that is relevant to potential customers. This is the way content writing works. But content writing doesn't always aim at a sale.
A lot of its production involves support materials, texts that will help your website to rank higher on Google Search.
This type of writing will also attract a loyal audience that might never buy your product, but might refer it to a friend. Check this extract from Zapier's blog about sleep and productivity: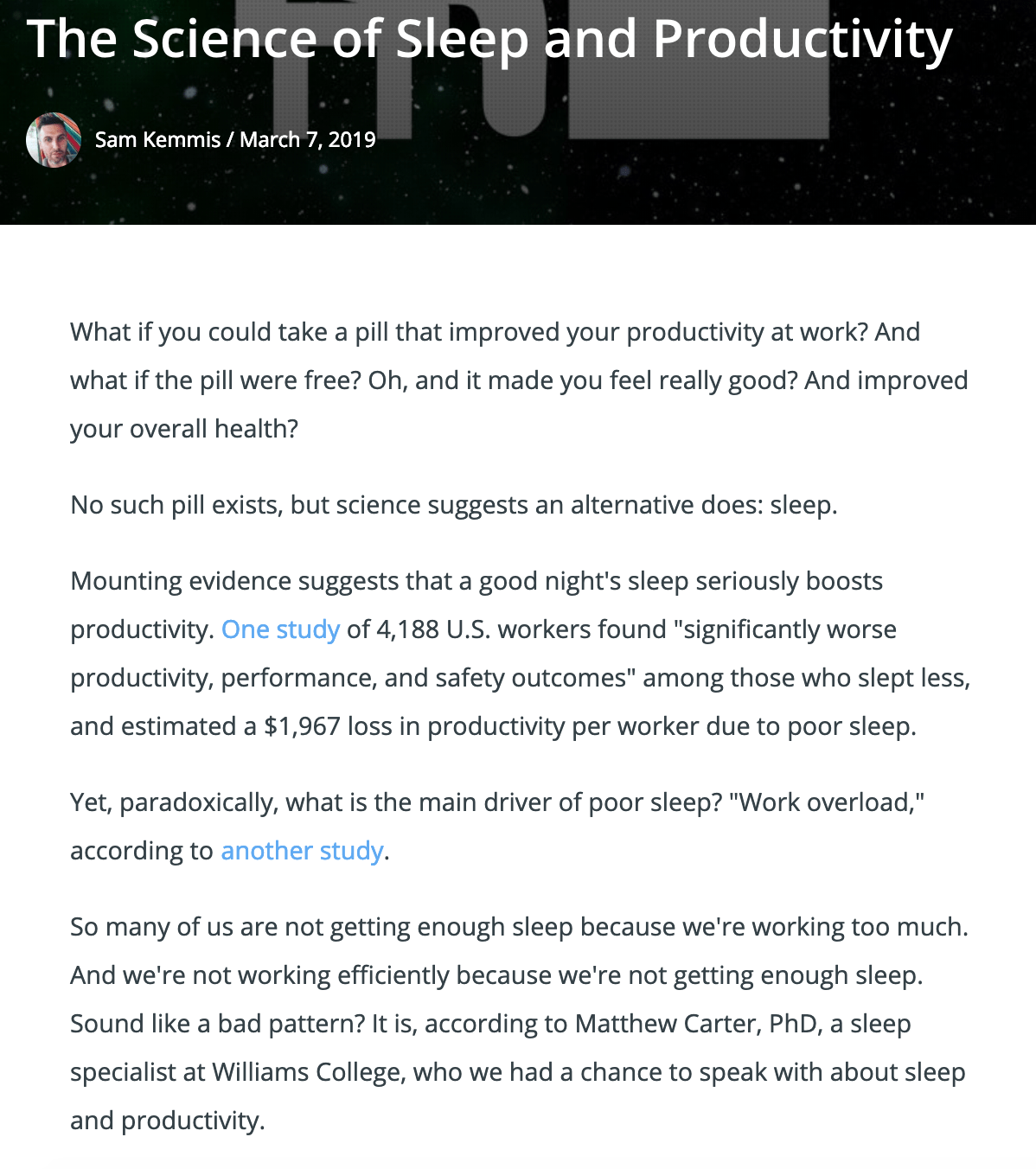 It has nothing to do with Zapier as a product.
Actually, Zapier isn't mentioned at all in the entire article.
But it has all to do with their audience:
business owners and executives looking for tech solutions, and probably losing some sleep over it. For this type of piece, you need a content writer.
How to Choose the Right Professional
Now that the difference between copywriters and content writers is clear, we are going to talk about how to identify the professional you need. As I said before, even the freelancers themselves get it wrong. So consider the following:
Determine when you want to see results
Think about how fast you want results to appear on your financial reports. Should it impact your sales in the short or long term? For the first, look for a copywriter. For the second, hire a content writer.
Choose by the type of content
What type of content do you need? An ad, an email marketing, an About Us page, a blog post? The two first are in the copywriting territory. For the other two, you need a content writer.
Identify the skill set
Forget job titles. Search one of the big freelance databases (like
Upwork or Freelancer.com
), and you will notice that looking at their job titles might not take you far. Some will call themselves
copywriters
, others
content writers
. Even both. A good percentage will say they are freelance writers and nothing else. Check for specific skills by either typing them into the search bar, or using the platform's filtering system. Here's how it looks on
Upwork
: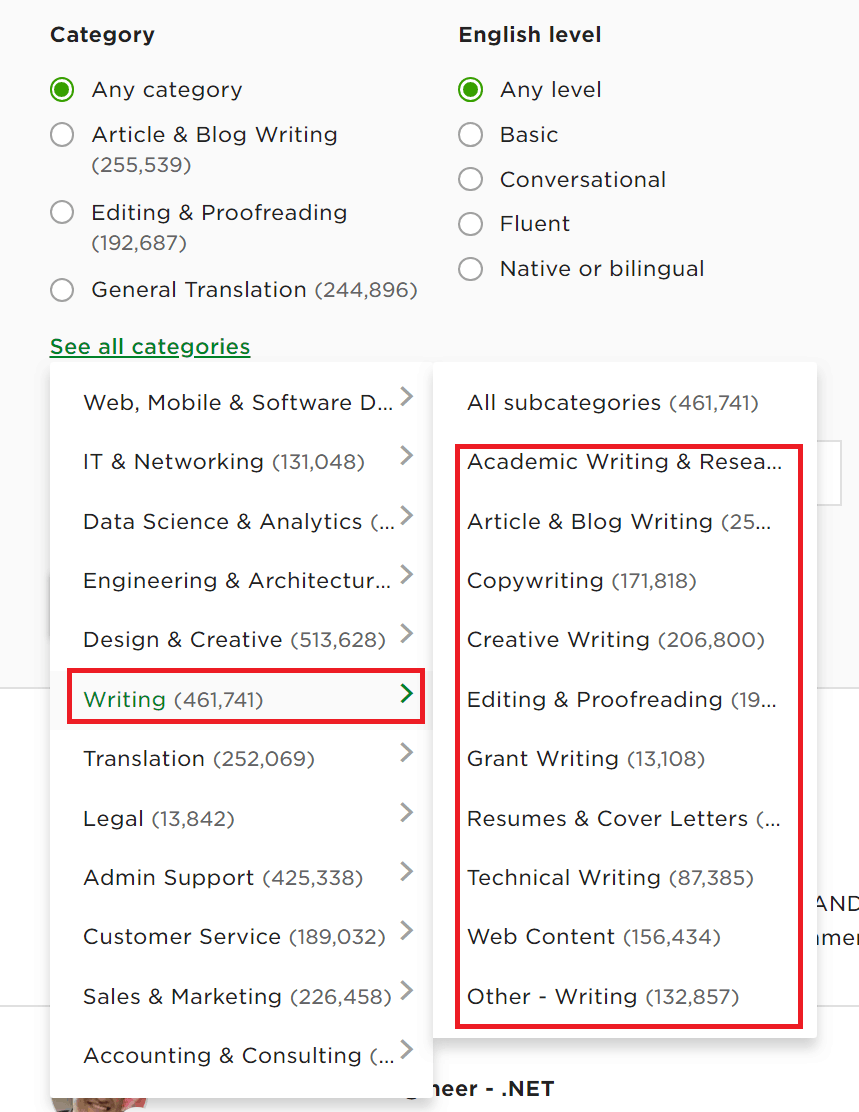 Some professionals will add multiple skills to their profile. And not necessarily because they can do all of these jobs. Many freelance writers are aware of the confusion between these terms, and don't want to miss a job opportunity just because the client picked the wrong category.
Check Their Portfolio
Hiring a professional with suitable expertise is essential to the success of your project. And knowing whether you need a copywriter or a content writer is just the first step. You should also be checking their portfolios. Inform freelancers about the specific type of content you require, and request samples of comparable projects. This step will enable you to assess whether they possess the necessary skills. Even newcomers should be capable of supplying original work or content from their personal websites.
Need Additional Support?
The best way to be 100% sure you hire the right professional is to
create a strong job posting
that attracts qualified candidates. After that, you'll need to effectively narrow down the proposals to choose the best freelancer—whether they are a content writer or a copywriter—for your job. After that, it's all about creating a strong relationship so you can rely on the same freelancer for projects to come.