your profile
can be a place to "tell," your portfolio is an opportunity to "show."
A well-rounded portfolio will:
Provide concrete examples of past work
Showcase the range of your skills
Prove expertise on a specific subject or technique
Let potential clients get to know you
Building a portfolio can be a project in and of itself. And with more people than ever
choosing the freelance lifestyle
, competition can be stiff. But these days,
there are excellent site builders you can use to get your portfolio online,
and rules you can follow to make that portfolio the best it can possibly be.
Selecting the Right Content
The content is inarguably the most important part of your portfolio, so there's enormous pressure attached to the work you choose to include inside it. Keep these tips in mind when pulling together the work for your portfolio:
Choose Your Best Work
This should go without saying, but the definition of "best" can be quite subjective. Here's what we mean:
Any piece that has received critical acclaim or gotten other special attention (e.g. gone viral)
Any project where you have taken on a significant or leadership role (for example, did you just do the graphic design, or did you also determine the strategy and write copy?)
Any work that you are particularly passionate about; this should shine through in your description and can also be used to illustrate talking points in your interview
Tailor Toward What You Want to Be Doing
In order to make a living, freelancers often do work in different fields. That being said, there are probably one or two areas or mediums
you prefer to work in
. Highlight those in your portfolio. This is the
best way to ensure you'll receive work related to these topics in the future
.
Highlight Your Expertise
Whether you are enjoying your current expertise or not, it often makes sense to include it in your portfolio, as
the fact that you have expertise can substantiate your time within an industry and support a higher proposed pay rate
. After you're hired, you may have the opportunity to discuss taking projects in unique directions you've never tried before.
Customize Content to the Client
If you already know exactly what a prospective client is looking for, you have the
opportunity to curate a portfolio of your work specifically geared toward what they want
, giving them confidence that you will be able to deliver on the project at hand.
Never go into any meeting without at least a digital version of your portfolio.
This allows you to pull up relevant visual examples that can help illustrate your point or idea. Take any opportunity you can to create a portfolio that specifically highlights why you are the freelancer to hire for the particular client or project at hand. Creating a customized portfolio could take more time at first, but there are a few important benefits:
Shows potential clients you care about and pay attention to what they want
Helps you find specializations you didn't know you had or ones you want to build on
Is far less overwhelming to the client than a bigger, more generalized portfolio
Create What You Need
There is a secret to portfolios that not many people know—
you can always create the work you need
. This tip is essential for any freelancer new to their field, or someone trying to shift their expertise. Are you a
nature photographer
who wants to transition to weddings and
events
? Don't just assume you can't because you don't have the conventional experience. That said, your nature photography alone will be difficult when it comes to winning wedding clients. So, you need to
take a chance and do the work
. Offer your services to friends for free or at a reduced price. At the beginning of your new career, your focus needs to be less on money and more on building experience and a reputation. While this writer would never advise freelancers to work for "free," when you are building a portfolio—even if you don't charge for your work—you will be
getting something that helps you advance your career
in exchange for your services. Whether you're a photographer,
writer
, or web designer, when doing projects for others that you know you'll be using for your portfolio,
make sure you have proper rights to the content
and that your intent to use it is clear to the client from the first meeting. Remember that portfolios
can also include excerpts and works in progress
, if necessary.
Organizational Practices for a Portfolio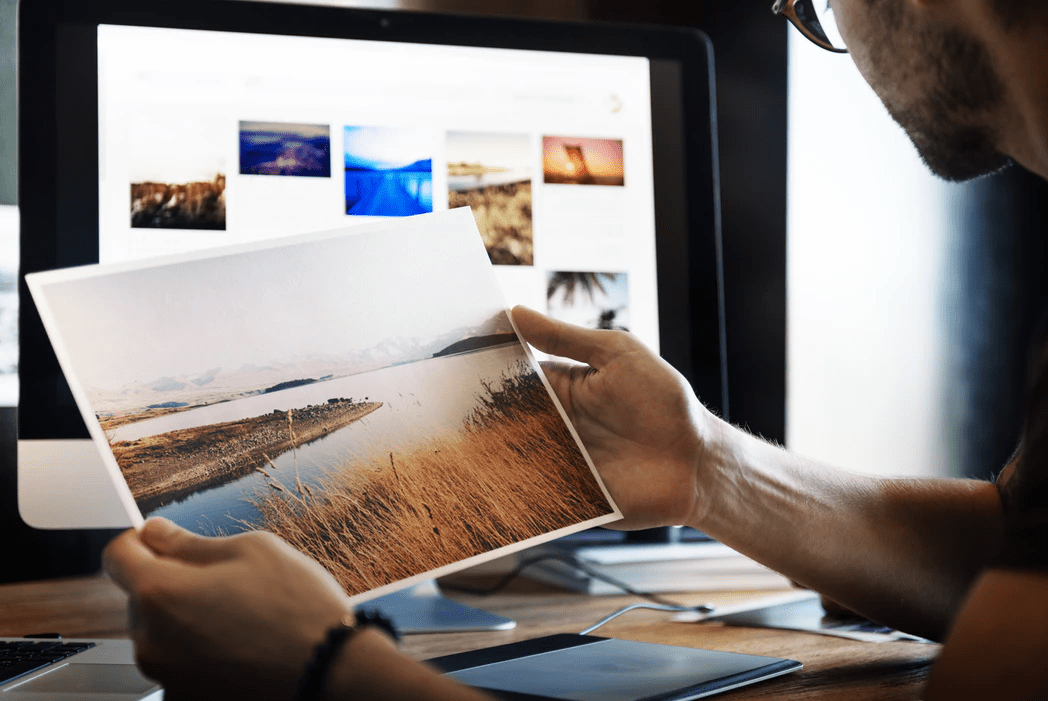 Having the right content picked out is only half the battle. The best examples won't mean anything if they are organized, managed, or explained poorly. Keep in mind the following pointers to ensure your work gets the full credit it deserves.
Have more than one portfolio: Just as you would tailor a resume (and certainly a cover letter!) to a specific industry or job opportunity, you should also be regularly doing this with your portfolio. And don't worry, you'll eventually get to a point where you have a few specific portfolios you can present at a given moment.
Lead with your heavy hitters: First impressions are everything, so start your portfolio with your strongest example. The exception here is if the work is old, in progress, or your role was small.
Give strong and succinct descriptions: The type of project introductions you give will vary based on your industry and the job you are applying for, but it's generally considered to be best practice to give a clear and concise overview of the objective, audience, and results before displaying the work. Use a tool like Grammarly to make sure your descriptions are typo-free.
Vary your examples: No one wants to look at what is essentially the same example four times in a row. No matter what type of portfolio you're making, variety is a good way to capture a viewer's attention to the end.
Remember, less is more: You can't expect a potential client to spend half an hour reviewing your portfolio, so it's best to be very selective about what you choose to show—and how you present it. Separate your work into categories and decide on a limit rule to follow. "No section should include more than three samples," for example.
Putting Your Work on Display
We've discussed how to choose content and organize your portfolio. Now, it's time to tackle where to put it. Photographers and writers might see benefits to having a physical portfolio—but no matter your profession,
everyone freelancer needs a digital portfolio
these days. The reason is simple:
it's fast and easy to access
. The
best freelance websites
will have a designated space for your portfolio as part of your profile.
Upwork
, for example, allows you to upload or link to projects that have been completed on or off the platform.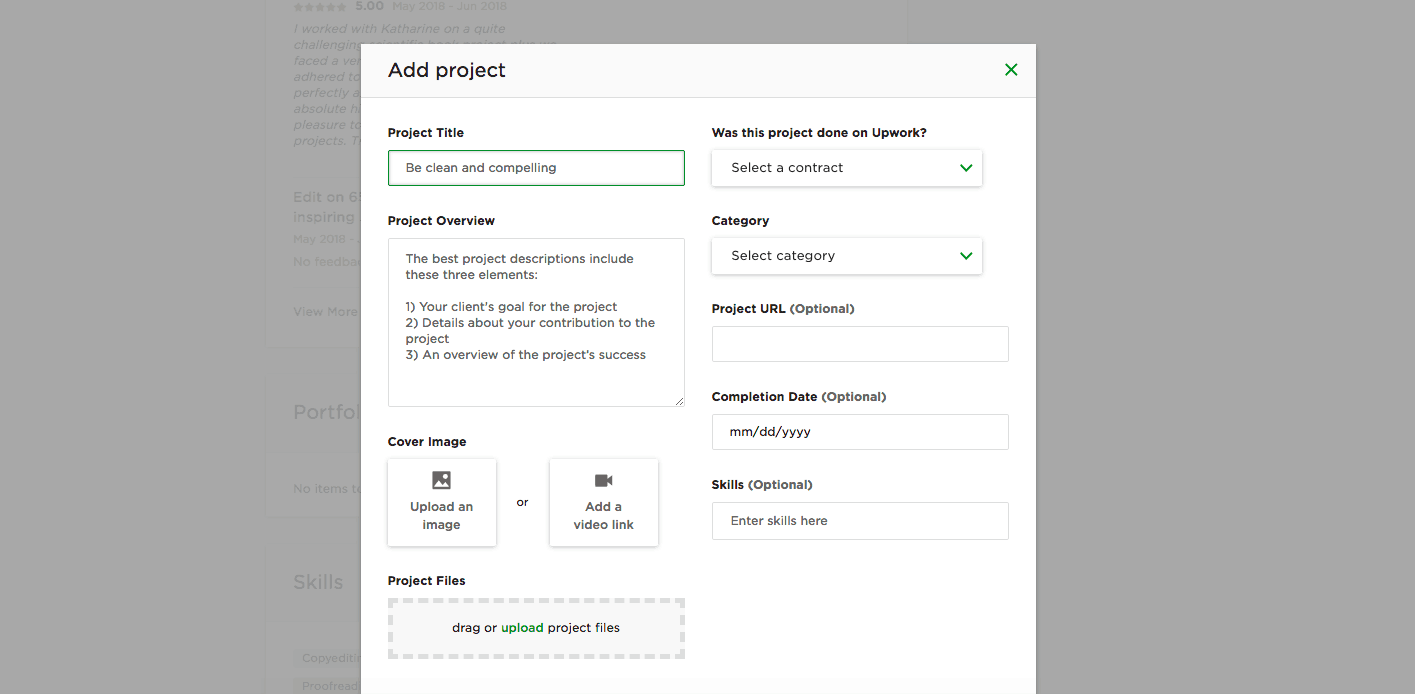 Beyond this, clients can visit a website when it's convenient for them, without needing to track you down for a look at or copy of your portfolio. And, as its purpose is to get you work, anything that makes clients' lives easier is a must.
Cross-promote your portfolio on your social media platforms
by including the link in your bio. You can easily
build your own portfolio website
(or even just
display your resume
) with a user-friendly website builder like
Wix
. Your focus needs to be on building your portfolio, and several Wix features make this easy:
Drag-and-drop makes design easy
The ADI (Artificial Design Intelligence) builder will design a whole website if you want it to
The App Market makes it easy to add functionality to the site
SEO features will help your site get found
It's so easy to create a multi-faceted website on Wix that features more than just your portfolio if you want. Plus, it has
excellent templates for all types of portfolios
. For more information, read some tips on getting started or check out our
expert review
.
To Share or Not to Share?
You now understand the process of creating a portfolio and its proper placement. Let's address the final question: when should you share it? The digital era has significantly alleviated the awkwardness of this dilemma. At the end of the day, it's best not to come on too strong, but it's likely that you will find a natural opportunity to bring up your portfolio, either during the application or interview process.
If you see an opening to mention your work, do so, and then let them know how they can access your portfolio
. Are you ready to begin? If your answer is no, what's holding you back? A nine to five job is no longer an excuse. Neither is
a crowded to-do list
. We've given you all the tools you need to begin. Now, take a deep breath and get to work.