best freelance websites
can help you find talent at a much lower rate than developers that work for an organization and, depending on the company, it is often unnecessary to have a full-time web developer employed in-house. The umbrella term "web development" can refer to a wide range of different projects, each of which will have its own set of required skills.
When you hire a freelance web developer, you can ensure that they have the specific background and expertise needed for the job on hand.
What a Freelance Web Developer Brings to the Table
While it's possible to be a web developer who simply knows HTML, if you're looking for a beautifully designed and interactive website, you'll probably want to hire someone who is proficient in a variety of web development skills and programming languages. Some of the primary skills that you should look for in a web developer include:
HTML5: The fifth and the most current iteration of the HTML markup language; HTML5 is primarily used in the structuring and presenting of content across the web
PHP: Used in web development as a server-side scripting language, PHP can also be used as a general-purpose programming language
WordPress: This is one of the most popular content management systems (CMS) used by web developers, based upon the PHP programming language
Cascading Style Sheets (CSS): A style sheet language that's used in the presentation of something that's drafted in a markup language such as HTML
JavaScript: Along with HTML and CSS, JavaScript (JS) is one of the three primary technologies that make up the world wide web, and is known as a high-level, interpreted programming language
Any quality web developer will be familiar with the three core technologies of the web: CSS, HTML, and JavaScript.
Some other common skills that you may find on a web developer's resume include jQuery, Bootstrap, MySQL, Node.js, Python, Ruby on Rails, and Mongo. Keep in mind that,
depending on the requirements of your project, the skills necessary could vary greatly.
The right web developer for you might not need to know PHP, but it's essential that they have a lot of experience working with CSS. It helps to have a good sense of what your project will entail, so that you can better direct your freelancer search.
1. Fiverr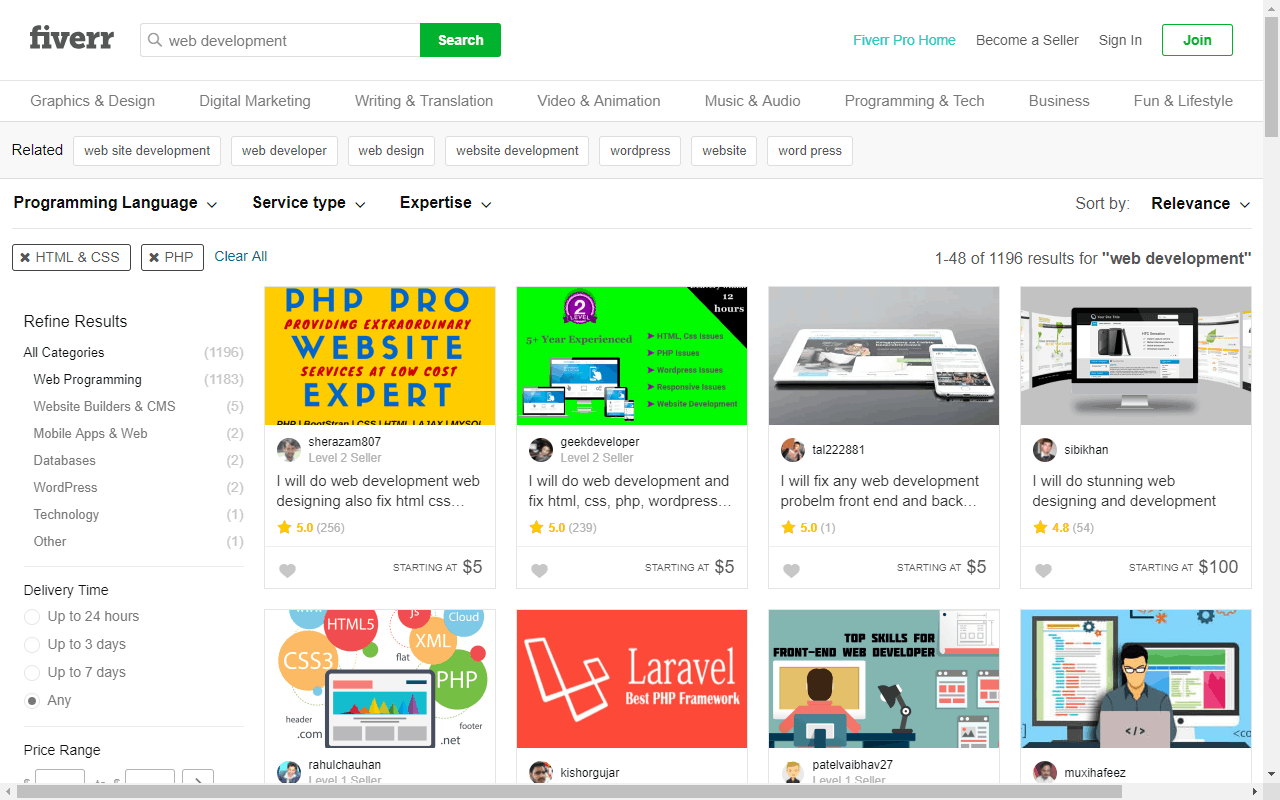 Along with Upwork,
Fiverr
is one of the largest and best-known freelancer platforms out there today, where you can find thousands of individuals who specialize in web development. By indicating the types of programming languages (e.g., PHP, HTML & CSS, JavaScript, etc.), service types (e.g., website creation, database integration, etc.), and areas of expertise (e.g., cross browser compatibility, W3C validation, etc.) you are looking for, you can quickly home in on a qualified individual who would be a great fit for your project. This is particularly important because
with Fiverr, freelancers post their offerings, which clients can browse and request, as opposed to posting a job and sifting through applications
.
Most reviewers agree
that Fiverr has come a long way since it was simply a website where people went in order to get cheap logos designed and blog posts written, and has grown into a freelance platform that hosts some truly impressive work from dedicated professionals.
2. Upwork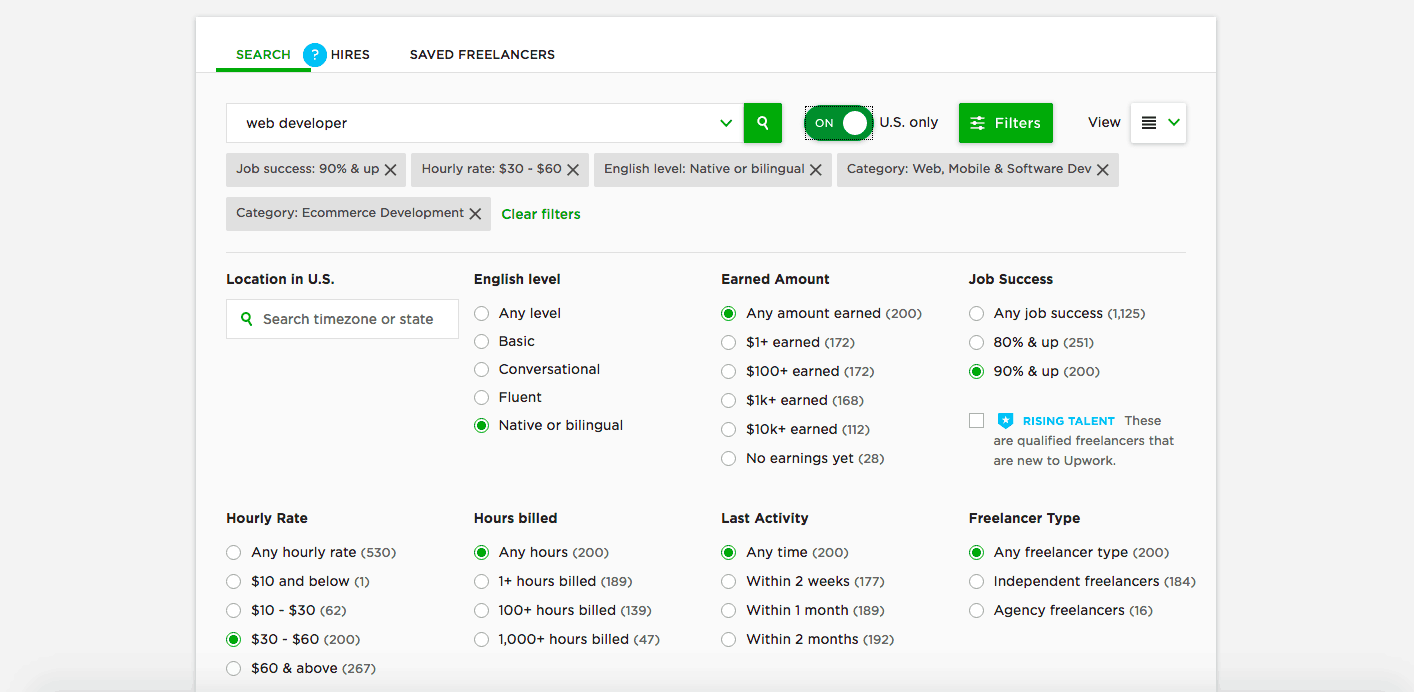 With 12 million registered freelancers, and more than five million clients,
Upwork
has pretty much become a household name for anyone on either side of the freelancing business. Each year, up to three million jobs are posted on Upwork, which amounts to an estimated $1 billion that's up for grabs. This makes Upwork the largest freelance platform, with Fiverr being a close second. Therefore, it would stand to reason that it's also one of the best places to locate a web developer. There are more than 222,000 web developers registered on Upwork. This probably sounds a little overwhelming, but
thanks to the platform's in-depth filtering system, you can quickly whittle this number down to something far less intimidating
. For example, if you are looking for a native English speaker, based in the United States, who has a 90% job satisfaction score or higher, charges between $30 and $60 an hour, and specializes in e-commerce development, you are now looking at around 200 freelancers. You have the ability to reach out to individuals directly and ask them to apply for your project, or you can post a job to the masses and watch the proposals roll in.
3. Truelancer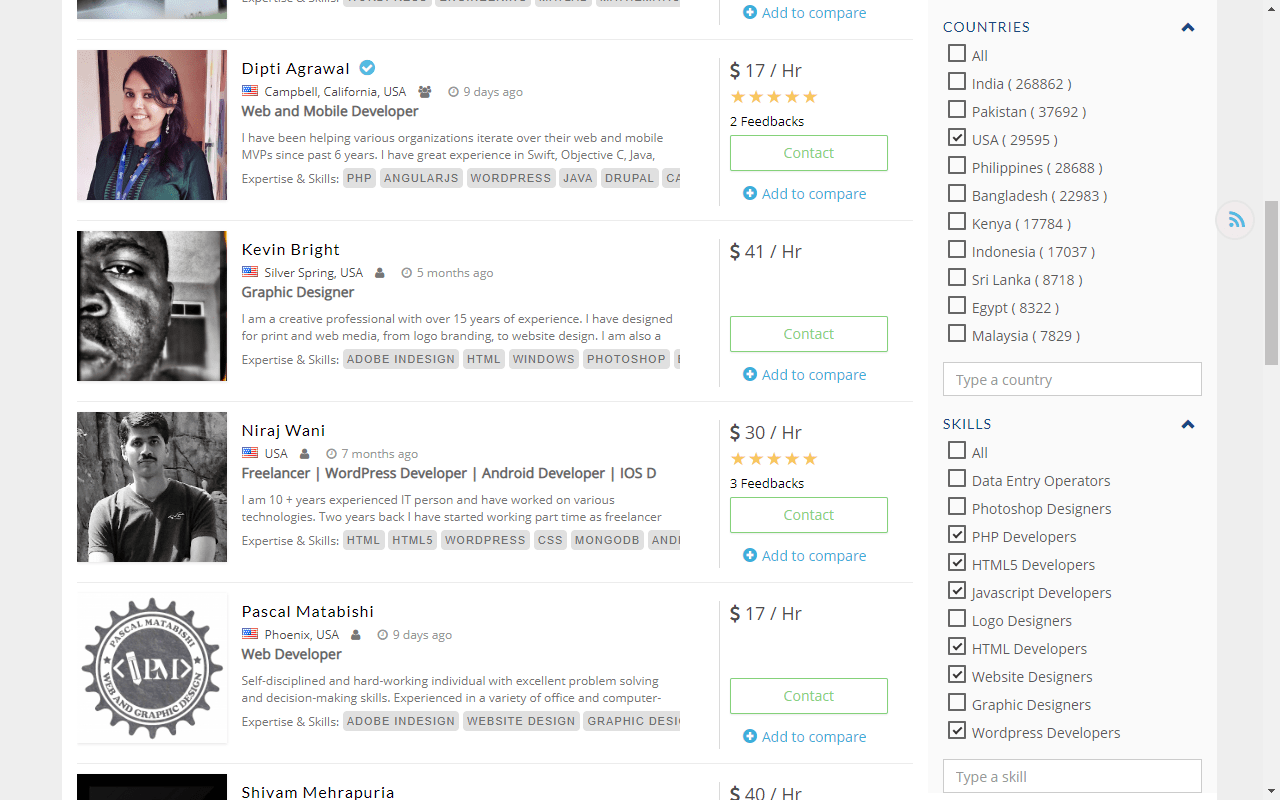 If you're looking for web development done at a more-than-reasonable price, Truelancer is another good option to consider. With tens of thousands of people located all around the globe—predominantly in Asia—with expertise in a variety of programming languages, Truelancer is an impressive freelancing platform for web development. To give you a better sense of the available range: web developers with expertise in PHP, HTML5, JavaScript, and WordPress charge anywhere from $2 an hour to more than $100 an hour (depending on experience and location). While you may need to be more discerning in order to ensure that the freelancer has the skills and background that you are looking for,
Truelancer can be an amazing resource for small businesses, or anyone who's looking for web development done within a tight budget
.
4. Freelancer.com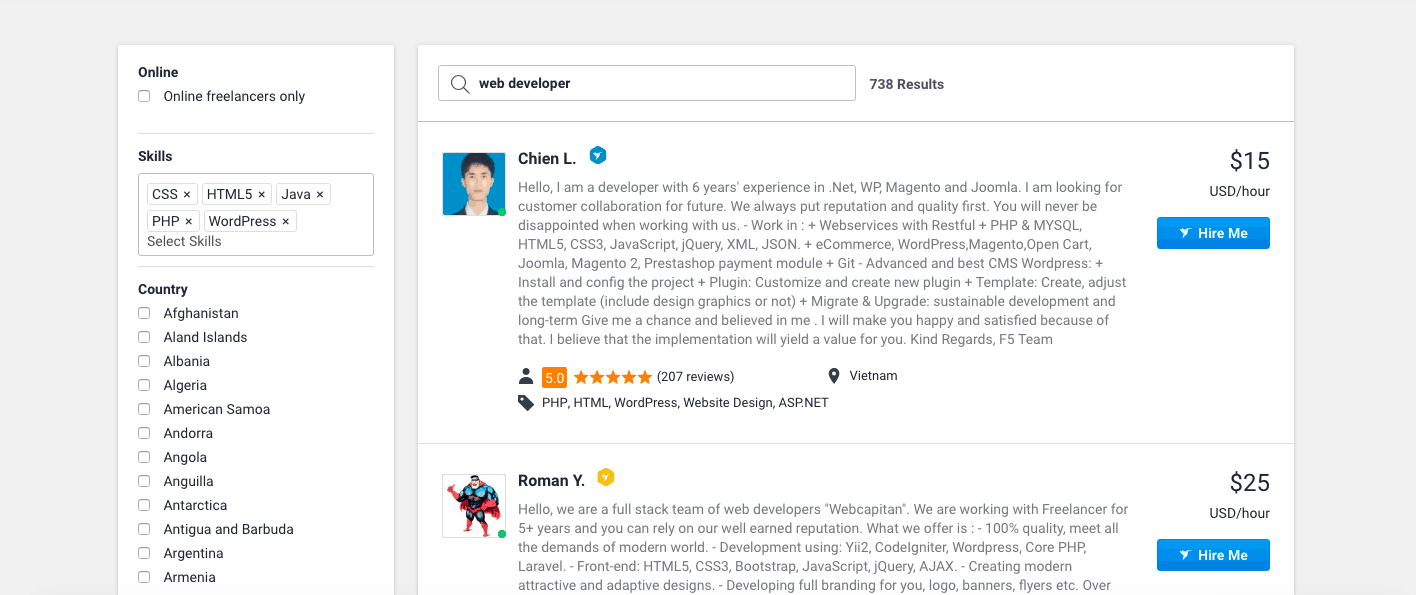 While
Freelancer.com
does not have the filtering power of some of the others on this list, by adding in a number of desired skills (e.g., HTML5, CSS, JavaScript, PHP, etc.)
you can quickly go from nearly 100,000 web developers to a much more manageable number.
One of the unique features of the platform is that you are able to just look through the profiles of freelancers who are currently online, which is
great for projects that needed to be started yesterday, or which may require extensive vetting or explanation
. While the high number of freelancers registered on the platform means that finding the right person might take a bit of time and effort, it also helps increase the competition, and can effectively drive down the prices. So, with some perseverance, Freelancer.com can yield some amazing deals on some highly qualified web developers. There's a reason it gets such
positive reviews
.
5. FreeeUp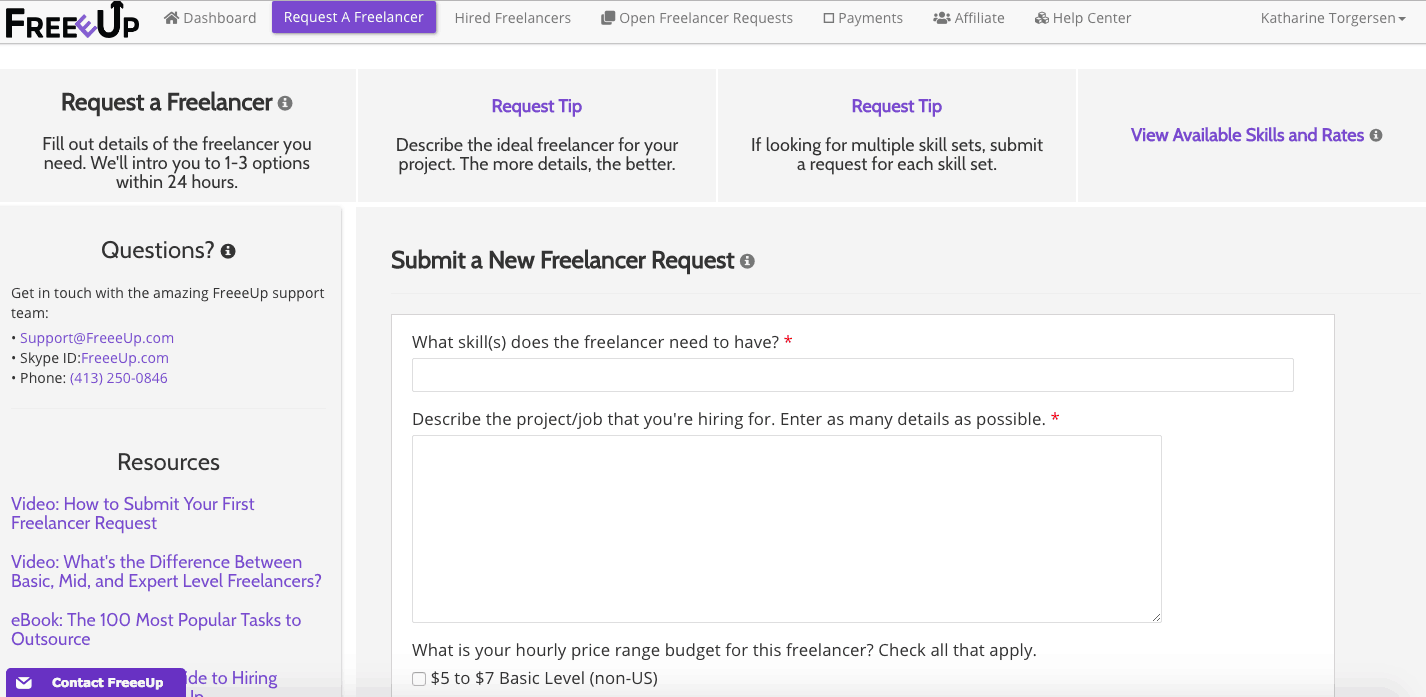 For those that do not have the time to properly vet their freelancers, but have the budget for the highest quality, FreeeUp could be the ideal choice.
Instead of posting a job directly, you answer a series of questions and the platform does all the heavy lifting when it comes to recruiting, vetting, and interviewing candidates.
Types of questions include things like, "How long do you need the freelancer for?" and "What types of hours do you require the freelancer to work?" FreeeUp guarantees that all of their registered freelancers are in the top 1% of their field. This means that it's much more difficult for freelancers to be accepted on the platform, which increases the quality, but, in turn, can come with a hefty price tag.
For those that want high-quality freelancers, but don't have the time to look through thousands of applications and profiles, FreeeUp could be a great option.
Choosing the Right Platform
Now that you are aware of the top five spots to locate a web developer, it's time to navigate through the countless array of freelancers available. Understandably, this process might appear as an extremely challenging undertaking due to obvious reasons. It's best to focus on a single platform and resolve to find your freelancer there. If you are unable to dedicate a ton of time to the hiring process, give FreeeUp or a shot, as they do a great job of matching you with a suitable freelancer.
Freelancer.com
is a good choice for projects that need to be started right away, as you can speak directly with freelancers who are currently online. Truelancer might be the best bet for those looking to stick within a tight budget. If your project is very specific and you have time to sift through applications to find the right individual, consider posting an open job on
Upwork
. For projects that have more room for interpretation, you may prefer to browse the different offerings detailed by freelancers on
Fiverr
. Regardless of your choice, in the end, all of these platforms have some amazing freelancers that can help you develop a beautiful website—it's just up to you to find them!