Are you feeling overwhelmed by the amount of work you need to do for your business? Do your task numbers appear to grow in size on a daily basis?
Does it seem like there aren't enough hours in the day to complete everything you need to do?
If you answered "yes" to these questions, it might be time to think about outsourcing.
It might be time to hire a virtual assistant.
A virtual assistant (VA) refers to an employee, independent contractor, or freelancer, who can aid you with a range of administrative tasks—all done remotely. From scheduling to communication, data entry to transcription, the sky's the limit when it comes to the variety of services a VA can offer. Hiring help when your business is still getting off the ground might seem like an unnecessary cost, but by having someone stay on top of and assist you with all of your day-to-day work, you have more time to win and service clients. In fact, VA services can save businesses around
40% in expenses
. So how do you hire a VA? Some of the
best freelance websites
offer a number of different ways to find the perfect match for your company. Depending on your timeline, budget, and requirements, you may just meet your newest team member on one of the following platforms.
#1: Fiverr
Fiverr
is a freelance marketplace that's continuing to increase in popularity for freelancers and VAs alike. Not only is there a wealth of candidates to choose from, but
their fees start at just $5! 
It's easy to see why Fiverr gets
excellent reviews
. When you search "virtual assistant" via Fiverr, you're immediately met with the profiles of nearly 5,700 VAs from across the globe. Luckily,
you can narrow down the options by inputting a particular price range, location, or delivery time
you are looking to work within. As with
Freelancer.com
, you can also search for individuals that are currently online; which is
particularly helpful if you have a time-sensitive project
and are looking for someone to start right away.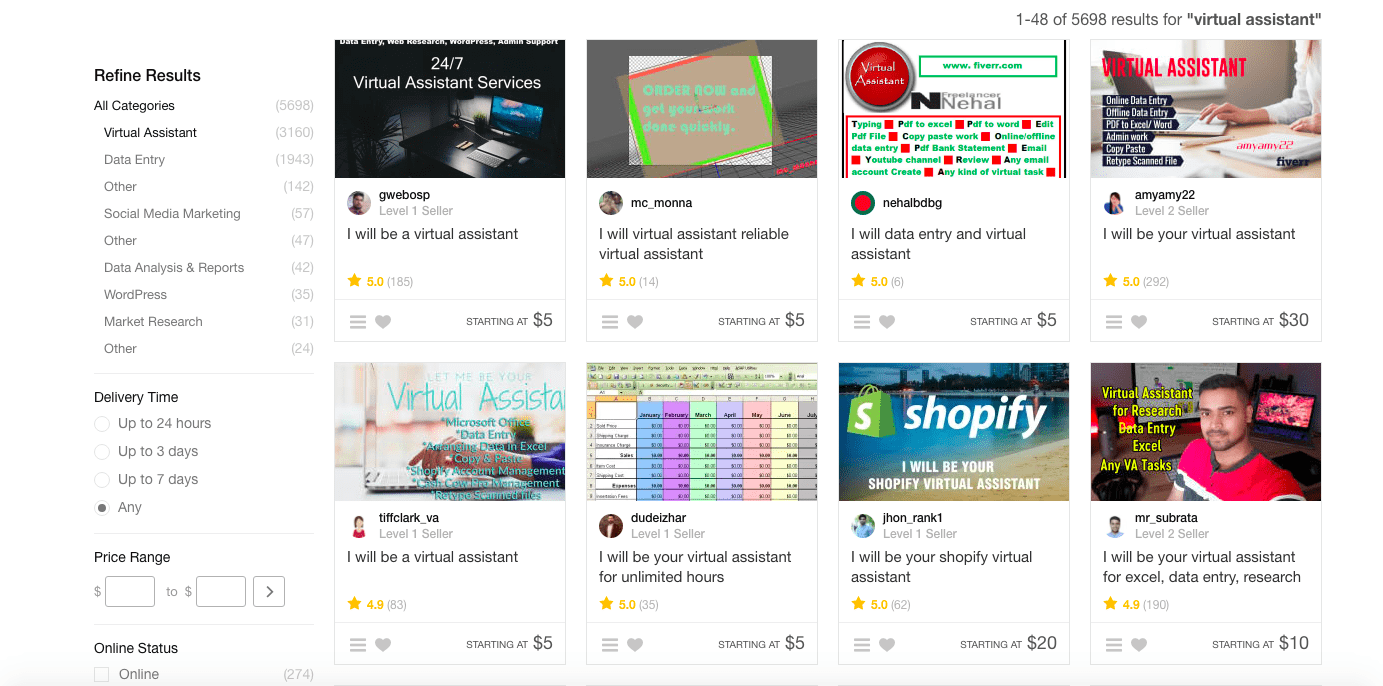 There's one big thing that makes Fiverr different: Instead of posting an open job and then reviewing applications, freelancers list different service packages, which clients are able to browse and purchase. (You are also able to post a request to the seller community, but this is not the typical process.) For an individual or company that knows they need to hire an assistant, but are either flexible on parameters, or are looking for some direction on the job description, this interface can be a big advantage. It also allows you to see how each individual chooses to promote themselves, as opposed to getting a dozen near-identical proposals to a job listing. My advice? If you see a profile of someone who you think could be a good fit, don't hesitate to reach out and ask about their experience; freelancers on Fiverr are used to adjusting their offerings to meet the needs of the specific project and client.
#2: Freelancer.com
Freelancer.com
is one of the largest freelance platforms, with about 50,000 VAs listed. To use it, all you have to do is sign up for an account and post your job advertisement. Then sit back and watch the proposals roll in! If you'd prefer to be more proactive, you can type "virtual assistant" into the search bar on the homepage and starting browsing profiles immediately. I did this and instantly got more than 350 profiles, all of whom were currently online and available to discuss my needs and requirements. You can further narrow your search by location, keywords, price range ($2-$80/hour), or rating.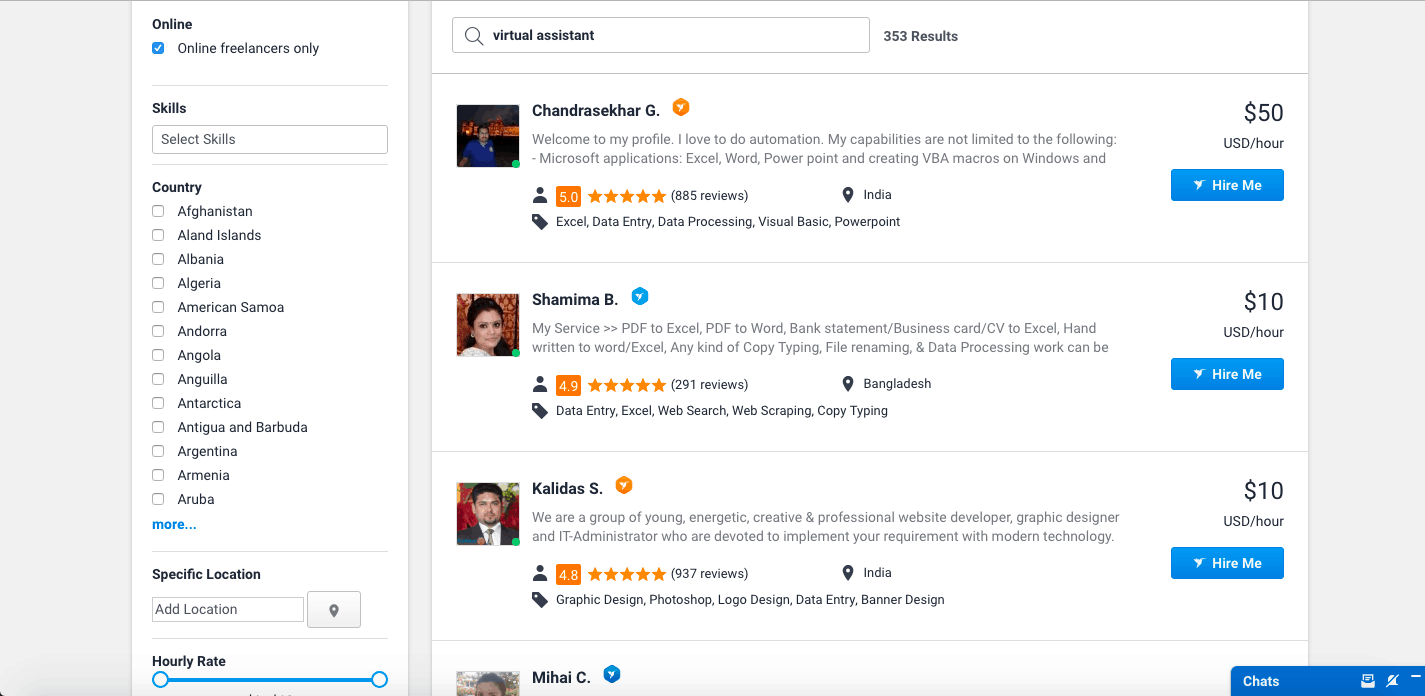 That's the beauty of hiring a VA from a freelance website—you can find practically anyone that you're looking for, whether they're a specialist or a generalist. On Freelancer.com,
a user favorite
, all types of VAs are available, from social media managers to fully-fledged administrators. Once you've found the perfect virtual assistant for you, you can either:
Contact them through their profile if you've sought them out, or
Award them the job if you've posted an ad
After a contract is accepted, your new assistant can get to work! Payment-wise, you're totally in control. You can use Freelancer.com's milestone system to release amounts based on a set schedule, or you can pay for the entire project upon completion.
#3: Upwork
Another globally-recognized freelance platform,
Upwork
has a talent pool of over 12,000 virtual assistants just waiting to lighten your workload. This can feel intimidating—you need an assistant just to find your assistant! But thankfully,
Upwork has an advanced filtering system that can help you effectively narrow down potential candidates to the ones who will best suit your needs
. That's one of the reasons it gets such
positive reviews
. For example, by indicating that I was looking for a virtual assistant who speaks native English, lives in the U.S., has a Job Success Score of 90% or higher, charges between $10 and $30 per hour, and has experience with data entry, all of a sudden my options go from the thousands to less than 400.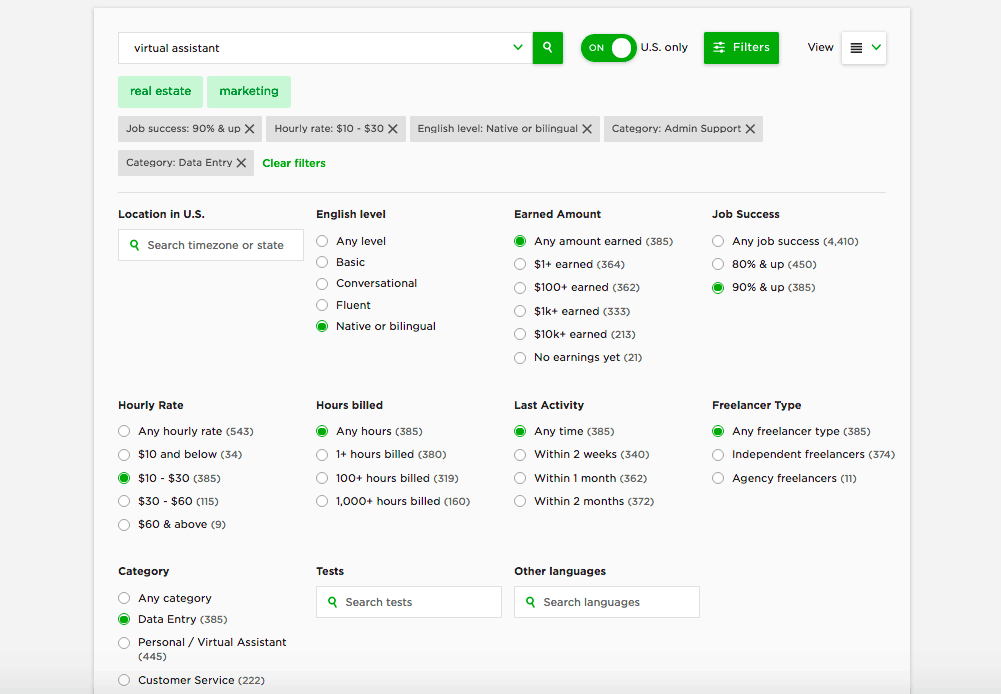 At this point, I have the
ability to reach out to freelancers directly
via Upwork and ask them to apply for the open position,
or I can post a job and create a shortlist
based upon the proposals I receive.
#4: FreeeUp
Slightly unique from the previous examples, which largely puts you in direct contact with the freelance community, FreeeUp plays the matchmaker. By filling out a "New Freelancer Request" form, clients are asked a number of different questions to
help the platform best match you with a freelancer
who fulfills your experience, cost, and availability requirements. After being introduced to the platform's selections, you are able to interview the freelancers and approve them before the contract begins. Due to this "behind the curtain" process, there is no way to know exactly how many virtual assistants are available on the platform. However, FreeeUp guarantees that each freelancer has gone through the platform's own rigorous approval process and is
in the top 1% of his or her respective industry
.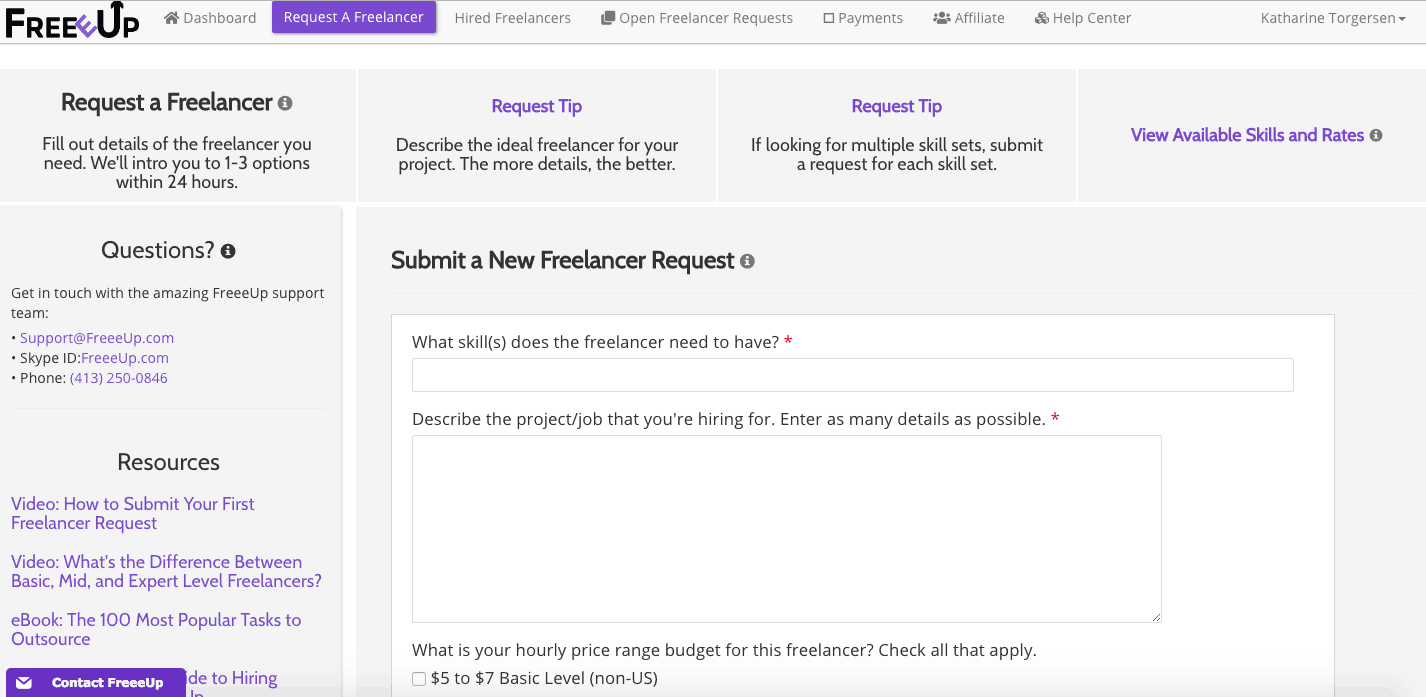 In the
eCommerce
industry? I have some good news for you—FreeeUp specializes in this area. They also state
Business Operations, Digital Marketing, and Web Development
as other key areas they support. If you are too busy to write a thorough job description, or sift through a number of proposals and screen candidates, FreeeUp could be a great option. The platform handles all of the busy work—which is likely why you are looking to hire a VA in the first place!
#5: Zirtual
Zirtual might be the youngest website on this list, but they've been very well received by clients thus far. Classed as an agency for virtual assistants who live in the United States,
Zirtual only hires applicants in the top 2% who have been college-educated.
Like FreeeUp, Zirtual matches you with the VAs who are the most appropriate based on their backgrounds, skills, and your requirements.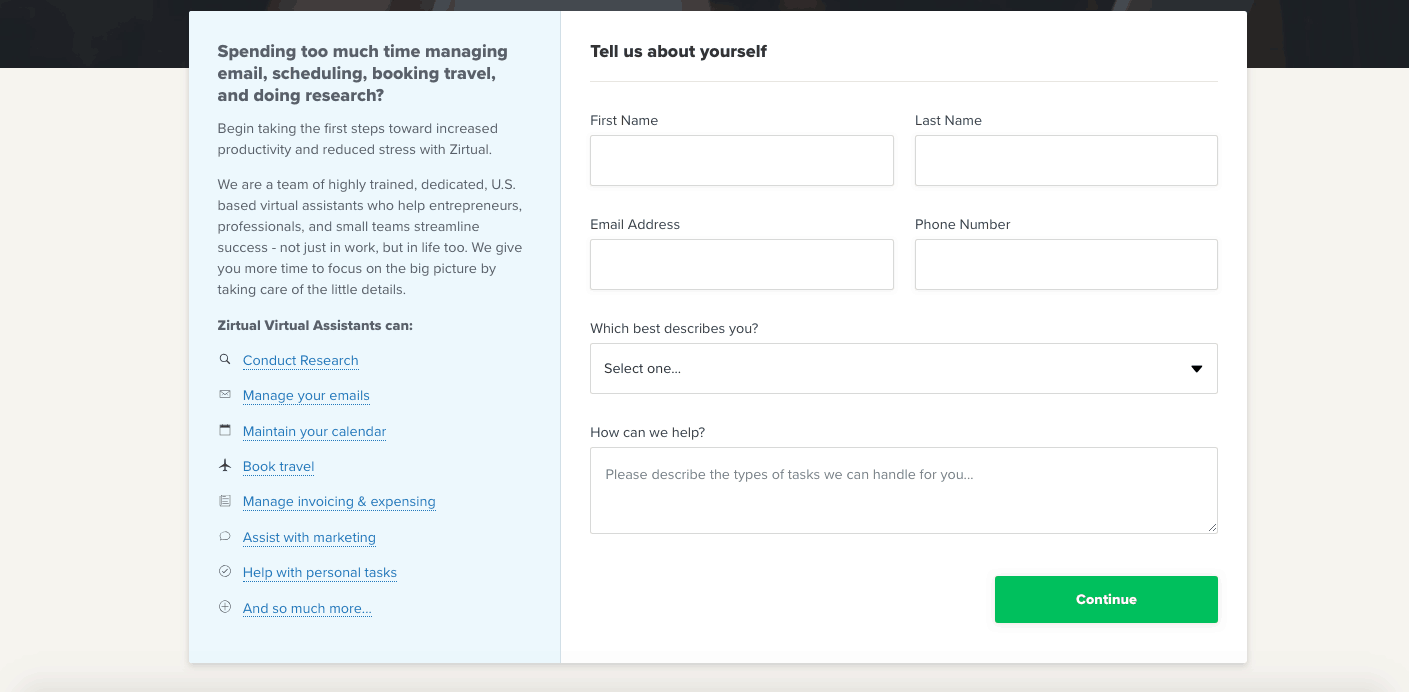 Unlike others on this list, there is a cost to use the platform, and it's not cheap. At the entry level, you'll get 12 hours of task work and one virtual assistant; there are other plans available if you need additional support. While this is undoubtedly one of the more expensive options, it could mean a better fit from the start and be worth the additional cost. Given Zirtual's
abundance of excellent client reviews
, there are many businesses out there that seem to think so.
Sourcing the Right VA for You
If you find yourself swamped with work and have the means to delegate diverse administrative tasks, opting to employ a virtual assistant becomes an obvious choice. Invest some time in researching the array of freelance platforms available, aligning them with your budget and needs. It won't take much time before you secure the services of a proficient and excellent VA who can effectively share your workload!
---
Sources
TINYpulse statistic: https://cdn2.hubspot.net/hubfs/443262/pdf/TINYpulse_What_Leaders_Need_to_Know_About_Remote_Workers.pdf
Get Friday statistic: https://www.getfriday.com/blog/5-virtual-assistance-trends-indicating-a-brighter-2018/
Intuit statistic: http://http-download.intuit.com/http.intuit/CMO/intuit/futureofsmallbusiness/intuit_2020_report.pdf
The Week statistics: http://theweek.com/articles/732973/rise-virtual-assistant
The Penny Hoarder mention: https://www.thepennyhoarder.com/make-money/side-gigs/insanely-organized-these-8-websites-will-help-you-find-flexible-work-as-a-virtual-assistant/