The next time you feel completely overwhelmed by the task of communicating with all your customers and leads, remember the word "autoresponder." It lives in the glossary of marketing terms as a catchall to describe any email pre-scheduled to automatically send when someone takes a specific action to trigger it (a "trigger event"). But in reality, it's a word that describes a time-saving, money-saving, and ROI-producing email marketing technique, and there's no excuse not to use it.
The reason for that is simple. Research from Gleanster shows that as much as 50% of qualified leads to your website — people who are in your target audience and are interested in your product —  aren't ready to actually buy something when they land there. Autoresponders let you continue to interact with these visitors until they do, and after they do — and at scale.
How Does an Autoresponder Work?
Autoresponders work by scheduling specific email content to be sent whenever a specific trigger event occurs.
The most basic and common example is a welcome message. This type of autoresponder sends a pre-drafted email to any new email address that subscribes to your list. This is a standard feature you'll find in all leading email marketing platforms. For example, MailChimp considers this functionality to be so essential that it even offers it as part of its "Forever Free" plan. Check out our MailChimp expert review  to learn more about all the features the plan offers.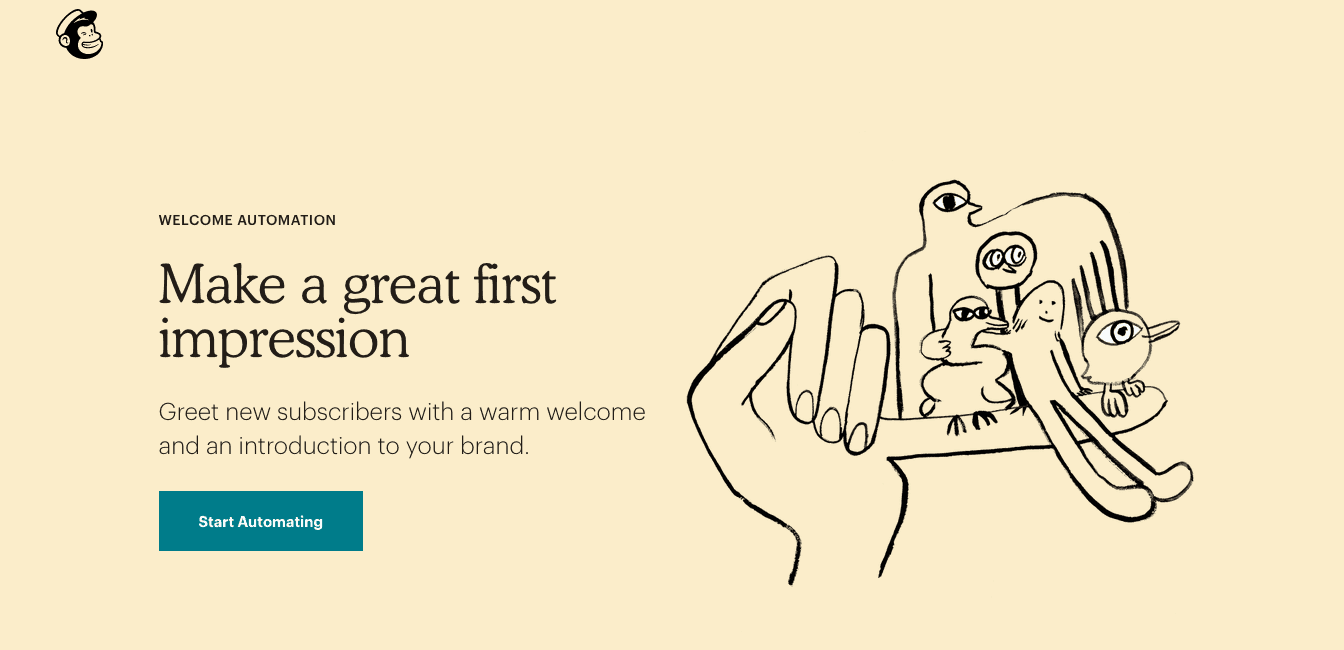 The content of your welcome autoresponder is up to you, and so a best practice is to think about how you want the subscriber to continue interacting with your brand. Then include a specific call-to-action to do it.
Something else to remember is that autoresponders always work in tandem with other marketing tactics. Another best practice is to tie them to your subscriber list segmentation strategy by creating multiple, customer-specific autoresponders for a specific trigger event. For example, e-commerce retailers can send product-specific autoresponder welcome emails to subscribers converting from different product webpages. Similarly, individuals running online courses can create specific responders to subscribers who request help with a specific problem.
When Should You Use an Autoresponder?
Autoresponders are used whenever delivering relevant messaging to customers and leads increases the likelihood that they'll convert either now or in the future. This happens many times during the customer lifecycle after a lead subscribes to your list.
When subscribers interact with you online
Your business is top of mind with your subscribers when they interact with any of your content assets, and so it's a great time to reach out to them and offer additional information, product discounts, or to fill out a survey. Use an autoresponder to follow up with those messages after they visit your website, go to your Facebook page (which you can track using the Facebook pixel), or interact with any other of your social channels.
When a customer is inactive
Autoresponders can be sent to subscribers who have not interacted with your brand over a certain period of time. You can choose to target subscribers who don't open your emails, or those who haven't interacted with you at all. A best practice is to indicate in the email subject line that it's the last email you'll be sending.
In addition to potentially reengaging subscribers, these autoresponders are also a good way to increase your overall email deliverability rate. Unopened emails harm deliverability, and removing a subscriber who's uninterested in interacting with you will increase your open rates.
After a customer makes a purchase
Sending a receipt or other confirmation email is a standard autoresponder for e-commerce merchants. But customers who make a purchase prove their willingness to spend money. Additional autoresponders informing them about other products and even offering them discounts to continue shopping can be effective at inducing repurchases.
When a customer abandons a cart
The hours and days after customers abandon a shopping cart are crucial to convincing them to come back and complete their purchase. Immediately after the abandonment, send them an autoresponder email asking whether they have any questions or need help. Later, follow up and remind them that their purchase is waiting to be completed. And finally, you can try to encourage them to complete the order by offering them special one-time-only discounts for doing so.
When a major industry event occurs
Pay attention to how your subscribers interact with your online presence during events that generate major interest from your community or audience. Autoresponders can be used to interact during a time when subscribers are likely to be responsive, but it also lets you position yourself as an industry authority that keeps abreast of what's important to you audience. For example, e-commerce merchants can send out special offers when a subscriber interacts with products tied to a specific holiday.
Using an Autoresponder — The Good and the Not-So-Good
Autoresponders offer a number of advantages as an email marketing tactic. But they're not effortless, and can be harmful if you don't consistently maintain them. There are positives and negatives to keep in mind when using autoresponders if you want to get the most ROI.
PROs of Using an Autoresponder
Timing
Setting autoresponders up for trigger events and fixed dates lets you deliver relevant messaging at relevant times. Other forms of email communication (e.g., newsletters, product updates) are sent out on your schedule, not your subscribers'.
This makes autoresponders a unique way to send communications when your customers are engaged. Because the inbox is such a personal space, autoresponders are a unique tool that lets a marketer grab a subscriber's attention just at the moment he or she is most likely to convert.
Scale
The nature of autoresponders as a response to subscriber trigger events makes them a unique way to personalize mass communications. Unlike email blasts of static content (and no, personalized name fields don't remove that classification), autoresponders by definition are personal because they depend on your subscriber's actions.
You can never follow the journey of every subscriber, lead, and customer though your sales pipelines and deliver personalized content. But you can set up a series of autoresponders based on your knowledge of your funnel, and let every single one of your subscribers trigger it — no matter how large your list gets.
Data and Optimization
Even if you try to control the attributes of subscribers who receive an email by filtering your list, you can never really know what stage of the pipeline they're in. That makes it impossible for you to determine whether their interactions with your messages are due to your content or some other factor affecting their buying cycle.
By contrast, autoresponders are sent only when a uniform trigger action occurs. This anchors them to a fixed event in the pipeline, isolating the content of your email as a performance variable and allowing you to run empirically valid tests to improve your copy.
CONs of Using an Autoresponder
Risk of Losing Credibility
There's a tendency to want to "set and forget" autoresponders. But while the thought of setting an email to be sent out every time a subscriber takes a certain action is tempting, the contents of autoresponder emails are almost never relevant forever. If you don't update the content, you risk sending outdated information that could do serious harm to your reputation.
SMB e-commerce merchants are especially vulnerable to this. Product and pricing autoresponders must be constantly updated to reflect new product features, pricing, and discounts. Nothing destroys trust like a subscriber receiving an offer that's expired, or clicking through to a product webpage that's no longer available.
A good best practice to avoid this is to use an email software provider like AWeber that lets you visualize when your autoresponders are sent out so you don't lose track of them. Check out our AWeber expert review  to learn more about its visual automation editor.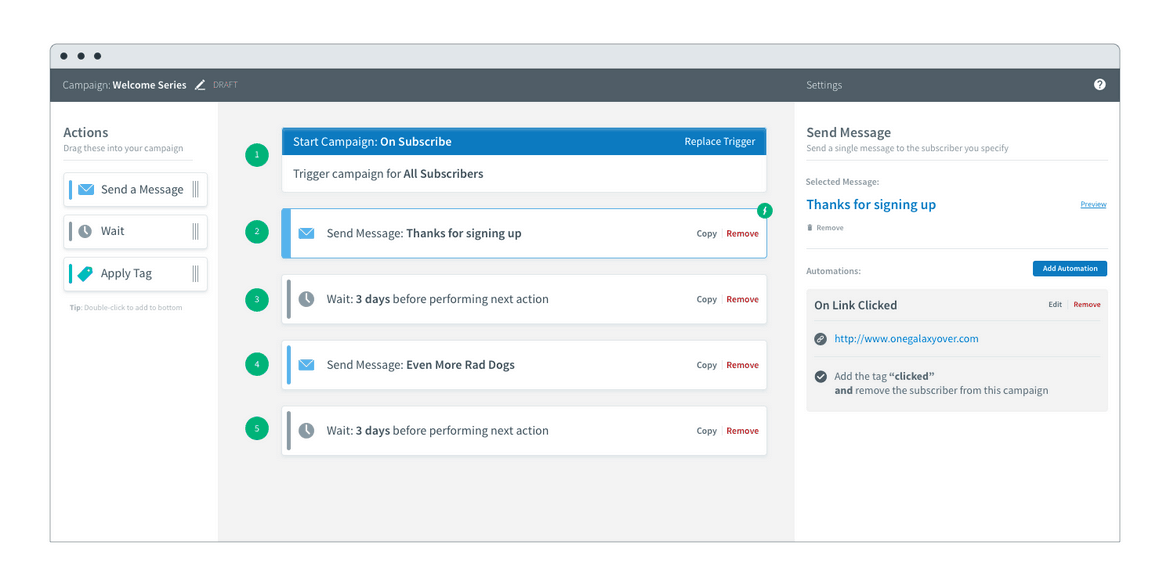 Appearing Spammy
The ease of autoresponders makes it tempting to send out emails that are too similar in content, or to send emails too frequently. But subscribers will quickly lose patience with you if they feel you're no longer providing them value. Don't let the ability to automate emails lead you to forget basic email marketing best practices. At all costs, avoid being spammy.
You should pay even more attention to make sure your autoresponders are unique. Autoresponders for different products should not be the same copy with a different product name filled in. Autoresponders for a big industry event on a certain month should be completely redesigned from the one sent out for a different big industry event on a different month.
Need for Technical Knowledge
Autoresponders are as complicated as you make them. Sending out a welcome email is simple, but the technical work required to send out a relevant product offer to a defined persona is more complicated.
A lack of technical knowledge risks your creating autoresponders that aren't as effective as they could be. Fortunately, modern email marketing software helps make it as easy as possible. For example, GetResponse is an email software platform that offers you pre-installed filters to help make sure you can properly segment your audience. Check out our GetResponse expert review  to learn more about their audience segmentation capabilities.
Remember: Autoresponders Are Part of a Broader Email Strategy
No matter how powerful they may be, autoresponders aren't an email marketing tactic you can use in isolation. Even if you deliver relevant messages when a subscriber is primed to convert, your email won't generate any ROI if it isn't opened.
A best practice to get the most out of your autoresponders is to spend time learning how to write email subject lines that get your subscribers to open them. A platform like Constant Contact lets you easily A/B-test your subject lines to find the highest performing copy. Check out our Constant Contact expert review  to learn more about its testing capabilities.
If you consider autoresponders part of an active, dynamic email strategy, you'll be well on your way to consistently delivering the right value at the right time to every one of your subscribers.
---
Sources
https ://www.autopilothq.com/blog/marketing-automation-statistics/
https ://mailchimp.com/features/marketing-automation/
https ://www.copyblogger.com/email-autoresponders/
https ://gracefulresources.com/what-is-an-autoresponder/
https ://www.rocketresponder.com/blog/what-is-an-autoresponder-and-how-does-it-work/
https ://technologyadvice.com/blog/marketing/5-lead-nurturing-best-practices-and-worst-practices/