While every major email marketing tool has a Shopify integration, some are better than others.
Like Shopify itself, you want an email marketing integration that's easy to install, and intuitive to use. It should have time-saving features like email templates and automation so you can focus on running your store.
Never used integrations before? Don't do it yourself. We love Shopify and its easy ability to integrate with some of our favorite email marketing platforms, but if it's your first time, there's a chance you could make a costly mistake.
Hire a professional for as little as $5 and have someone help you get started!
While you probably don't have time to test all your potential options, I do. Over the past few years,
I've tried over 20 email marketing tools that have Shopify integrations, and I'll share the very best options for email marketing for Shopify here.
I'll cover both the strengths and weaknesses of each integration so that you can pick the one with the strengths most important for your business.
Short on time? Here are our top picks for Shopify email marketing integrations:
What We Look For in the Best Shopify Email Marketing Integrations
Ease of integration. Connecting your email marketing tool with your Shopify website should be intuitive. There should also be documentation outlining the process.
Simplicity. Using your email marketing tool shouldn't take away too much time from running your business.
Basic automation. Every tool on this list lets you create an autoresponder, at the very least. This lets you set up an email sequence once for your visitors or customers, and not have to spend a lot of time maintaining it.
E-commerce features. All the tools here have at least some features geared toward e-commerce stores, whether it's to make your email marketing more effective, or to save you time.
Professional-looking email templates. It's important that the email templates available have a sleek, contemporary design that closely matches the design of your Shopify website.
1. GetResponse – Advanced Automation With E-Commerce Features
If you're an experienced email marketer and are looking to create some advanced email workflows,
GetResponse
is a good option that offers a
30-day free trial
. While connecting the integration only requires you to type in the name of your Shopify store, it's hidden away. In GetResponse, integrations aren't a clear menu option. Instead, they're hidden as a sub-menu option under your account settings.
There's also no documentation that outlines the installation process, or how to use it after. So while GetResponse is a great email marketing platform, it needs to improve its documentation on integrations.
Features
Two integrations to choose from. Similar to AWeber, there's a free simplified integration that gives you the basic functionality to add customers to email lists through Shopify. There's also an app powered by Combidesk with a small monthly fee that lets you sync data between the two tools and more.

Hundreds of email templates. There's no search function, but templates are divided into industry categories (e.g., fitness, restaurants, retail, e-commerce, etc.). There are 20 templates for e-commerce emails, although only about half of those have crisp, clean designs.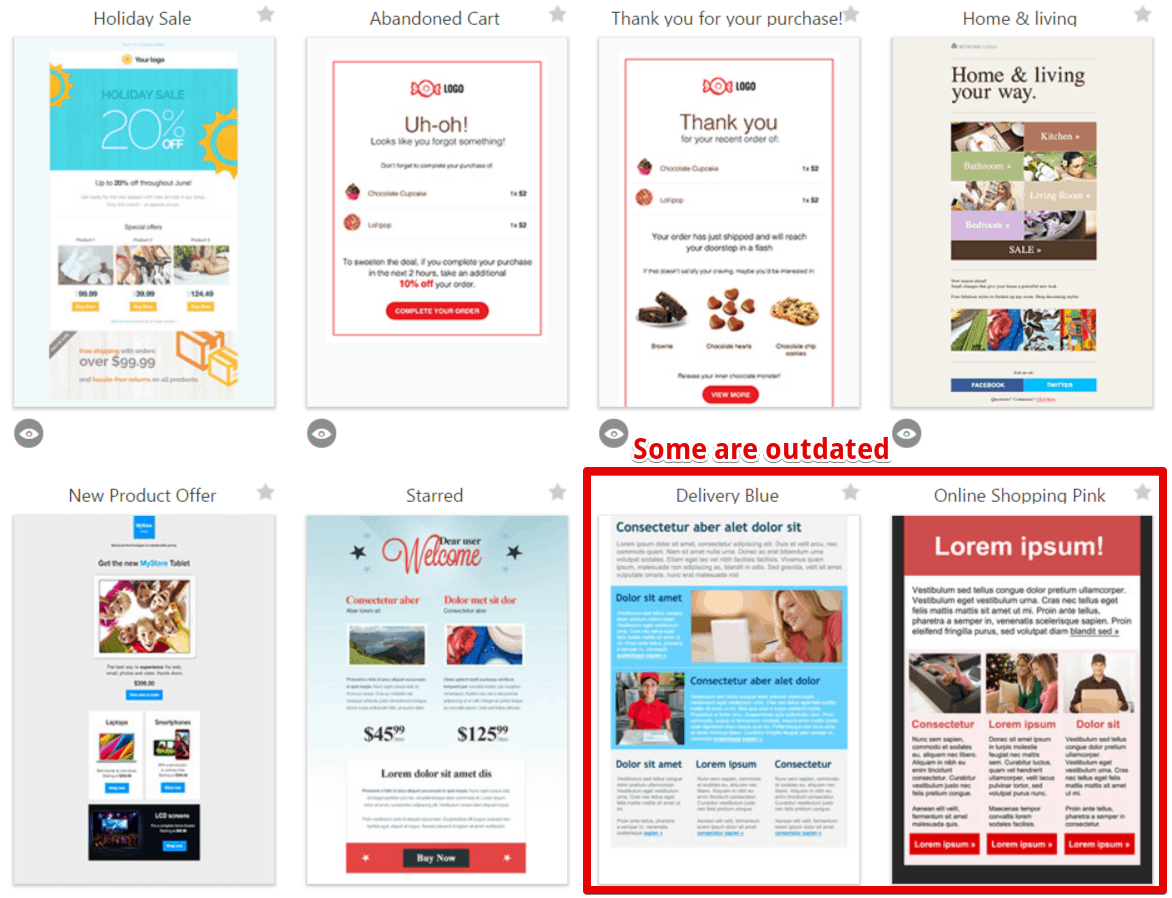 Powerful visual workflow builder. This is what I love most about GetResponse. The workflow builder is clean and user-friendly, and lets you use e-commerce triggers like purchases and abandoned carts to send specific emails.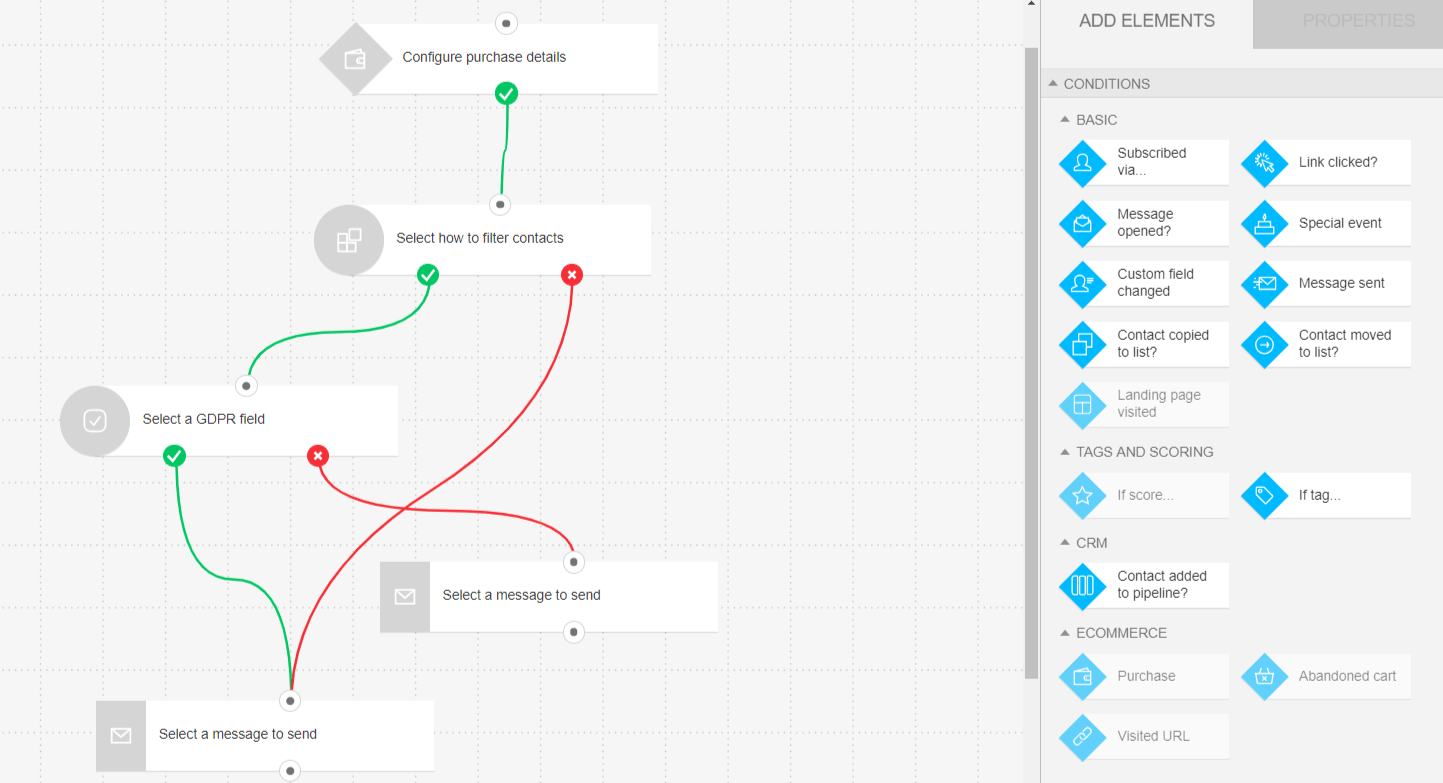 Automation workflow templates. These templates give you a basic email workflow to start with, which saves you time, and guides you if you're new to advanced email marketing. Many of these templates are geared toward e-commerce, like the abandoned cart series and post-purchase templates.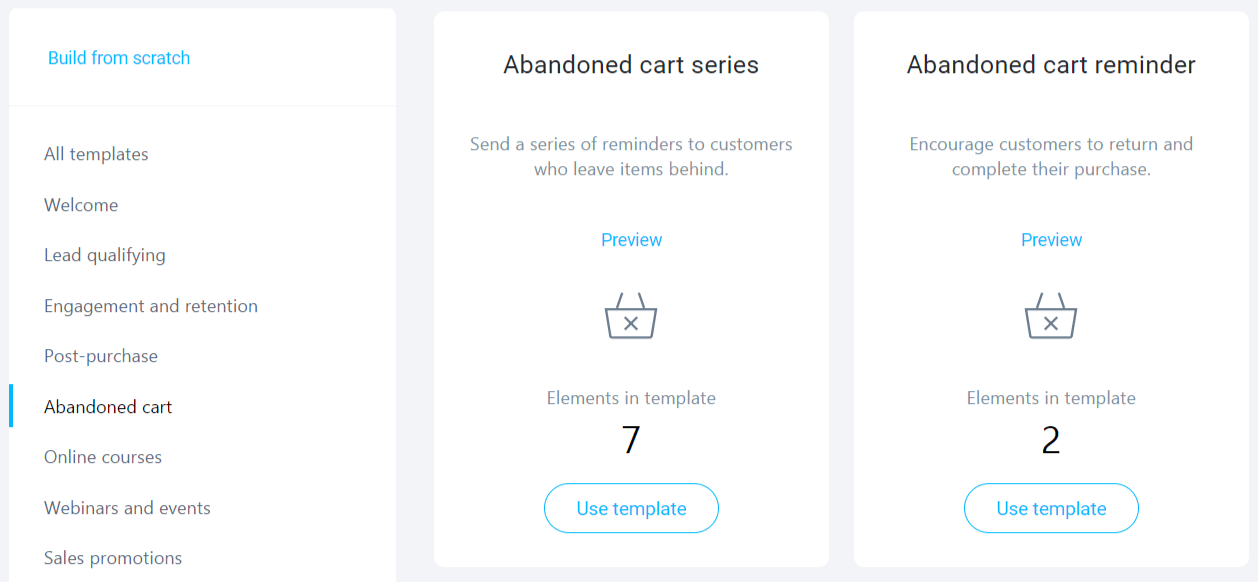 | | |
| --- | --- |
| GetResponse Overview | |
| Free plan or trial? | 30-day free trial |
| Good integration documentation? | No |
| Customer support channels | |
Sendinblue is one of the very few tools that offer SMS marketing (although at an extra cost) on top of email marketing. Many customers like to get order and shipping updates through SMS messages instead of email. It's a good way to stand out and get your messages read, instead of having to compete with other potential emails in a crowded inbox. Installing the Shopify plugin is very simple – all you have to do is sign up for the
free Sendinblue plan
. It will sync all your data and requires no technical skills. Sendinblue has some
features that are great for e-commerce
, but others are currently lacking. My biggest issue with the platform is that there is only a single email template for e-commerce websites.
Features
A simple and efficient email editor. With so few email templates for e-commerce businesses, it's a good thing that Sendinblue has a solid, intuitive drag-and-drop email editor. It's not difficult to create good-looking, responsive emails, and you can save your own templates to use in the future.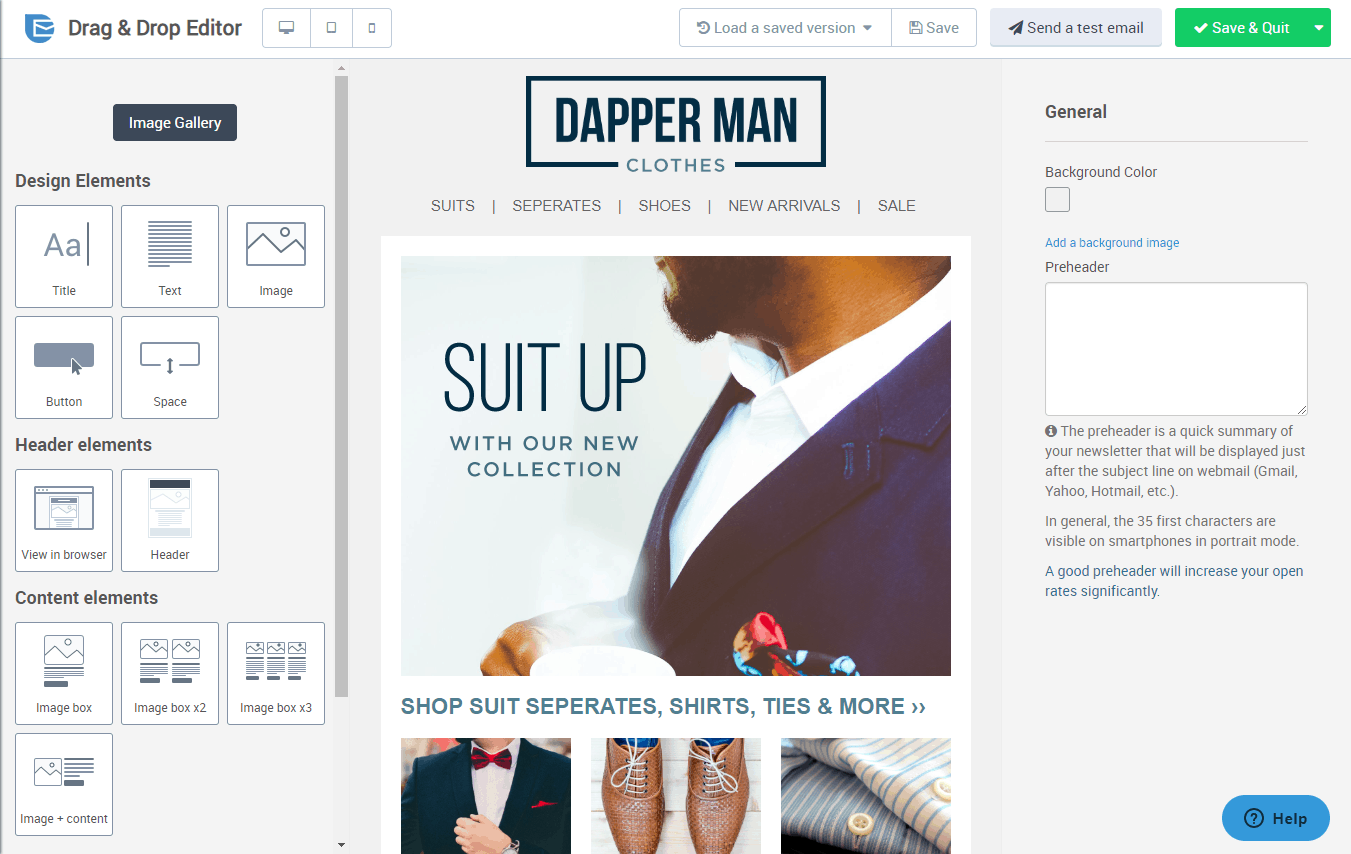 Versatile form builder. Sendinblue has my favorite form builder when it comes to email marketing tools. You can embed forms in Shopify pop-ups (for things like coupons), or use them to sign up potential visitors from your blog. Sendinblue's form editor is a smooth drag-and-drop editor, and it gives you customization options (e.g., colors, font sizes, etc.) that most other form builders don't.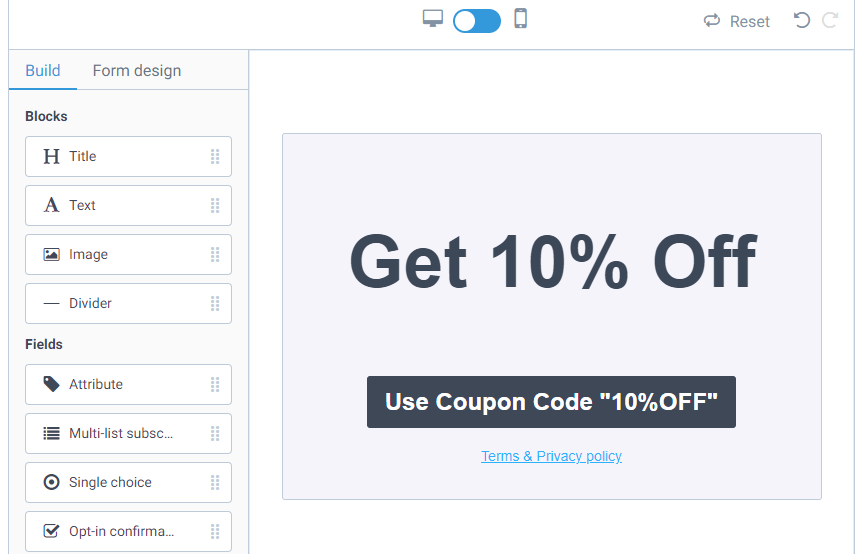 E-commerce email automation workflow templates. Sendinblue offers ten types of email workflow templates to save you time and guide you. To make things even better, most of these are perfect for e-commerce stores (e.g., product purchase, abandoned cart).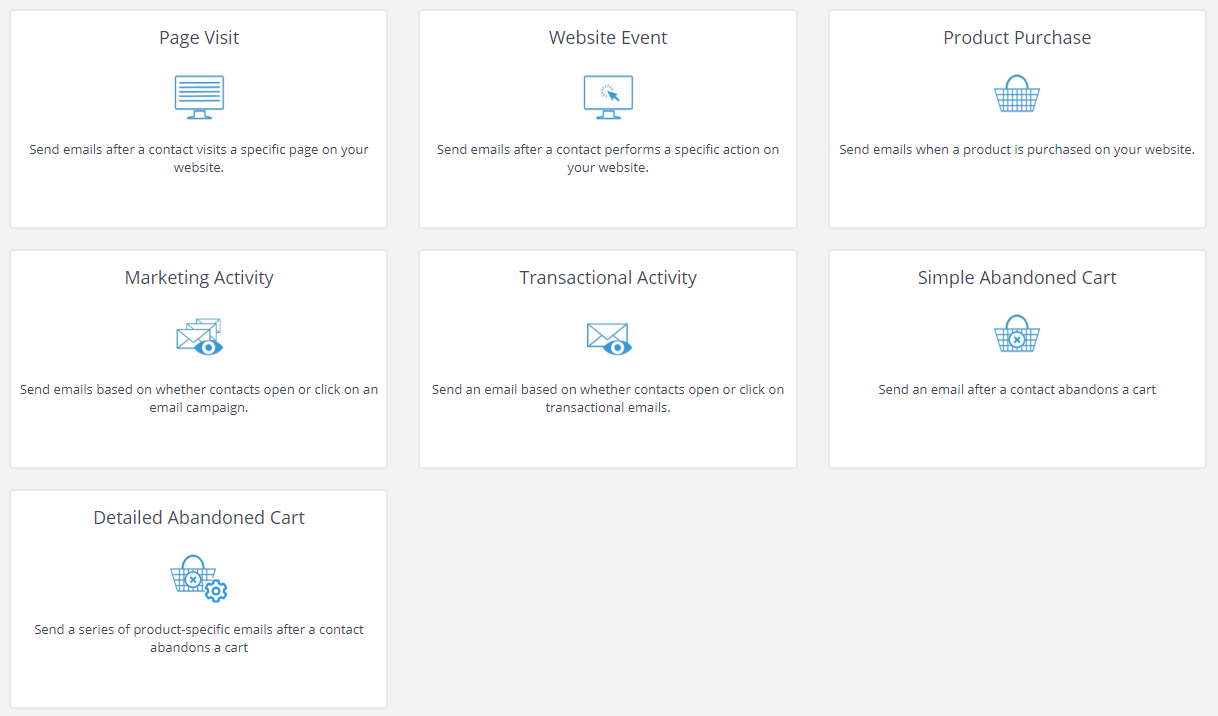 A clean, visual email workflow editor. Sendinblue lets you build workflows that send different emails depending on different triggers (e.g., buying a product vs. abandoning a cart). While the visual layout is excellent, it's not a drag-and-drop editor. You'll have to click the "+" buttons on the visual editor, and go through a few pop-up screens.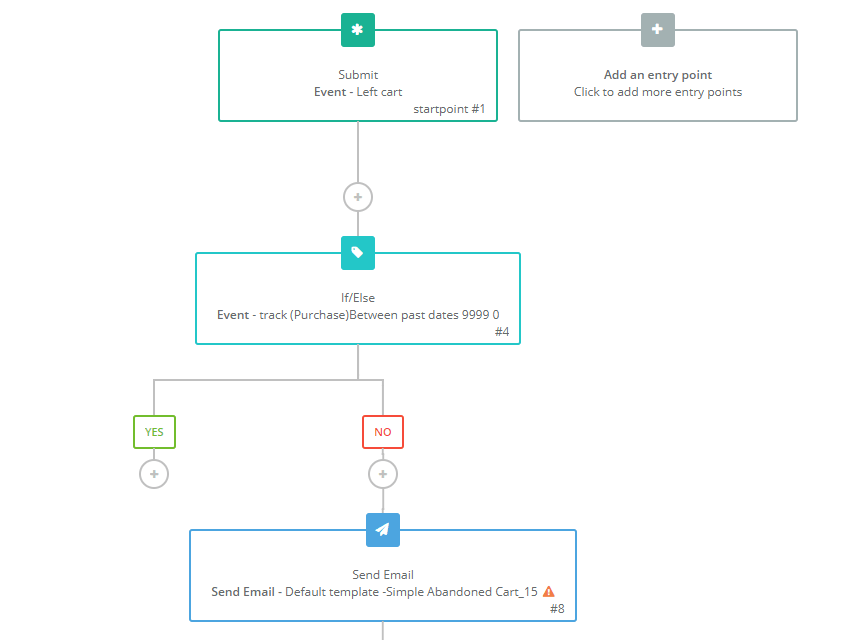 | | |
| --- | --- |
| Sendinblue | |
| Free plan or trial? | Free plan |
| Good integration documentation? | Yes |
| Customer support channels | Email (ticket) |
3. Constant Contact – The Best Integration Documentation
Email marketing companies usually offer hundreds of integrations, so it's often hard for them to have extensive documentation on installing and using each one. However, Constant Contact has several detailed articles in its knowledge base showing you how to integrate with Shopify and make the most of it. Not only is the integration simple to use, but there's one standard version with
all the features you'll need
.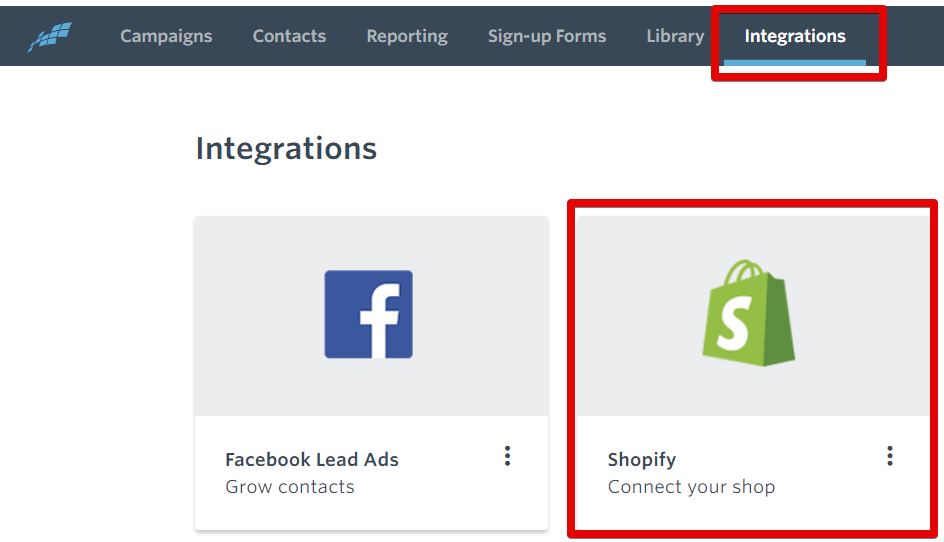 The catch is that high-quality support documentation comes with a price. Constant Contact costs a bit higher than most other email marketing tools. It's still a reasonable price and affordable for most businesses, and if you're in the U.S., you can get a
60-day free trial
. But if you really have a tight budget, a different integration may be better for you.
Features
Over 40 e-commerce email templates. Constant Contact offers over 200 email templates, the majority of which have a sleek, contemporary design. While they're not divided into categories, you can search for keywords at the top to filter them down.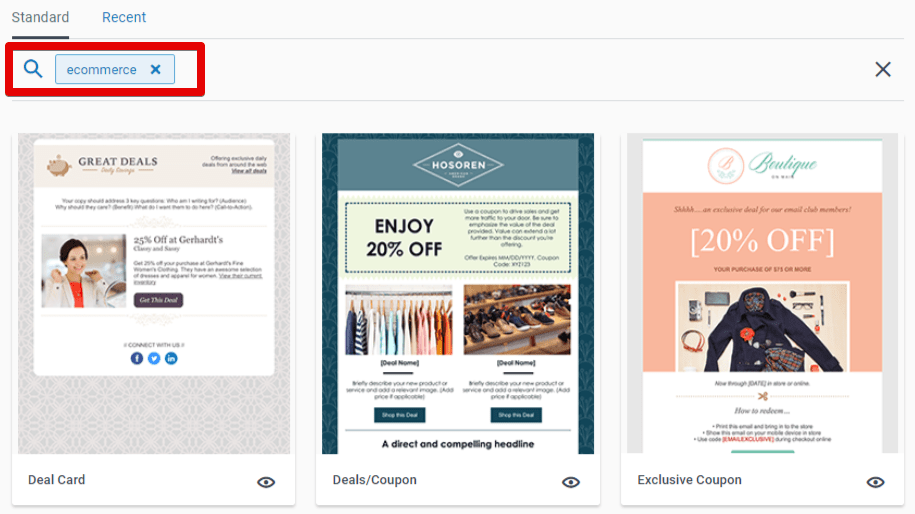 Constant Contact automatically creates email lists. A unique and awesome feature of the integration is that it automatically creates lists of your Shopify contacts (best customers, recent customers, potential customers, etc.).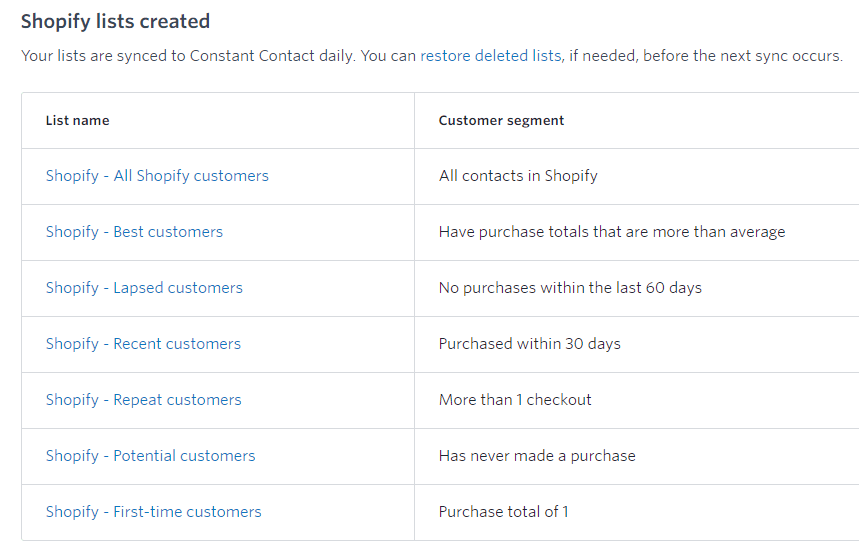 Easy abandoned cart emails. While Constant Contact offers limited advanced email automation, using the Shopify integration gives you new options. The most important one is that you can create abandoned cart emails to be sent automatically. It's very simple, and Constant Contact even gives you a good template to use.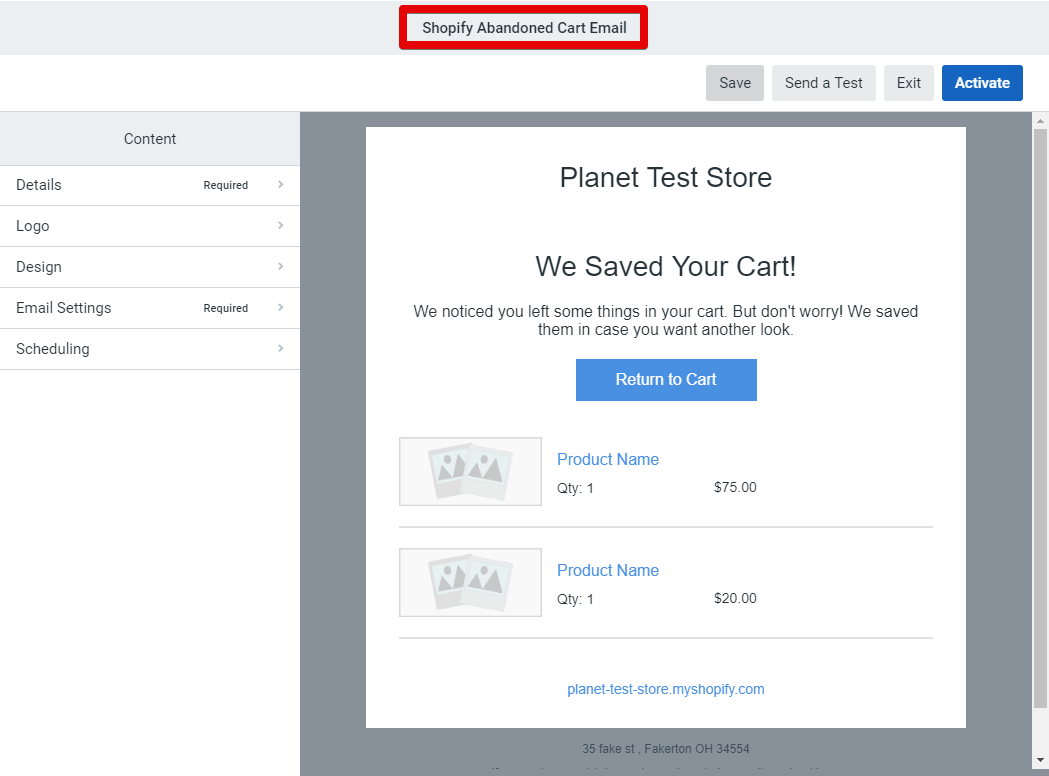 Ability to see your Shopify revenue on Constant Contact reports. Constant Contact lets you see your email marketing stats (sends, opens, clicks), along with your Shopify sales. This will help you quickly see which emails are effective at driving sales.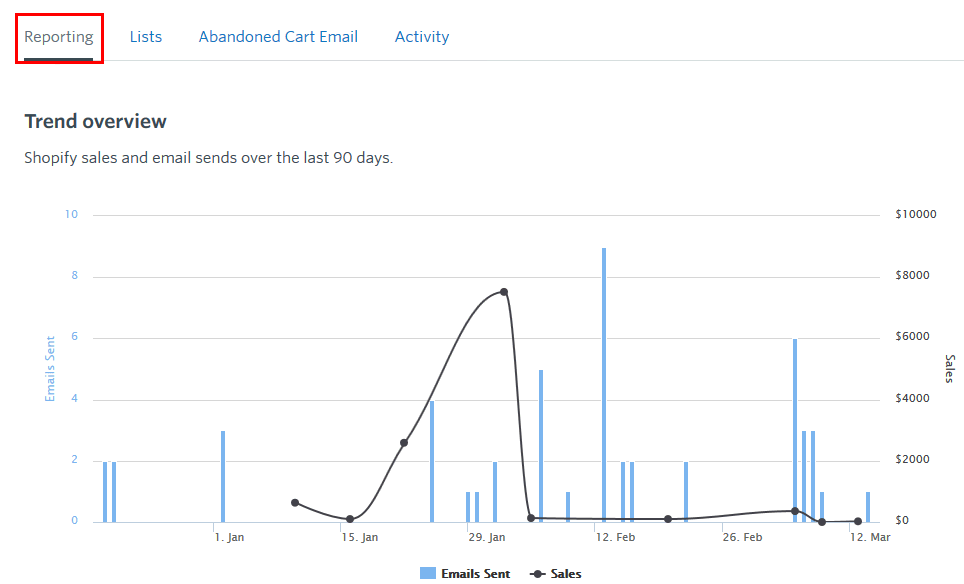 Constant Contact
Free plan or trial?
60-day free trial
Clear integration documents?
Yes
Customer support channels

Phone
Live chat
User community
4. AWeber – Simple Email Automation for Busy Shopify Owners
If you're new to email marketing, or just need the basics, AWeber is the perfect choice. It comes with a
30-day free trial
, so you can try it out risk-free. AWeber has fewer features than all the other email marketing tools on this list. That means it'll take less time to learn how to use AWeber, and you won't waste time learning about features you don't need. However, if you do want to do more advanced email automation, like sending different emails based on what people left in a cart, you'll need a more powerful tool instead.
Features
Multiple integration options for Shopify. AWeber offers a free simple Shopify integration that lets you add customers to an email list by assigning a certain tag within Shopify. However, there's a second integration, powered by Combidesk, that lets you do a little more (for a small monthly fee). It lets you sync Shopify data with AWeber data to create more detailed segments in your email lists.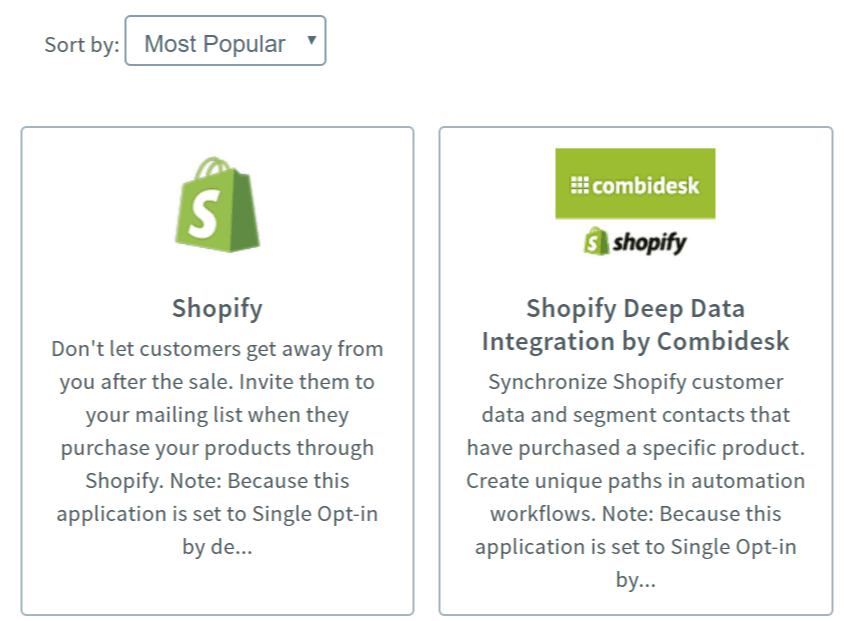 Simple drag-and-drop email sequence builder. The campaign builder in AWeber, much like the rest of AWeber, is great for beginners. Just drag in the email messages or "wait" blocks. Then you can create or edit each email, and set when each message should be sent after the previous one.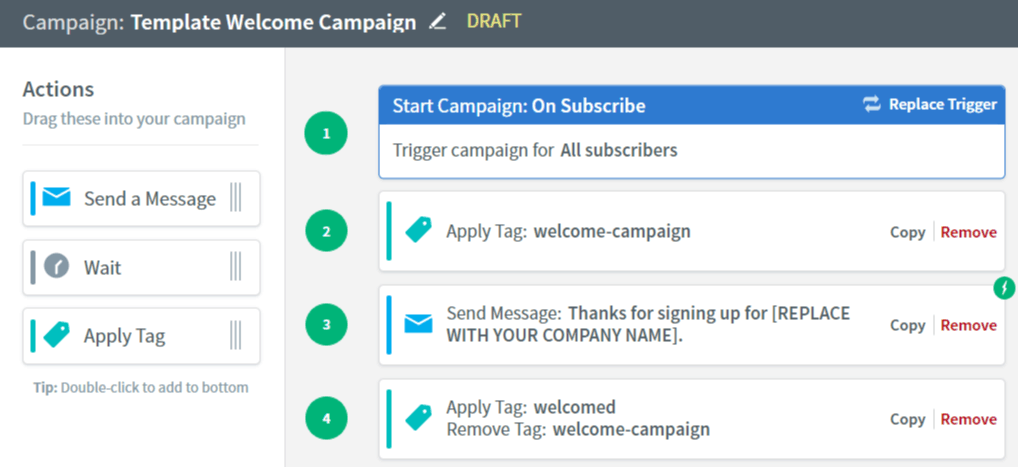 See your Shopify sales alongside email stats. AWeber has built a brand new, simplified reporting dashboard for users. You can check in on email stats like email opens and clicks, and also see the sales you've made side by side.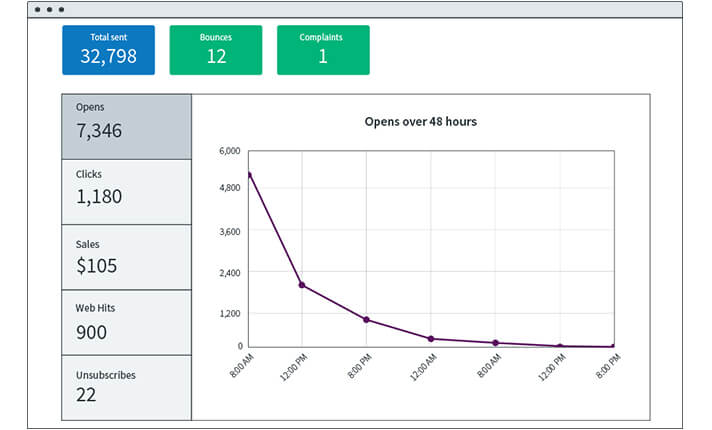 Mobile app to see stats. If you like to check and manage your Shopify website on your mobile device, you'll be happy to know that AWeber also has a mobile app for both Android and iOS.
AWeber
Free plan or trial?
30-day free trial
Good integration documentation?
Yes
Customer support channels

Live chat (24/7)
Phone (8am-8pm U.S. Eastern Time, Mon-Fri)
Email
What separates ActiveCampaign from other email marketing platforms is that it boasts
solid customer relationship management (CRM) features
. These features add a lot to the price, so ActiveCampaign makes sense only if you run a Shopify store that sells high-margin products, which justify spending extra time on each contact. You can test it risk-free with the
14-day free trial
.
Features
Three ways to integrate. There are three Shopify marketing integrations, but the official one is free and the most thorough. Most importantly, it allows you to sync all Shopify contacts and data (like past purchases) into ActiveCampaign. If contacts purchase any new products from your store, the activity will show up automatically on their contact page in your ActiveCampaign account.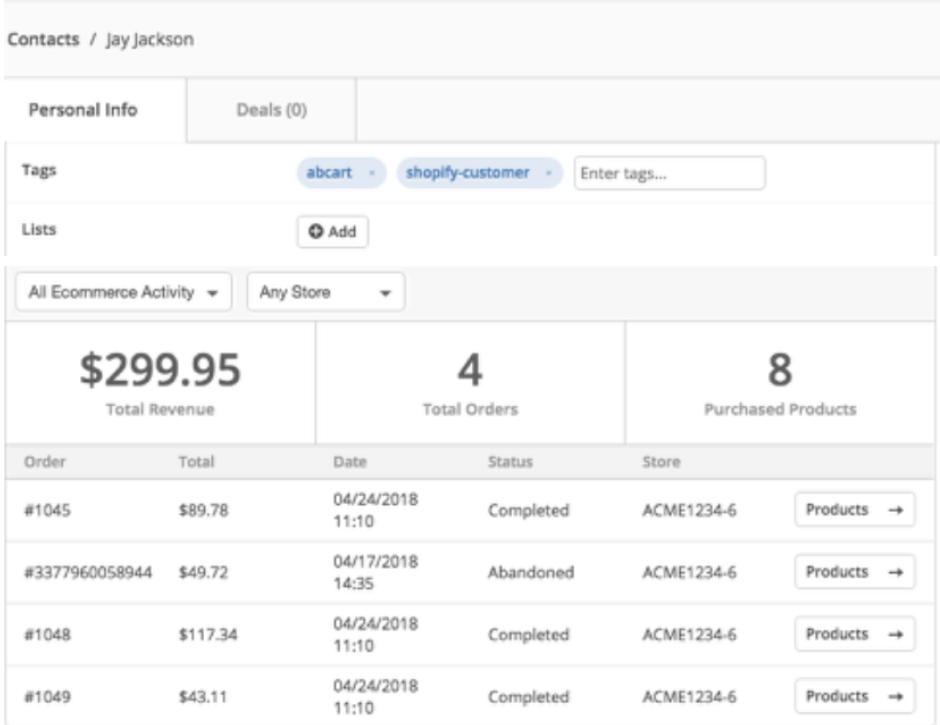 Simple and powerful email workflow creator. ActiveCampaign makes it easy to send emails based on several triggers, which includes useful e-commerce triggers like abandoning a cart, or making a purchase. You simply drag and drop any triggers or conditions from the sidebar into the visual workflow creator.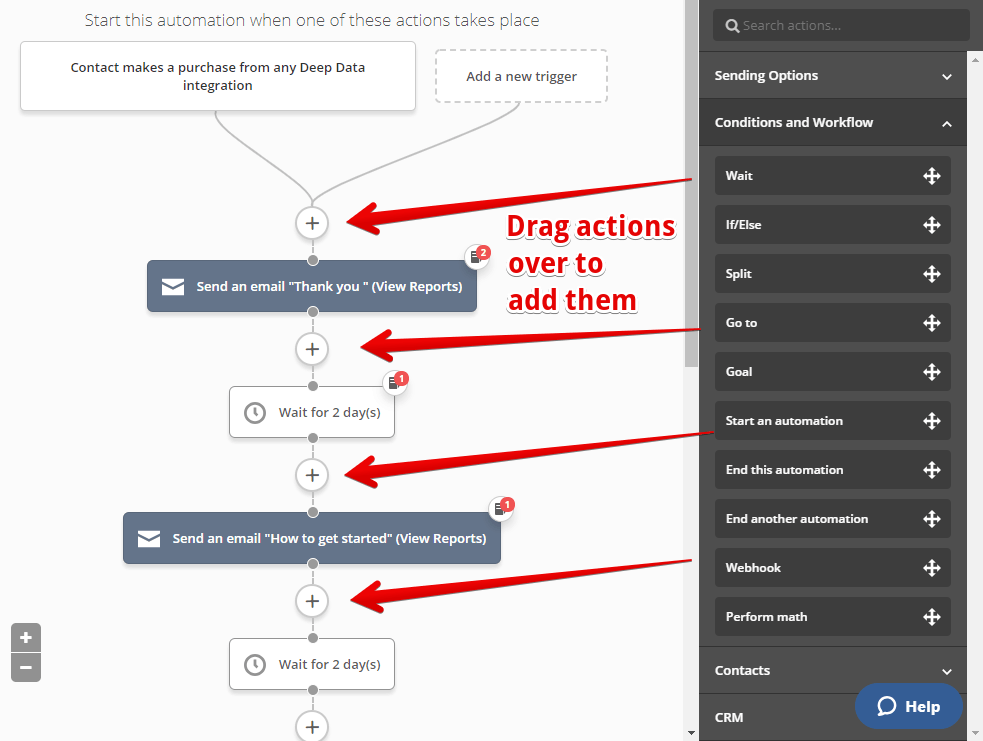 E-commerce automation "recipes." To make your life easier, you can use one of several automation templates instead of starting from scratch. Most of these are geared toward online stores (e.g., abandoned cart series, product interest follow-up series).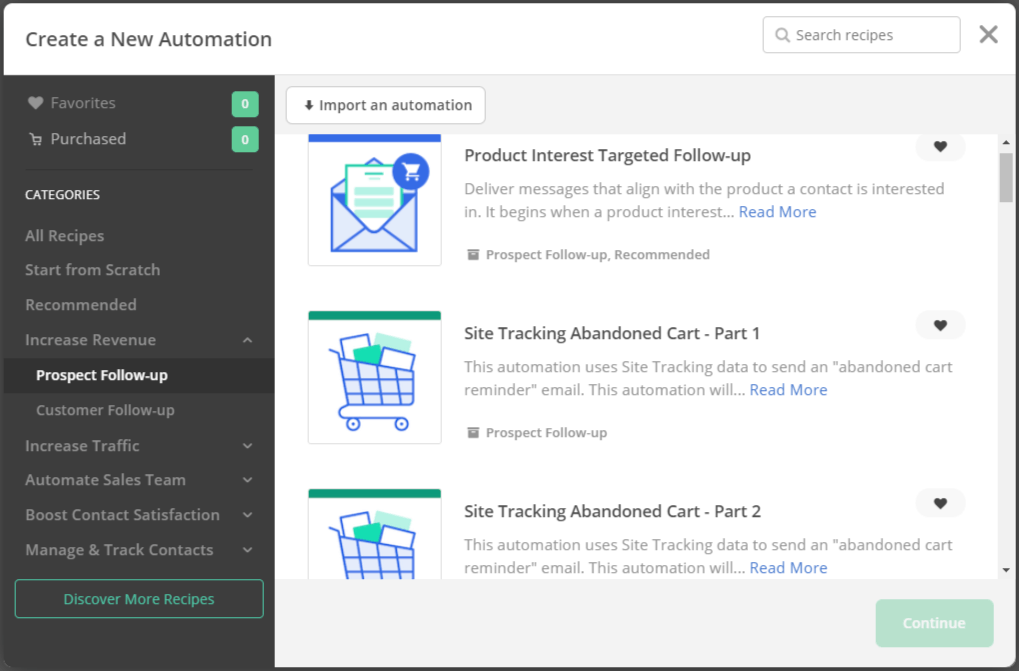 Great flexible form creator. You can make any type of form to collect email addresses using the form creator. The editor is a simple drag-and-drop editor, which also gives you control over the style of the form.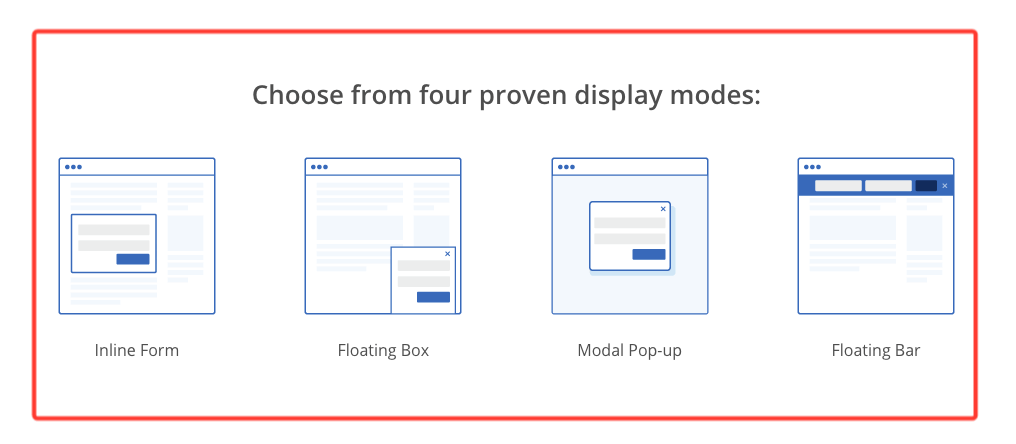 ActiveCampaign
Free plan or trial?
14-day free trial
Good integration documentation?
Yes
Customer support channels

Email
Live chat (Mon-Fri, 8am-4pm U.S. Central Time)
Which Email Marketing Integration is the Best for Shopify Marketing?
The integration that's best for you depends on how you'll use it. If you're just trying to send a simple follow-up email after purchases, then an option with just the basics and no distracting features is best. But if you're looking to maximize the return you get from email marketing, an integration that gives you more data to work with is ideal. The summary table below explains the situations each integration is best suited for. There should be one or two options that closely meet your needs.
Integration
The Best Choice When…
Biggest Strengths
Ease of installing integration
GetResponse
You need advanced email automation

20 email templates for e-commerce
Powerful and simple email workflow creator
E-commerce email series templates

Easy
Sendinblue
You need to create many sign-up forms for your website (pop-ups, inline, etc.)

SMS marketing options
E-commerce email series templates
Stylish form builder

Easy
Constant Contact
You want to target specific segments of your Shopify customers (e.g., past customers, best customers)

Extensive integration documentation
Ability to create email lists automatically based on Shopify data

Very easy
AWeber
You need to send only standard autoresponders after a purchase

Simple drag-and-drop autoresponder creator
Ability to see Shopify sales alongside email stats

Very easy
ActiveCampaign
You sell high-margin products and need a light CRM.

Deep data integration
Advanced email automation
CRM that pulls data from Shopify

Easy