If you need a "W" in your new logo, you'll be surprised by the extent of your design options. Letter logos can be a memorable design choice, but you risk the design looking plain or amateurish if it's not well thought through. Luckily, a "W" is an incredibly flexible shape to work with. You can easily merge it with icons, for example turning the lines of the "W" into butterfly wings or using a pair of tongs, a fork, and a knife to create a "W" outline for a restaurant's logo. I've come across some really unique ways you can work with this shape (and I've rounded up several of my favorites below). A talented graphic designer is the best way to ensure your logo looks amazing and reflects your company. It doesn't have to blow the budget either – if you know where to look.
Keep reading and I'll show you how you can get a professional logo designed for just $5.  
---
9 Best W Logos
My colleague conducted a design experiment with some of the top platforms to see how they performed. In his
comprehensive logo design service comparison
, he breaks down his results in detail. Check it out to see which service ended up creating our new logo!
The Key to a $5 Professional Logo
Can anything of a professional quality really cost only five dollars? Before I knew about Fiverr, my answer would have been no. But since experiencing the freelance platform first-hand, I now know better! Great quality doesn't have to break the bank. Fiverr is a freelance platform where the designers can set their own prices – but the entry-level cost is just $5. Many designers on the site have years of experience as graphic artists and there are thousands on the platform to choose from, so you're guaranteed to find a designer with a style you like that's within your budget. To see what the site is all about,
head to the Fiverr homepage
. You don't need to sign up to browse. Start by searching for designers who specialize in the style you're looking for. Great terms for a letter-based logo could be "initial logo", "monogram logo", and "minimalist logo". Designers with experience in these styles often have many letter logos in their portfolio. Scroll through your results until you find a designer you like the look of. Click on them to be taken to their full profile for even more details.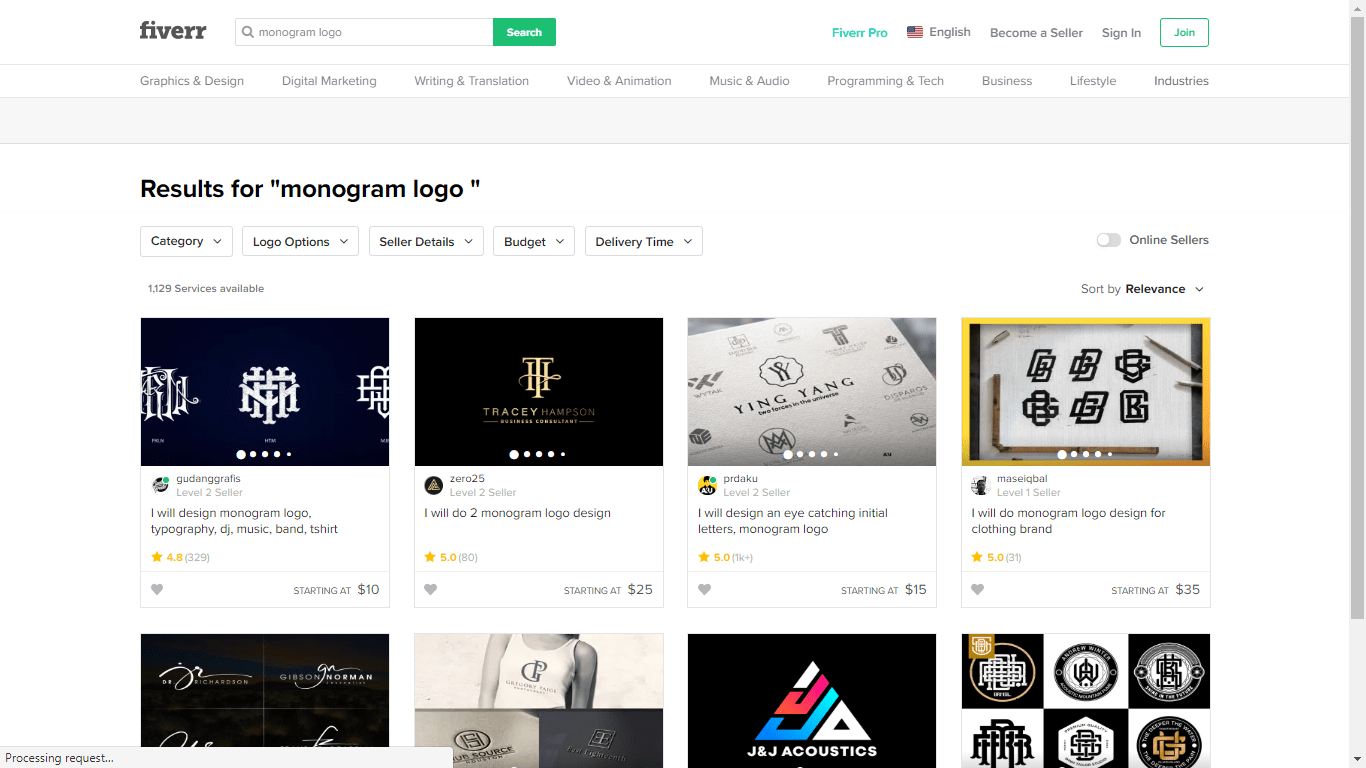 The designer's full profile is where you'll find information on their services, the types of packages they offer, customer reviews, their "About This Gig" section, and portfolio. It's really informative. If anything's not answered, click
Contact Seller
to speak to the designer directly with any queries you may have. .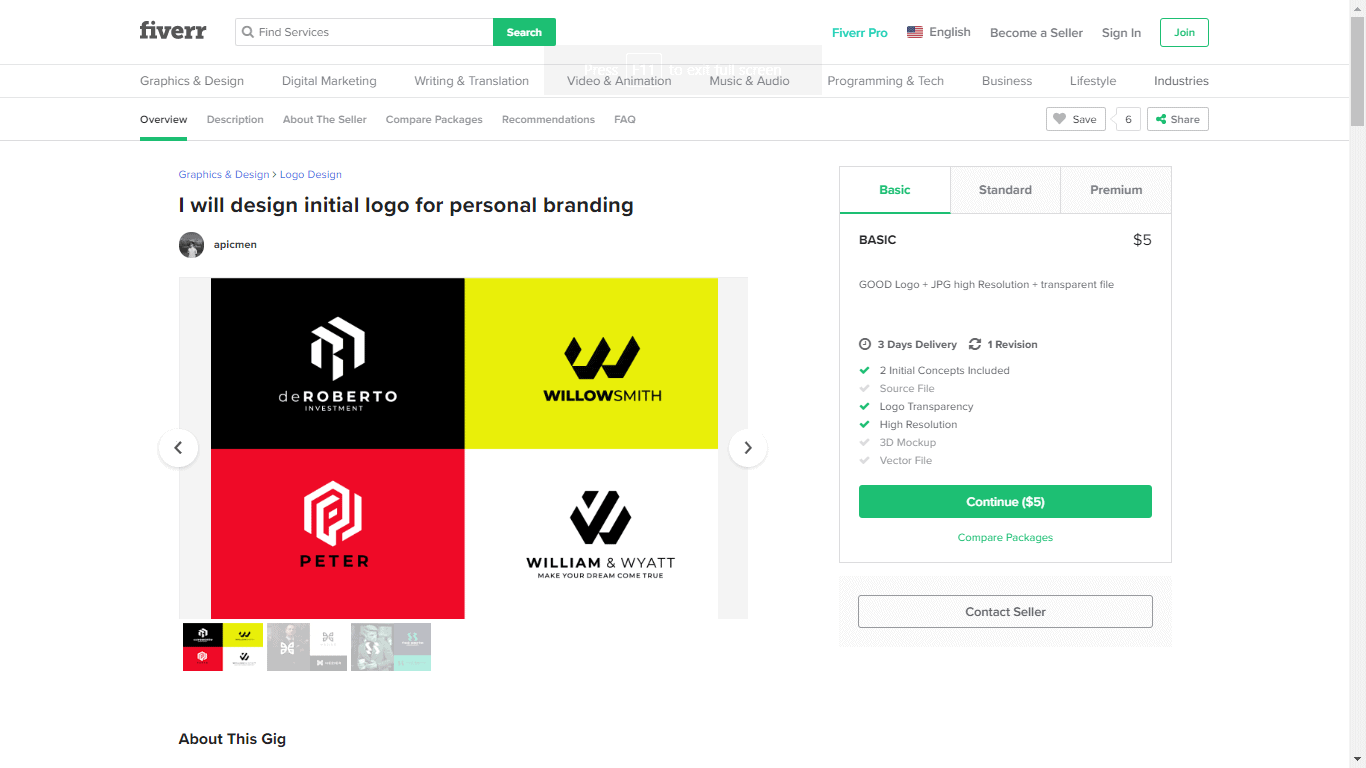 Hit
Continue
 to move to the next page. Here, you can check over the cost and content of your chosen package, then click
Order Now
to finalize the process. Enter your payment information, give the designer your instructions, and your logo will be ready for you in a few days!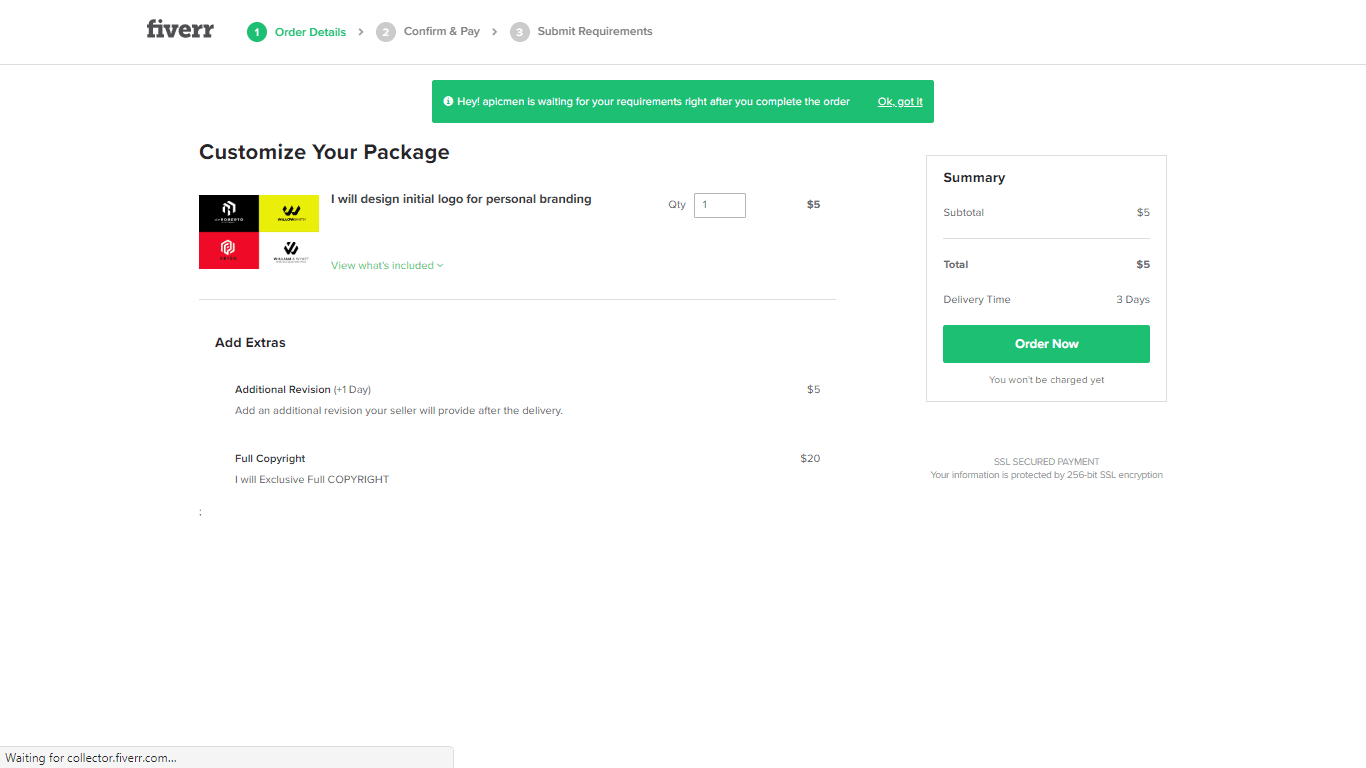 Fiverr is incredibly easy to use, but it has lots of other perks, too:
Secured payments – You never need to worry about being scammed. Fiverr holds your payment in escrow until you've received your final logo. Once you're satisfied, the payment is released to the designer – never before.
No unexpected fees – A designer can never overcharge or add fees after they've been hired. Which is good news when you're on a tight budget.
Designer search filters – There are so many designers on the site, you could be scrolling for hours to find the right one for you. Luckily, the handy filters help narrow down the search results by budget, logo style, and delivery time.
Seller levels – Designers are organized into levels based on their time on the site and their customer feedback. Choosing a higher-level seller could help guarantee the best quality design.
Want to know more? Read our
expert Fiverr review
to see some logo samples.
Making Your Own Logo Design
Feeling creative and want to get a little adventurous? Why not use a DIY logo maker to create your own logo. Making your own logo as a home project can be fun, but don't underestimate the effort it takes to make something attractive and unique. Also, while these tools are free to use, bear in mind you'll still need to pay to download your logo in a usable format at the end. My logo maker recommendation is Wix Logo Maker. Wix is a design platform (you can create websites there, too!), and its logo-maker offering uses artificial intelligence (AI) to generate tailored logo suggestions. These suggested templates are based on your likes and dislikes, which the AI learns through a series of questions and easy tasks. Sounds interesting?
Head to the Wix Logo Maker homepage
 to begin designing. After you've signed up and created a profile, enter your company name and tagline to kick off the process.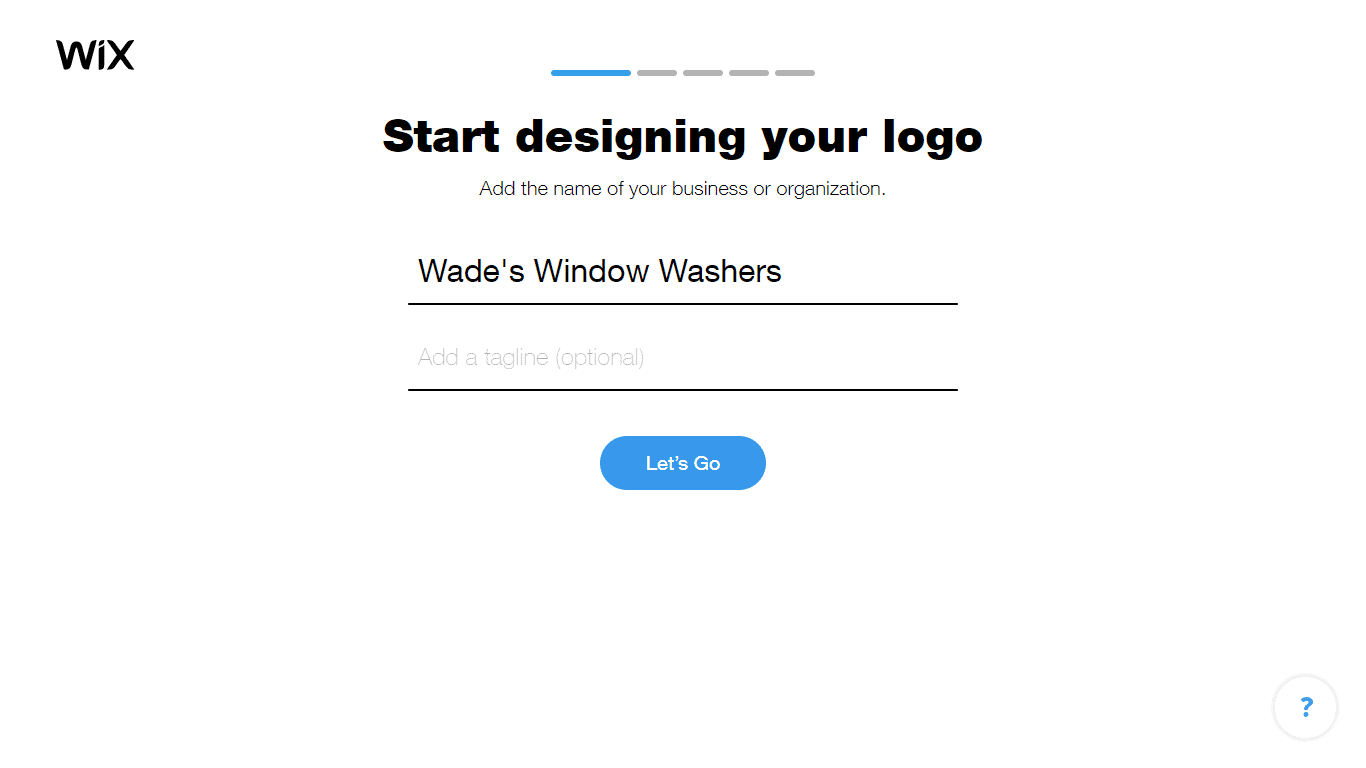 Start typing your industry and a list of options will appear. Select the one that's the closest match as this will help guide the sort of imagery that pops up in your suggestions later.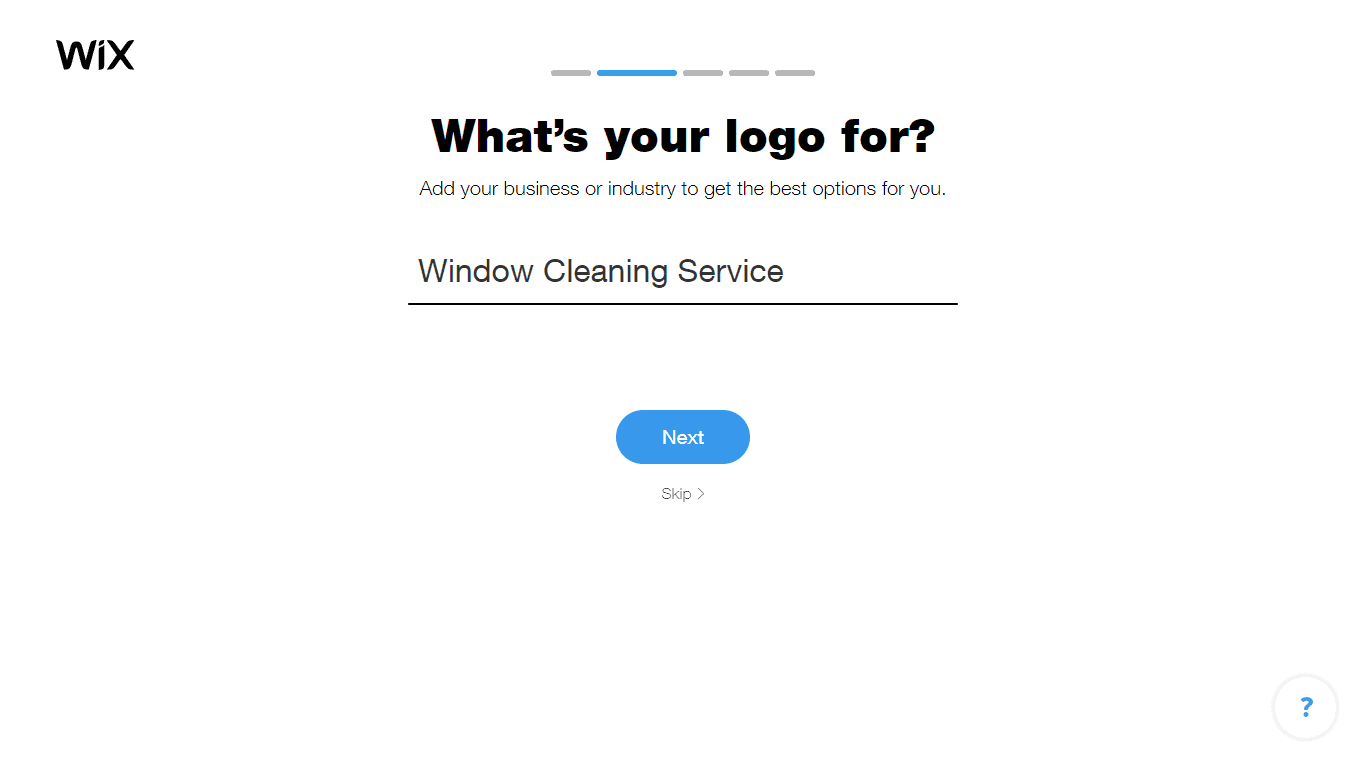 In the next step, choose words from a group of adjectives to accurately describe the way you want your logo to look and feel. This helps the AI get a sense of your style.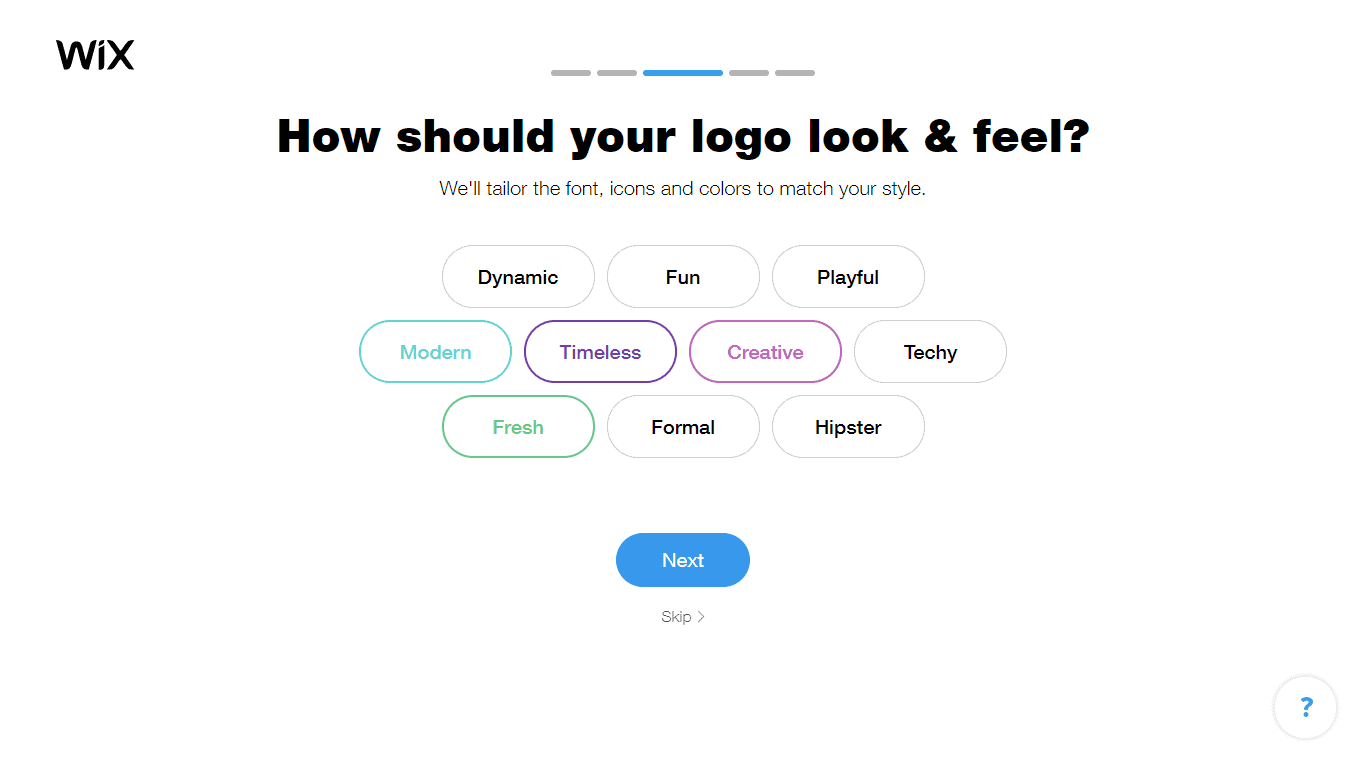 In the next stage, you'll be shown two contrasting logos. Select the logo with the design that you like best. If neither design appeals to you, click
I don't like either of them
to skip ahead.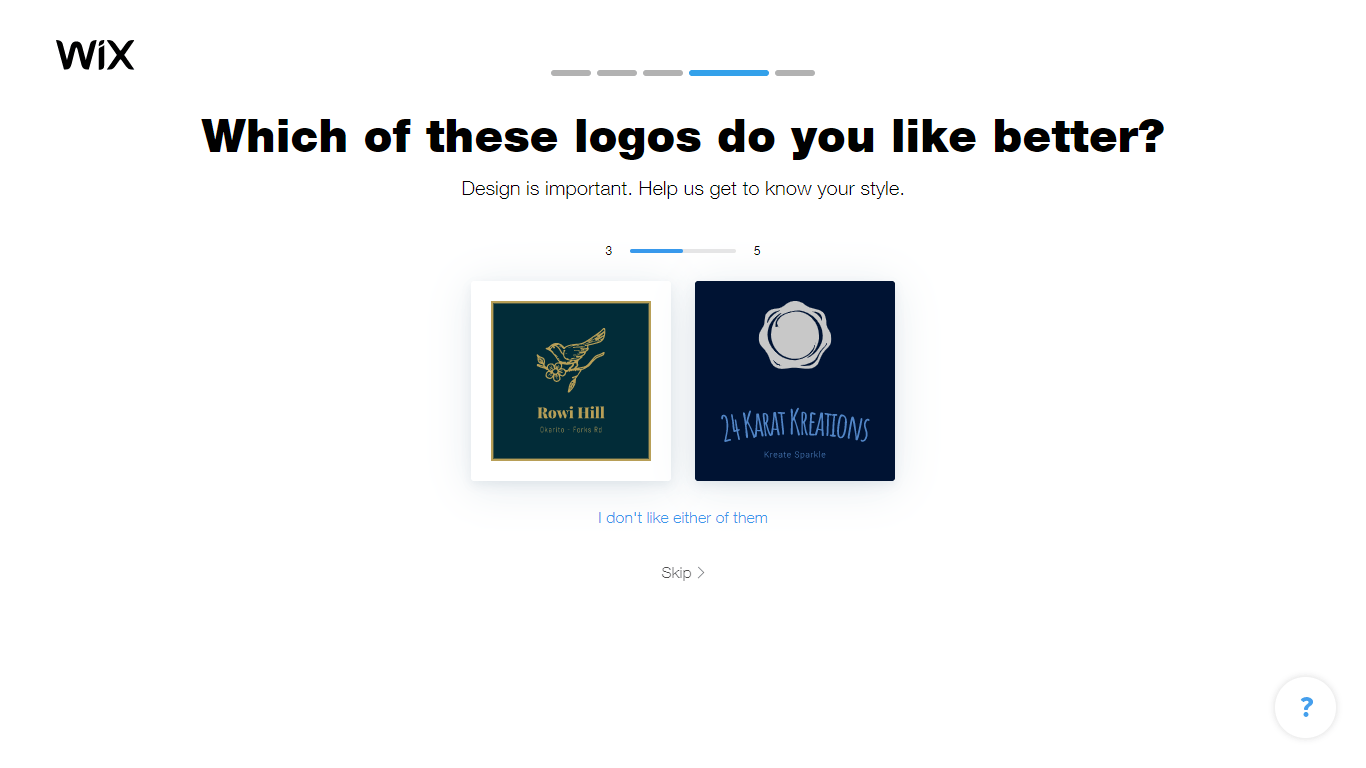 Lastly, give Wix Logo Maker an idea of where you'll be using your new design, like social media, merchandise, or a website. If you're unsure, select all the options to cover your bases.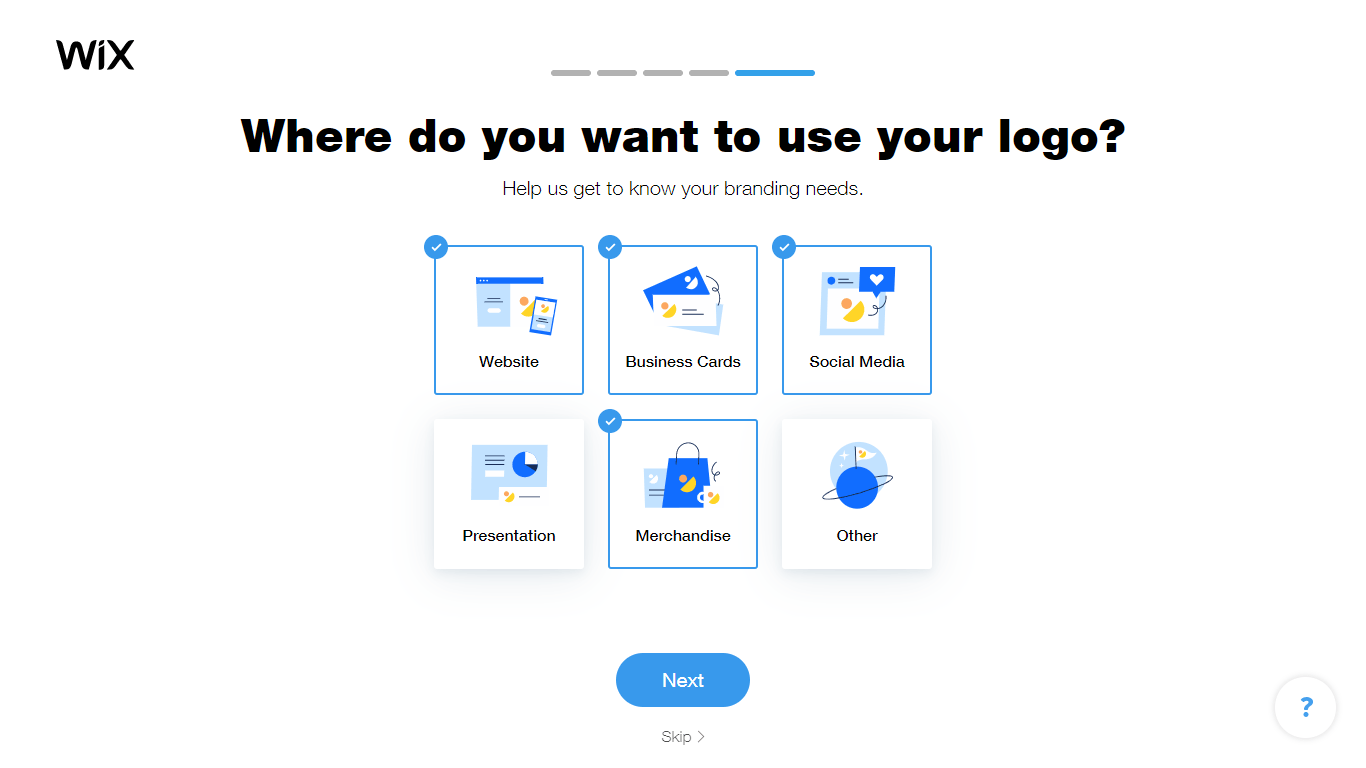 And now, the logo suggestions! Scroll through the logo templates and click
Load More
to generate new ones as you explore.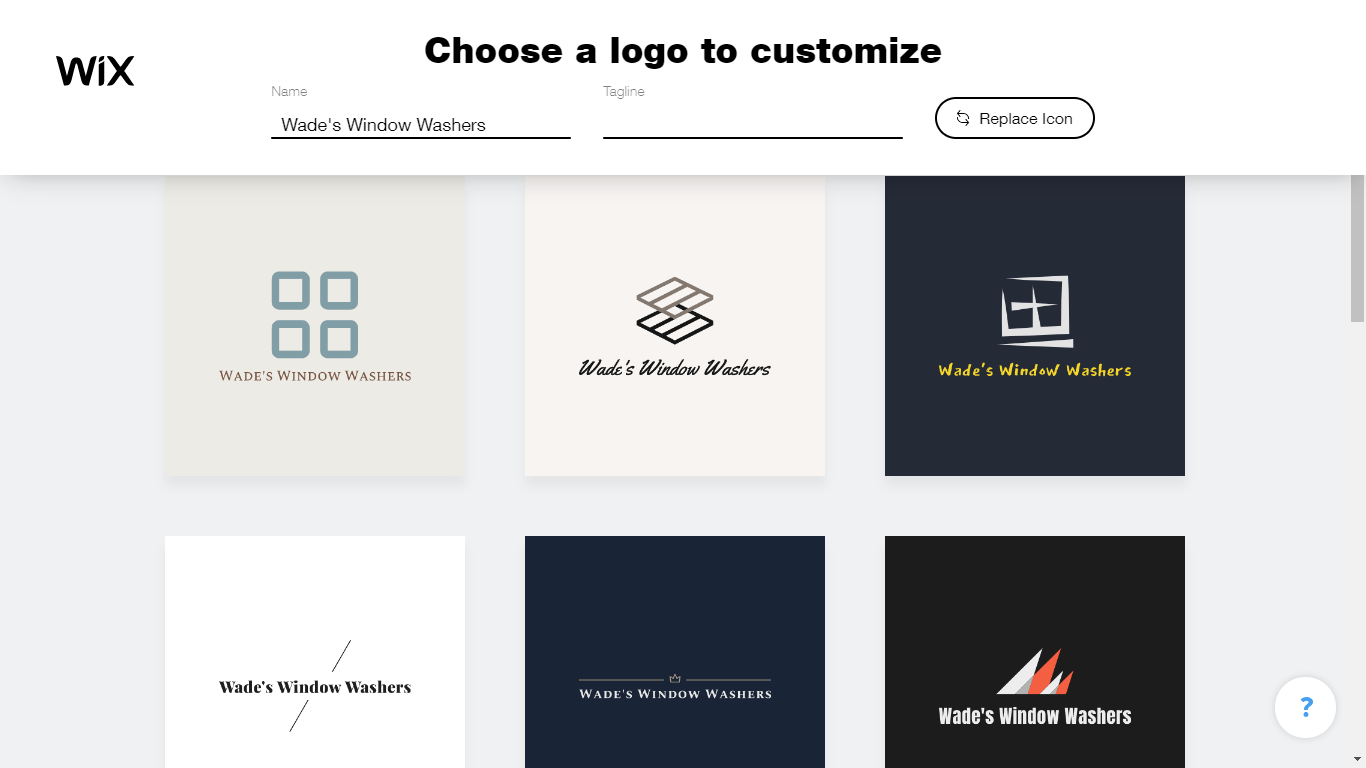 The
Replace Icon
button opens the icon search screen. You can search for industry-related imagery here or an icon relating to your company's name. Choose a new icon and it'll replace all the old ones in your logo suggestions.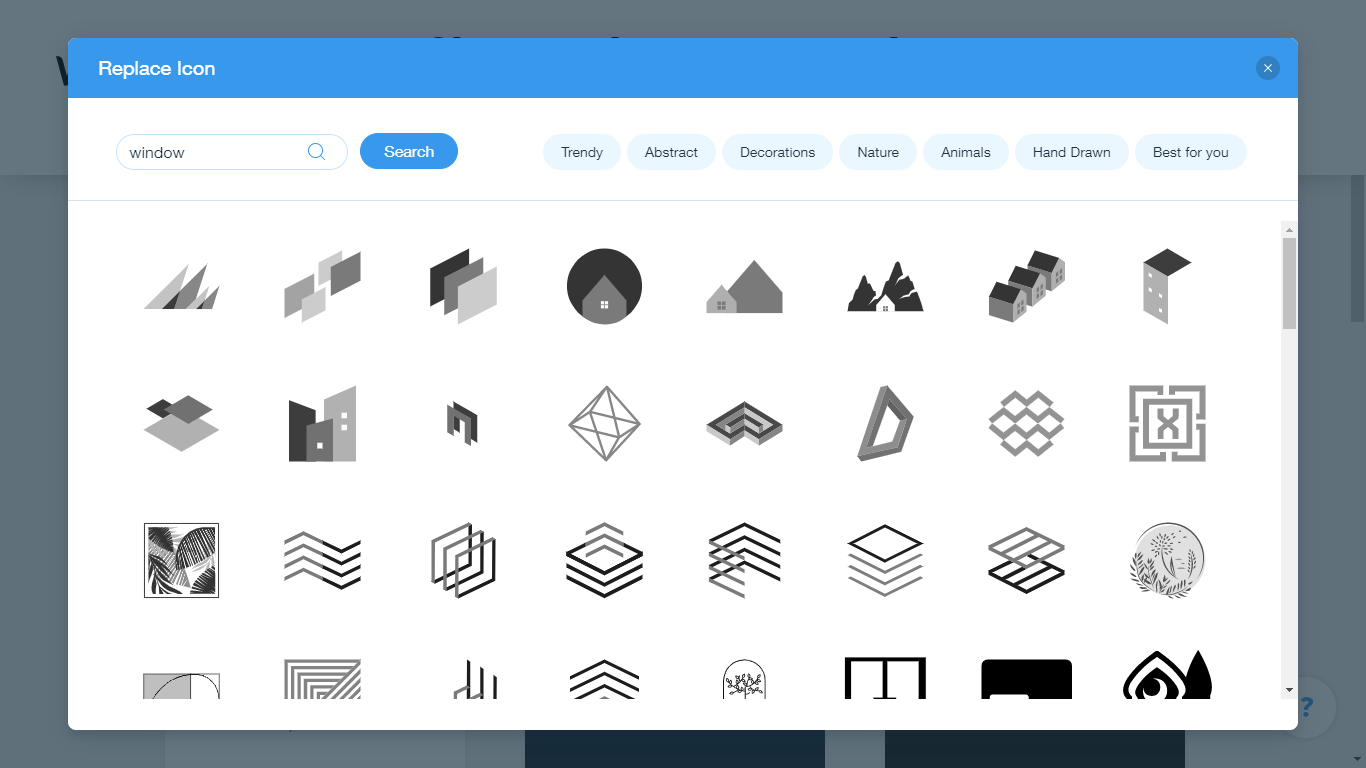 When you've found the logo template that you'd like to edit, click
Customize.
Wix Logo Maker's logo editor is amazing – it gives you so many options. Add the "W" to your logo in any of the available fonts, then add icons if you like, and use your imagination to create an inviting color scheme.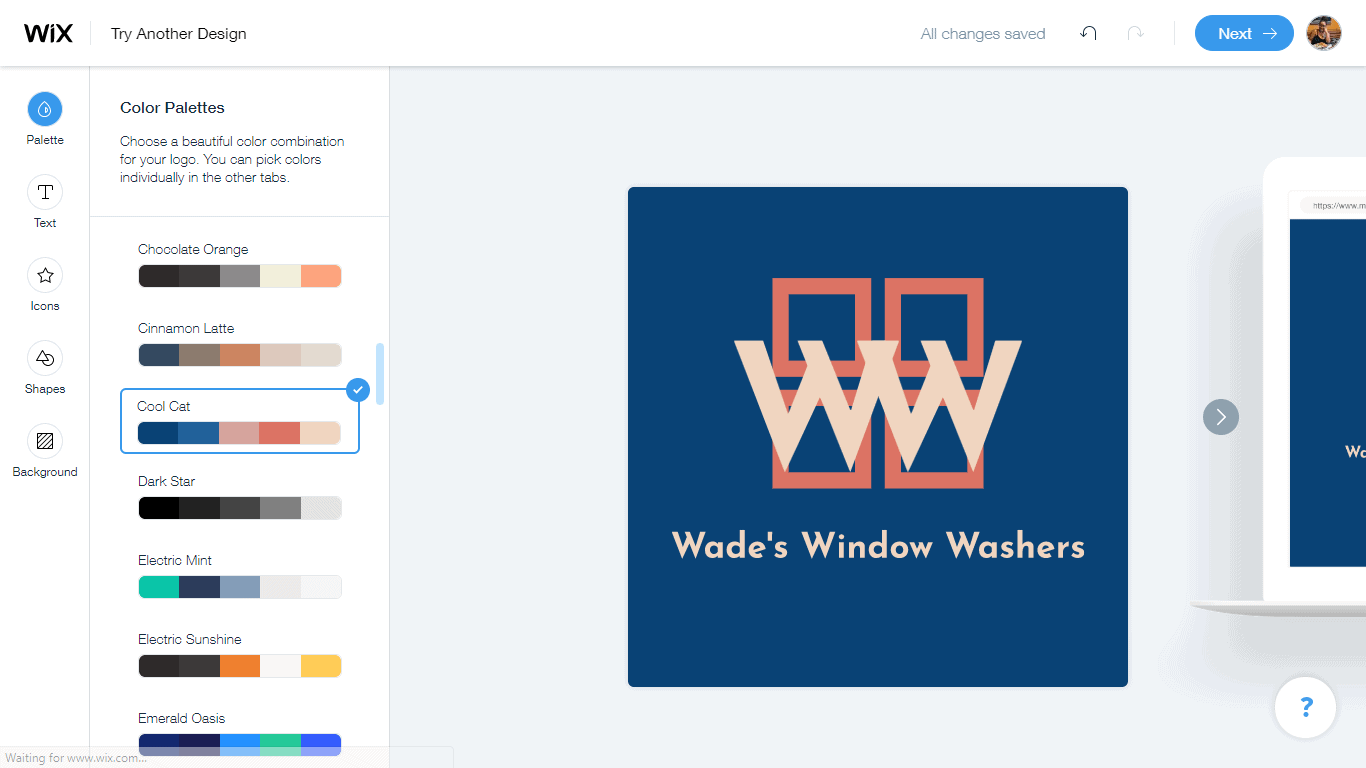 When you're happy with your edits, click
Next
to choose your package and make your payment. Once paid, you can download your new logo in a high-resolution format and begin using it right away. If you'd like to keep shopping around, there's an option to download a free version of your logo in a smaller, low-quality format. To learn more,
read our in-depth Wix Logo Maker review
.
Wix Logo Maker Alternatives:
DesignEvo – DesignEvo offers over 10,000 logo design templates, providing you with a fantastic and user-friendly option for creating logos without requiring AI. The platform features 18 searchable categories, encompassing various designs, including letter-based options.
Logo Maker – For one of the quickest design processes around, create your logo with Logo Maker. You can get a basic logo design in just four quick steps.
In Conclusion
Let
Fiverr take the stress out of your logo journey
and tap into its pool of skilled designers. When it can cost just $5 for a bespoke design, your budget doesn't need to suffer for you to get the "W" logo you've been dreaming of. When the creative bug has bitten,
Wix Logo Maker
 is the best tool for the job, as its AI will help you craft the perfect logo. Its logo suggestions are personalized to you and easy to customize to meet your exact needs. Still unsure? Take a look at my colleague's
expert logo design service review
 to see how Wix Logo Maker and Fiverr stood up against other top platforms. You can even see examples of logos from each service to get a better idea of which logo design option is right for you!