The beer industry is one of the oldest in the world.
Variations of ales and lagers have been made for thousands of years. Once, they were seen as the safest things to drink, as no water sanitation existed. Considering this,
it's no surprise that the beer market is now incredibly over-saturated
.
Over a million brewers exist toda
y, from global brands to vintage craft beers and independent brews. In the US alone,
$36 billion is spent on the beverage per year.
As the industry has developed, so has its marketing
. Early beer makers, such as the Weihenstephan Brewery in Germany, began promoting and distributing their alcohol as early as the 11th century. Even then, beers were chosen by the appeal of their label. The archaic logo style, which Weihenstephan still uses, has become the traditional format for beer logos.
Looking to design a logo of your own?
We've been there! We tested all the best logo design services out there to see which one would deliver the best new logo for Website Planet.
Click here
to read all about our experiences and find out who won. If you're short on time, you can just
head over to Fiverr
to find a professional logo designer.
You can actually get a unique, custom logo made for as little as $5.
However, in the 21st century, it requires more than adhering to the industry logo style to make an impact. With so many names on the shelves,
a beer logo needs to pop out to draw attention
. I reviewed some of the most unique beer logos to establish
what a modern brewery needs to do to excel at marketing their products.
Mediocre Beer Logos vs Great Beer Logos
To establish what makes a good beer logo, we need to consider what makes a generic one. Trends in branding come and go, but certain features can be seen all across the beer industry. These include:
A vintage badge format
Scriptwriting
Subheadings in a sans-serif font, including the location and age of the brewery
Dark, strong colors like green, blue and red
Use of gold for additional design features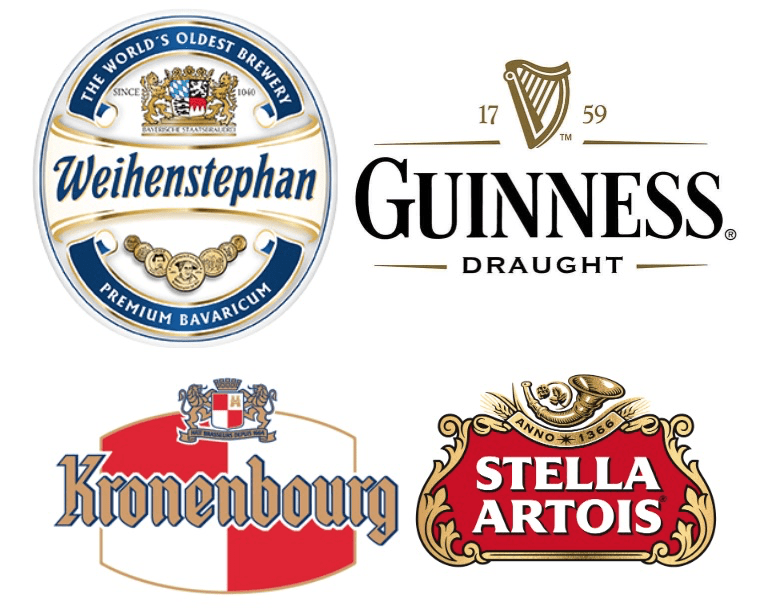 So many beer companies use this format that you could
walk past an entire aisle of them without one grabbing your attention
. So,
how do you make a unique, impactful beer logo in this modern age?
Several tactics exist to create the
best logo design
for your beer company:
Use an image. The use of pictures on beer labels is rare; if it's done well, it can be incredibly impactful.
Use several colors. Brighter shades can help you stand out. Instead of opting for one tone (plus gold) you can go for a multicolored effect.
Tell a story. Most breweries have a fascinating history. If you can translate this into imagery, then it will communicate your brand perfectly.
Expert Tip:
It's easy to see that font choices make all the difference when designing a logo. Don't miss our list of
the top 70+ free fonts for designers
, including advice on how to select the best fonts for your project.
Unique Beer Logos That Grab Your Attention
1. Oculto Beer
Oculto craft beer is created by Budweiser — although you wouldn't know it from the logo. They
moved away from their traditional wordmark emblem
to create a unique design that truly exemplifies the beverage. Oculto Beer is brewed with blue agave and flavored with Tequila from Mexico, so it makes sense that
the designer opted for a design inspired by the country's "Day of the Dead" festival.
The skull shape on a stark white background is more than enough to grab attention. However, the use of
gold trimmings is still reminiscent of more conventional designs
, making it instantly recognizable as beer. Another clever element of Oculto Beer is
the use of negative space
. Very few beer labels incorporate the transparency of the bottle into the design. The way the Oculto logo
cuts out sections to make the eyes and nose
only adds to the uniqueness and impact of the design. The font choice is also notable; while most beer logos use a traditional script,
Oculto's unique, curly typeface is similar to that used by old circuses and traveling shows — which were heavily related to the occult, magic, and dark spirits.
This slight change in lettering alters the character of the logo drastically.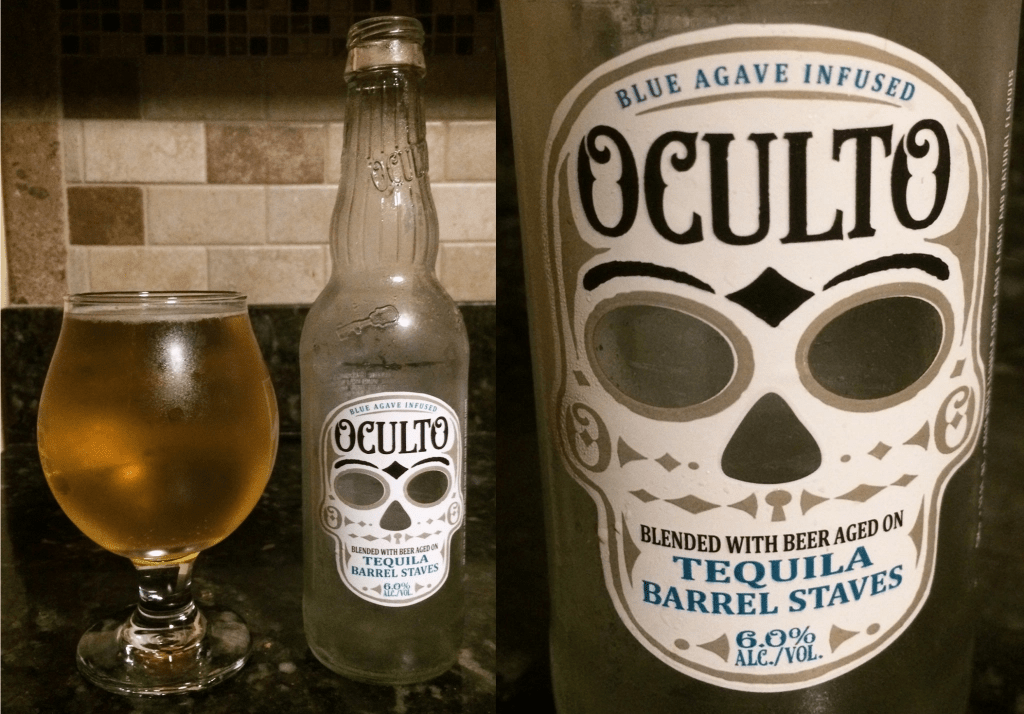 2. Dark Penance Craft Beer
While using numerous colors is a good way to make your logo pop,
the other option is the absence of color.
If your brand is eerie and ghoulish, taking the design back to a grayscale format can have an impactful effect. Dark Penance Craft Beer is a brilliant example of that. Their use of
varying shades of midnight blue, with black and white shading, perfectly communicates their brand message
— which, let's face it, is
creepy.
As the drink is an Imperial Black IPA, which is known for its deep bitter flavor, this darker branding is entirely appropriate. The imagery itself only furthers this tone. The
wispy lines and use of white make the figure seem almost ghostlike,
which combines well with the age of the woman pictured. Similarly, the black bird on top looks like a raven —
a symbol of death.
The designers have ensured that the logo is obviously for beer, as
the pencil-drawing style gives that vintage feel
which is synonymous with the industry's branding style.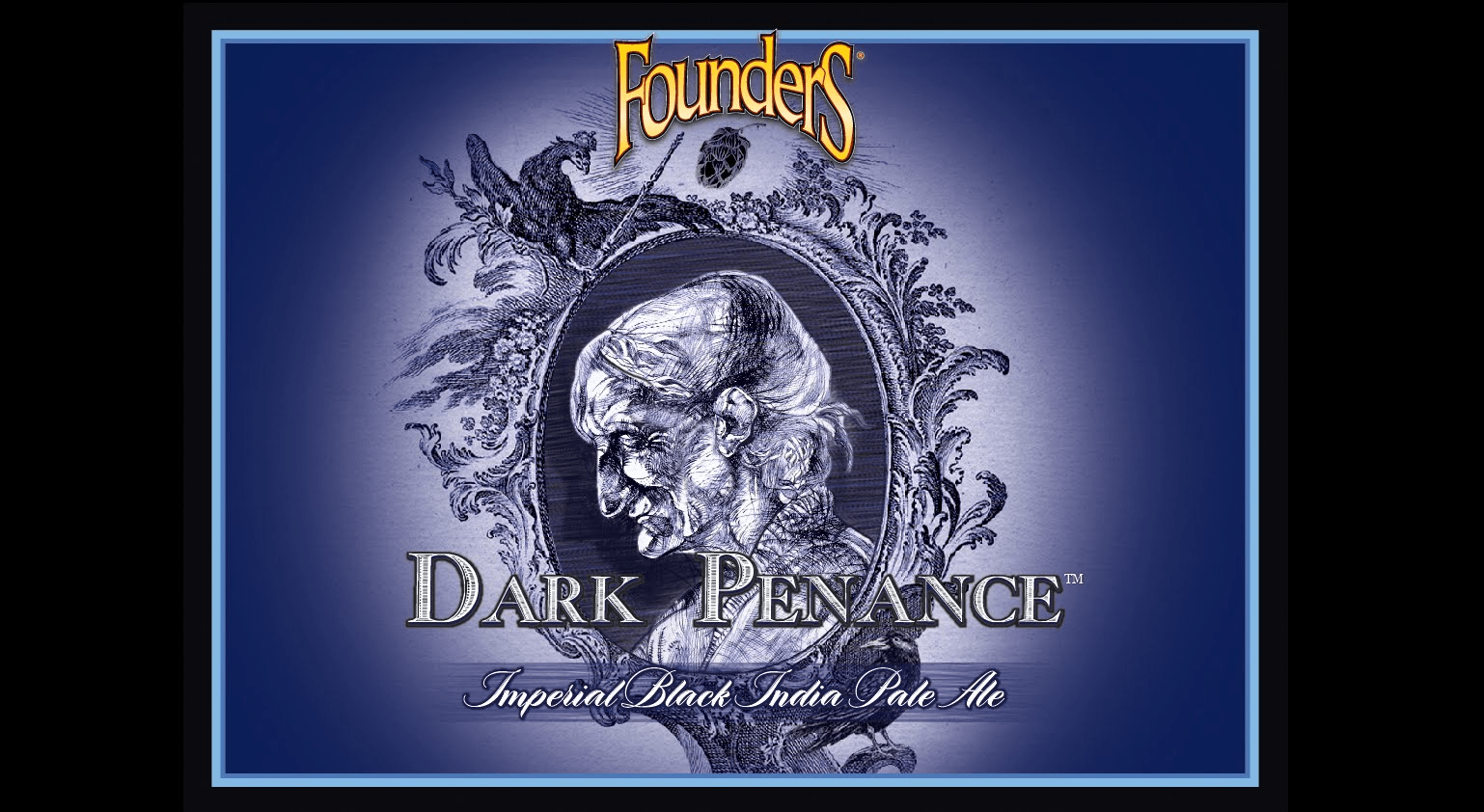 3. Kirin Ichiban Beer
Although the Kirin Ichiban beer logo is similar to the traditional style I outlined at the beginning, it still manages to achieve a unique flare.
Ichiban
translates from Japanese as "number one," and
much of its logo design speaks to that cultural heritage.
In Japan, the use of gold has long had significance;
it was seen as the color of royalty
and is a key tone in many of the country's spectacular palaces and historical monuments. Gold
symbolizes wealth and prestige
. It's clear why the Kirin Ichiban designers opted for this color scheme in a product that claims to be number one! However, by far the
most culturally relevant element of the design is the image.
The dragon-like figure, seen on every iteration of the logo, is called a
kirin
.
This legendary creature is part of numerous ancient East Asian myths
. It's said to appear whenever a wise man or ruler arrives or passes. Once again, this symbol is one of prestige. For those who know what it is, the message is instant. However, even without a cultural understanding,
the kirin is clearly reminiscent of the Far East
. With this one clever choice, Kirin Ichiban can communicate its cultural heritage, no matter where in the world it's bought or sold.

4.  Uinta Brewing
Unlike the last three examples, Uinta Brewing doesn't actually use its name in the logo. The brewery is based in Salt Lake City, a place with a strong identity and character. In 2010, the company hired an external design firm to create a range of new logos for all of their beers. Their aim was to
celebrate the outdoors and the "timeless beauty of the mountain west."
To say these goals have been achieved in an understatement. The
use of bold multicolor images that depict local scenes
is enough to stand out on any beer shelf. Although the images opt for the traditional script and sans-serif font combo, the
layout and content differ considerably from conventional beer logos.
However, the typeface is still recognizable enough for one to know that it's for a beer company. The other major success is that
the logos are based on old ski posters,
which are common around the Colorado/Utah region. The branding successfully
makes a statement about the history of the brand,
without having to write it out in so many words.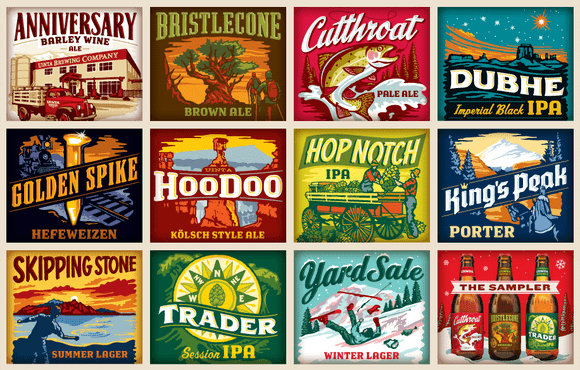 Beer Logos That Fail to Inspire
Countless unique beer designs exist; it's impossible to mention them all. However, it's worth taking note of some beer logos that don't achieve their desired effect. In some cases,
an attempt to create unique branding can end up completely missing the mark
. In other cases, bad logos are
simply due to a lack of creativity and effort
. The following are all designs that I don't recommend you use as inspiration.
Cobra
Cobra beer is a well-known Indian beer brand, which is also manufactured in the U.K. While the company's logo is all right, herein lies the problem – it's just all right. With such
a strong brand name that conjures up countless images
, it's a bit disappointing they chose to opt for a simple wordmark.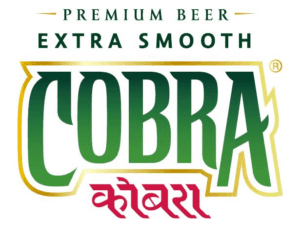 Amazon Beer
On the flip side, Brazil's Amazon Beer Company obviously tried to move away from the traditional branding style. Their hand-drawn logo is undoubtedly unique. However,
the childlike tone doesn't immediately scream "beer"
— it looks more suitable for fruit juice or fizzy soda. It's unlikely that adults would reach for a bottle with this label to quench their thirst.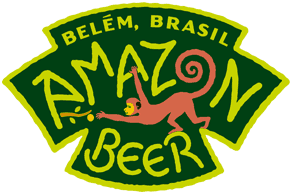 The Best Beers and The Best Branding
Marketing isn't always a signifier of quality
. Many would argue that logos are irrelevant compared with the flavor and brewing methods. However,
a company's branding is crucial.
It dictates whether potential consumers make a purchase, or even simply take notice. The best beer in the world would
never sell without a recognizable and impactful label.
Logos are used to make your brand memorable
, so customers will tell their friends or engage with your company's other products. If you brew your own beer, then you can
easily develop your branding online
. Many resources exist, which create excellent logos that will stand out from the crowd.
Ready to Design Your Own Logo?
These days, you don't have to spend a fortune on a designer. With sophisticated AI-based tools like
Wix Logo Maker
 or
Tailor Brands Logo Maker
, it's easy – and even fun! – to design your own logo. If you'd rather have someone else do the work for you, you can hire a great designer for a low price on
Fiverr
(
click here for some expert tips on how to find the best designers
). Looking for more ideas? Don't miss our list of the
top logo design services
.