The typography used in your logo is a vital element, so why not find an impactful font and make it the main feature of the design? There are four main typefaces to choose from: sans serif, serif, script, and decorative. Any style can look good, but you'll want to be sure you choose typography that best suits your company's aesthetic. Not sure what kind of typography you need? That's where an expert logo designer comes in. The right designer will know just what type of font (size, weight, and style of typeface) is best to ensure your logo looks great, reflects your company, and is easy to read at a glance.
In this article, I'll show you how you can get your new logo design for only $5
.
9 Best Typography Logos
A colleague of mine recently ran an experiment testing various logo design services. His results were not what I expected, to say the least! Check out his
extensive logo design services review
 to see which popular services were tested and which one created our new logo!
How to Get Your $5 Logo
Sometimes skimping on price means you end up with a poor-quality product. But other times, there's little correlation between price and quality. So is it possible to get a bespoke logo designed by a pro for a reasonable rate? With Fiverr, the answer is a resounding
yes
. Fiverr is a freelancing platform that connects you with professional graphic designers with prices starting at $5. There are thousands of designers with packages at this low starting rate. Before my experience with Fiverr, I'd never have believed that a service
this
 affordable and professional was even possible! Fiverr designers are super talented and many have years of professional design under their belts. For less than your daily cup of coffee, you can get the typography logo design of your dreams. To begin,
head to the Fiverr homepage
 and type "typography logo" into the search bar. The profiles that pop up will feature sellers specializing in this style. Scroll through the results until you see a profile you're interested in.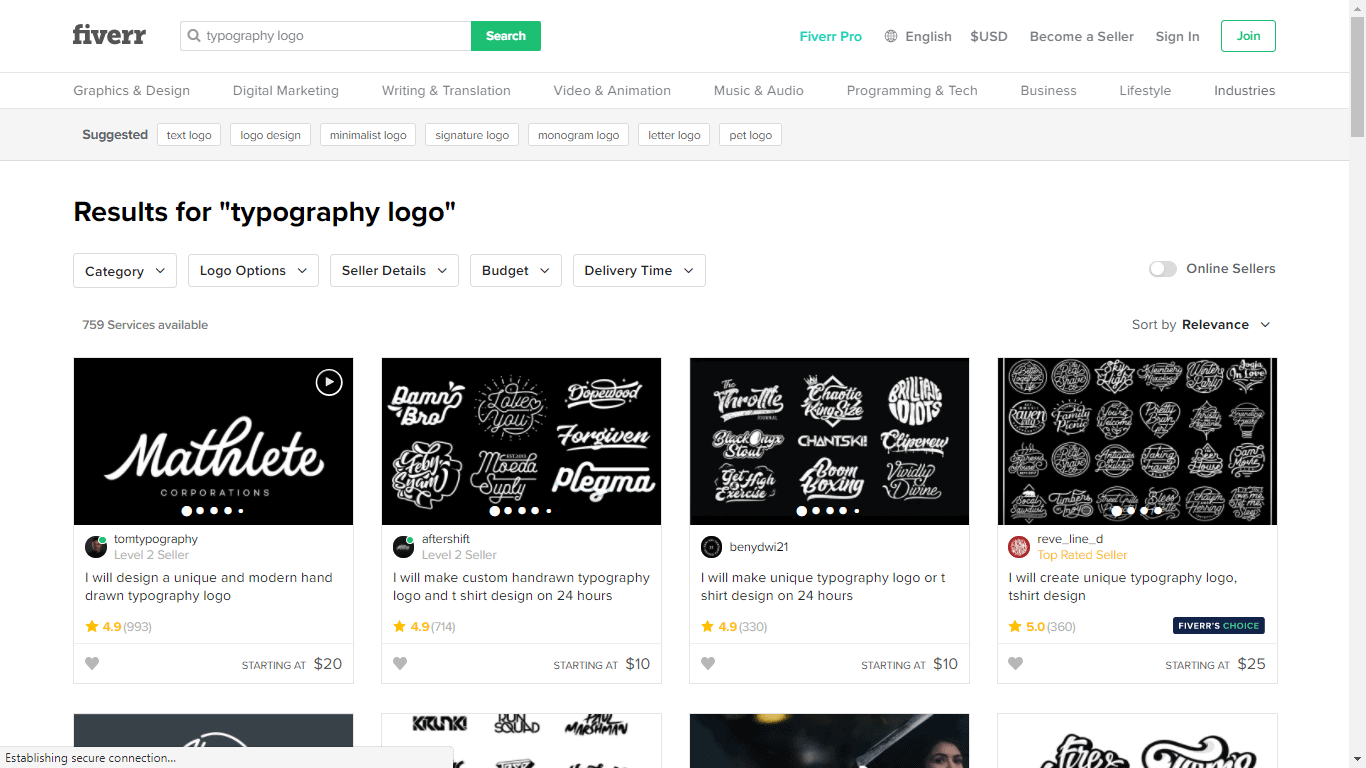 Click on the profile snapshot to open the full view. This is where you'll be able to find out more about the designer's style and how they've worked with clients in the past. Their portfolio and "About This Gig" section are the best places to get a feel for who a designer is. There are three package levels offered: basic, standard, and premium. When you're ready to hire, click
Continue
to head to the next page.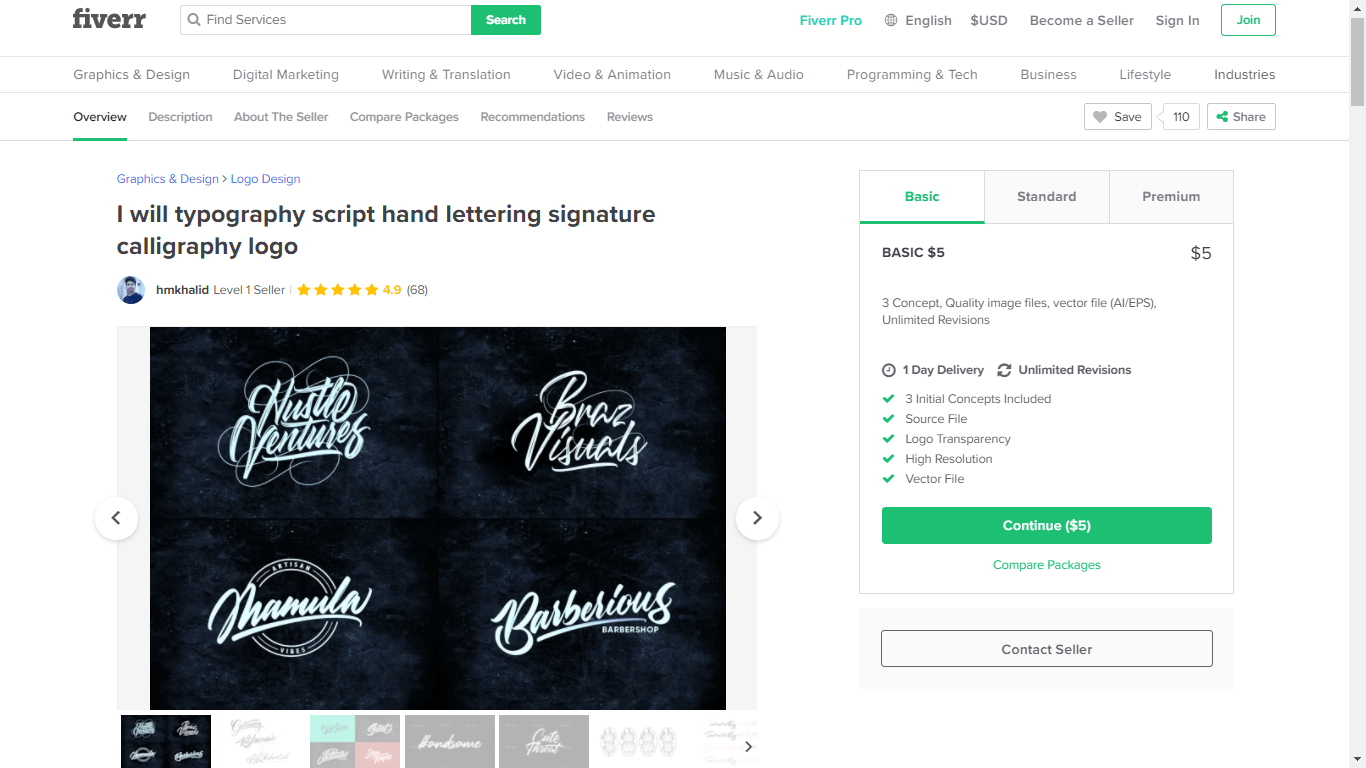 The payment preview page will detail the final cost of your chosen package and its services. If you don't see a service you need, you can head back to the designer's profile and select another package or see if they offer add-ons. Click
Continue to Checkout
once you're happy.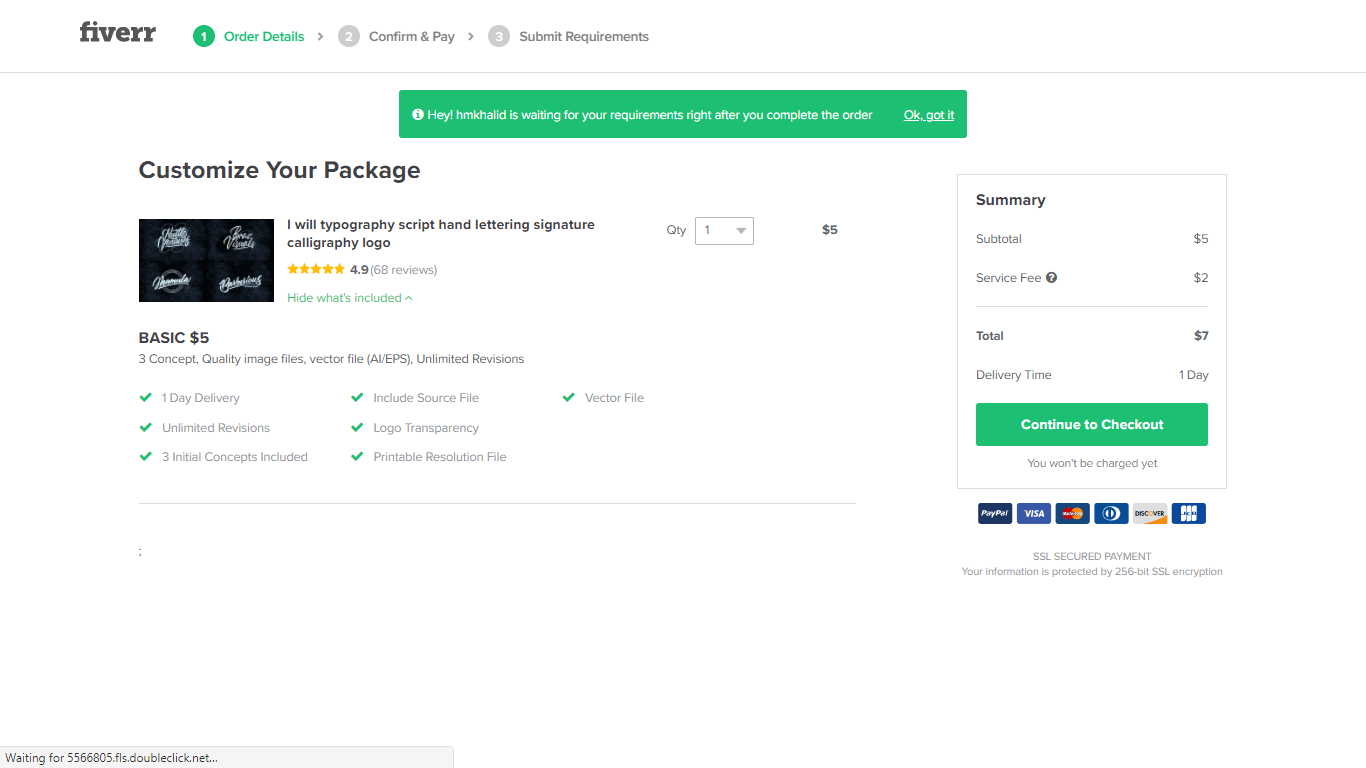 From here, all you have to do is sign up for Fiverr and enter your payment details. You'll be able to fill out a questionnaire about your logo's desired style to pass on to your designer. They receive your request right away. In a few days, your new logo will be delivered to you! Here are a few other benefits of using Fiverr:
Easy designer search – Know exactly what you want in a designer? Use search options like budget, logo style, and delivery time to show only designers that meet your criteria.
Seller levels – Every seller is given a level based on the amount of work completed and their customer ratings. Choose a higher level seller to better guarantee the quality of your logo.
Customizable packages – Some designers offer package extras for an additional fee. You can add services like expedited delivery, a 3D mockup, stationery design, and vector files.
Escrowed payments for security – As you saw above, your payment is made upfront, but it's held by Fiverr in escrow until you authorize its release to your designer. Once you receive a product you're happy with, simply approve the payment.
Want to know more? Read our
expert Fiverr review
to see some logo samples.
How to Create Your Own Logo
Being creatively involved in the design for your logo may be an attractive option to the artistically minded among us. Even if you aren't the best artist in practice, there's an appeal to bringing your logo vision to life. Thankfully, you don't have to be Picasso or Frida Kahlo to create an attractive logo design. The key to a professional-looking DIY logo is Wix Logo Maker. I always recommend it because of its user-friendly design and powerful customization features. This tool guides you through a series of design-related questions, then uses AI technology to compile this data and suggest logo templates personalized to your preferences. Ready to see for yourself how the AI operates?
Head to the Wix Logo Maker homepage
 and create a profile. When prompted, enter your company's details and click
Let's Go
to move on.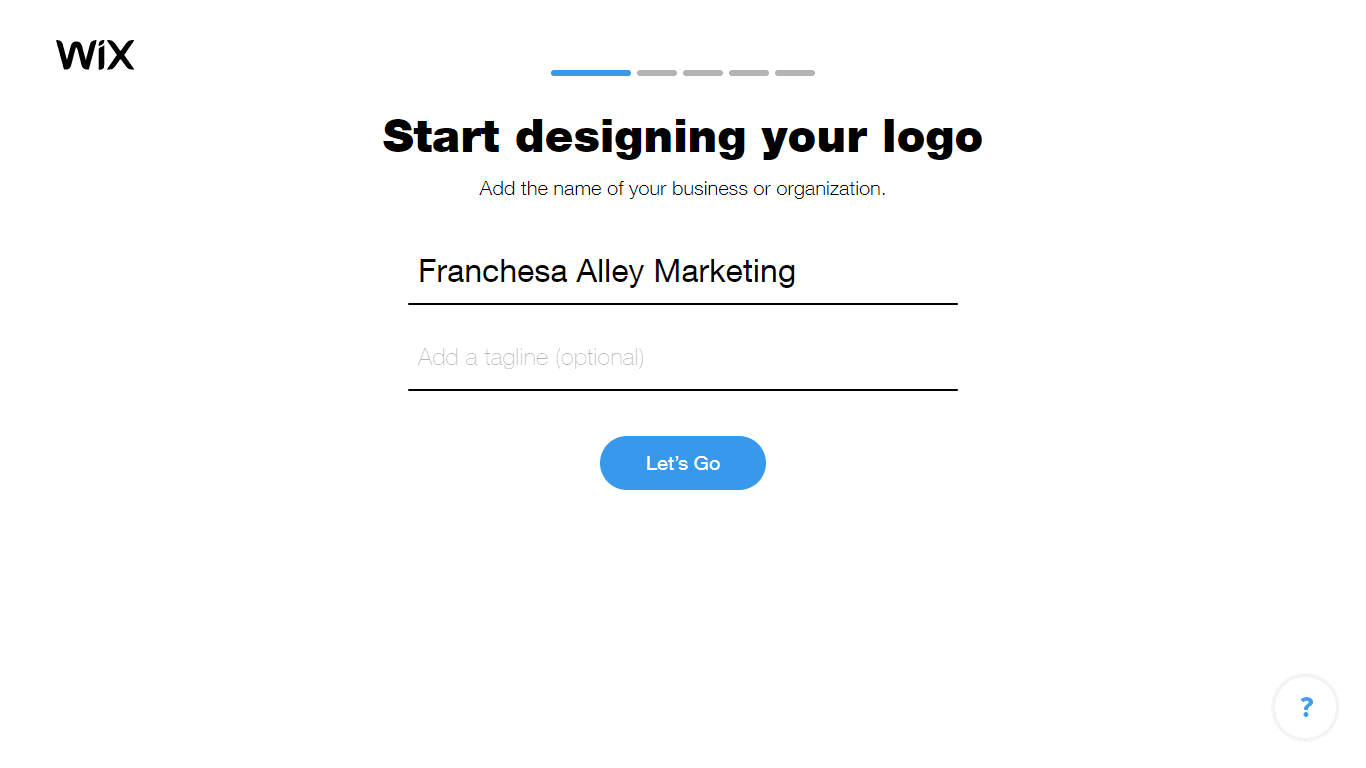 On this next page, you'll need to enter your industry. Start typing in the search bar and scroll to select the right option. If yours doesn't appear, choose the closest one.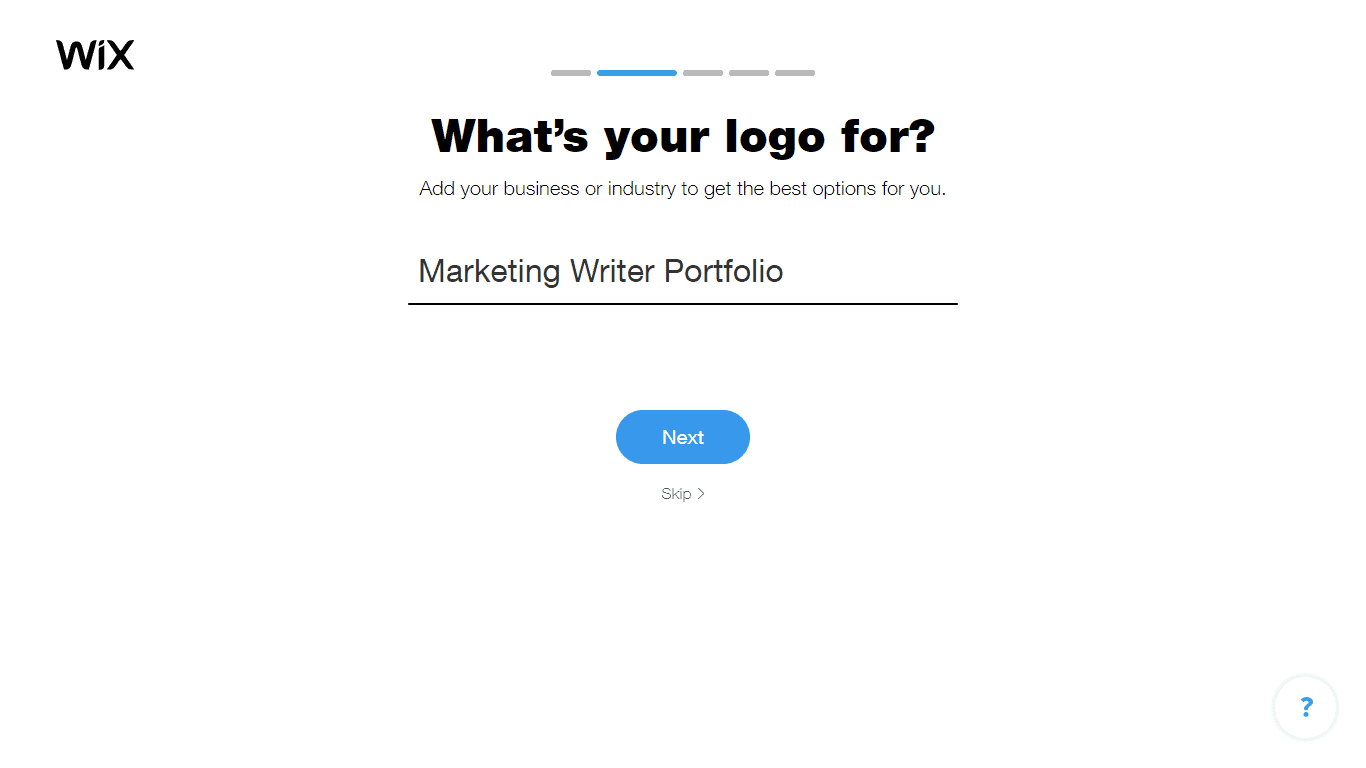 The next page that pops up features a collection of descriptive words, like playful, modern, and techy. Select all the words that reflect your dream logo's design.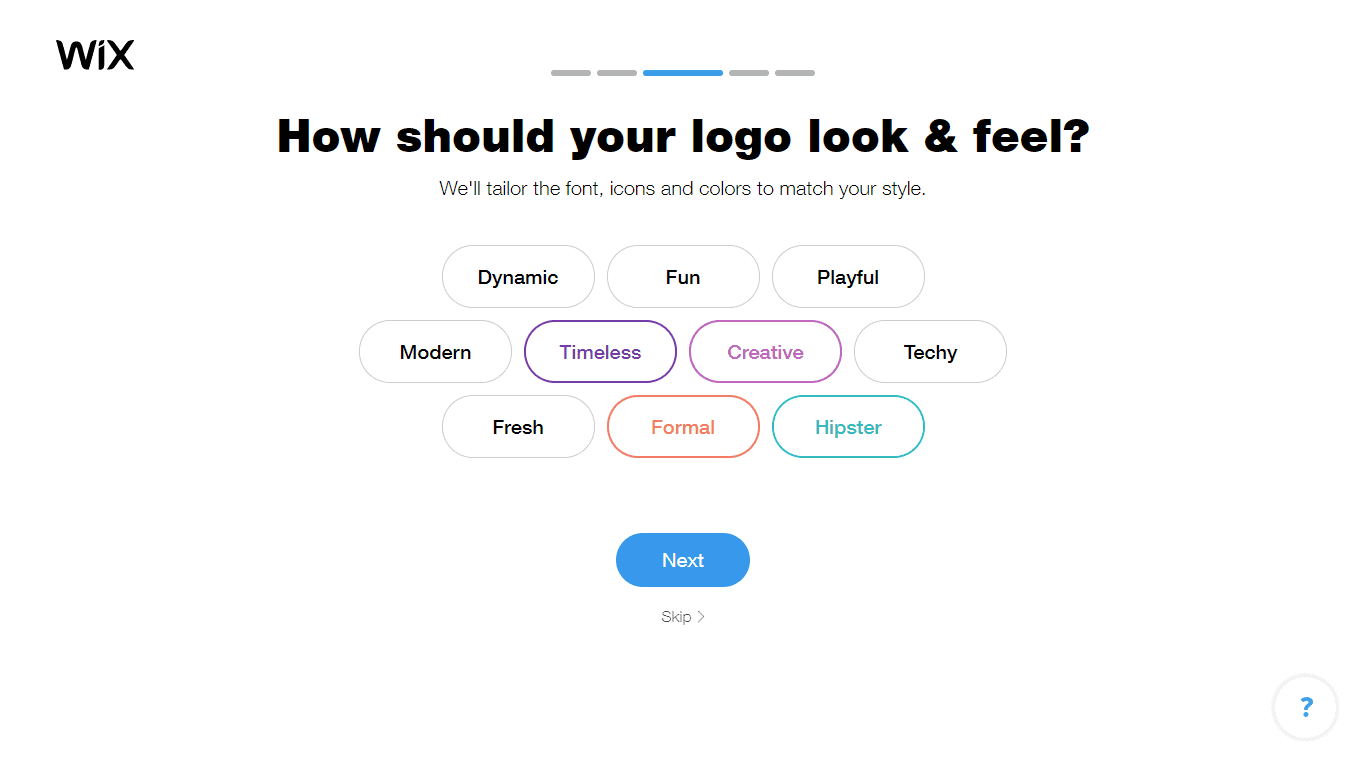 The logo pairs are important, so you definitely shouldn't skip this next step. Choose the logo in each pair that you like best. Clicking
I don't like either of them
will move you on to the next pair and let the AI know that neither design style is right for you.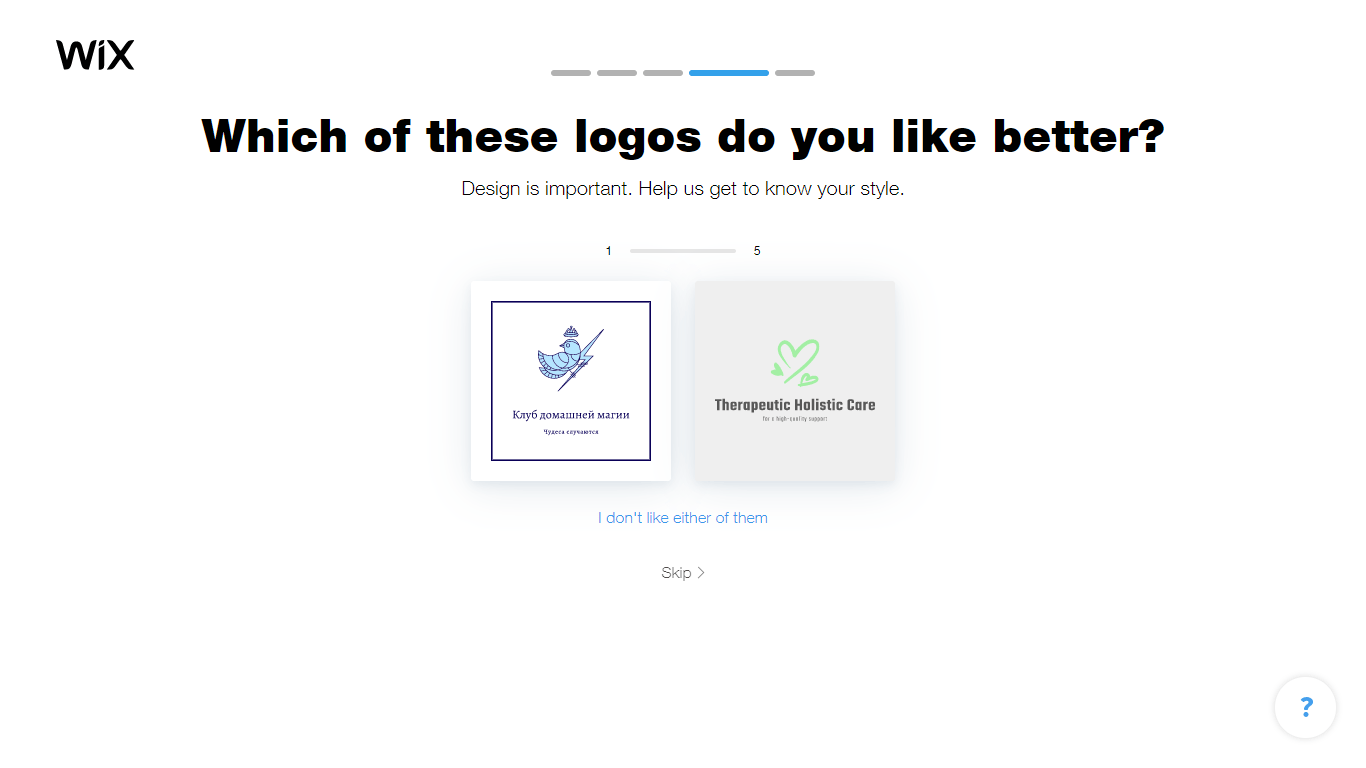 Finally, select the places where you intend to use your logo as branding, like social media, merchandise, or a website.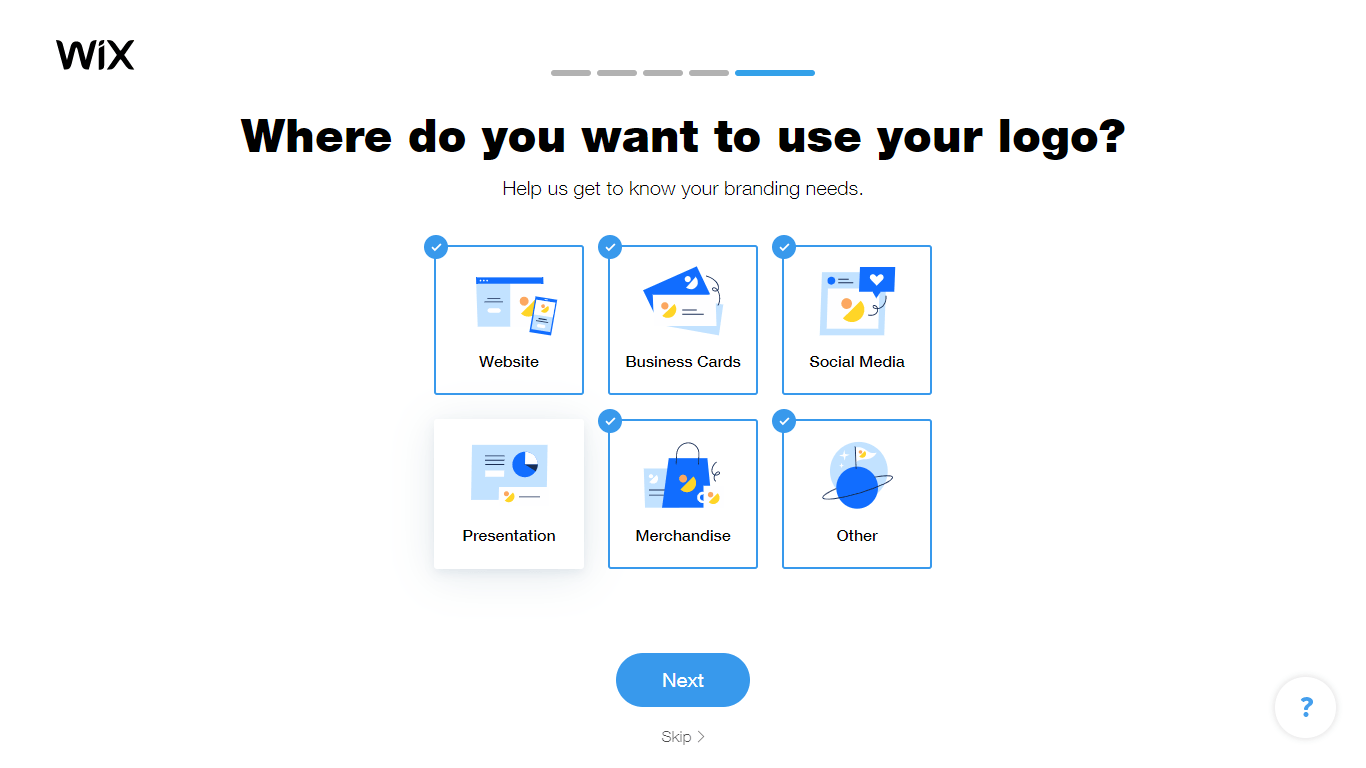 Once you click
Next
, your logo suggestions will appear and you can scroll through the results the AI has generated for you. Your suggestions will be based on both your industry and the design styles you liked previously. There are lots to choose from, so browse the results until you find a design you want to edit.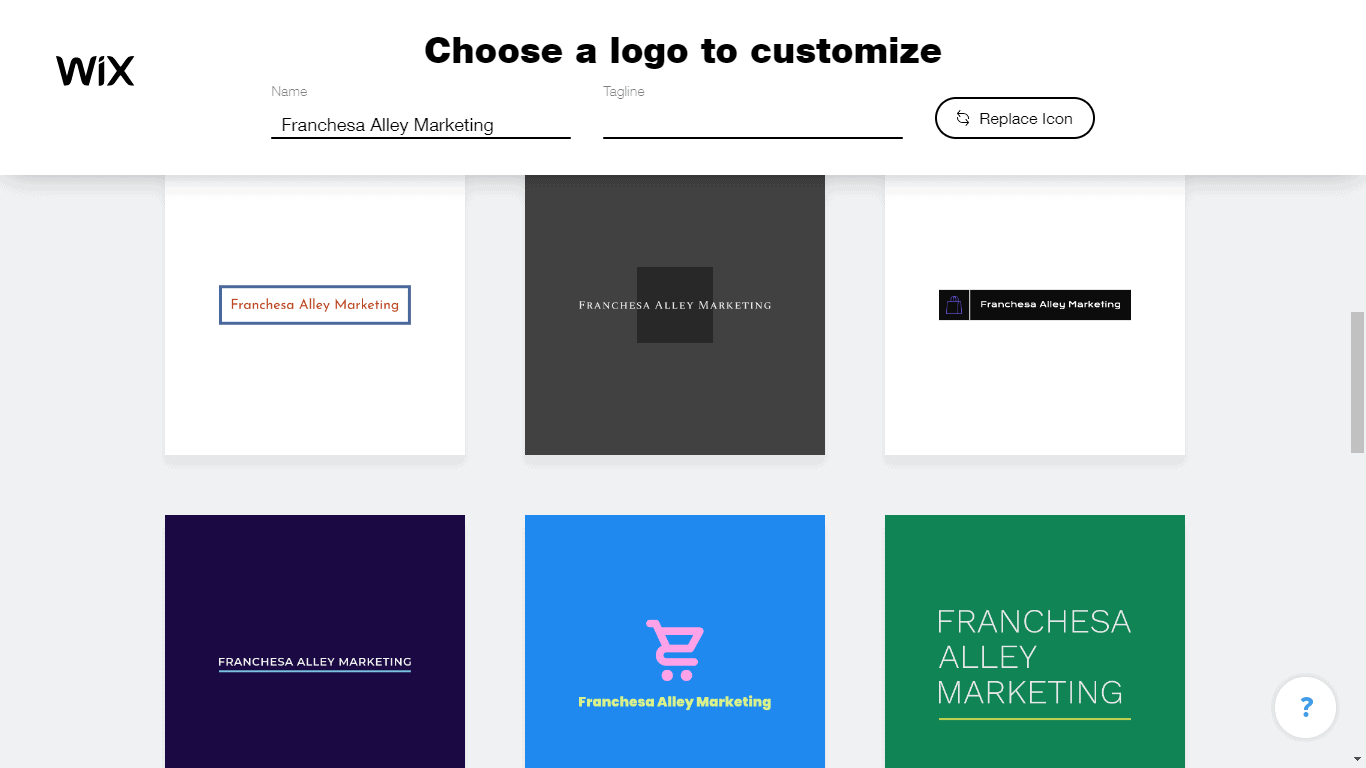 If you want to include an icon alongside your typography, you can pick a new image at this stage. Click
Replace Icon
to open a search feature. I searched "marketing" for my example to see what sort of icons were available for my industry. Clicking on an icon will add it to all of your logo suggestions. If you just want a font-based logo, then ignore this step.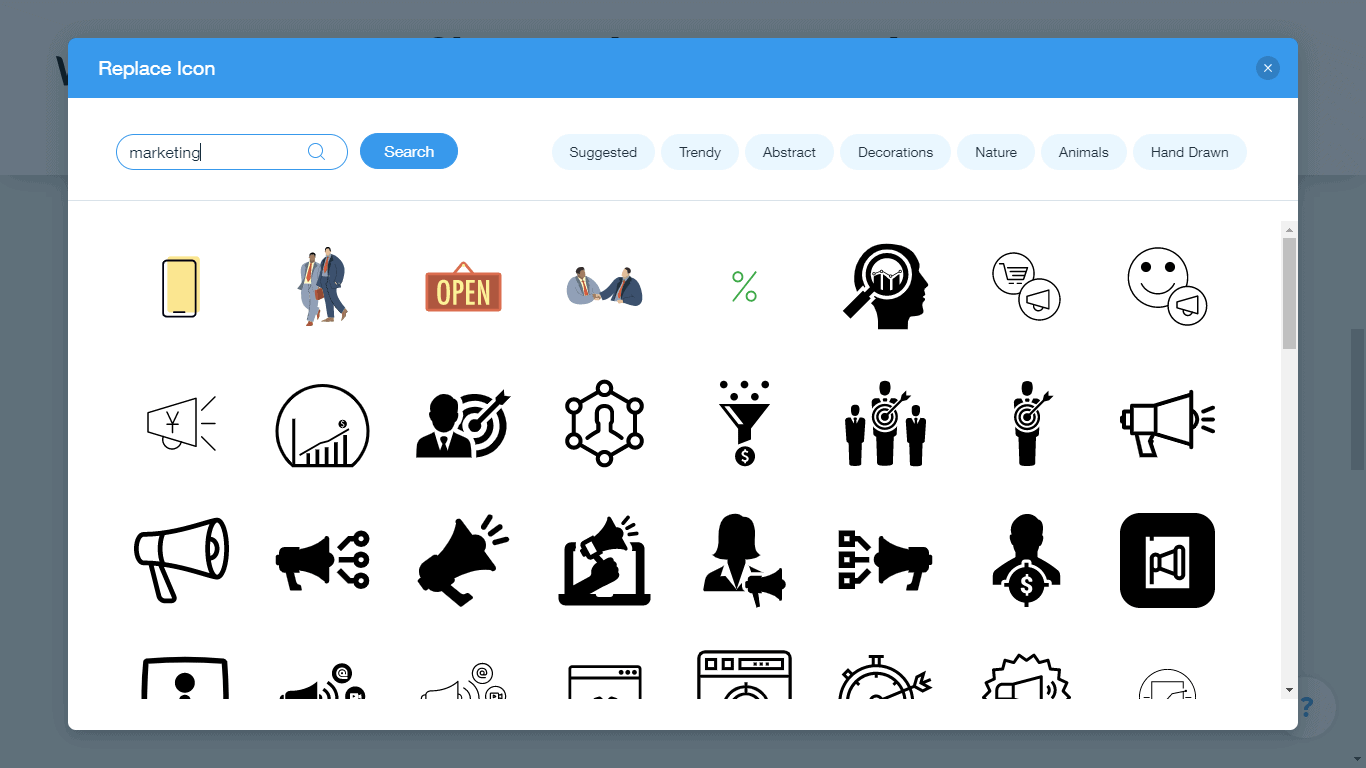 When you're ready to start customizing, click on the template you've chosen to move to the logo editor. This stage is where you can make the design your own. Choose from 70+ preset color palettes and thousands of icons in categories like abstract, hand-drawn, and nature. When it's time for you to choose the font for your logo's typography, Wix Logo Maker has more than 200 styles to choose from! I went for a simple abstract icon in the background to make sure the typography was center stage. Once you've chosen the perfect font and have finished your edits, click
Next
to choose your logo package and make your payment.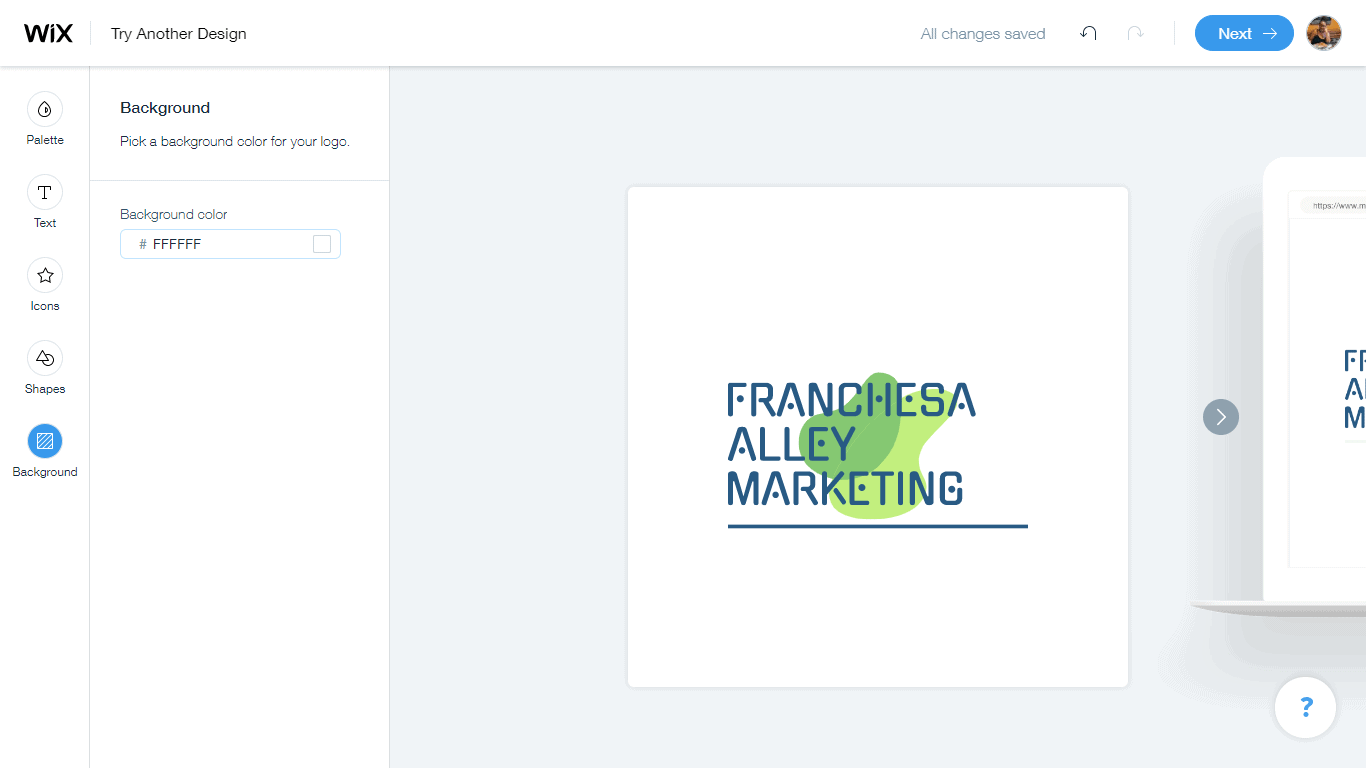 And, that's it! The whole process is really quite simple. Once you have your new logo design in high resolution, you can use it wherever you need it.
Wix Logo Maker Alternatives:
DesignEvo – Don't feel the need to get an AI involved in the process? Keep it simple with a template-based approach. With DesignEvo, your logo design journey is simplified with ready-to-go templates across 18 categories.
LogoMaker – If speed is of the essence and you need a logo design quickly, then LogoMaker is ideal. You can complete your logo in only four quick steps, which is perfect if you've gone for a simple, typography-only option.
Want to know more? Read our
expert Wix Logo Maker review
to see some logo samples.
Final Thoughts
If you're on a budget, then the idea of hiring an experienced designer might not have crossed your mind.
But with Fiverr, you can find a talented graphic artist no matter the size of your budget
, which means your dream typography logo may be closer than you think. Your best chance at DIY is with the help of a logo maker.
Wix Logo Maker combines all the best features from other logo makers into one convenient tool
, without being overly complicated or ridiculously expensive. Not sure which logo design service is the right one to choose? Then the search continues! You can check out my colleague's
expert logo design service review
 to see how other services ranked against Fiverr and Wix Logo Maker.