Color is a significant factor when it comes to the branding of your business.
Why? Well, the color of your logo conveys a message to your consumer, which can then evoke emotion and cause them to react — maybe even make a purchase.
 In fact, according to Just Creative, a product's coloring is the first thing a customer will notice. Color is so important because it can influence 60-80% of their purchasing decision.
 Color Psychology claims that blue is one of the most popular color choices for a logo. It has many different associations and perceptions, which is what makes it so universally liked.
What Truth Does Blue Reveal?
 It goes without saying that blue has calming and soothing connotations. If you're feeling stressed, upset, or anxious, all you have to do is take a walk by the ocean or sit and look up at a clear blue sky to feel more relaxed and centered.
It makes sense, then, that blue as a logo color has the ability to radiate strength, dependability, and tranquility. According to The Logo Company, it's also the go-to logo hue if you pride yourself on professionalism and sincerity as a business.
Blue conveys honesty, caring, and peace. Furthermore, it has the power to:
inspire loyalty
instill confidence
promote intelligence
build authority and trust
Due to these larger-than-life meanings, it's easy to understand why blue is considered a highly corporate color.
Booming Brands That Embrace Blue
Blue's associations with confidence and authority make it a common logo color choice, especially among the technology, healthcare, airline, and financial industries.
 The idea is to use the color blue to make your consumer feel utterly at peace within your brand experience. And if they feel calm and at ease with your company, they're much more likely to trust you. This trust then leads to loyalty and, ultimately, gives your customer a reason to keep coming back to you.
Blue Promotes Intelligence
 First up, blue evokes intelligence, which is why this branding color is well liked by technology companies such as Dell and hp.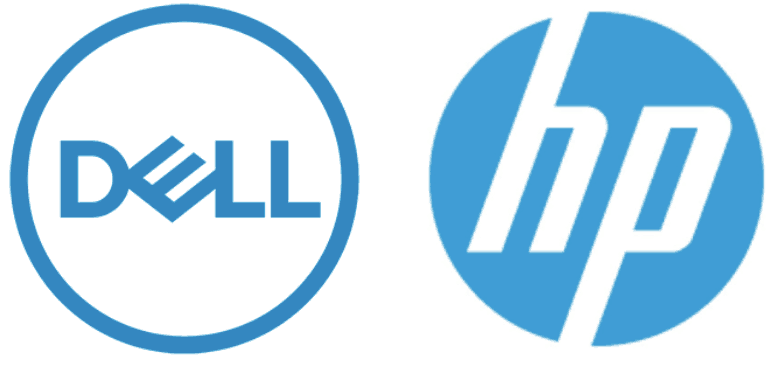 Along with improving concentration levels, various shades of blue can also stimulate creative thinking and enhance mental clarity. It's supposed to be the perfect color to promote work or study because it can offer serenity and stimulation simultaneously. Because computers aid us in both areas nowadays, blue logos and technology companies undeniably go hand in hand.
Blue Has a Calming Effect
 Blue is also an ideal color for companies that pride themselves on their coolness and composure. Why? Well, according to Fast Company, blue is renowned for calming the senses and lowering blood pressure.
 An example of the perfect match with a blue logo would be an airline company, like United Airlines.

This is because flying and being thousands of feet in the air understandably terrifies a lot of people. In order to build up the confidence to be able to step into the plane, a consumer has to feel reassured by the airline.
And the most effective way an airline can reassure their consumers is by making their branding blue. Blue has been proven to slow down your heart rate and breathing to aid in meditation or relaxation, which can automatically take the fear out of flying.
The same notion applies to the healthcare industry. For instance, WebMD features blue in their logo, which promotes a sense of reliability and dependability for consumers seeking information relating to their health.

Blue also has caring and cleanliness connotations, which is another reason why it works so well for healthcare companies.
Blue Inspires Trust
 Additionally, blue is intrinsically linked with confidence, which thus inspires trust. This is similar to the color red, for example, which also has associations with trustworthiness. If you're considering using a red logo, read our article on what a red logo says about a brand.
 The quiet confidence that blue conveys is what makes it such a great branding choice for financial companies, such as PayPal and VISA.

It also works well with social media giants that rely on consumers to provide their personal information to sign up, like Facebook and LinkedIn.

If you want your consumer to relax, open up, and trust your business, then a blue logo might be the right way to go.
Businesses That Should Beware of Blue
Even though blue is a popular color among the masses, it does have some negative connotations, too. It can be seen as unappetizing, snobbish, and void of emotion; therefore, you might want to stay away from blue if you fall into one of the following categories.
Foodservice industries. Blue brings tranquility to all things, including tranquility in the body, which naturally slows down human metabolism. Due to its ability to suppress appetite, it's not a good match for companies that sell food and drink. In fact, it's been suggested that eating food from a blue plate will actually make you eat less.
Feminine clothing or beauty stores. As blue is the traditional color associated with the male gender, you might want to steer clear of it if your brand primarily targets females.
Low-end retailers. Blue can also be described as snobbish or aloof, which wouldn't make sense if you were trying to sell cheap or discounted products, promote accessibility, and invite the consumer in.
Toy companies for kids. Due to its unemotional and cold connotations, you might want to avoid a blue logo if you're trying to evoke fun and cheerfulness. Instead, consider yellow! Here's our article about what a yellow logo can illuminate about your business.
Funeral services. As blue has the ability to have a negative or melancholy effect, it might be inappropriate as a logo hue for your funeral services company, as this will only enhance its effect.
Conservative political consulting firms. Blue has associations with liberal parties worldwide, including Democrats in the U.S.; therefore, if your target audience consists mostly of Republicans, you might want to avoid using blue in your branding.
(Success) Beyond the Blue Horizon
A popular logo color choice, blue has a calming, trusting, and intelligent influence on a consumer. Even though it can add drama to your logo design, too much blue can come across as negative and aloof with a lack of emotion.
If blue is definitely the logo color for you but you're struggling to decide on specific shades and tones, or if you're wondering whether to introduce a secondary hue, the best logo design services can help you find the perfect look for your brand.
Either way, if you're a technology service, airline, financial company, or in the healthcare industry, this logo hue is guaranteed to find you success beyond the blue horizon.
---
Sources
Just Creative: https://justcreative.com/2018/02/19/color-psychology-in-logo-design-branding-explained/
Color Psychology: https://www.colorpsychology.org/blue/
The Logo Company:  https://thelogocompany.net/blog/infographics/psychology-color-logo-design/
Fast Company: https://www.fastcompany.com/3028378/what-your-logos-color-says-about-your-company-infographic