Many design websites suggest a plethora of "free" fonts, only for the fine print to hit you hard: "free for personal use only."
Or you find fonts that are free to use, but you have to pay a monthly fee to access the download websites. I've done extensive digging and
found 70+ fonts that offer free licenses for commercial (and personal) use.
Keep in mind, some licensing terms might limit what you can do (no repackaging or reselling fonts, for example), but otherwise, you're in the clear when it comes to standard usage of these fonts.
How to Choose the Best Font for Your Project
Now that you're on the path to choosing the best free fonts for commercial use, you want to think about how you'll be using said fonts. Since every project is different, you want to
select typefaces that reflect the goals and overall tone for each particular design
. Read on for some key considerations when you're choosing fonts.
1. What's Your Project?
The type of project you're working on can help direct your font choices.
Will it be in print or displayed on a website (or both)? Is it for a major publication like a newspaper or magazine, or a casual newsletter? Handmade product labels or high-end
wedding invitations
? Or perhaps you have a poster that calls for a retro-style logo with bold headlines. In other words, some projects might call for a less formal look with a sans-serif or hand-lettered font, while more elaborate designs require a brush script or classic-looking serif font. Once you have a theme in mind, it can help you narrow down potential font categories much quicker.
2. What's Your Design Aesthetic?
Think about the target audience and the image you're hoping to project.
Do you cater to a younger crowd or an older, more sophisticated demographic? Think about the colors and images you use in your branding – are they playful and light, neutral and timeless, or deep and mysterious?
Your font choices should fit in naturally with the materials
– something cutesy might not resonate with a mature or high-end crowd, while plain-looking fonts wouldn't reflect a lively personality.
3. What's Your Competition Using?
Building on your design goals,
take a look at the work of your peers and business competitors
. What catches your attention and has you curious about their products and services? What design schemes and typographic choices seem to be working for them that you could use as inspiration for your own projects? Big-name brands often use custom-made logotypes or premium-quality (read: pricey) commercial fonts, but
there are still plenty of free alternatives that might also work for you.
4. Choosing Fonts That Pair Well
If you decide to use more than one font in a design, you want to ensure they work well together. But don't get carried away, either – stick to two or three font styles at the maximum.
A little contrast in size and font weights can help you organize information on a flyer or a website
, but if there's too much variance in the fonts, it can make things look chaotic and disorganized. Play around with combinations until you find the right look, or check out websites that suggest font pairings if you need a little extra guidance.
5. Keeping Font Fixes to a Minimum
Another important consideration – choosing fonts that require minimal design tweaks. After all, if you spend hours on a document only to find the letter spacing is uneven due to poor kerning (too much space between letters), you may find yourself scrambling for a replacement font. Some issues are easily adjusted when a trained designer is working on your projects, but this can eat away at your time and budget if you're working with a printing company or doing the work solo.
Before you make font decisions, look at sample images – many websites show full font previews to give you a look and feel for the type.
As an added bonus, some websites even let you test out fonts before you download them. Worth noting – in the examples to come,
I haven't modified the spacing of the fonts in any way, so you can see exactly how they'll come together
with no further (or very minor) adjustments.
Serif Fonts
Let's get started with classic serif fonts – these are traditionally used by newspapers and book publishers, and many high-dollar brands use them for their advertising campaigns and
logo designs
.
Serif fonts – characterized by their little "feet" and decorative features, provide a more formal and conservative look that works particularly well for printed media.
Bitter
Styles: 4
Designer: Sol Matas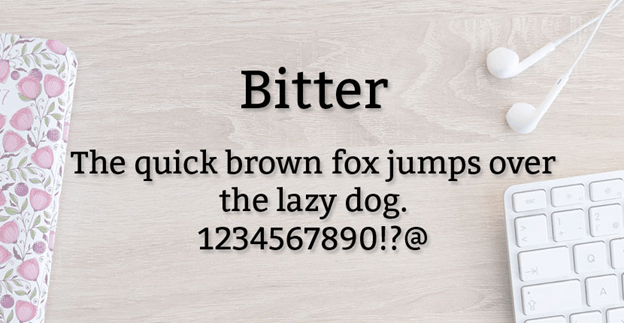 Bitter features the formal look of serifs without looking too fancy, plus
it's designed to support multiple languages with optional ligatures
(joined letter combinations like ff, tt, and fl). Comes in regular (shown here), italic, bold, and black font weights.
Download Bitter here
Bodoni XT
Styles: 1
Designer: Manfred Klein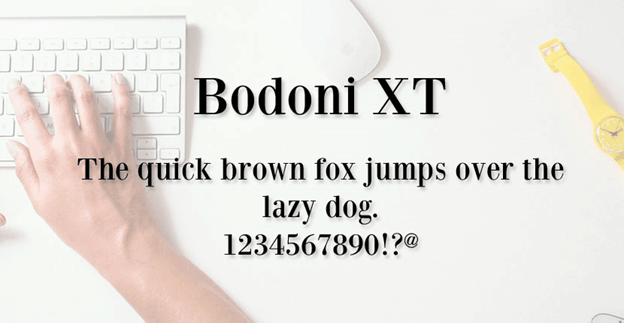 A traditional serif font with extra characters for Latin-based languages.
Bodoni XT is an excellent choice for formal documents, newspapers, and printed books
. This version comes in the regular weight only, although you can set it in faux italics with software that supports the setting.
Download Bodoni XT here
Elsie
Styles: 4
Designer: Alejandro Inler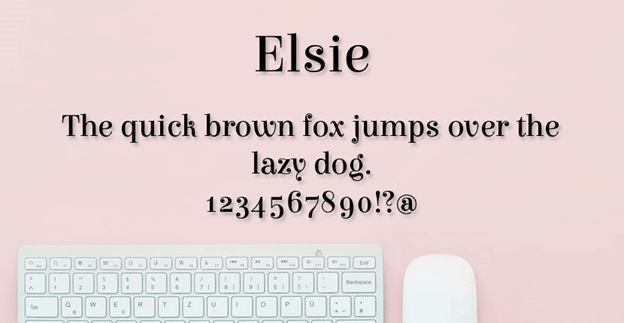 This serif font has a fun and feminine feel to it. Elsie features elements of Bodoni with
curly serifs that add extra personality without being too distracting
. It comes in regular, swash caps (a fancier style of capital letters), black, and black swash caps.
Download Elsie here
Lora
Styles: Several, multiple formats
Designers: Olga Karpushina and Alexei Vanyashi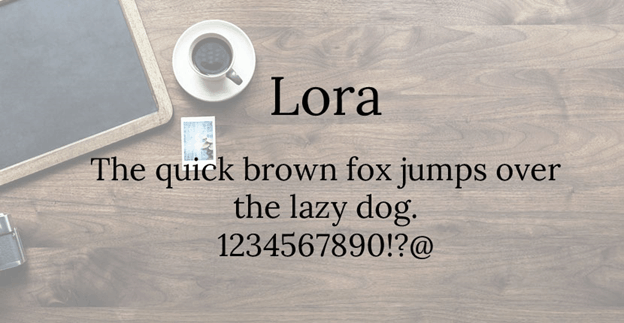 Designed with roots in calligraphy (according to the designer), Lora is pretty to look at yet maintains a professional feel wherever it's used.
Lora features support for Latin and Cyrillic languages, and also includes Vietnamese glyphs
, extending its usefulness across the globe.
Download Lora here
Merriweather
Styles: 8
Designer: Sorkin Type Co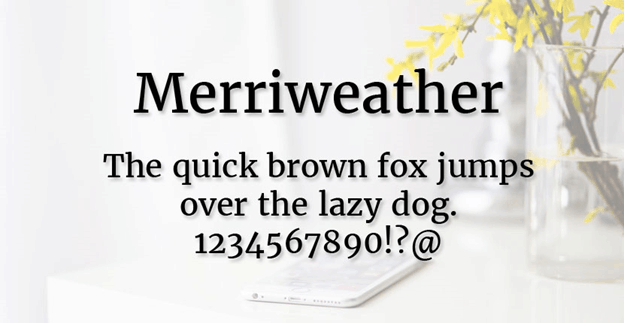 Merriweather comes in several styles and weights so you can emphasize important information without switching fonts
. This not only makes it suitable for print use, it's also easy to read on computers and mobile device screens. It also comes in a sans-serif version that would pair nicely with it.
Download Merriweather here
Playfair Display
Styles: 6
Designer: Claus Eggers Sørensen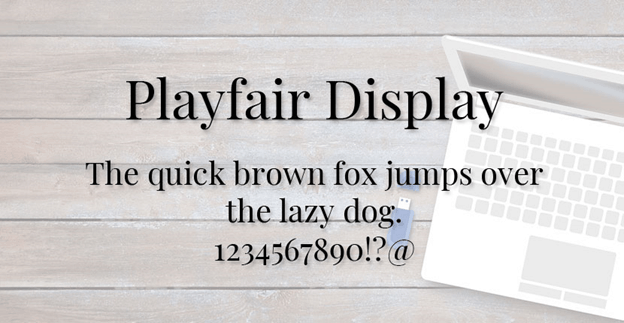 Playfair features transitional design elements that give it a more playful look compared to standard serif fonts
. It would work well for stylized headlines and book covers. It features support for multiple Latin-based and Cyrillic languages, along with Vietnamese. It comes in six styles: regular (shown here), italic, bold, bold italic, black, and black italic.
Download Playfair Display here
Poly
Styles: 2
Designer: José Nicolás Silva Schwarzenberg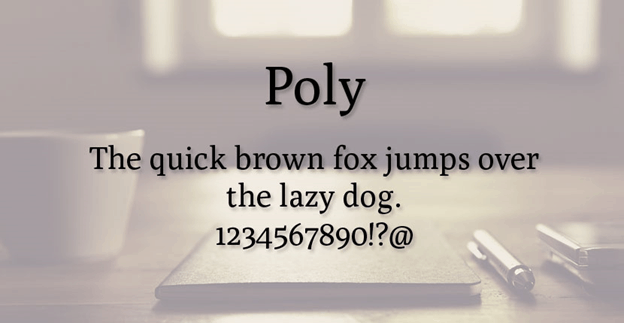 This version of Poly comes in regular and italic font weights.
It's clean, simple to read, and works for long passages of text in newspapers and books, even at smaller sizes.
Poly also features support for a wide variety of languages.
Download Poly here
Prata Regular
Styles: 1
Designer: Cyreal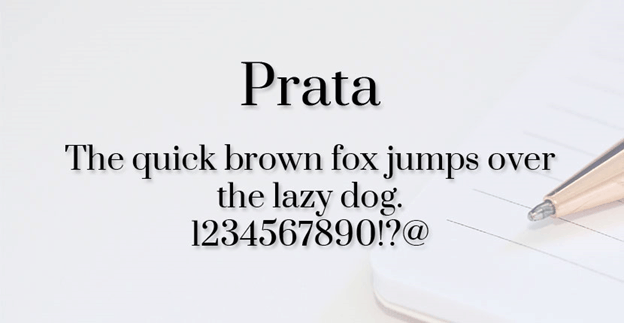 Prata only comes in a regular weight, but it looks good in multiple sizes. It features support for Latin and Cyrillic-based languages, plus Vietnamese, and
it can be embedded on websites via Google's font catalog.
Download Prata Regular here
Tryst Regular
Styles: 1
Designer: Philatype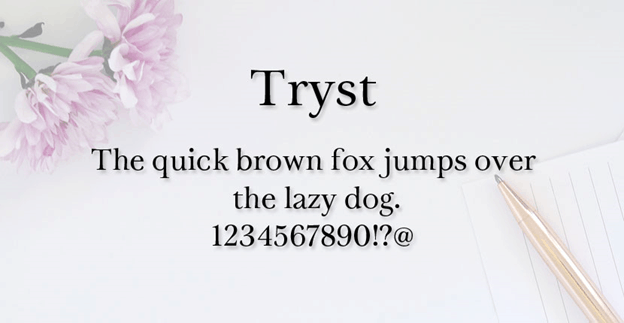 Tryst only comes in the regular weight shown here, but it supports the use of multiple languages. As with Playfair Display,
it features a transitional style with softer, more feminine touches, making it a bit flirtier than most serif fonts
.
Download Tryst Regular here
Vollkorn
Styles: Several in multiple font formats
Designer: Friedrich Althausen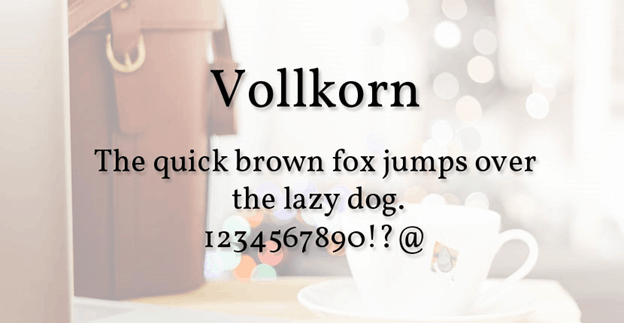 If you need a font family that covers a range of weights and styles,
this could be your next go-to font for wide-reaching communications.
It supports Latin-based and Cyrillic languages, plus Greek, and also features Polish, Dutch, Serbian, and Bulgarian support among its localized options.
Download Vollkorn here
Sans-Serif Fonts
Sans-serif fonts feature a clean and modern look, making them a popular choice for casual, relaxed, and honest communication.
They provide a nice touch of contrast next to their full-serif counterparts, giving them a no-nonsense yet unpretentious and approachable look.
Andika New Basic
Styles: 4
Designer: SIL International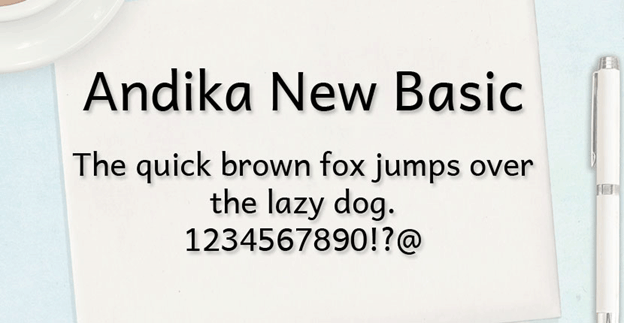 This font comes in regular (shown here), bold, italic, and bold italic. Andika features a full range of accented characters covering multiple languages.
It provides a clean look for everyday writing needs but looks better at larger sizes and for headlines
.
Download Andika New Basic here
Bebas Neue
Styles: 5
Designer: Ryoichi Tsunekawa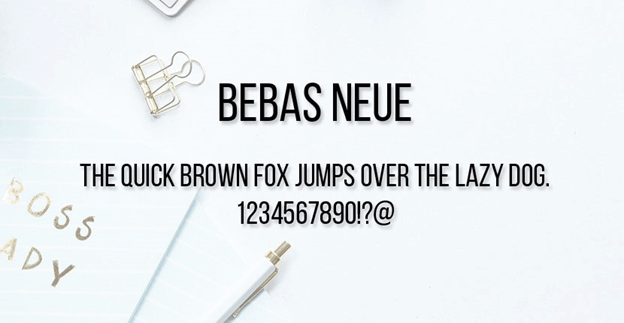 This all-caps font isn't designed for body text, but
it looks really good for headlines and graphics that need extra impact, including typography-based posters and signs.
It comes in five weights: thin, light, book, regular (shown here), and bold.
Download Bebas Neue here
Blogger Sans
Styles: 8
Designer: Sergiy Tkachenko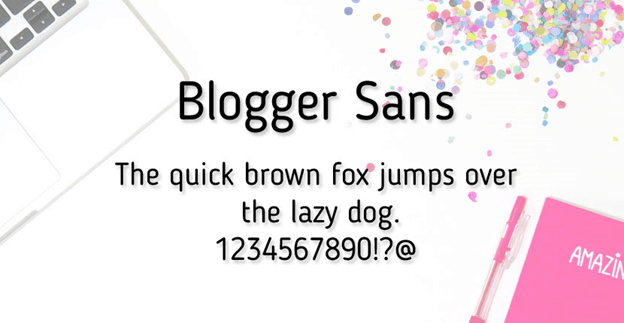 This is a fun sans-serif font that looks youthful and energetic, and as the name implies, it would be a good fit for a blogging website.
You could use Blogger Sans for a full range of marketing materials and web graphics, plus social media images.
Download Blogger Sans here
Cabin
Styles: 8
Designer: Impallari Type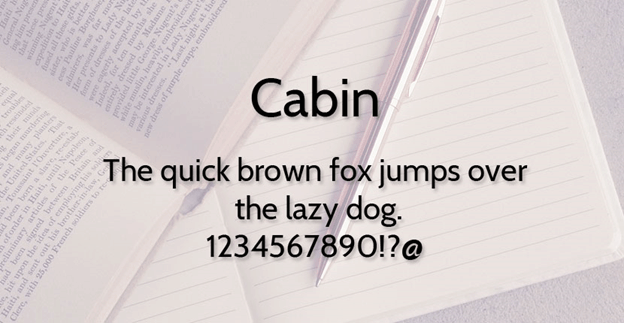 Cabin is a very clean font that's easy to read with its tight and even spacing between characters.
The "@" symbol offers a unique touch, too. Cabin can also be embedded on websites via Google Fonts, with support for Latin-based languages and Vietnamese. Comes in eight styles: regular (shown here), medium, semi-bold, bold, italic, medium italic, semi-bold italic, and bold italic.
Download Cabin here
Elaine Sans
Styles: 18
Designer: Wei Huang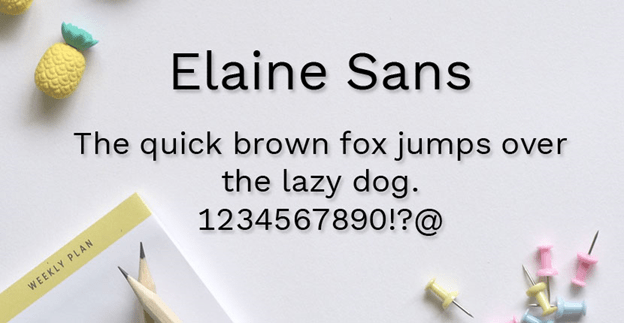 Elaine Sans features multiple font weights to accommodate a variety of needs.
Elaine Sans is an open-source project, which means multi-language support and ligature additions should help it grow and improve over time. It features a whopping 18 styles, including thin, extra light, light, regular (pictured here), medium, bold, extra bold, and black, along with italics.
Download Elaine Sans here
HK Grotesk
Styles: 12, multiple formats
Designer: Hanken Design Co.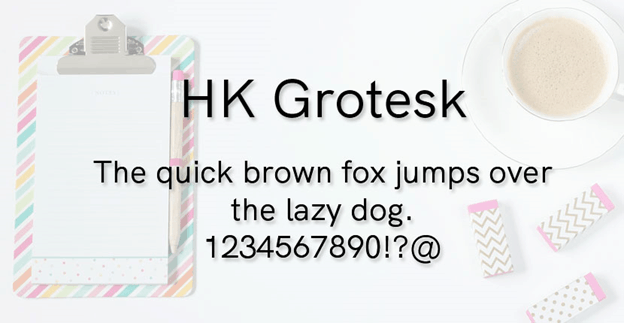 HK Grotesk is a very flexible group of fonts you can get a lot of mileage out of.
This font package comes loaded with multiple font styles and formats to suit any project you might have
, including web-ready fonts, TrueType, and OpenType fonts.
Download HK Grotesk here
(Note: Requires free account to download)
Linotte SemiBold
Styles: 1
Designer: Joël Carrouché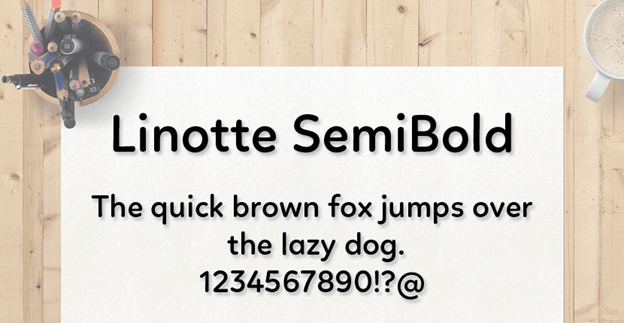 This font could serve as a suitable replacement for…dare I say it…the infamous Comic Sans font everyone has come to hate.
Unlike Comic Sans, this one isn't overused and would work well for classroom use or party invitations and signs for kids.
Download Linotte SemiBold here
(Note: Requires a free Fontspring account)
Noto Sans
Styles: 4
Designer: Unknown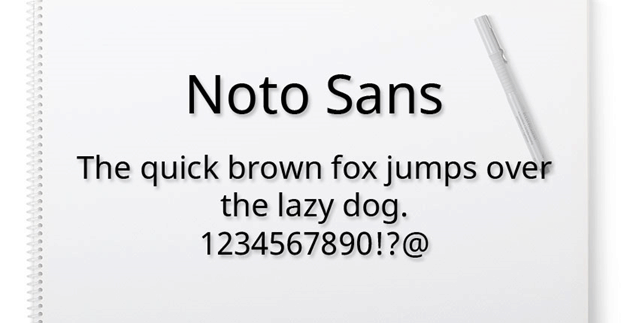 Yet another solid font option from Google, Noto Sans features clean lines to ensure easy reading.
Noto Sans is under active development to support a growing list of languages
, including Latin-based, Cyrillic, Greek, Vietnamese, and the Devanagari script.
Download Noto Sans here
Oswald
Styles: 15
Designer: Vernon Adams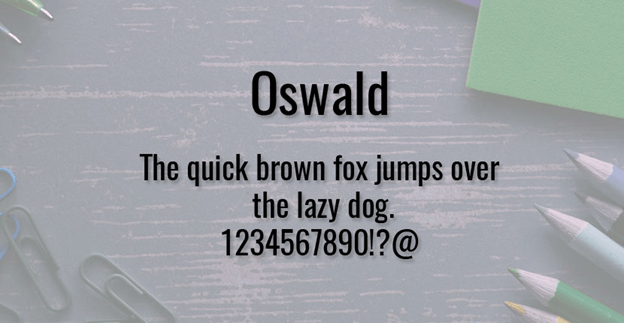 Oswald is a bit tighter and condensed compared to other sans-serif fonts, but it's still pleasant to look at. The regular weight is pictured here.
This font style works well when design space is at a premium
– you can pack more words into each line of text without diminishing its readability.
Download Oswald here
Print Clearly
Styles: 3
Designer: Blue Vinyl Fonts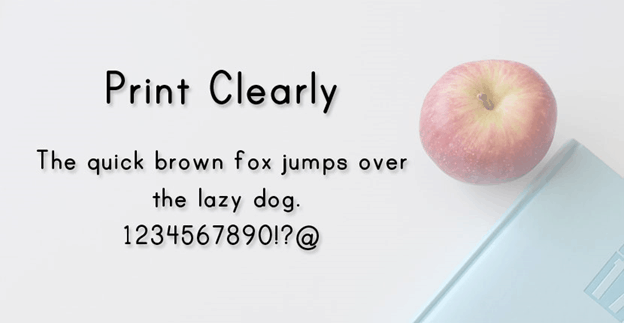 This font is probably not for the average user, but
if you're a teacher, Print Clearly comes in three formats that are perfect for worksheets
, including a dashed version that can help students practice their handwriting skills.
Download Print Clearly here
Slab Serif Fonts
Slab serifs look much like traditional serif fonts, with added emphasis through their bolder, slab-like strokes. This gives them a less delicate yet strongly grounded look with typewriter-like features.
Brands that want to project a bold image often use this style of font in their logos.
ALEO
Styles: 6, multiple formats
Designer: Alessio Laiso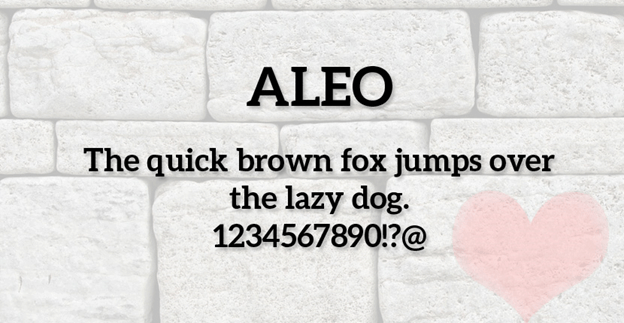 This contemporary slab-serif font package comes with Mac- and PC-compatible file formats, plus web-ready fonts. It supports several languages and
provides a strong and impactful look without being overwhelming
.
Download ALEO here
Ansley Display
Styles: 6
Designer: Kady Jesko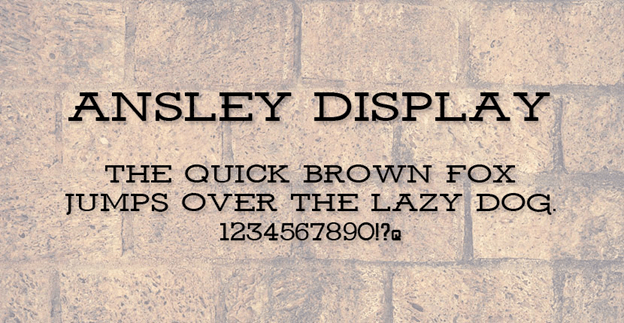 This all-caps display font features six styles,
including inline and outlined versions that you can turn into catchy headline graphics and banners
or use as logotypes for your brand.
Download Ansley Display here
Arvo (Four Styles) by Anton Koovit
Styles: 4
Designer: Anton Koovit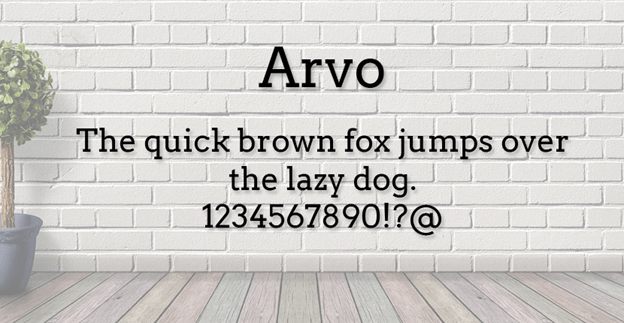 Arvo is one of my personal favorites as
a clean, geometric slab-serif with numbers that are easy to read and solid punctuation
. It currently only supports Latin-based languages, however. Comes in four styles: regular (pictured here), italic, bold, and bold italic.
Download Arvo here
Roboto Slab
Styles: 4
Designer: Christian Robertson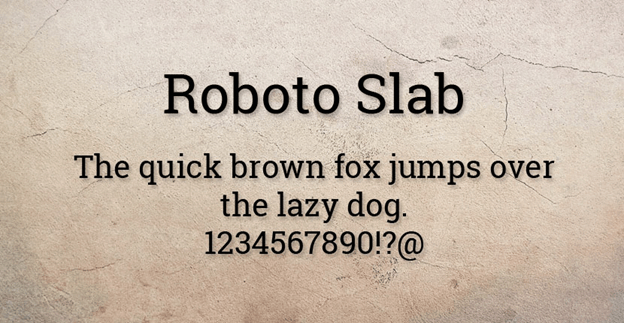 Roboto offers some slightly different letter shapes that are a bit taller and more condensed than other slab-serif fonts
. Roboto has the added advantage of supporting more languages compared to other slabs, including Latin, Cyrillic, Greek, and Vietnamese. Comes in four styles: thin, light, regular (pictured here), and bold.
Download Roboto Slab here
Twentytwelve Slab
Styles: 3
Designer: Dom Catapano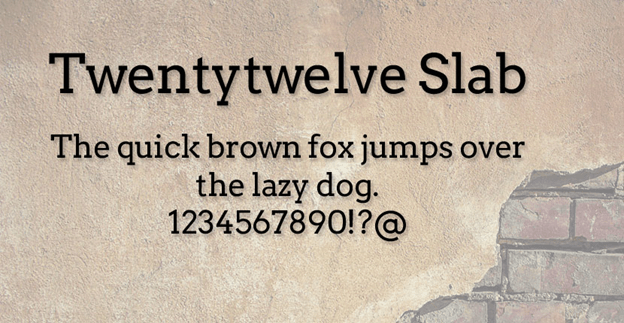 Twentytwelve Slab looks nearly identical to Arvo in many ways but
offers a couple of nice variations to the letter K and with less blockiness in the uppercase J
. If you're looking for something a little more "fun," this one might work better than Arvo for you. Comes in three weights: light, regular (shown here), and bold.
Download Twentytwelve Slab here
Brush Script and Hand-Lettered Fonts
This category covers a full spectrum of options to suit numerous creative projects.
Brush scripts and hand-lettered fonts appear on a variety of items, such as wedding invitations, posters, stationery, and handcrafted products.
Many of these fonts feature authentic handwriting, giving your designs a more personal touch.
Arabella
Styles: 1
Designer: MySunday Type Foundry
This script font doesn't have the overused look you've probably seen on mass-produced stationery items, which makes it
a good candidate for formal invitations, decorative signs, and personalized gifts.
Download Arabella here
(Note: Requires free email subscription)
BlowBrush
Styles: 1
Designer: Petar Acanski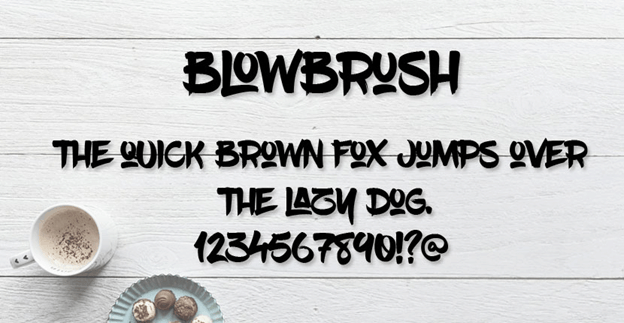 This is a brush-style font that's
ideal for large event posters and signs
. I would recommend setting the font size as large as you need it to ensure optimal readability.
Download BlowBrush here
Desyrel by Apostrophic Labs
Styles: 1
Designer: Apostrophic Labs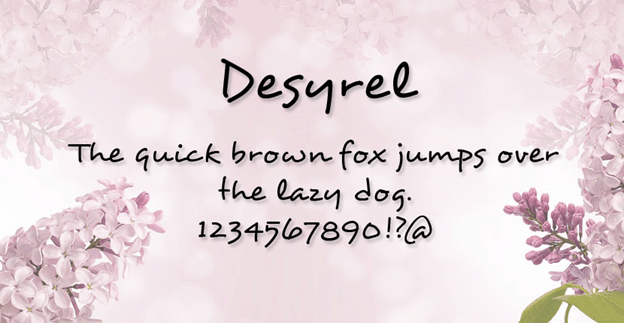 Soft strokes with a handwritten touch make this
a nice font choice for casual correspondence and handmade product labels
. Also includes accented characters for Latin-based languages.
Download Desyrel here
Ocean Six (Brushed Black Edition)
Styles: 1
Designer: Drifter Studio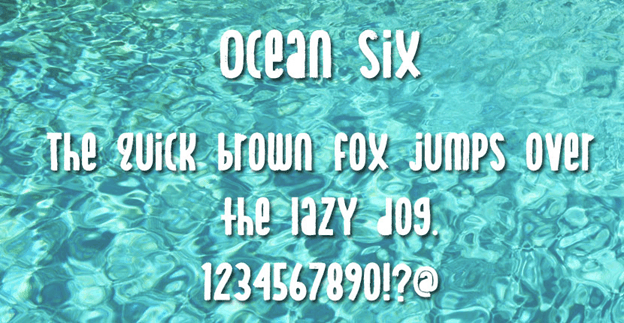 This one is a bit hard to read at smaller sizes, but
the letters look they've been hand-painted when it's set at larger sizes
. A perfect fit for decorative signs and posters.
Download Ocean Six here
(Note: Requires free email subscription)
Playlist
Styles: 3
Designer: Artimasa Studio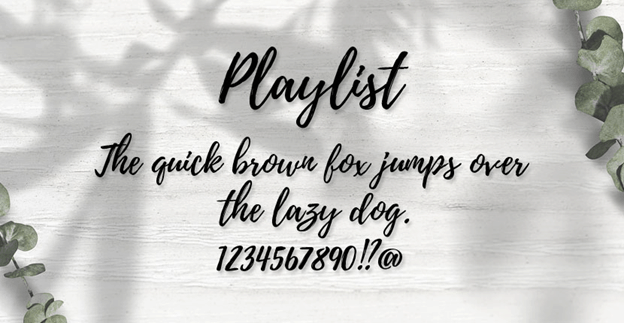 Another brush-lettered font you won't find in use everywhere. Looks great on apparel designs and personalized products.
This set comes with a brush script, an all-caps version, and ornamental dingbats
you can incorporate into your designs.
Download Playlist here
(Note: Requires free Pixelo account)
Quickens
Styles: 2
Designer: Graphic Goods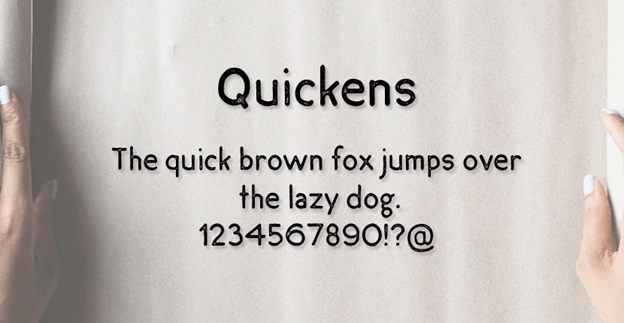 Quickens comes in two styles: regular and the rough version pictured here.
The rough version looks a bit like rubber stamping, giving your creations a raw and handcrafted look.
Download Quickens here
(Note: Requires free email subscription)
SF Cartoonist Hand
Styles: 8
Designer: ShyFonts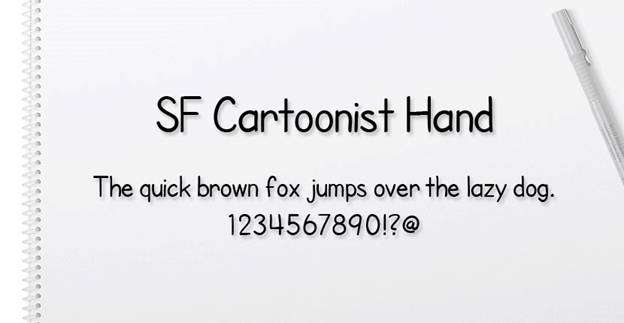 Here's another potential alternative for Comic Sans –
it's designed for cartooning and comic-style captions
but would lend itself well to your child-friendly publications.
Download SF Cartoonist Hand here
Shadows Into Light Two
Styles: 1
Designer: Kimberly Geswein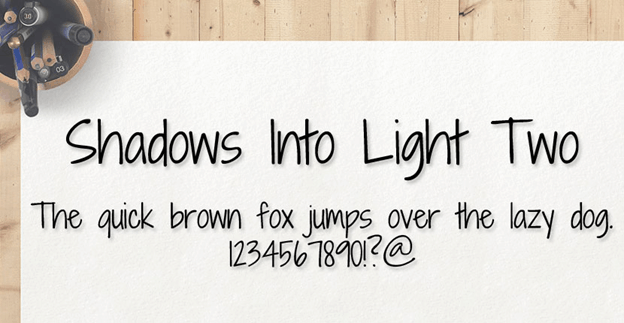 This updated version of Shadows Into Light
comes in one style yet looks like authentic handwriting
, which means you can fill out cards, letters, and more without the need for an actual pen.
Download Shadows Into Light Two here
Tahu!
Styles: 1
Designer: Rizal Khurasan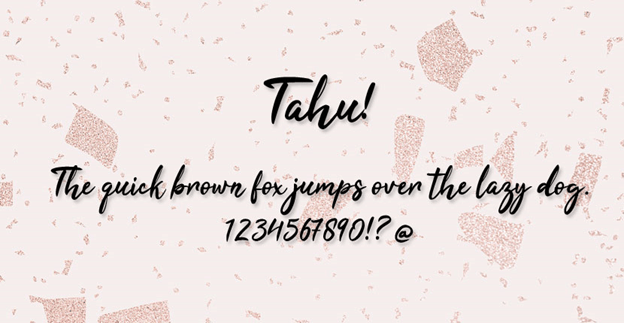 Tahu is
a versatile script font you can use on motivational posters, party invites, postcards, and more.
While you wouldn't want to fill an entire advertising piece with it, it adds a creative flourish that grabs your attention.
Download Tahu! here
Willful
Styles: 1
Designer: Mr. Typeman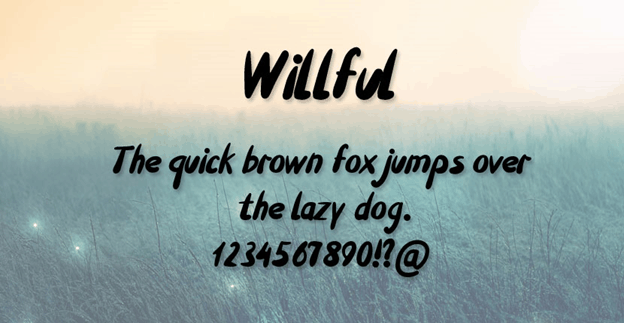 This font comes in one style, but it implies movement with its angled characters.
Vibrant and childlike, Willful would make for a fun headline on posters
, though it definitely looks and reads better at larger sizes.
Download Willful here
(Note: Requires free email subscription)
Headline and Decorative Fonts
Although headline and decorative fonts aren't ideal for full pages of text,
they can help you call attention to important news headlines, special events, and menu items
. They are also highly suitable for use as business logos and on store signage and product packaging.
Botera
Styles: 2
Designer: Javi Montoya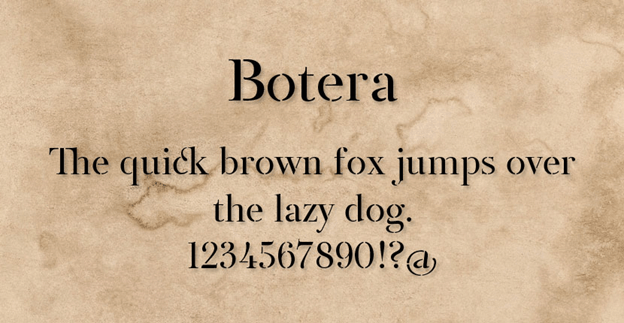 This one comes in two styles: regular and the stencil version pictured.
It would look good on restaurant menus or food and wine packaging
.
Download Botera here
(Note: Requires free email subscription)
Cheque
Styles: 2 in multiple font formats
Designer: Fontfabric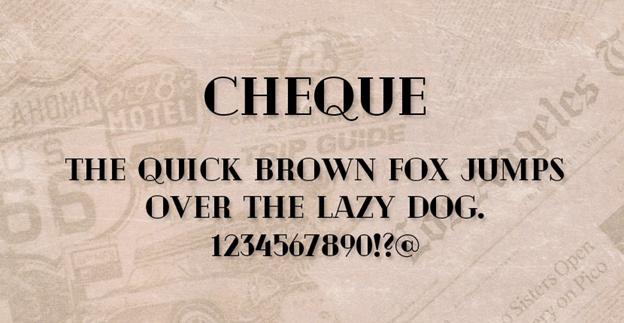 A little bit retro but effective for any sort of timeless headline
. This all-caps font comes in two versions – the black style pictured and an outlined version.
Download Cheque here
Ciderhouse
Styles: 1
Designer: Jeremy Vessey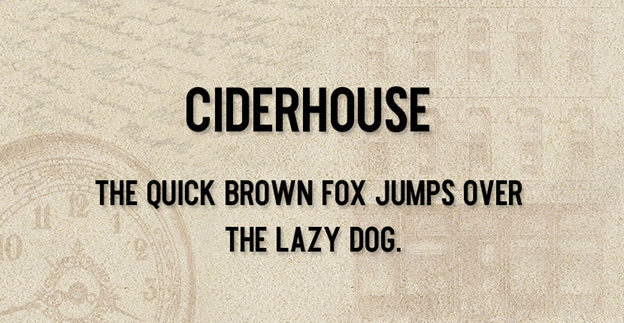 While Ciderhouse comes without numbers or special characters,
it would be a good fit for menu cards and promotional posters that call for punchy letter-based headlines.
Download Ciderhouse here
(Note: Requires free email subscription)
Curely
Styles: 1
Designer: Konstantine Studio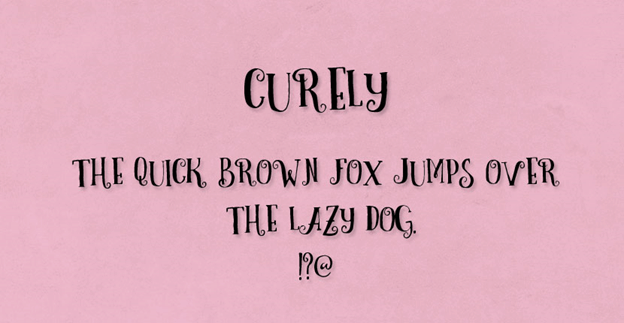 This cutesy all-caps font doesn't come with any numbers and features limited punctuation, but
you could have fun creating holiday-themed signs and banners with it
.
Download Curely here
Cymbria
Styles: 6
Designer: Font Forestry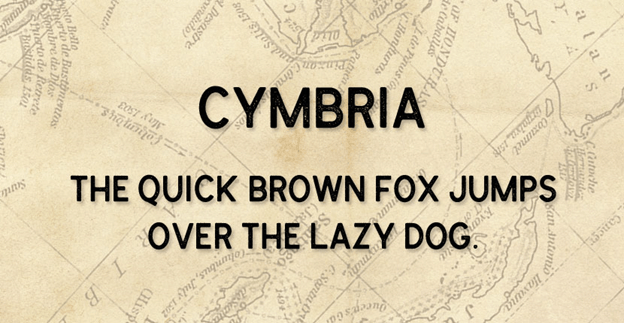 Cymbria features regular and textured all-caps versions (as shown here).
The textured style would look good on nature-inspired labels and signs
, but there are no numbers or special characters, so you'd want to pair it up with another font for marketing needs.
Download Cymbria here
(Note: Requires free email subscription)
Gabo Drive
Styles: 1
Designer: Dannci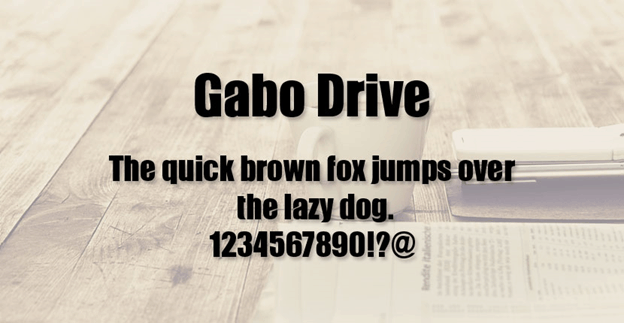 This font looks a bit like Microsoft's Impact typeface, though
this one adds some stylish angled strokes to create a bit more movement and interest.
Download Gabo Drive here
IronHead
Styles: 1
Designer: Amit Botre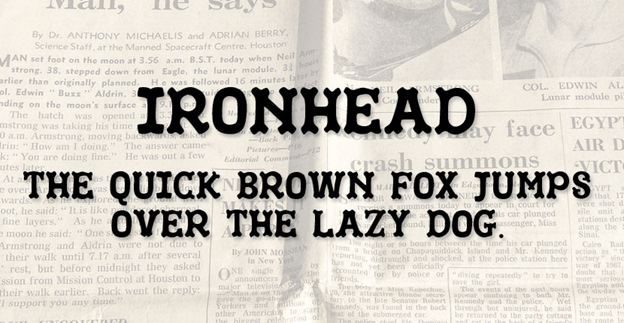 This font doesn't feature any numbers or special characters, but
it lends a bit of Western-style appeal to your headlines.
Download IronHead here
Ostrich Sans
Styles: 9, multiple formats
Designer: Tyler Finck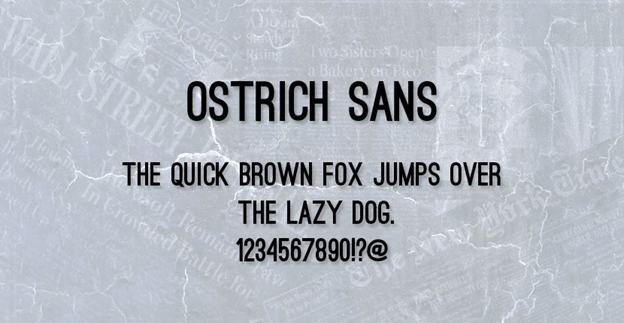 Ostrich is an all-caps font featuring several variations, including light, inline, and the black version pictured here. It's another solid choice for posters, plus
it features international language support
.
Download Ostrich Sans here
Wicked Grit
Styles: 1
Designer: AJ Paglia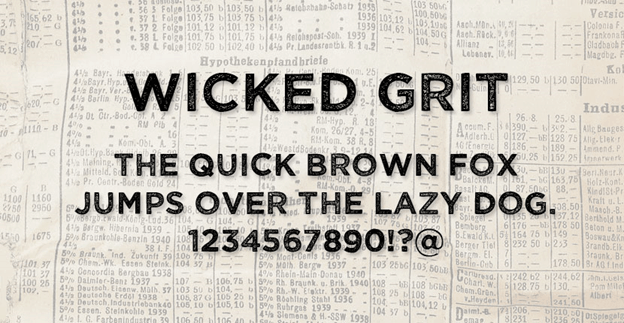 A little raw and dusty, Wicket Grit
looks best at larger sizes, where the rough details can really stand out.
Download Wicked Grit here
Zing Rust
Styles: 6 free (additional styles available for purchase)
Designer: Fontfabric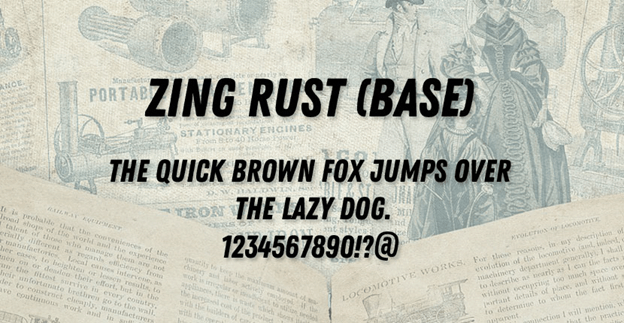 The free version comes with six "base" styles to give you a good start, but there are hundreds of additional styles available for purchase, too.
You can layer up the base fonts in a graphics program to create really eye-catching posters and flyers.
Download Zing Rust here
Retro and Vintage Fonts
When you need an extra touch of retro or vintage styling in your projects, these fonts are up for the task.
Some are designed strictly for headline use, while others could work for both headlines and body text depending on the look you're going for.
Audrey
Styles: 6
Designer: Cristina Pagnotta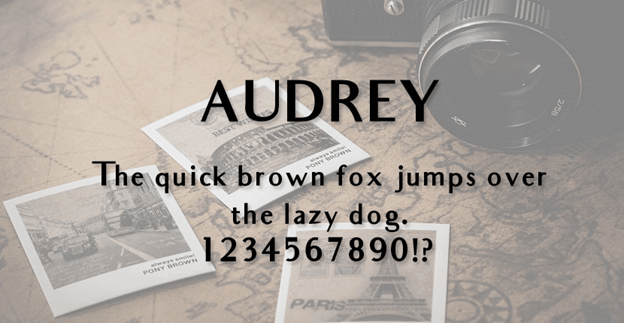 A classic font inspired by the glamour and glitz of the 1940s and '50s. Features a limited selection of punctuation and special characters, but works well for your retro-style advertisements and logos. Includes normal, medium, and bold weights, plus italic styles.
Download Audrey here
Charming
Styles: 1
Designer: Anastasia Dimitriadi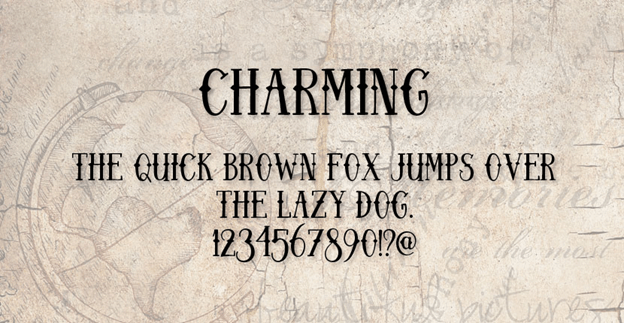 This all-caps decorative font can
give your designs an old-world feeling with elements that would fit tattoo-style designs as well
. Features support for multiple languages.
Download Charming here
Fanwood
Styles: 4
Designer: Barry Schwartz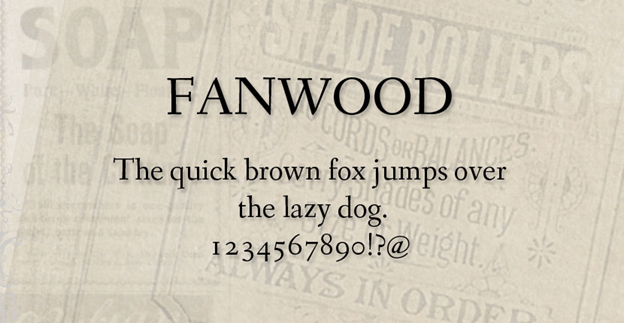 Fanwood is a traditional serif font that would look good in print or in your ebook publications. Comes in regular and text-weight fonts plus italic versions.
Download Fanwood here
Metro Uber
Styles: 1, multiple formats
Designer: Free Design Club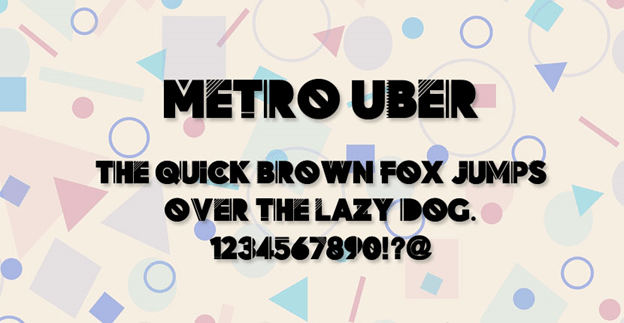 This funky, decorative font can help you create awesome 1980s and '90s-inspired posters
and other marketing materials.
Download Metro Uber here
(Note: Requires free email subscription)
Goudy Bookletter 1911
Styles: 1, several formats
Designer: Barry Schwartz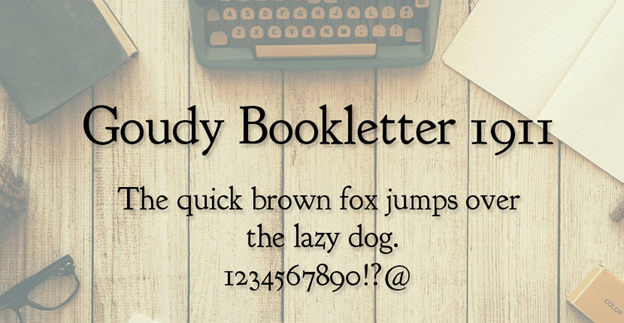 Based on a public domain font,
Goudy Bookletter looks clean and classic in print
, though maybe not so much for your modern-day design needs. Comes in a regular weight only, but can be set in faux italics as well.
Download Goudy Bookletter 1911 here
Handy
Styles: 1
Designer: Jagudar Design Studio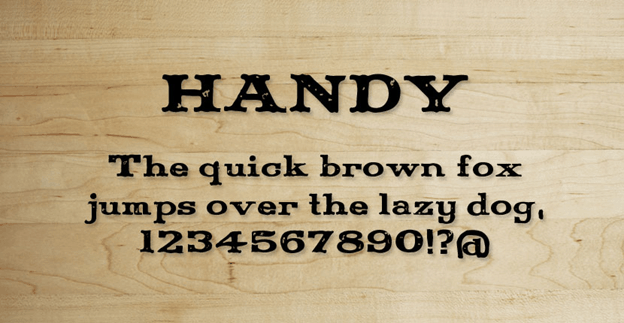 Incorporate a bit of cowboy-inspired flair into your advertisements and handmade creations.
Features a limited range of punctuation and special characters, but has everything you need to create eye-catching decorative signs.
Download Handy here
(Note: Requires free email subscription)
Lovelo
Styles: 3, multiple formats
Designer: Renzler Design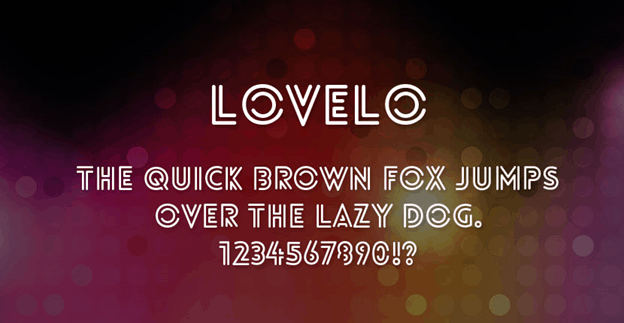 Lovelo makes it easy to
create disco-inspired materials for your throwback celebrations and promotional campaigns
. Comes in three styles: line light, line bold (pictured here), and black.
Download Lovelo here
Rousseau Deco
Styles: 1
Designer: Mariano Diez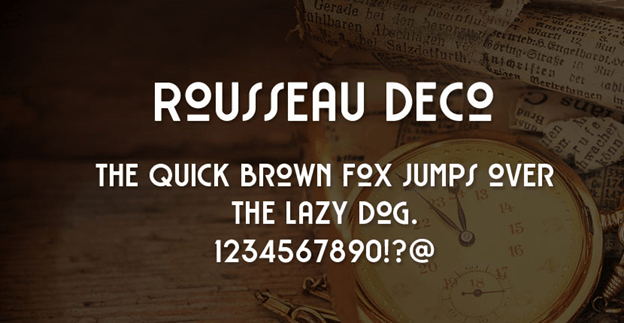 Kick your designs back into the Art Deco era with this fancy font.
Only comes in a regular style but features decorative variations between lowercase and uppercase letters.
Download Rousseau Deco here
(Note: Requires free email subscription)
Futuristic and Sci-Fi Fonts
While sci-fi fonts have a limited market when it comes to everyday usage,
these fonts are a perfect fit when you're designing futuristic-themed posters and
gaming logos
.
Astron
Styles: 3
Designer: Mason Mulcahy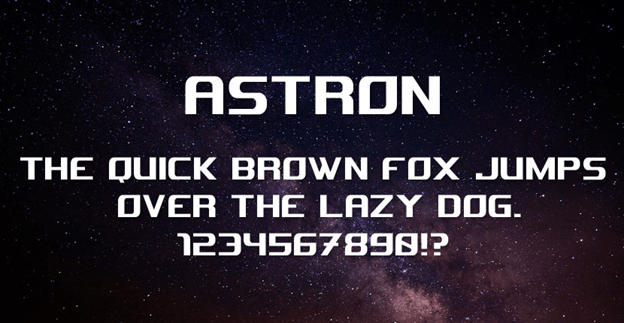 An all-caps display font for your futuristic designs. Features limited punctuation and special characters, but comes in three weights: light, regular (pictured here), and bold.
Download Astron here
(Note: Requires free email subscription)
Exan-3
Styles: 1
Designer: Jon Carlos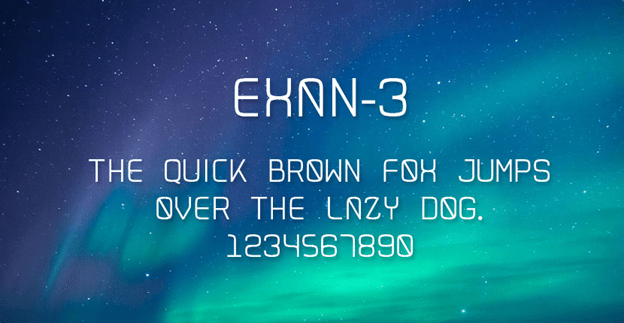 A lightweight monospaced font that comes in the regular weight only and features limited punctuation and special characters. However,
it features some cool stroke variations between select lowercase and uppercase letters (though they all appear uppercase) along with some unique-looking numbers
.
Download Exan-3 here
Gputeks
Styles: 2
Designer: GLUK Fonts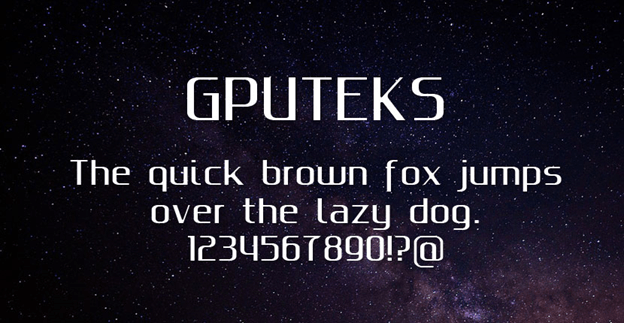 Features both upper- and lowercase characters to give you more design flexibility. Comes in two weights: regular (pictured) and bold.
Download Gputeks here
Nasalization
Styles: 1
Designer: Typodermic Fonts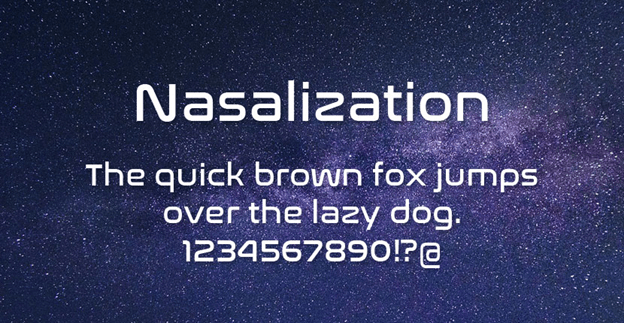 Inspired by the NASA logo,
this font would look good with your outer space-related promotions and gaming campaigns
. Comes in regular weight only but offers a lot of design flexibility with both upper- and lowercase letters.
Download Nasalization here
Quango
Styles: 1
Designer: NimaVisual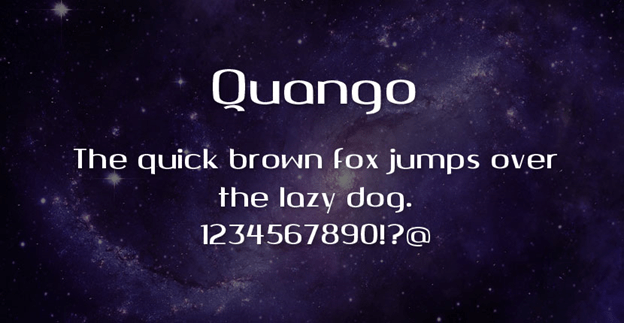 This sans-serif font features both upper- and lowercase letters that you could use for an
eye-catching logo design
. Features a variety of punctuation marks and accented characters as well.
Download Quango here
Console and Monospaced Fonts
While you might not have an everyday need for monospaced fonts (sometimes referred to as console fonts),
this style is commonly used in computer programming and "under the hood" website design
. If you're producing computer-language documentation or typing thousands of lines of code, however, these fixed-width fonts ensure easier reading that won't leave users guessing whether certain characters are letters or numbers.
Fantasque Sans Mono
Styles: 4, multiple formats
Designer: Jany Belluz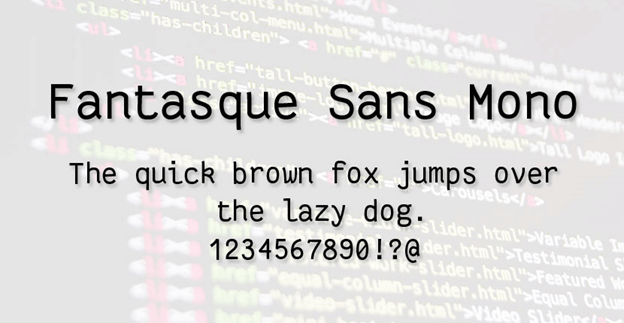 This package features four styles: regular and bold, plus italic versions of each. Fantasque Sans Mono also has additional variations you can download, including one without the stylized "k" if you prefer a less curvy look.
Download Fantasque Sans Mono here
IBM Plex
Styles: Several families, multiple formats
Designer: Unknown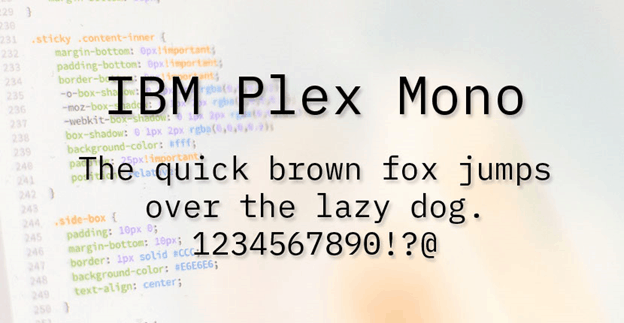 The IBM Plex series is a generous package filled with monospaced, serif, and sans-serif fonts, including Arabic, Devanagari, Thai, and Hebrew versions.
Each features several font weights, giving you a comprehensive selection of options to work with
for programming and everyday design projects.
Download IBM Plex here
Oxygen Mono
Styles: 1
Designer: Vernon Adams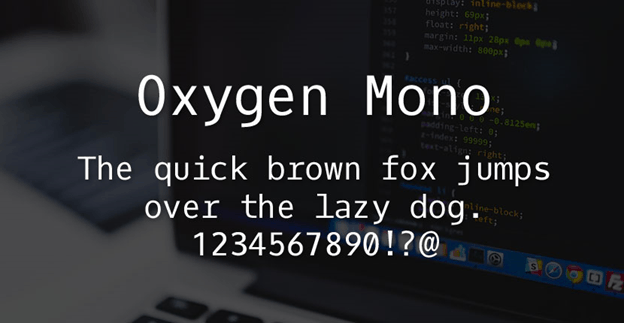 This monospaced font comes in regular weight only but features clean, slightly condensed characters so you can comfortably scan through lines of code and programming notes.
Download Oxygen Mono here
TeX Gyre Cursor
Styles: 4
Designer: GUST e-foundry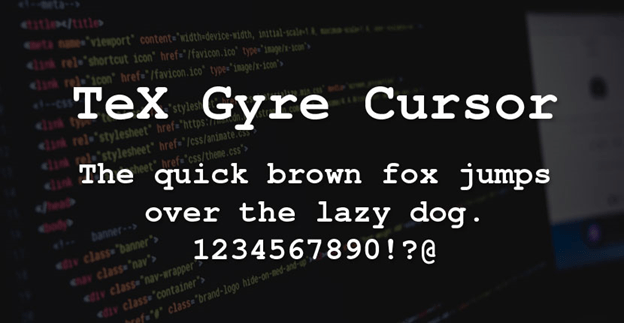 This font looks much like traditional typewriting and would look good in printed programming and software manuals and downloadable documents. It comes in four styles: regular, bold, italic, and bold italic.
Download TeX Gyre Cursor here
Ubuntu
Styles: 3 families packaged together)
Designer: Ubuntu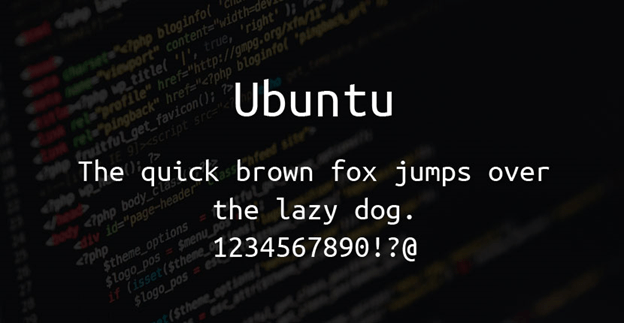 The Ubuntu package includes three font families: regular, condensed, and the monospaced version pictured here.
Each comes in various weights to accommodate a wide variety of publishing needs.
Download Ubuntu here
Dingbats
You can find dozens of free dingbat fonts out there, though many fall under the "personal use only" category. These dingbats are not only free for commercial use,
they feature icons and artwork that would work for logos, website interfaces, and social media graphics.
Bocartes Fritos
Styles: 1
Designer: deFharo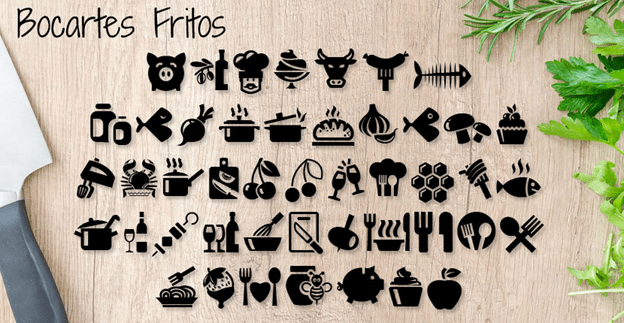 A whimsical series of food-related illustrations suitable for menus, recipe cards, and kitchen decor. Covers food, beverages, utensils, and more.
Download Bocartes Fritos here
Eveleth Shapes
Styles: 1
Designer: Yellow Design Studio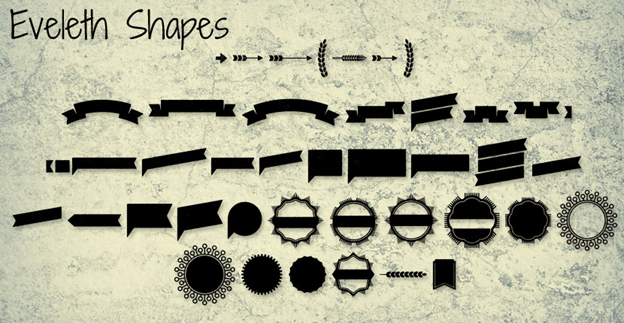 This versatile series of seals, banners, and ribbons would work well for your sales-related materials and company awards.
Download Eveleth Shapes here
(Note: Requires a free MyFonts account)
Glyphyx One
Styles: 1
Designer: Nick Curtis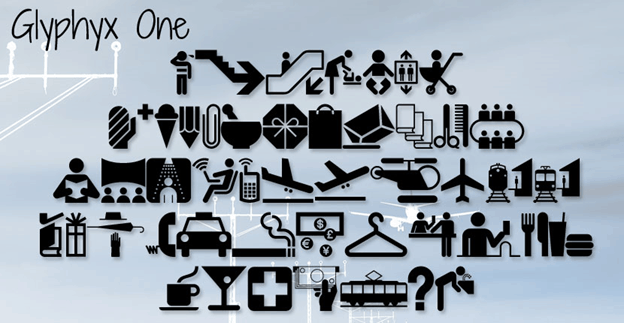 These icons are suitable for transportation-related signs and informational posters.
The simple and straightforward illustrations can help you create signs that international clients can easily understand.
Download Glyphyx One here
Icon-Works
Styles: Several formats
Designer: Icon-Works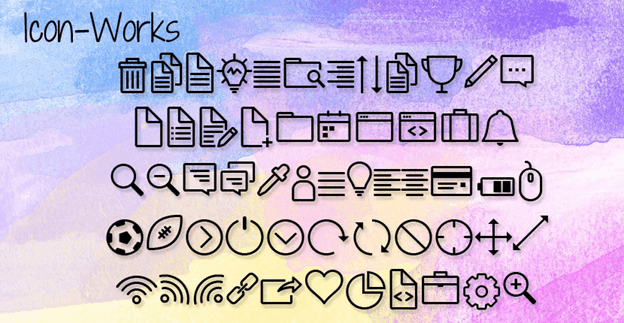 A series of minimalist-style icons that would work for website menus and sales graphics
, especially if you work with WordPress or similar content management systems.
Download Icon-Works here
Modern Pictograms
Styles: 1
Designer: John Caserta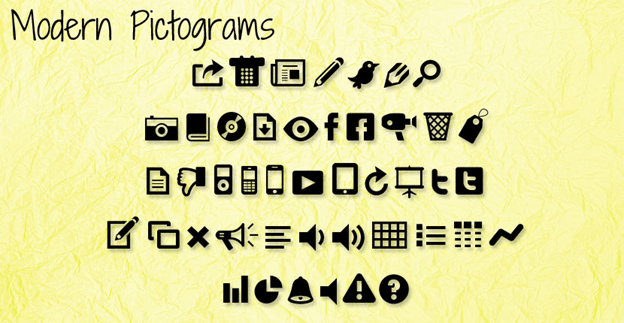 These icons feature designs suitable for your e-commerce materials and websites
, including social media graphics. There's another version available for purchase as well.
Download Modern Pictograms here
Social Media Icons Pack/Socialico
Styles: 2
Designer: Jelio Dimitrov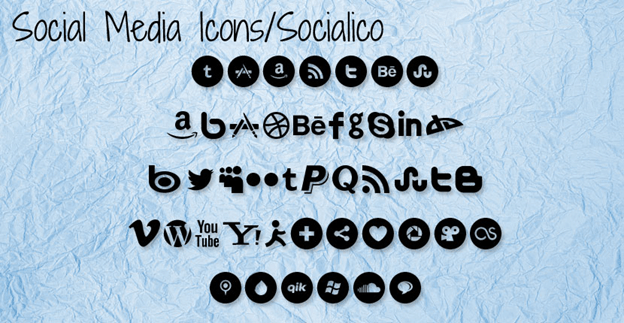 A full range of icons featuring popular social media websites and technology-related companies.
Variations feature plain logos and circular icon styles.
Download Social Media Icons here
10 Fonts to Avoid
The following fonts aren't the worst of the worst, but there are reasons they wouldn't work for business and graphic design purposes. Some fonts are overused, while others are just overly stylized or too hard to read. That said, these are all free to use commercially, but
I would consider other typefaces that might work better
before you install these avoidable fonts on your system.
Brady Bunch Remastered
Styles: 1
Designer: Insanitype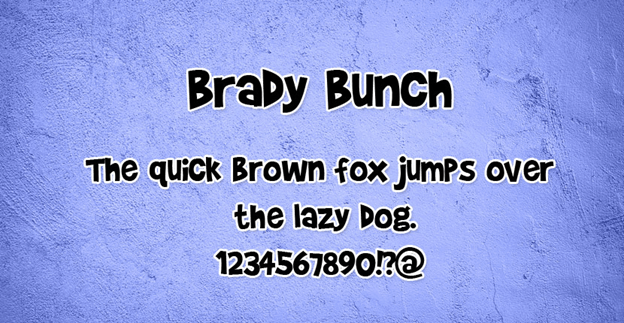 This font may look very familiar to you, and that's exactly why you should avoid it for commercial purposes. While this is just one example,
fonts used for popular TV shows and movie logos are often designed exclusively for or become associated with a specific property
, which can result in copyright issues down the road unless you're able to license them for commercial use.
Download Brady Bunch Remastered here
Dugas Ultra Condensed
Styles: 1
Designer: Macha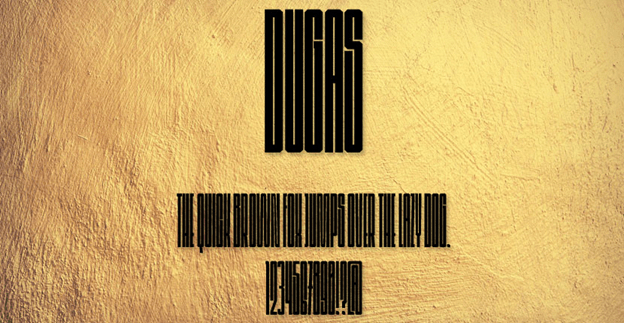 Unless you have amazing vision, it's very clear why you should avoid Dugas Ultra Condensed in most cases – you don't want to give customers a headache. While you could use this at a very large size for a phrase or two, it's best to use something shorter and less condensed to prevent extreme eye strain.
Download Dugas Ultra Condensed here
(Note: Requires free email subscription)
Lobster
Styles: 1
Designer: Pablo Impallari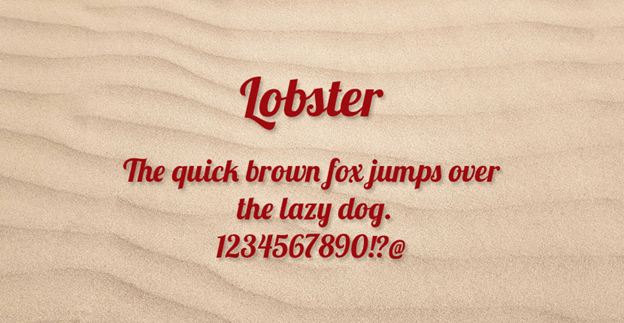 Lobster isn't a bad font, it's actually very swishy and fun, but it isn't novel or original anymore.
The problem – everyone and their mother is using Lobster (and similar-looking fonts) to the point of nausea.
Take a closer look at product packaging, menus, and posters next time you go out – chances are you've seen this font and will continue to see it until it becomes the next Comic Sans. Sorry Lobster – you had a good run, but you're overcooked.
Download Lobster here
Metal Macabre
Styles: 1
Designer: Bolt Cutter Design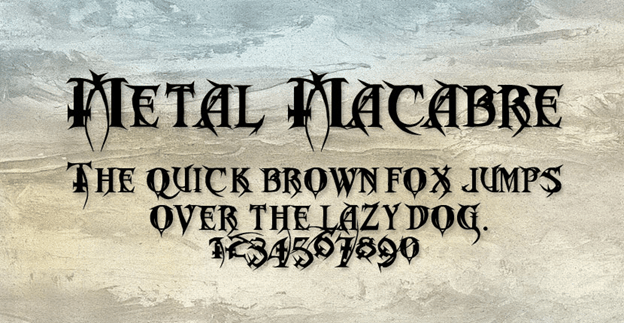 Even if you're aiming for an edgy feel in your branding, this font is not the best way to convey it. It's very hard to read, lacks punctuation, and is IN ALL CAPS.
It might work for a
band logo
or on a book cover, but I would limit its use to those things.
Download Metal Macabre here
Mind
Styles: 1
Designer: Rabia Coskun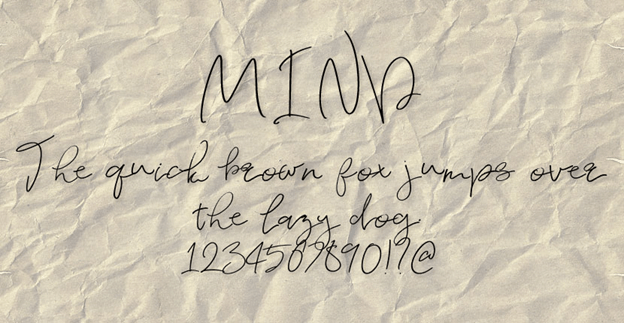 The Mind font seems very rushed and thrown together, like an afterthought, which isn't a feeling you want to convey on a personal or business level. It's too sloppy for any formal purposes, and there are so many other handwritten fonts out there that are much easier to read.
Download Mind here
(Note: Requires free email subscription)
Mindfully
Styles: 4
Designer: Sinikka Li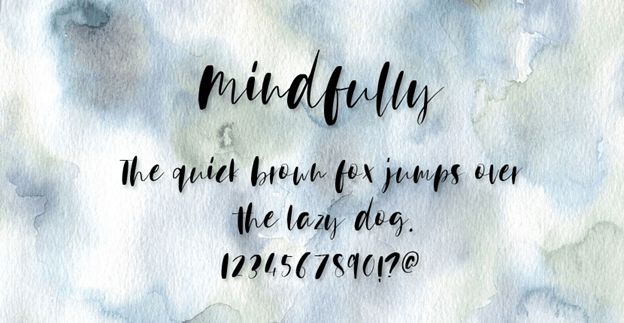 Mindfully has artistic potential, but it's quite difficult to read.
The heavy/light brush strokes vary a bit too much, making it hard to determine what each word's supposed to be
(unless someone tells you first). It might look nice at larger sizes when used for single-word designs (think stationery and apparel), but it could have people straining to understand your message.
Download Mindfully here
(Note: Requires free email subscription)
Patterns and Dots
Styles: 1
Designer: uZiMweB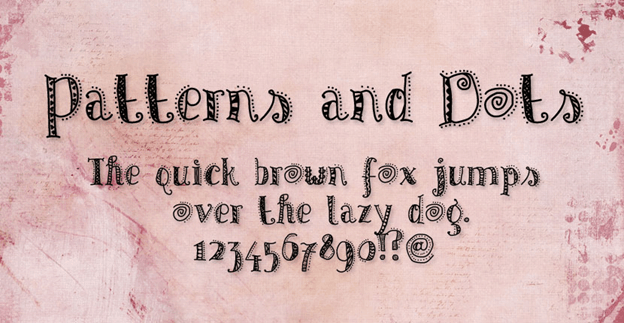 Patterns and Dots isn't awful – it's actually quite cute – but
unless you're marketing directly to little kids and teenagers, it could have the average customer cringing at its sweetness
. While it would work beautifully for journaling and scrapbooking projects, I would suggest limiting its use for everyday design needs.
Download Patterns and Dots here
Po Beef
Styles: 1
Designer: Raymond Larabie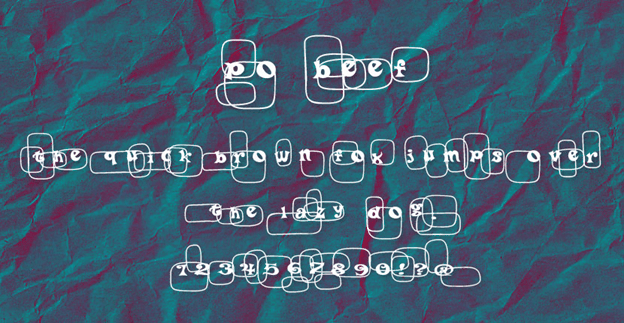 Ray Larabie is a well-known figure in the typography world, but this font isn't an example of his finest work. While it has a fun, retro quality to it,
Po Beef is very busy and jumbled together, and it only features lowercase letters
. I wouldn't recommend using it more than sparsely for numbering pages or adding a bit of fun to poster designs.
Download Po Beef here
Ransom
Styles: 1
Designer: Divide by Zero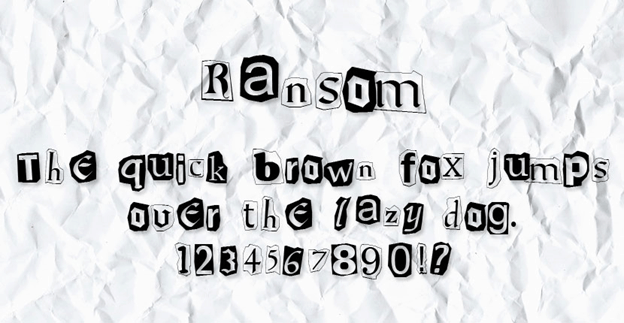 Unless you have a very specific reason to re-create a ransom note, I would avoid using this one altogether. While it might be fun for party invitations and posters, it really has no place in a commercial setting.
Keep ransom note fonts in mind for novelty purposes, just not advertising.
Download Ransom Font here
Wireframe
Styles: 1
Designer: Harold's Fonts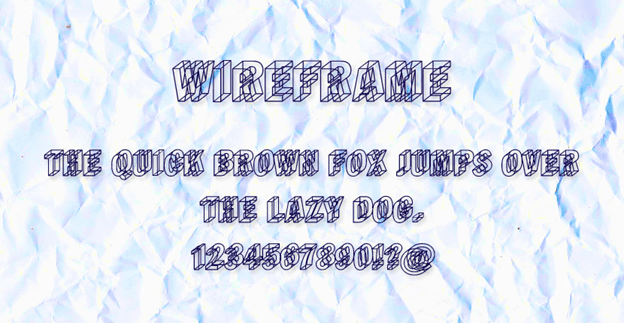 It might seem fun to create messages that appear to "pop" off the page, but this headache-inducing font isn't suitable for serious business needs. Harold clearly took a lot of time to perfect the look of this font, but it's just too hard to read. However, it might look interesting if you color in the front of each letter so it stands out better.
Download Wireframe here
Knowing Your Type – Final Thoughts on Free Commercial Fonts
All of the fonts mentioned here (except the avoidable ones) have strong potential to help you build attractive marketing materials, websites, and product designs. Whether you choose just a few fonts or decide to snag them all, keep in mind that while they're offered for free,
good fonts take a lot of time, attention to detail, and effort on the part of each type designer.
Although some creators aren't worried about making money off their "free" work, you might want to make a donation to the designers whose work you find valuable. If it's in your budget, I would also suggest purchasing full versions of the fonts you like and use the most –
financially supporting each font foundry's efforts helps them create more work
, and some even offer free bonuses and unlimited updates to the fonts you purchase. Additionally, many font makers offer extensive catalogs of professional-quality fonts that work well with both free and commercially available fonts, which can help ensure all of your branding looks top-notch and consistent across the board.
FAQ
How do you download free fonts?
Click the links shown at the bottom of each font in this article – they will take you to the sites where you can download your font(s). Most sites have a straightforward download process where you simply click a download button, while others may ask you to sign up for a free account or email list before you can download them. A select few sites may send you an email with a download link to a secure server. If you decide to use a free online logo maker, you don't have to download any fonts to your computer – these tools always offer a font library for you to choose from.

Can free fonts be used for commercial use?
All of the fonts mentioned in this article are free for commercial and personal use. However, you may find other free fonts found online are not free for commercial use, so you'll want to carefully read each site's licensing information. Many creators include a "Readme" or licensing document in their font packages (these are typically ZIP or RAR files) – be sure to read them for more information about the terms of use. Some creators may ask for a small donation if you like their work, especially if you're using them in a commercial setting. If you're not a designer yourself but there's a specific free font you particularly like, you can download it and send the file to your designer. One great place to find a professional designer for a great price is Fiverr – to learn more about the platform, don't miss our expert Fiverr review.

Can you use free fonts in a logo?
If you're using the logo to promote your own business or plan to put it on handmade products with a hang tag or label, it is usually OK to use free fonts that include a commercial license. Most creators or font sites will tell you how you can use their fonts, but it can't hurt to ask each font maker directly to ensure you're using their work properly. Also, if you're creating and selling logos using a specific font, you should check with the font maker to ensure that type of usage is allowed without an extended commercial license. Some font makers may also ask you to pay for an extended commercial license if their fonts are the focal point of a product or if you plan to mass-produce a design using it (on home decor, scrapbooking materials, and typography-based signs and posters, for example). If you'd rather not have to deal with this kind of issue on your own, you should check our list of the best logo design services.

Are free fonts safe?
The free fonts featured in this article have been installed and thoroughly tested to ensure they are safe to use. It is worth noting, however, that you should always check downloaded files with a virus scanner to ensure they are clean and safe to use, or stick to font sites that are known to be reputable.

Are Google Fonts free?
Google Fonts are free to use, as they are offered with an Open Font license. This means you can use them commercially or for personal use for free and without any restrictions.

Are TrueType fonts free?
The TrueType fonts featured here are free, but this doesn't mean all TrueType fonts you find online are free. The easiest way to determine if a font is truly free is to review any licensing information you find on the download pages or in the font packages you download. Some font makers will also put "FREE FOR COMMERCIAL USE" or "FREE FOR PERSONAL USE" in the TrueType file itself (usually as part of the font's name so you can see it), as some fonts may be distributed without any further documentation.

What are royalty-free fonts?
Royalty-free is another way of saying a font has a free commercial or personal license. This means you aren't required to pay to use the font in most cases. You may see the term "royalty-free" used to describe dingbats and clipart-based fonts. And it's important to note that many dingbats can't be used commercially – casual font creators often make dingbats with licensed characters and artwork that they don't actually own. If you plan to make heavy use of a dingbat-style font or use it on products you're going to sell, look for ones featuring 100% original artwork or choose dingbats where you can pay a licensing fee directly to the creator to use them legally.