You can hire a pro to design your own unique logo for as little as $5! Skip ahead to read how.
If you want to try creating your own logo, I'll tell you how you can do that. But to kick things off, I dug up some of the best truck logos from around the web to get your creative juices flowing.
9 Best Truck Logos
My colleague recently searched the net for the best logo design services out there to create a new logo for Website Planet.
This included hiring different logo design pros from Fiverr (and DesignCrowd as well as others) and comparing the quality and creativity of the finished products. The results were more than impressive – some were unbelievable! Read his
full comparison of the top logo design services
to see for yourself.
Finding an Affordable Designer for Your Truck Logo
Your logo is one of the first things your potential customers see, so it has to speak volumes about the quality of your services. In order to get it right, it might be best to leave this part of your business to a pro who's been there several times before. The best part is that hiring a logo designer doesn't have to put a dent in your pocket – Fiverr gives you thousands of affordable options to get your truck logo on the road! To learn more about the platform, read our
in-depth Fiverr review.
Fiverr allows you to hire freelancers for a range of services, including professional logo design.
Getting the best logo for your business for as low as $5 is as simple as heading over to the Fiverr website, searching for what you want, and hiring one of the many freelancers that fit the bill.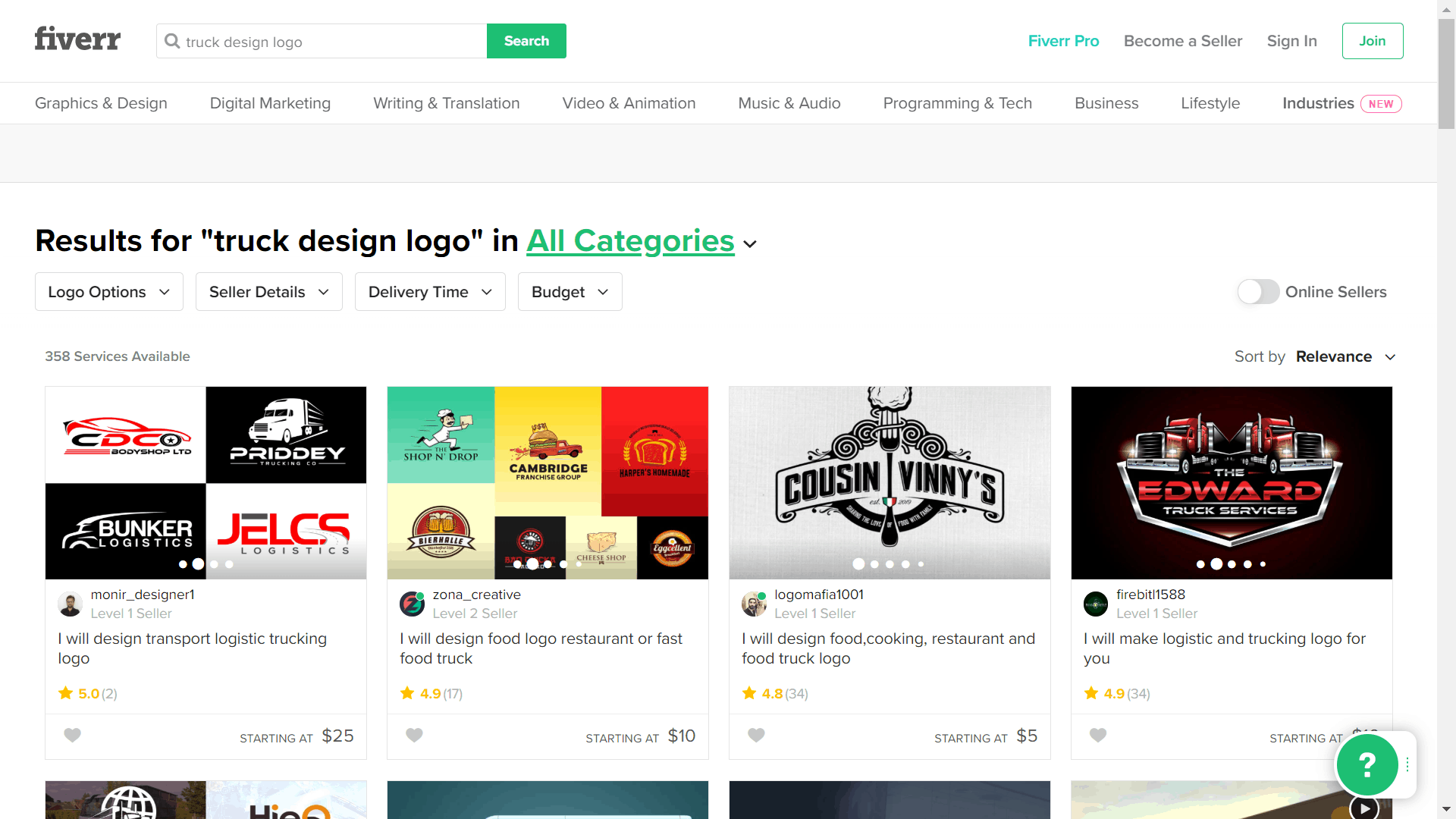 Logo designers on Fiverr advertise their services on three package levels – Basic, Standard, and Premium. The higher the level, the higher the perks… and the higher the fee. This gives you even more options to find the right designer and package your needs.
Hiring a logo designer who charges $5 doesn't mean you won't get a quality logo.
Fiverr freelancers have different pricing strategies for different reasons. For instance, a logo designer might be new to the platform, offering a lower rate to attract more clients to improve their Fiverr rating. Another reason might have to do with location – logo designers might be based in a country where the cost of living is low, which translates into
lower rates for your truck logo.
Whatever the reason, Fiverr logo designers offer some amazing rates! But it's not all about how cheap they are — here are some other benefits of Fiverr:
Thousands of professional logo designers means you can choose from many unique design styles.
Your logo can be ready in as little as 24 hours, depending on the package level you choose.
Many designers will give you at least one free revision if you'd to make some changes to your logo, and even more revisions for additional costs – depending on the designer and package level.
Your money is safe! Fiverr keeps your money in escrow until you're satisfied with the finished product, so you really have nothing to lose.
And, best of all, you save some time. Having a pro create your logo for you means you can spend your time working on other important aspects of your business.
How to Make Your Own Truck Logo
Prefer to create your own truck logo design? We understand! There are many DIY logo makers out there, but it's important to choose the right one – each one comes with its own pros and cons. Also, keep in mind that it might cost a bit more than hiring a logo designer on Fiverr. Using a DIY logo maker can be as simple as answering a few questions, selecting a template, and letting the platform do the rest. But this means you're limited to the options the platform gives you, which means your logo might lack that unique twist. Although
you can use a truck logo maker to design your logo for free,
you'll have to pay to download the high-resolution file. Nonetheless, logo makers can be a good choice if you're more of the hands-on type. From my experience, Wix Logo Maker is the best option. To learn more about it before you get started, check out our
full Wix Logo Maker review
.
About Wix Logo Maker
Wix Logo Maker walks you through the logo making process in a few simple steps.
Just answer some questions about your business and style preferences, and the AI (artificial intelligence) does the rest!
The Wix Logo Maker gives you:
Flexible design options to personalize your logo and make it as unique as possible – you can change the icon, fonts, colors, and more.
The option to revise and edit your logo as many times as you like. When you're satisfied, just pay and download.
Full rights over your logo for commercial use, so you don't have to worry about anyone else using your logo.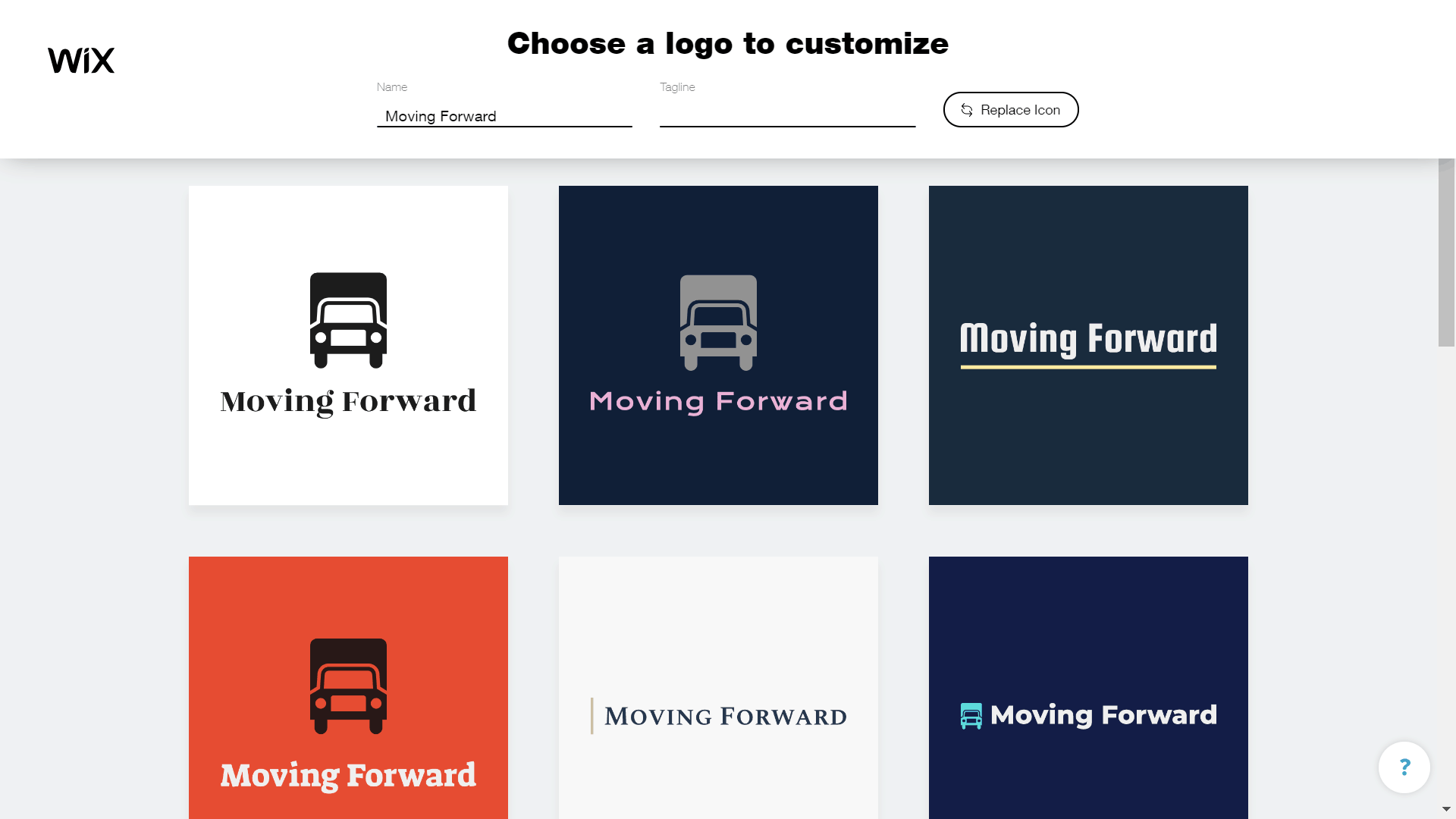 You've probably already heard about the Wix website builder (read our
expert Wix review
 to learn more about it). This gives Wix Logo Maker an added advantage – if you use Wix to build and maintain your website, you'll have an all-in-one platform for your website
and
logo making needs.
Wix also has some great money-saving offers for website and logo combo packages.
But if all you want is to design your logo and do the rest elsewhere, that's also an option.
Alternatives to WIX Logo Maker
You can also design your own logo on Tailor Brands. This easy-to-use platform is similar to Wix Logo Maker. Just answer a few questions about your business and select from AI-generated logo designs.
Canva is another popular alternative. You can use the platform to design a variety of graphics – not just logos – and it's also pretty easy to use.
Get Started on Your Truck Logo Today
The inception of your business roots from your idea, and now you can perpetuate that essence through your logo. Would you prefer a design that embodies simplicity, a corporate aesthetic, or an urban vibe? A professional logo designer can skillfully incorporate these preferences, crafting the ideal emblem that truly embodies your business. Remember, getting your logo is as simple as
hopping over to Fiverr
 and choosing a logo design professional. You can even put a rush on your order for a few extra bucks and get your logo in as little as 24 hours. If you'd like even more information before taking the leap, check out our list of
the best logo design services out there
.