Jump down now to learn my secret to hiring a tiger logo designer for as little as $5!
I'll also show you how to create a tiger logo all your own for free. To get you inspired and ready to pounce, let's start with a look at nine of my all-time favorite tiger logo designs.
9 Best Tiger Logos
As part of his quest to find a new logo for Website Planet, my coworker tested all the most popular design services, including Fiverr. I didn't think we could get a "real" logo for $5, but this project proved me wrong! The three Fiverr logo designers my colleague hired all submitted high-quality entries. Read his full
logo design service comparison
for all the details.
How to Hire a Professional Designer for a VERY Low Price
Sure, all the logos above include a tiger image, but there's so much more to them than that. Each designer chose different colors, fonts, geometric shapes, and points of view to create a genuinely unique logo. When thinking about your own tiger logo, it's easy to get lost in the jungle of all these details, especially if you're short on time like me.
I was excited to learn that you can hire an experienced designer without having to sell one of your kidneys.
Fiverr is loaded with creative logo designers that you can hire for as little as $5, with no hidden fees. Better still, the Fiverr platform is super easy to use. Just
go to the Fiverr homepage
, hover over
Graphics & Design
, and then click
Logo Design
under
Logo & Brand Identity
.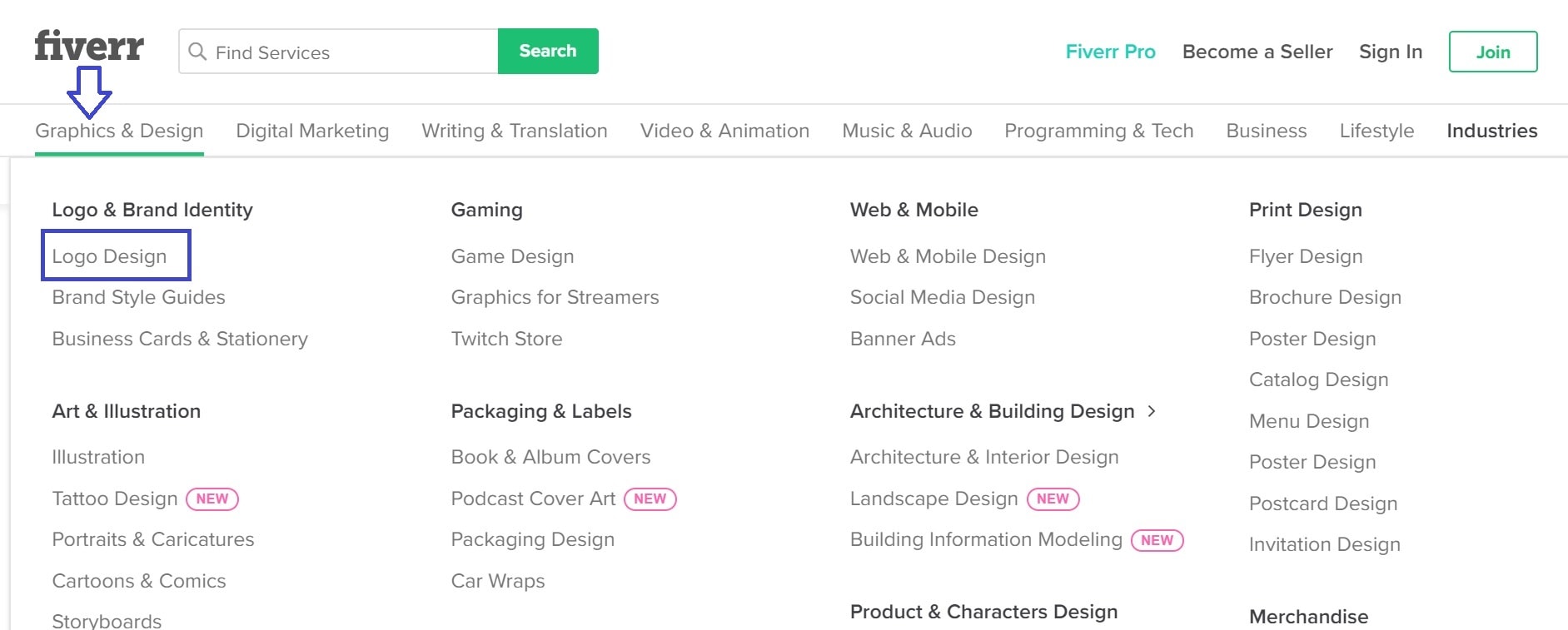 If you want a little more help, you can click on I need a design partner to open the logo designer search wizard.
The wizard will ask you some questions about what you're looking for, then filter search results based on your answers: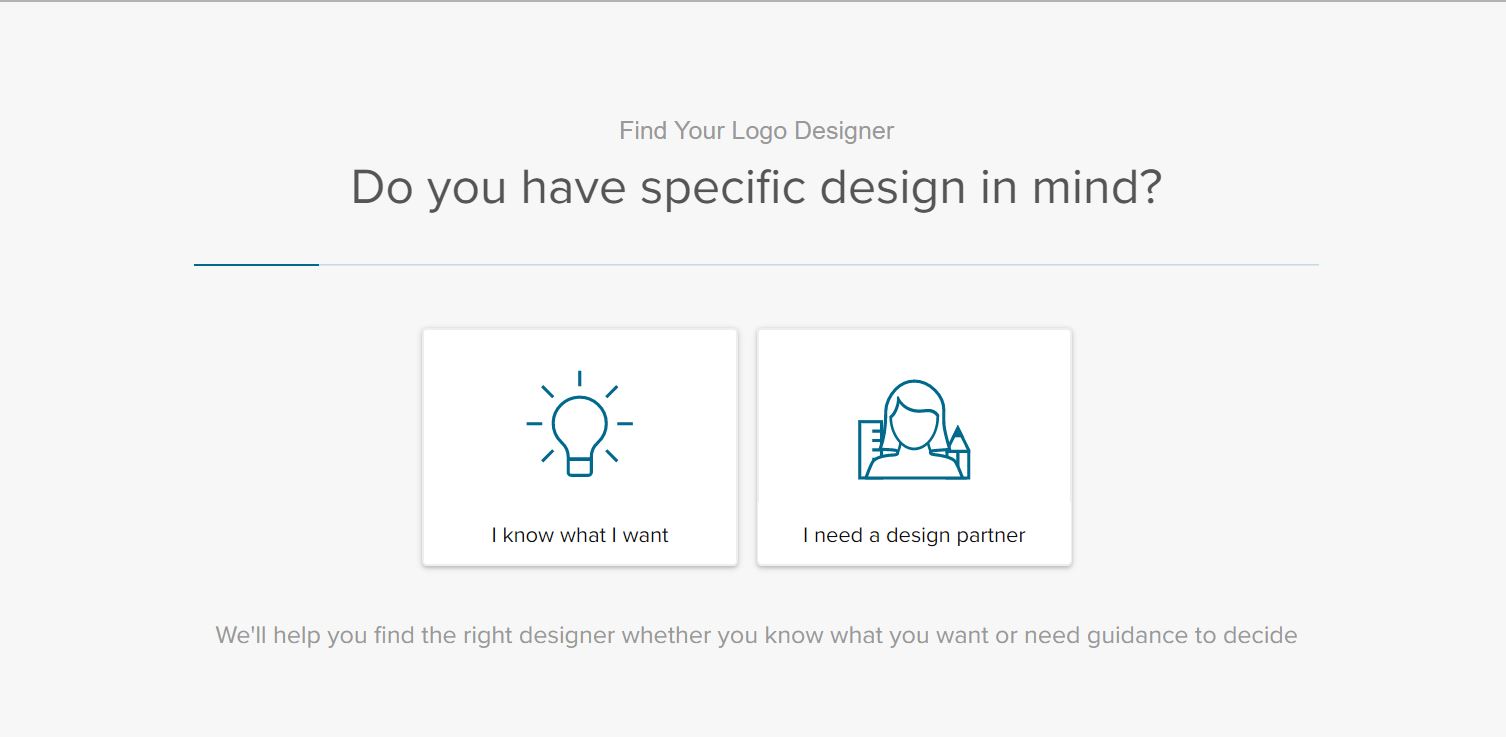 You can specify your desired
Logo Options
(style, file format, etc.),
Seller Details
(language, experience level, location, etc.),
Delivery Time
, and
Budget
.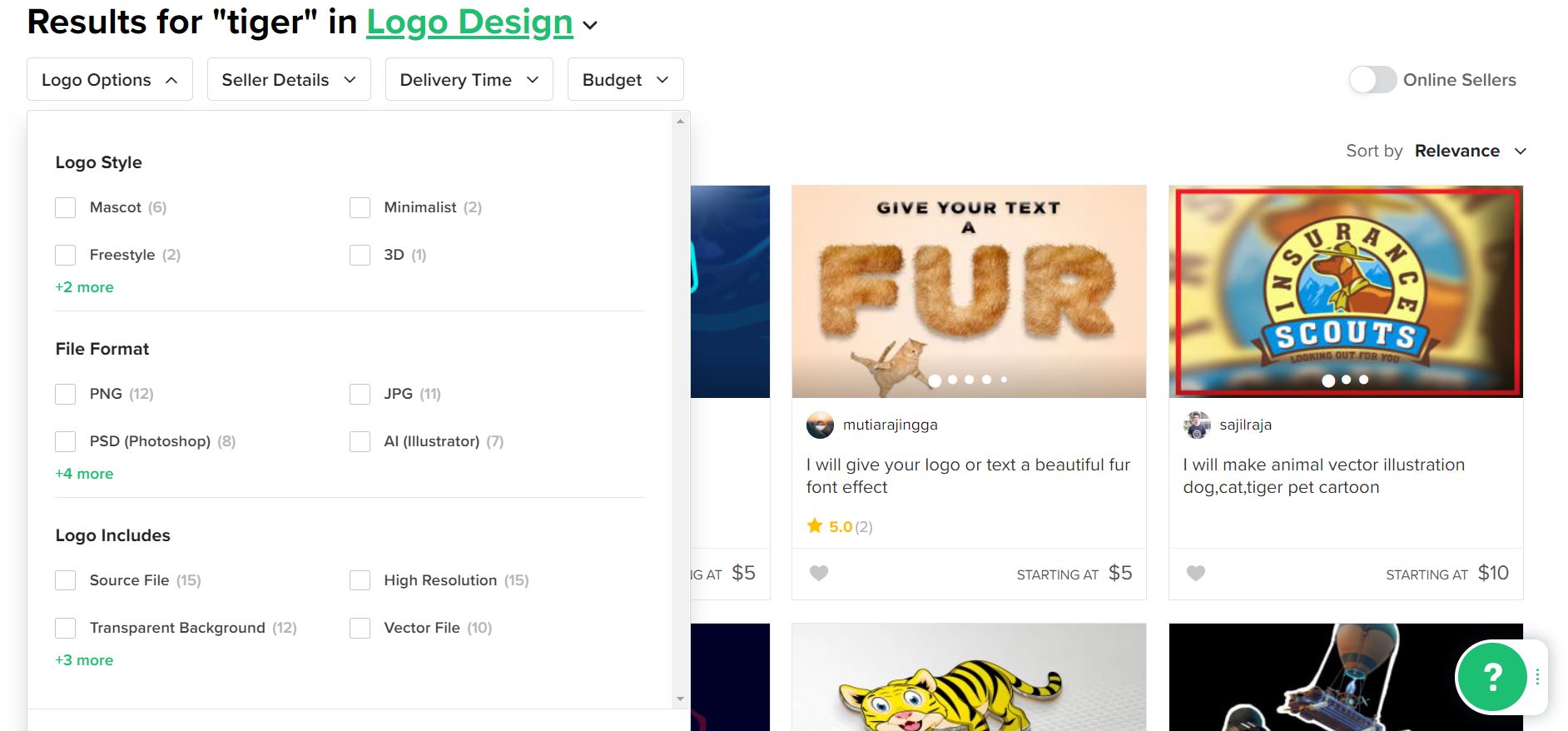 Once you've found some good candidates, make sure to explore each designer's portfolio and customer reviews before committing to the "gig." You can also post a logo request with your requirements and then interview interested designers.
More of Fiverr's Advantages:
Messaging system – Use Fiverr's free mobile app or desktop messenger to directly communicate with your designer, to ensure that the project stays on track.
Huge number of options – You'll have your choice of thousands of logo designers from different parts of the world.
Trusted platform, no hidden fees – All payments are held in escrow; if your designer doesn't hold up their end of the deal, you can cancel the gig and get your money back.
Fiverr Pro premium service – If you have a larger budget, you can hire top-quality, trusted professionals whose work is guaranteed by Fiverr.
Curious to know more? Don't miss out
expert Fiverr review
.
How to Make Your Own Tiger Logo with an Online Logo Maker
Want to experiment with designing your own logo? There are many platforms that help you create a logo, even if you have no design experience. With some of these DIY logo makers,
you can design your logo for free – but you do need to pay in order to download and use the logo.
Personally, I am a fan of Wix Logo Maker. It's powered by artificial intelligence (AI) – all you have to do is
go to the Wix Logo Maker homepage
 and sign up for a free account. Then, you answer a series of questions about your business, the type of logo you want, and your design preferences. The AI wizard generates a variety of logo concepts for you to choose from and customize. The logo editor gives you a lot of freedom to customize your design. You can easily change fonts, colors, icons, and even the layout.

To learn more, read our
full Wix Logo Maker review
.
Wix Logo Maker Alternatives
Tailor Brands – Along with your favorite tiger icon, this logo maker allows you to add one or more abstract shapes to your logo design. It's a nice way to give what could be "just another tiger logo" a more creative edge. Read our in-depth Tailor Brands review for more information.
Looka – While it doesn't give you the same flexibility as Wix Logo Maker or Tailor Brands, Looka's AI designer does produce some of the nicest-looking draft logos of any online tool. To see what else it can do, read our expert Looka review.
Final Thoughts
The perfect logo can do wonders for your brand. Whether you
find an experienced logo designer on Fiverr
 or
make your own logo with Wix Logo Maker
, make sure not to rush the process. Before you commit to any design, step away from it for a few hours, then come back and look again with fresh eyes. If possible, seek input from friends, too. Remember how tigers live, quietly stalking their prey with almost endless patience, surveying every detail of the scene with keen eyes, striking only at the perfect moment. Chase your logo like a tiger, and you'll end up with a standout design that you can proudly use for years. Want to try a different animal?
See some of the best animal logos here.
To learn more about Fiverr, DIY logo tools, and other logo design options, see our
detailed comparison of the top logo design services
.