Jump down now to find out how you can hire an experienced designer for as little as $5.
If you're the design-oriented type, I'll also show you how you can use an online logo maker to create your own logo. If you're just looking for some inspiration, you can
skip ahead to see some of my favorite famous technology logos
  along with a little insight into what makes them so great.
9 Best Technology Logos
Hire a Logo Designer for a Great Price on Fiverr
If you don't have the time or patience to create your own logo, or if you'd just rather leave the design work to the pros, Fiverr is the best solution. If you're a budget-conscious business, you'll appreciate the starting price point –
many logo design "Gigs" start at just $5
(depending on the services and package you choose). And Fiverr isn't just great for logos – you can hire freelancers in a number of categories, including programming, business, and marketing. Want to know more about the platform? In our
full Fiverr review
, you can read all about how my teammate hired three different designers for three very different prices to create a new logo for Website Planet.
Notable Fiverr Features:
You can browse designers' profile pages to read past customer's reviews and view their design portfolio
Designers offer basic, standard, and premium package options to suit any budget and project type
The Fiverr mobile app and on-site messaging service makes communication fast and easy
Fiverr protects your investment by holding funds until you approve the final logo delivery
If you need a logo designed, it's easy to get the ball rolling – just
go to the Fiverr homepage
. There, you'll find the
Logo and Brand Identity
category under
Graphics and Design
.
Logo Design
conveniently appears right at the top as one of the more popular categories.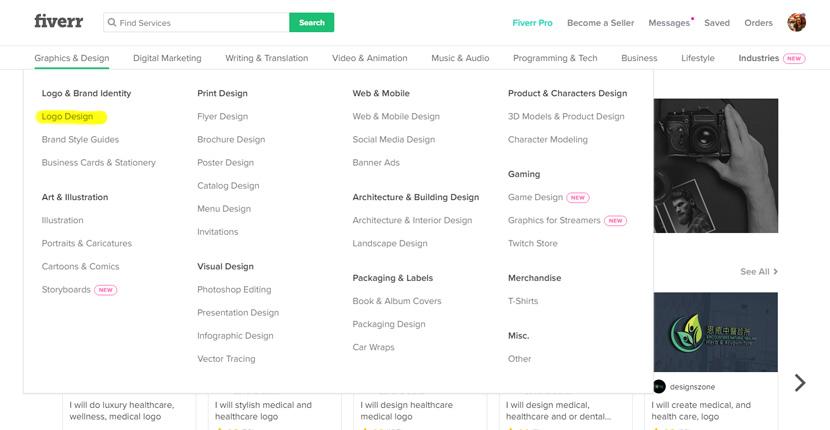 You can search for designers using keywords related to your industry and project. It's easy to narrow down choices based on your budget, the preferred delivery time, and logo options.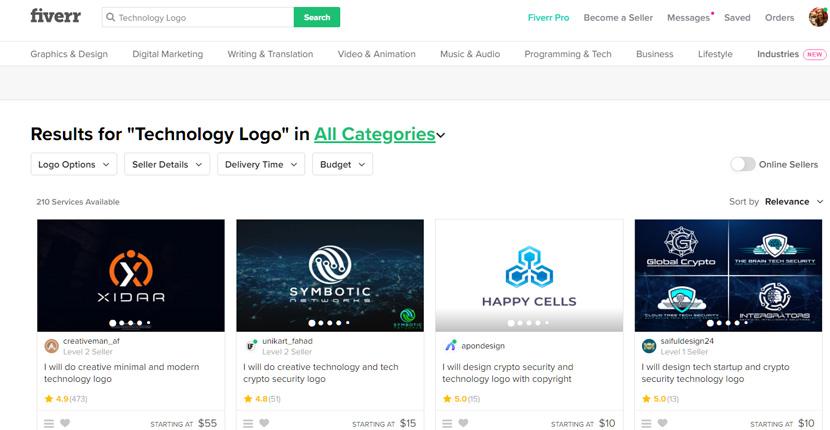 Another option is Fiverr's logo designer search wizard. It's pretty straightforward – you tell it which design style you prefer and whether you want to be able to scale the design or edit it yourself using the original source files.
The search tool will display a list of potential designers based on your preferences.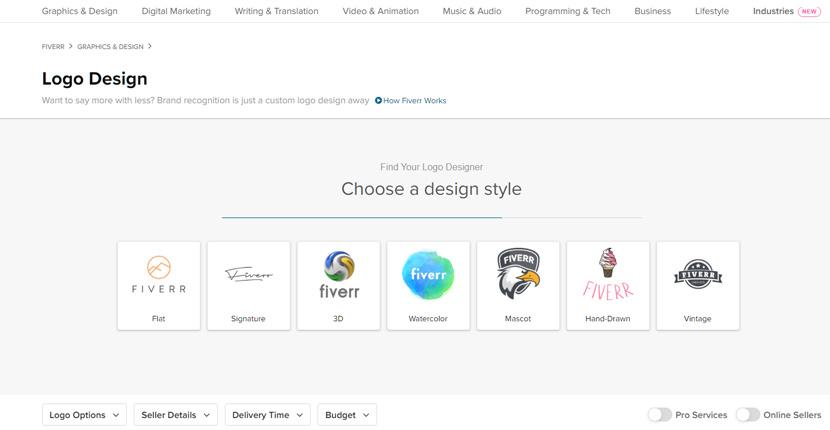 My colleague recently put a bunch of major logo design services to the test, as part of his quest to find the best new logo for Website Planet. You can see all the different options we got and find out which logo won in his
in-depth logo design service comparison.
How to Make Your Own Technology Logo
Your time is valuable, so I promise to make this next part as quick and painless as possible. If you're feeling ambitious and want to create your own business logo, follow along as I show you how to use Wix Logo Maker to create a technology company logo design. Wix Logo Maker uses AI (Artificial Intelligence) to help you design a logo that's suited to your specific needs.
It's free to try – you don't pay unless you absolutely love your logo.
To find out more about how the platform works, don't miss our
full Wix Logo Maker review
. If you're ready to get started,
click here to open Wix Logo Maker in a new tab
. It's easy to sign up for a free account using your email or a Google or Facebook account. Once you have an account, you can save multiple logo designs and come back to them later if you need more time to decide on your final product.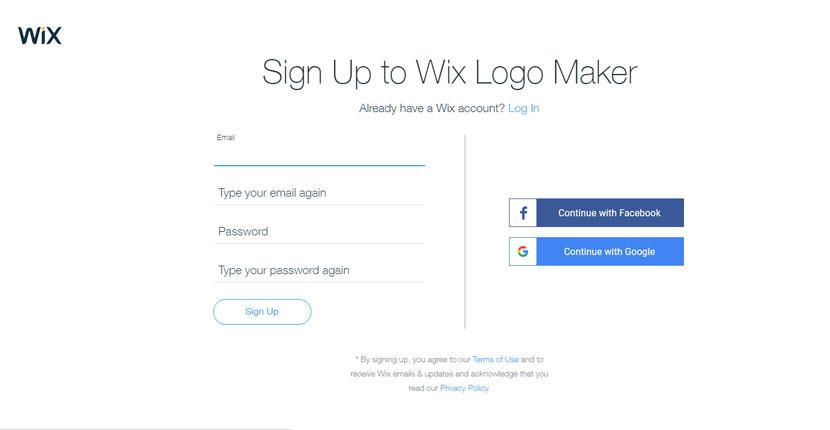 Getting To Know You
Next, it's time to answer some questions about your industry and your personal design preferences. It might seem tedious, but
the answers you give help the AI generate potential logo designs for you
. First up, your business name and slogan if you have one: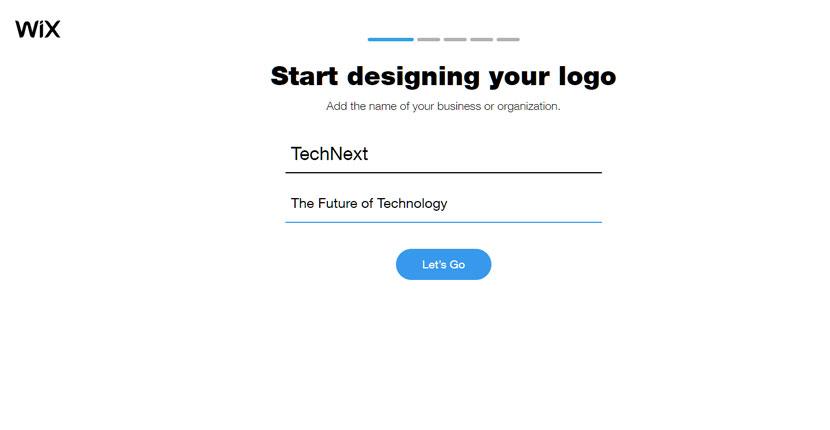 Expert Tip: If possible, keep your slogan as short as possible, or leave it out altogether. The more text you include, the harder it will be to read at smaller sizes, so it's best to just stick with your business name. Let the overall logo design speak for your company with well-chosen artwork and easy-to-read fonts.
Next, type a keyword that best represents your industry – the drop-down menu will display related topics. As I mentioned, this is to help the AI generate relevant logo designs for you
.
Some specialties and niche topics may not appear on the list –  simply select "technology company" or the next closest match if nothing else fits
.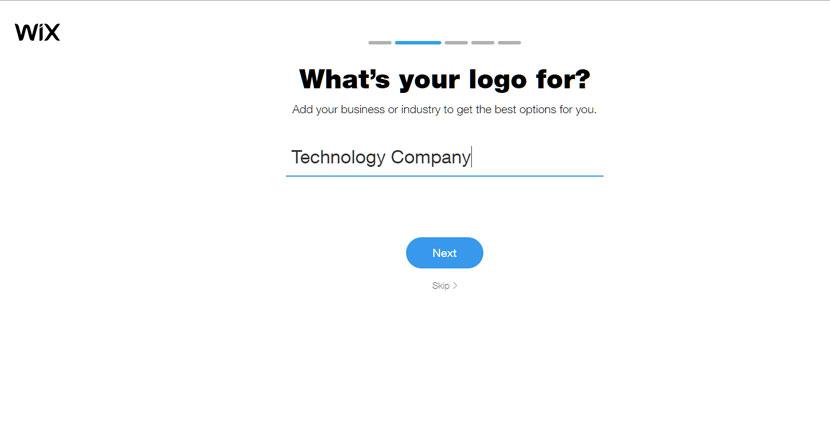 Expert Tip: Don't worry too much about how complicated your technology sounds when it comes to describing it – you might be surprised by how specific your design can get with the right tools. If you're concerned about protecting trade secrets or proprietary information, it's perfectly fine to leave those details out of your design briefs and logo concepts.
Next, select up to three keywords from the little "cloud" that appears – pick the ones that summarize the look and feel you're hoping to achieve with your logo. I chose
dynamic
,
modern
, and
techy
. You
can
skip this step, but these choices help Wix further tailor your logo design options.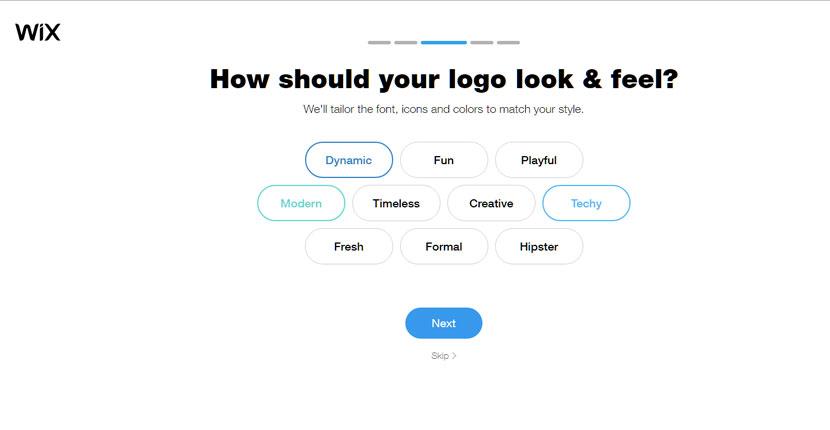 The next step will ask you to choose your favorite logo between several pairs. If you're not a fan of either one, you can also click "
I don't like either of them
."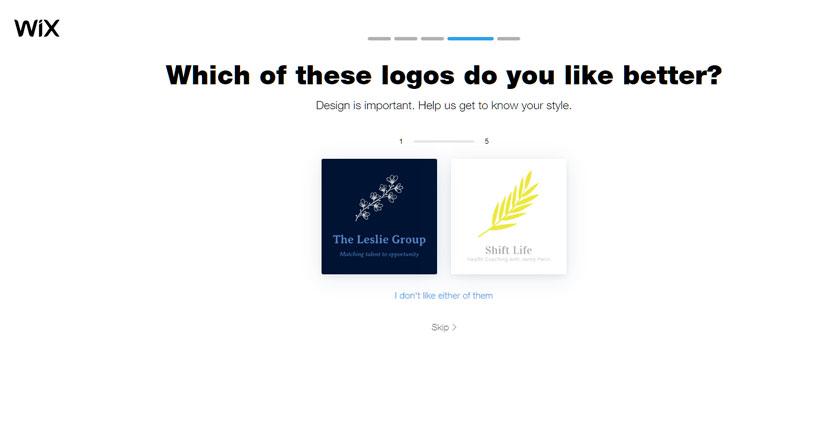 Wix wants to know where you plan to use your logo. This is another optional step, but if you're interested in the other available services, such as the ever-popular website builder (
click here to read our full Wix review
), you can explore those options later on.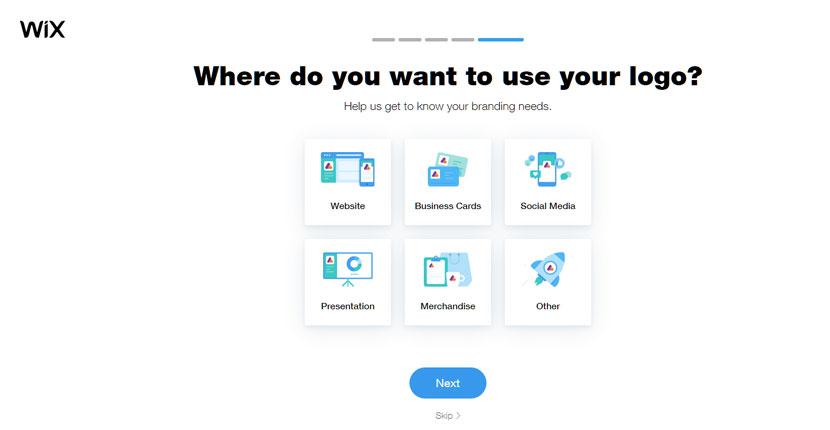 Hack to Your Heart's Desire
Here comes the big moment – Wix will generate several logo concepts for you. I've found that this can be a hit-or-miss situation depending on the answers you've given – you may see some clashing color palettes, random icons, and font choices, but thankfully,
none of these designs are locked in, so just choose the one that has the most potential
and edit it to your liking.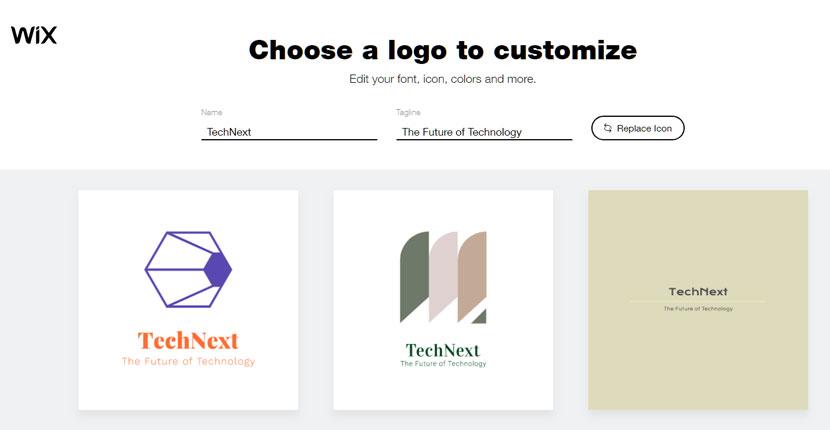 The editing tool is pretty easy to use – the menu on the left gives you plenty of choices to work with, including premade and editable color palettes, a generous selection of fonts and icons, plus the option to add shapes and background colors. Compared to
other logo design services
, Wix gives you much more flexibility when it comes to spacing and resizing icons and fonts.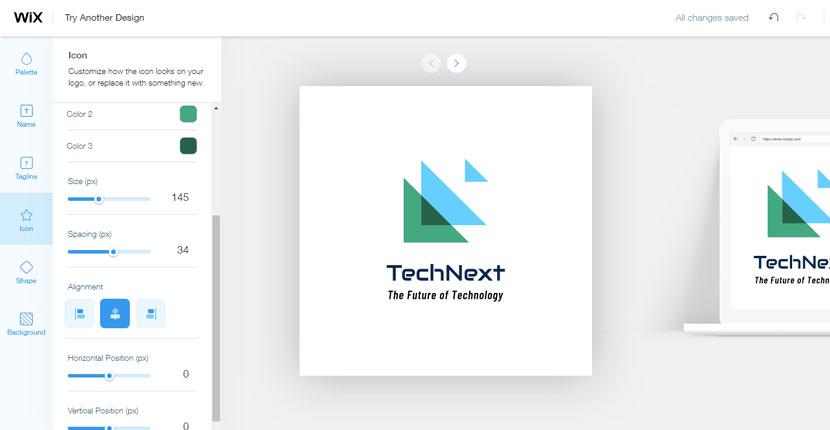 One thing I really like about Wix Logo Maker is the product previews – you can see how your logo will look on websites (including mobile-friendly versions), shopping bags, and postcards. Since this is available to you before you've paid for your logo, it's the perfect time to ensure your design looks nice across a variety of printed and digital mediums.
Don't like how it looks? Head back into the editor and tweak it some more.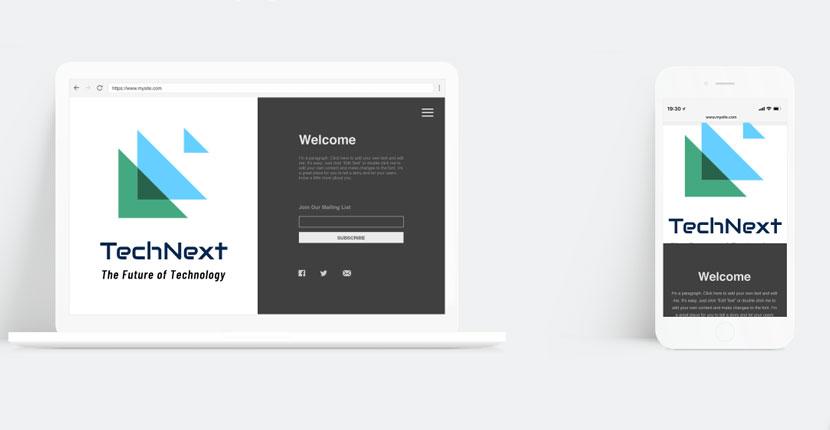 Feeling a little stuck in the design process? No problem, just click the "
try another design
" link in the editing menu, and it will show you additional variations you might prefer, including different layouts, color palettes, and icon choices. You may discover a design you love even more!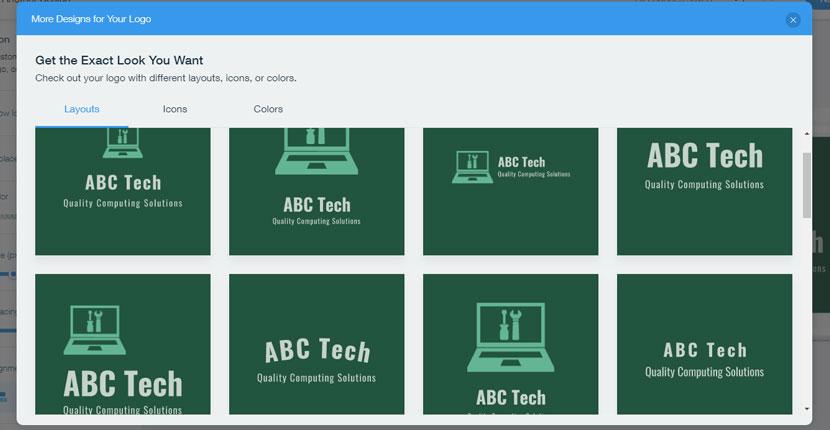 Wix Logo Maker Packages
Once you've struck gold (or cryptocurrency) with your technology logo design, it's time to decide which logo plan works for you. The "Just Logo" plans are one-time purchases, and they're pretty reasonably priced, too: The
Basic
plan is great if you just need a working concept to share with your Fiverr designer or only need a logo for social media and website needs. You'll get high-quality PNGs of your logo in color plus grayscale, monochrome, and black-and-white versions. This plan also grants you full commercial usage rights. The
Advanced
plan gives you the same PNG logo files and full commercial usage rights as the Basic plan. You'll also get resizable SVG vector files that let you print your logo in the highest resolution possible. As an added bonus, this plan also comes with social media graphics you can use to promote your brand on popular social media platforms.
If you also need a website, you'll want to look into the "Logo + Website" plans for some interesting options.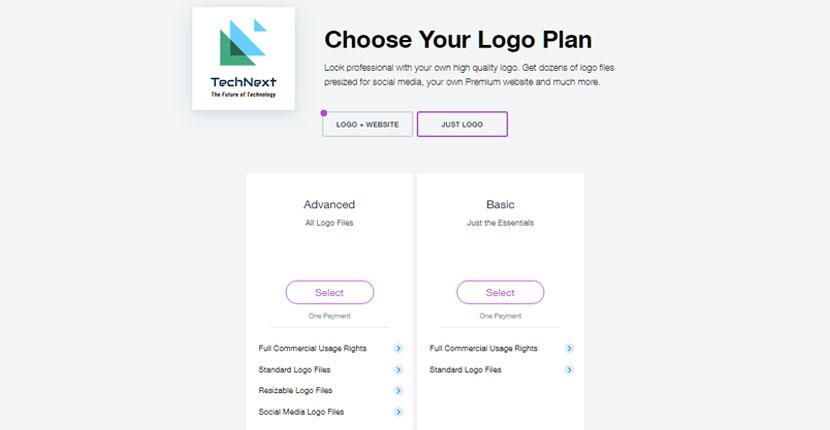 And that's all there is to it – get your angel investors on the phone, because you're ready to roll out your new company image!
Technology Logos Created with Wix Logo Maker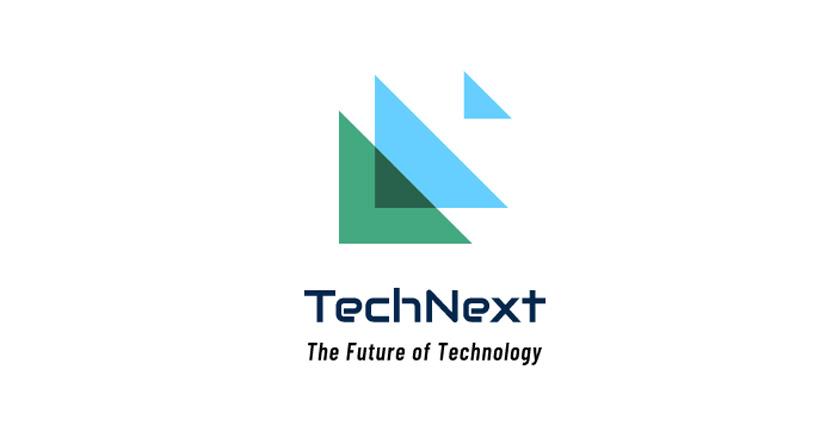 This futuristic typeface is paired with upward-trending triangles to let people know this company is focused on growth.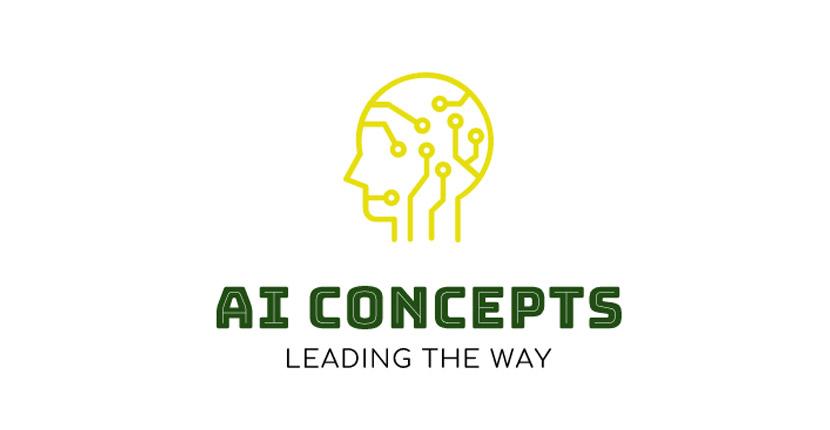 This AI-focused logo literally has technology on the brain. It might seem simple, but sometimes all you need is a well-chosen icon that represents your company's mission.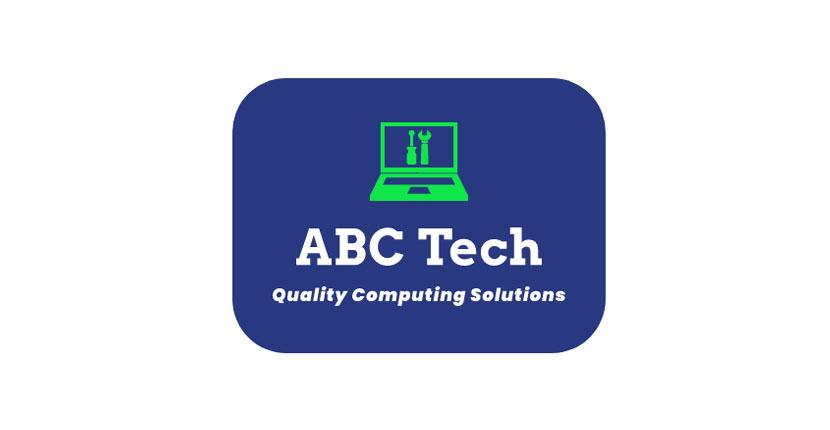 The rounded rectangle used here plays well into a company that offers computer repairs and services – it looks a bit like a computer monitor with a "blue screen of death," plus it would translate well into badges, mouse mats, and other promotional items.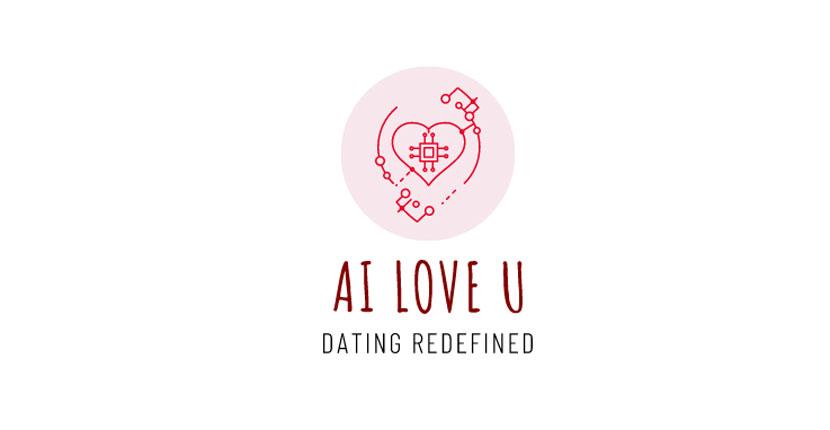 Here's a basic, yet clever concept for an AI-powered dating site. It's a bit cutesy, but not so much that it would leave you feeling nauseated. You could easily swap out the colors to suit a variety of seasons and user preferences.
Get Inspired by Famous Technology Logos

A giant in the technology and the ecommerce world,
Amazon's
smiling arrow design lets you know they're focused on quick shipping and a pleasant shopping experience from A-to-Z. The color yellow can also represent energy and positivity, traits that successful brands should strive to offer.

This logo concept for
DebugWave
makes excellent use of the color blue, which fits the image of rolling waves and implies a sense of trustworthiness, which is important for companies focused on software debugging.

The
EMP Shield
logo shown here makes good use of the color gray, which implies a sense of stealthiness and strength. For a company focused on protecting homes and businesses from potentially damaging electromagnetic pulses, this logo effectively encompasses the brand's goals.

While their logo has evolved over time,
Microsoft
keeps things simple with their windowpane design. It represents their biggest product offering – Windows, of course – and the colorful panes also tie into some of their most noteworthy brand divisions, including Xbox gaming and the Office suite.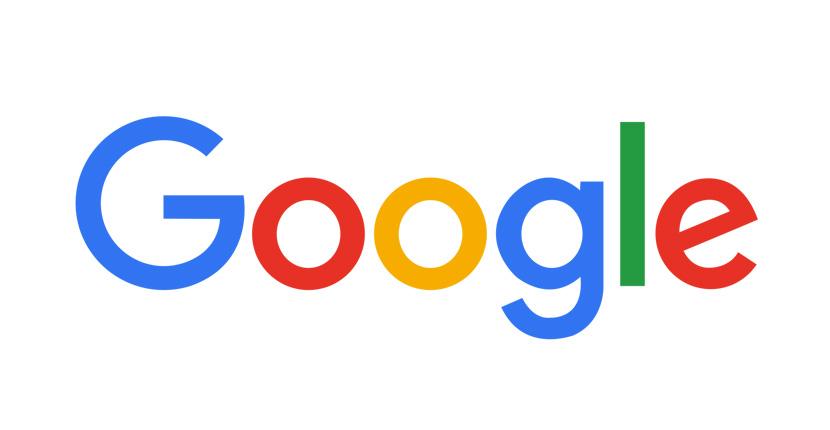 Google
has maintained a similar look since the beginning with a playful primary color scheme, plus a touch of green that keeps it from looking too predictable or trendsetting. Text-only logos are also a good choice for search and tech tools that need to perform quickly and reliably.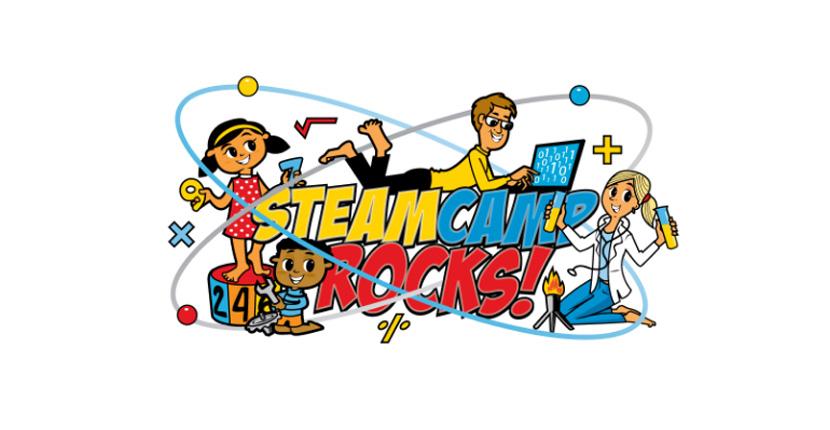 This fun illustrated logo for
STEAM Camp Rocks!
Keeps things light and relatable for younger crowds. STEAM-related skills, including math, science, and technology, are important for the youth of today, so making it look exciting can help attract kids toward future career paths.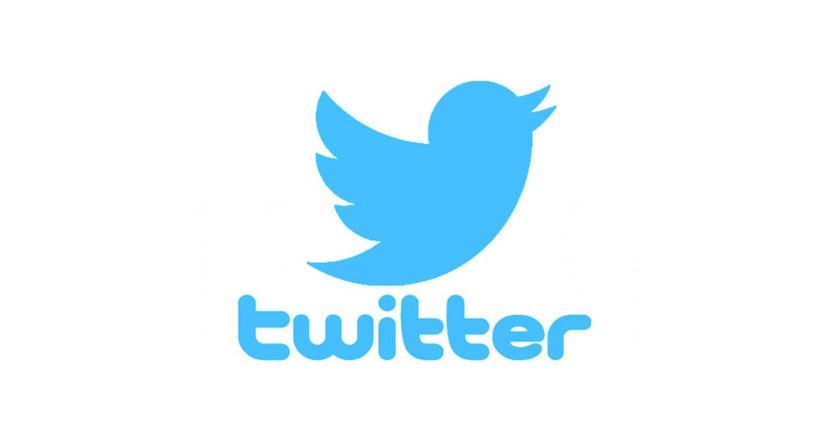 Another logo that has maintained a fairly consistent look,
Twitter's
bird logo makes use of the loyal and respectable color blue. The design of the bird also implies upward movement as the company develops its growing and "tweeting" social media platform over time.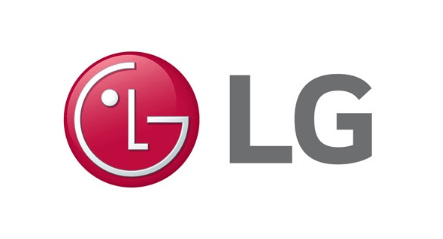 The logo for
LG
keeps things very simple and clean. They've used a brand-exclusive red color that sets them apart from other companies, and the icon combines a few potential images, depending how you look at it. The LG stands for "Life's Good," and the icon looks a bit like a smiling person, or a power button cleverly featuring the LG as part of its design.

Another big name in the technology world,
PayPal's
goal is to attract and maintain a loyal audience for their online payment services. The slightly offset text implies the movement you'd expect from speedy money transfers and the like. As mentioned before, the use of blue in technology logos also helps to establish brands as trustworthy and stable.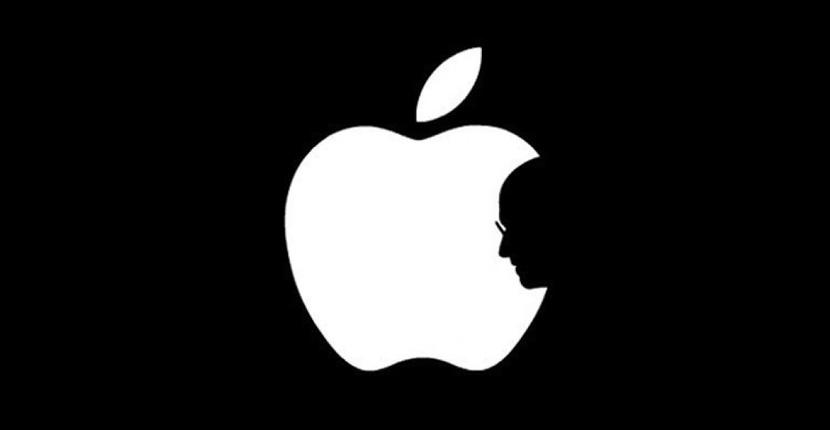 Apple
has done an excellent job of creating an image that no longer requires accompanying text –  they have taken a literal bite (or byte, if you will) out of the tech world with innovative computing products and mobile devices. This particular logo was a special version they created upon the passing of co-founder Steve Jobs, a fitting final tribute to a man who helped build the iconic company.
Powering Down – Some Final Thoughts
You know you have what it takes to make your tech business thrive, so
a logo that matches your vision is key to building a brand that people can rely on,
whether you decide to
hire a logo designer on Fiverr
 or
create your own with Wix Logo Maker
. It can help to read the stories and logo design journeys the big corporations took on throughout their history (especially our own
Fortune 500 Company Logo Research
), but it's equally helpful to consult with colleagues to see what worked for them. Creating a timeless technology logo might pose challenges in a landscape where change remains constant. Nevertheless, it's advisable to regularly assess current design trends to determine whether your logo requires rejuvenation by a professional designer. Maintaining stride with competitors and achieving mastery in your specific domain can support the sustenance of enduring growth within the dynamic realm of technology. For more logo design ideas, don't miss our list of
the 10 best logo design services
.