Jump ahead now to learn how you can hire an experienced sports logo designer for as little as $5
. To get you psyched up to compete with big-time logo players, I'll show you my favorite sports logos and why they work so well.
Skip down to see those logos
or read on to learn how to use a simple online tool to create your own logo.
9 Best Sports Logos
How to Score a Logo Designer for a Great Price
I'll admit, when I first heard that you can
hire a freelance designer on Fiverr
to create your sports logo for as little as $5 US, I was pretty skeptical. But everything changed when I saw the high-quality work my colleague recently got from Fiverr designers (
click here to take a look
).
Some Fiverr freelancers who offer logos for the $5 minimum "gig" fee are quite talented. They're hungry for design work to help them build their reputation. More experienced designers sometimes charge a little more.
Highlights of Fiverr:
Know who you're hiring. Star ratings, client reviews, and work portfolios let you see how well designers have performed in the past.
Stay in touch with your designer every step of the way. Desktop messaging and a free mobile app make it easy to check in anytime.
Choose the best package for you. Fiverr designers offer multiple service levels and optional add-ons, so you get just what you need at a price you can afford.
Try it risk-free. When you hire a designer, Fiverr holds your money in escrow. You pay only after the designer has completed the work to your satisfaction.
Browsing the Fiverr Site
Fiverr makes it easy to find the services you're looking for. You'll find
Logo Design
prominently displayed under the
Graphics & Design
→
Logo & Brand Identity
menu heading.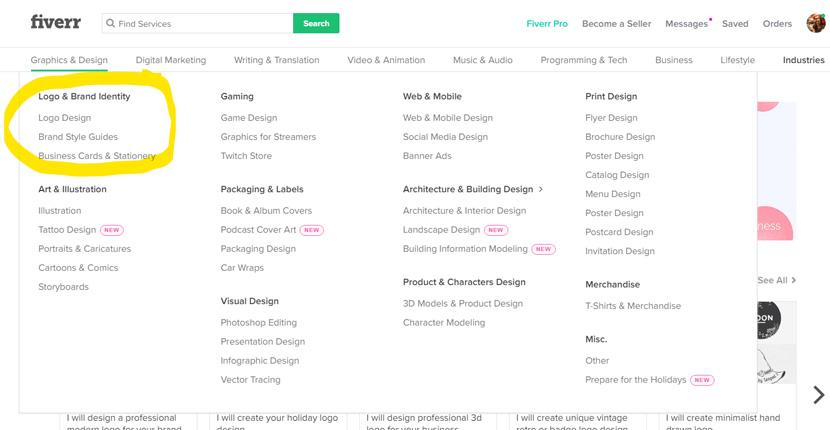 If you click
Logo Design
, you'll get access to the logo design search wizard, which finds qualified designers based on your needs and style preferences. You can also simply type keywords into the search box – for this project, I just entered "sports logo." You can narrow down your options by specifying a design category (e.g., minimalist or mascot), project timeframe, and budget range.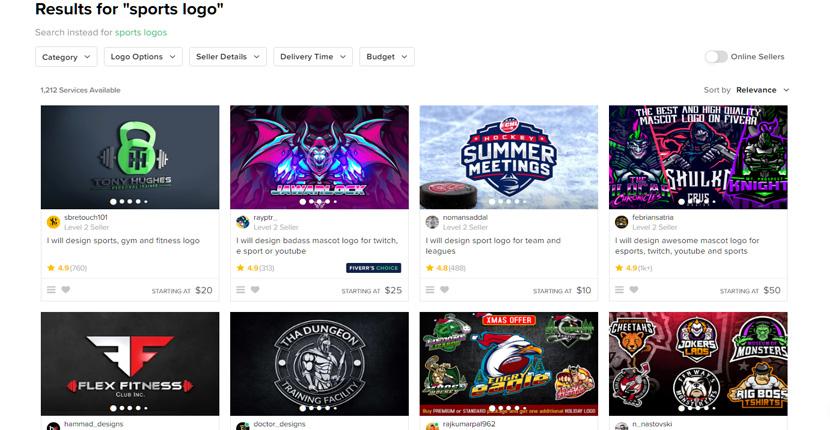 Compared to other categories, the sports logo area has a lot of very talented designers. It's a good idea to review several gigs and user portfolios to see who can best handle your particular logo concept.
You can always send a free introductory message if you want to communicate your ideas before committing to a design gig
.
Go All-In with Fiverr Pro Designers
When only the best-of-the-best will do for your logo needs,
Fiverr also offers a Pro selection of hand-picked designers
. Fiverr Pro designers have consistently demonstrated their exceptional talent and quality. While they can be more expensive, you'll find they offer more personalized service and take extra time to ensure your logo looks distinctive.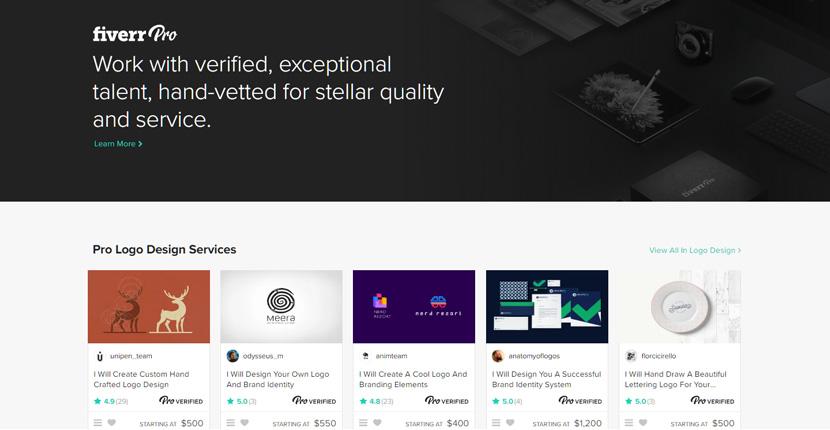 Website Planet's Logo Search
Take a look at Website Planet's new logo – that's right, a freelancer made it. One of my colleagues took on
the challenge of hiring multiple designers to see who could come up with the best new logo for our site
. I must say, I was pleasantly surprised at the work he got, with some of the best designs coming in at the lowest price points. For all the details, check out his
in-depth comparison of the top logo design services.
How to Make Your Own Sports Logo
If you're feeling inspired to design your own sports logo, I invite you to check out Wix Logo Maker. What's neat about it is that it's powered by AI (Artificial Intelligence). How does it work? The short answer:
you'll answer a series of questions related to your design preferences, and Wix Logo Maker generates logo designs for you.
It's free to use the tool to design as many logos as you like – you pay only if you want to use one of the logos commercially.
Kicking Off with Wix Logo Maker
Step one:
Go to Wix Logo Maker and sign up for a free account.
It's easy to do: just use an email address or sign in with a Facebook or Google account to speed up the registration process.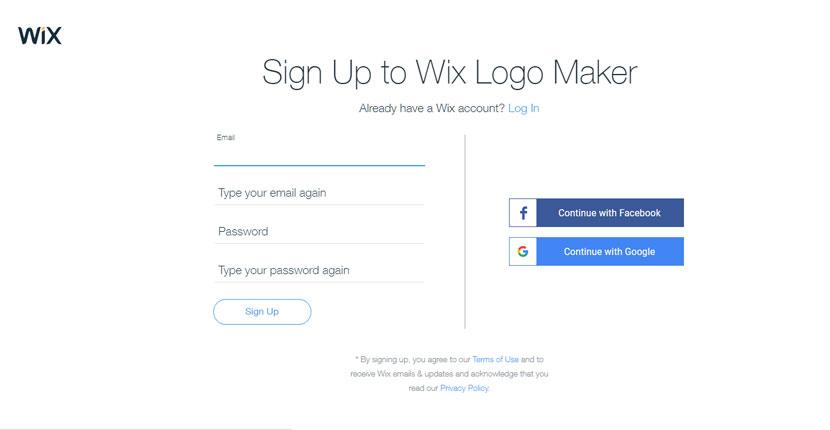 Start Your Engines – the Design Process
As you'll see, the questions are very straightforward. First, you'll enter your team's name and optional slogan.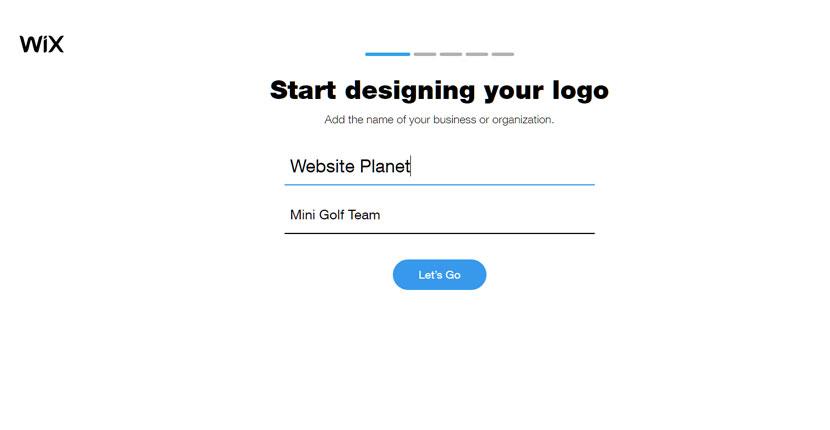 Expert Tip: Less is more. You don't want to overcomplicate your logo with a long name or slogan, and you'll want to avoid including a website address since it might be hard to read at small sizes. Stick with the most basic elements: your team's name, and if you'd like, the sport and/or mascot name. You can always include additional details on your jerseys, posters, and promo materials.
Next, you'll enter your team's sport or main activity. Type in a keyword or two and see what comes up. Can't find your exact sport? Choose the closest match you can find, or you can skip this step altogether.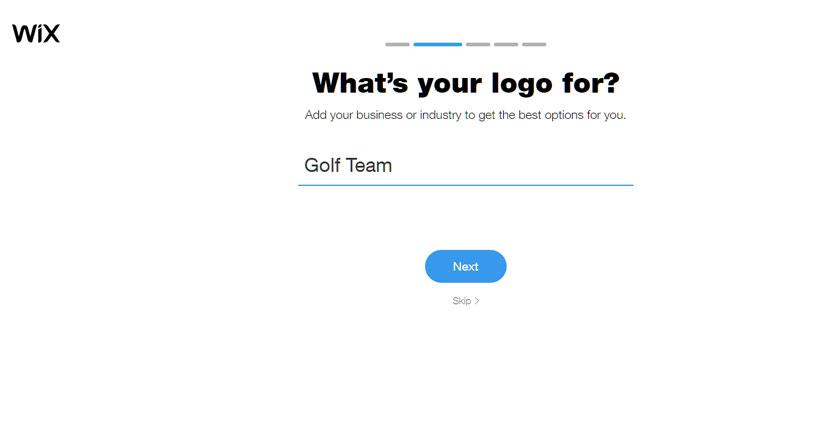 Sliding into the next base here – it's the look and feel category. You can choose up to three words that best describe your team's personality or image – I went with
playful
,
techy
, and
fresh
because I'm designing a Website Planet team logo this time.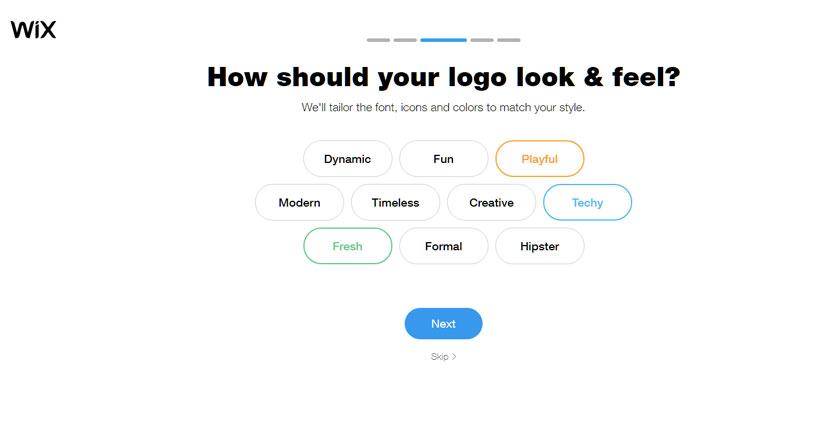 Here's another optional but potentially helpful question: where do you want to use your logo? This is mainly so Wix can recommend other services, such as its website builder (to learn more about it, read our
full Wix review
).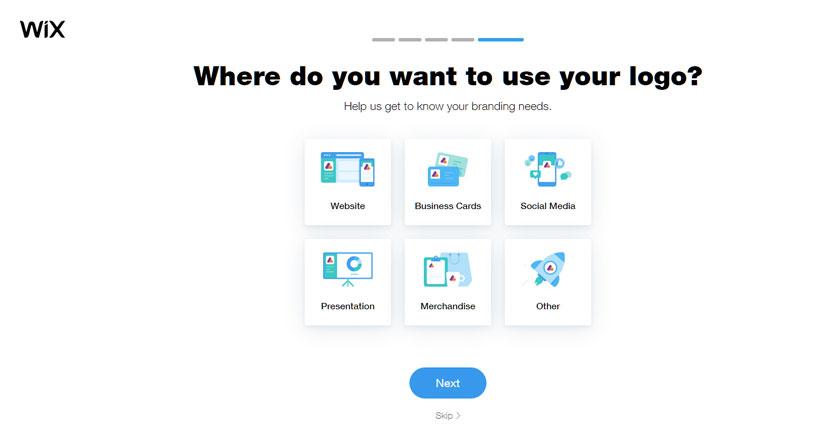 Acing Your Ideal Logo Design
Once you've answered all the questions, Wix will generate some logo concepts for you. You'll notice I struck out big time – nothing golf related appeared, and in fact, no icons loaded at all, just blank squares and some really ugly color combinations. Oops. Maybe the site was having issues, but when I tried it again, I had the same result, so…maybe Wix needed to head to the penalty box for a bit. (I apologize for my bad sports puns.) That's something to keep in mind with these sometimes random AI designs –
you should aim for the design that has the most potential rather than search for absolute perfection.
Thankfully, you aren't limited to what you see. You can edit and customize every last detail to your liking. I chose the middle option because I liked the font, but you'll see it looked completely different all by the time I was finished with it.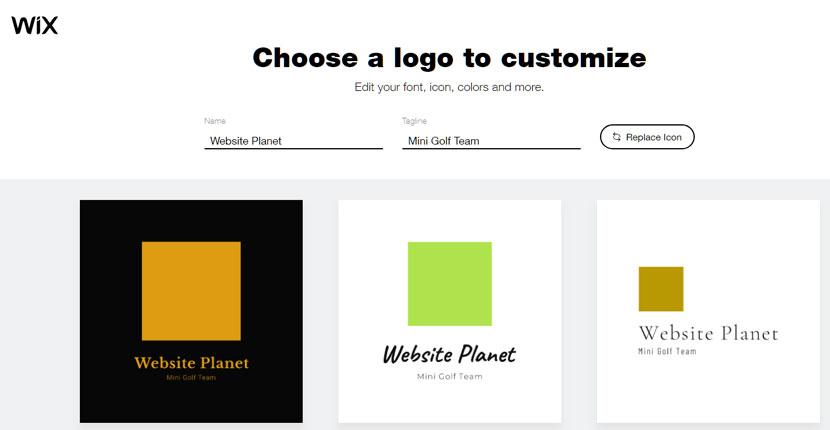 After choosing a suggested logo, the system will direct you to the editing tool, which is my favorite feature of the logo maker. To begin with, I had to address the absence of an icon. Therefore, I conducted a search for golf-related artwork. I came across an image of a golf ball that bore a resemblance to both a planet and the moon – a flawless discovery! Well done, Wix. Even if it comes up a little short at times, I've found that
Wix offers a lot more design flexibility compared to other logo makers.
You can play with settings such as font styles and sizes, color palettes, backgrounds, shapes, and character spacing.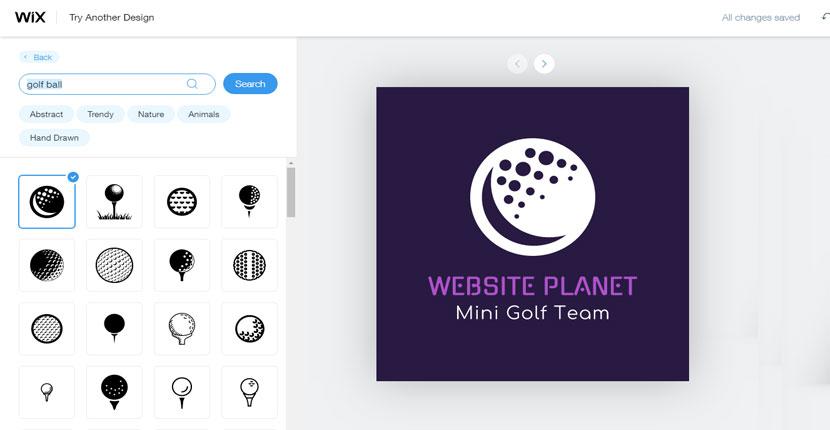 Whenever you want to check out additional color or layout options, click on
Try Another Design
in the upper left corner of the editor. I especially recommend experimenting with colors. Notice how different these versions of my mini golf team logo feel: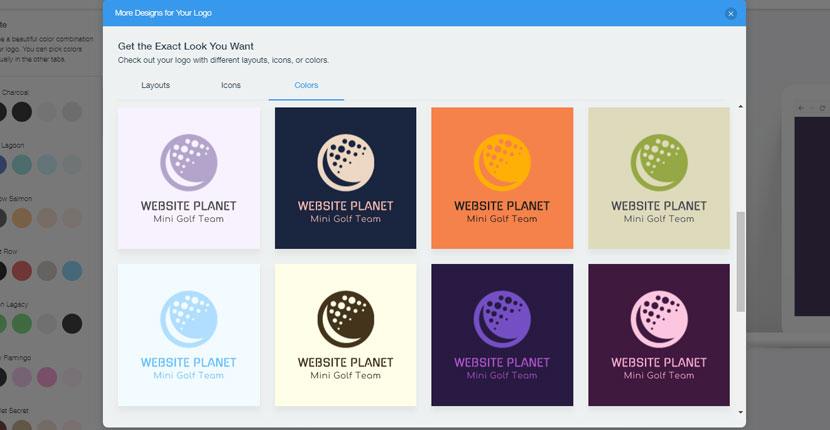 Expert Tip: Try to imagine how different fonts, icons, and color combos will look in print and online. A dark logo might look great on a website with a white background, but it will be unreadable on blue jerseys. And if you anticipate seeing your team's logo in newspapers or on news sites, make sure everything looks good both in color and in black-and-white.
How to Purchase Your Winning Logo
When you're happy with what you see, it's time to decide if you're ready to purchase your logo. You're not obligated to make a purchase, so there's still time to
head back to Fiverr
 if you'd rather hand the work off to a real expert. You can download a free logo sample for non-commercial use – the file you get will be low-quality, but
this is actually a great option if you're planning to send it to a Fiverr logo designer as a point of inspiration.
There are two paid logo packages to choose from –
both are one-time purchases, and both grant full commercial usage rights to your logo.
The
Basic
plan is a good choice if you're only looking to display your logo on websites and digital media. You get high-quality PNG files of your logo in color, black-and-white, monochrome, and grayscale formats. Given this logo is for a sports team and you're probably planning to print it, you might want the
Advanced
package instead. This plan gives you everything in the Basic package, plus the scalable vector files you'll need to print your logo in optimal quality. You also get a set of social media graphics to help you generate buzz for your team all over the internet.
Sports Logos Made with Wix Logo Maker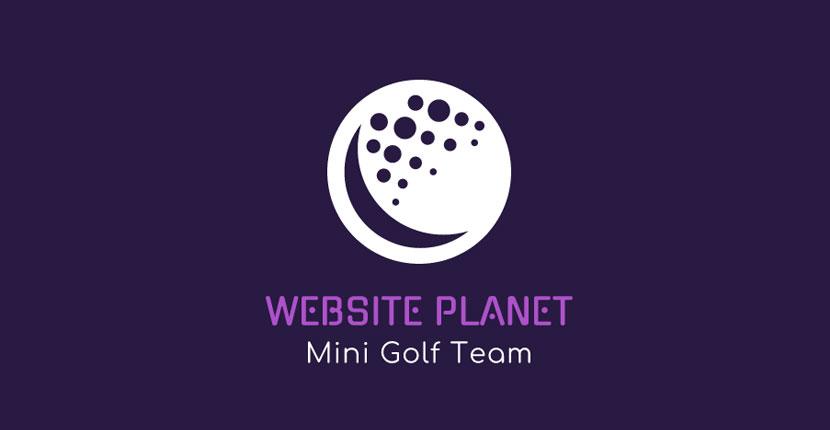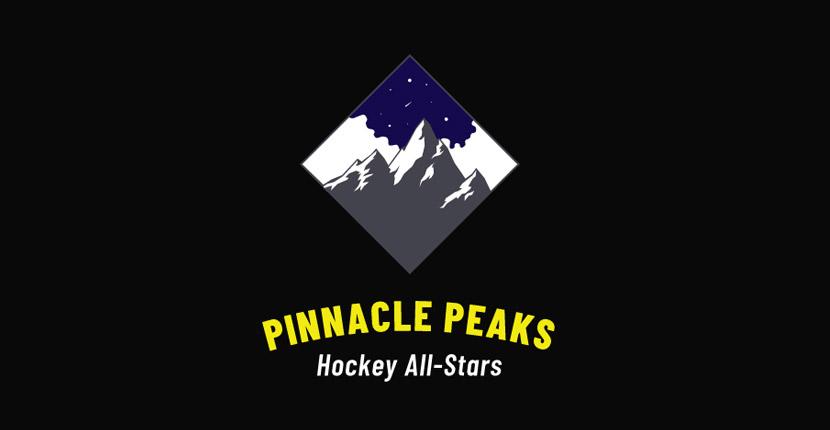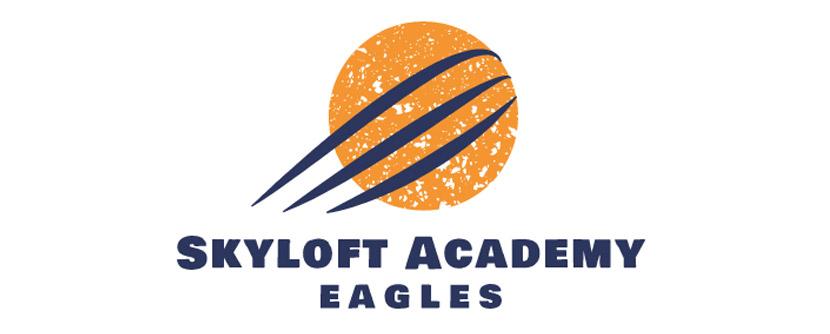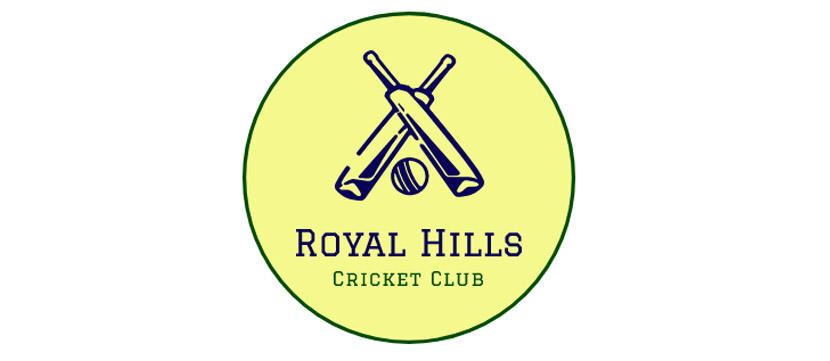 Get Inspired by Famous Sports Logos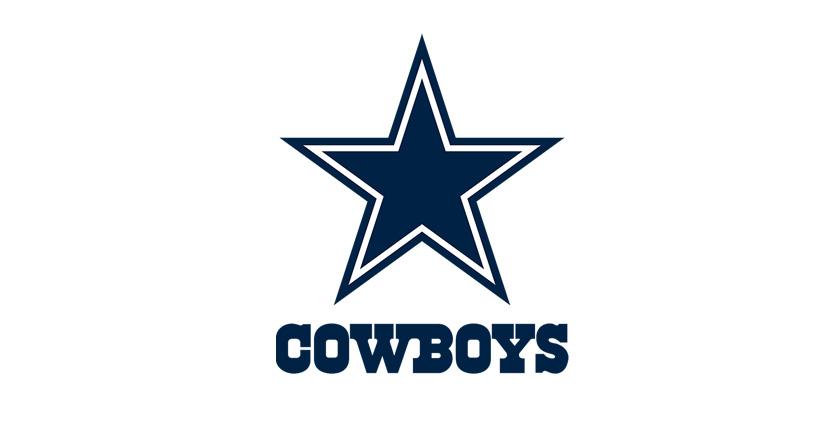 Whether you live in the US or anywhere else on Earth, you've probably seen the
Dallas Cowboys
logo at some point. The star shape is incredibly simple, but paired with the Western-style font, it perfectly represents the team's home: Texas, the Lone Star State.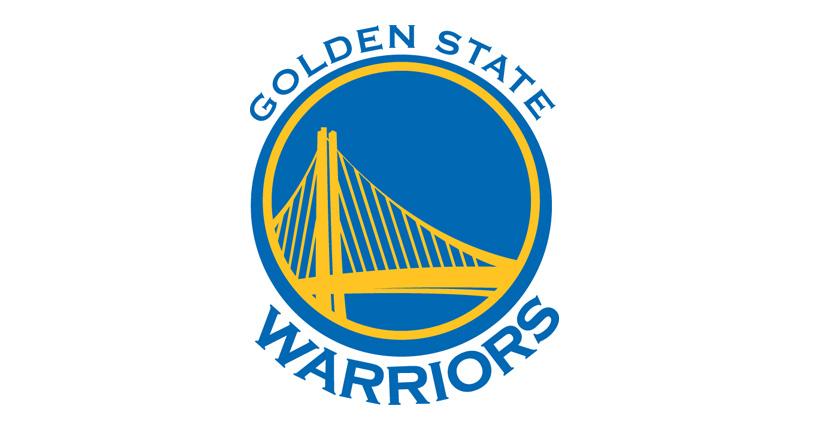 This logo for the NBA's
Golden State Warriors
is another example of a sports logo that ties into its region – San Francisco, California, where you'll find the Golden Gate Bridge. California is also known as the Golden State. Simple, but very effective branding.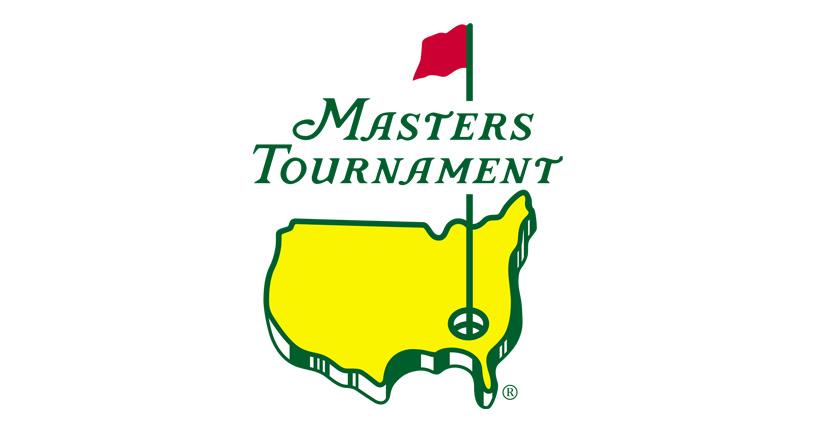 The
Masters Tournament
logo isn't a perfect depiction of the United States' shape, but its main focus is well-played. The hole and flag align approximately where the legendary golf tournament is played: Augusta, Georgia. Additionally, Golfers vie for the iconic Masters green jacket, on which this design is prominently featured.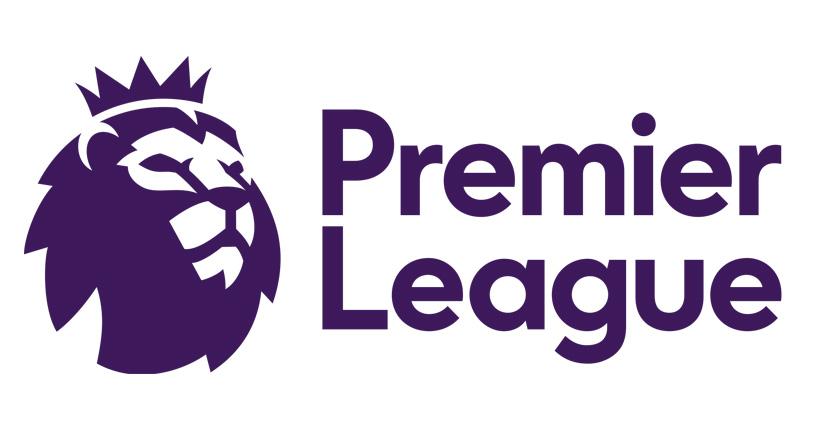 With its crowned lion, this single-color logo for the
Premier League
exudes royalty. The color purple is also associated with nobility, ambition, and extravagance, which many might agree aligns well with the competitive world of soccer (or football, if you will).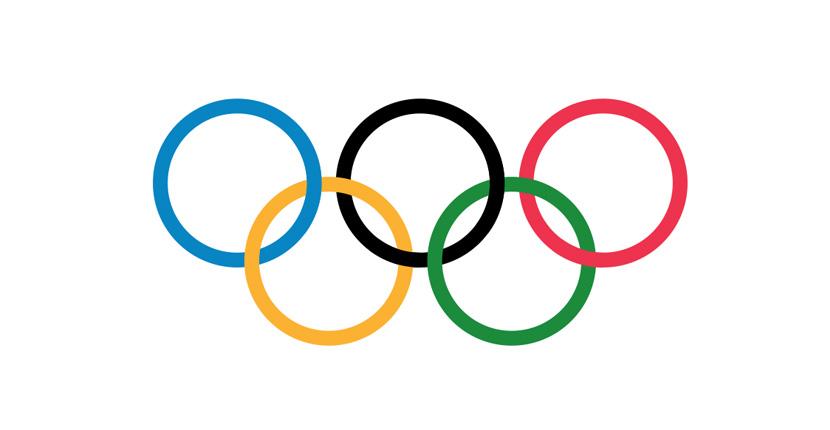 The globally-recognized logo for the
Olympic Games
stands out with or without any text. The interlocking rings and the colors unify the continents represented in the Olympics: Asia, Africa, Europe, Oceania, and the Americas.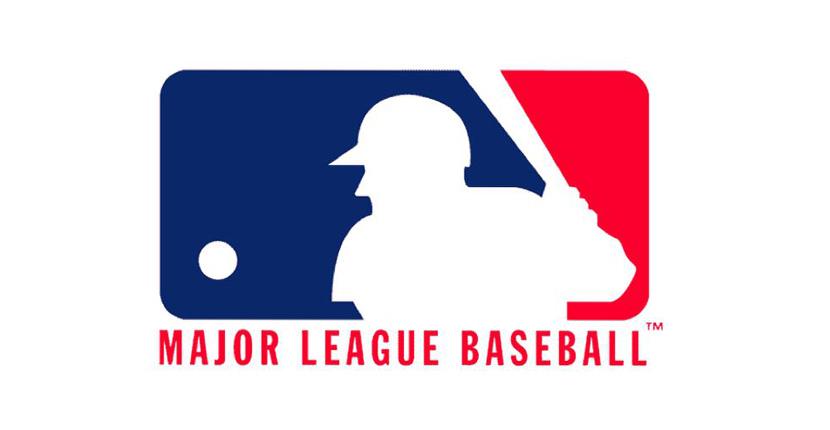 A popular sport in America (and to be fair, outside the country, too), the logo for
Major League Baseball
effectively incorporates the nation's colors of red, white, and blue. Beyond that, the simple design illustrates the sport without much detail, which lends itself well into a variety of apparel and promotional products. This style and color scheme also appears in the logos of other sports organizations such as the NBA and the NFL.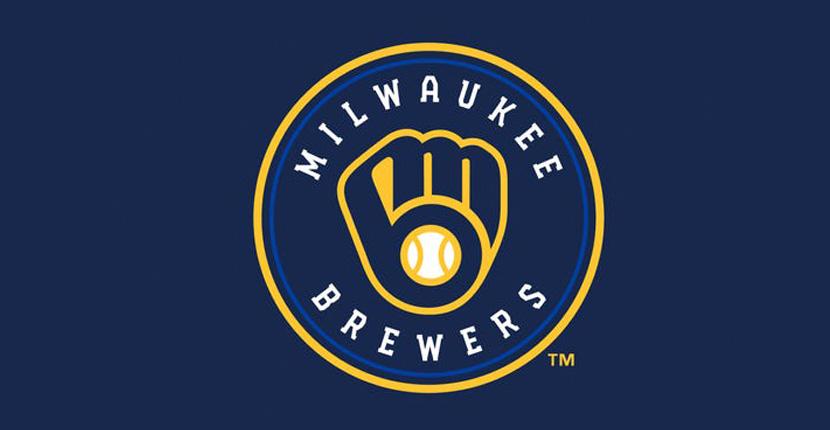 Sticking with baseball for a moment, this logo for the
Milwaukee Brewers
is especially well executed. How? Take a closer look at the baseball glove – you'll see it's made up of an "M" and "B." The font also echoes the logos of the classic breweries for which the team is named.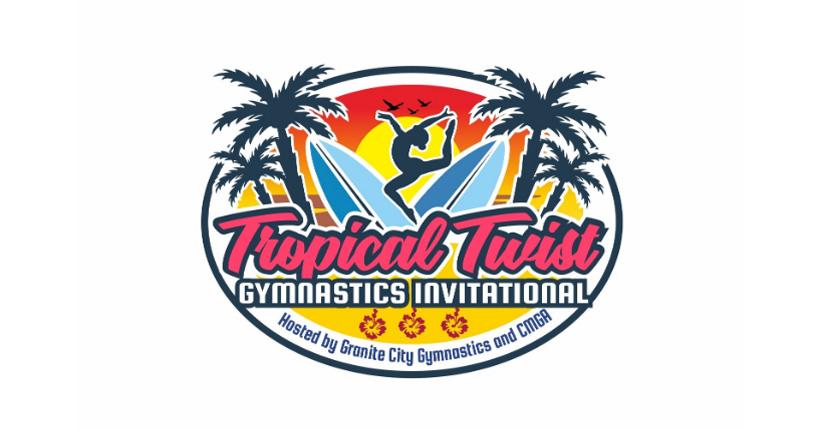 I like this logo for the
Tropical Twist
invitational – it features a lively island-inspired color scheme paired with tropical artwork and a gymnast in mid-leap. It's a fun design that athletes, coaches, and supporters can show off on t-shirts and team posters.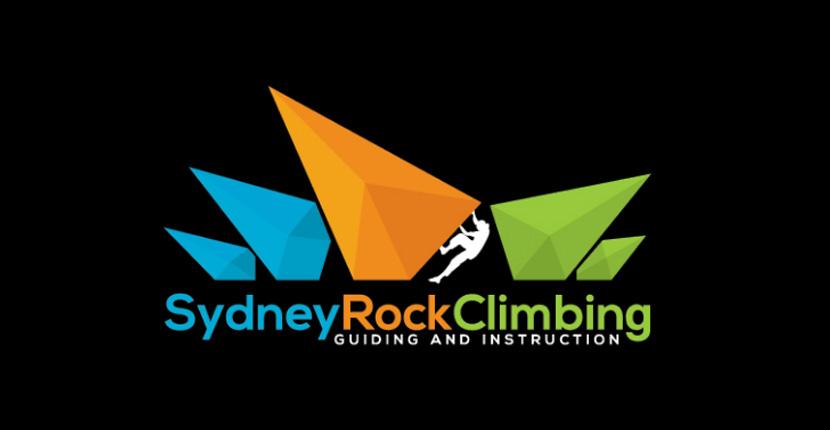 The geometrically inspired logo for
Sydney Rock Climbing
has a subtle but effective 3D effect. But look closer… the rocks also resemble the shape of the Sydney Opera House, one of the world's most recognized landmarks.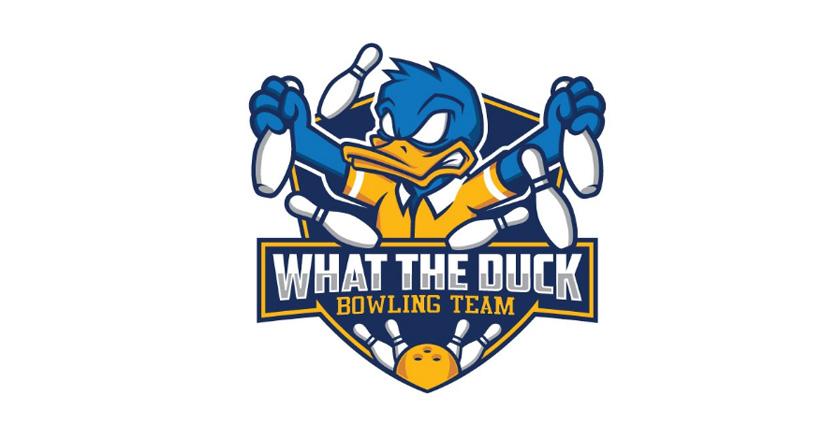 This bowling mascot logo is just plain fun –
What the Duck
indeed! Don't be afraid to have a little fun with your logo design, especially with adult leagues where clever puns won't offend your supporters. This would look fantastic on bowling jerseys, jackets, and strategically-placed promotional posters.
*Website Planet is not affiliated with any of the sports organizations mentioned above.
Game Over – Final Thoughts About Sports Logos
Well, that's a wrap, folks. If you feel a little winded after absorbing all this information, take a little breather and gather your thoughts. As you draft your logo designs, think about your supporters and the team's overall personality.
You might want to take your region's iconic landmarks and colors into consideration, as they can add layers to your team's logo, too
. As you explore all of your options, take a closer look at the
top logo design services
, or
hire a designer on Fiverr
 if that aligns with your goals. Most of all, have fun, play fair, and keep cheering for your team! Want some more design examples to draw from? Read more about creating
football logos
,
baseball logos
,
soccer team logos
,
fitness logos
, and hey, we've even covered
esports gaming logos
.