the last thing you want to do is rush into using yet another Email Marketing Service (EMS) that doesn't live up to its promises.
It's annoying – and costly – to import your contacts into a new EMS just to find it doesn't work for you. There's nothing worse than wasting your time and money on a new marketing service that has the exact same issues as the one you just moved away from. Whether you want advanced personalization, more automation capabilities, or even just a beginner-friendly EMS that doesn't break the bank,
I've found some great SendX alternatives that offer far better value for your money.
I've tested all of these alternatives so you don't waste your time again.
So sit back, grab a hot drink and your favorite blanket, and join me as I show you the 7 best SendX alternatives on the market.
Short on Time? These Are the Best Alternatives to SendX in 2023
ActiveCampaign – A great choice for complex, multi-step automation, with hundreds of automation templates to save you time
GetResponse – Fantastic personalization capabilities, with 30+ no-code options and dynamic content tutorials
Benchmark – One of the best EMS platforms for beginners, offering tons of learning resources
What We Look For in the Best Alternatives to SendX
While SendX is very competitively priced, it's also pretty basic. When I was testing these SendX competitors, here's what I looked out for:
Actionable analytics. SendX only provides the absolute basic statistics about your campaigns. All the alternatives I've found have fantastic reporting capabilities that blow SendX's analytics out of the water.
Modern, mobile-friendly templates. Given that SendX offers only a few dozen templates, I looked for EMS that offered a greater range.
Advanced A/B testing. SendX only allows you to split test your subject lines, so I made sure to look for marketing services that allow you to test other email features, too.
Beginner-friendly automation builder. A common complaint with SendX is that the automation builder is too confusing to navigate. The alternatives below all offer fantastic automation that's simple to set up and use.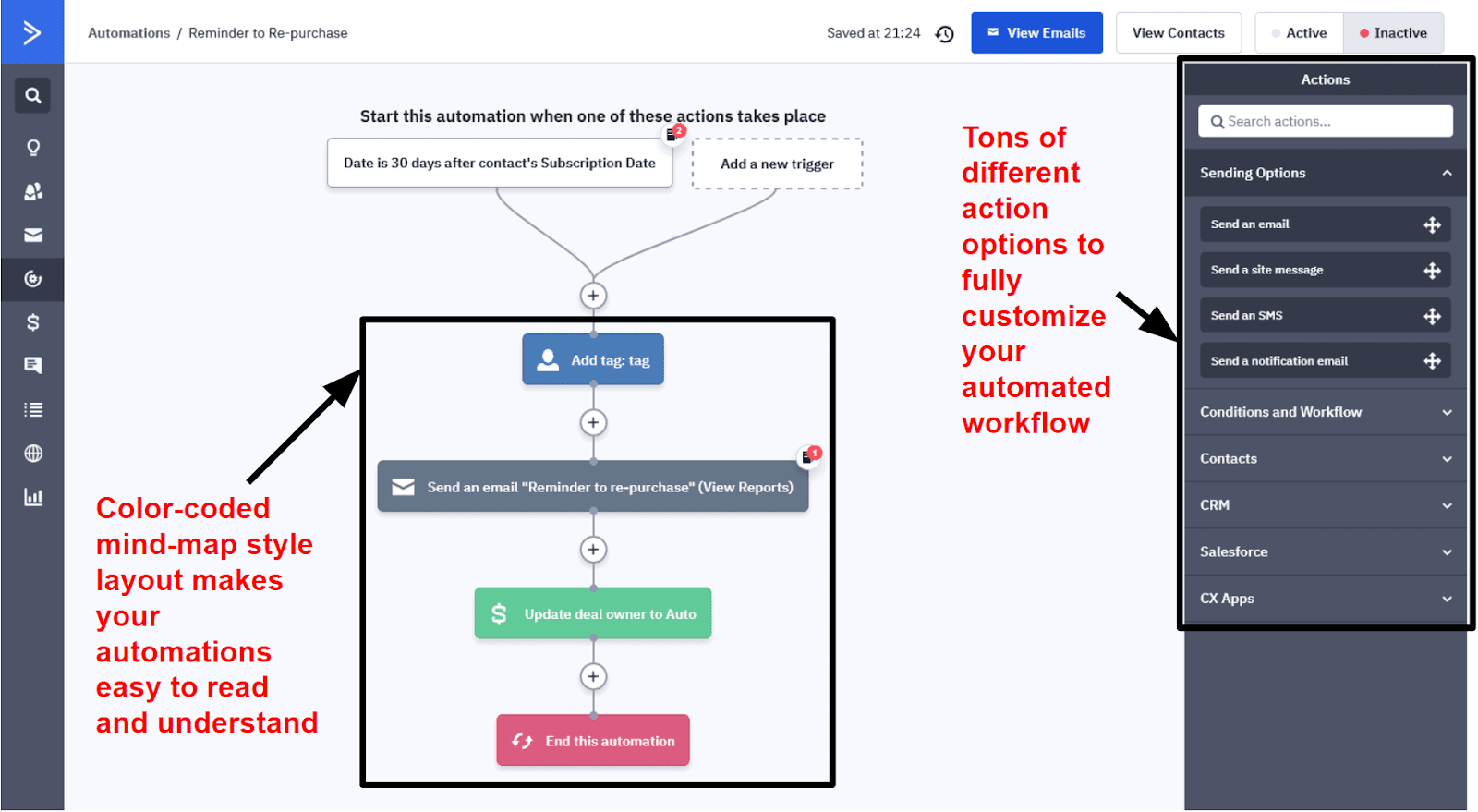 ActiveCampaign is one of my favorite EMS because it provides really advanced features without being inaccessible for beginners.
It offers SMS marketing integration, social media sharing, and even CRM software
– far beyond SendX's basic email marketing. Most importantly,
ActiveCampaign's automation is far more advanced than SendX's.
And it's a
lot
less frustrating to use. Instead of building everything through "if/then" statements, ActiveCampaign uses a mind map-style layout that makes it easy to see how the elements in your workflow fit together.
There are also 700+ automation templates on the ActiveCampaign marketplace
. Automation templates can save a ton of time, and this is another area where ActiveCampaign excels over SendX. The biggest downside is that
it's more expensive than SendX.
But, honestly, I think it's worth the price for the additional functionality.
Features
Tons of personalization options. Customize your email to each recipient with information like their name, location, and even purchase history. You can also use conditional content to only display the information that's relevant to each contact, which is something SendX doesn't offer.
125+ email templates. With far more modern, responsive, and mobile-friendly templates than SendX, you've got plenty of design options to build beautiful and engaging email campaigns
Advanced reporting. While SendX only offers basic reporting, ActiveCampaign has an easy-to-read analytics dashboard. You can find out hourly or daily engagement trends, learn which contacts opened and clicked on your emails, and even see how your automated workflows are performing.
More pricing options. SendX offers two pricing tiers – Business and Enterprise – while ActiveCampaign offers four. This gives you a lot more flexibility in finding an email marketing plan that fits your business and your budget.
Read our expert
ActiveCampaign review
for more details.
Free plan/trial
14-day free trial
Email templates
125+
Automation capabilities

Complex, multi-step automation with hundreds of templates

Starting Price

$

29.00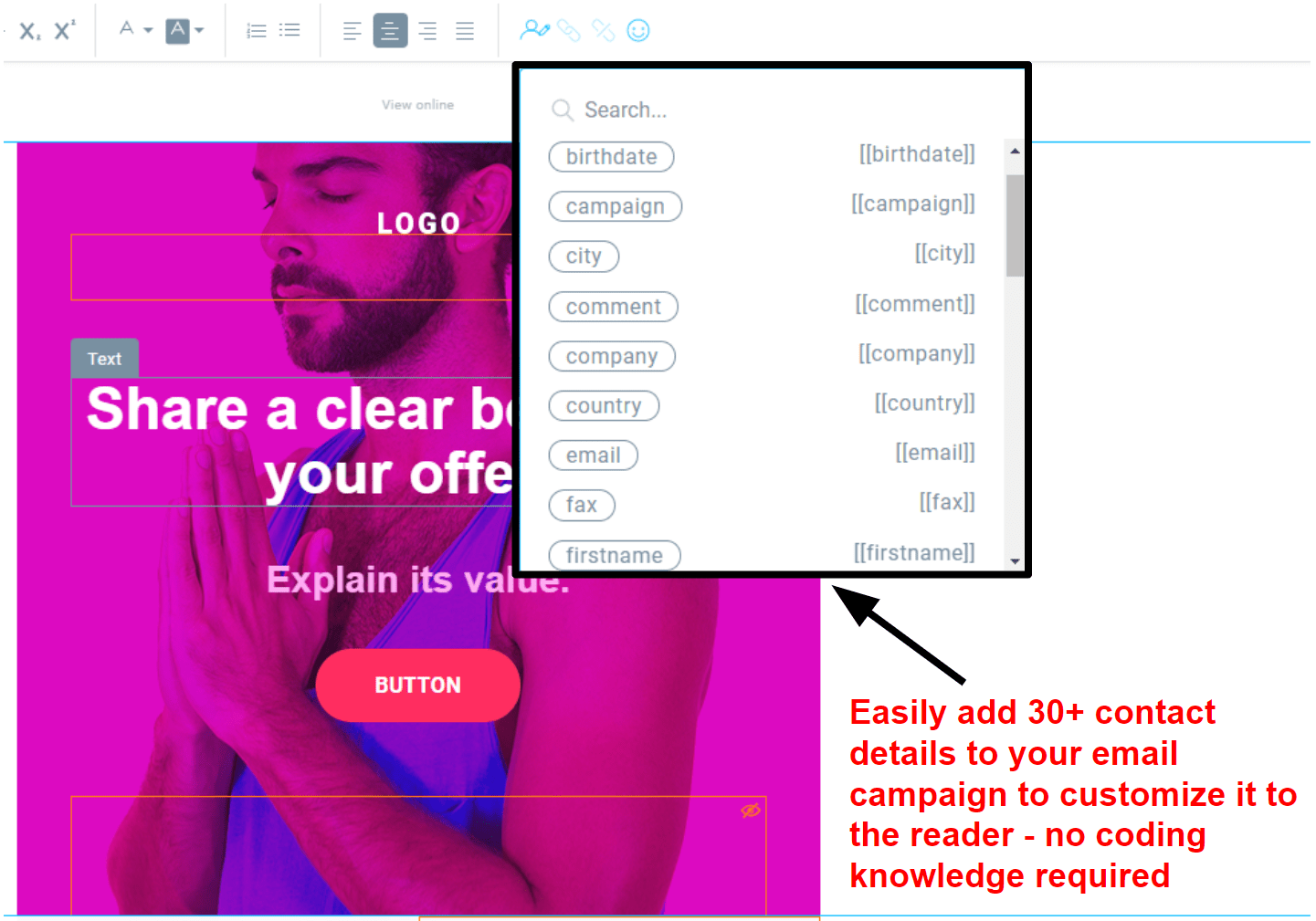 Since SendX only offers very basic personalization options, you might be looking for an EMS that allows you to tailor your email campaigns to each recipient.
This high level of personalization is where GetResponse excels.
GetResponse goes far beyond the basic personalization offered by SendX, allowing you to input information like gender, website URL, or even the recipient's IP address.
You can also use dynamic content with these tags to fully personalize your campaigns.
Although you'll have to code this yourself in the HTML editor,
GetResponse has a guide to help you get to grips with this feature
. Where GetResponse truly shines, though, is with segmentation.
You can use a nearly unlimited number of rules to make your segments as specific as you want
, and you can even save contact searches as segments – which SendX doesn't.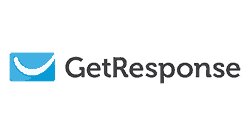 Get an additional 10 % OFF any GetResponse plan!
This special offer applies on top of GetResponse's discounts for annual plans.
214 users used this coupon!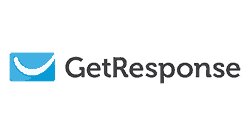 Get an additional 10 % OFF any GetResponse plan!
Copy and paste this code at GetResponse
Features
Drag-and-drop automation editor. You can quickly set up single- or multi-step automations thanks to the dozens of templates that GetResponse offers. Or you can set up a complex custom workflow solution with just a few clicks. It's a lot easier to navigate than SendX's "if/then" editor.
Run your own webinars. While SendX limits you to email marketing only, you can easily create, invite participants to, run, and record webinars directly within GetResponse.
Live chat for your websites. If you want a more rounded email marketing tool than SendX, GetResponse offers a live chat widget for your websites and landing pages. This can help to keep your audience engaged and even improve the quality of your contact signups.
Comprehensive A/B testing. SendX only allows you to test the subject lines of your emails. With GetResponse, you can test any element of your email and create up to three variations.
Read our
expert GetResponse review
for more details.
Free plan/trial
Free plan available
Email templates
120+
Automation capabilities

Drag-and-drop complex automation builder with dozens of automation templates

Starting Price

$

15.58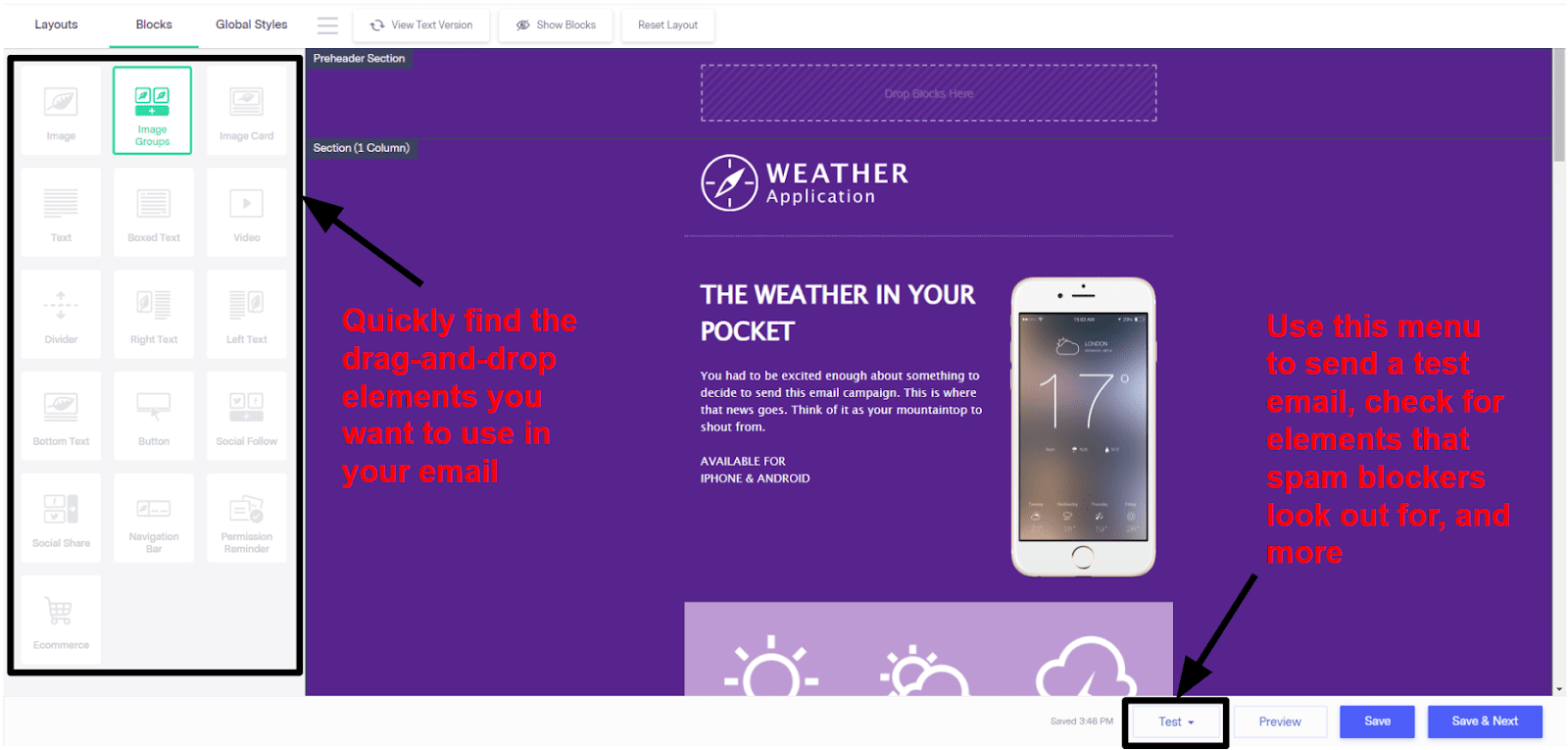 Just because you're on a budget, it doesn't mean you have to settle for SendX's basic email features.
Even though Benchmark is slightly more expensive,
it's still competitively priced when you compare it to other EMS platforms.
Benchmark is also easily the most beginner-friendly EMS around.
The drag-and-drop editor is a delight to use – you can get an email campaign up and running in the time it takes your coffee to cool. It's pretty intuitive, which is more than I can say for SendX's editor.
Benchmark's analytics dashboard is also great for those new to email marketing.
As well as going far beyond the absolute basic reporting SendX offers, with certain statistics, you can hover over them and see a basic explanation of what they mean.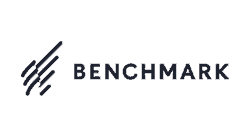 Benchmark is now only $13.00 per month!
Sign up for an annual plan and enjoy the savings.
79 users used this coupon!
Features
Spam check. Before you send your email, Benchmark will analyze it for any features that spam blockers commonly scan for, which can both help you learn email marketing best practices and improve your delivery rate.
Surveys and polls. Benchmark's surveys and polls help you keep your audience engaged and learn more about what they want to hear. This is a great way to get to grips with email marketing, and it's another feature that SendX doesn't offer.
Free webinars. While SendX has a blog to help customers, Benchmark also offers free webinars to help you learn more about email marketing, its platform, and good marketing practices. You can watch these even on the free plan, so it's great for beginners on a budget.
Decent free plan. Benchmark allows you to send 250 emails a month to up to 2,000 contacts for free, which is a pretty good deal for small businesses with a limited customer base.
Read our
expert Benchmark review
for more details.
Free plan/trial
Free plan available
Email templates
200+
Automation capabilities

Simple one-step automation on the free plan, or multi-step automation builder with 10 templates on the Pro plan

Starting Price

$

8.00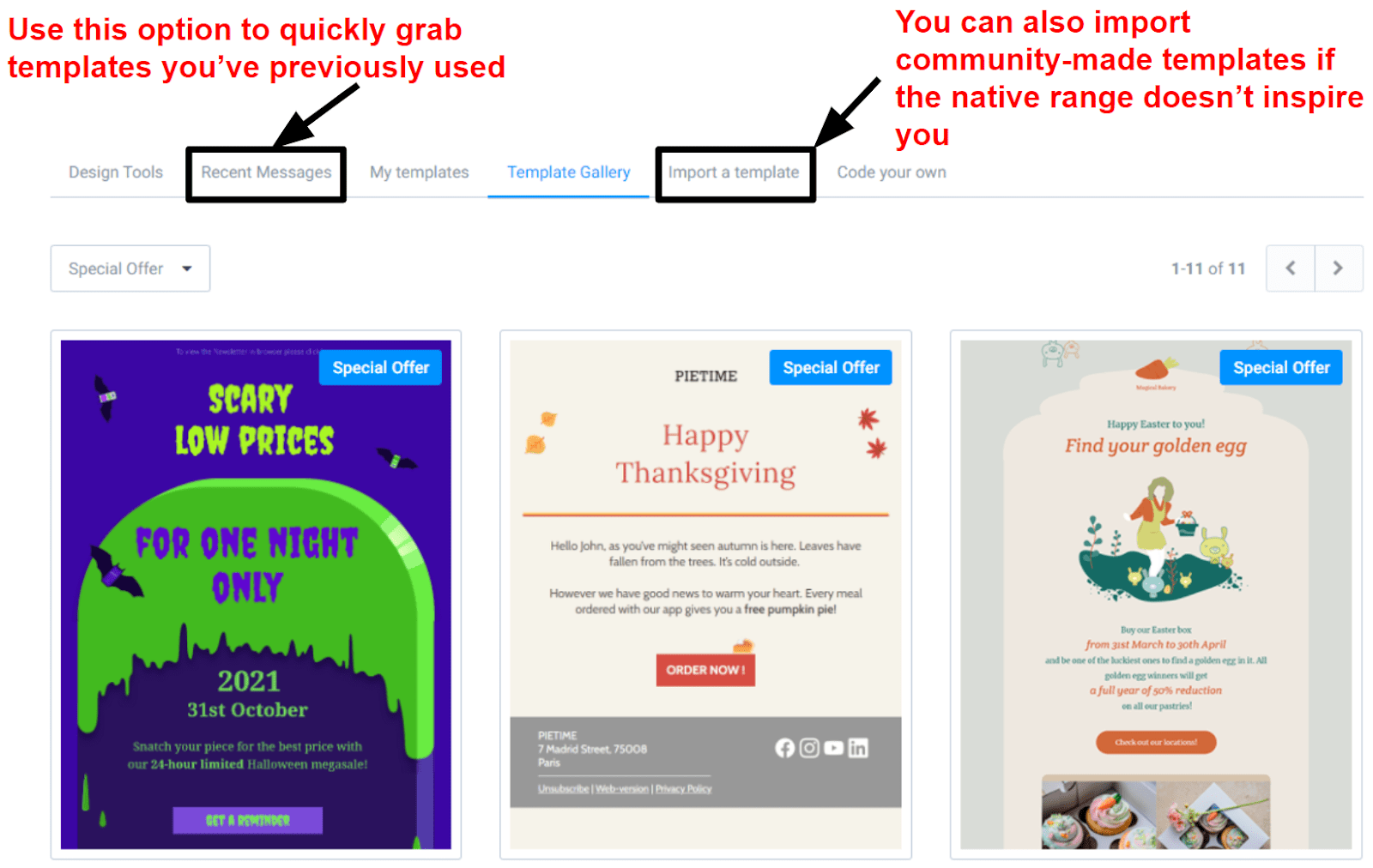 There's a good chance the reason you chose SendX in the first place is because it's one of the cheapest EMS platforms available.
If you're working with a limited budget, let me introduce you to Sendinblue.
Sendinblue has one of the most generous free plans on the market –
you can send up to 300 emails each day to an unlimited contact list.
Sendinblue's free plan also comes with a complex automation builder.
It's certainly not the best automation tool on the market but, at the same time, it's free – and it's still light years ahead of SendX's automation tool. It's definitely worth checking out if you need email marketing automation but your budget can't stretch to something like ActiveCampaign.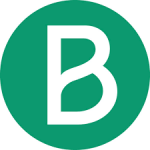 Save up to 10 % on your Brevo (formerly Sendinblue) plan!
Limited-time offer - Don't miss it!
2179 users used this coupon!
Features
Pay-as-you-go. If you run out of email sends, you can buy a block of pre-paid email credits that never expire. This is pretty fantastic if you can't afford to pay for an EMS every month, but you sometimes have extra cash floating around that you can invest in your marketing.
SMS marketing. Sendinblue offers a native SMS marketing service that works on pre-paid credits, while SendX only covers your email marketing.
Live chat widget. Improve your customer engagement and sign up new subscribers by installing Sendinblue's live chatbox on your website – you can even use this on the free plan. SendX doesn't offer this feature at all.
In-built CRM. While SendX focuses entirely on email marketing, Sendinblue offers an in-built CRM – using Sendinblue can actually save you money on purchasing additional software for sales.
Read our expert
Sendinblue review
for more details.
Free plan/trial
Free plan available
Email templates
40+
Automation capabilities

Multi-step automation builder with dozens of automation templates

Starting Price

$

25.00

There's no point paying for an email marketing service with a bad reputation, and unfortunately, SendX's lenient affiliate marketing policy opens up its service to bad actors.
AWeber, on the other hand, offers more certainty that your emails will actually reach your subscribers, even with its free plan.
While SendX allows pretty much any affiliate marketing as long as the emails are sent to opt-in lists, AWeber is a lot pickier.
AWeber will only allow above-board affiliate programs that meet its guidelines
(although note it doesn't say on its website what these are).. The only downside is that
AWeber doesn't offer dedicated IP addresses at all
, while SendX has them if you've got more than 200,000 contacts. But once you reach that level of email marketing, I'd argue it's better to pay to host your emails yourself anyway.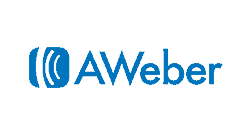 Save up to 19.2 % on your AWeber plan!
Limited-time offer - Don't miss it!
78 users used this coupon!
Features
700+ email templates. AWeber offers tons of design inspiration with its email templates, helping you to quickly get your email campaigns up and running. By comparison, SendX only offers around 60 templates.
Conditional content. You can set your content to appear or disappear depending on contact tags with AWeber, which is great for improving contact engagement. SendX doesn't offer this.
Comprehensive A/B testing. AWeber Pro accounts get access to an A/B testing tool that allows you to test any part of your email, and up to three variants at a time. SendX's A/B tool only lets you test subject lines.
Smart designer. Save time on importing your brand style by inputting your website into AWeber's Smart Designer. This tool will automatically create templates for you based on your website, which is fantastic if you don't want to spend hours customizing templates.
Read our
expert AWeber review
for more details.
Free plan/trial
Free plan available
Email templates
700+
Automation capabilities

Simple multi-step automations, with some in-built templates

Starting Price

$

12.50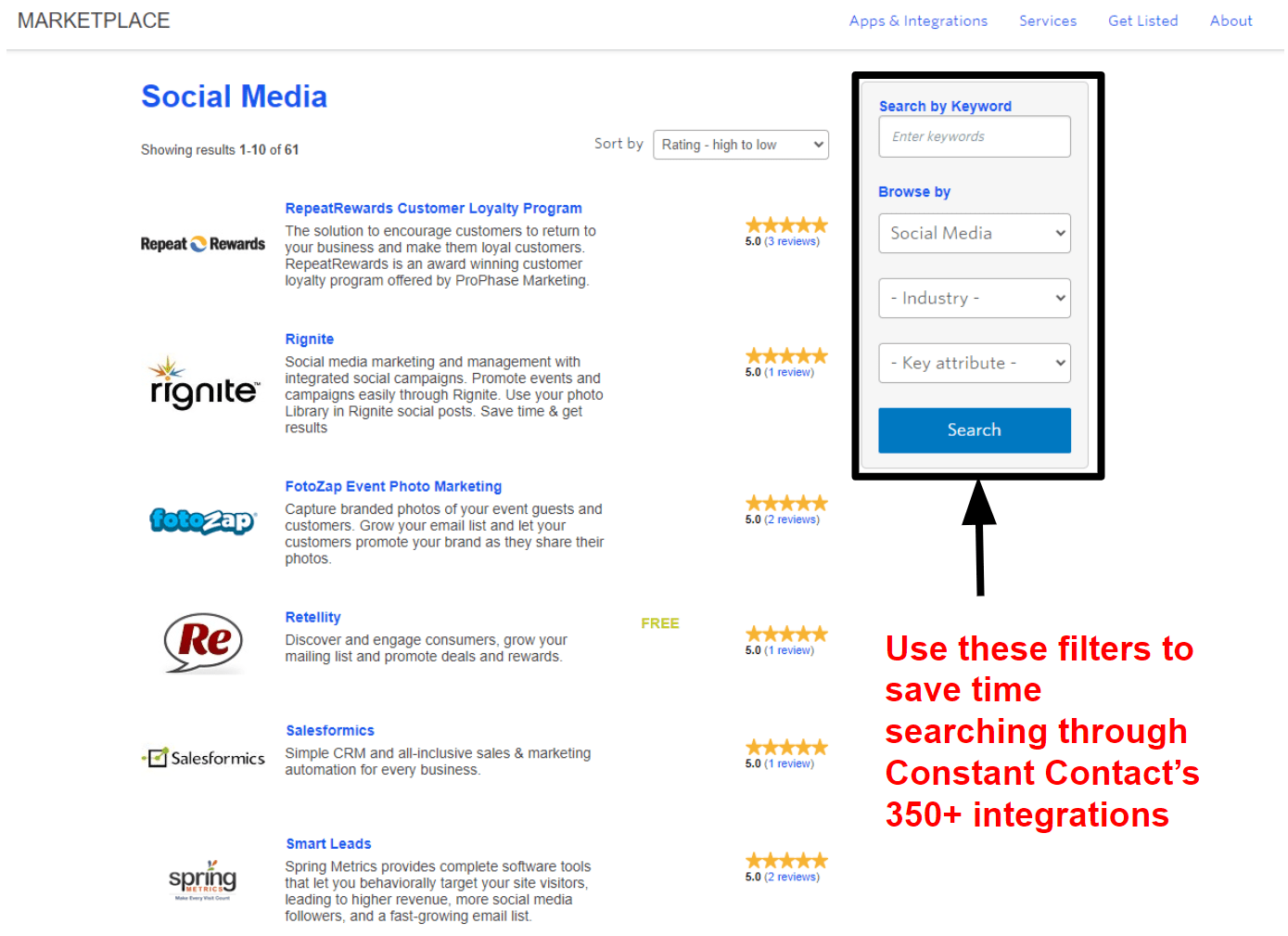 One of the biggest frustrations I have with SendX is the lack of integrations.
If you need a platform that offers a ton of integration options, I recommend Constant Contact.
Constant Contact has 350+ native integrations on its marketplace,
including social media management programs, loyalty reward platforms, and fundraising software. On top of that, Constant Contact integrates with Zapier, which opens up thousands more integrations that allow you to fit this EMS into any kind of workflow. You can also create posts for Twitter, Instagram, Facebook, and LinkedIn in Constant Contact's editor and schedule them for publishing.
So, not only is this EMS great for social media marketers,
but it can save you money on purchasing another social media management platform to run alongside it. Plus, there are a ton of other community-building tools like event management features and a website builder.
Features
Free daily webinars. While SendX only gives you access to a knowledge base, Constant Contact offers a ton of other learning resources, like its free daily webinars with email marketing experts.
Community support. Talk to other like-minded marketers through Constant Contact's forum, where you'll be able to get support and advice on your email marketing without having to wait for official customer support. SendX's live chat is fine, but sometimes it helps to talk to other people in your shoes.
Generous free trial. SendX only gives you 14 days to see whether it's right for you. Meanwhile, Constant Contact gives you a full 30-day free trial (or 60 days if you're in the US!).
Facebook and Instagram ad insights. Constant Contact goes beyond the basic email marketing offered by SendX with a tool to manage your Facebook and Instagram ads. You can create, run, and analyze these ads directly from your Constant Contact account.
Read our
expert Constant Contact review
for more details.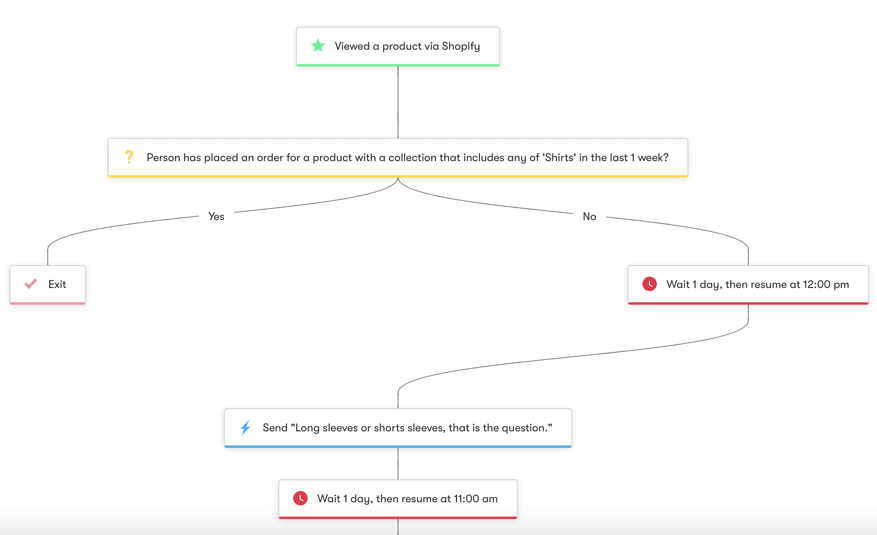 SendX makes no secret of the fact it was built for the industries that other EMS often block or penalize. Of course, that's great for affiliate marketers and cryptocurrency moguls, but not so much for e-commerce business owners, who are pretty much a second thought for this platform.
Drip, on the other hand, is built for e-commerce first and foremost.
As you'd expect,
Drip integrates with platforms like Shopify, Magneto, and WooCommerce,
as well as other tools like Eventbrite and LoyaltyLion that are regularly used by e-commerce businesses. Plus, you can easily fit it into the rest of your workflow using Zapier.
Drip also offers dozens of pre-made automation templates,
the vast majority of which are built specifically for e-commerce and integrates with the platforms listed above. SendX doesn't offer automation templates at all, which is a pain if all you want is to quickly set up an abandoned cart email or autoresponder. Sure,
it's not the best EMS out there for e-commerce
 but it's still better than SendX's meager offering.
Features
In-built SMS automation. Drip allows you to add SMS messages into any automation workflow, which is fantastic for attention-grabbing campaigns and keeping contacts informed about sales. SendX doesn't have any SMS functionality.
Beginner-friendly email editor. SendX's email editor can be frustrating, but Drip makes designing emails super easy with its intuitive drag-and-drop email editor. You can also easily design custom content snippets to save for future campaigns.
Easy-to-read reports dashboard. Not only is Drip's reporting easy to understand for beginners, but it's far more comprehensive than SendX's offering. On top of your email analytics, Drip can also track your website analytics and how much revenue you're bringing in.
User manual. If you're completely new to email marketing, Drip has you covered with a comprehensive user manual that collects all of its documentation in a single, easily accessible location. Sure, SendX has a blog and knowledge base, but it's nowhere near as easy to navigate.
Read our
expert Drip review
for more details.
Free plan/trial
14-day free trial
Email templates
7
Automation capabilities

Drag-and-drop complex automation builder with dozens of pre-built, e-commerce focused templates

Starting Price

$

19.00
Which SendX Alternative Has Everything You Need?
Many people have told me that SendX can be quite frustrating, even at its best. That's why I'm confident enough to wager my last donut – a significant gesture for those who know me – that you will find one of these alternatives to be highly satisfying.
If you were lured in by SendX's promise of powerful custom automation, then ActiveCampaign is a great choice.
It has hundreds of templates that make setting up custom workflows a breeze. On the other hand,
GetResponse is fantastic if you love personalizing your campaigns
.
With near-limitless segmentation, conditional content, and tons of contact information tags, you'll be able to make sure the right message gets to the right people, every time. For those of you who only have a limited budget to work with,
Sendinblue offers a great free plan
that gives you a lot of space to grow without having to pay a penny, and you can purchase additional email sends if your business has a fluctuating budget. Check out a quick comparison of my top SendX alternatives in the handy table below:
| | | | | |
| --- | --- | --- | --- | --- |
| | Free Plan | Best Feature | Best For | |
| ActiveCampaign | ✘ | Complex, multi-step automation with hundreds of templates to save you time | Advanced marketing features that go beyond a basic EMS | |
| GetResponse | ✔ | Highly complex segmentation with near-limitless options | Getting the right message to the right contact based on the information you have | |
| Benchmark | ✔ | Simple and intuitive drag-and-drop email editor | Teaching you new skills and best practices as you go | |
| Sendinblue | ✔ | Generous free forever plan that lets you send 300 emails a day to unlimited contacts | When you're working with a limited marketing budget | |
| AWeber | ✔ | In-built spam scanner that allows you to improve your deliverability | Making sure your emails actually get seen | |
| Constant Contact | ✘ | Hundreds of integrations with thousands more through Zapier | Synergizing your email and social media campaigns | |
| Drip | ✘ | Dozens of e-commerce focused automation templates | E-commerce business maagers who need a tailored email marketing solutionn | |
FAQ
What is the best alternative to SendX?
If you need email automation, ActiveCampaign is one of our top ten email marketing services for its industry-leading automation tool. However, if you're after the same value for money you get with SendX, Sendinblue has a fantastic free plan.
Which is the best email marketing service?
That depends on what you want from an EMS. Overall, one of the best EMS platforms on the market is GetResponse for its advanced personalization capabilities, A/B testing tool, and other email optimization tools.
What is the best FREE email marketing service?
Benchmark's free email marketing plan is fantastic because it offers tons of features, such as thousands of integrations and simple automations. I also love Sendinblue's free plan because it lets you send up to 300 emails a day, which is fantastic if you've got a bigger contact list.
Who are SendX's competitors?
SendX's biggest competitors are ActiveCampaign and GetResponse. Both of these platforms offer far more features than SendX, going well beyond basic email marketing. They also both offer more pricing plans than SendX, so you'll only have to pay for the features you need.