The purpose of a seal (the emblem, not the animal!) is to authorize and authenticate documents or products. If you're a business owner that stamps your seal on items for authenticity, then a seal logo design can serve more than one purpose. Like all logos, it's a visual representation of your company but it's also a way to acknowledge the legitimacy of your products. Your seal design may be a simple circle, for a modern take, or perhaps it suits your brand to go for a more traditional style in gold, silver, or bronze. You could even incorporate the elements of an old wax seal, with ridged edges around the logo's content. A talented designer will know the best style of seal for your company, and it doesn't have to cost hundreds of dollars to hire them.
Keep reading for my foolproof way of scoring a logo designer for as little as $5
.
---
9 Best Seal Logos
My colleague ran an experiment comparing some of the most popular logo design platforms on the market. His results were surprising, but enlightening! Head over to his
full logo design service review
 to find out how each service fared in his test.
How to get a $5 Pro Logo
It's hard to imagine any logo designed by a pro could cost you just $5. Before I knew about Fiverr, I'd have thought it was impossible. But after trying out the affordable logo design service for myself, I know that high quality doesn't have to equal a high price. Let me tell you a bit about Fiverr. Fiverr is a freelancing website that lets creatives and professionals from different fields offer their services from just $5. Designers on the platform are extremely skilled and experienced and specialize in hundreds of logo design styles. Although designers determine their own fees, many offer a basic package at the entry-level pricing to remain competitive – which is great news for buyers! If you're curious as to how it all works,
head to the Fiverr homepage
 to explore. Type "seal logo" into the search bar to bring up designers with matching packages. Take a scroll through the results until you find a profile you like the look of.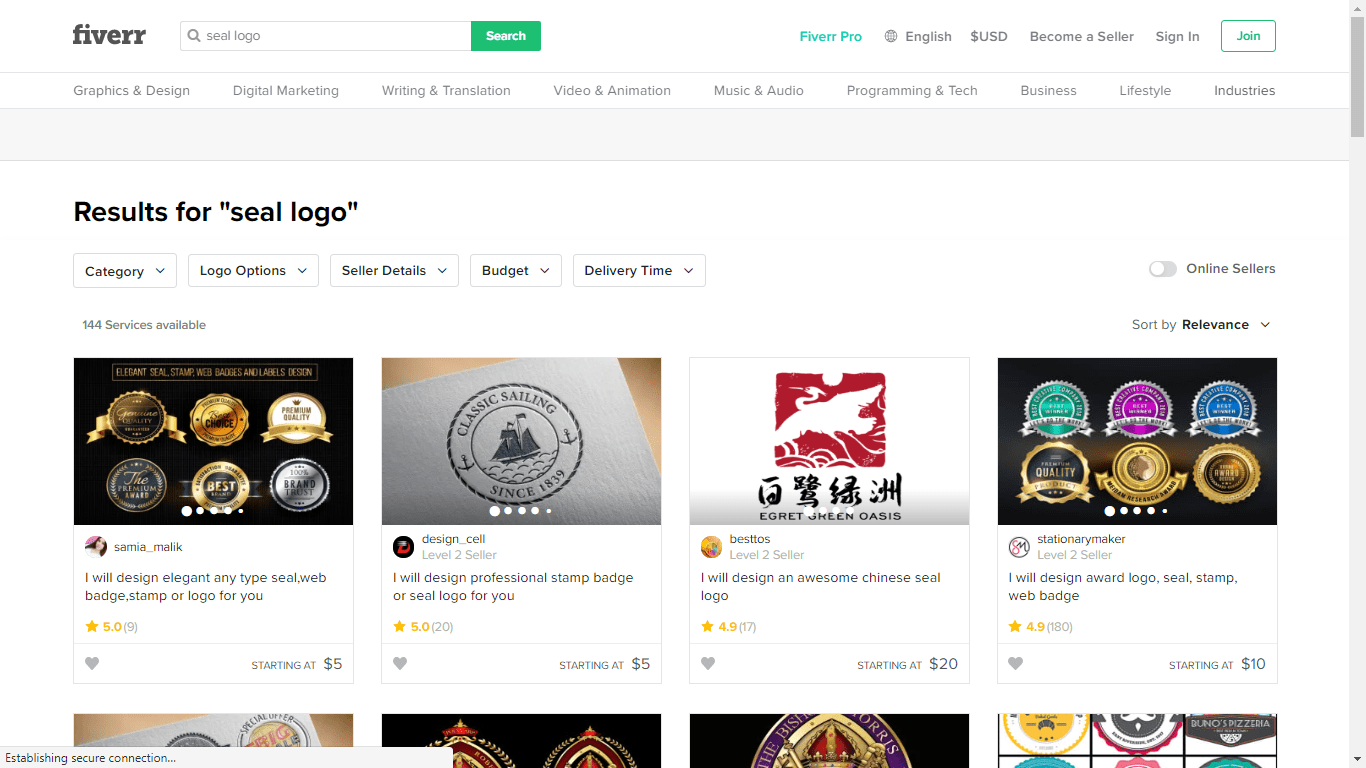 Clicking on a profile will open its full view, where you can see the designer's portfolio, customer reviews, and offered services. Click on the package titles – basic, standard, and premium – to see the cost of each package and the services included. When you've decided on a package that meets all your needs (and budget!) select it and click
Continue
to move ahead.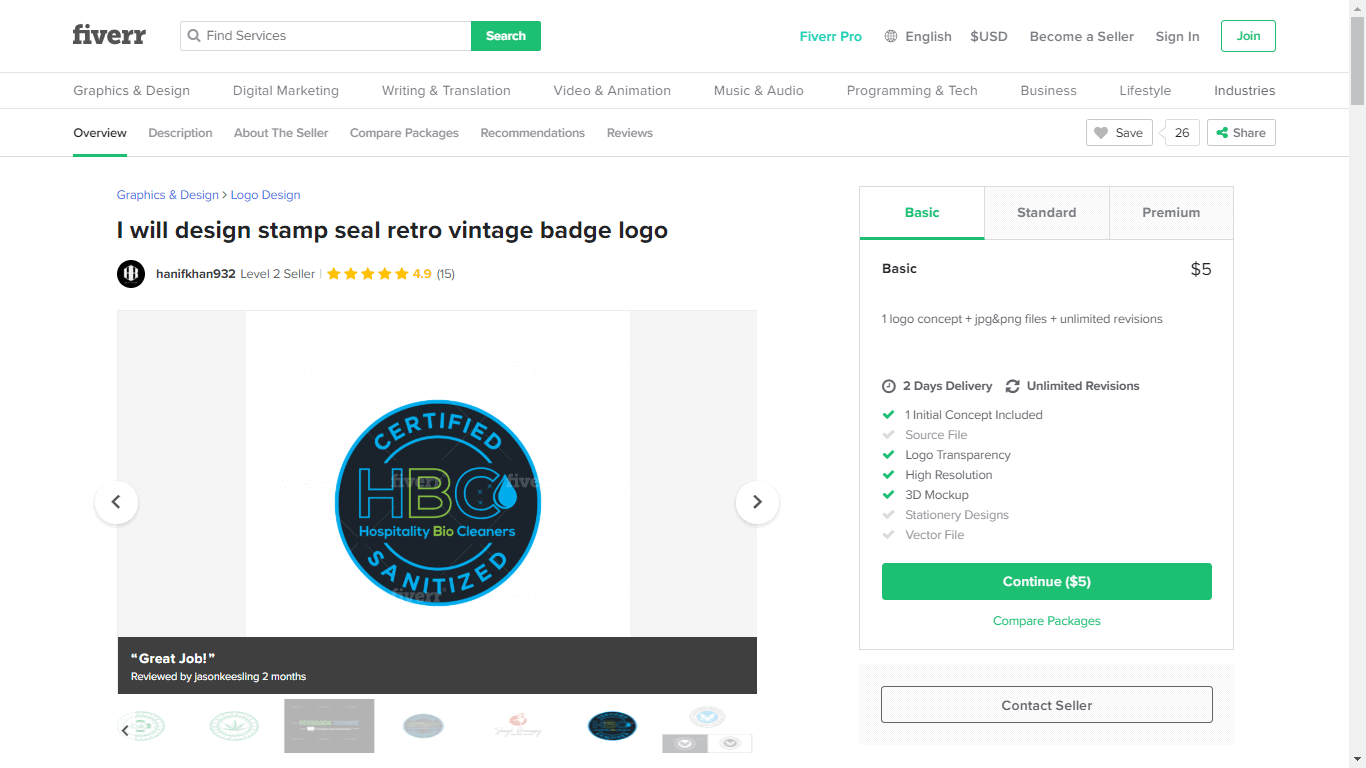 The payment preview page lets you see the final cost of your logo before you pay. Once you're satisfied with the fees, click
Order Now
to enter your payment information and finish the hiring process. After this, you'll be able to contact your seller and tell them your logo requirements. And that's it – it's a quick and simple process!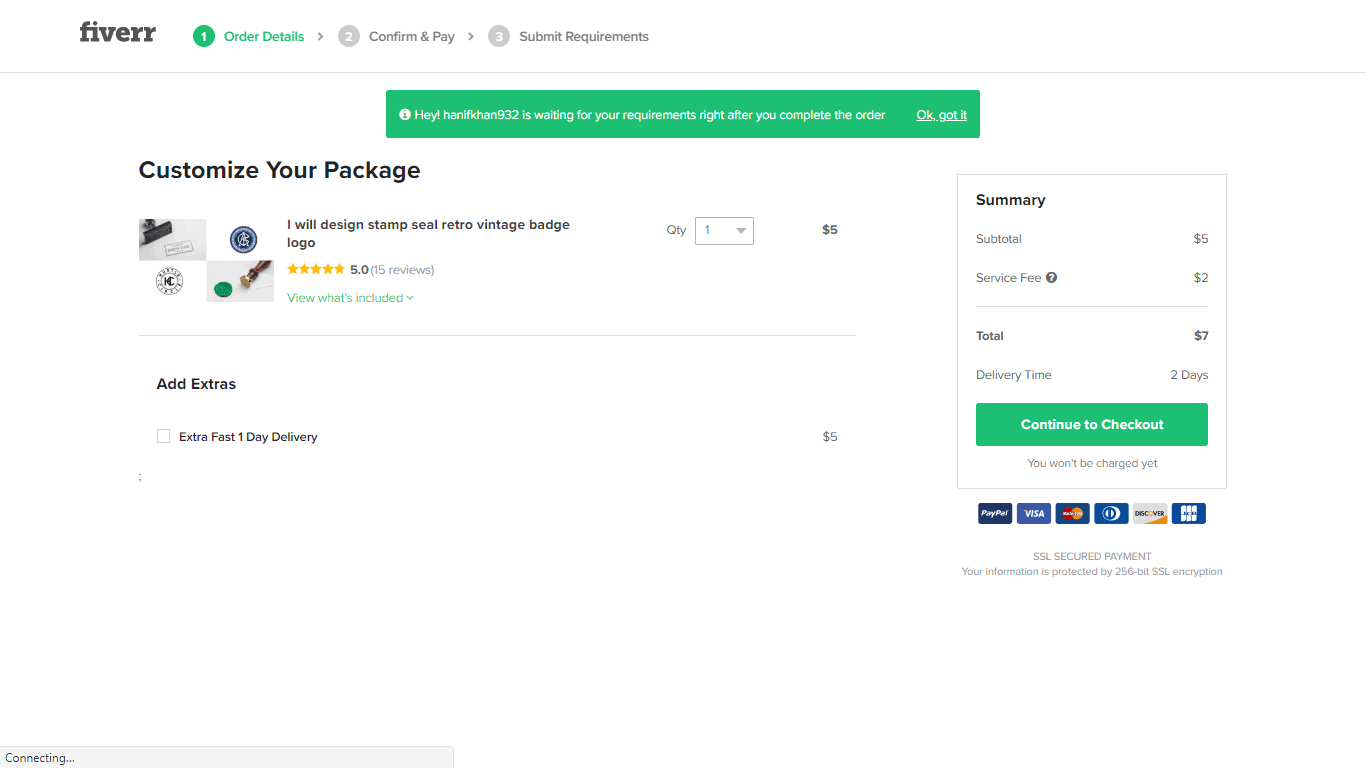 Here are some other Fiverr features worth noting:
No unexpected fees – Your payment is made upfront and held by Fiverr, so there's never any fear of being overcharged by your designer. Unless you decide to add extra services to your package after hiring, you'll never pay more than the upfront cost for your logo.
Seller levels – Designers are arranged into seller levels based on their time on the site, performance, and customer reviews. If you don't have a lot of time to shop around, choose a designer with a higher level to guarantee great work.
Time-saving search options – Search for designers using handy filters like delivery time, seller level, logo style, file format, and budget.
Fiverr Pro – If you have room in your budget, consider hiring a Fiverr Pro designer for your project. These designers are personally assessed by Fiverr employees and confirmed to have exceptional customer service and design quality.
Interested in finding a freelancer?
Check out our full Fiverr review
for more tips on hiring designers.
How to Create Your Own Logo Design
If you'd like to create your own logo design, choosing the right logo maker is of the utmost importance. Without the right tool, you may end up with an overly complicated interface that's difficult to use or an unclear and ineffective end design. For a foolproof DIY experience, I suggest you try Wix Logo Maker. This tool uses AI technology to learn about your business and tastes and then suggests logo templates it thinks you might like. It also has a powerful logo editor so you can get your new logo looking just right.
Head to the Wix Logo Maker homepage
 and create a profile to begin the process. Enter your company name and tagline in the spaces provided.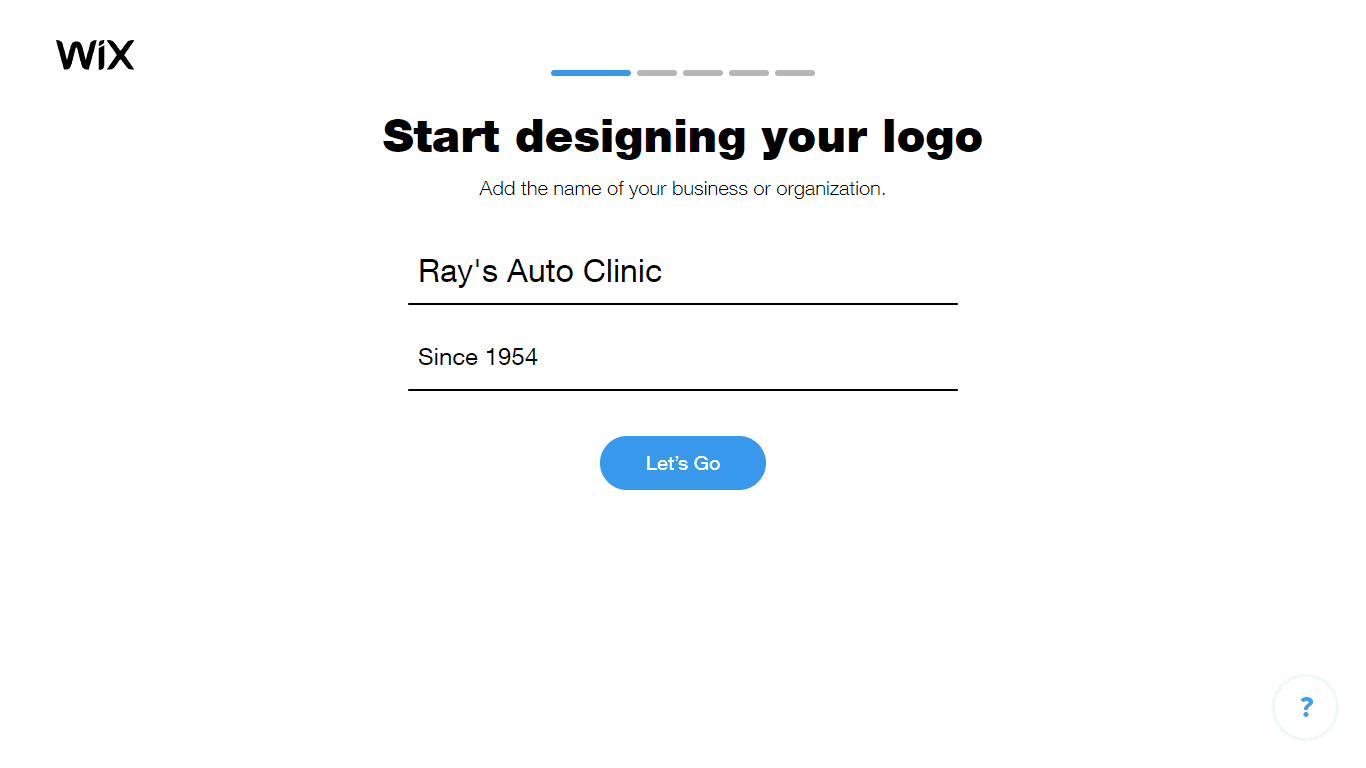 Type your industry into the search bar to pull up the available industry options – or the closest match.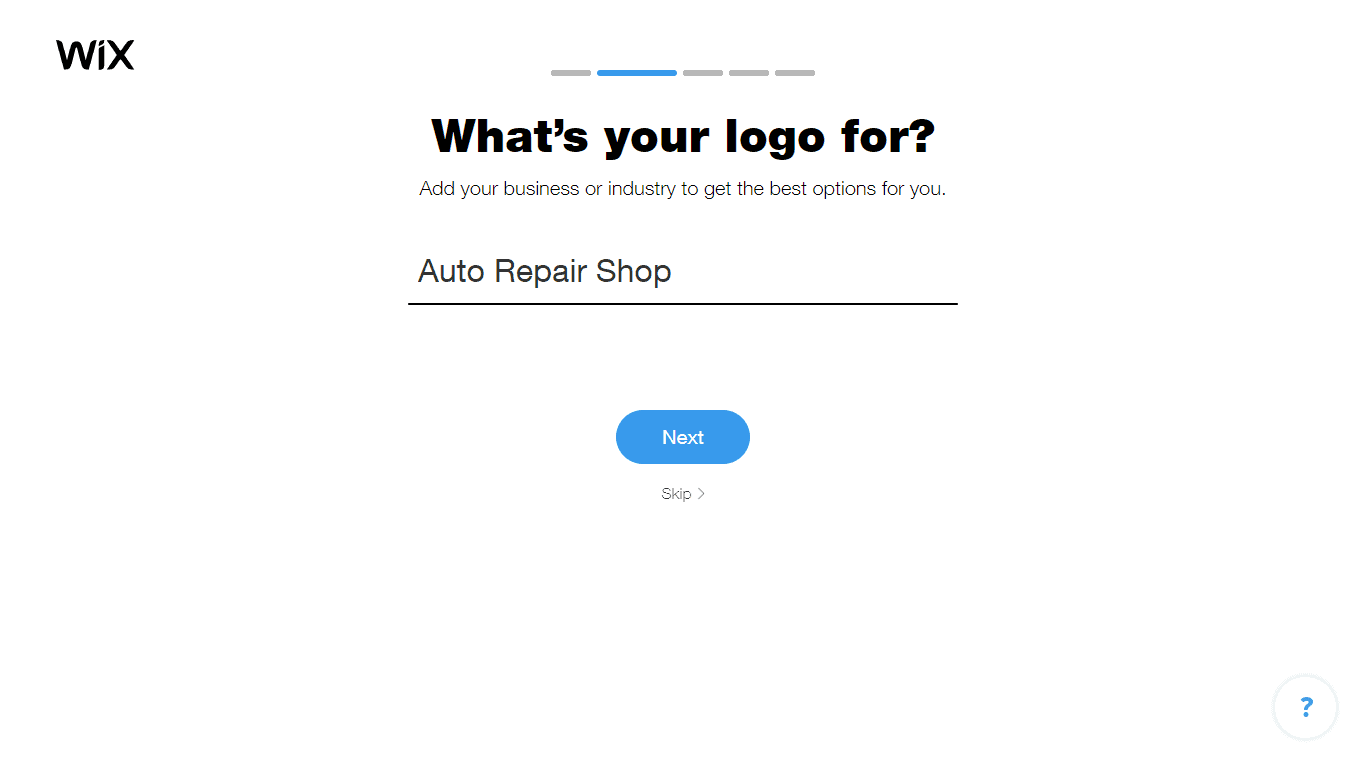 What type of vibe do you want for the final look and feel of your logo? Click all the words that help describe your vision.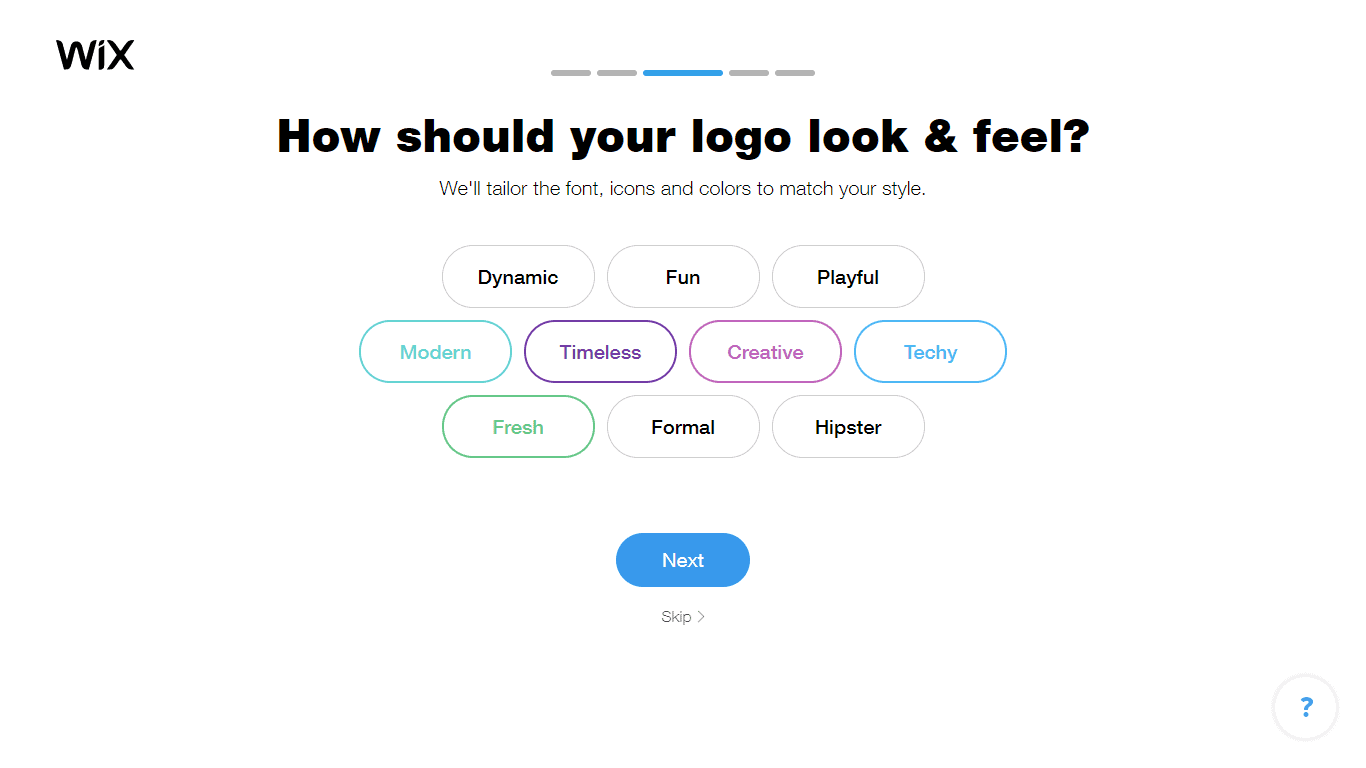 Next, you'll be shown two logos side by side. Select the logo in each pairing that you prefer. If neither style suits you, click
I don't like either of them
to skip ahead.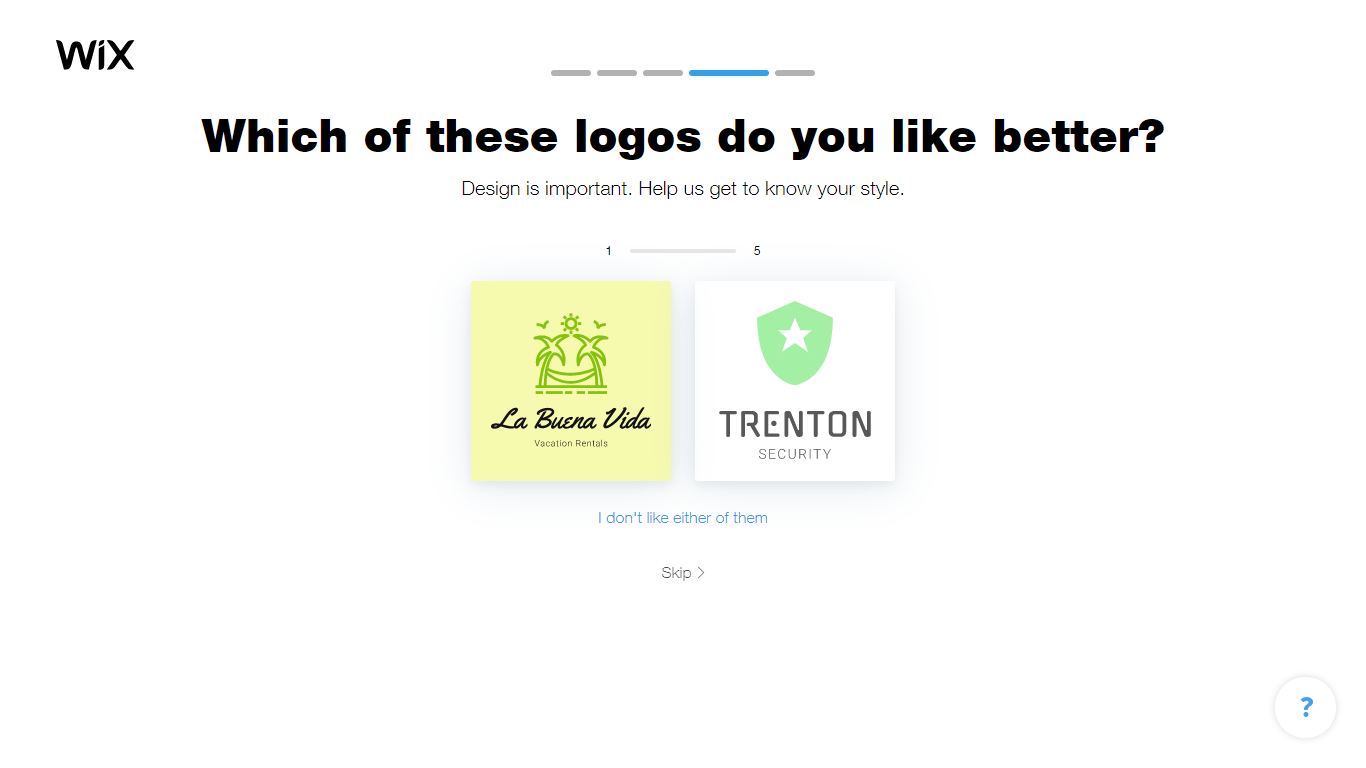 Lastly, let Wix Logo Maker know where you'll be using your logo, like on merchandise (if you're using it as an actual seal of approval), a website, or social media.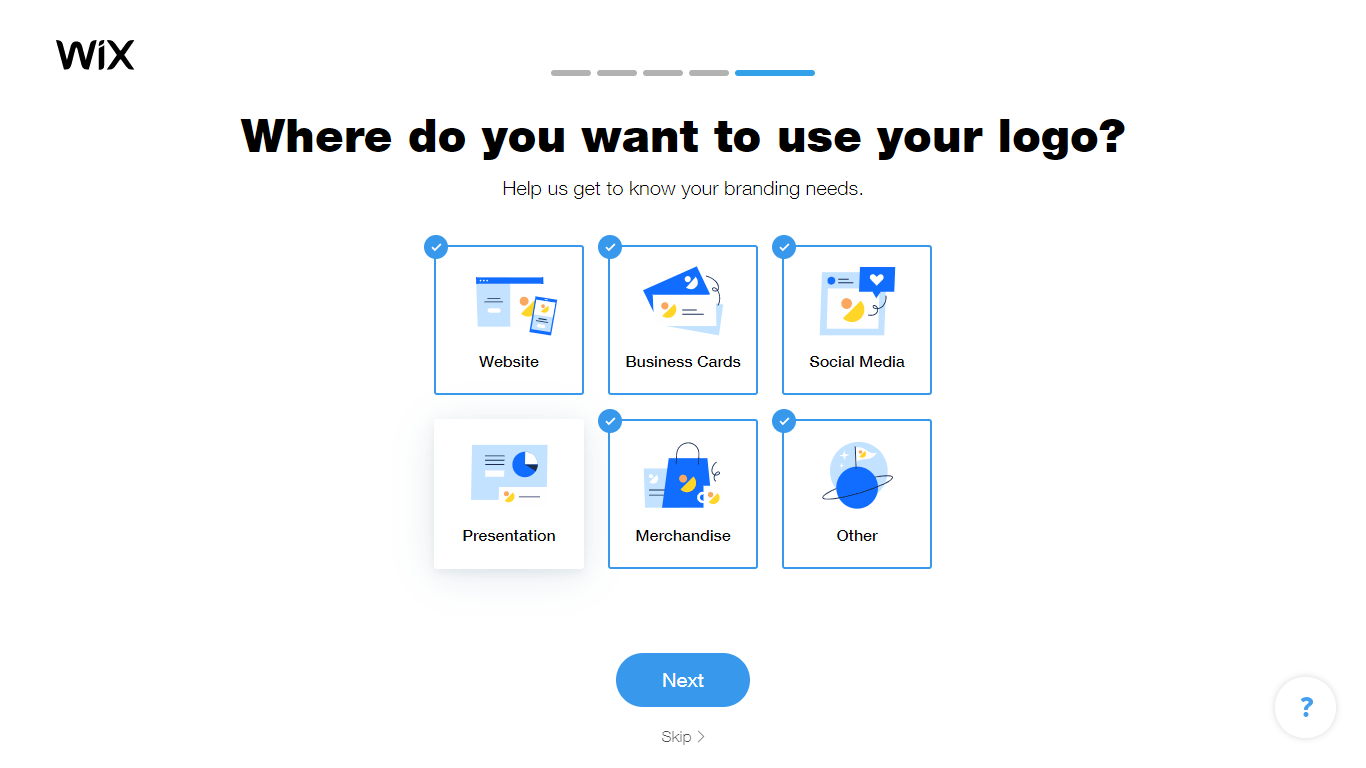 The AI will then whir away creating lots of logo suggestions for you. Take all the time you need to explore the results. If you run out of logos and haven't found anything with potential, click
Load More
to refresh your options.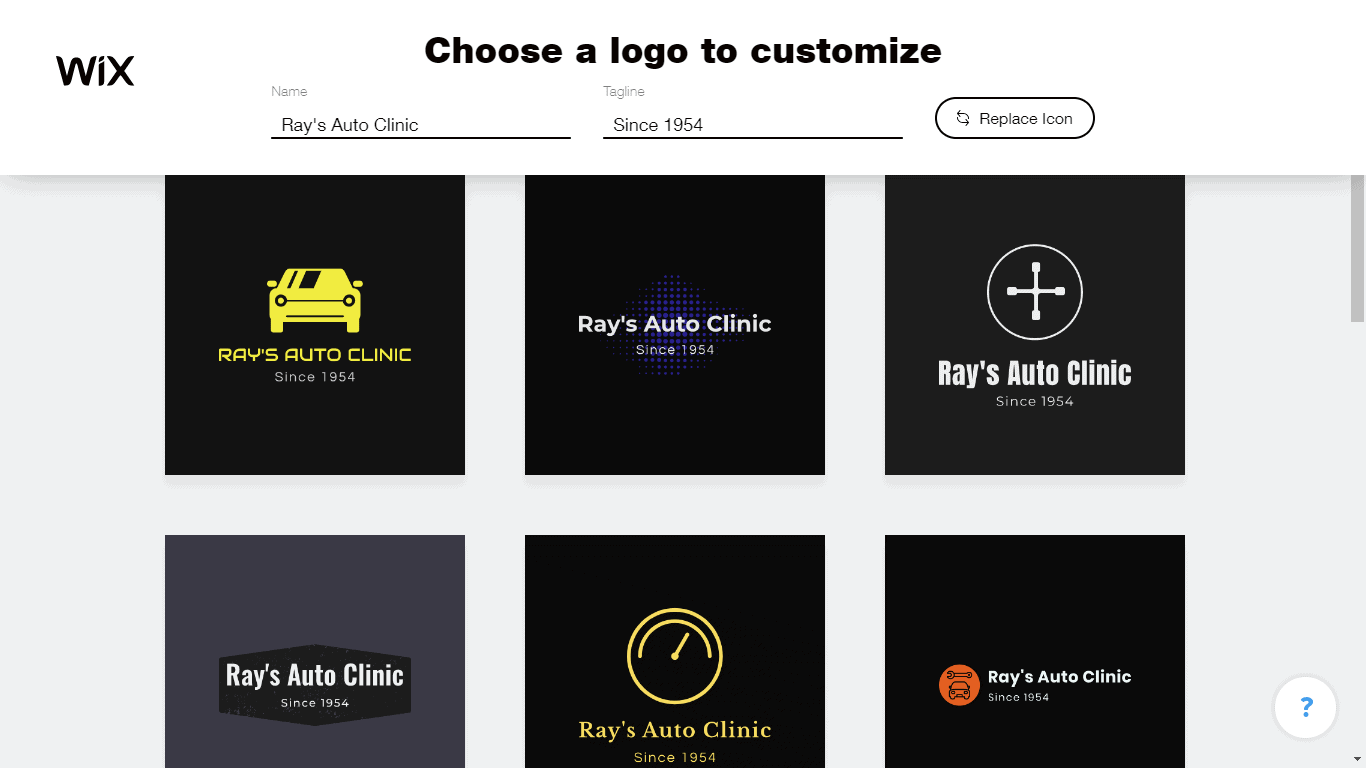 Clicking
Replace Icon
will open a search bar where you can find more icon choices. I typed "auto" into the search bar to find icons matching my example company. Search a term relating to your company name or industry and click on your desired icon to add it to the logo suggestions.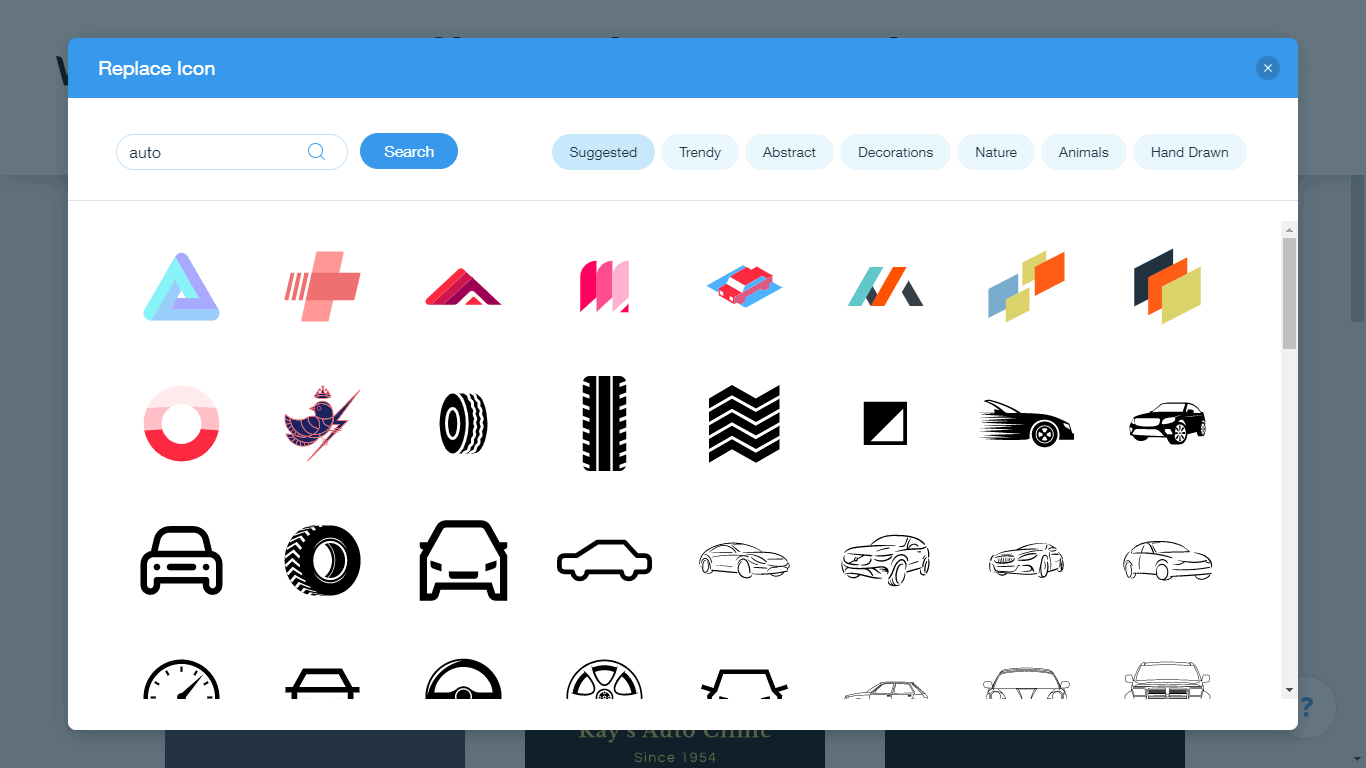 When you're ready to edit, click
Customize
to move into the logo editor. This is where the creative fun really begins! There are more than 70 preset color palettes to choose from, loads of font options, and thousands of unique icons. You can use a shape or another icon to create the outline of your seal. Then adjust all the aspects of your logo until you're happy with it.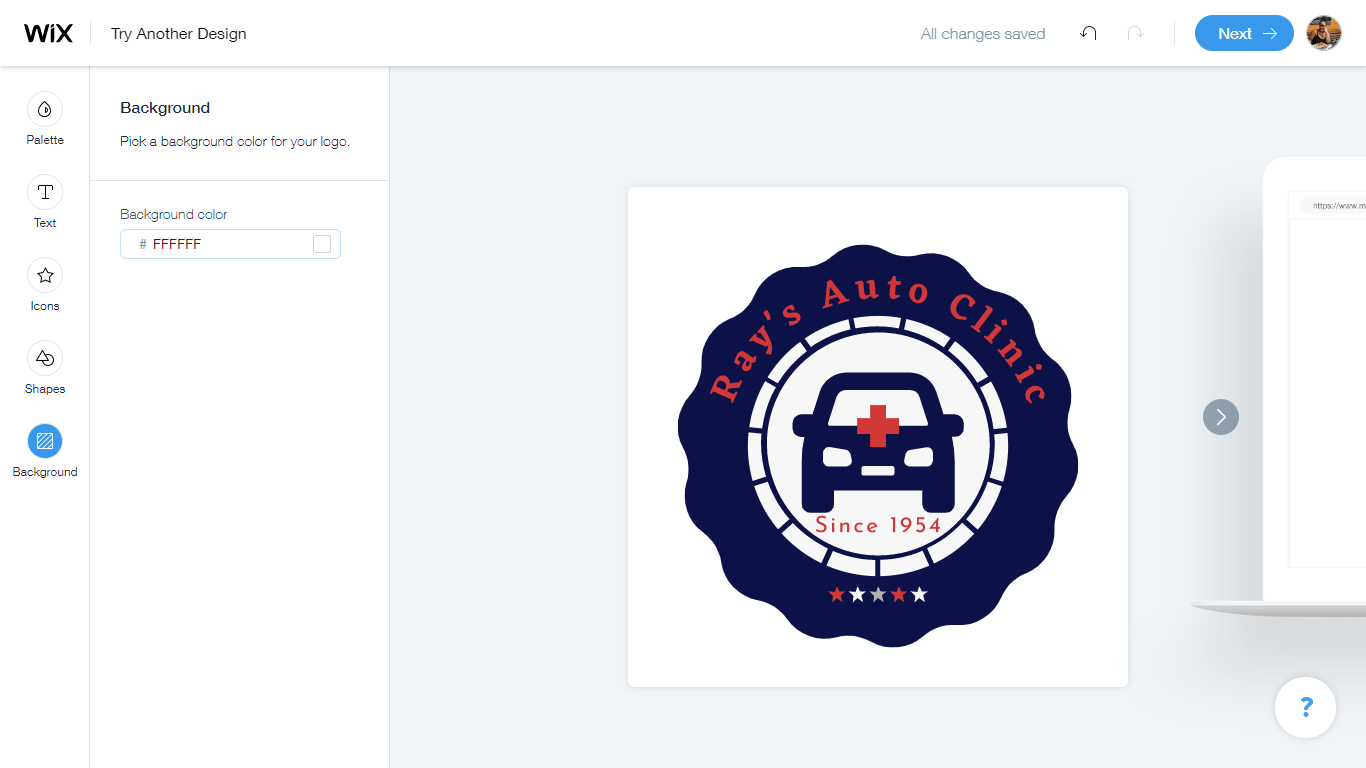 The
Next
button will take you to the package selection page, after which you can pay and download your new logo in high-resolution. If you don't want to pay just yet, you can download a free version in a smaller, low-quality file size to keep for your records.
Wix Logo Maker Alternatives:
Looka – Looka is the ideal logo maker tool if you have a new business or need some top-to-bottom company rebranding. You can get your new logo and branding materials featuring the design, all in one place.
DesignEvo – DesignEvo offers 18 categories containing over 10,000 logo templates organized within them. If the concept of browsing for templates based on industry or style appeals to you, then DesignEvo might be the ideal option for your needs.
To learn more,
read our in-depth Wix Logo Maker review
.
Conclusion
If I hadn't experienced it first-hand, I may never have believed that a $5 logo design package isn't a scam. But
Fiverr designers are real, talented, experienced artists
, ready to deliver a quality seal logo to you at an affordable cost. When it ticks both the price and quality box – it's always the best place to start for a new logo.
Try Wix Logo Maker for your DIY logo design
 and spare yourself the hassle of downloading expensive and complicated design software. Wix Logo Maker's intelligent AI removes all of the pressure from the design process, leaving you with the fun stuff – customization! Not quite ready to make a decision? Check out my colleague's
expert logo design service comparison
 to find out how other services rank against Fiverr and Wix Logo Maker.