your company's logo should be easily identifiable
and instantly give your hungry customers an insight into what makes your pizzeria worth visiting. You can try and bring your dream logo to life yourself with a logo maker, or
you could have it designed by a professional for as little as $5 – jump down to find out how
.
But first, let's take a look at some of my favorite pizza logos for a bit of inspiration.
9 Best Pizza Logos
On a mission to find the best new logo for Website Planet, my colleague tested designs from some of the most popular logo design platforms. To see the results and find out who won, hop on over to his comprehensive
logo design service comparison
for the lowdown.
How You Can Get Your Pizza Logo Design for Just $5
You might think that hiring a professional designer to create your perfect pizza logo will set you back hundreds of dollars, but it doesn't have to. Professional design packages at Fiverr start as low as $5 and, no, I didn't forget a zero after that five. Fiverr has thousands of talented, freelance logo designers offering affordable design packages that cost less than a fancy coffee. To get started,
head to the Fiverr homepage
 and type 'pizza logo' in the search bar. Then browse through the design portfolios in the search results.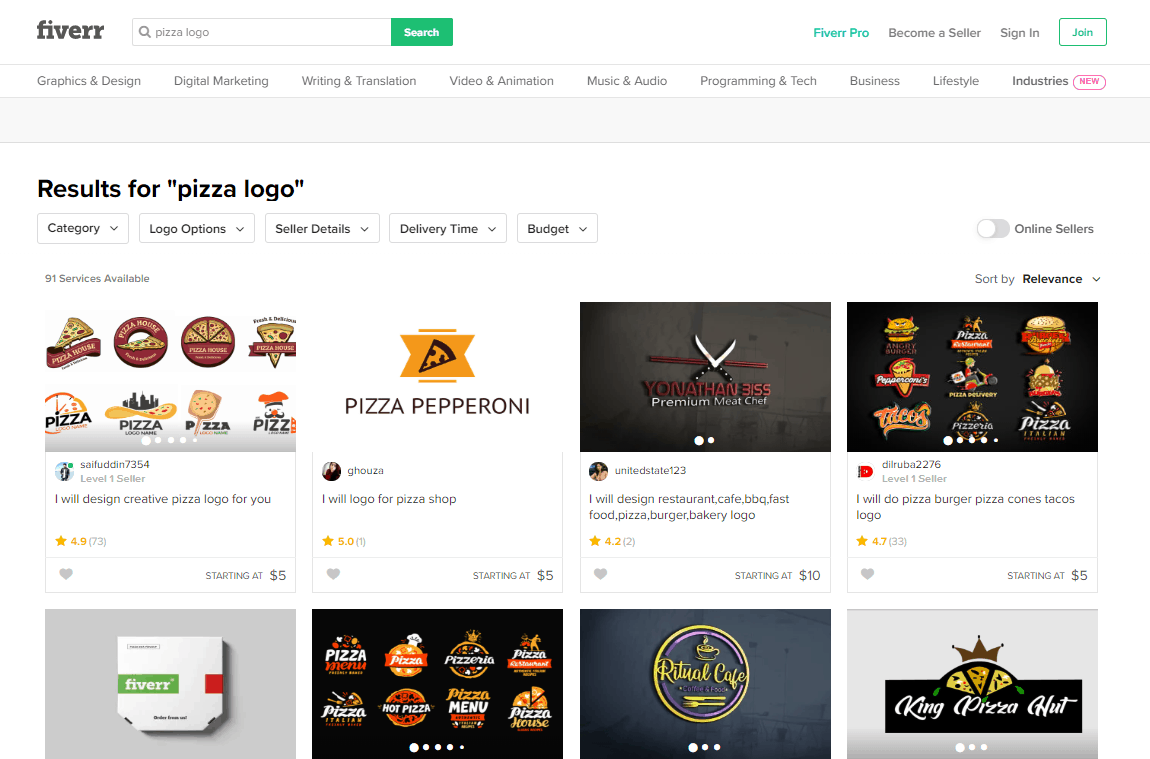 Click on a profile to explore that designer's portfolio and browse feedback left by previous clients. You'll also be able to check what services they offer, and their rates for Basic, Standard and Premium packages.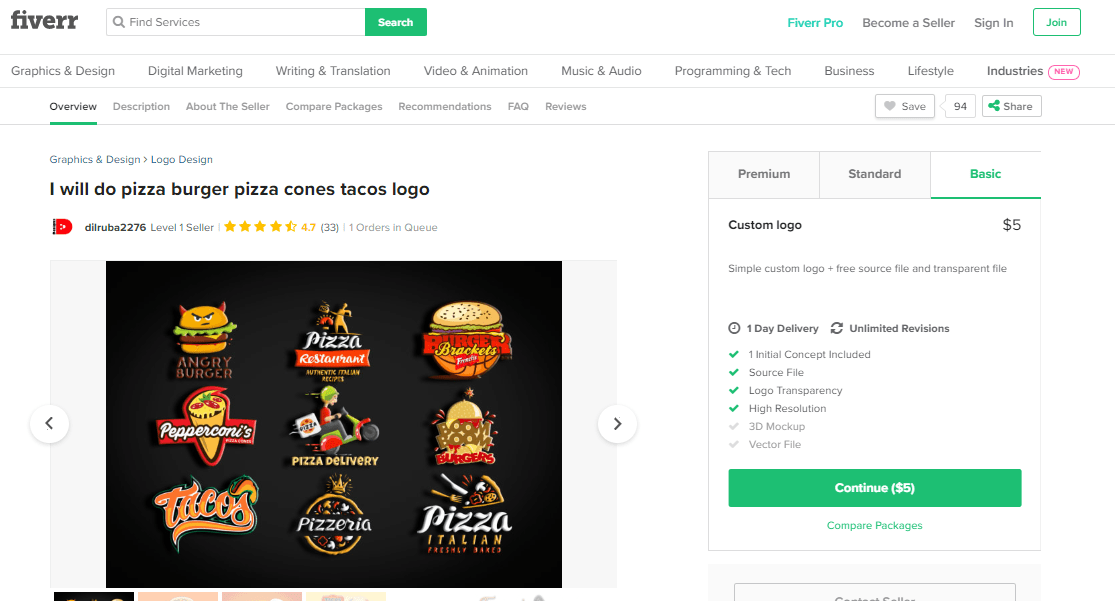 Once you've found a designer you might like to hire, you can direct message them with any questions you might have before choosing a package. On the payment page, you'll have the opportunity to add optional extra services, such as stationery design or a social media kit. So, what other great features can you enjoy with Fiverr?
Payment protection – You'll never have to worry about being scammed on Fiverr. Designers are only paid once you're 100% satisfied with the final logo design.
No surprise costs – The price you see is the price you pay. Designers can't throw in extra fees after the work has been completed.
Fiverr Pro – Fiverr Pro designers have been screened by Fiverr and are certified as having outstanding quality, on-time project delivery, and great customer service.
Seller levels – Fiverr seller levels are determined based on their time spent on the platform, the amount of work they've completed, and their client feedback. The higher the level, the more experienced the designer.
Want to know more? Read our
expert Fiverr review
 to see some logo samples.
So, What If I Want to Create My Own Logo?
A logo maker lets you develop a logo from scratch and gives you creative control over the outcome – but it comes with its own set of challenges. If you're a creative wiz, you might enjoy the challenge of designing a logo yourself, but it's not necessarily the most time-efficient or cost-effective way to go. If you decide to try the logo maker route, your best bet is Wix Logo Maker. Wix Logo Maker is a super-easy, step-by-step logo creator, powered by artificial intelligence (AI). The process is so fast, you could have a logo after just ten minutes. To find out more about the platform and how it works, read our
in-depth Wix Logo Maker review
. To get started,
go to the Wix Logo Maker homepage
. When you click the
Start Now
button, you'll be prompted to create a free Wix account, if you haven't made one already. Once you're signed in, type in your company name and tagline (if you have one).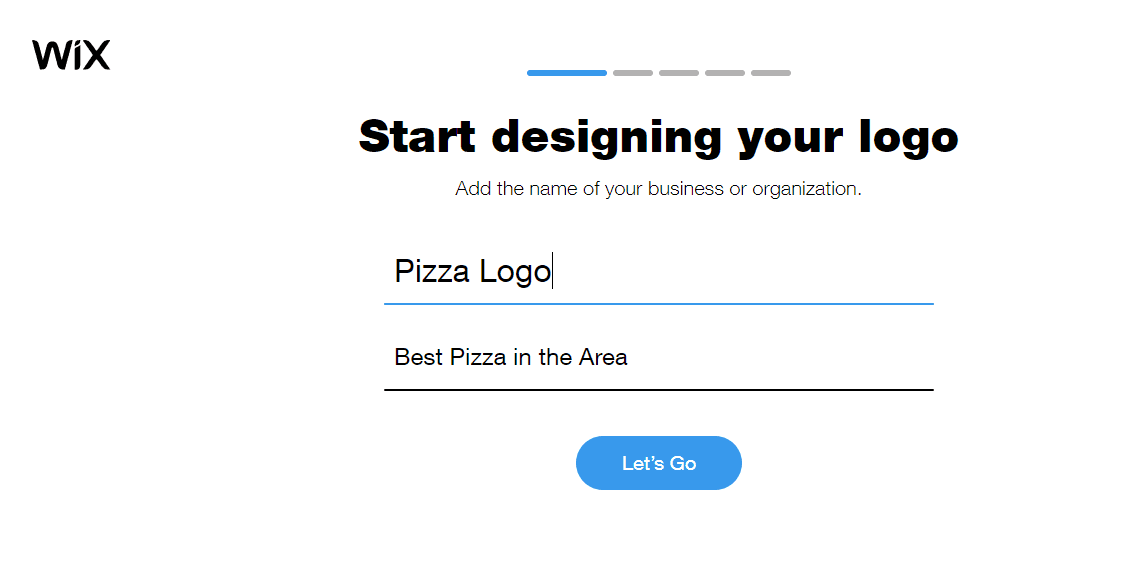 Then add your industry. For this example, I chose 'pizza restaurant'.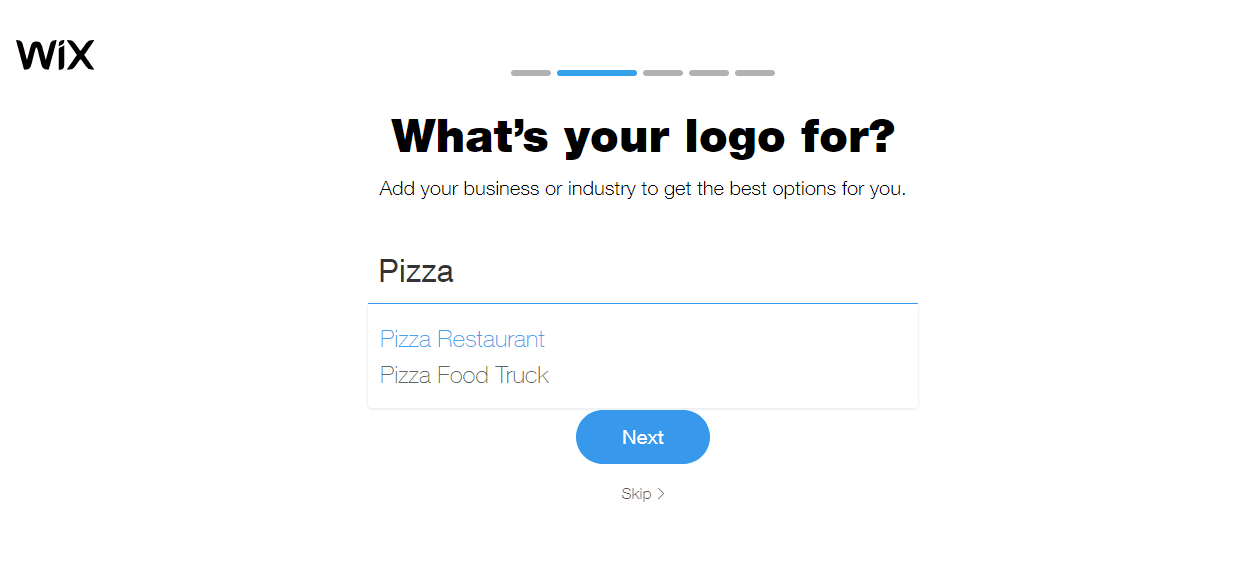 Wix Logo Maker then asks you to choose a word (or words) to describe the style of the logo you want. This one is really helpful if you have a rough idea in mind, so be sure not to skip it.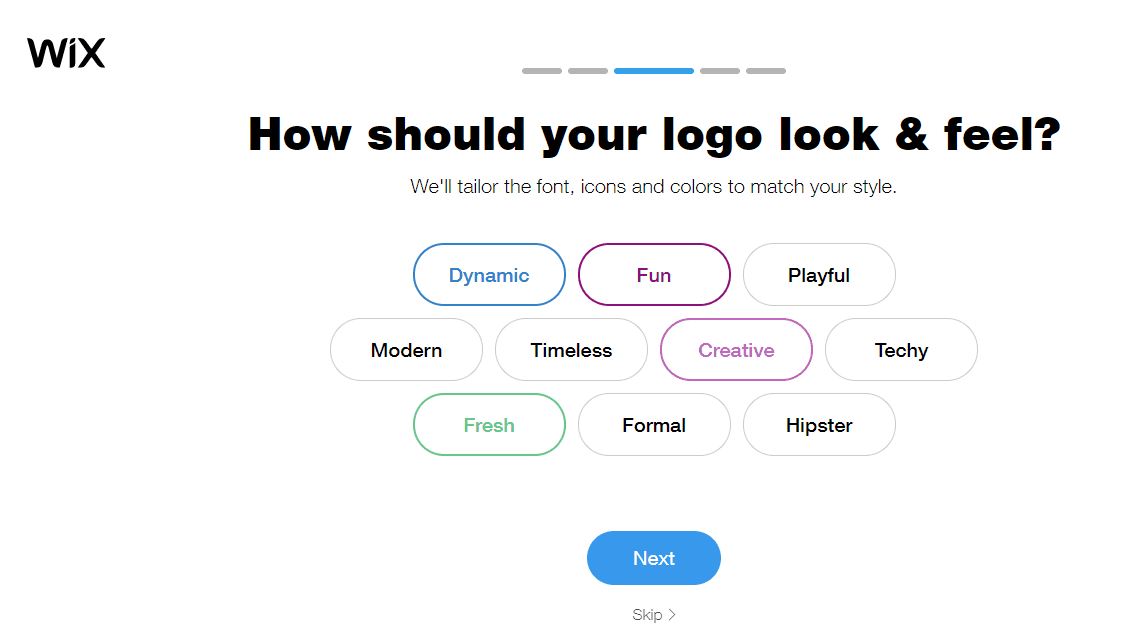 Next, Wix Logo Maker shows you pairs of logos and asks you to choose which one you like best. Click
I don't like either of them
to skip the pair.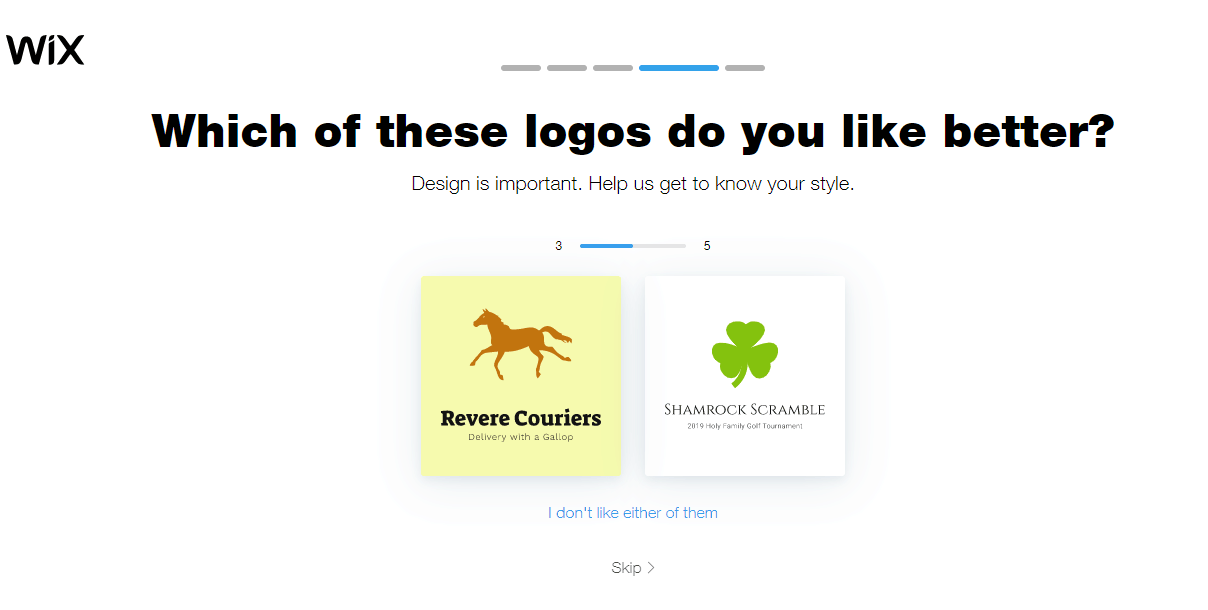 The last question is, "Where do you want to use your logo?" Select all the usage options that apply, click
Continue
and voila! Your logo suggestions are ready.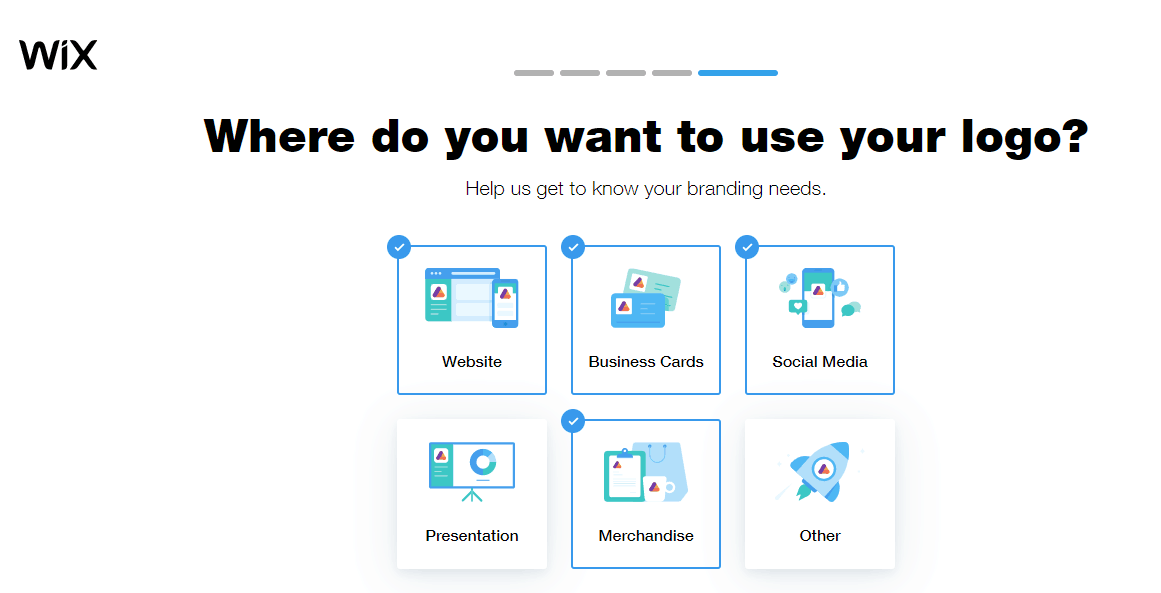 Scroll through the suggested logos. If you aren't happy with the icons in the examples, you can click the
Replace icon
button and search 'pizza' to find a more relevant icon.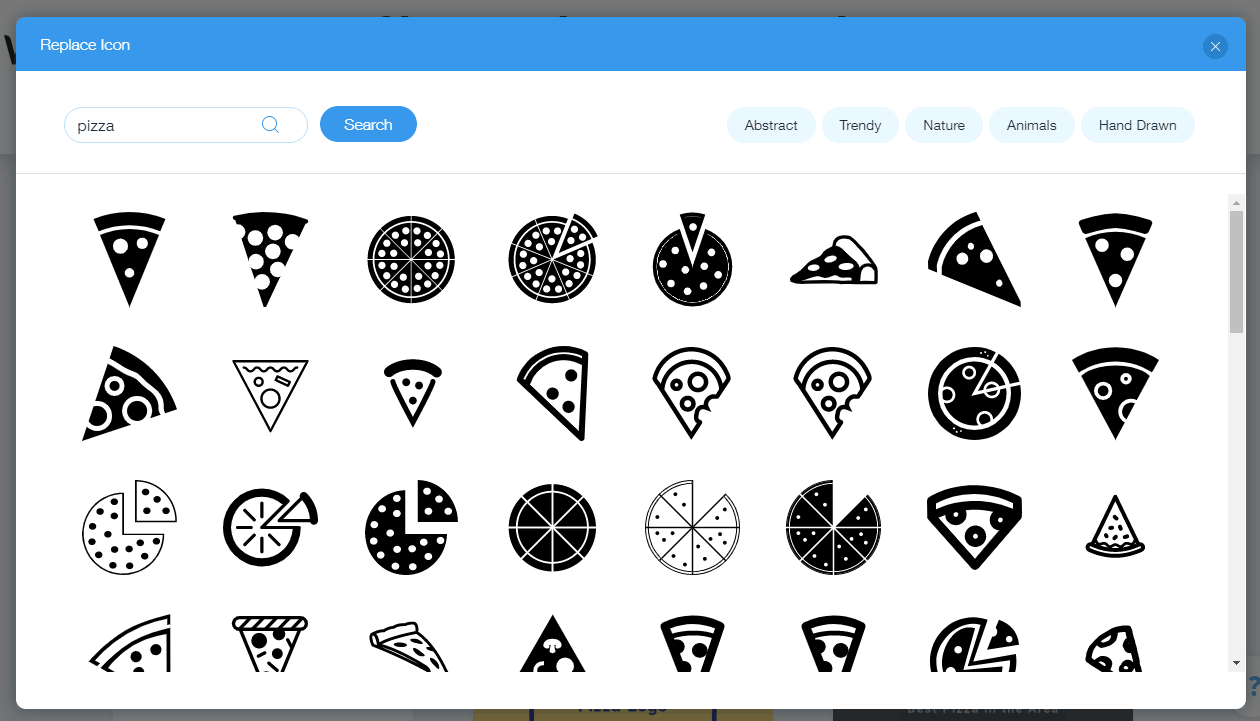 Once you've found the perfect pizza icon, you can apply it so every suggested logo design will feature this new image. Have you discovered a logo design that appeals to you? Well, now it's time to customize it to your preferences! You have numerous options for modifying the design to achieve perfection. I personally altered both the colors and the font, and additionally, I incorporated a box border.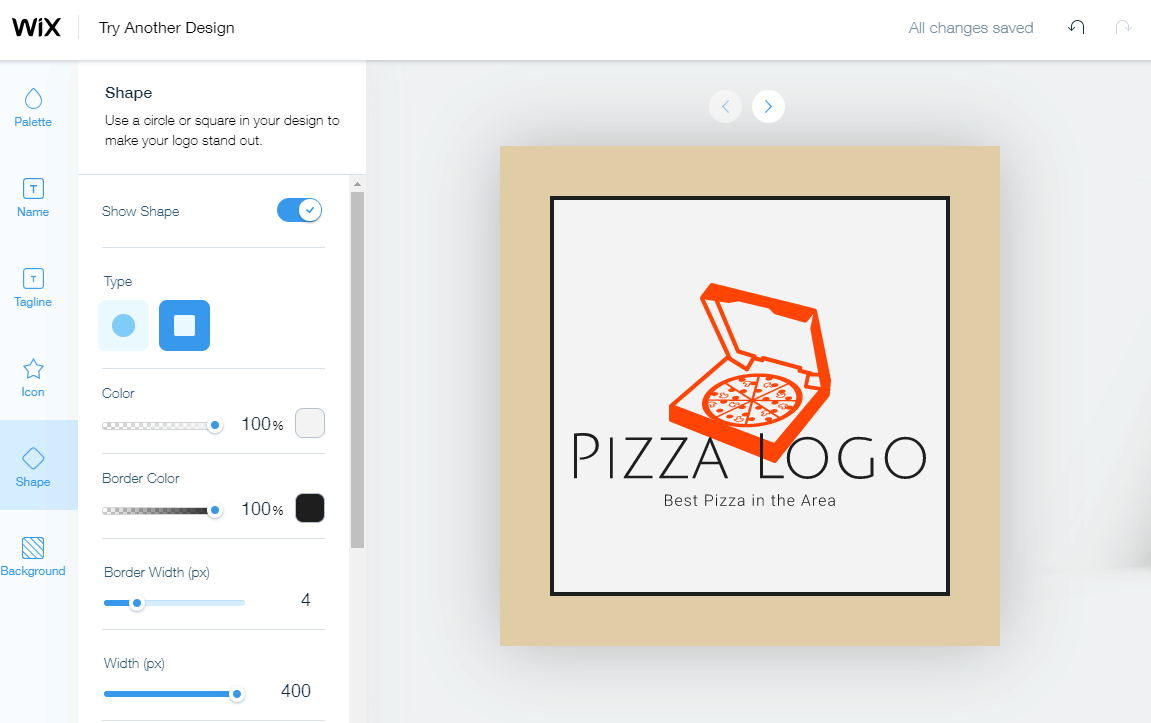 After you've finished customizing, navigate to the next page to download a free, low-res sample image or purchase one of the packages to get a high-res logo.
Wix Logo Maker Alternatives:
Tailor Brands – This platform is easy to use and offers lots of additional branding services. Depending on which subscription plan you choose, you could get social media images, business cards, and branded presentations. To find out more, read our full Tailor Brands review.
DesignEvo – With more than 10,000+ logo templates, DesignEvo is likely to have a design to suit your needs. Browse the logo designs by category (such as Food & Drink or Abstract), or make your own from scratch. For more information, check out our expert DesignEvo review.
Pizza Logos That Deliver
If you want a high-quality, unique pizza logo, then I recommend
hiring a skilled freelance designer through Fiverr
. With prices as low as $5, you can find a designer to suit any budget. A logo maker could be the right choice for you if you're looking for a creative challenge, but bear in mind that you'll often have to pay to download usable, high-res files, and overall they require more energy, time, and artistic ability. When it comes to DIY options,
Wix Logo Maker
 is my top choice thanks to its ease of use, attractive templates, and affordable packages. Still not sure? Check out our
in-depth logo service comparison
for more logo design ideas.