Read on for the secret to hiring a pro graphic design for as little as $5.
---
9 Best O Logos
My colleague tested a range of logo design services to determine which ones came out on top. His results were eye-opening. Check out his
expert logo design service review
to see how each service fared in his experiment – one of the services even designed our new logo!
How to Get A $5 Logo Design
You shouldn't have to foot a huge bill to get a logo design that works for your company. But if you know where to look, a bespoke, professional logo doesn't have to cost hundreds of dollars. There's a way you can speak directly with professional designers and hire them from just $5. With freelancing website Fiverr, you can hire an expert designer without maxing out your credit card. Designers at Fiverr offer packages beginning at $5. Some designers choose to price their packages higher, but many offer their basic services at the entry level price. Since there are thousands of designers, you're sure to find one that suits your design style
and
 your budget. To get started,
go to the Fiverr homepage
.
 You won't get great results if you search "O logo design", so try searching for the design
style
 instead. "Monogram logo" and "initial logo" will bring up designers who focus on beautiful lettered designs, while "minimal logo" or "modern logo" can help narrow the results down by aesthetic. Once you've searched for your chosen term, look through the results until you see a profile you like.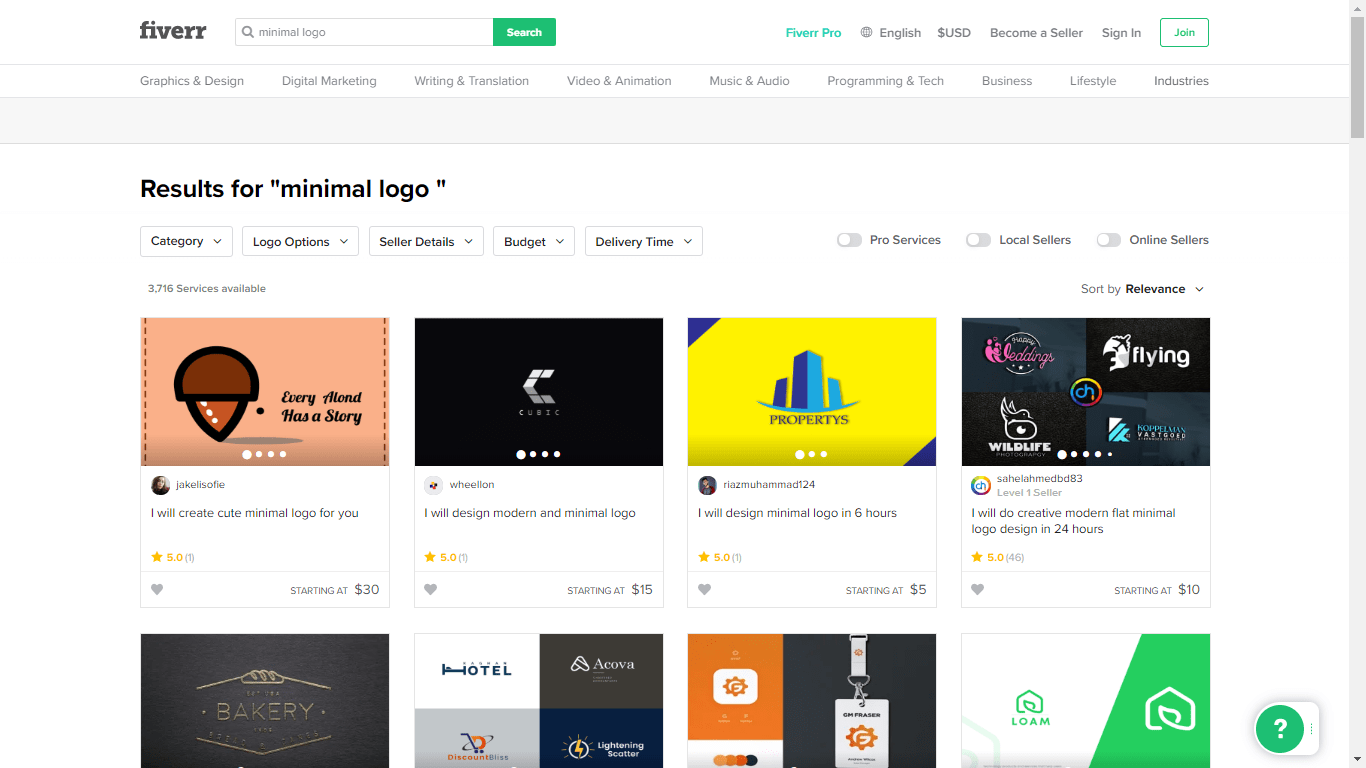 Click on a profile to see the designer's full portfolio, "About This Gig" section, and customer reviews. Take a look at their offered services to decide which package is right for you. When you've made the decision to hire a designer, click
Continue
to head to the next page.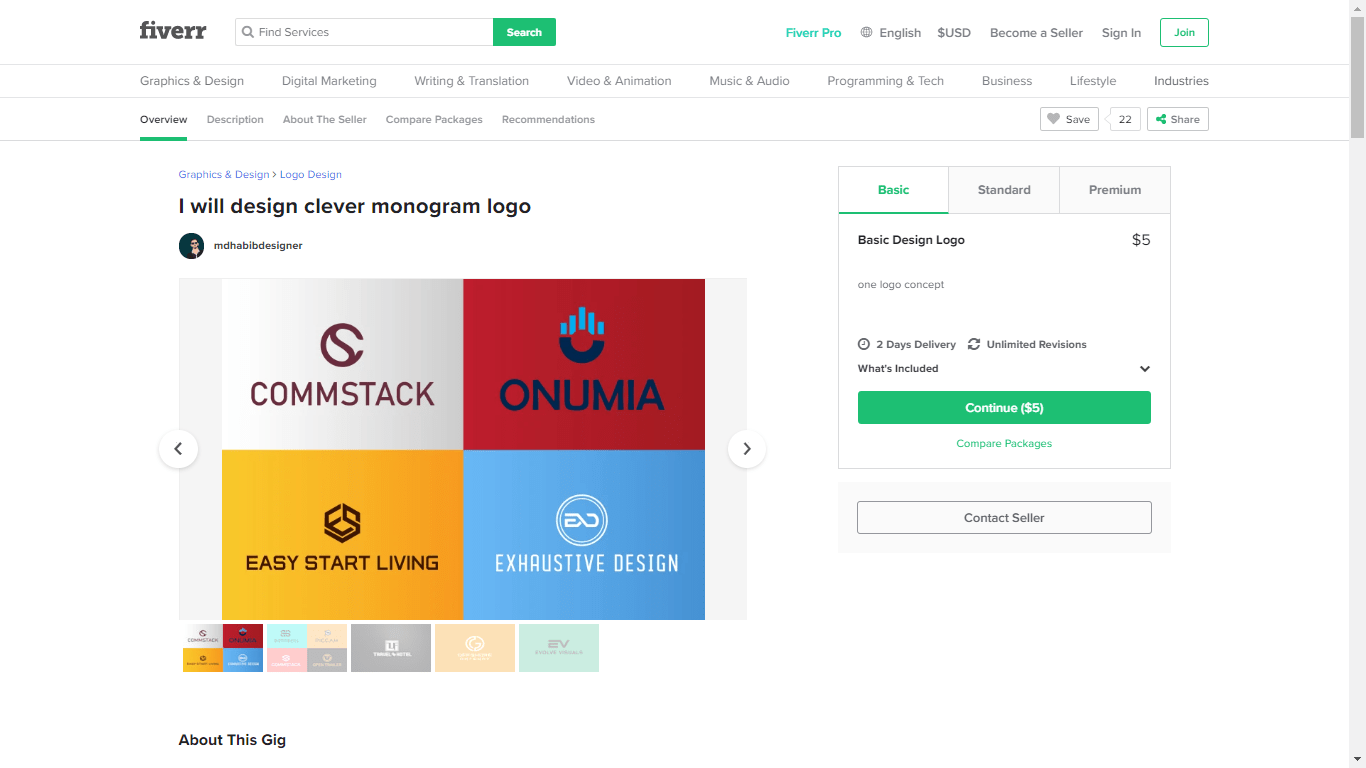 The payment preview page contains all the information on final costs and services offered in the chosen package. You may also be able to add extras if the seller offers them. Review everything and click
Order Now
to make your payment.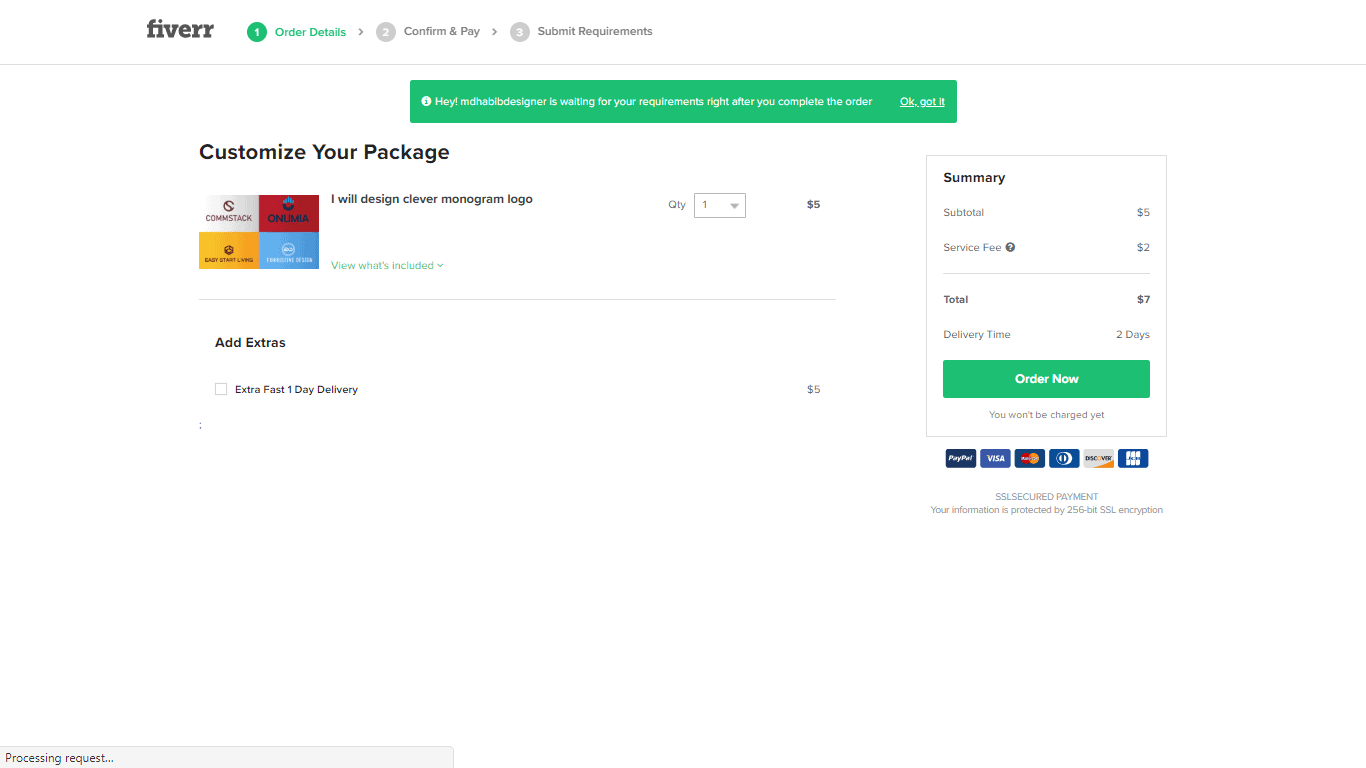 Once you've paid, let your designer know how you'd like your new logo to look. Within just a few days (sometimes as quick as 24 hours, depending on your package) your new logo design will be delivered to you! Here are a few great Fiverr features worth mentioning:
Fiverr Pro – If you have room in your budget, consider hiring a Fiverr Pro designer. These designers are personally vetted by Fiverr employees and guarantee amazing customer service and exceptional design skills.
Customizable packages – Where offered, you can add services like 3D mockups or a social media kit onto your chosen set package to tailor it to your exact needs.
Payment protection – Your payments are made upfront, held by Fiverr, and only released to the freelancer when you're happy with the finished logo.
Designer search options – Sift through the thousands of designers using handy filters like budget, logo style, seller level, and delivery time.
Interested in finding a freelancer? Check out our
full Fiverr review
for more tips on hiring designers.
Making Your Own Logo Design
A DIY logo maker is the easiest way to create your own logo design, and it's the perfect option if you're in the mood for a more hands-on approach. They're free to use, and all you'll need is some time and imagination. Whatever style you're considering for your new logo, the best tool to bring it to life is Wix Logo Maker. This tool is foolproof to use. It uses artificial intelligence (AI) to compile your logo templates based on your answers to a few questions at the start of the process. To see how the AI works for yourself,
head to the Wix Logo Maker homepage
 and create a profile. Then, enter your company name and tagline to begin the sequence of questions.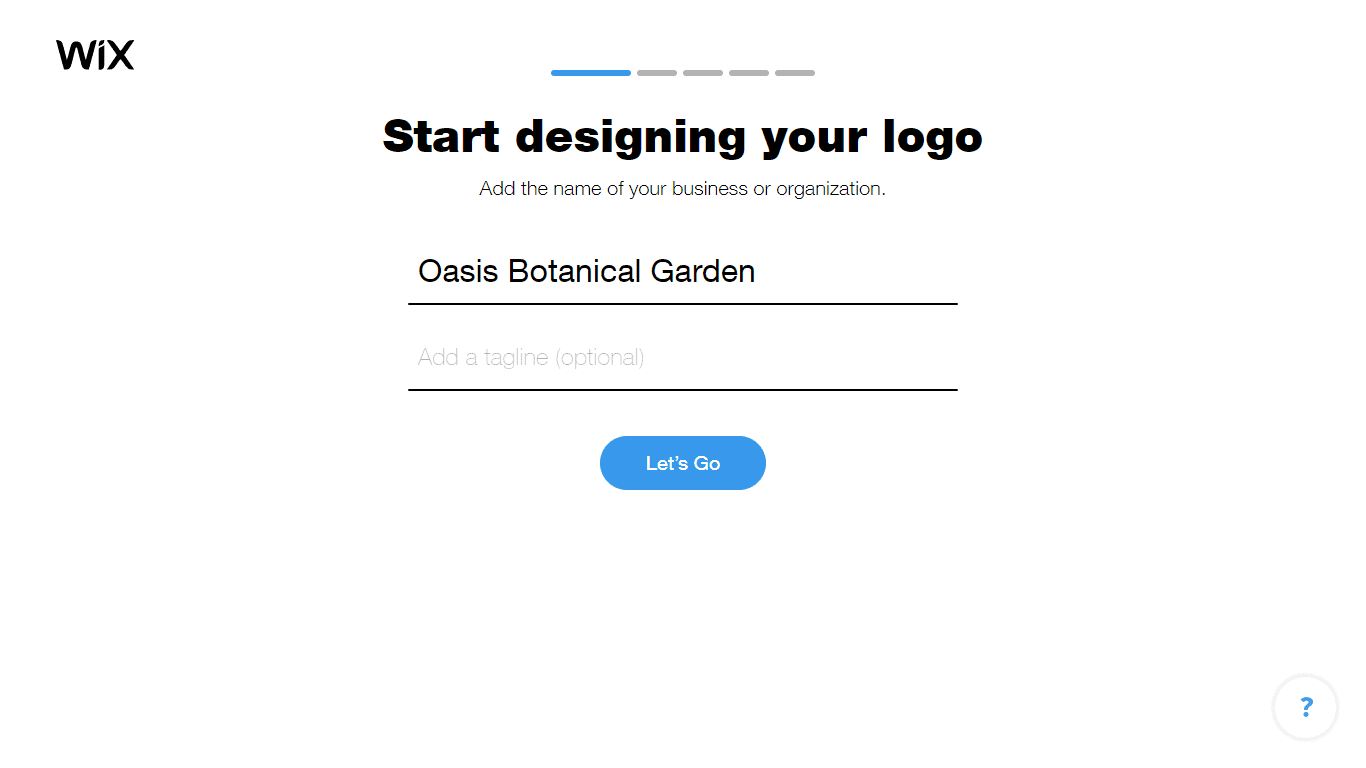 Start typing your industry into the search box and select the closest match from the dropdown menu. You'll be surprised how specific these categories are. I was pleased to find a botanical garden option for my example!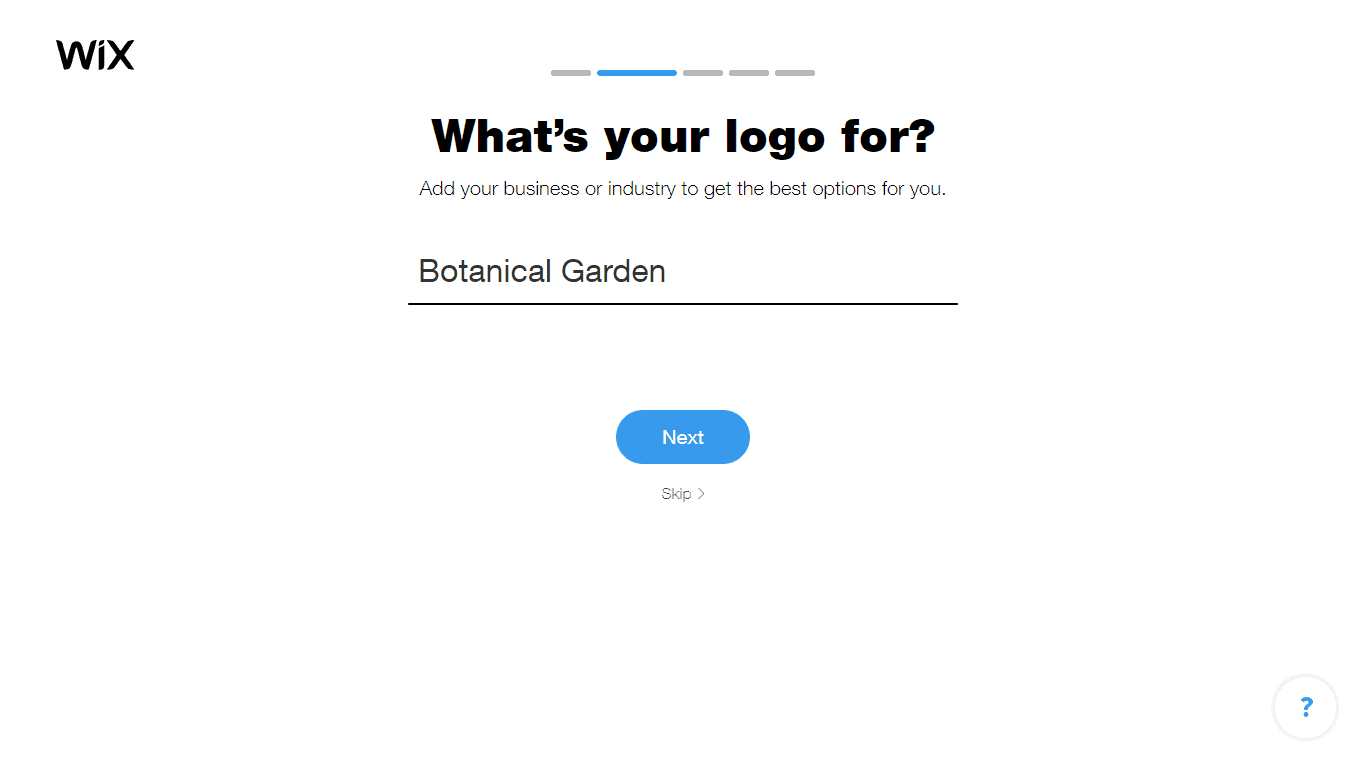 Do you have a vision for your ideal logo? Use the adjectives on offer to explain these characteristics to the AI. Choose as many as you need to tailor the templates later on.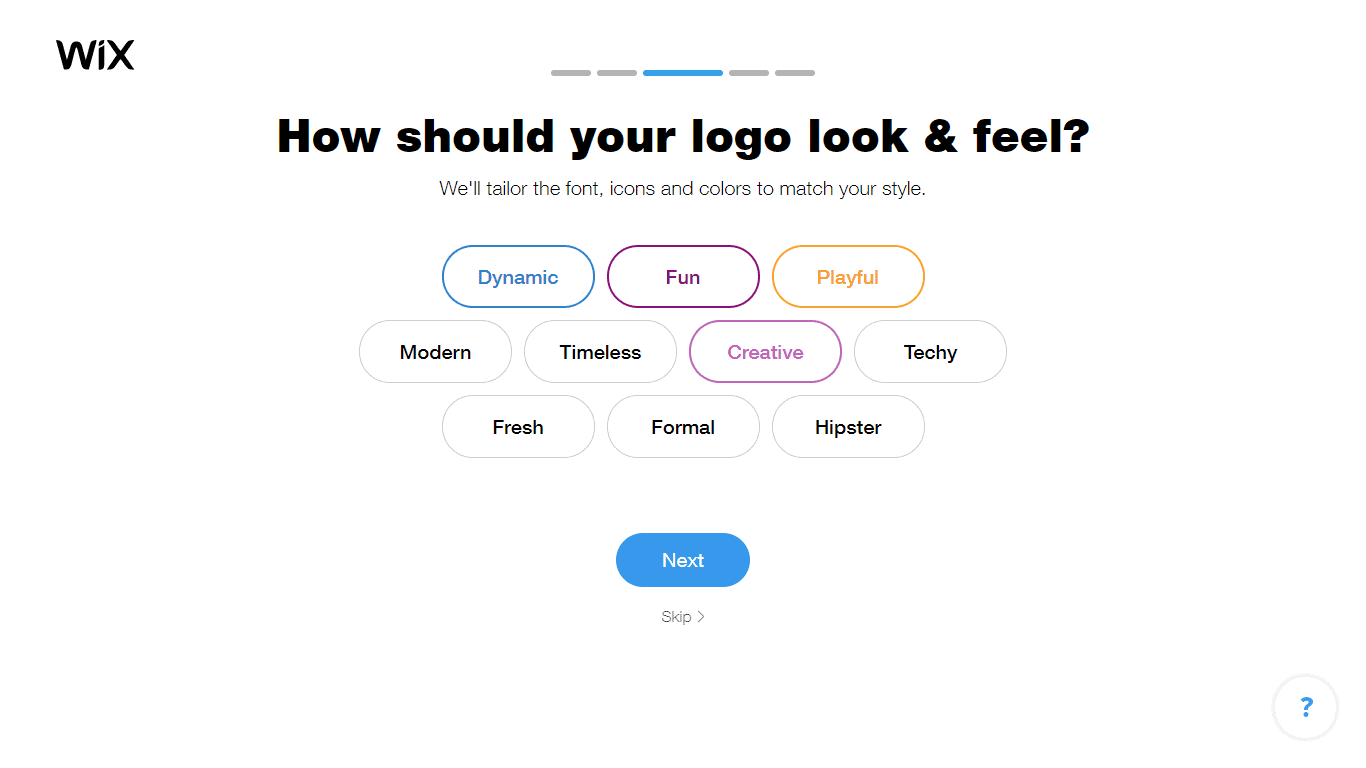 In the next stage, you'll be shown a series of contrasting logos and will be asked to choose the one you like the most. This helps the AI learn your preferences for fonts and images. If neither of the styles appeal to you, click
I don't like either of them
to move on.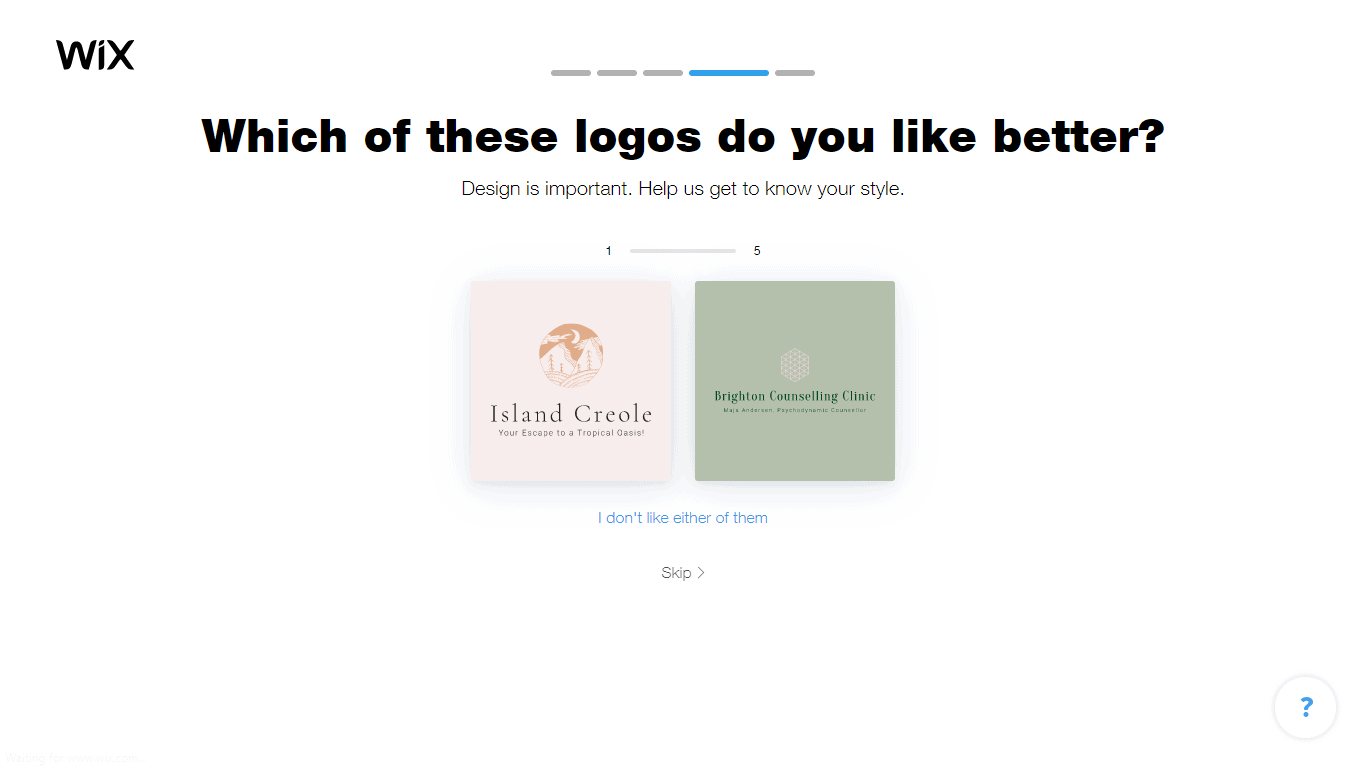 Finally, tell Wix Logo Maker if you'll be using the logo for social media, merchandise, a website, or all of the above. Select all the options if you're not sure, just in case.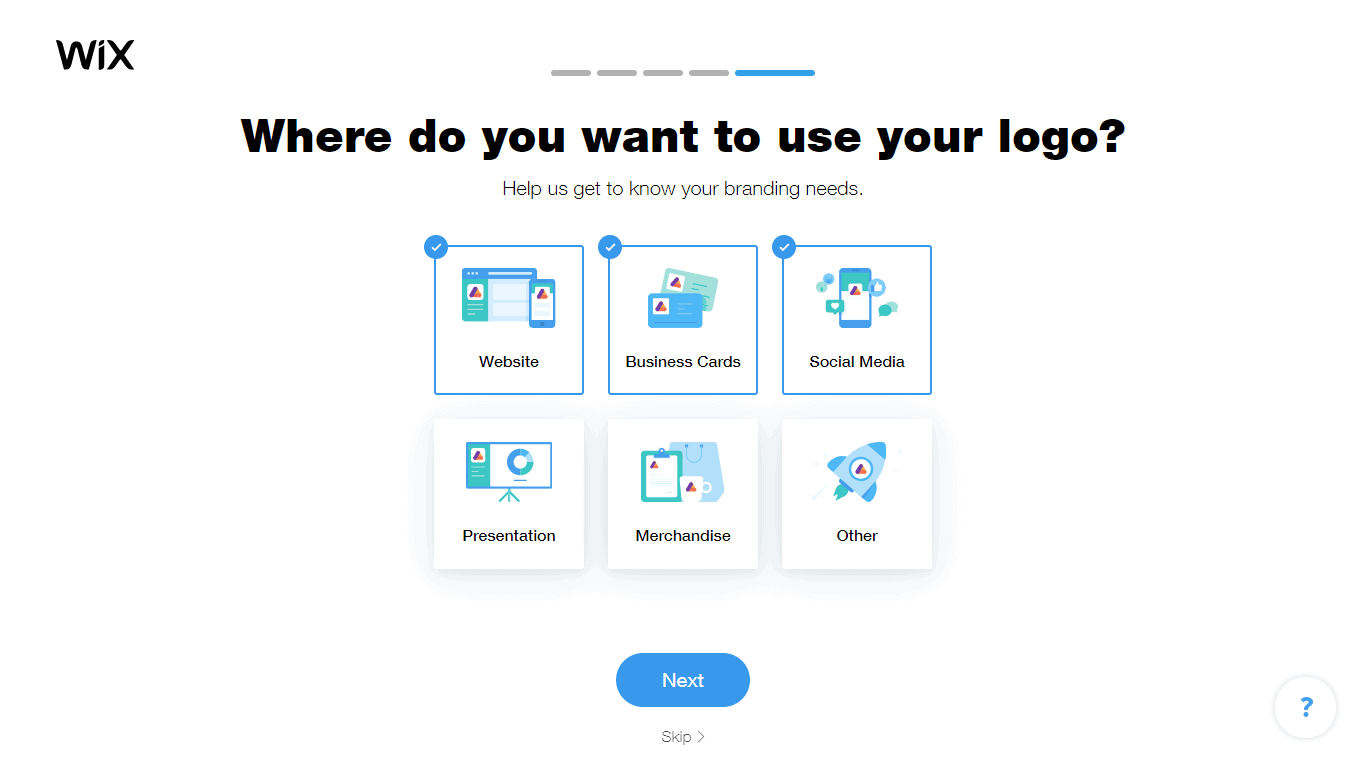 Now it's time to see your logo suggestions! Browse through all of the logo designs the AI personally created for you. Click
Load More
to keep refreshing if you reach the end of the page.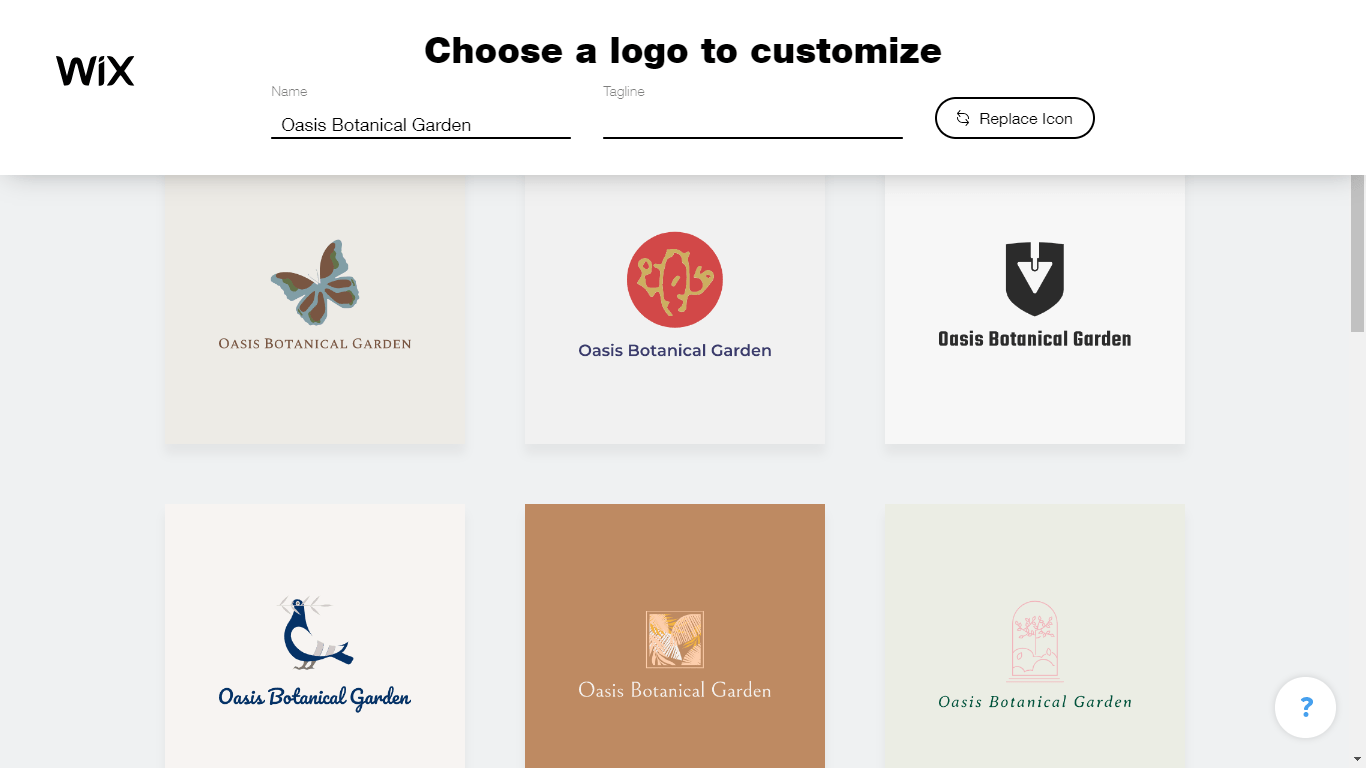 Want to change out the icons? Click
Replace Icon
and search for a relevant term. Select the image you like best to add to all the logo suggestions in the results.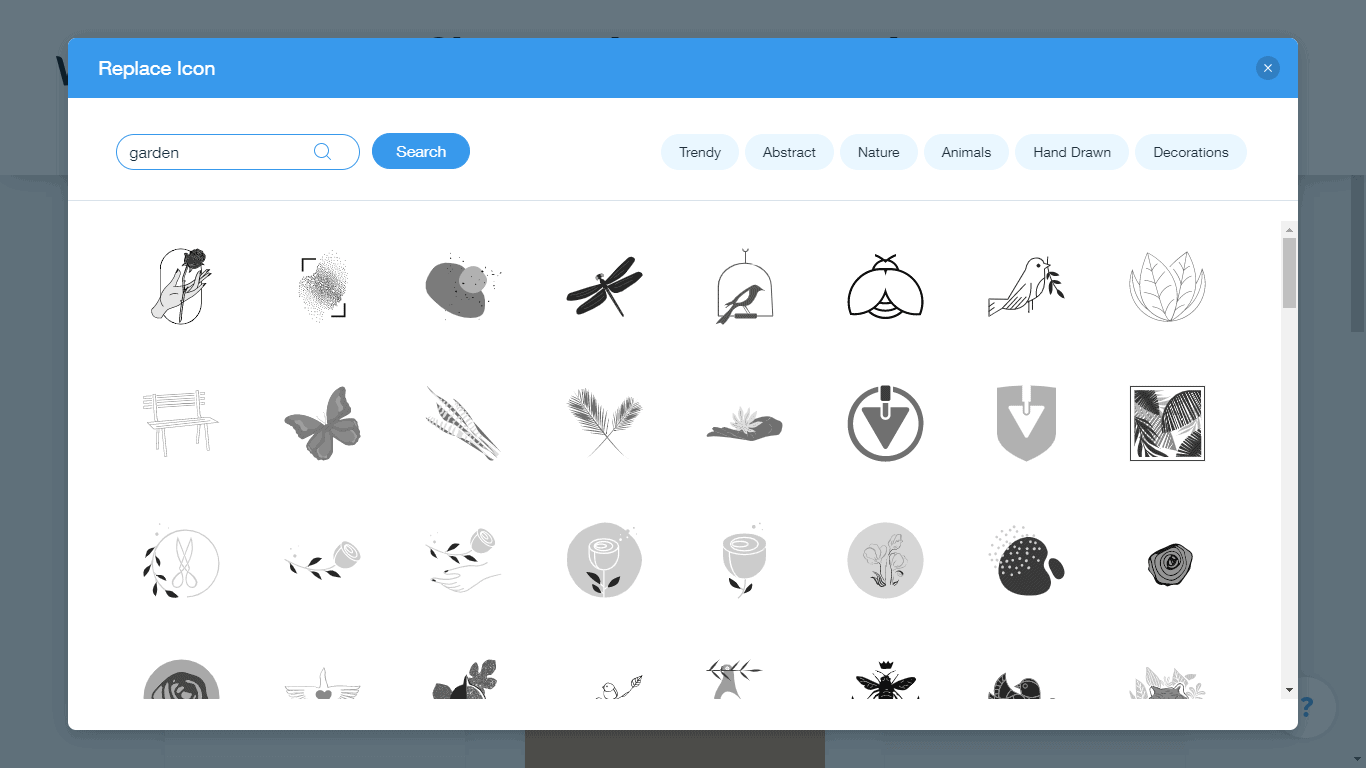 When you've decided on your favorite template, click
Customize
to head to the logo editor. Here, you'll be able to choose the font for the "O" in your logo (from hundreds of fonts) and add multiple images. Try overlapping icons and using shapes to create shadows, cutouts, and other fun logo additions to make it as original as possible.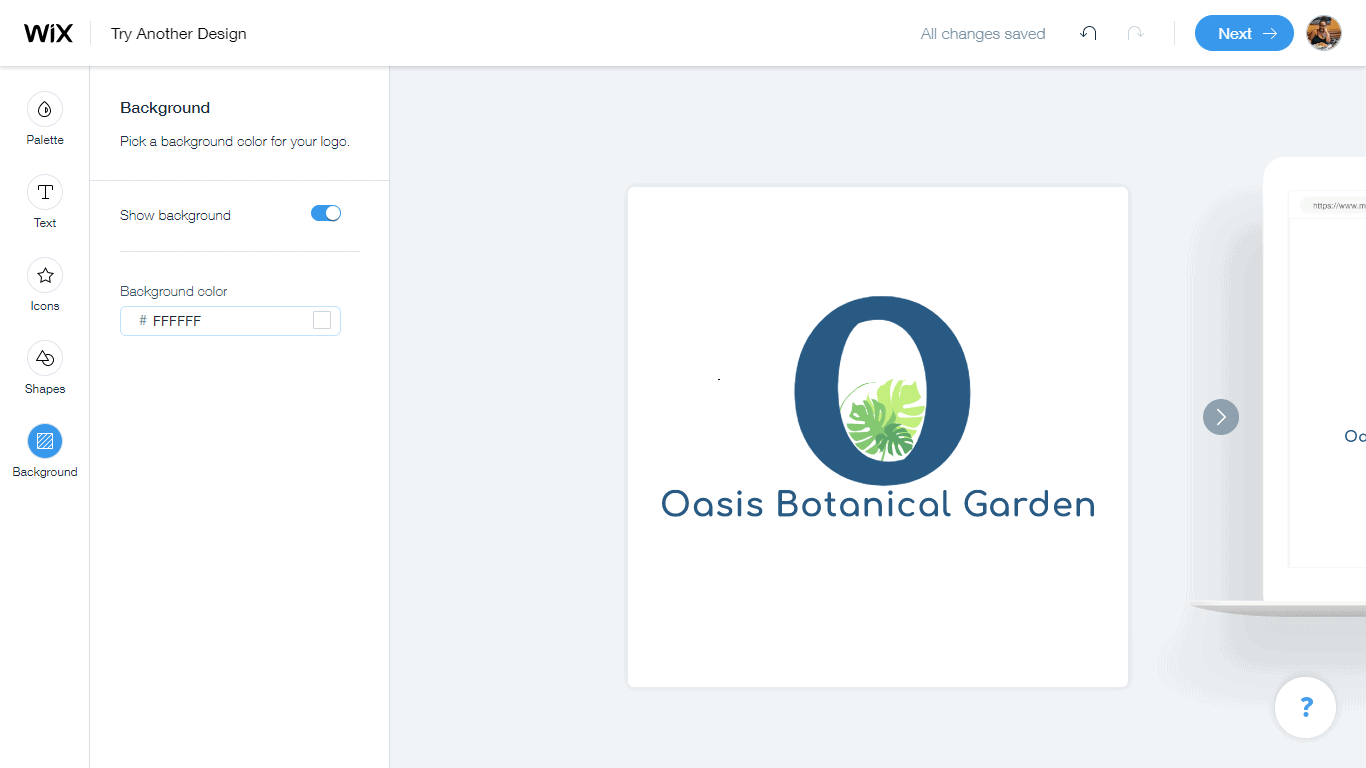 Done with your edits? Hit
Next
to be taken to the package page where you can choose which package you'd like and submit your payment. Pay to download your logo in high resolution and your new design is ready to be used wherever it's needed! If you'd like to keep trying out logo design options, you can also download a free version in a smaller size for comparison purposes. Interested in Wix Logo Maker? Read our
in-depth review
to find out more.
Wix Logo Maker Alternatives:
DesignEvo – If you're not keen on the idea of an AI process, why not try a template-based approach instead? DesignEvo has more than 10,000 logo design templates in 18 searchable categories. There's even a "Letter" category containing the most relevant styles for your O logo.
LogoMaker –  Want to keep things as simple as possible? LogoMaker is just four quick steps from start to finish. This is a great tool if you're short on time or need a basic, easily personalized logo design.
My Final Thoughts
With a $5 option on the market, you don't need me to tell you the best place to look for value.
Fiverr connects you with budget-friendly, experienced designers
 with the originality and quality you want from a logo design. At such a low starting cost, Fiverr is a no-brainer solution for almost every budget. If you want to keep full creative control and DIY, let Wix Logo Maker do the heavy lifting.
Wix Logo Maker uses artificial intelligence to help you create a logo design you'll love
.
Not sure which option is right for your O logo? Check out my colleague's
thorough logo design service comparison
 to see how other popular alternatives performed in his experiment.