If you're interested in minimalist logo design, your ideal style is probably pared-back and straightforward. The point of minimalism is that less is more. Not every logo needs a giant, oversized, multicolored mascot or a wildly abstract icon. Sometimes, a logo's appeal lies in its ability to attract attention without all the bells and whistles that other logos may have. Simple logos have the added benefit of being easy to reproduce on different color backgrounds, and they're often more recognizable when used at a smaller size. Although it may seem like an easy task to create a minimalist logo, there's actually quite a bit of skill involved to keep it looking professional and not amateur. You'll want to hire a logo designer that's experienced in this logo style and able to deliver you your dream design.
Keep reading to find out how you can hire a pro logo designer for just $5.
---
9 Best Minimalist Logos
My colleague tested some of the most popular logo design services out there. I was surprised by his results – they were eye-opening! Check out his
comprehensive logo design service review
 to find out which services he tested and how they did.
How to Get a $5 Logo
If I didn't know first-hand that a $5 logo was possible, I'd probably find it hard to believe that you could get a bespoke, professional service for so little money. But since using Fiverr, I now know that you really can get a logo designed for as little as $5. Here's how it works. Fiverr is a freelancing platform where logo designers (and other creatives) can offer packages of their expert services that begin at just $5. Some freelancers charge more, but there are still thousands of designers offering packages at this starting price point. These aren't rookies either – many of the designers at Fiverr have been professionally designing for years!
You can head to the Fiverr homepage
to start your designer search. No need to create an account until you're ready to hire a designer, your entire search is commitment-free. Type "minimalist logo" into the search bar or do a broader search for logos and use the
Logo Options
filter to select
Minimalist
 in the
Logo Style
 section.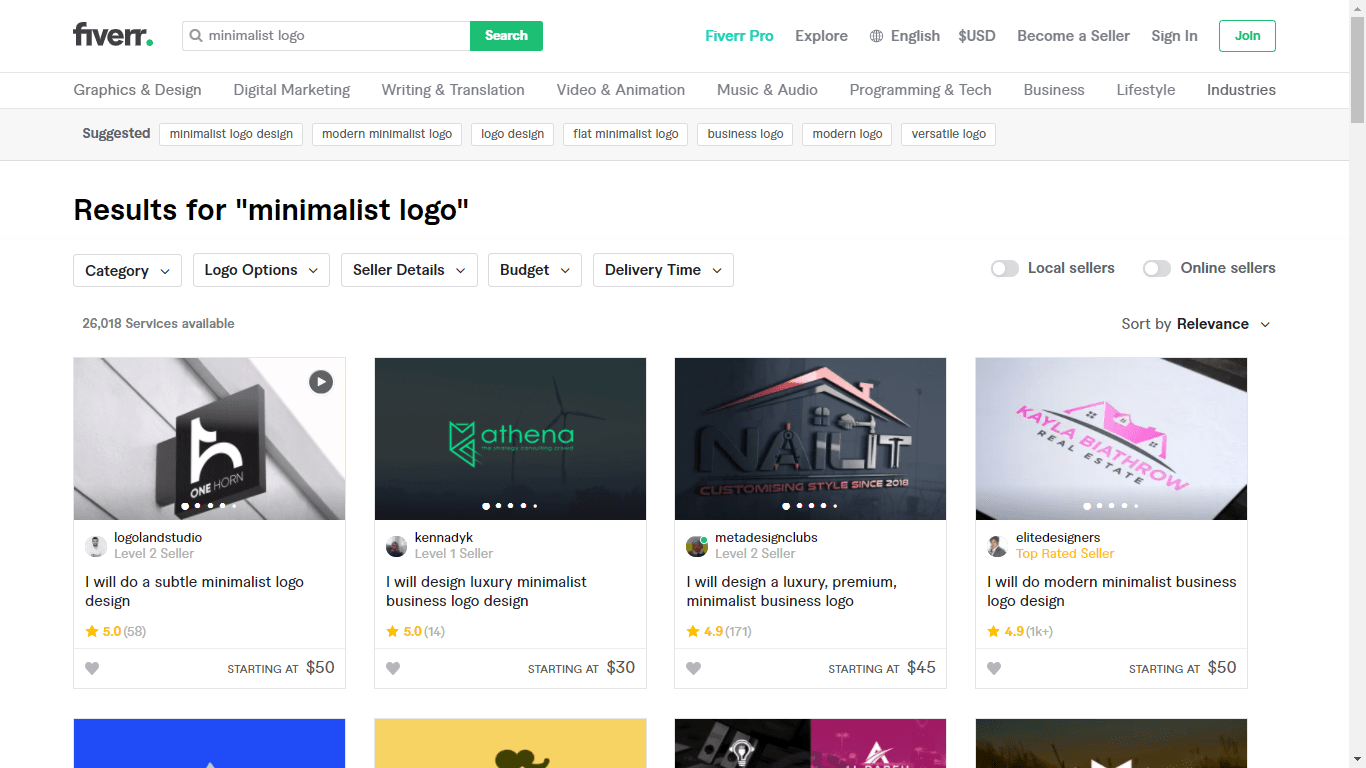 As you scroll through the results, keep an eye out for a profile you like. Click on a profile to be taken to the full view, where the designer's portfolio, "About This Gig" section, and customer reviews are housed. You'll also see their package pricing at basic, standard, and premium levels. Select a package that suits your needs and click
Continue.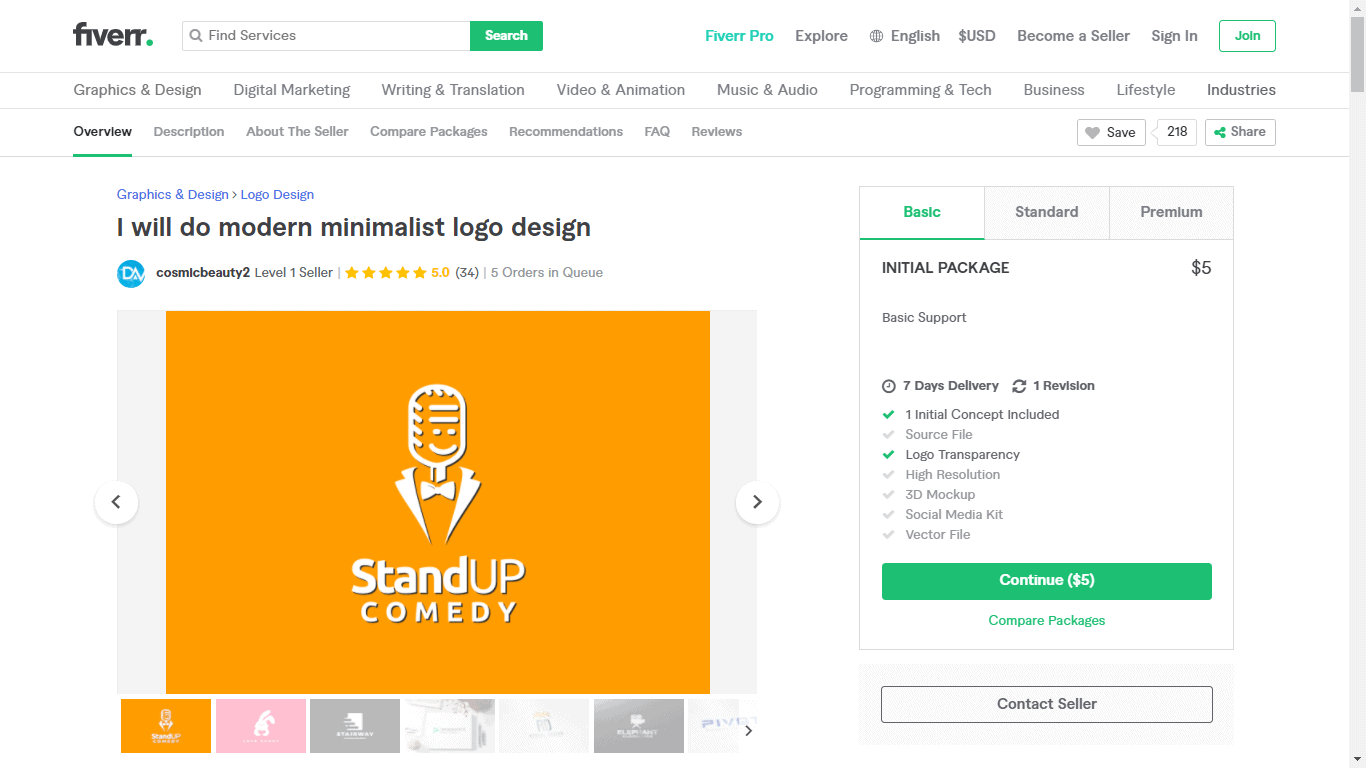 On the next page, you'll find the final costs of your chosen package and the services it includes. If it all looks good, click
Continue to Checkout
to enter payment details and finalize the commissioning. From here, you'll fill out a short questionnaire for your designer with your design requirements. In just a few days (maybe even 24 hours, depending on the package you chose), your new logo design will be delivered to you, ready to use!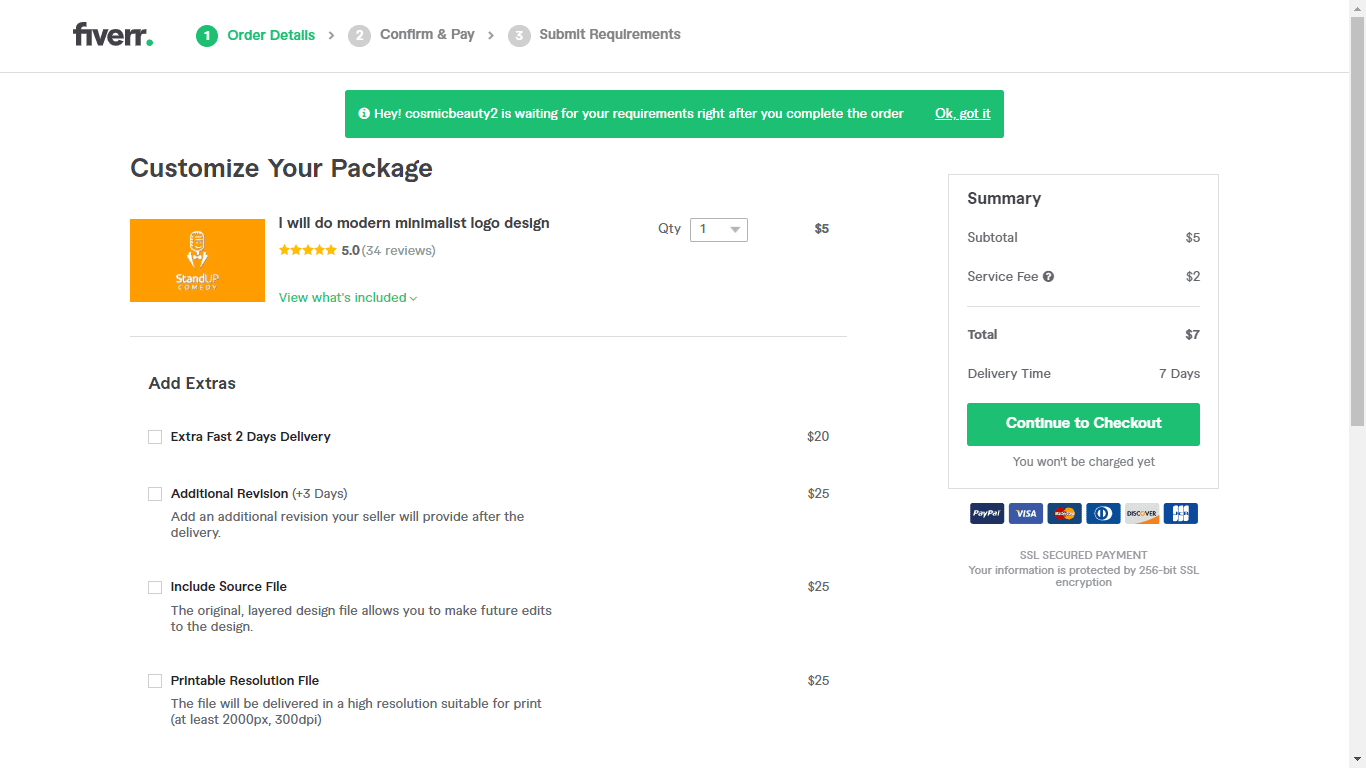 Other notable Fiverr perks:
Fiverr Pro – If you have a bigger budget, you might want to consider a Fiverr Pro designer. These designers are personally assessed and approved by Fiverr employees and so are guaranteed to have the highest levels of customer service and design quality.
Search with ease – Use search filters like logo style, budget, delivery time, and seller level to find a designer meeting all your criteria.
Peace of mind – After you've entered your payment information, you won't be charged until you receive a logo you love and authorize a payment release to your designer.
Customizable packages – Where offered, you can add extras like expedited delivery, transparent files, and a social media kit to your package for a small additional cost.
Interested in Fiverr?
Check out our in-depth Fiverr Logo Design review
for more tips and example logos.
How to DIY Your Logo Design
The decision to make your own minimalistic logo shouldn't be taken lightly. Although the design may not be complicated, figuring out how to combine certain elements together for a professional overall look can be difficult. The key to getting a logo design that looks good is to use the right tool. My #1 recommendation is always Wix Logo Maker. Wix Logo Maker uses advanced AI technology to come up with logo suggestions tailored to you and your company. The process is quick and easy – you can get a new design in less than 10 minutes! To begin your logo design,
head to the Wix Logo Maker homepage
. Create a profile and enter your company information to kick off the process.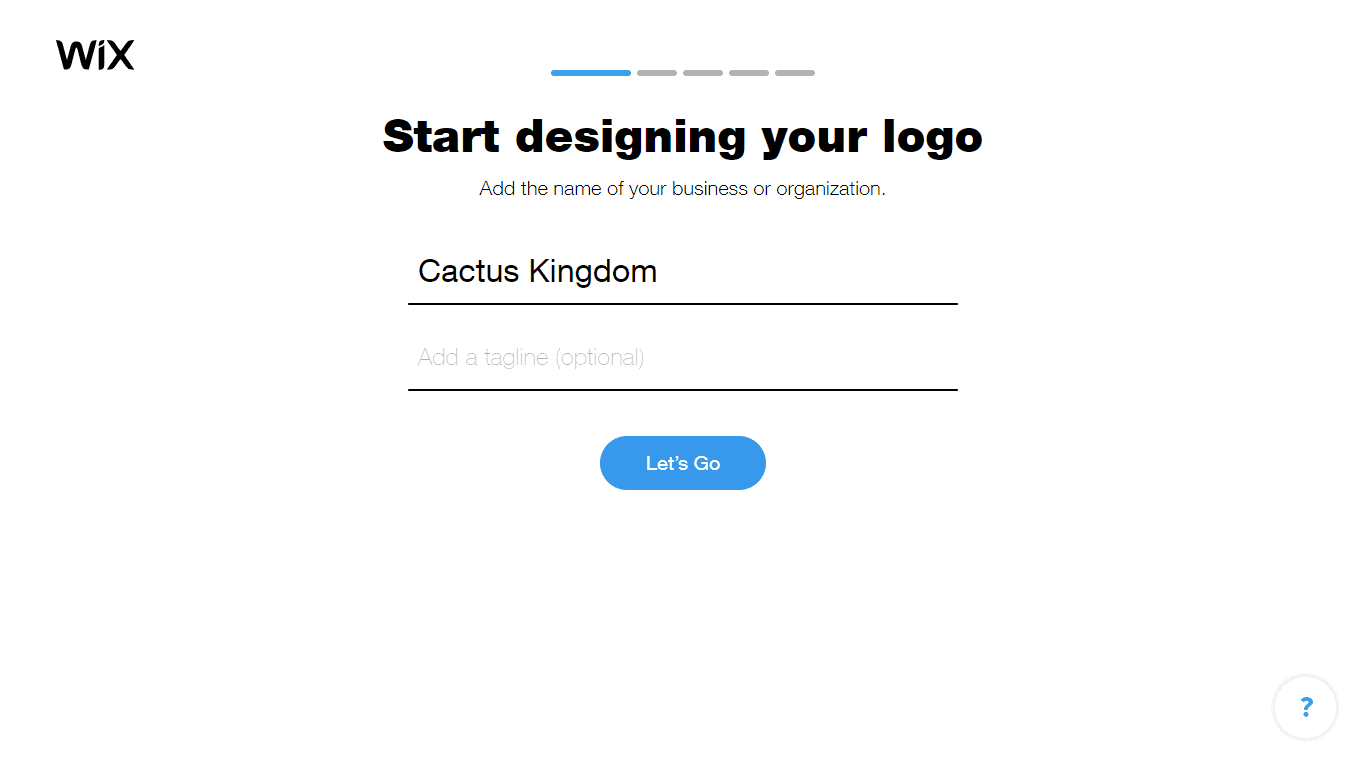 Type your industry into the search box and choose the right option from the dropdown menu. If the exact match doesn't show up, choose the next closest option.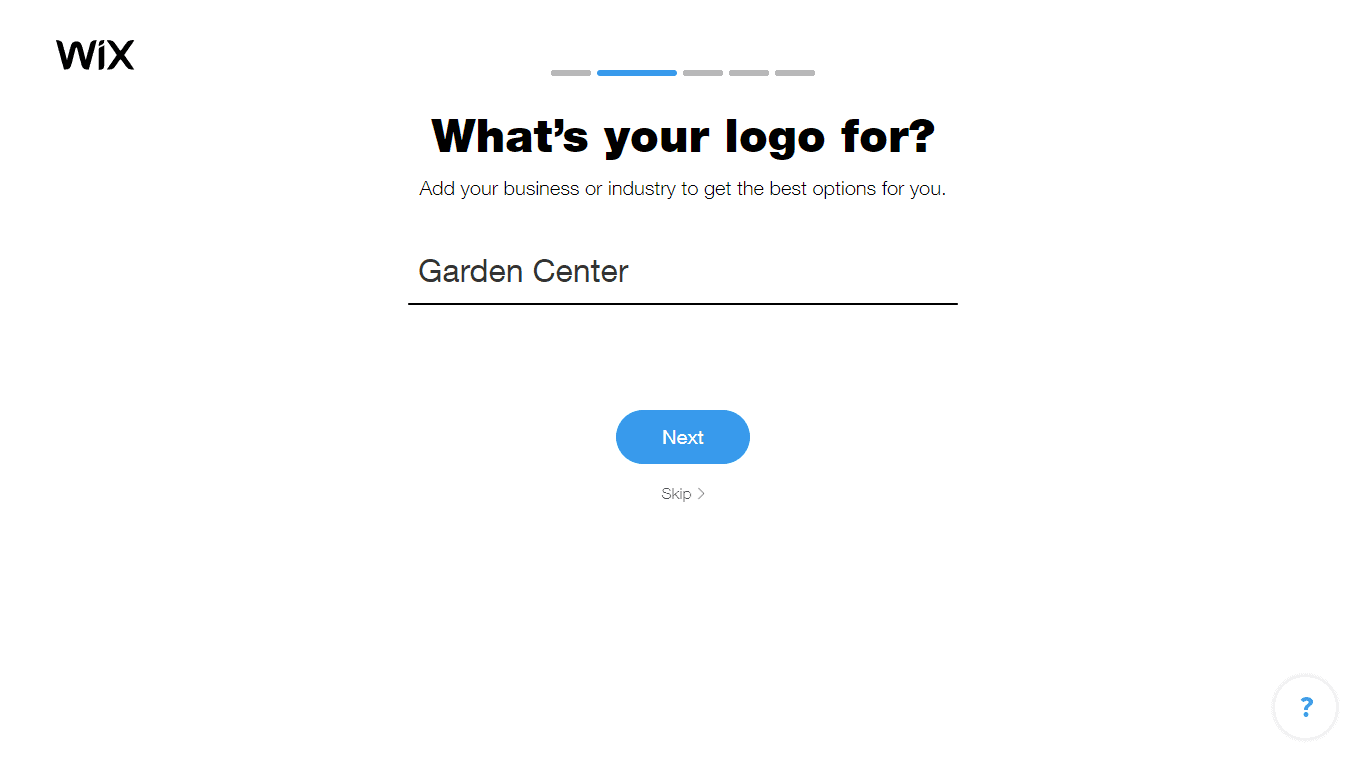 How would you describe the look and feel of your idea logo? Look at the group of adjectives and select all the words you believe embody your finished logo design.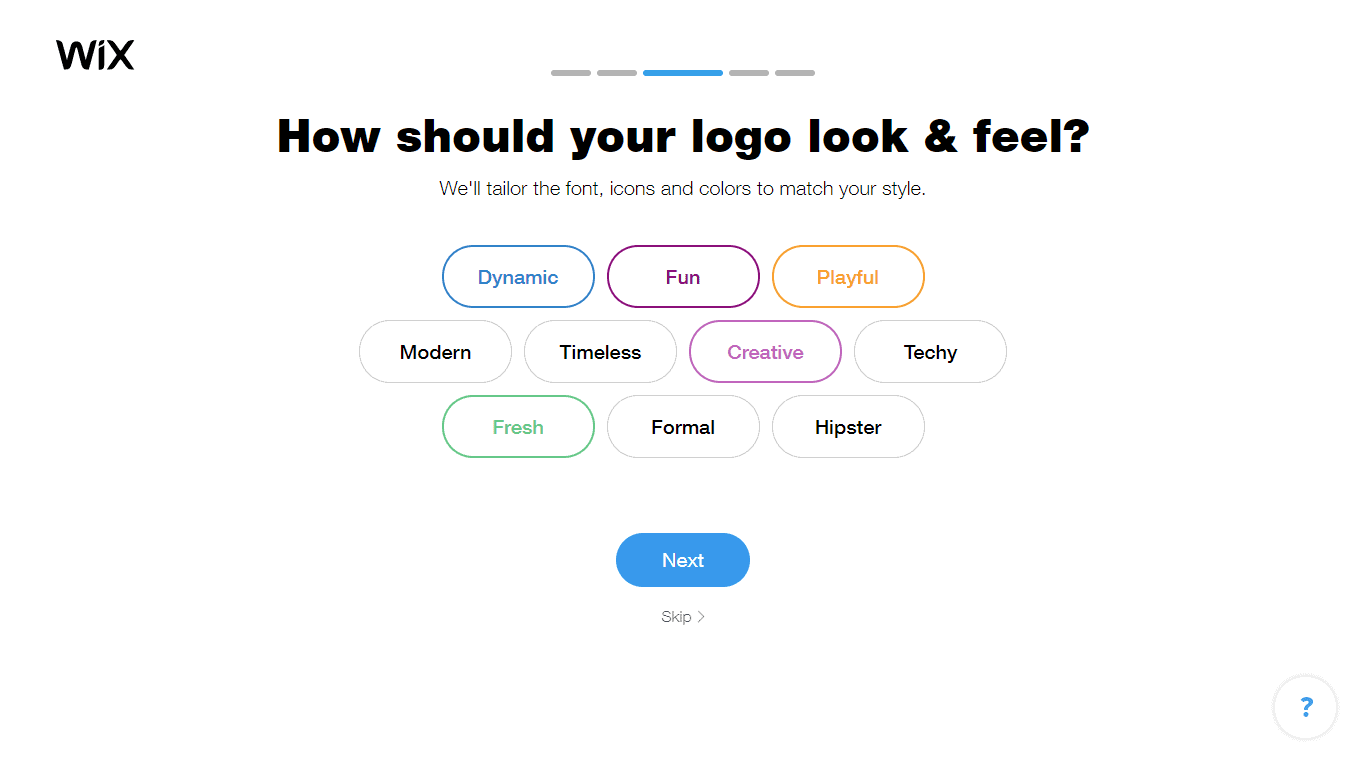 Next, you'll be shown five logo pairs. Click on the logo with the design that you prefer to help the AI learn your likes and dislikes.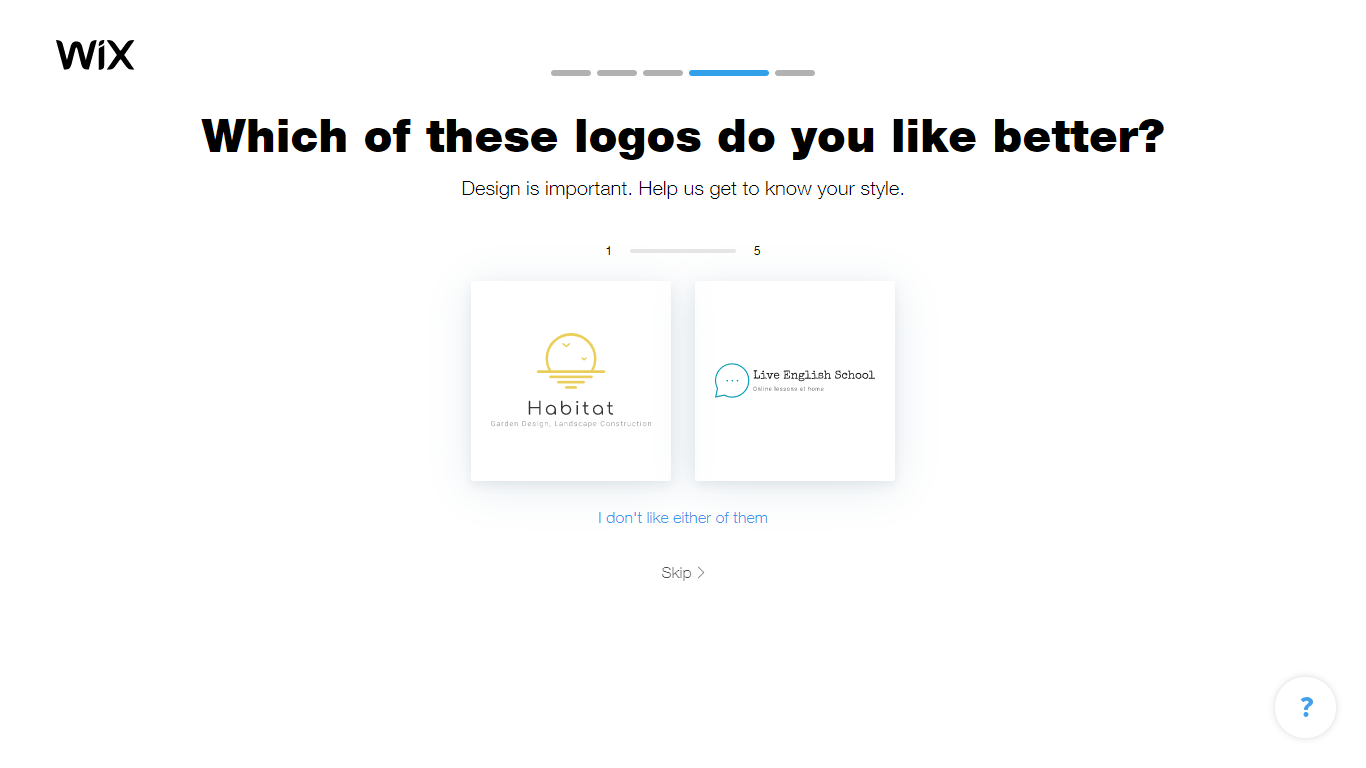 Finally, tell Wix Logo Maker where you'll be using your logo, like social media, on merchandise, or a website. You can skip this step if you're not sure.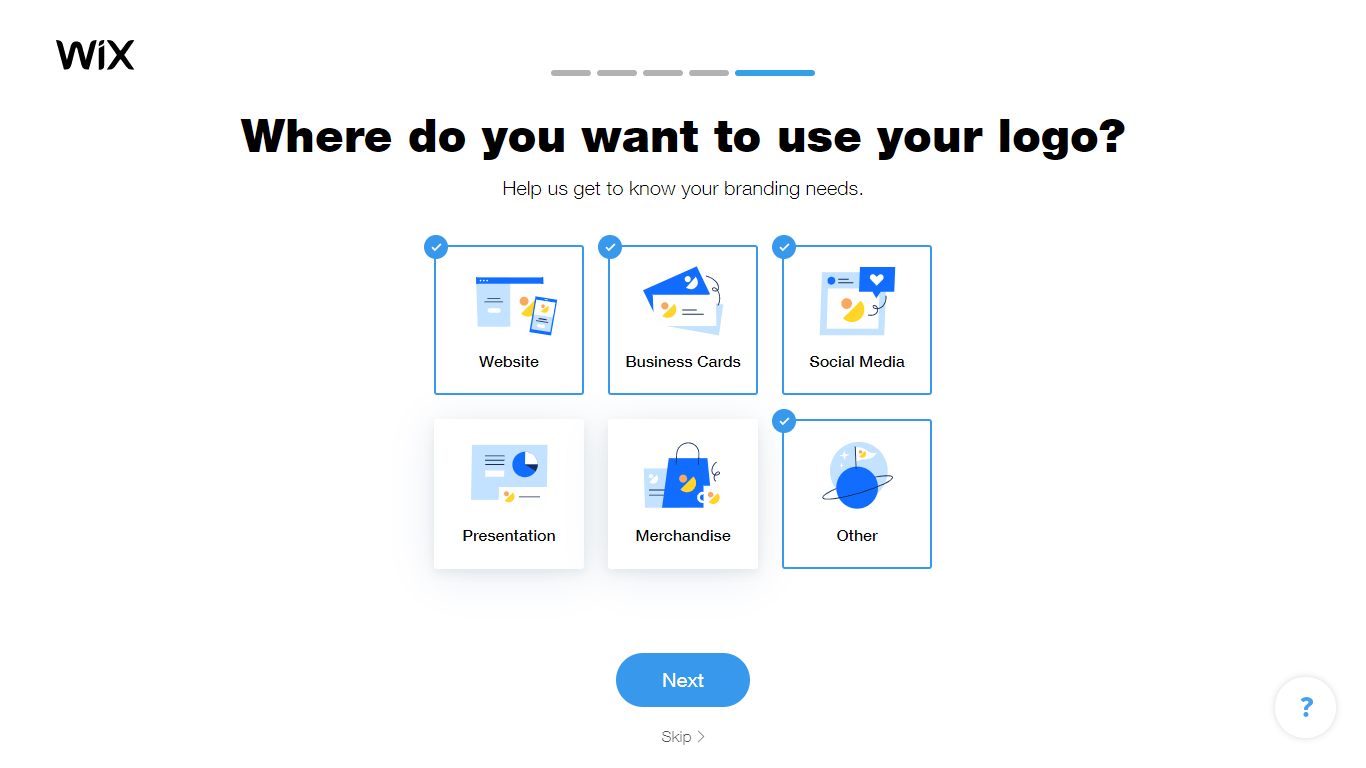 And now for your logo suggestions! The AI will generate loads so take your time looking through the results.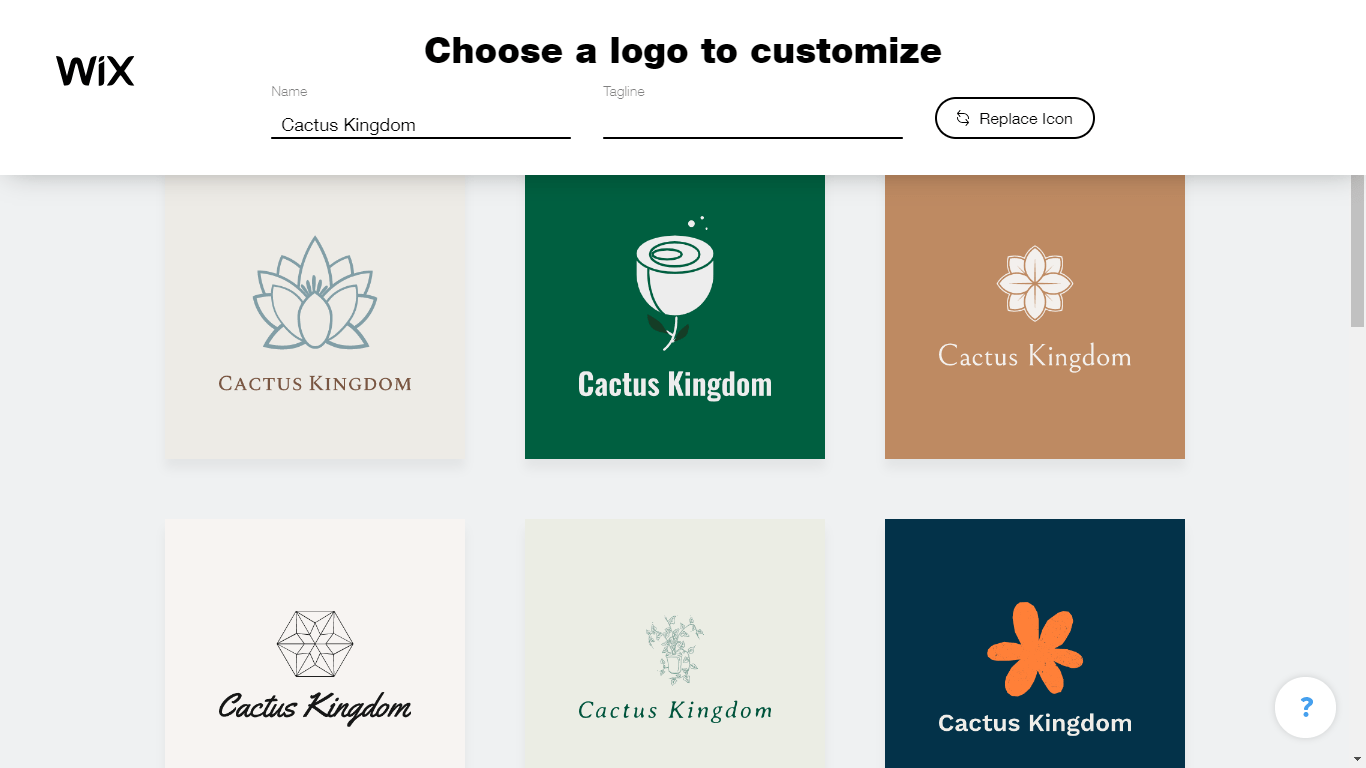 Need to see a few more icon options? Click
Replace Icon
to open a search bar where you can type in whatever term you like. My example company was a cactus garden, so I simply typed in "cactus" as my search term. Click on the icon you like best and it will be added to the logo suggestions.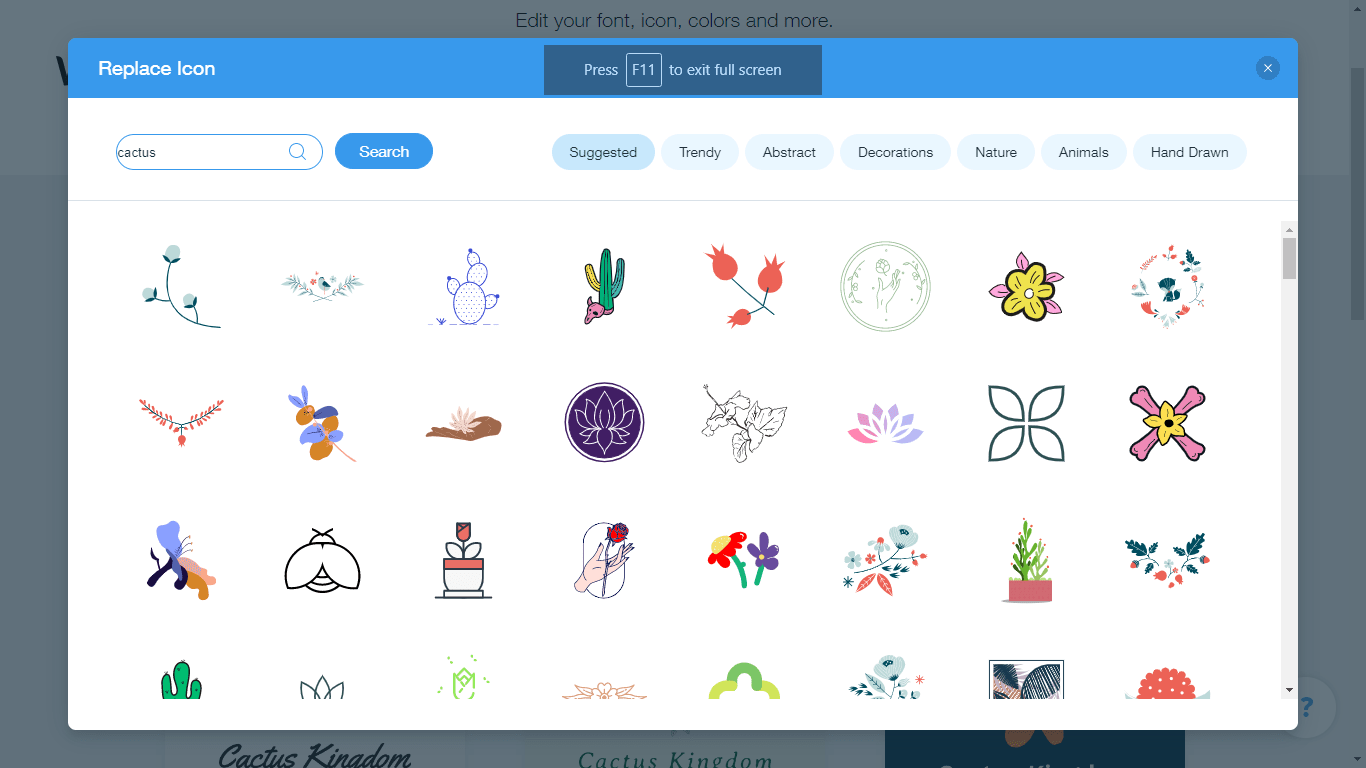 When you're ready to edit your favorite template, click
Customize
to go through to the logo editor. Here you have plenty of room to play around and personalize your logo. You can create your own color scheme and add multiple icons to your logo, but since you'll be keeping it simple, you might want to stick to just one icon and a simple color palette. You can still add a little spice to your design by choosing from the extensive list of more than 200 fonts.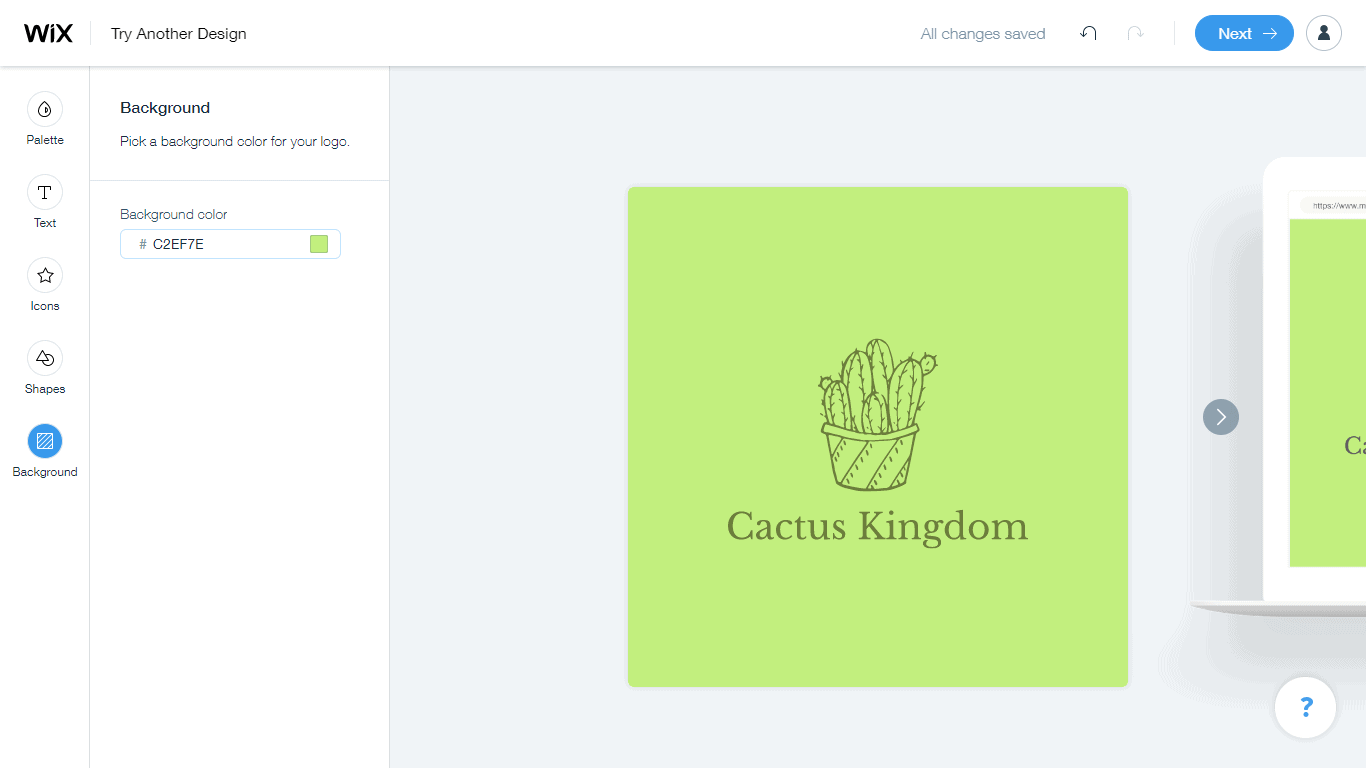 To pay for your logo and download the image, click
Next
and select your package. Once you've submitted your payment, your new logo design will be ready to download in high-resolution!
Wix Logo Maker Alternatives:
LogoMaker – If you're short on time, Logo Maker offers a swift and simple solution for creating logos. The designs may be relatively basic, but they align perfectly with a minimalist project brief!
DesignEvo – DesignEvo is great if you prefer searching a library of templates instead of working with an AI. This tool has more than 10,000 quality logo templates. Just type "minimalist" in the search bar to bring up all the relevant options.
Interested in Wix Logo Maker? Read our
in-depth Wix Logo Maker review
to find out more.
Final Thoughts
When it comes to hiring a pro logo designer, your options are pretty simple: you can choose to hire a creative agency for hundreds or thousands of dollars or you can use Fiverr and save.
There's no other logo design option as affordable as Fiverr, while still offering expert-level design work
. If you're set on designing your own logo,
I always recommend Wix Logo Maker as the ultimate DIY solution
. You won't be disappointed by the tool's intuitive AI and painless design process. You might be a total beginner, but your logo doesn't have to look like it was designed by one! If you're still on the fence, you can head over to my colleague's
full logo design service review
. He breaks down the performance of the top logo design services, including Wix Logo Maker and Fiverr.