Jump down to find out how to get an awesome designer for just $5.
Prefer to do your own thing? I'll share the best tool to use if you're planning to DIY. But first, check out my round-up of military logos for inspiration.
9 Best Military Logos
How to Hire a Great Designer for a Great Price
An amateur-looking logo will give the wrong impression of your company. That's why hiring a professional designer is a smart investment, as their trained eye could help you avoid costly mistakes and bring in more customers. If you're budget-conscious, you can hire an amazing designer from $5 on Fiverr, an online platform for freelancers from around the world. Fiverr boasts a huge
Graphics and Design
section with tens of thousands of designers offering their services (called gigs) for a range of budgets.
In our search for a new logo for Website Planet, we tested a bunch of popular services. I was surprised by quite a few of the designs! Read the full story and discover the winning design in our
full comparison of logo design services
.
Finding a Logo Designer on Fiverr
Fiverr's user-friendly website layout makes finding the right designer an easy mission.
Go to the Fiverr homepage
 and search for a relevant keyword (e.g., military logo).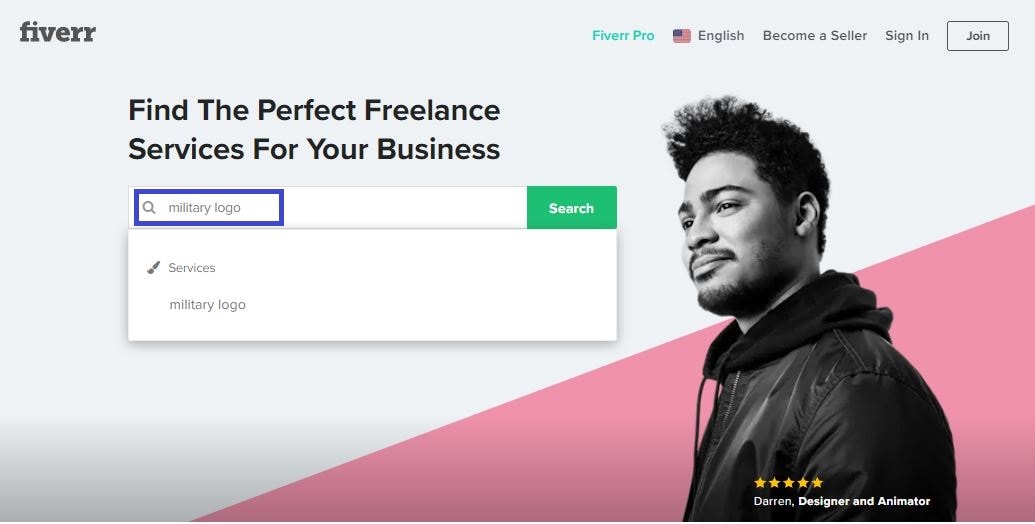 On the results page, click to expand the
Category
menu and select
Logo Design
.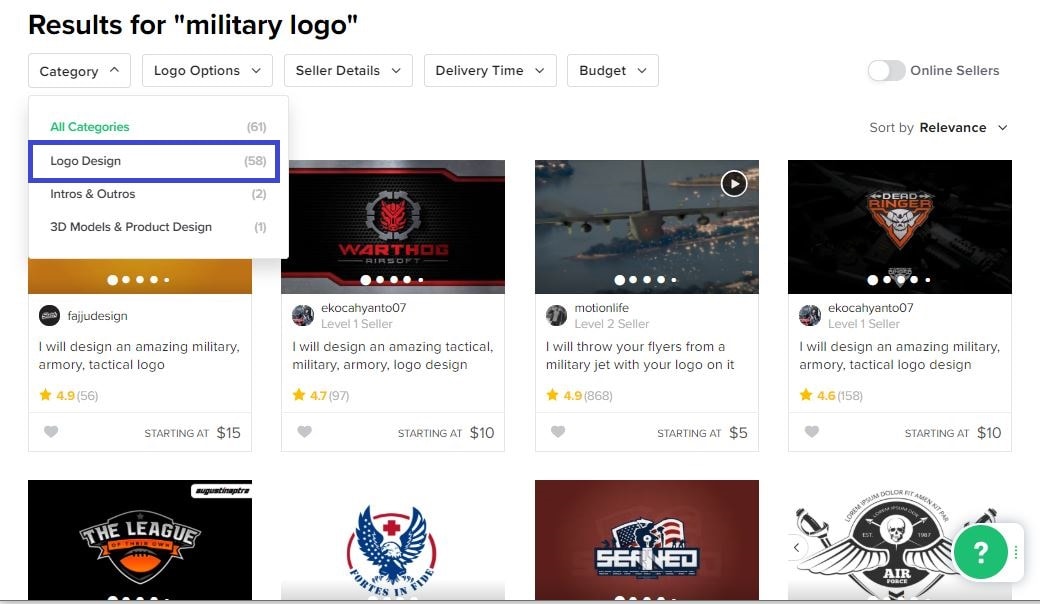 To make sure you're browsing the most relevant designers for your project, use Fiverr's advanced filters to narrow down your search results. These include logo type, preferred delivery time, seller details (location, language, experience level, etc.), and price range.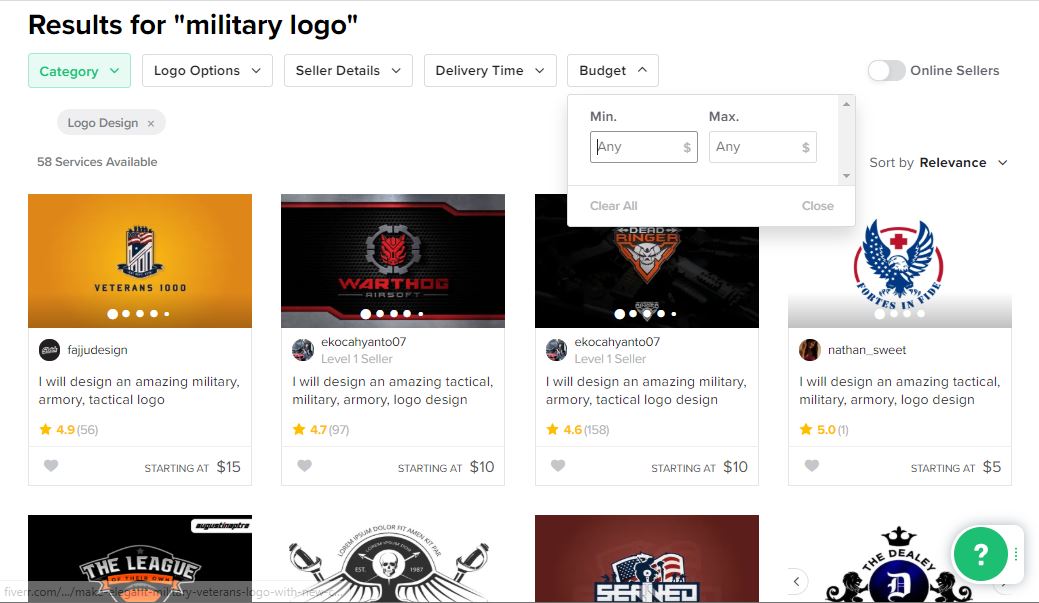 Access any designer's portfolio by clicking on the image. Now you can find out more about them, including seeing examples of their past work and checking their ratings from other users. If you have any questions, you can contact the designer before making a commitment.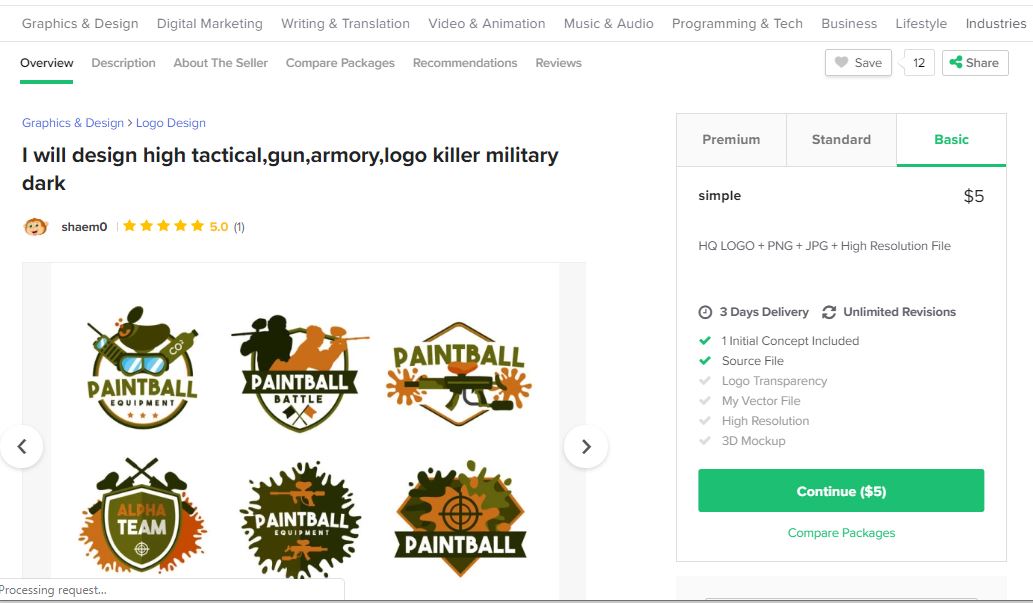 Interested in finding your future logo designer? Read more about the platform in our
full Fiverr review
.
Key Fiverr Features
Express delivery – The average delivery time for a logo is usually two to three days, but some designers can complete a logo in 24 hours for an added charge.
Safe payments – Any payment you make upfront when you book the gig is securely held by Fiverr until the logo is delivered and you approve it.
Diversity – Fiverr is home to tens of thousands of pro designers from all over the world, each with their unique style. The huge amount of choice means you're bound to find a freelancer with the right style and price for you.
Ask the designer – Fiverr's free mobile and desktop apps have a built-in messenger so you can chat with the designer before making any commitments.
How to Make Your Own Military Logo
If you want to test your design abilities by crafting your own military logo, turning to online logo makers is often the best option. While they'll need some creative input from you, logo makers are easy to use, quick, and can help you produce an attractive logo without the need for fancy design software. They're free to sign up and use, but bear in mind you'll have to pay to download your design in high-resolution. I prefer working with Wix Logo Maker thanks to its professional designs, customization options, and user-friendly, AI-powered editor.
Creating a Military Logo with Wix Logo Maker
Go to Wix Logo Maker's homepage
 and hit
Start Now
to create an account. You'll have to do this first before you can access the free tool.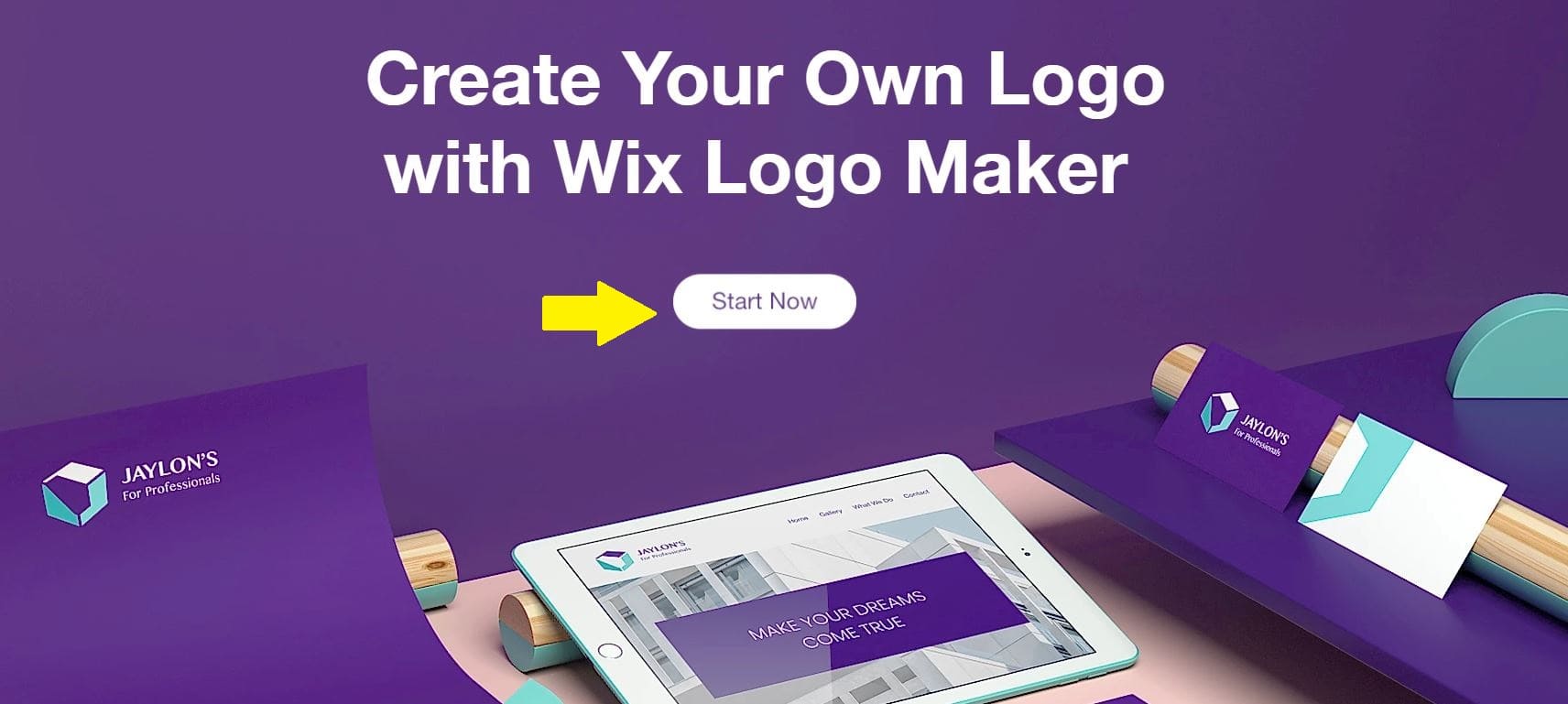 Start off by entering your company or brand name and tagline (if you have one). This ensures the logo templates generated at the end of the process will feature your details.
Now the fun begins. Wix Logo Maker's artificial intelligence (AI) wizard will ask you several questions to get a feel for your preferred logo styles. These range from simple 'which do you prefer' choices between two logos to asking about the look and feel of your imagined design. Based on your answers, the wizard generates a range of logo templates it thinks match your preferences. Improve these results by clicking on
Replace Icon
at the top of the page and typing in a relevant keyword (e.g., military, tank, rifle, etc.) in the search bar.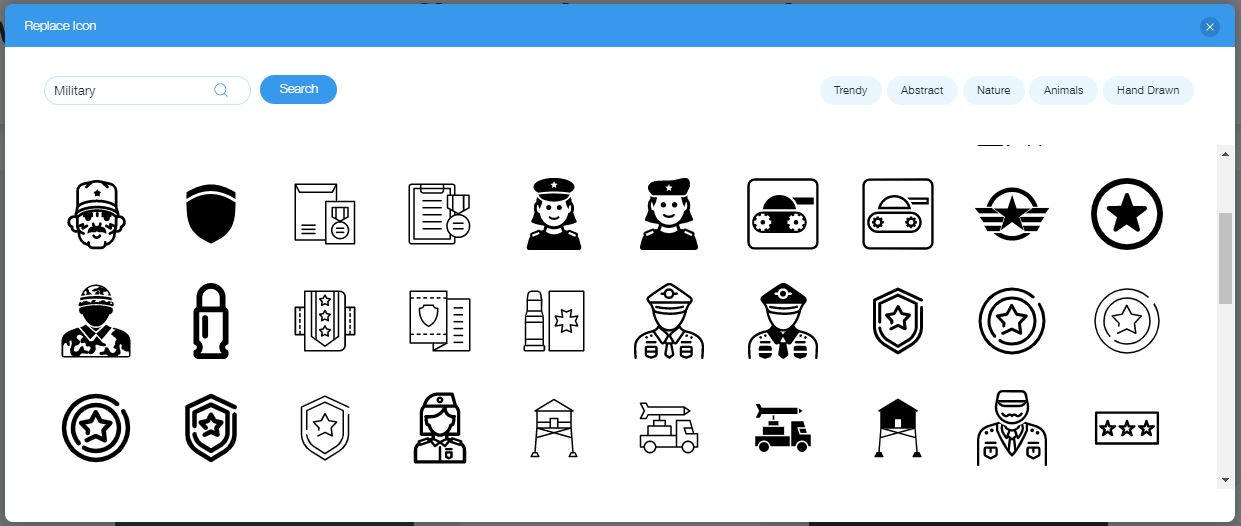 Choose your favorite icon to automatically replace all the icons in the templates with it. Have a good scroll through the results until you find a logo template you like. Let's proceed with customization now. Select your preferred design to access the logo editor. At this point, you can effortlessly modify every aspect of the logo, such as colors, fonts, icon size, borders, positioning, and more.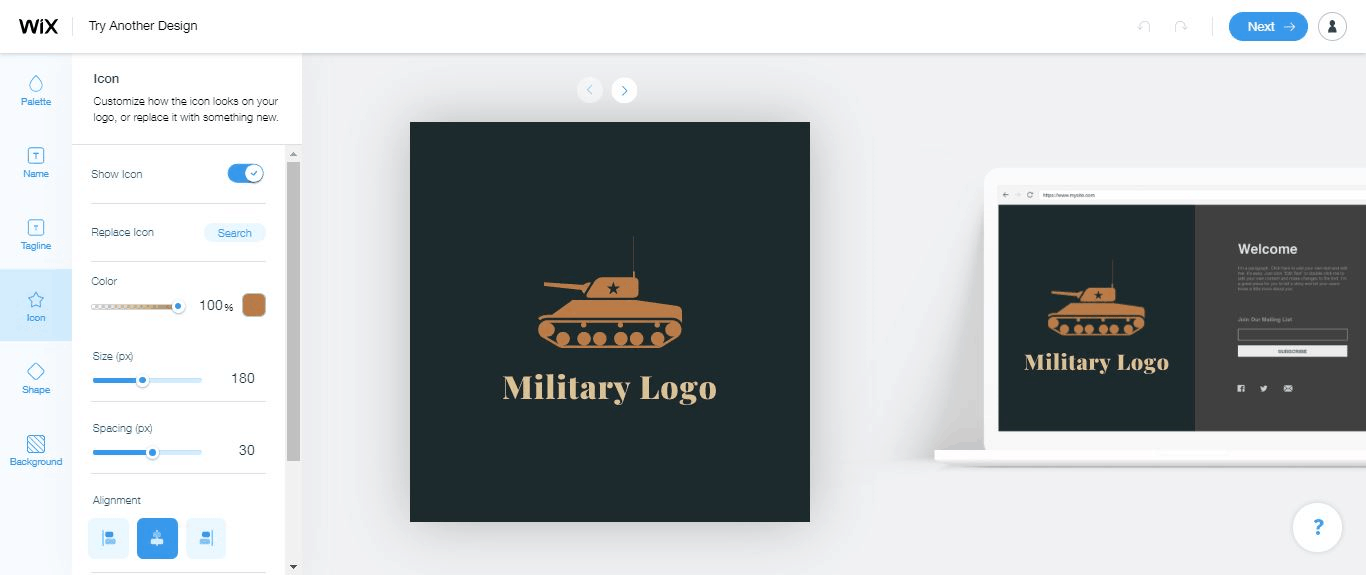 Happy with what you've created? Great, then you're done. Just click on
Next
at the top of the page where you can pay for a high-res printable version of your logo or download a free low-resolution sample. Find out more about the platform, including more logo examples, in our
in-depth Wix Logo Maker review
.
Wix Logo Maker Alternatives
Tailor Brand's partnership with Zazzle allows you to print your new logo on all kinds of merchandise without ever having to leave the website. Read more in our full Tailor Brands review.
DesignEvo has its own mobile and desktop apps. You're not bound to a browser so you can create your logo on the go. Learn why it's one of our favorite logo makers in our expert DesignEvo review.
Final Thoughts
For a professional logo that reflects your brand's aesthetic,
Fiverr
 is the most tactical choice. With thousands of designers at your fingertips, you're bound to find someone who can bring your dream military logo to life – all for an affordable price. If you decide to take the DIY route,
Wix Logo Maker
 is a great, stress-free option to pull together a design in just a few clicks. Before you start, come armed with inspiration. I always recommend a little research boot camp where you check out your competition and see what the big, popular brands are doing. Still not sure which is the best logo-making route for you? Check out our
full list of the best logo design services
.