When you imagine your makeup logo design, what do you see? Is your company name surrounded by glittering lipstick, eyeshadow, and makeup brushes? Or is it a simple, elegant design reflecting your brand's aesthetic? Whatever the style, your make-up logo is the face of your company and should be beautiful and original. The right expert can bring your ideas to life without costing you hundreds of dollars.
Jump down for my secret to hiring a professional logo designer for just $5.
9 Best Makeup Logos
Finding the right logo design service can be a lengthy process. To help make it less complicated, my colleague tested out various services to see which provided the best designs for the best value. His results were pretty surprising!
Check out his comprehensive logo design service comparison
to find out how the most popular design services held up.
How to Get Your Logo For $5
Five dollars for a logo may seem an impossibly low price, but with Fiverr, a bespoke logo can cost you just that. Fiverr is a platform for freelance sellers with packages from a starting price of $5. In such a competitive market, many designers offer their services at this price point or very close to it. Ready to get your new makeup logo designed for just $5? Here's how.
Go to the Fiverr homepage
 and type "makeup logo" into the search bar. Fiverr will then display all of the logo designers offering relevant packages. Scroll through these options to find a designer with a style that you like. Not what you're looking for? Try searching for alternative terms, such as lipstick logo, beauty logo, or cosmetic logo.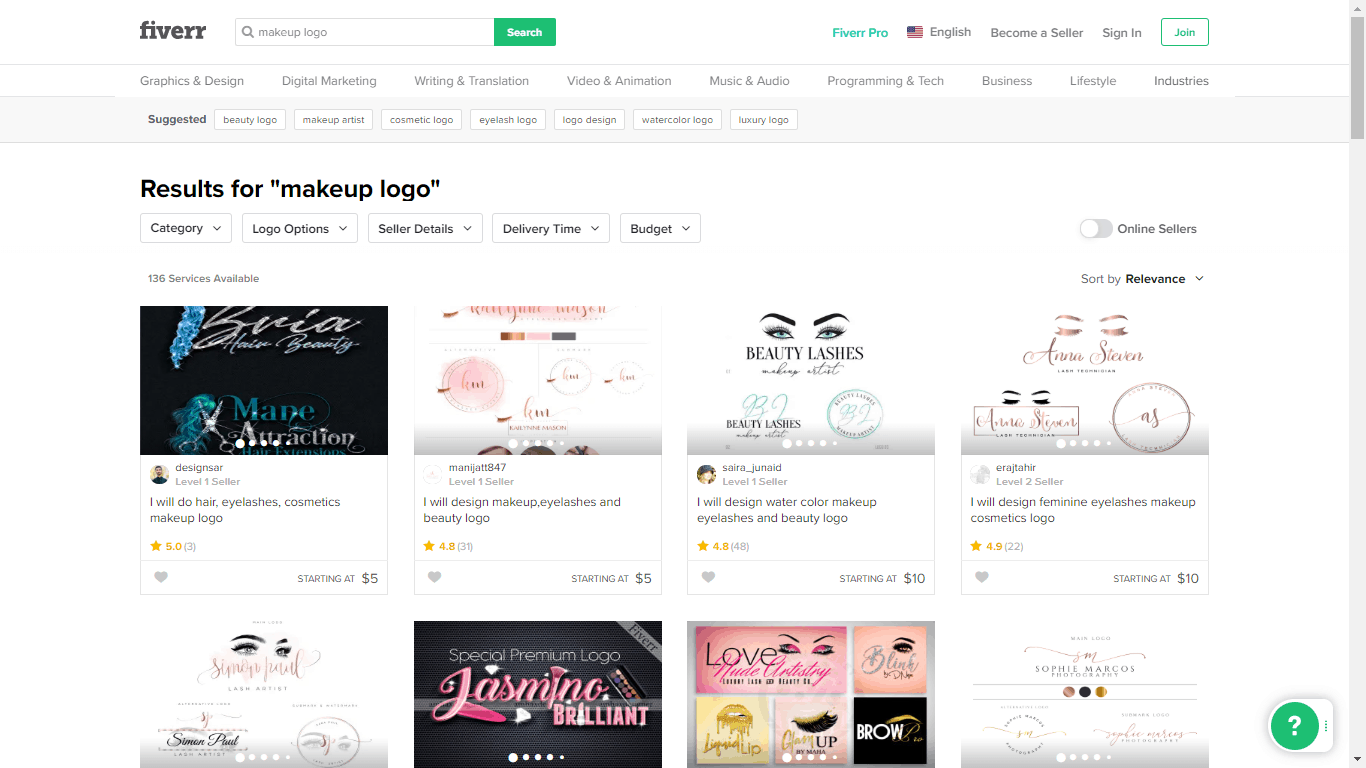 When you find a designer you like, click on their profile to view their "About This Gig" information, their portfolio of previous work, and package details.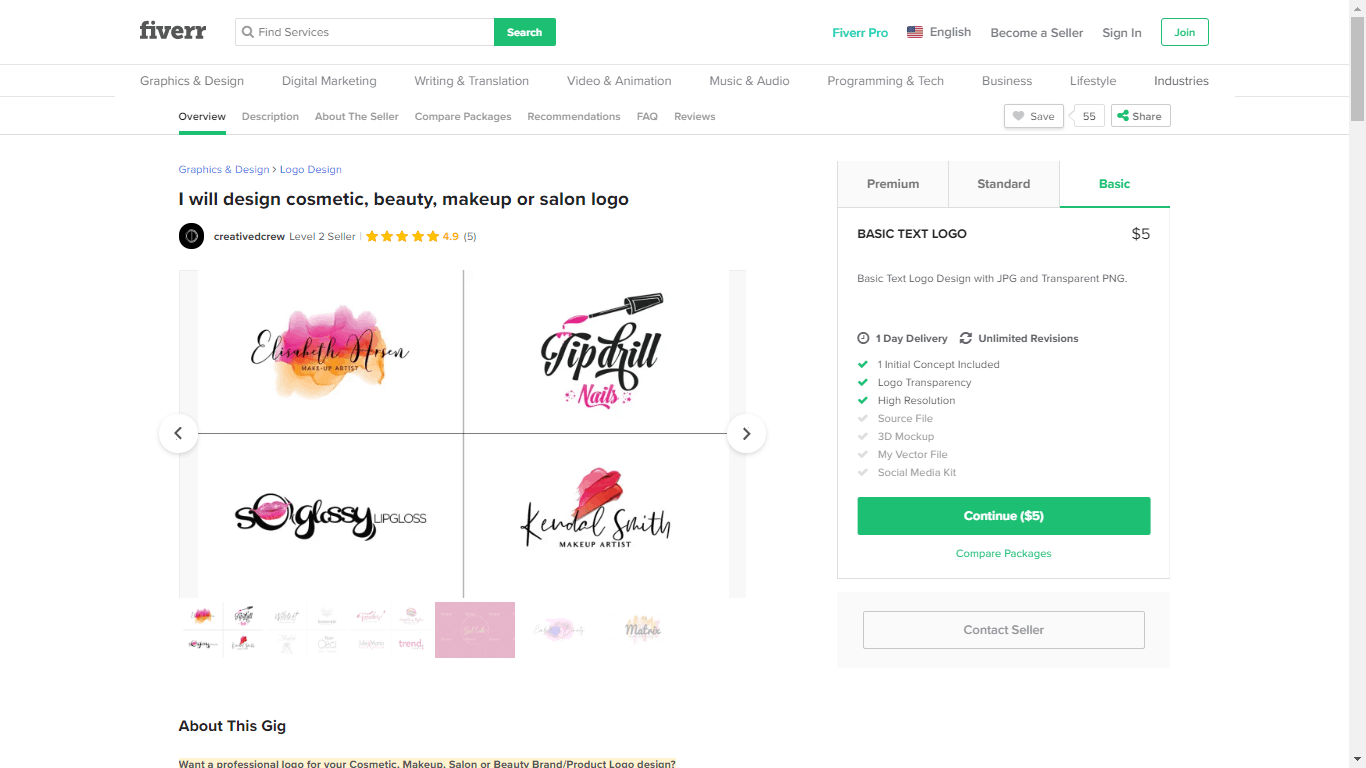 From there, you can contact a designer for more information or click
Continue
to head to the payment review page. Some designers offer add-ons such as multiple revisions, vector files, and 3D mockups. Feel free to add any extra services or click
Order Now
to pay for the package as is.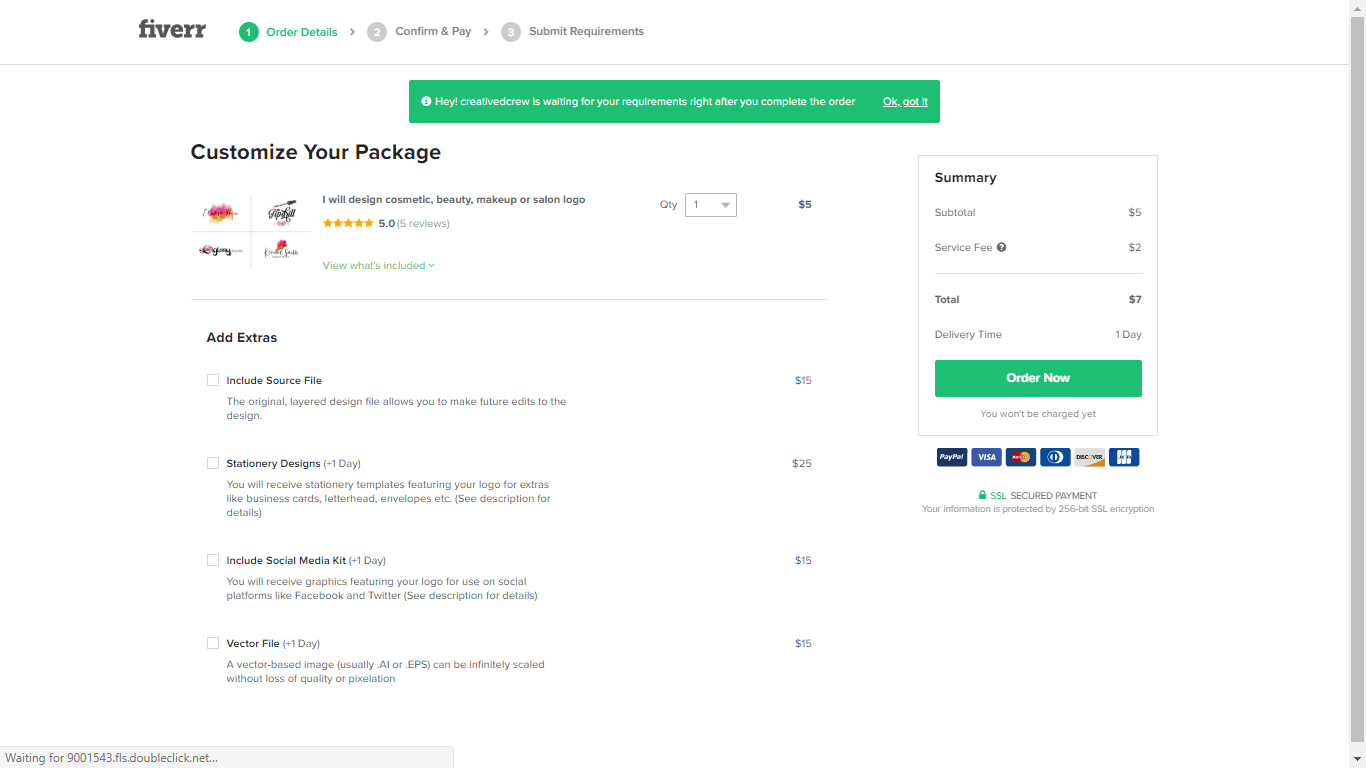 Once your payment is complete, you can share your ideas with your designer and your logo will be on its way. Some other notable Fiverr features:
Seller levels – Freelancers are categorized by different levels based on their work history, time on the platform, and positive customer feedback. Choosing a designer with a higher level may help you ensure the quality of work and service.
Payment protection – Every payment you make with Fiverr is totally safe. Your money is never released to the designer until you're satisfied with the work they provide.
No surprise fees – Sellers can never add on additional charges or fees. The price you pay at the start is the only price you'll ever pay.
Designer search options – There are several useful search filters available, including budget, delivery time, and logo style (such as "freestyle" or "minimalist").
Interested in finding a freelancer? Check out our
full Fiverr review
 for more tips on hiring designers.
How to Make Your Own Logo
Choosing the DIY route is possible if you have some creative ability yourself – but only if you're willing to put in the time and effort. The task of bringing your imagined logo to life can be tricky when you don't have the right tools. This is where free logo makers can help. Logo makers are often the best choice for DIY logos thanks to their ease of use, although they're not always the most cost-effective when you consider the price of downloading your finished logo. If you have your heart set on DIY, I'd recommend Wix Logo Maker because it combines all the best features in one place. Start off by
going to the Wix Logo Maker homepage
 and creating a profile – this also means you can save your logo to your profile later on. Enter your company name and tagline to proceed.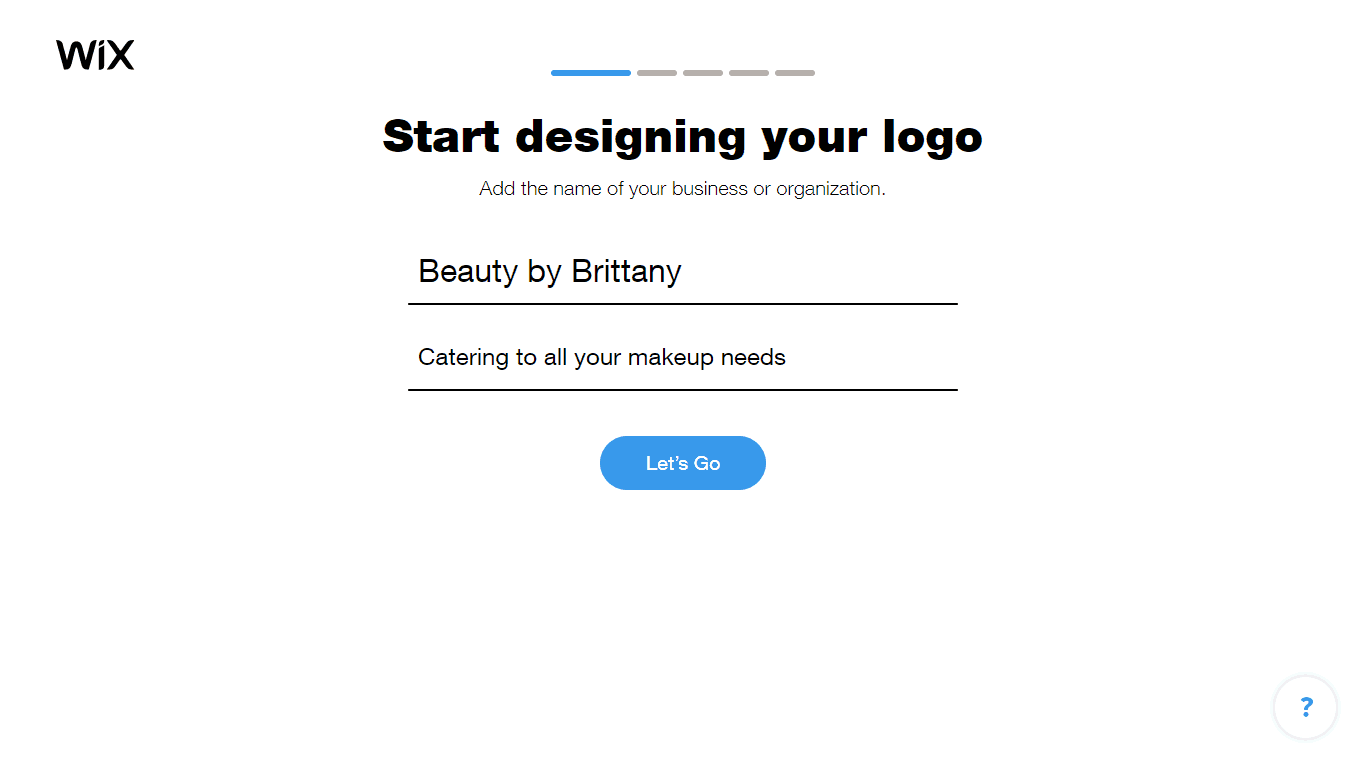 Wix Logo Maker's artificial intelligence (AI) will then ask you a series of questions. First, search for your industry – I used "Makeup Artist" in my example.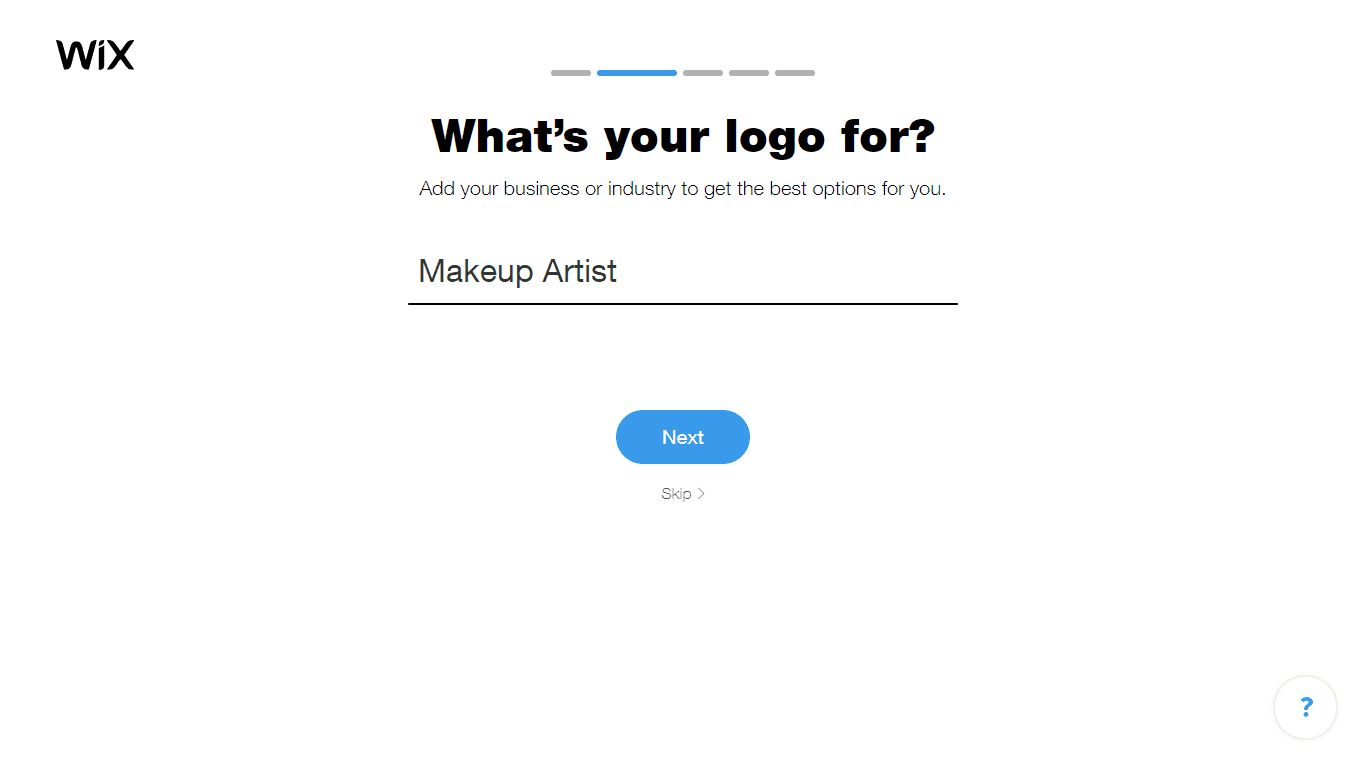 Next, choose a few adjectives that you feel best emobodies the look of your intended logo.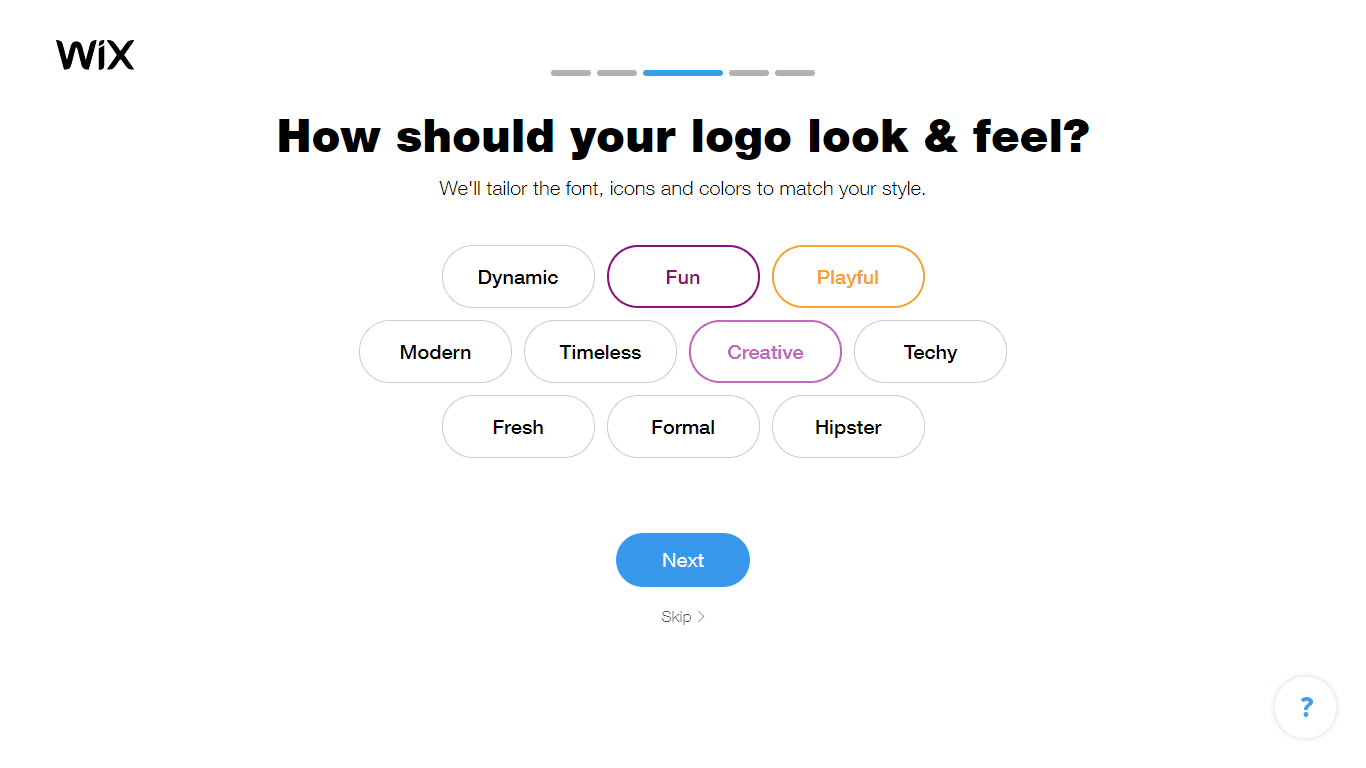 The AI will show you a variety of logo pairs to get a feel for your style preferences. Choose the logo in each pair that you prefer, so it can learn what you do and don't like.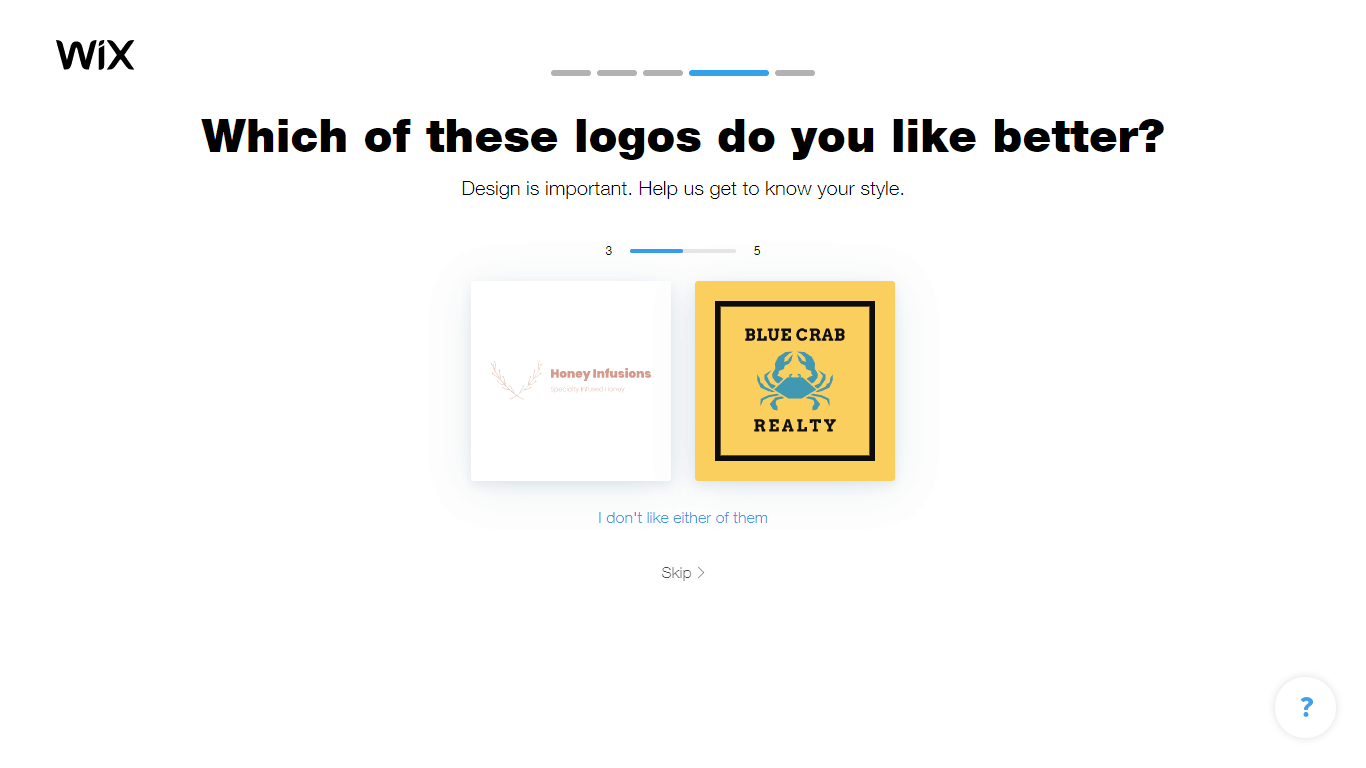 Before your logo suggestions appear, you'll need to tell the AI where you'll be using your logo, such as on social media, a website, or business cards.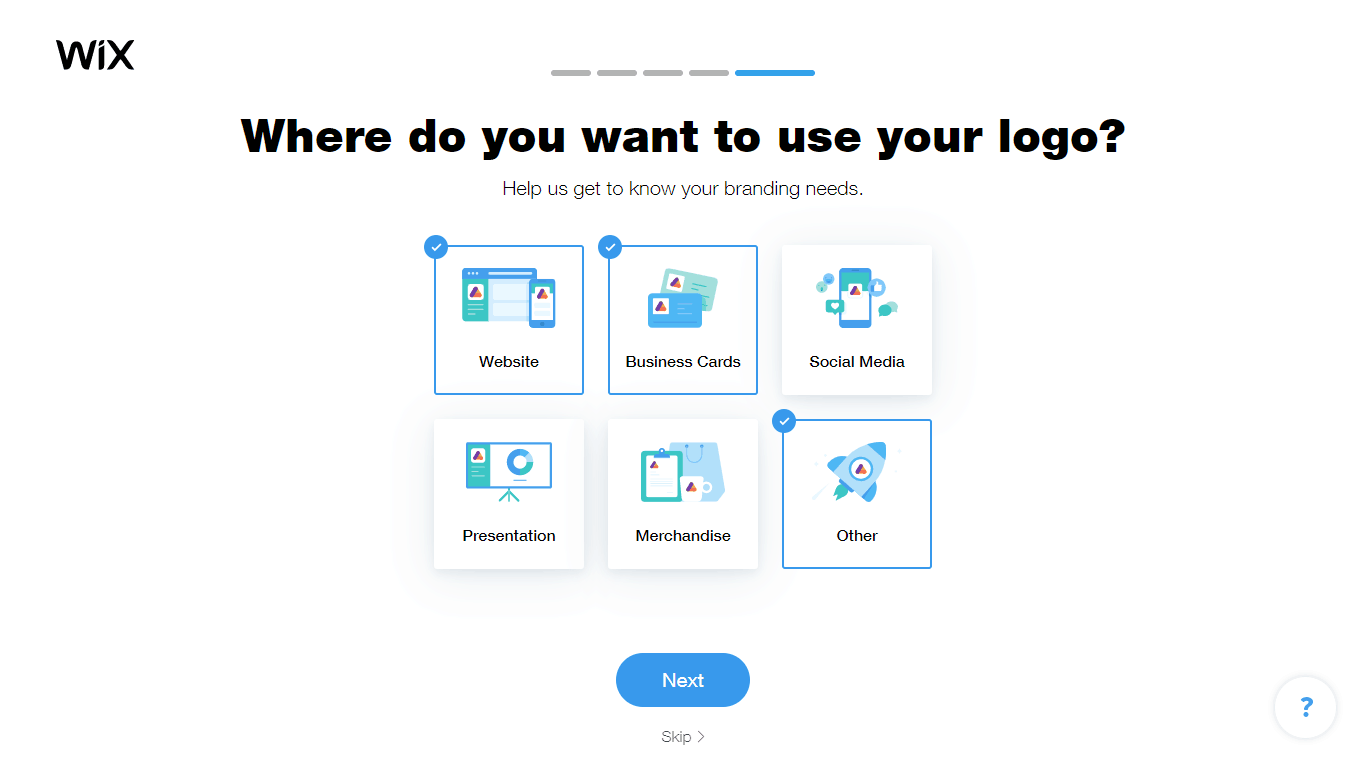 Your logo suggestions will pop up next. Browse through the generated logos and click
Load More
if you hit the end of the page.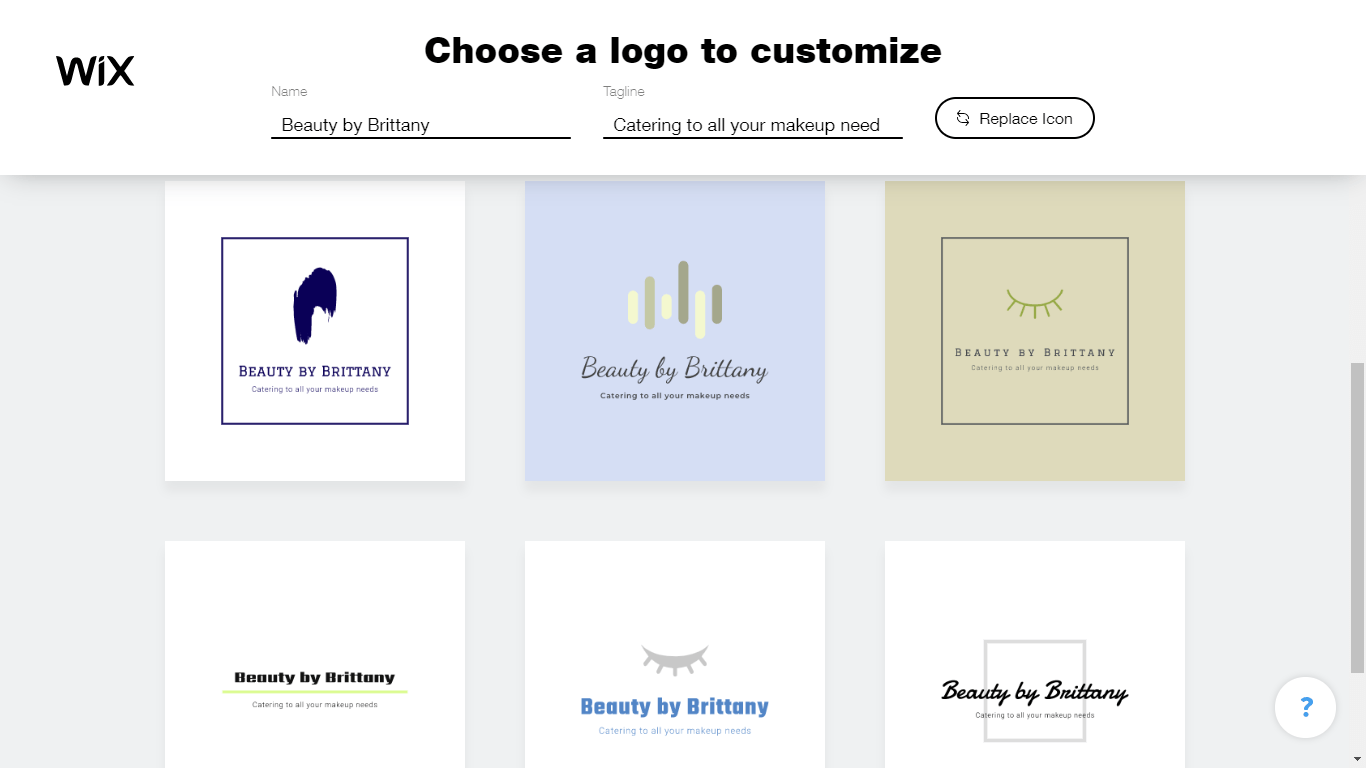 Want to replace the icons? Click
Replace Icon
, type in your search query and select a new icon. I found an icon I liked by searching for "makeup", but you could try beauty, lipstick, or other related terms depending on your specialism.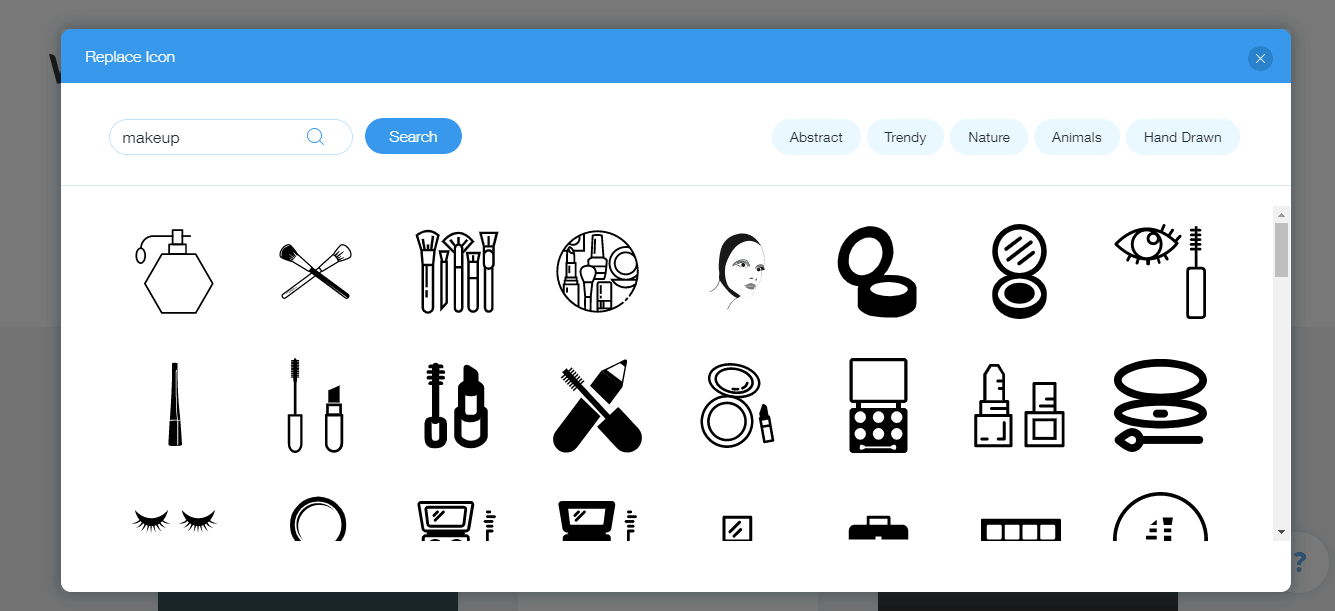 Choose the logo template that captures your attention and proceed to the logo editor. I was so pleased with the logo I selected that I opted for no alterations, yet there exists a multitude of customization choices. If the goal is to enhance the originality of your logo, feel free to adjust the fonts, colors, icons, and shapes during this phase. Once you're finished, click
Next
to head to the payment page.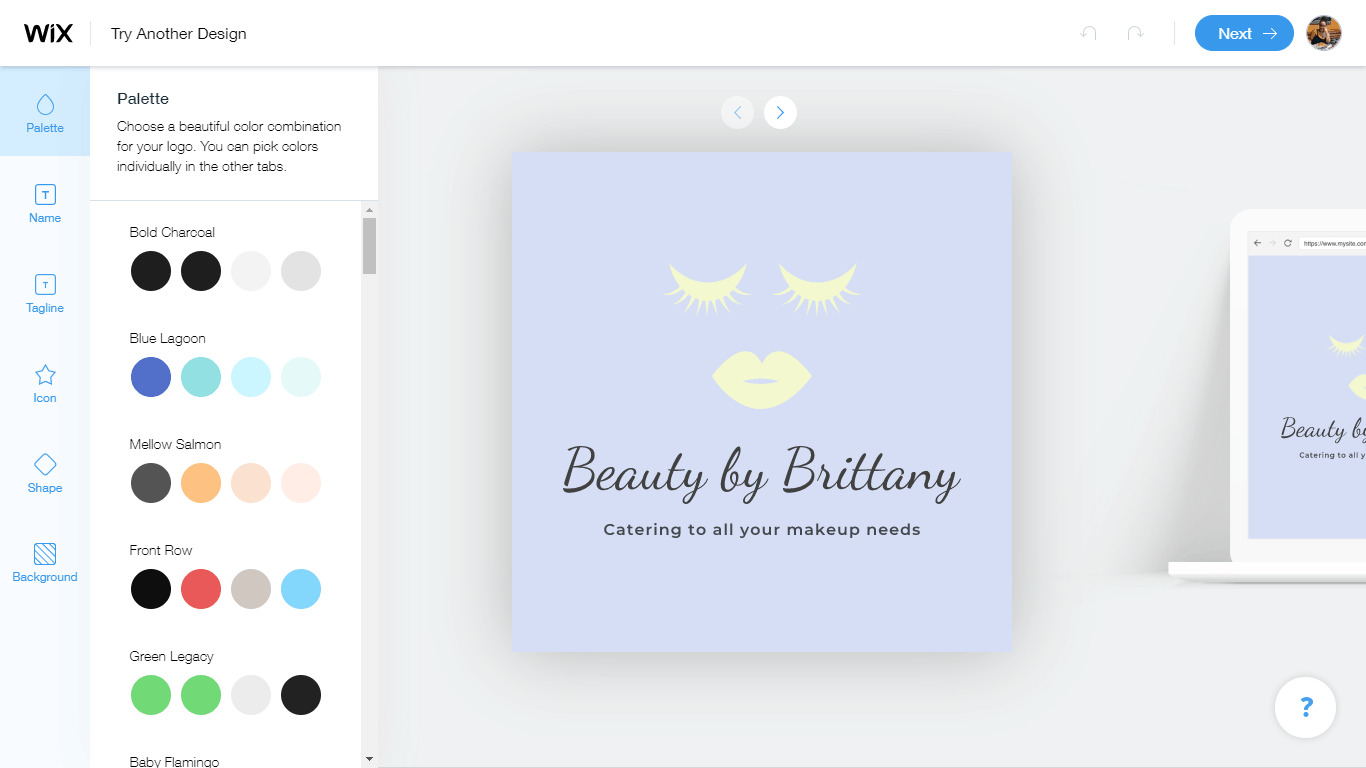 Choose your package and complete the payment to download your new makeup logo in high-resolution, ready to start using. Find out more about the platform, including more logo examples, in our
in-depth Wix Logo Maker review
. Two other noteworthy logo makers you might like:
Conclusion
My suggestion? Don't ignore the obvious value that comes from hiring a logo designer. A professional design is guaranteed to be high-quality and if you choose a
Fiverr
 freelancer, it'll be affordable, too. If you're creating your own,
Wix Logo Maker
 is the easiest and most efficient DIY logo maker out there. It's my top recommendation if you're a budding designer who wants to take your logo design into your own hands. Still looking for the right logo design service?
Head over to my colleague's expert logo design service comparison
to find out how other logo design services measure up.