Mailchimp
has a landing page creator, and you want to know if it's worth your time. More specifically, you want to know if its templates are any good. I wanted to know about those templates, too, so I went through all of them to find the best, and the worst. And well, as a writer, that's the hard bit for me: In these articles, I usually list the best templates (or at least my personal favorites) and compare them with ones I consider to be sub-par.
However, I can't actually say that any of the Mailchimp landing page examples are "terrible." They're all at least pretty decent, and mostly they're great.
As problems go, I've had worse. I'll just gush over my favorites, and go over the rest in lighter detail. There are only eight in total, anyway.
The Great Mailchimp Landing Page Templates
Note: I'll refrain from saying things like "This template is clean and modern" because they're all clean and modern
. Also, the designs aren't exactly set in stone, because you can add things like background image overlays, and make changes to the overall aesthetic by choosing rounded corners, or changing up the button styles. Okay, let's do this…
Bandmates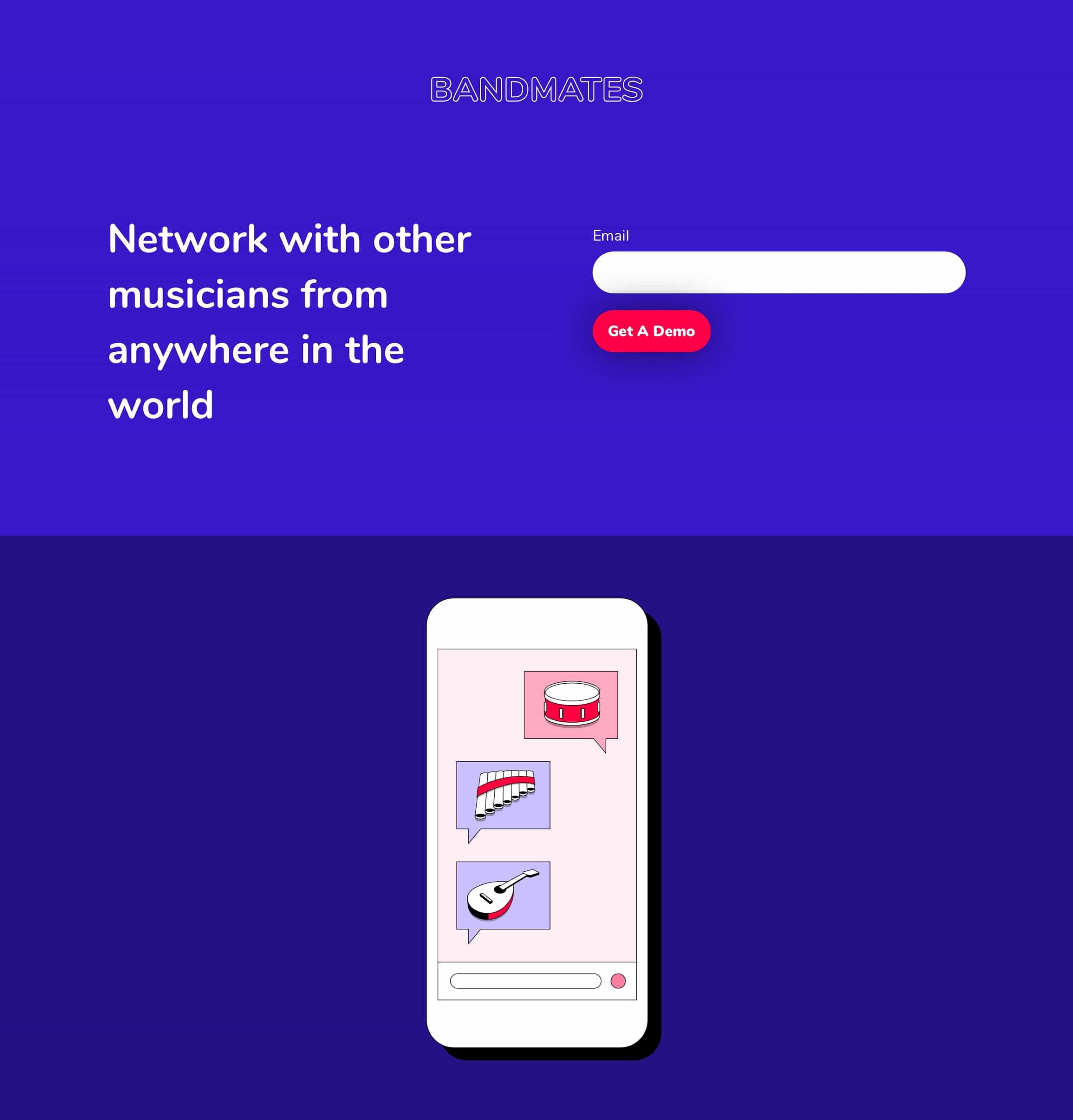 I like Bandmates mostly because it stands out from the rest with its colors, aesthetic, and the fact that it's clearly designed to be used with illustrations. Now let's be clear: All of these more "fleshed out" landing page designs aren't restricted to their example content. Bandmates isn't a music-focused template so much as it is a design meant to promote your app. But of course, if your app isn't about music, you may need to get your own illustrations.
Modern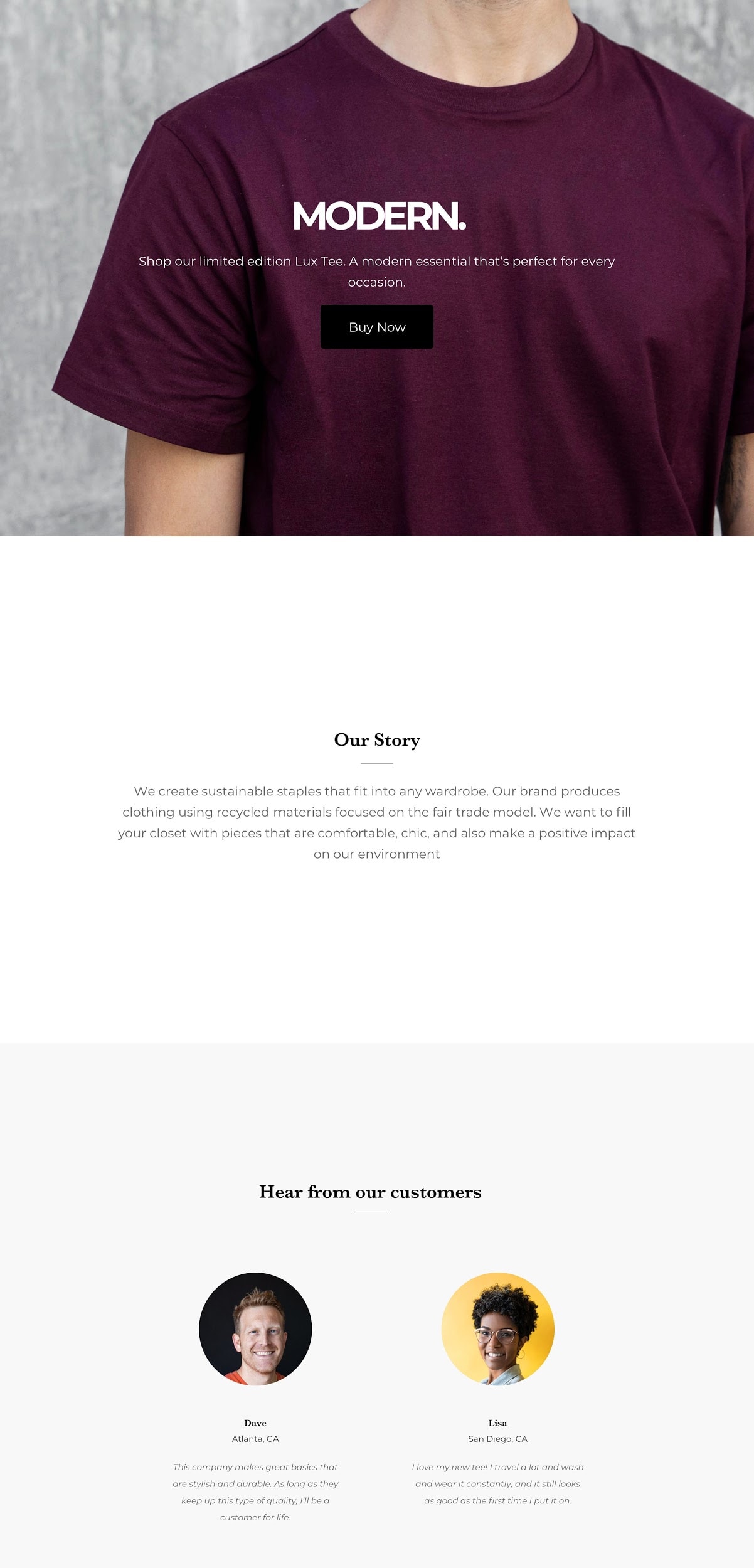 Modern is one of the best because it's simple and easy enough to customize for other purposes
. While a couple of the other designs can feel a little limited due to their rather specific sample content (even when they're really not), Modern is clearly more flexible.
Maria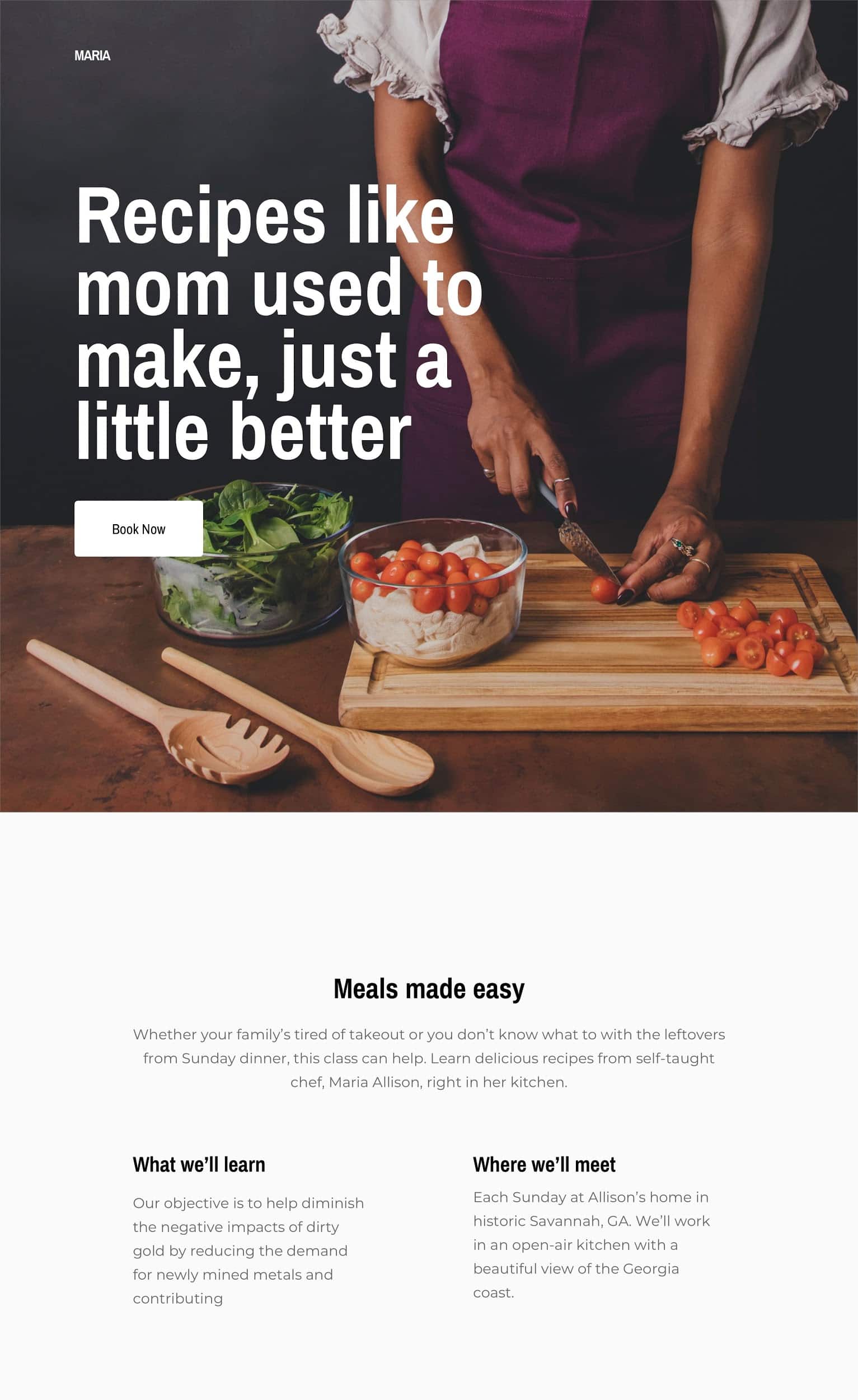 Maria is clearly
designed for bookings
, and in this example, bookings for a caterer. Of course, you could use it for anything else by switching out a few photos. Again, I love the flexibility and simplicity of it all.
Gardenhause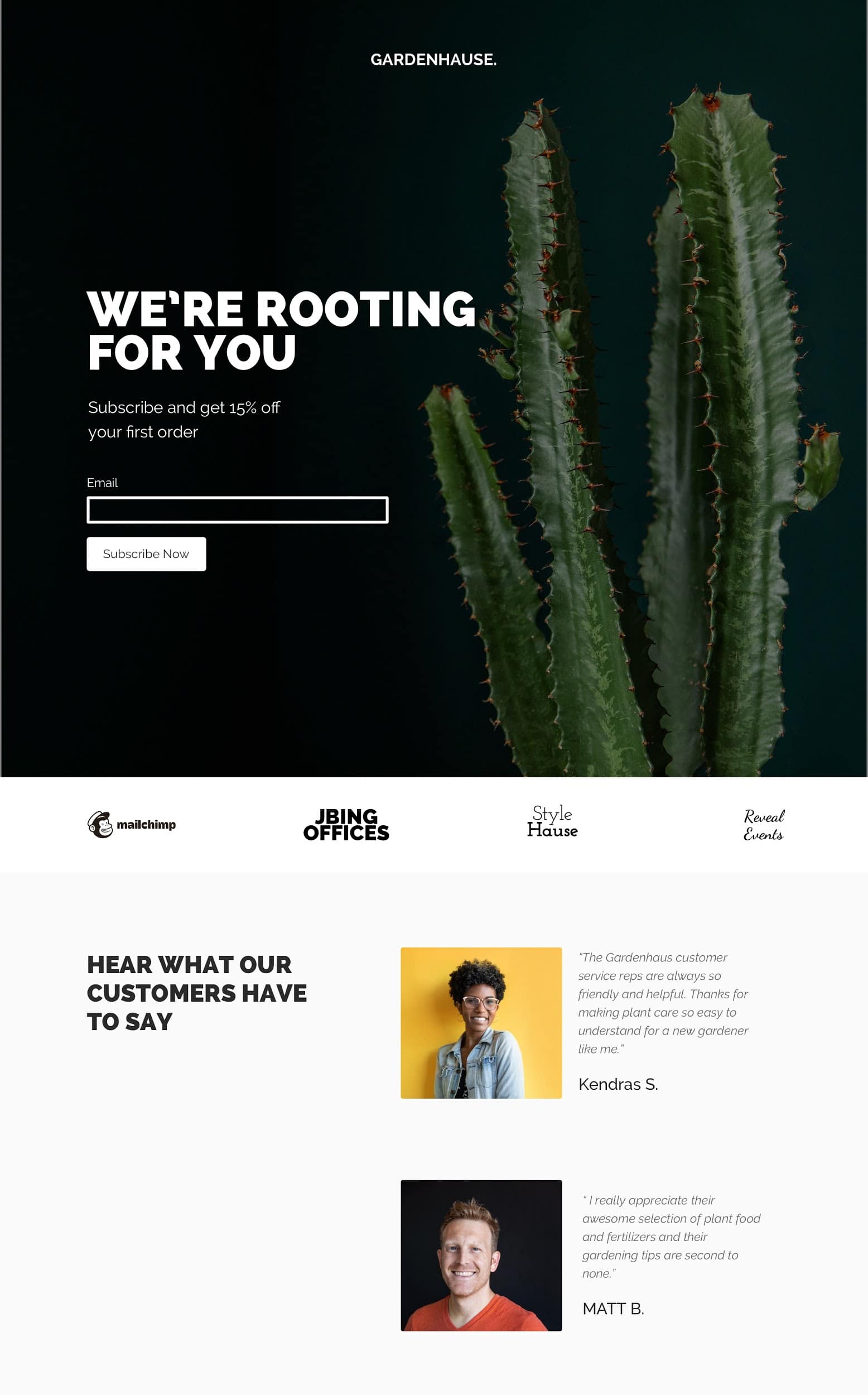 Need to sell some plants or otherwise very green things? Gardenhause is your template. It's designed as a newsletter trap, but of course, you can add any functionality you like from the page builder. It does come with built-in functionality for giving discounts to people who sign up, so that's cool.
Wild Country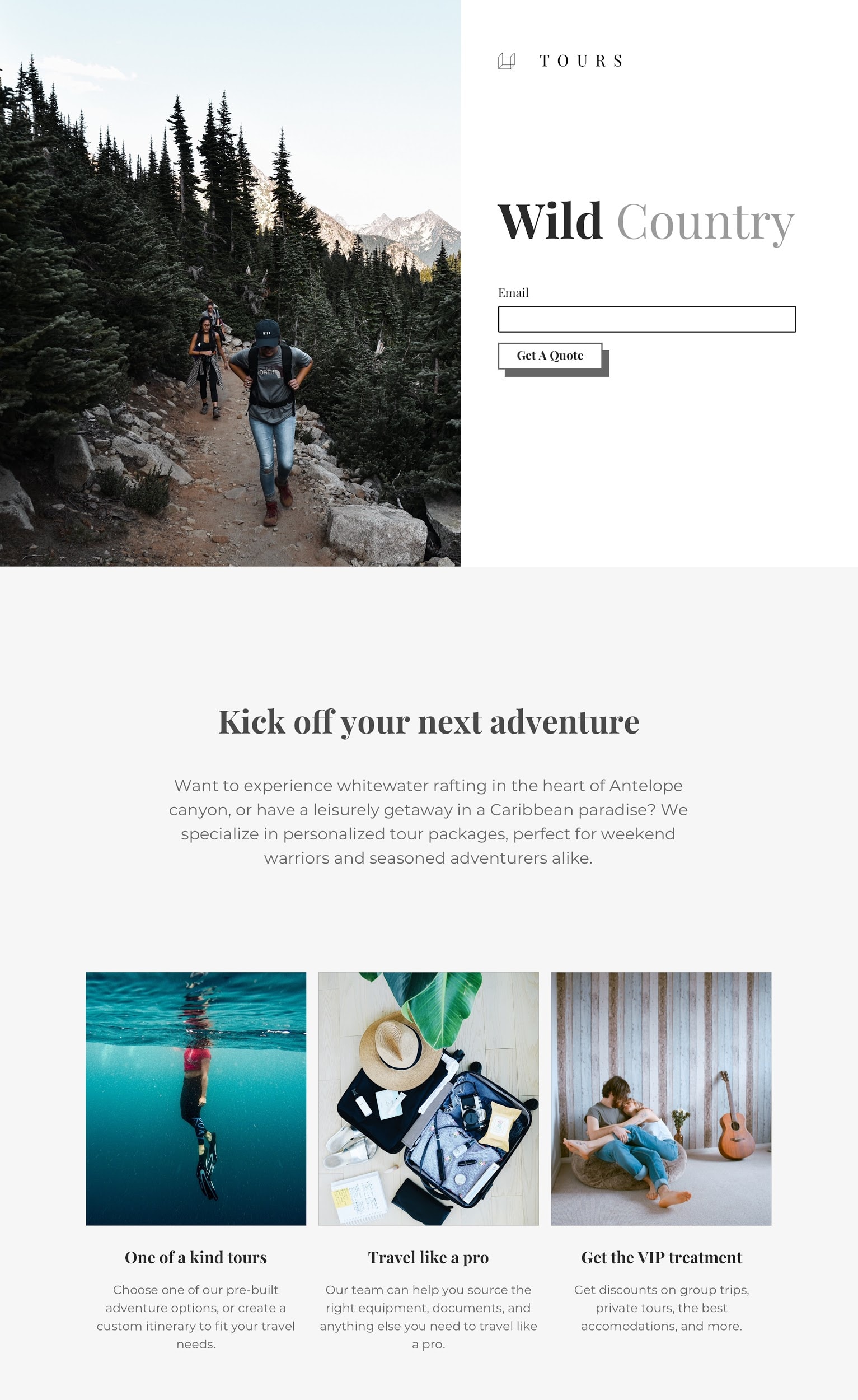 Wild Country… it's good. It doesn't stand out that much from the rest, but it's still good. It's designed to allow people to quickly request information about events of the outdoor variety, and it succeeds at that.
Bare-Bones Mailchimp Landing Page Templates
These templates don't actually have names, so I've had to give them names of my own
. Also, they are, as the heading says, bare-bones. They're meant to be customized and edited until you're happy with them. You'll have to choose all the photos and all the colors. So, if you want to get into the details, these are the templates for you. I've named them
Brian
,
Steve
, and
Sir Fluffington III
.
Brian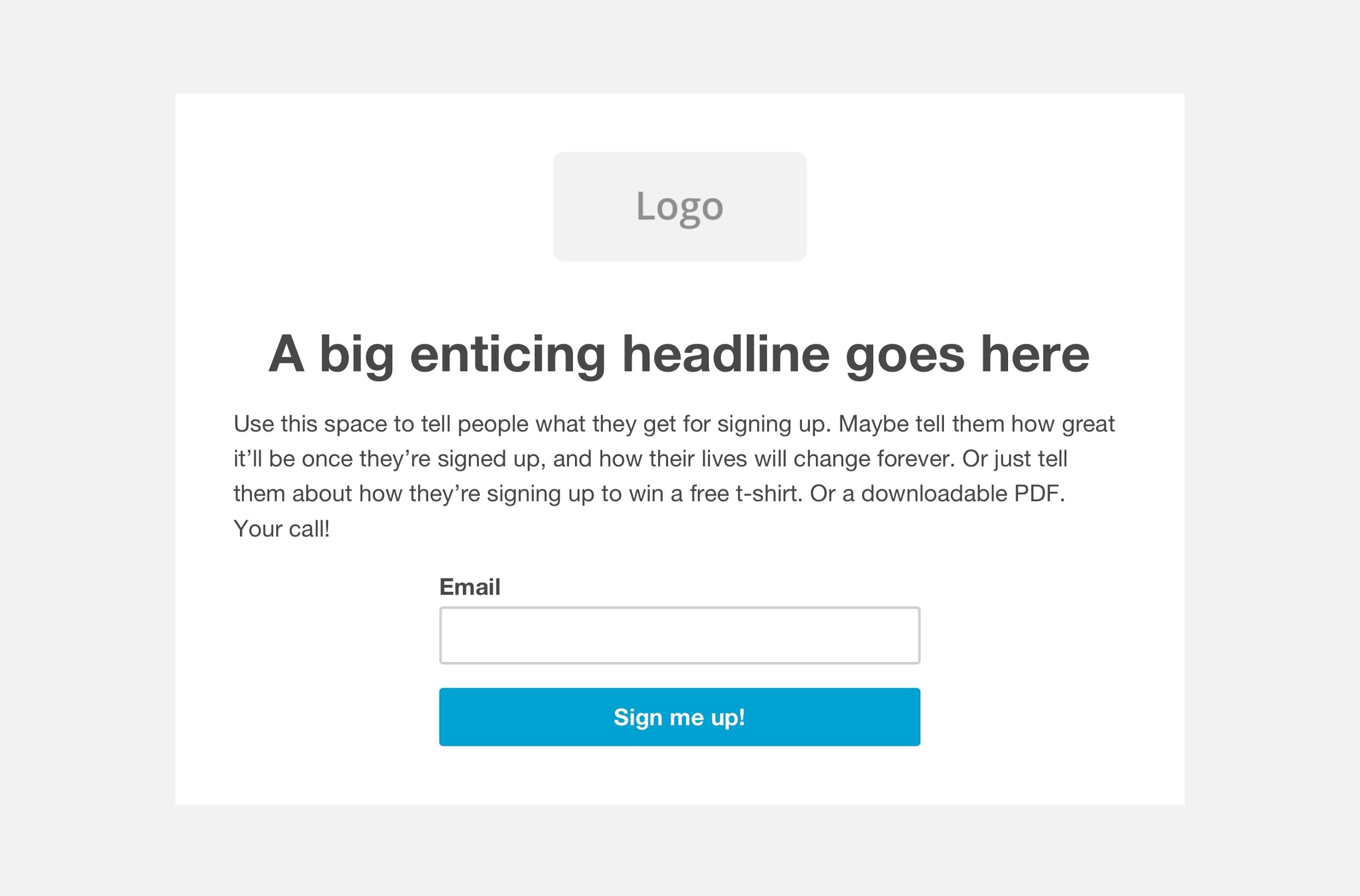 Brian is the simplest template in Mailchimp's library. Sure, you could add to it, but it's not supposed to be one of the long ones. This is the sort of template for when you want to say, "We have something awesome coming! Sign up and we'll tell you when it gets here." Unfortunately, it's really not as mobile-friendly as it could be. This one truly needs a responsive update… but I still wouldn't call it "bad."
Steve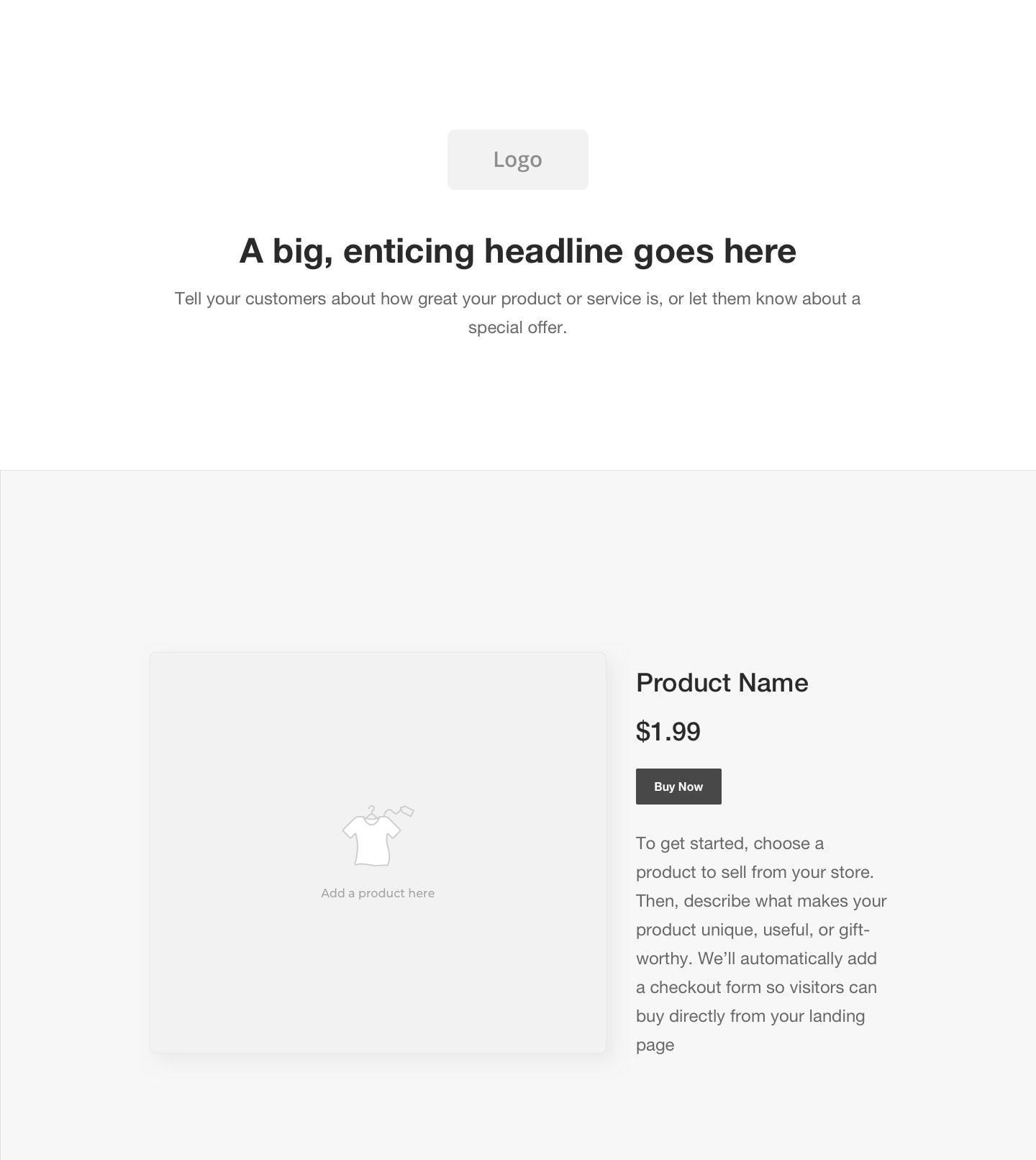 Steve is a basic, general-purpose landing page template.
You could build almost anything based on Steve
. Well, almost anything within the capabilities of Mailchimp's software.
Sir Fluffington III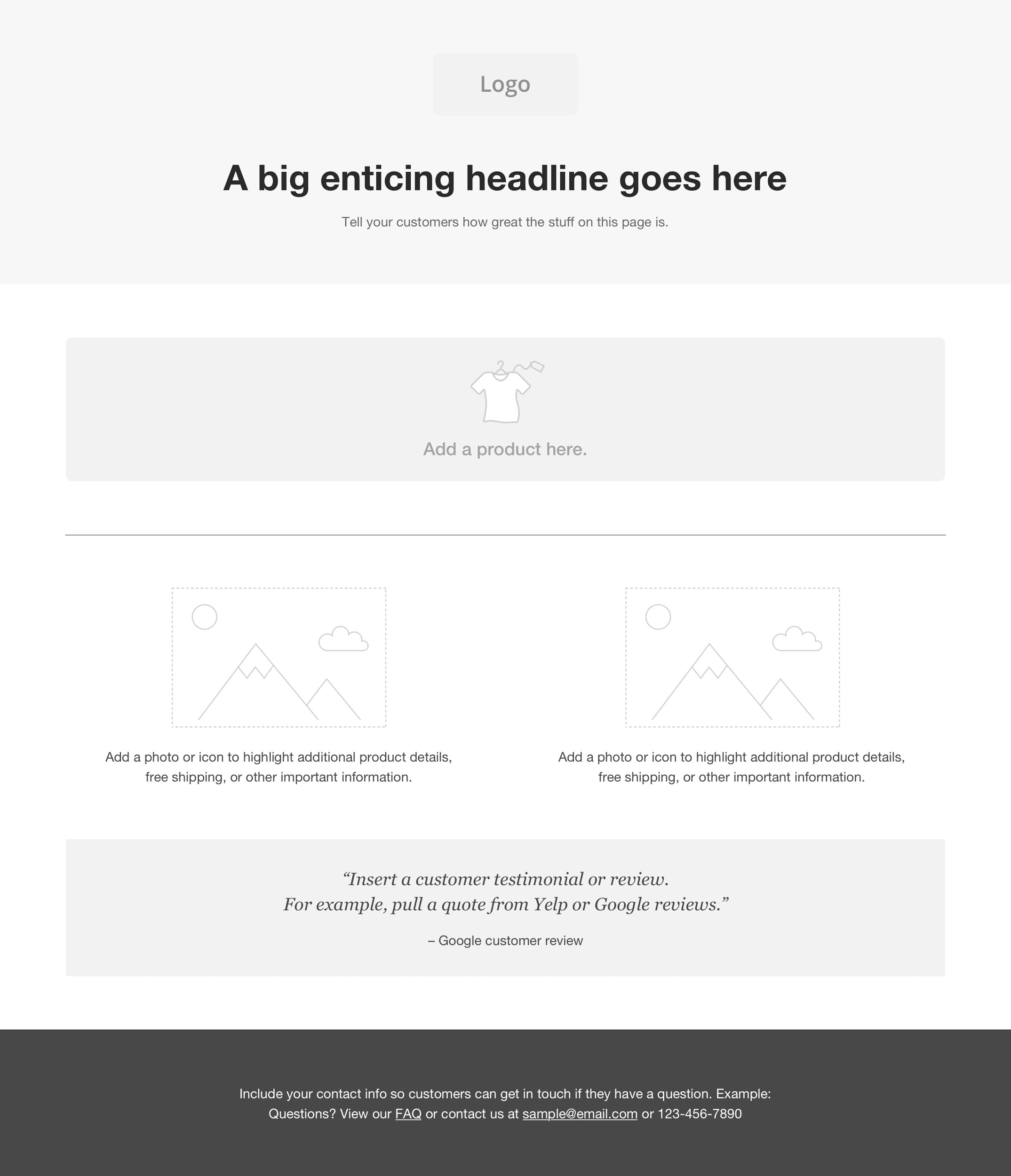 Sir Fluffington III is the template to start with when what you have is a bunch of pictures of your products, and you want to show them off all in one place. It's the perfect landing page template for when you're having a sale, I think.
So, How Good Is a Mailchimp Landing Page?
Mailchimp's landing pages are a good option if you like the "clean and modern" style
, and if you don't need too much variety in terms of layout. If you're already using Mailchimp's other services, that's even better, because everything's integrated already. You do have other options, though. For example,
ThemeForest
and
TemplateMonster
have thousands of landing page templates between them, with a lot more variety. If you're comfortable with a bit of HTML and maybe CSS, either marketplace could be a better option. Also, keep in mind that a lot of people use Mailchimp's default templates, so your landing pages will look very similar to many others — if not identical. Third-party templates also tend to be quite fancy, if that's your thing, with more options for image galleries, image sliders, navigation menus, advanced animation, and more. But as long as that doesn't bother you, Mailchimp's templates are good, dependable, and will definitely convert. And if you want to know how to create a landing page in Mailchimp, its website has some pretty straightforward guides for that.
You should also check out our guide to planning and designing landing pages for a few ideas to make yours the best
. If you want to learn more about Mailchimp,
don't miss our in-depth review
.