Keep reading to find out how you can hire a professional designer for only $5.
---
9 Best Luxury Logos
My colleague wanted to test out the most popular design services. He ran an experiment to compare them and compiled his findings in a full-length report. Check out his
comprehensive logo design service review
 – the results were eye-opening!
How to Get a $5 Logo
Your logo can look luxurious and expensive without carrying a hefty price tag. How, you may ask, when most graphic designers charge hundreds and thousands for a logo design? It's a good question, and the answer is hiring a freelance designer through Fiverr. Fiverr lets designers offer packages starting from only $5. The site hosts thousands of designers from all over the world, specializing in every design style under the sun. With so many options, you're sure to find a designer who can create your ideal luxury logo. To get started,
head to the Fiverr homepage
 and type "luxury logo" into the search bar. This will pull up all of the designers offering relevant packages. Scroll through the results until you find a profile that catches your eye and click on it to access the full view. You can open these in new tabs if you'd like to compare multiple designers.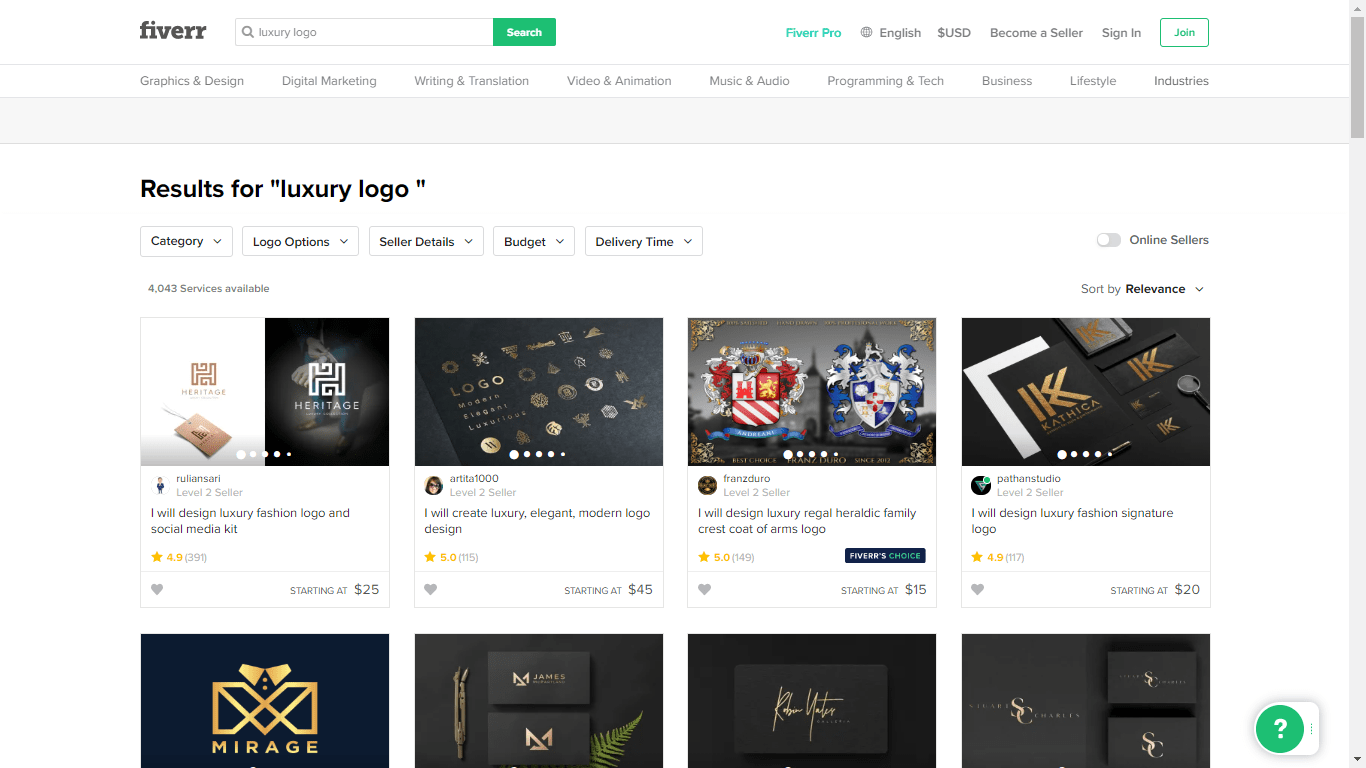 Designer profiles house an "About This Gig" description, their portfolio of work, customer reviews, package offerings, and prices. Take a good look at all the information provided and click
Contact Seller
if you have any unanswered questions. If you think you've found
the one
, click
Continue
.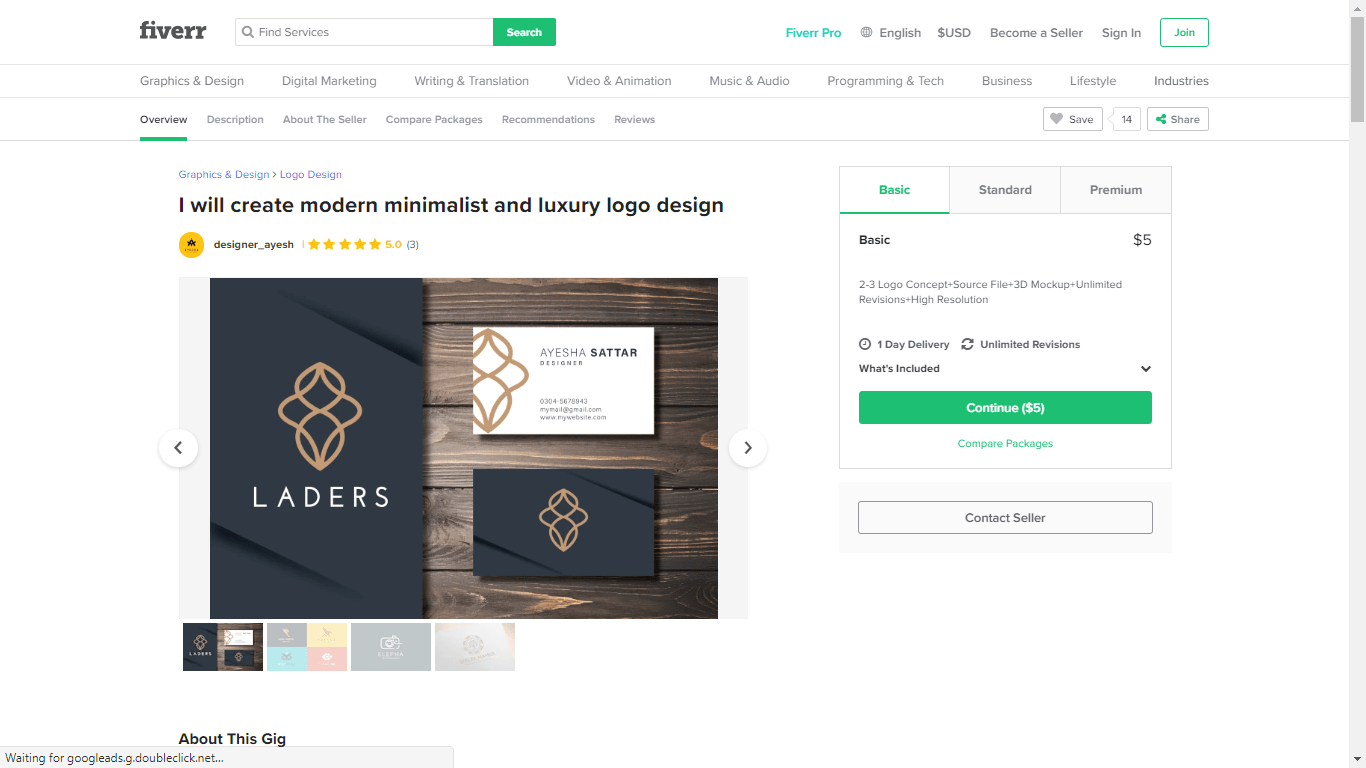 The payment preview page displays the final details of your chosen package. This includes the full list of services and the total price. If you're happy with what you see, click
Order Now
and enter your payment details. After your payment is made, you'll have access to an order questionnaire where you can give your designer information about your desired logo.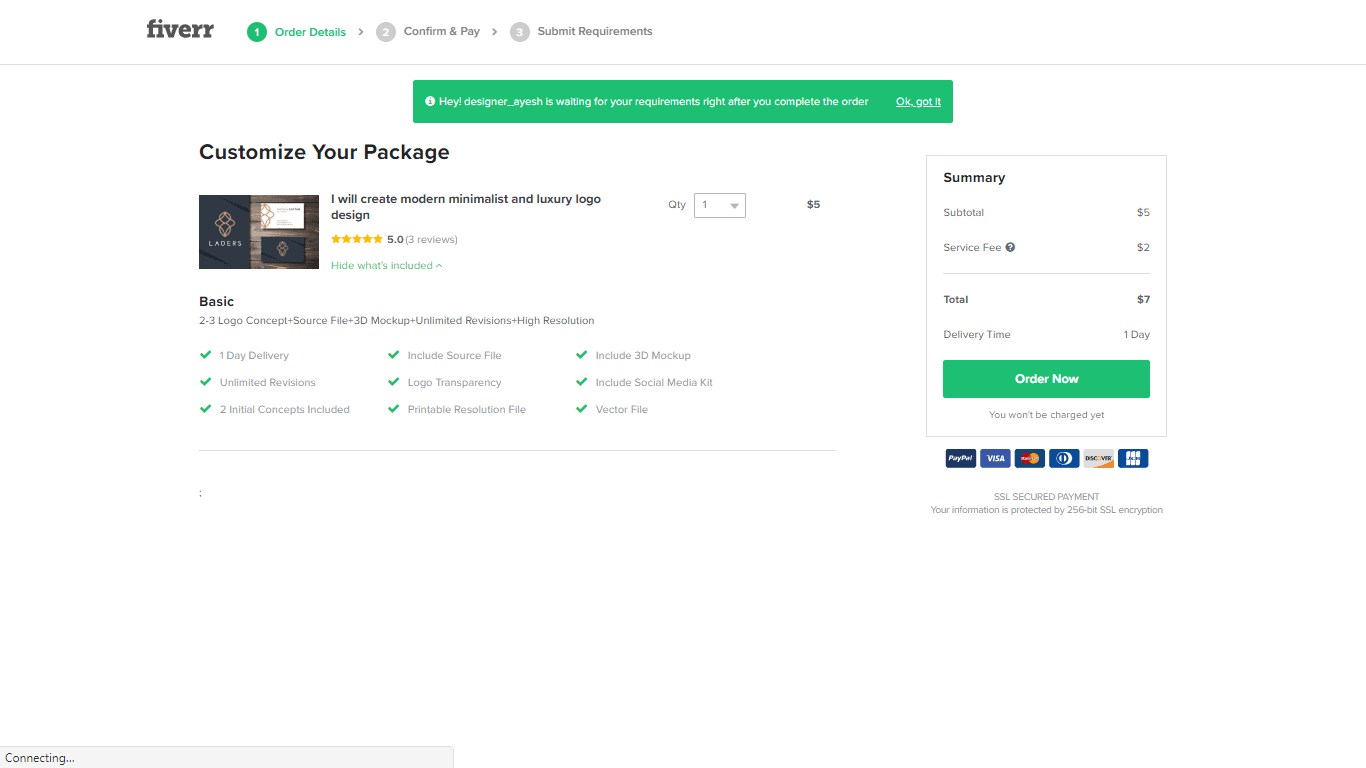 And there you have it – a fully commissioned logo in no time at all! Depending on your chosen package, your new logo may even be delivered within 24 hours. Fiverr's ease of use isn't its only notable feature. Here are a few others I like:
Helpful search options – There are so many designers on the site, not all of them will be the right fit for you. Use search filters like logo style, budget, and delivery time to hone your results.
Fiverr Pro – If your budget allows, consider hiring a Fiverr Pro designer. These designers have been personally assessed by Fiverr employees and guarantee excellent design quality and exceptional customer service.
Protected payments – Your payment is made upfront, but it's held by Fiverr until you approve its release. Once you've received a final design you love, you can approve the payment and it will go to the designer.
Customizable packages – For an additional fee, some designers offer extra services like 3D mockups, expedited delivery, and social media kits. This helps you create a bespoke package from the set options available.
Interested in Fiverr? Check out
our in-depth review
for more tips and example logos.
How to Make Your Own Logo Design
If you prefer to take matters into your own hands, you can try using a DIY logo maker. A 'do-it-yourself' method is best if you've got both time and artistic talent on your side. Design is not as easy as it looks – you'll need a creative eye to know what fonts, colors, and proportions look good. My top recommendation for a DIY logo project is always Wix Logo Maker. With this tool, some of the hard work is done for you thanks to its smart artificial intelligence (AI) technology. The AI creates logo suggestions based on your answers to a few simple questions. To see the AI in action,
head to the Wix Logo Maker homepage
 and create a profile. Enter your company name and tagline in the space provided.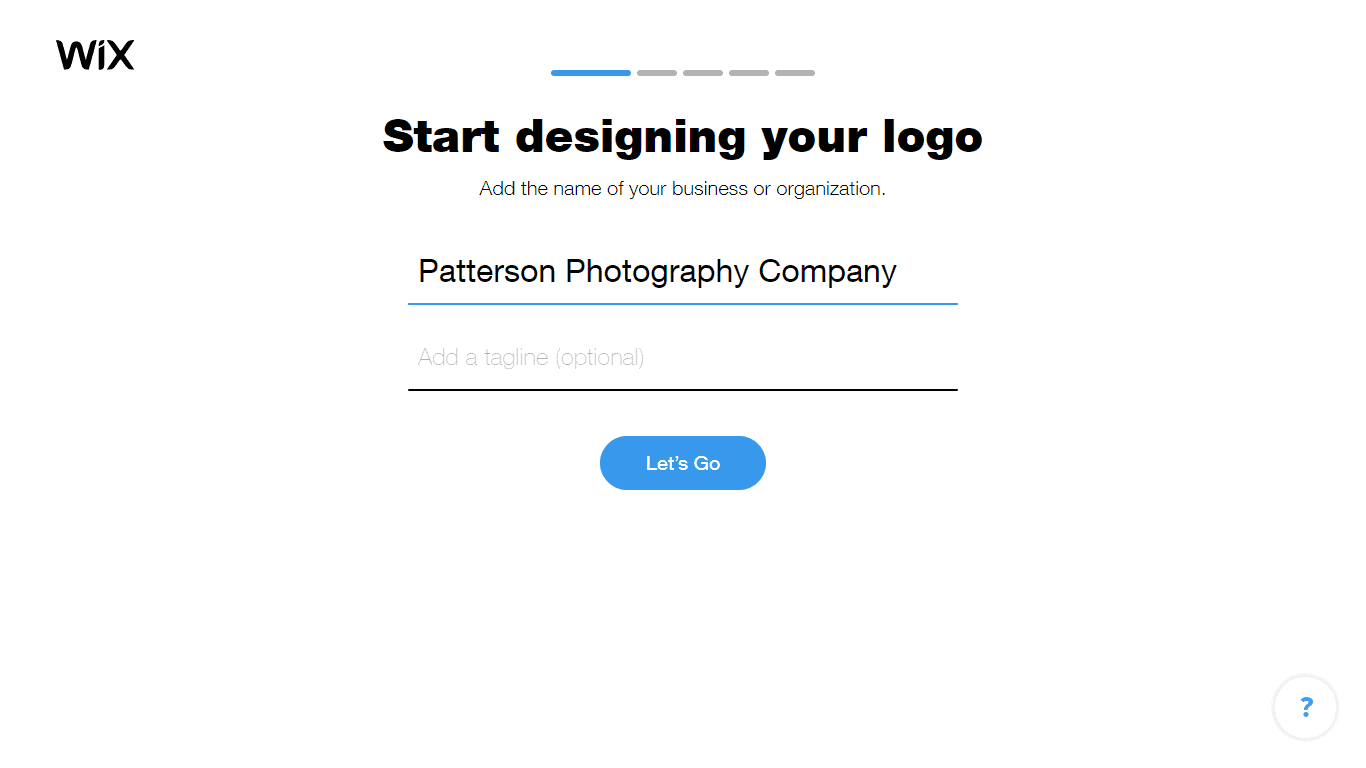 Find your industry in the dropdown menu by typing into the search bar. If you can't find an exact match, choose the closest option.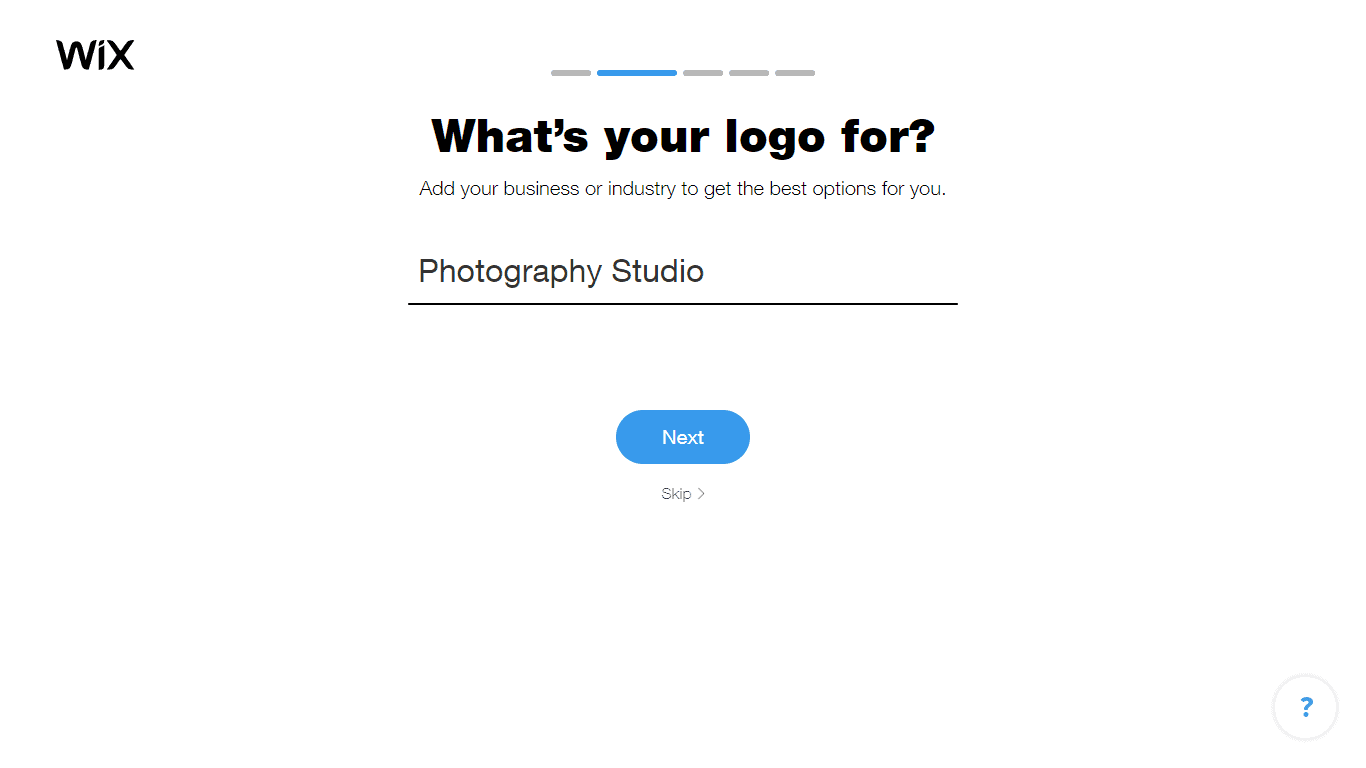 Next, choose the words from a group of adjectives that best describe your ideal logo. Do you imagine it being fun, modern, timeless, or fresh? Select all that apply.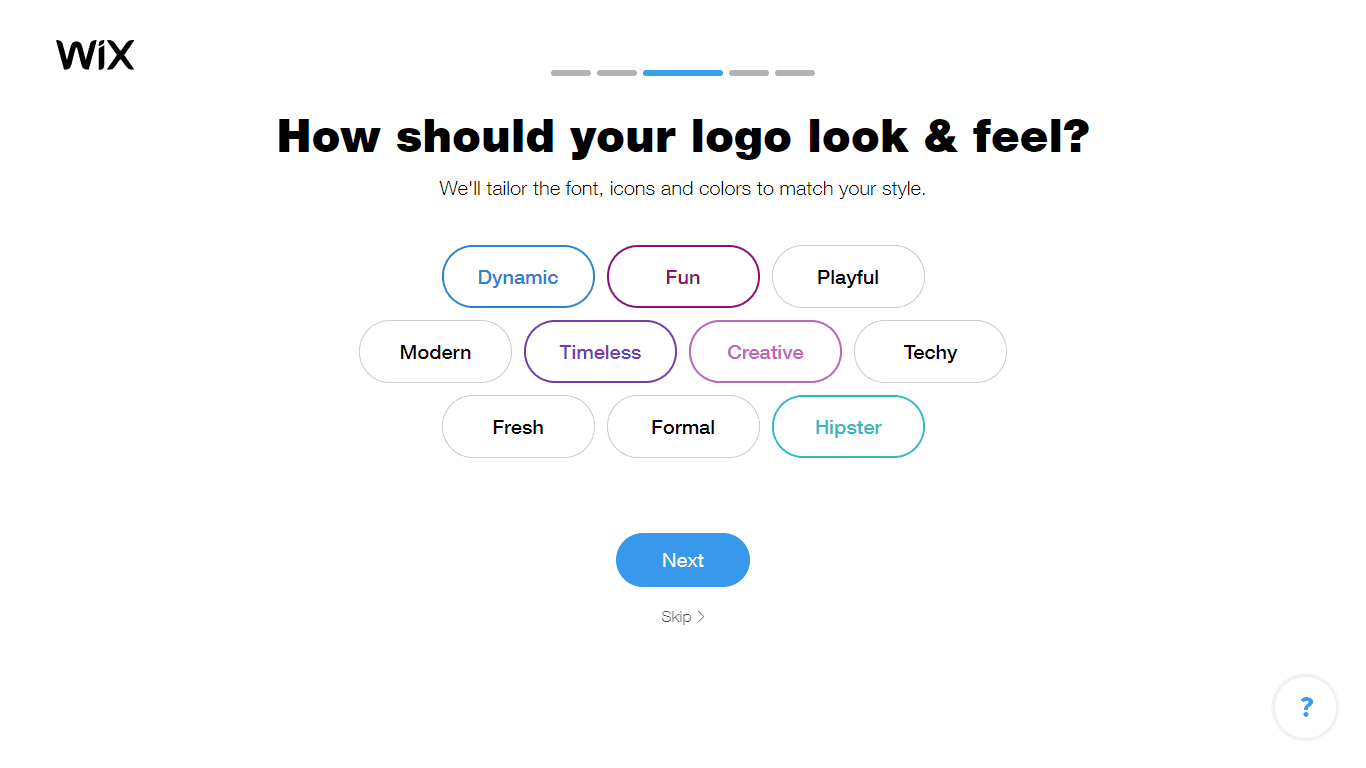 The next stage is a comparison between two logos and it's important for determining style. Click the logo in the pair that you like the best or click
I don't like either of them
to skip and move on.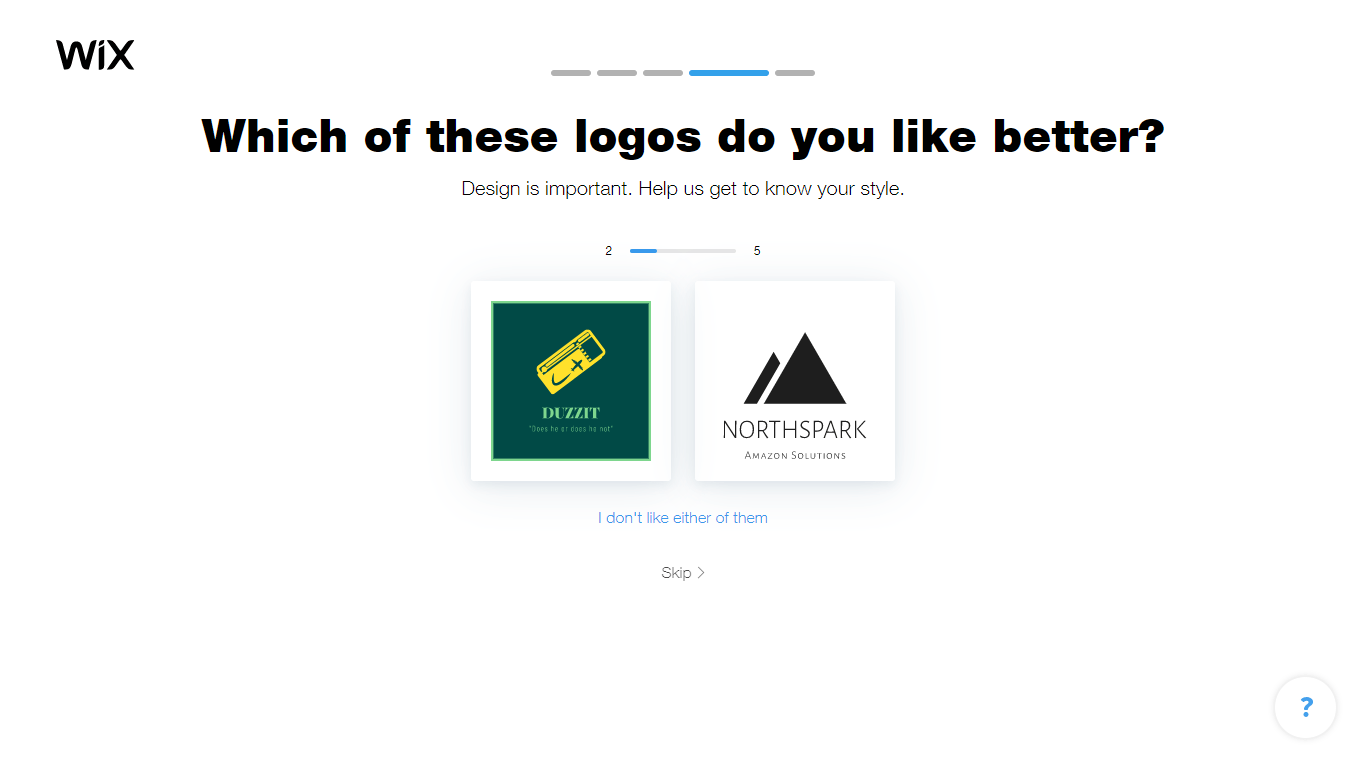 Then select all the places you plan to use your logo, like social media or merchandise. If you aren't sure, select all the options to cover your bases.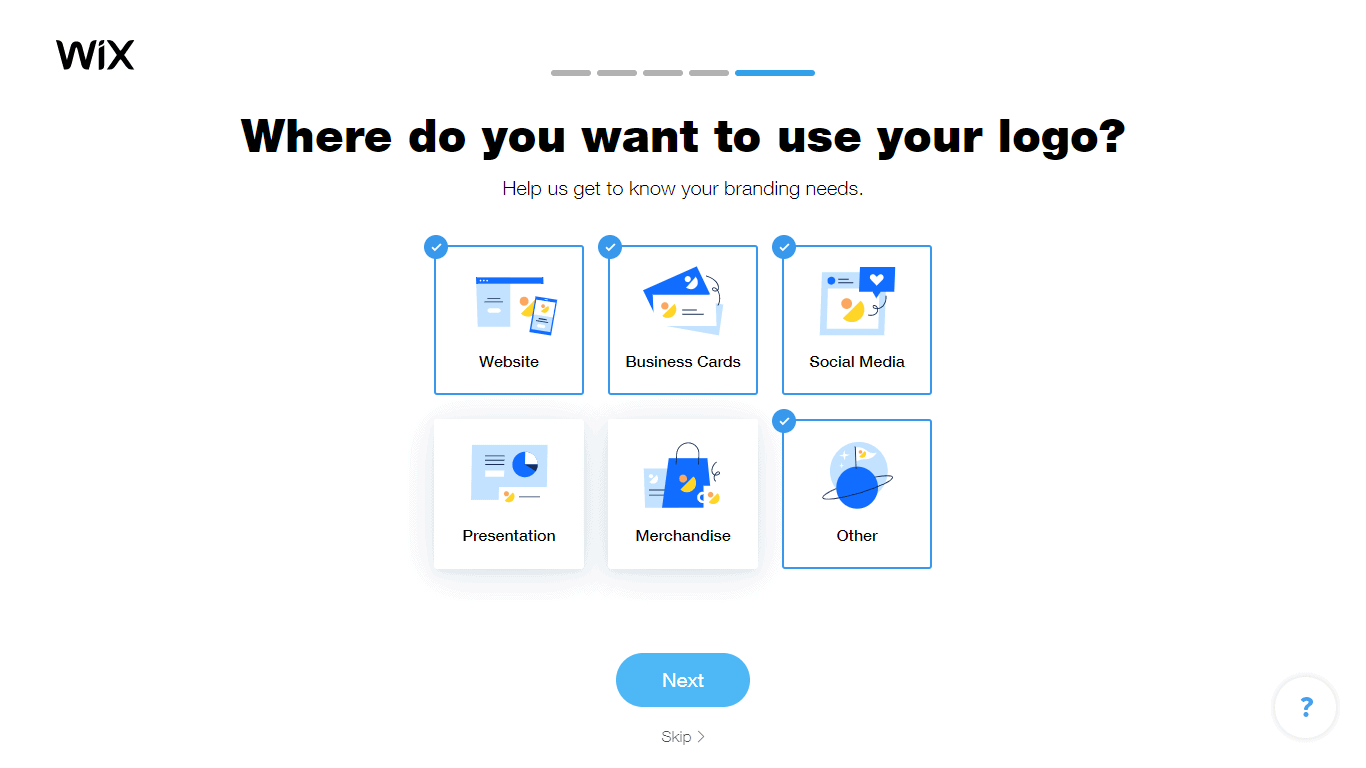 And now, your logo suggestions! The AI will have generated quite a few options, so take your time as you look through the results.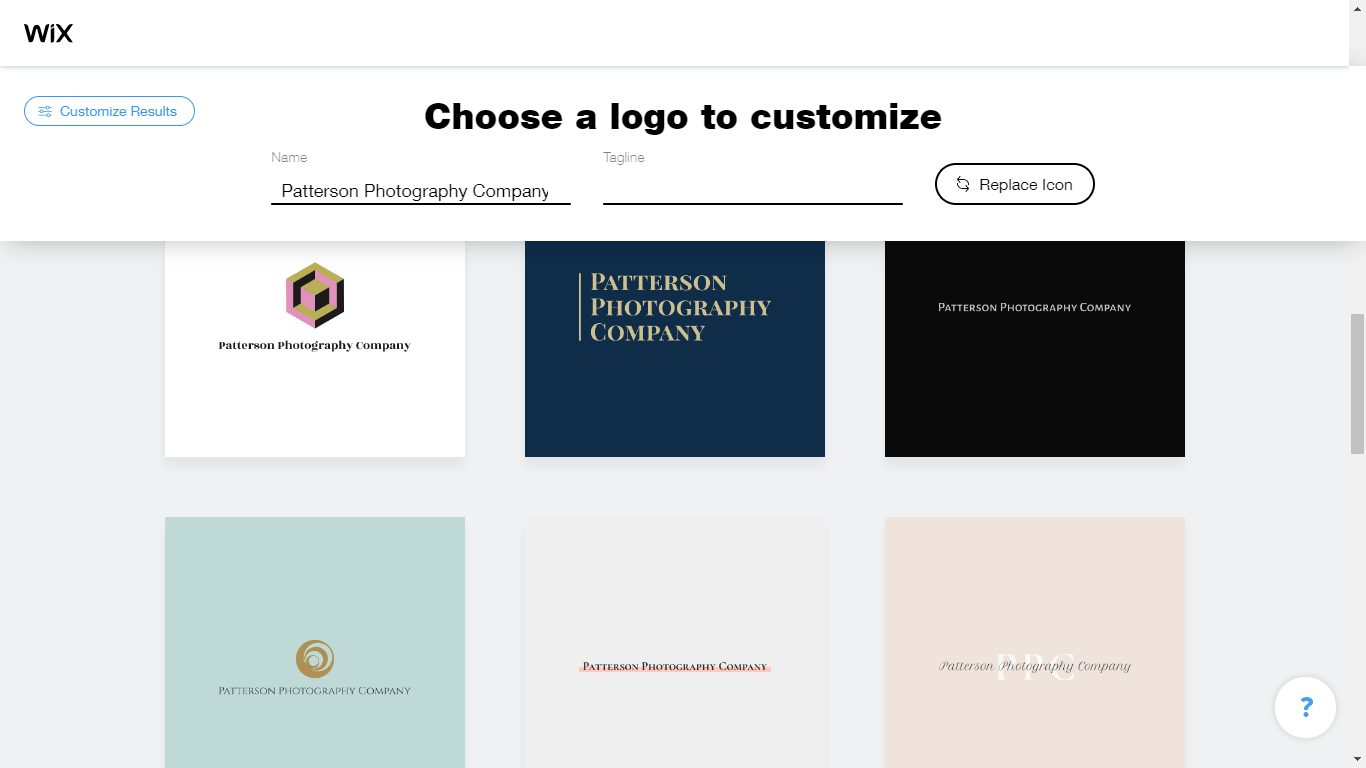 If you'd like to narrow down the options, click
Customize Results
and apply whatever filters you need. You can search by color or icon type (trendy, abstract, etc), and there's even an option for logos with no icon at all.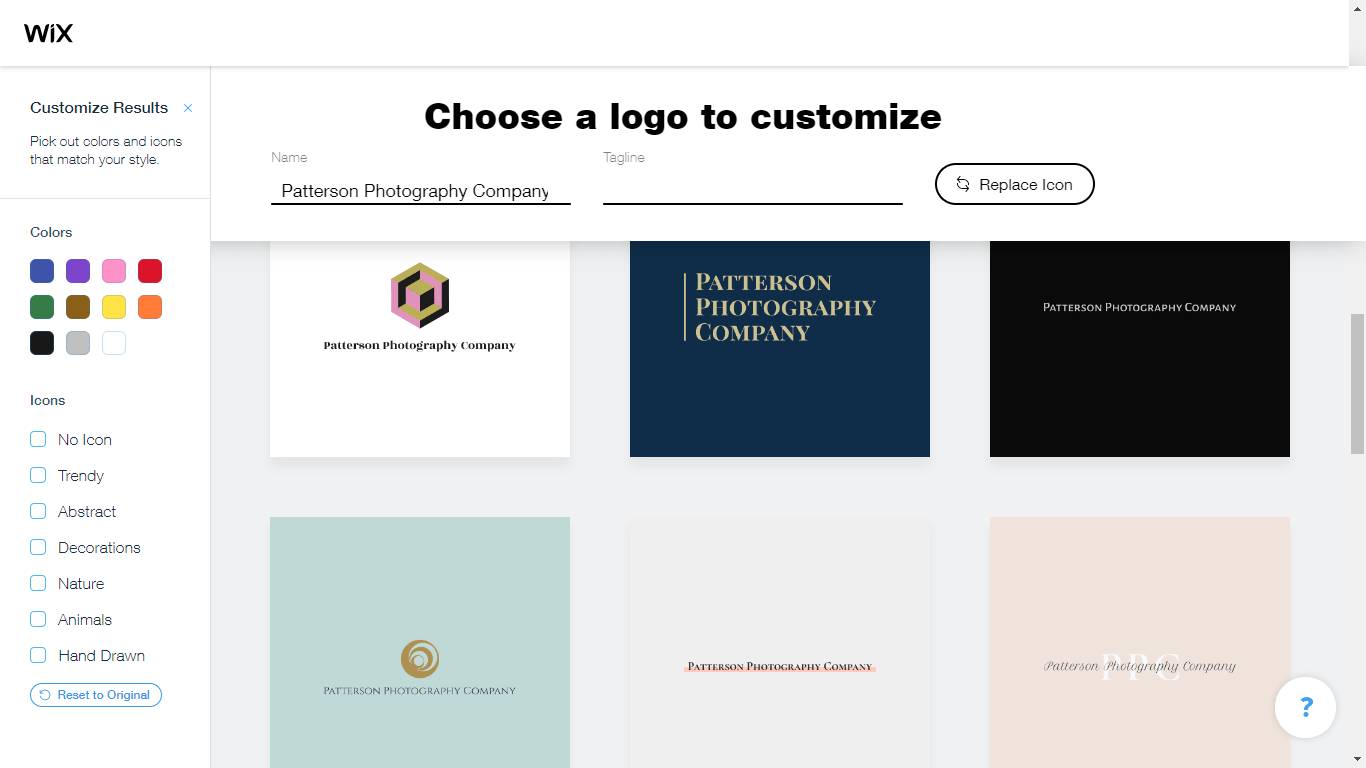 However, if you know you want an image, the
Replace Icon
button will bring up a search bar where you can find more icon options. Search for the term "luxury" or try a search related to your industry – in my example, I went for "photography".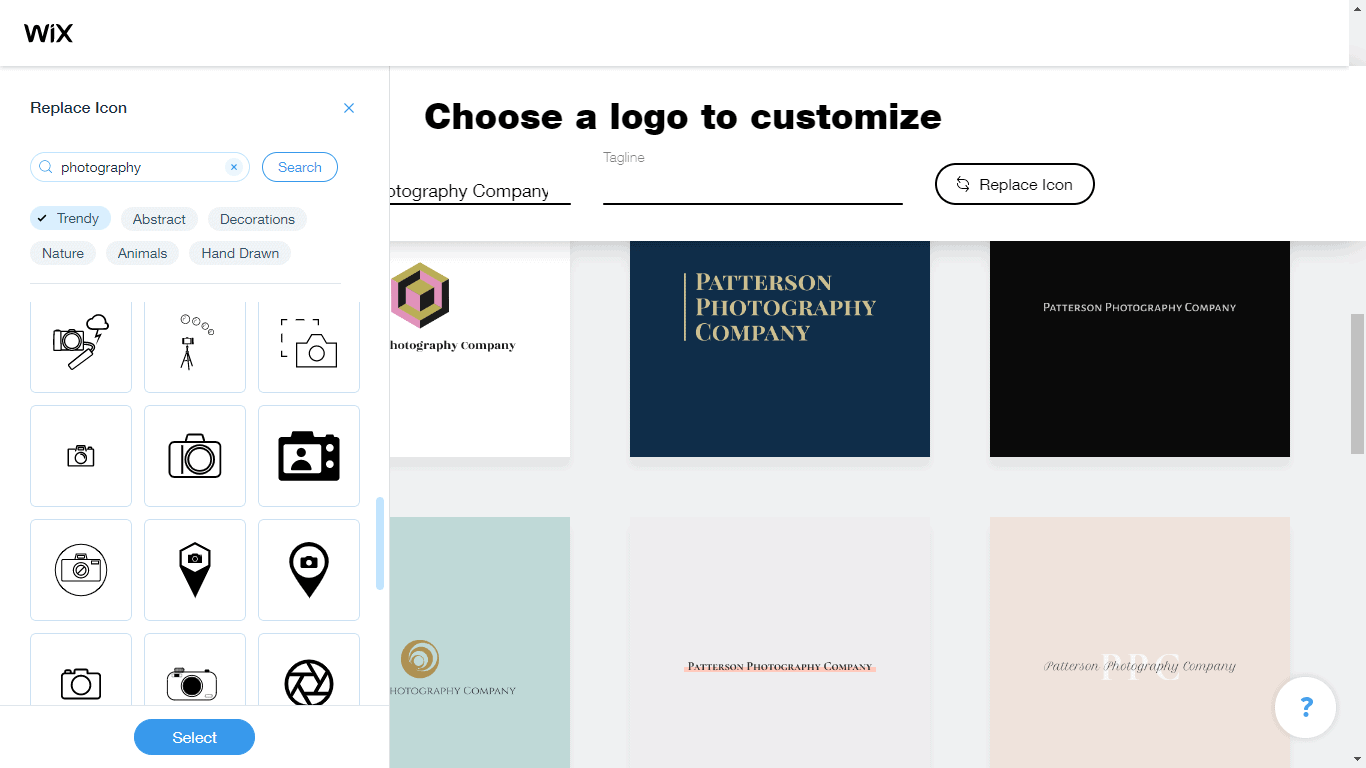 Click on your favorite template to head to the logo editor. Here, you can let your creativity show. Choose from a range of unique fonts and add multiple icons for ultimate personalization. The colors are also up to you, so have fun deciding on a new color palette or choose one from the attractive presets.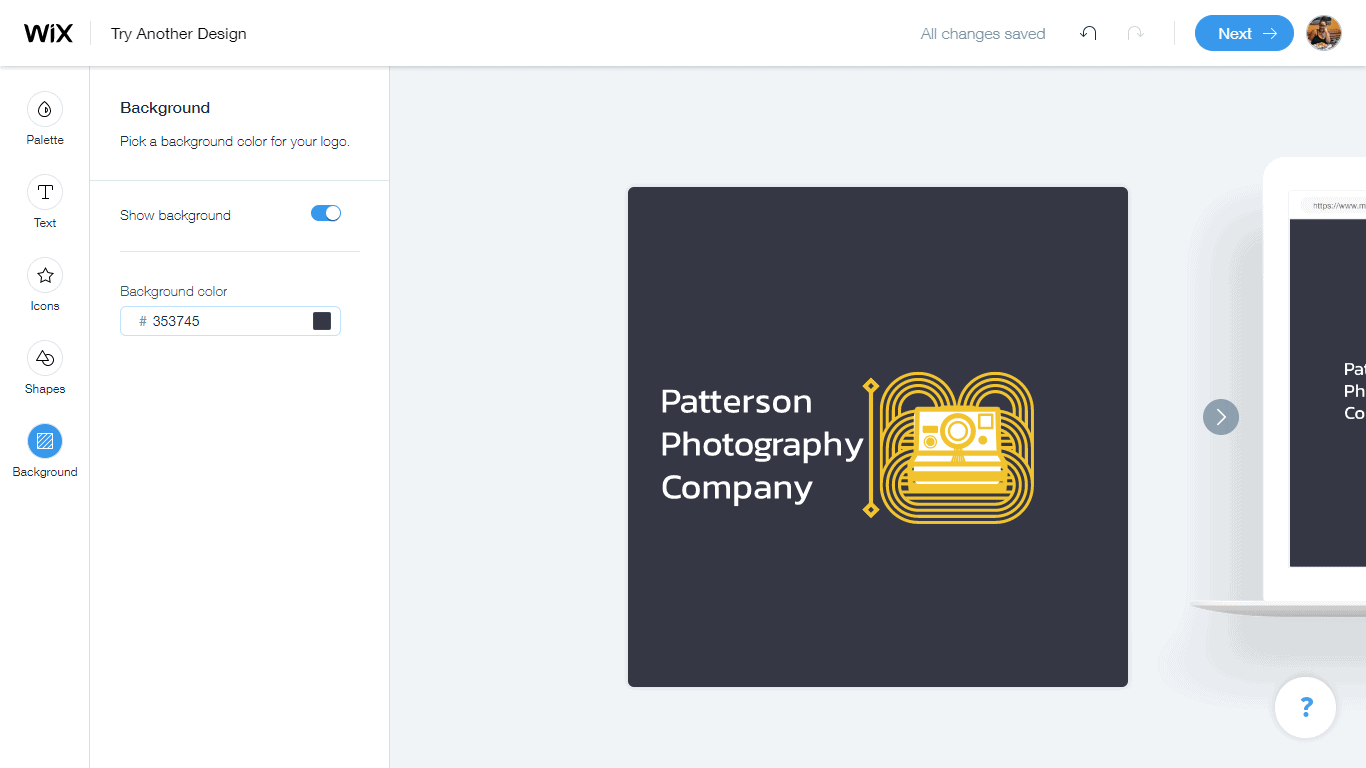 When you're finished with your edits, hit the
Next
button to choose your package and pay. Your logo will be ready for download in high-resolution immediately and you can begin using it right away. If you don't want to commit money just yet, you can download a free sample version to use for comparisons until you're sure.
Wix Logo Maker Alternatives:
LogoMaker – If you need a basic design to use quickly, LogoMaker creates a logo in just four quick steps. Great for those pressed for time or total beginners at DIY design.
DesignEvo – DesignEvo has 10,000+ design templates for easy logo creation. Search through 18 different categories to find the right template for your design.
Want to learn more about Wix Logo Maker?
Read our full review
for more example logos.
Final Thoughts
When you first realized you needed a luxury logo design, you may have expected to pay an eye-watering price. Thankfully,
Fiverr connects you with thousands of affordable and talented designers
. No need to choose between quality and cost – designers on Fiverr offer professional, bespoke design at some of the lowest pricing available! If you decide to make your logo design a home project,
Wix Logo Maker
 will be a godsend. Its AI technology is the next best thing to hiring a professional. The user-friendly interface and customization features make personalizing your logo a breeze. Still not sure? Check out my colleague's
expert logo design service review
 to see how other platforms perform. You can compare Wix Logo Maker and Fiverr with other top services to help you make the right decision for your new logo.