lions are a universal symbol of power and leadership for brands and nations alike
. MGM's Leo the Lion, for example, is one of the most recognizable cinematic logos out there. In order to create your own standout lion logo, you'll need to ask yourself a few questions. Do you want to use just the head and mane, or the whole animal? Should your lion look fierce or adorable? Will it be roaring or posing calmly? These small details can make a world of difference, which is why hiring a professional designer is often the best solution to boost your brand. Afraid of breaking the bank? Don't be!
Skip ahead to learn how you can get an amazing designer for just $5
.
If you want to challenge your inner designer, I'll show you how to make your own lion logo for free. But first, take a minute and enjoy a few of my favorite lion logos.
9 Best Lion Logos
How to Get a Custom Lion Logo for a Great Price
If you think using a DIY logo maker to create your own lion mascot is more cost-effective than hiring a professional graphic designer, then you're in for a surprise.
Did you know that you can hire a top-notch professional designer for as little as $5 on Fiverr?
When we decided here at Website Planet that we need a new logo for our website, my colleague tested lots of popular logo design services. Three entries from Fiverr designers caught our attention and I was impressed that one of them only cost the minimum fare of $5. Don't believe it? Read his
full comparison of the best logo design services
.
More Reasons to Try Fiverr
Variety – Fiverr has tens of thousands of designers from around the world with different experience levels and packages, along with an array of logo design styles. So you'll be able to find a "gig" suitable for your budget.
Express turnaround – It usually takes two or three days to deliver a logo, but for an additional fee, some designers can get it done in just 24 hours.
Protected payments – Fiverr keeps your money safe in escrow and only releases it on your approval of the finished logo.
Vetted pros – Depending on your budget, you might like to hire one of Fiverr's certified designers with the Fiverr Pro service.
Expert tip:
When evaluating designers on Fiverr, check their portfolios to see their level of experience and browse reviews from other customers before deciding on a commission. Read even more advice about hiring the right designer on Fiverr in our
Full Fiverr Review.
Using the Fiverr Website
The Fiverr platform is intuitive and user-friendly.
To find the right designer for your lion logo, simply go to the Fiverr homepage and place your mouse over
Graphics & Design
, then click on
Logo Design
under
Logo & Brand Identity
.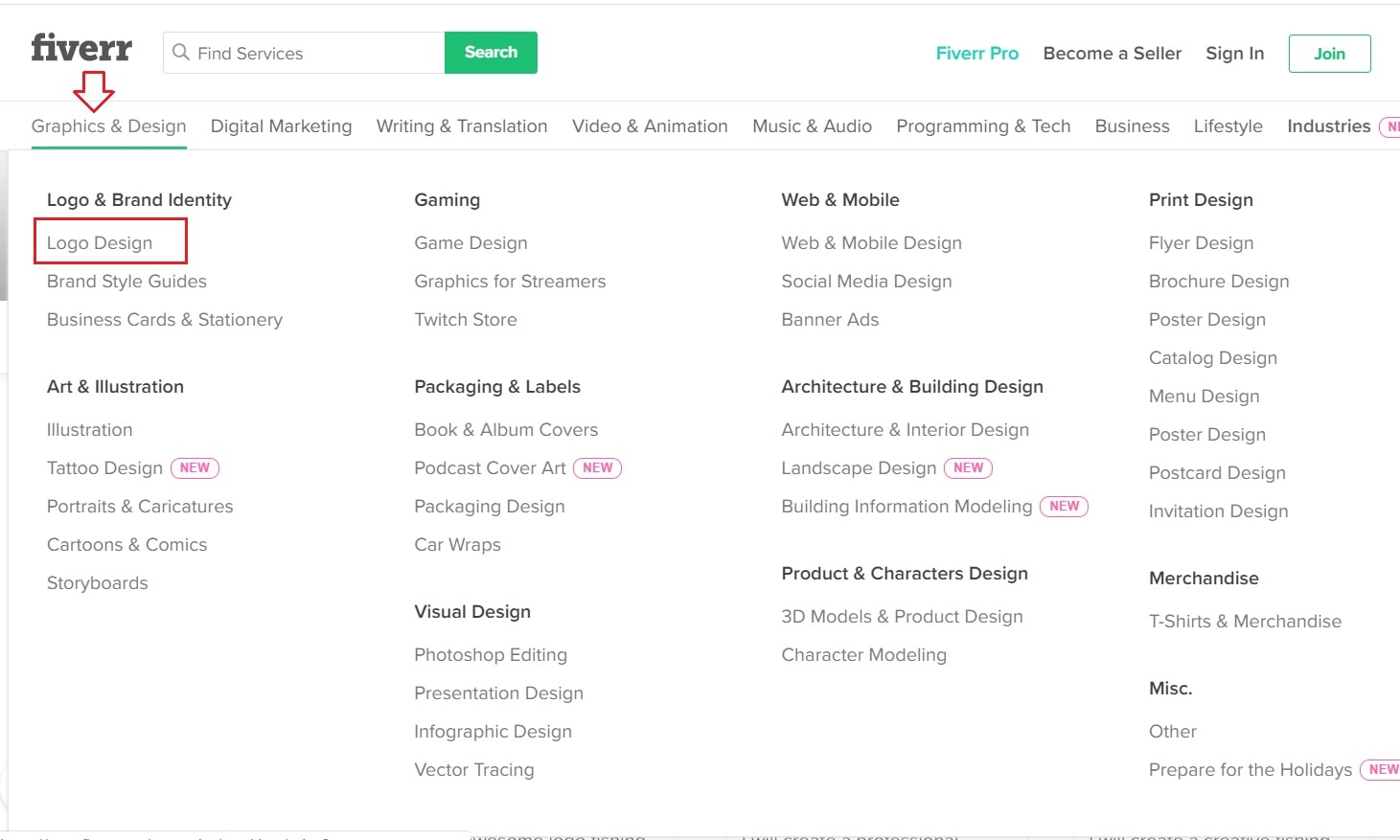 Enter a keyword (e.g., lion logo) in the search bar or use the artificial intelligence (AI) wizard by answering a couple of questions to help you get more relevant results.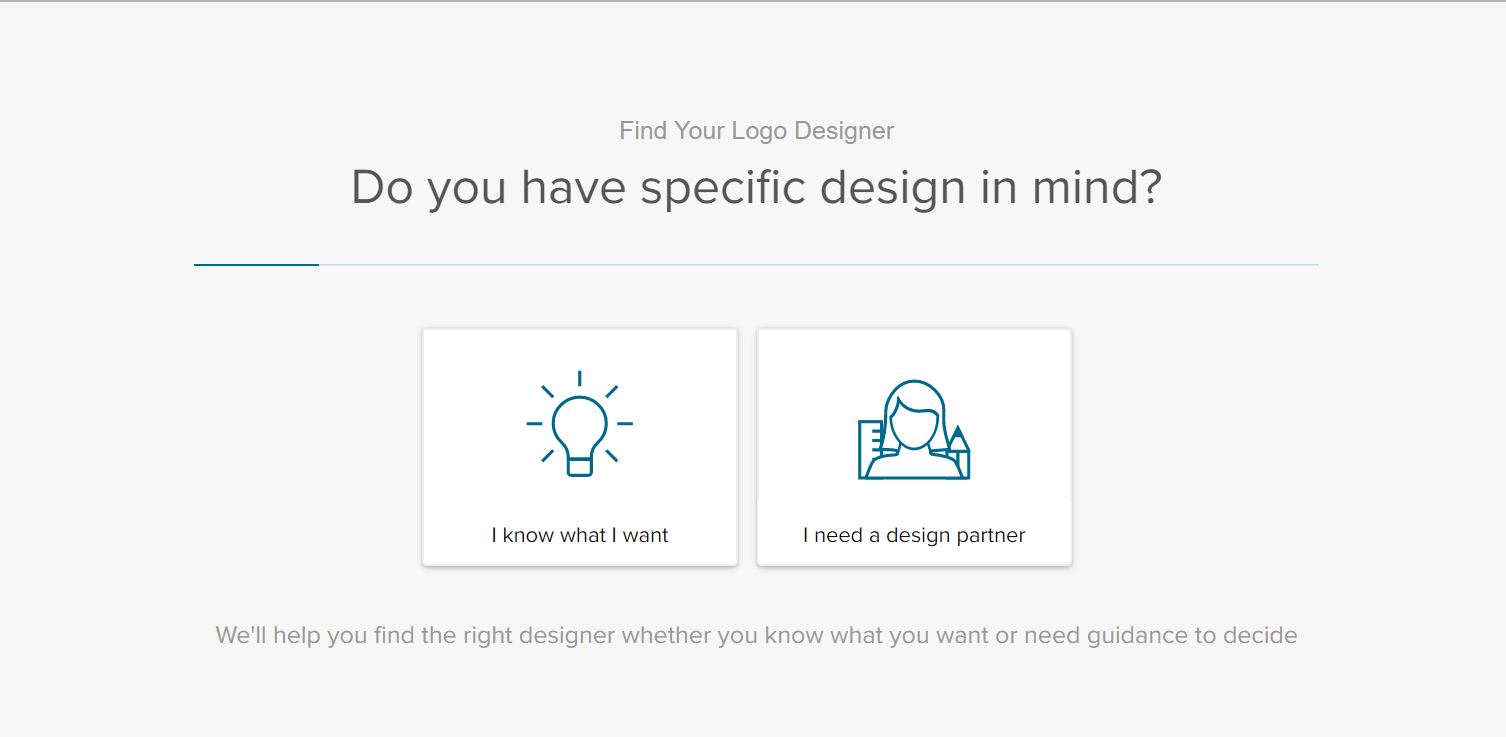 Take advantage of the search filters (e.g., Logo Options, Delivery Time, and Budget) to refine your search results.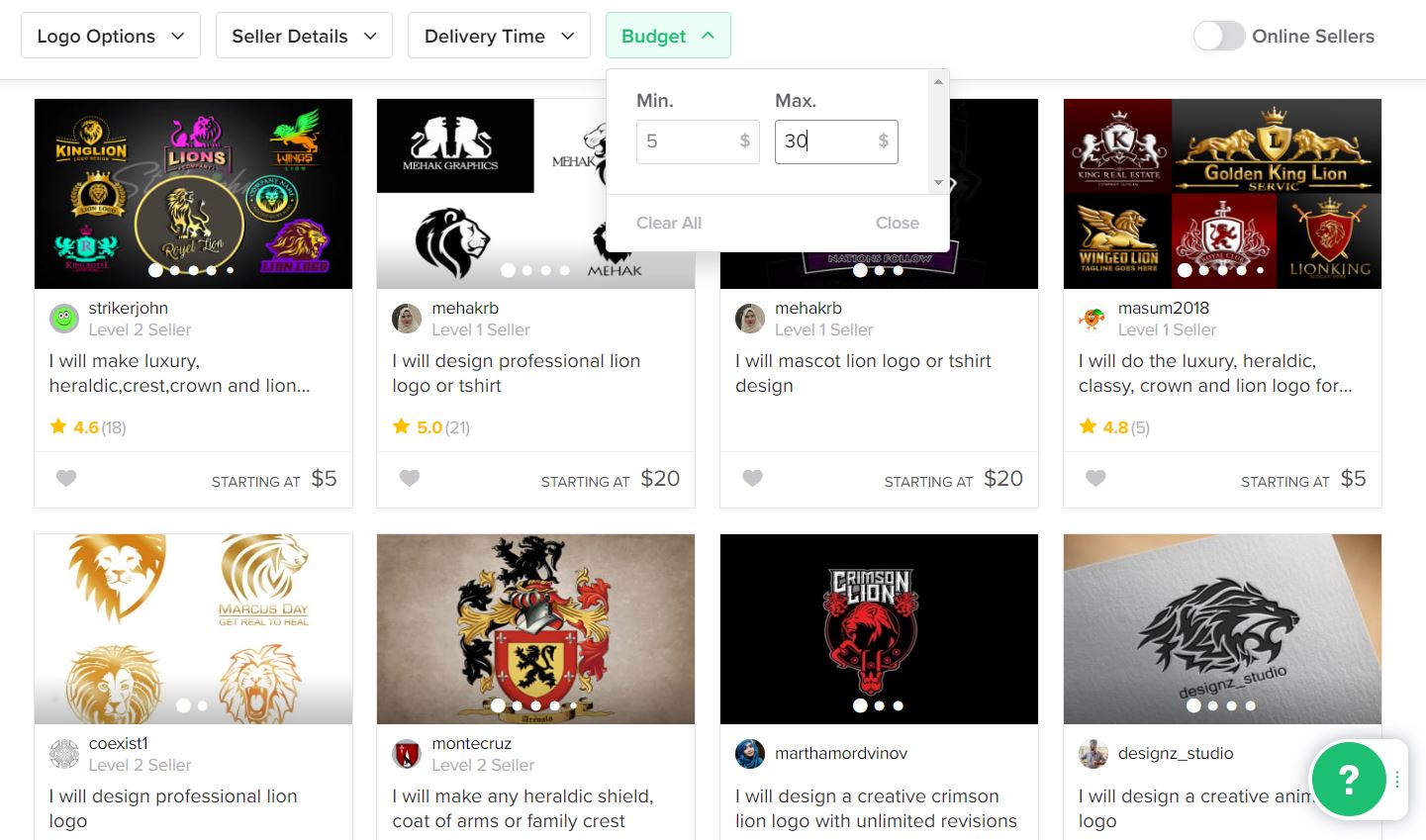 Make Your Own Lion Logo for Free
Have a creative vision and want to create your own lion logo? There's a wide range of template-based and AI-based DIY logo makers to try.
Most of them let you play around and make your logo for free, before charging for the usable, high-resolution file downloads.
I personally prefer using Wix Logo Maker because it's easy to use.
What's So Special about Wix Logo Maker
The intuitive, AI-powered platform makes the process so quick, you could have your new lion logo before you've even finished your cup of coffee.
Go to the Wix Logo Maker homepage
, click on
Start Now
and create a free account. The wizard is set to inquire about a few fundamental inquiries regarding your company and style inclinations. Subsequently, it will produce a roster of logos grounded in the responses you provide. You have the option to switch to a different lion icon by choosing the "Replace Icon" option and selecting your preferred one.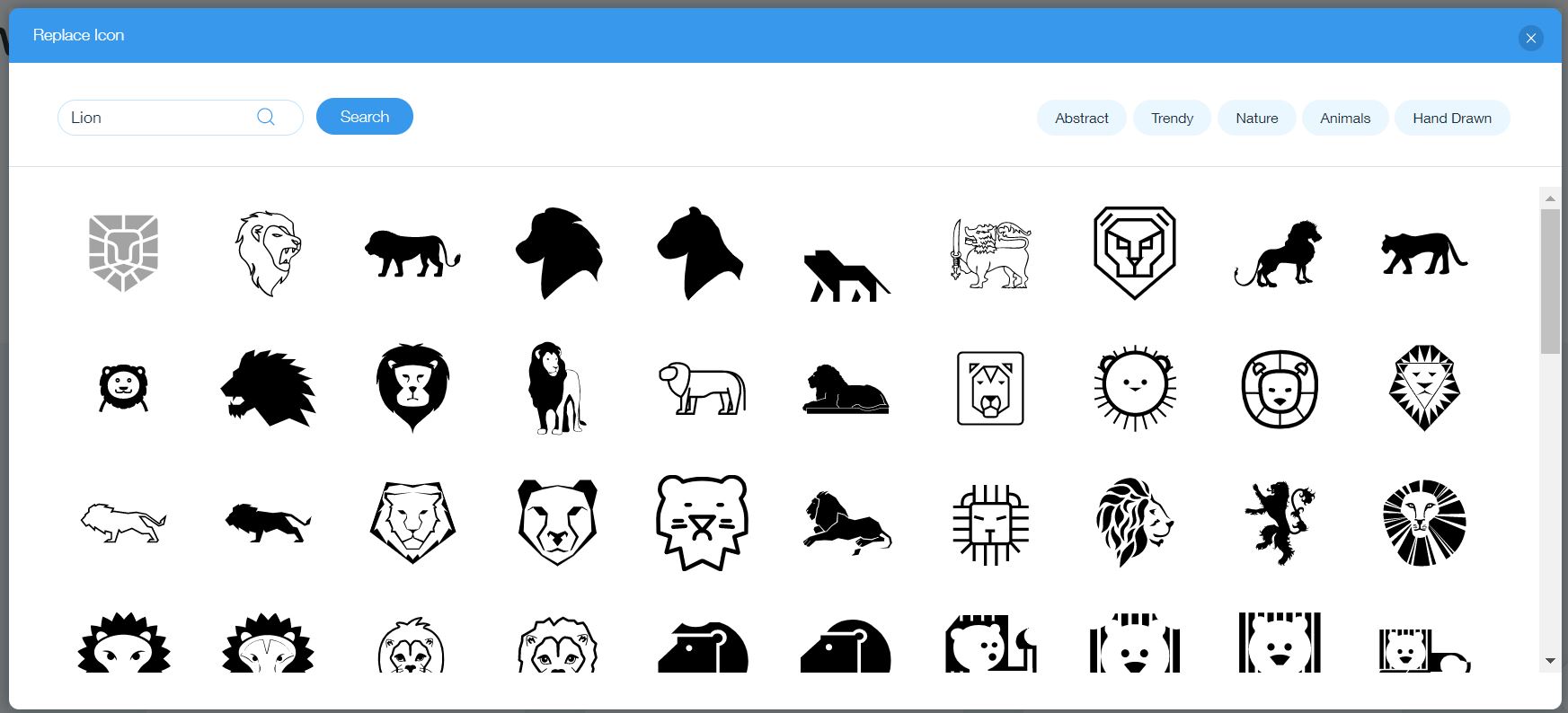 Once you've chosen a template, you can go ahead and customize the colors, fonts, icon, text, and border from the easy-to-use logo editor.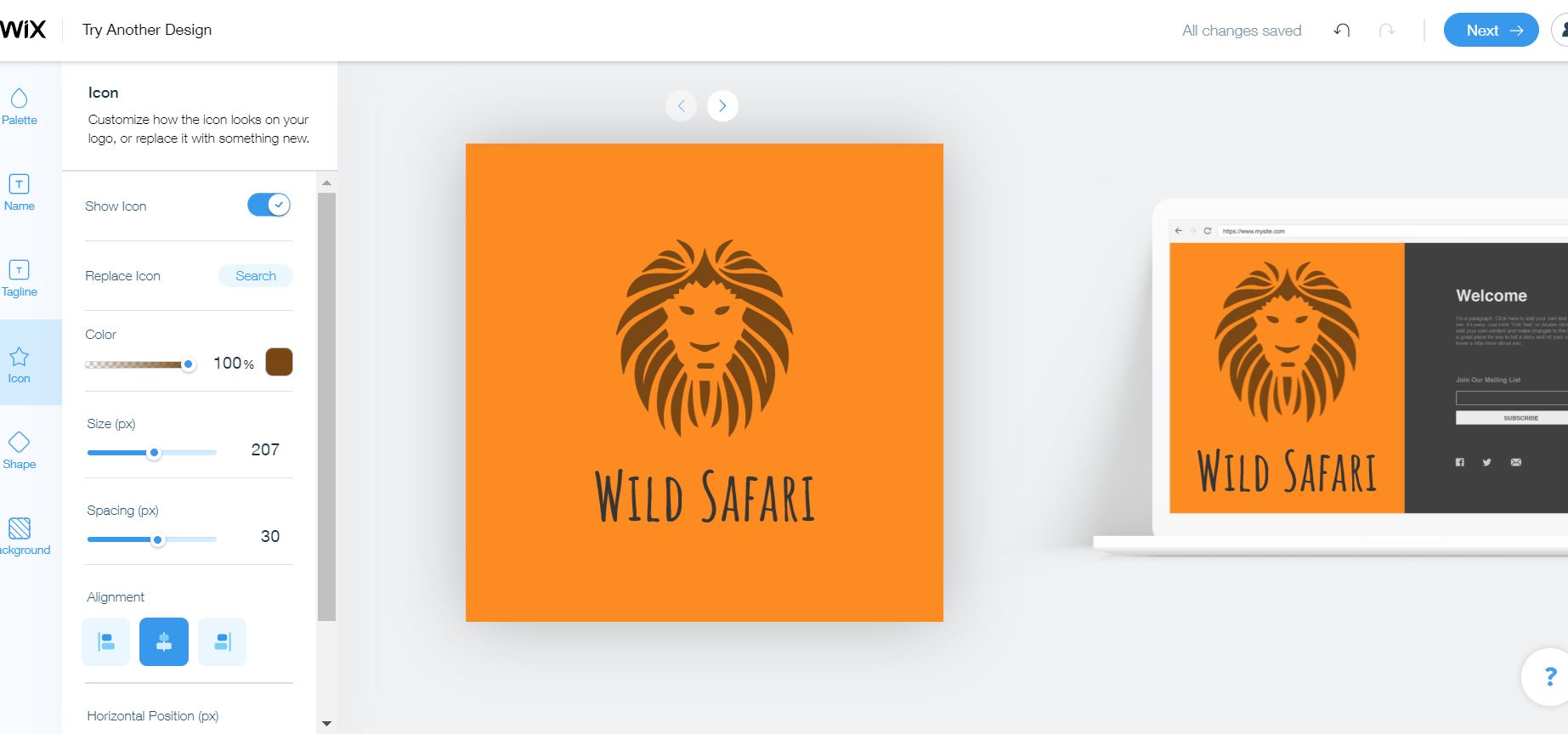 Happy with your design? Pay for it to get it in a printable format. If you're still not 100% sure your logo is perfect, either download the free, tiny, sample image or take a screenshot of your logo to share it with a professional designer on
Fiverr
. They'll use it as a starting point to create something even more unique, and it often works out cheaper than paying for the high-res files. Learn more tips tricks in our
in-depth Wix Logo Maker review
.
Alternatives to Wix Logo Maker
Depending on which package you've purchased, Looka allows you to edit your logo an unlimited number of times. Read about its features in our expert Looka review.
If you're more into abstract lion designs, Tailor Brands has a decent selection. It also offers a variety of social tools to boost your online presence once you're ready to share your logo with the world. Learn more in our full Tailor Brands review.
Let Your Logo Roar – My Final Thoughts
Hopefully, you have a rough idea of what you want your lion logo to look like by now. You can either give it a go yourself with
Wix Logo Maker
 or brief a professional designer on
Fiverr
 to combine your ideas and knowledge of your brand into a unique, memorable lion logo. Still not sure? Check our
comparison of the top logo design services
for even more inspiration.