Read on to find out how you can get your new professional logo design for just $5.
9 Best L Logos
My colleague came up with an experiment to test the value and quality of various logo design services. His results were pretty enlightening. Head over to his
expert logo design service comparison
 to see which service created our new logo!
How to Get a $5 Logo Design
What if I told you that you could change the face of your company for just five dollars? A new logo is an important part of a company rebrand or introducing a new venture to the world. Most creative agencies charge thousands to create a quality logo that will represent your brand. But, if you know where to look, getting a new logo could cost you just the change in your pocket. With global freelance platform Fiverr, designers offer packages beginning at only $5. Each designer sets their own prices and many choose to remain at or near this entry-level pricing. Despite their modest fees, designers on the platform are experienced and skilled in logo design.
Go to the Fiverr homepage
 to get started and click in the search bar. You won't get great results if you search "L logo design", so try terms like "initial logo" or "monogram logo" instead. The designer profiles in the results will offer packages that match your query. Scroll through the results until you find one with a style you like.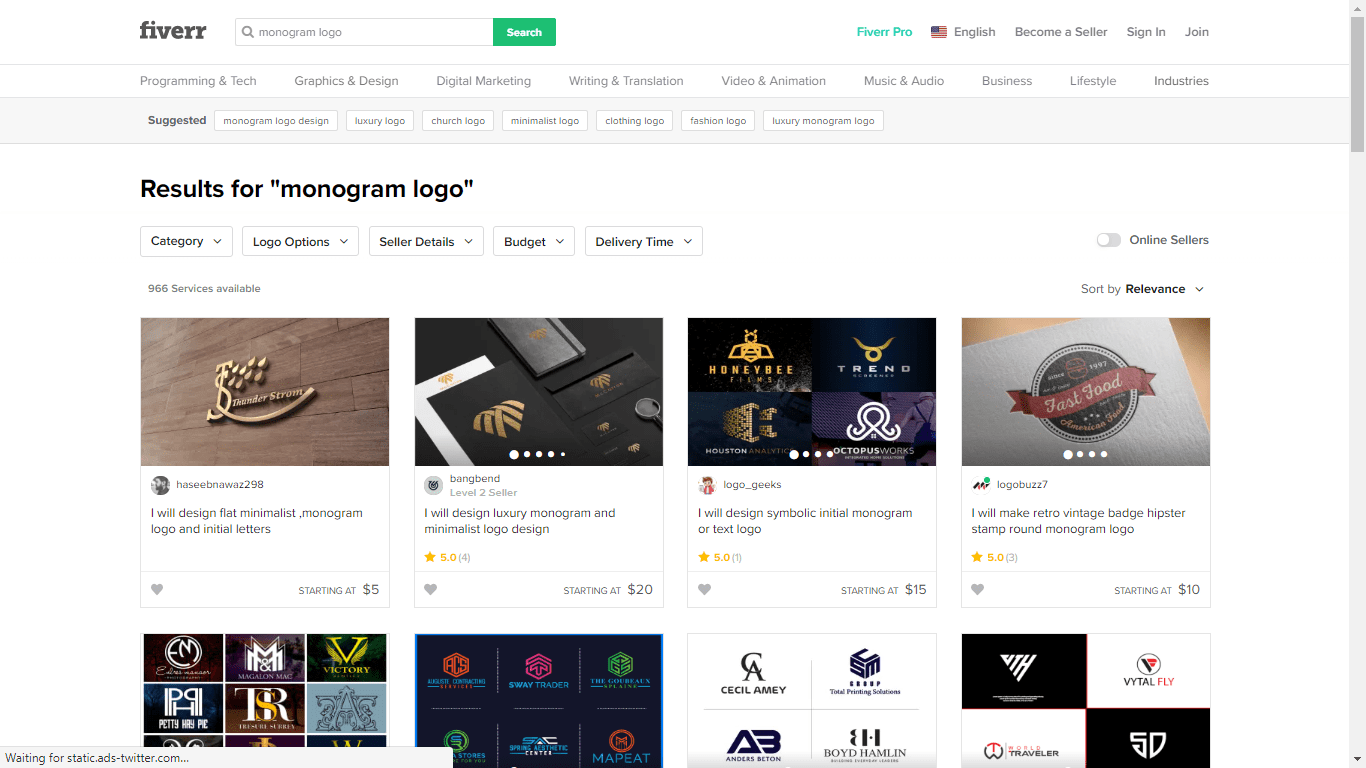 Click on the results excerpt to be taken to the designer's full profile, where you can find their "About This Gig" section, portfolio, customer reviews, and a list of their services. Once you've found a package that meets your needs, hit
Continue
to move on to the next stage.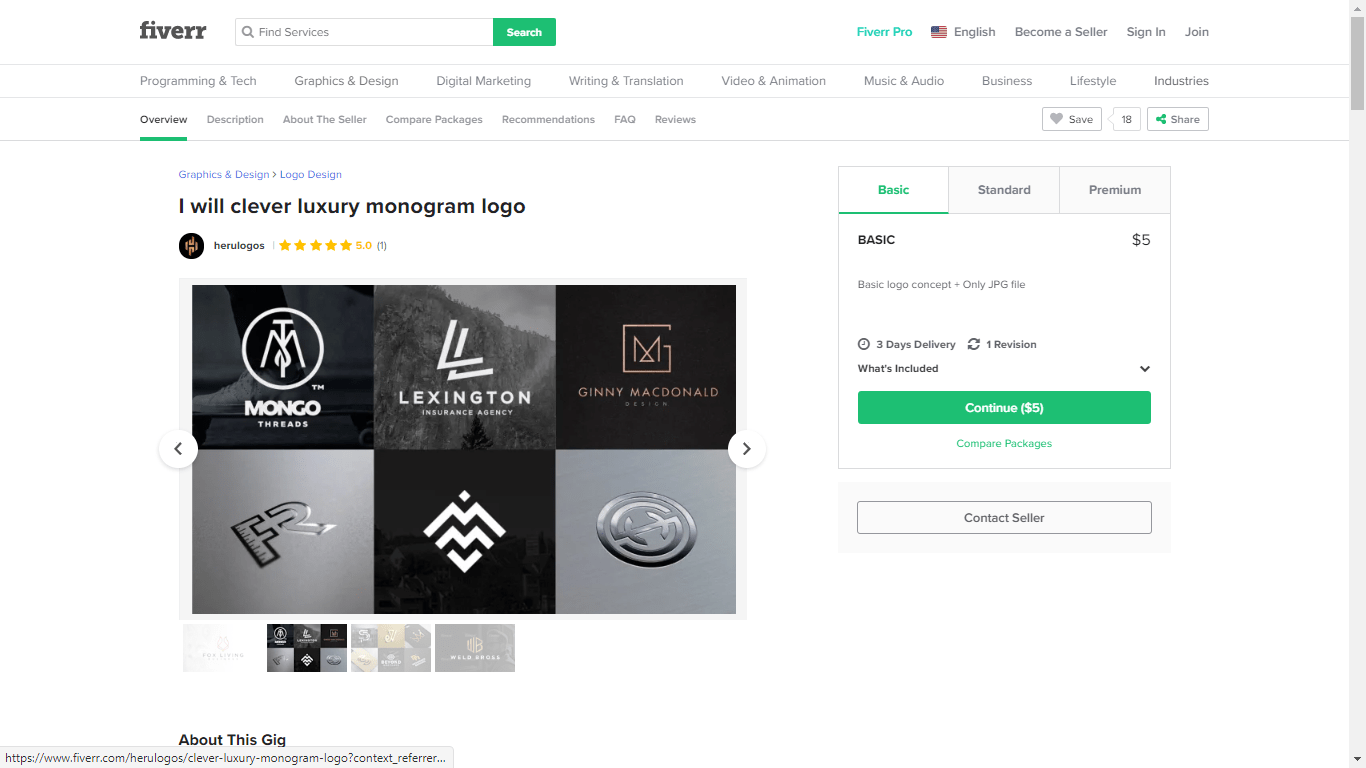 The next page will display the final costs and list all the services in the selected package. You can also add extras at this stage if they're offered. If you're happy with what you see, click
Order Now
to pay and officially hire your designer.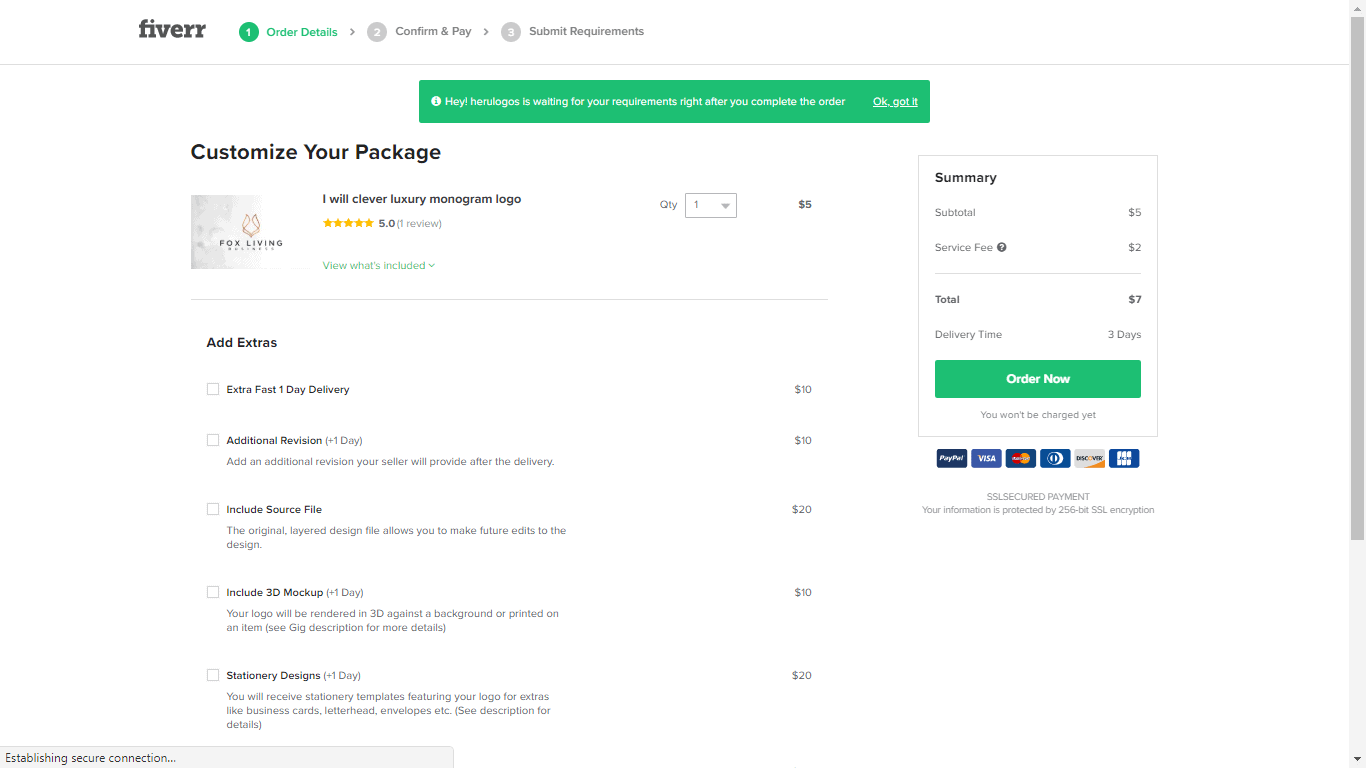 After commissioning your logo, you can talk to your designer about your creative vision and share any ideas you may have. Wait a few days (or even just 24 hours, depending on the package you chose!) and your new logo will be ready for you. Here are a few other cool perks that make Fiverr convenient to use:
Package extras – Some designers offer package extras like a 3D mockup or expedited delivery at an additional cost – this is a great way to customize set packages to your exact needs.
Search filters – Use handy search filters like budget, delivery time, and seller level to narrow down your search to the most relevant designers.
No surprise charges – Since your payment is made upfront, you never having to worry about a designer overcharging you or tacking on extra fees.
Protected payments – Your payment is only released to your designer once you've received a logo that you're 100% happy with.
Want to know more?
Read our expert Fiverr review
to see some logo samples.
How to Make Your Own Logo Design
If you're a business owner that likes to be hands-on, you may be tempted to make your own logo. Although no one knows your business better than you do, this task shouldn't be taken lightly. A letter logo may be a more simplistic design choice, but you'll need a creative eye, time, and effort, to make it look professional and not amateurish. To help you create the best L logo design possible, I recommend using Wix Logo Maker. It's easy to use thanks to its artificial intelligence (AI). Just answer a few quick questions and the AI generates logo suggestions based on your answers, then you choose your favorite to customize. Check it out yourself by
heading to the Wix Logo Maker homepage
. Create a profile first – you'll also be able to save your logo here later – then enter your company name and tagline to get started.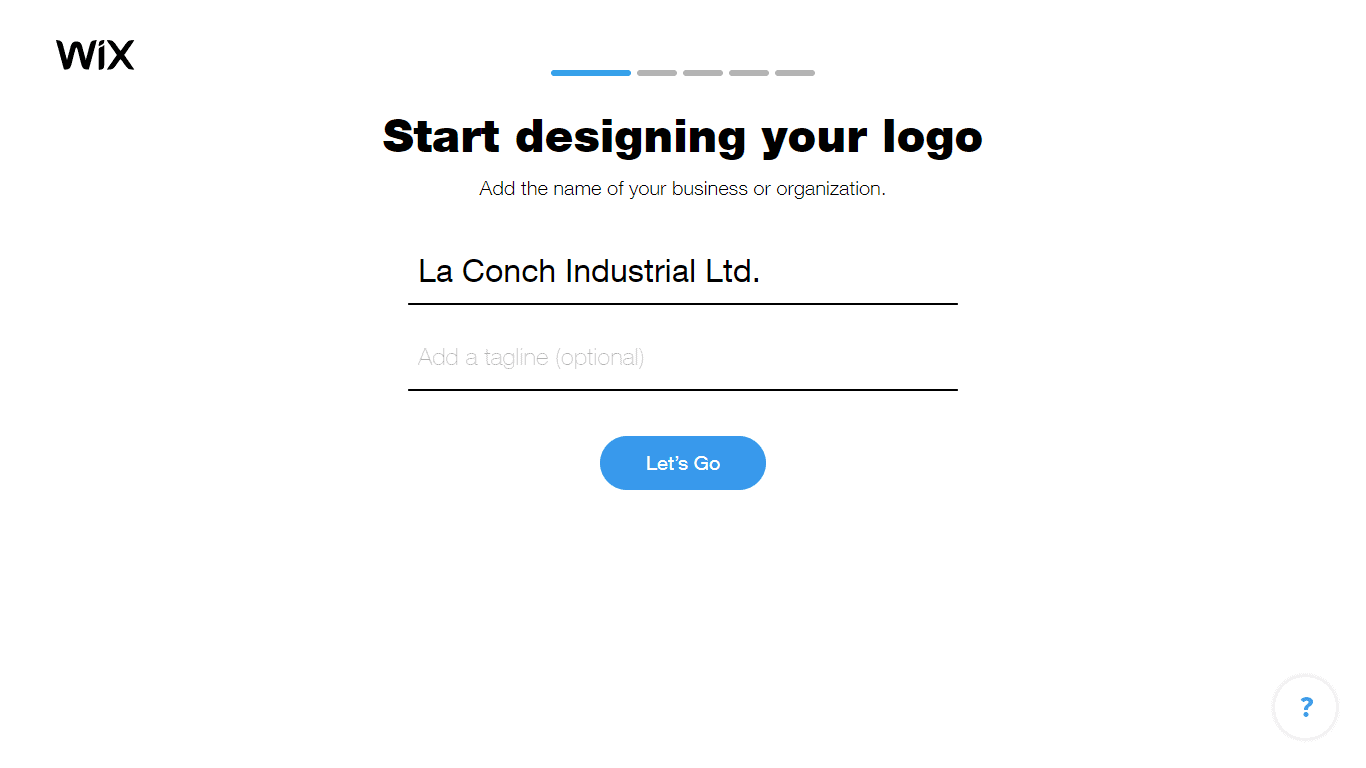 Type in the name of your industry and select the closest option from the dropdown menu that pops up. There's a huge range, so you should find a close match.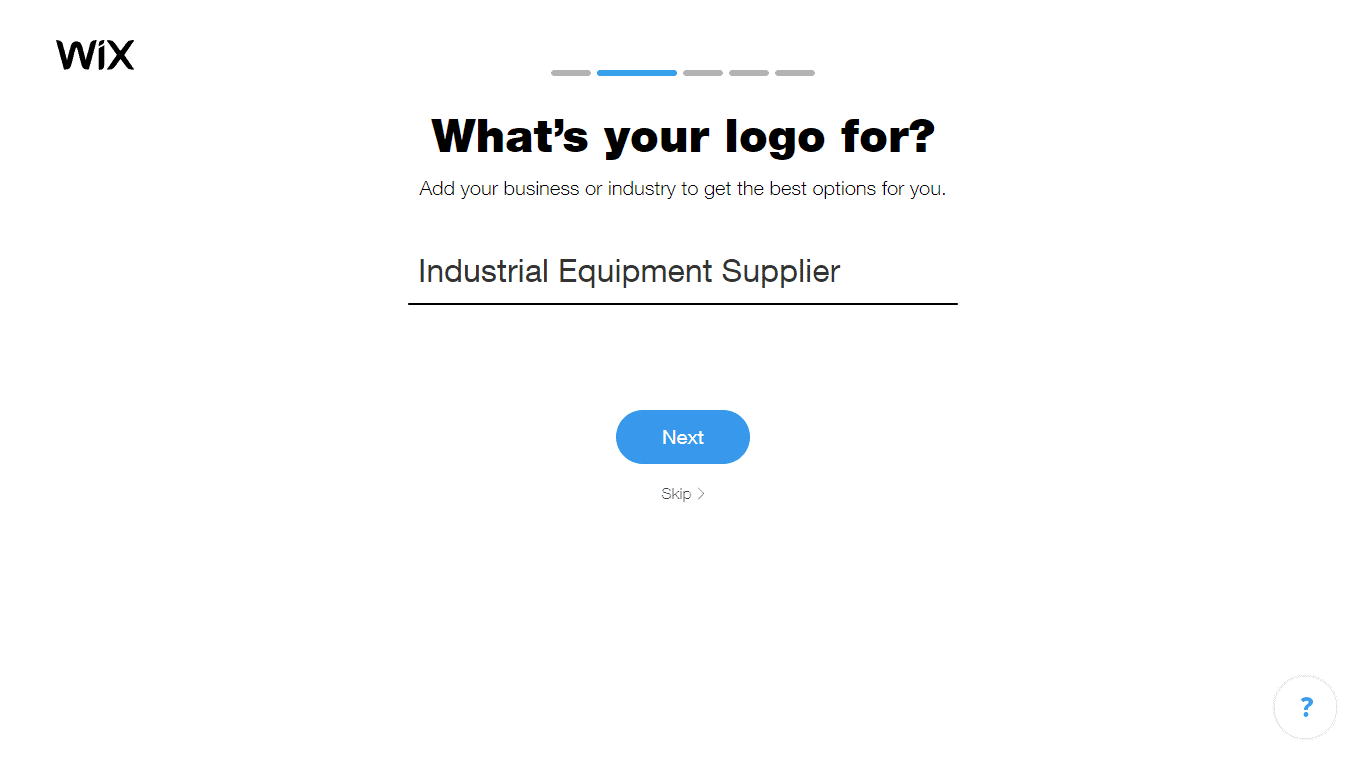 Next, select all of the words that match the aesthetic of your dream logo. The AI uses these to help determine the style of your suggestions in a few steps.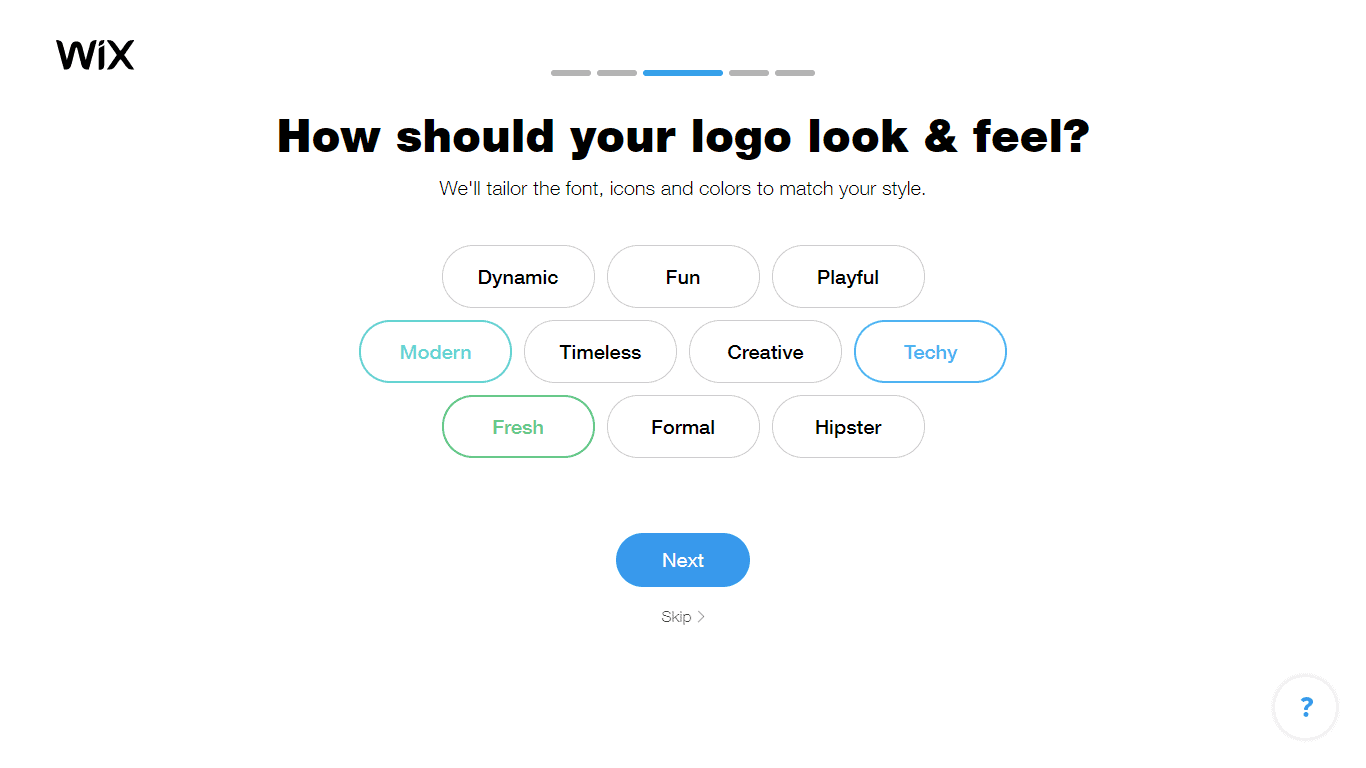 In the next stage, you'll have to compare a series of logo pairs. Select the logo in each pair that you prefer to help the AI learn your style preferences.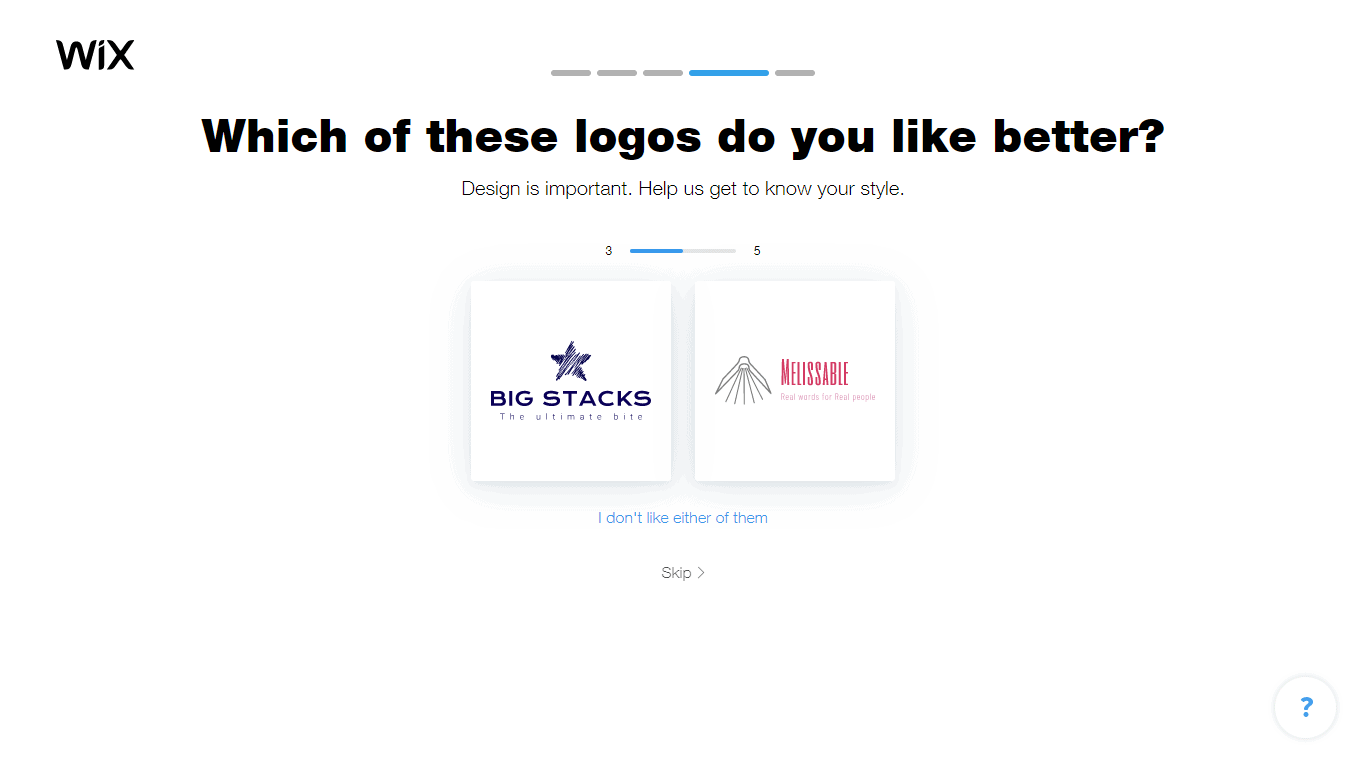 Finally, give Wix Logo Maker an idea of where you'll be using your logo, like social media or on merchandise. If you aren't sure yet, select all the options, just in case.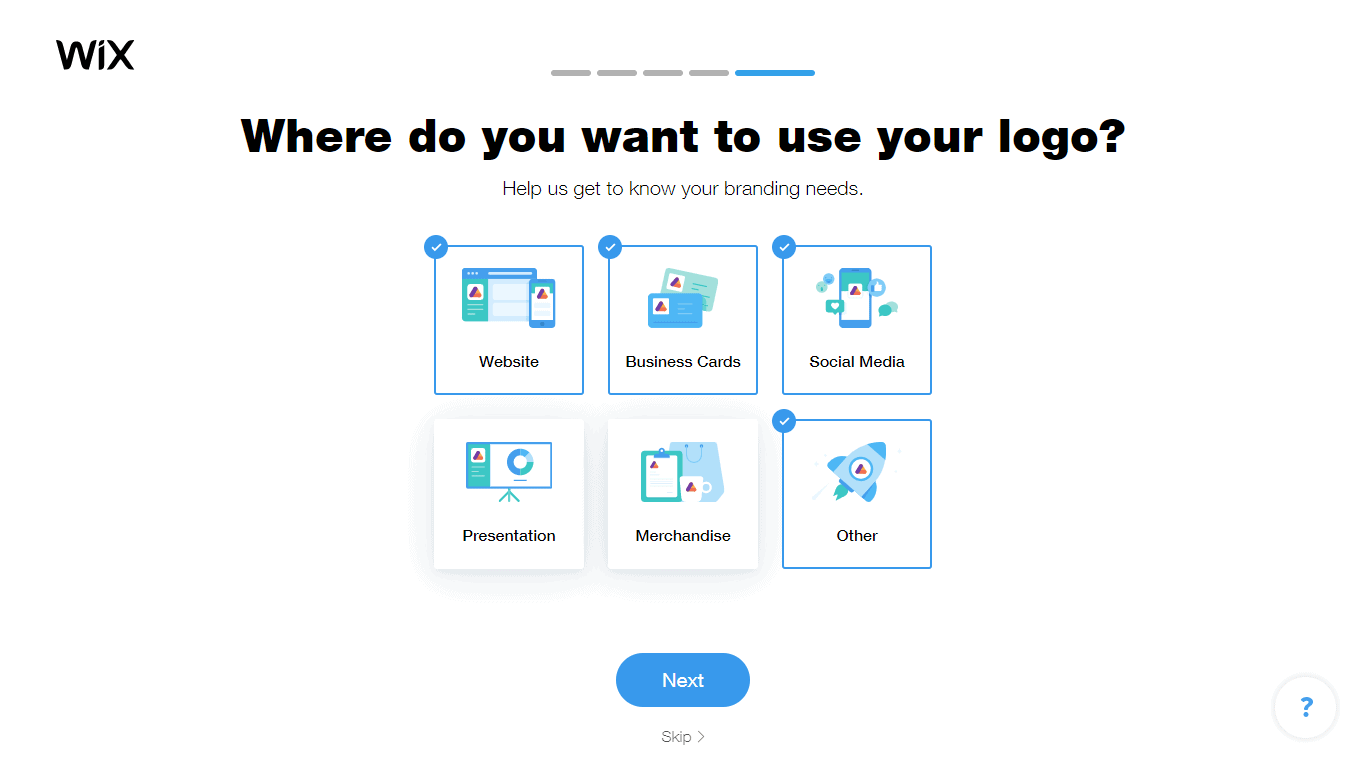 Now, your logo suggestions are ready! Spend some time browsing the styles and designs that the AI has come up with.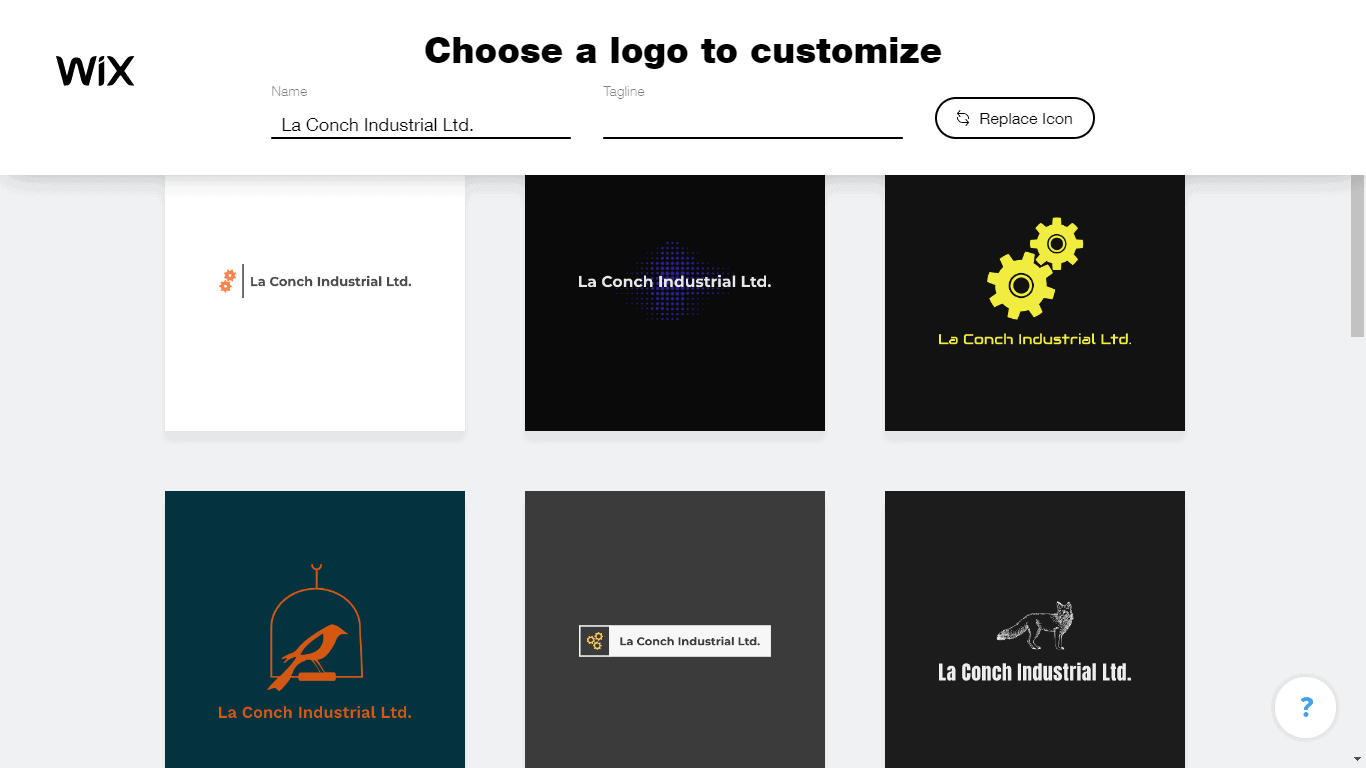 You can personalize these results by changing the icons. You'll add the L in the next stage, but clicking
Replace Icon
 allows you to
search for new imagery related to your field. For example, I searched "industrial". Have a look through the results and choose the one you like best to replace the old icons in the templates.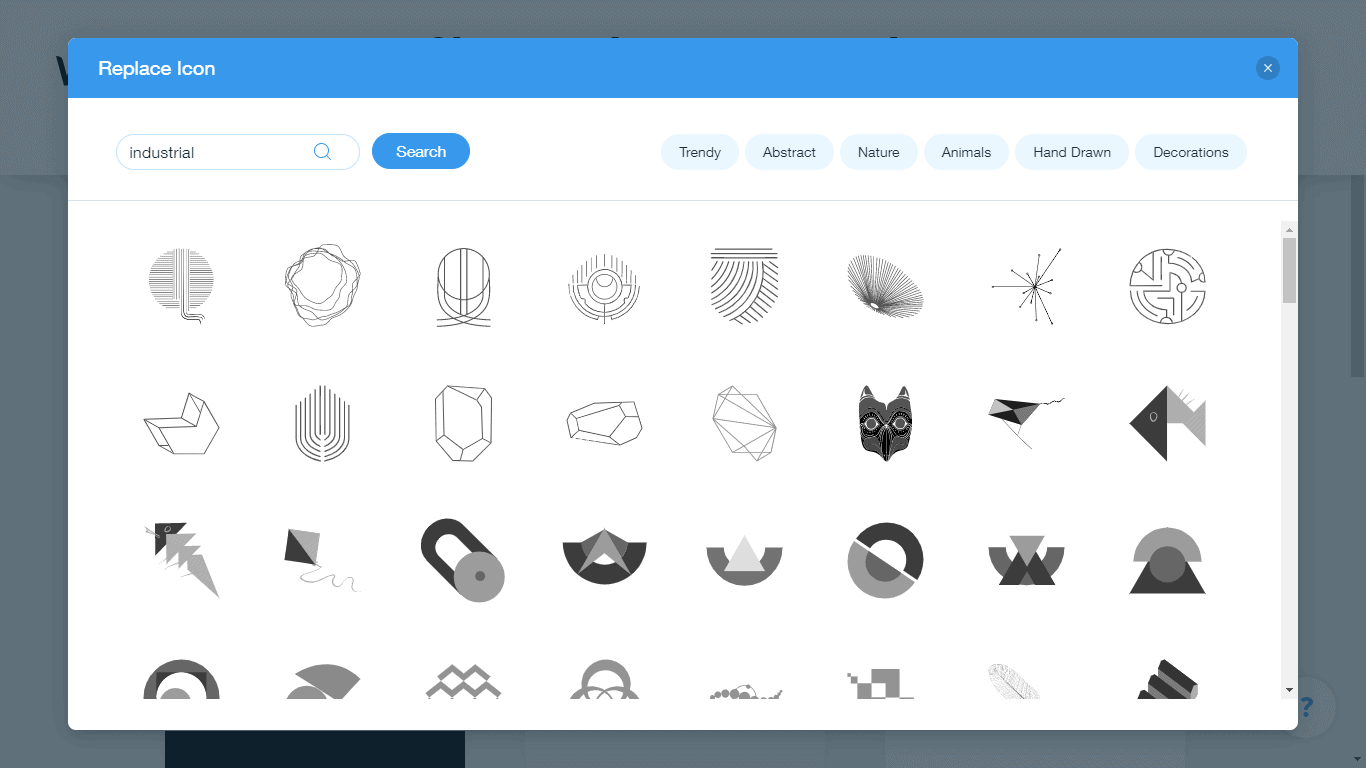 Once you've decided on a logo template, click
Customize
to edit it. First, choose from the hundreds of fonts to add your "L" to the logo. Then you can add extra icons, change the colors, borders, and shapes until you're satisfied with the finished product. The more you change here the more unique the finished design will look.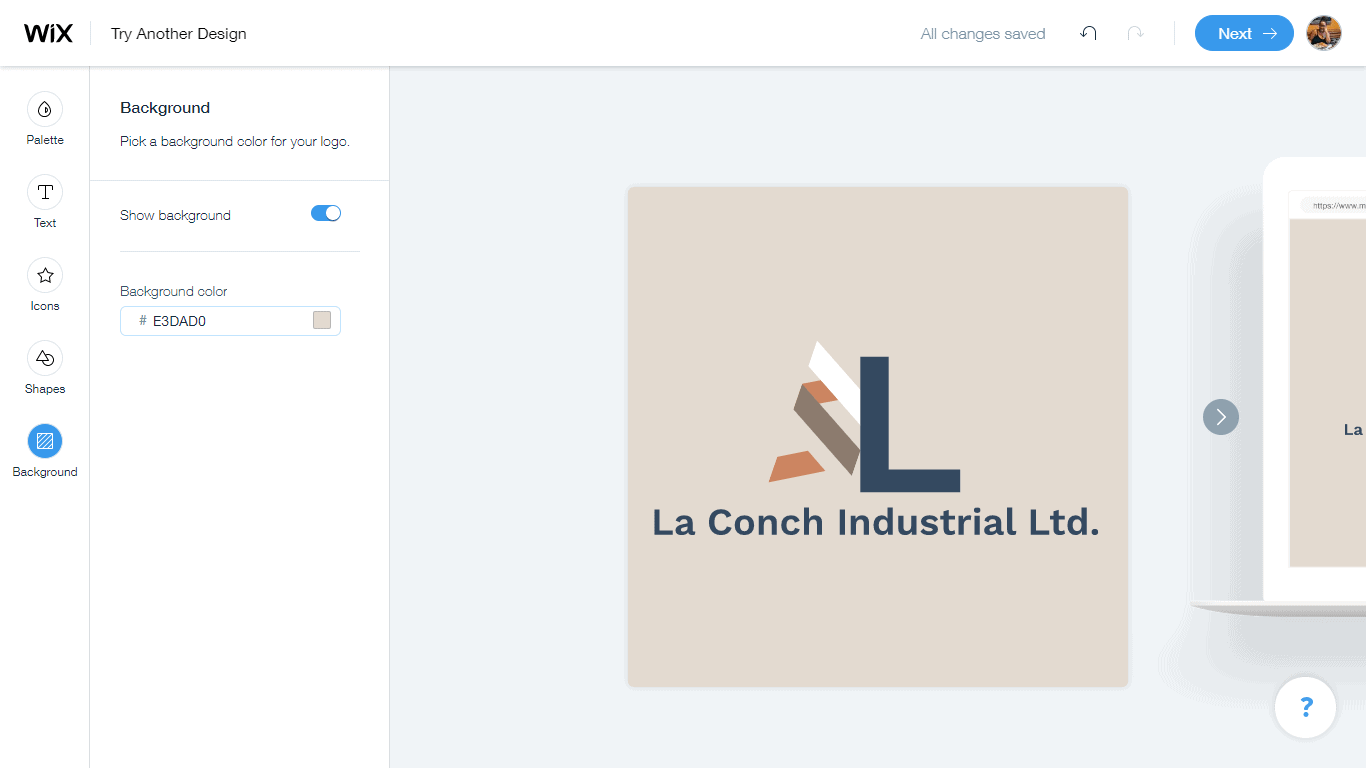 Now it's time to select the package you want and make your payment to download your new logo in high resolution. If you're still looking around, you can download a free, smaller-sized logo instead. Come back to your profile later to make adjustments to the logo or to pay and download the high res files.
Wix Logo Maker Alternatives:
LogoMaker – If you're in a rush or seeking an uncomplicated, adaptable design, consider LogoMaker as a viable choice. You can complete your logo within merely four swift steps, followed by the option to either download it in its fundamental form or customize it according to your preferences.
DesignEvo – With more than 10,000 logo templates available, DesignEvo is a great option for innovative, editable templates. Use the Letter category to make your search even easier.
In Conclusion
You don't need to spend thousands on a great logo to get professional quality and amazing design. To save yourself time and money, I always recommend browsing the designers on
Fiverr
 first, whatever your budget or style. I think you'll be pleasantly surprised by what you can find there. Using
Wix Logo Maker
 lets you create an original logo design, without your final product looking like a child's arts and craft project. It's the perfect balance between letting your creativity run free and ensuring the finished logo looks polished. Choosing your ideal logo design service isn't a decision you should rush. Check out my colleague's
expert logo design service review
 to see how other services compare.