if your experience is anything like mine, you might be frustrated with Klaviyo.
The platform isn't friendly to new users, and the plans are expensive compared to similar EMS services. Fortunately, there are many Klaviyo alternatives available to you. But you can't blindly pick the first EMS that pops up on Google. Chances are you'll end up with an equally inadequate service. How will you know if the alternative has all the features you need? And what if you end up overpaying for plans with extra stuff you'll never use? To help you avoid marketing tricks that could leave you vulnerable, I've researched the best Klaviyo alternatives. After thorough testing,
I found 7 services to help you set up winning email marketing campaigns without breaking the bank.
Short on Time? There Are the Best Alternatives to Klaviyo in 2023
ActiveCampaign – A feature-packed EMS offering scalable plans and excellent value for your money.
Brevo (formerly Sendinblue) – A simple yet powerful tool with one of the best free plans on the market.
AWeber – An EMS veteran with hundreds of available templates, high deliverability, and a great free plan.
What We Look For in the Best Alternatives to Klaviyo
Klaviyo does many things right, but its shortcomings are difficult to ignore. Here are a few things top competitors have that help them gain an edge over Klaviyo:
Free/Affordable plans. Klaviyo's plans are expensive, and there's no available discount if you want to prepay annually or biannually for the service. Other EMS offer similar packages at much more competitive prices.
Beginner-friendly interface. Many of Klaviyo's features come with a steep learning curve. For example, there aren't enough pre-made automation workflows, meaning you have to spend a lot of time manually specifying triggers and conditions. My recommendations offer smoother, more beginner-friendly menus and interfaces.
Landing pages. Landing pages can help you capture and nurture leads, making them a staple of top-performing email marketing services. Unfortunately, Klaviyo only has forms, and the platform offers no built-in landing page function.
Advanced automation. Klaviyo's email automation tool is decent, but I expected more from a platform that charges quite a bit more than the competition. The options below will help you create advanced automation sequences for a lot less.
Excellent customer support. Klaviyo's customer service can be slow at times. The alternatives I've listed below offer excellent customer support you can rely on to get the help you need.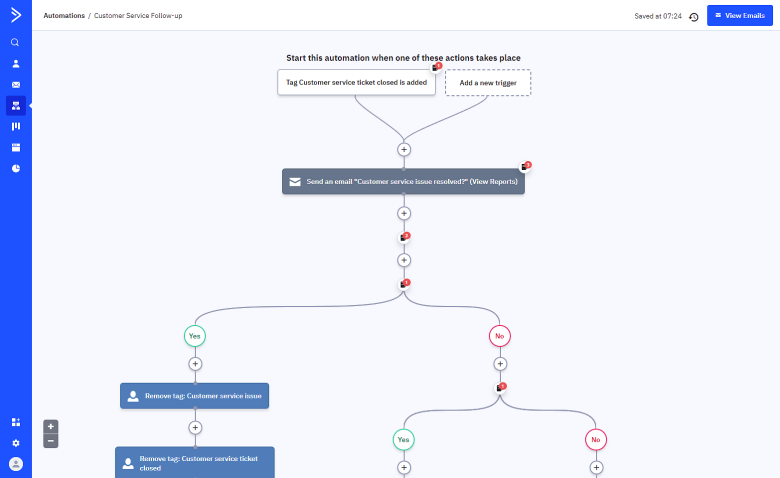 I often find myself recommending ActiveCampaign to marketers – and for a good reason.
With hundreds of modern email templates, advanced reporting, and excellent customer support, it does email marketing justice. If you have previous experience with email marketing and are looking for an advanced tool to help you get more done, ActiveCampaign is the best option. Although it packs
a wide range of tools
 and comes with a slight learning curve, overall, I still found it much easier to use than Klaviyo. You can take advantage of the 14-day trial to test the service and decide whether it's the right choice for you.
Features
Competitive pricing. Although it doesn't offer a free plan, ActiveCampaign is priced very competitively. If you're also interested in CRM and e-commerce, its special bundles will save you even more money.
Advanced email automation. ActiveCampaign's intuitive automation tool can help you set up all kinds of email sequences, from simple welcome series to more complicated branching messages. The platform features hundreds of pre-built automation templates that simplify processes and free up valuable time.
A slew of additional tools. Growing businesses will find value in ActiveCampaign's CRM system, social media marketing tools, and machine learning capabilities.
Impeccable customer support. ActiveCampaign offers support via multiple channels, including live chat, email, and phone. Its representatives are knowledgeable, helpful, and quick to reply – a great relief when you require immediate assistance.
Learn more about all of ActiveCampaign's features in our expert review.
Free plan available?
No, but the 14-day trial allows you to test most premium features
Ease of use
It can take some time to get used to its wide array of tools
Customer support
Excellent support via live chat, email, and phone
Starting Price

$

29.00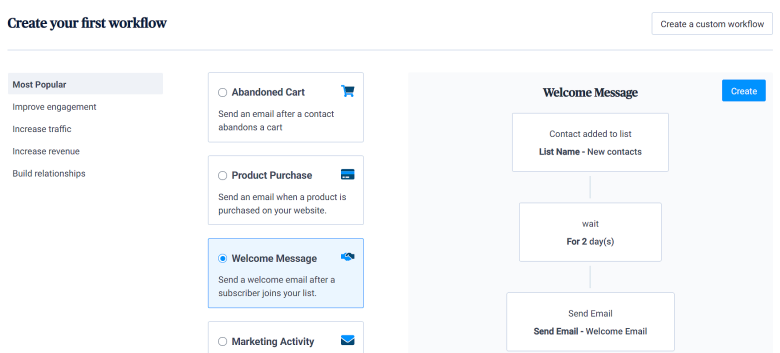 Brevo (formerly Sendinblue) is one of the best options for small marketing teams that need a budget-friendly email marketing option.
It offers one of the most generous free plans on the market, allowing you to send a large number of emails daily at no cost. But that's not where its perks end.
The email editor is clutter-free
, and you can easily tell what each block/element is for – even if you've never used an EMS before. Although limited in number, the email templates look great and allow for extensive customization, including multiple layout setups and the ability to add custom HTML blocks for a truly unique design. That said,
my favorite thing about Brevo is that you don't need any email marketing experience to use its tools.
You create your account, and the platform guides you smoothly through the process. But if you're looking for more advanced features like A/B testing and advanced automation, be prepared to pay a bit more for the Business plan.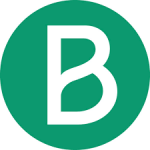 Save up to 10 % on your Brevo (formerly Sendinblue) plan!
Limited-time offer - Don't miss it!
2179 users used this coupon!
Features
Generous free plan. With Brevo's free option, you can send up to 300 emails to your contacts every single day. That's huge, even if you have to deal with missing features, such as landing pages and A/B testing. Remember, Klaviyo's monthly send limit is set to 500!
Cheap plans. Brevo is much cheaper than Klaviyo and gets even more affordable as your volume increases. SMS marketing and personalization are free with Brevo – but Klaviyo charges extra.
Extended support. Free users can reach Klaviyo's support team only via email for the first 60 days. Brevo offers unlimited email support on the free plan – plus phone and live chat for 60 days.
Easy automation. Brevo's automation tool is easy to use and allows you to set triggers through predefined workflows. Klaviyo has only a welcome series and a happy birthday workflow.
Read our expert Brevo review for more details.
Free plan available?
Yes, you can send up to 300 emails daily
Ease of use
Very beginner-friendly and easy to use
Customer support
Excellent support even on the free plan
Starting Price

$

25.00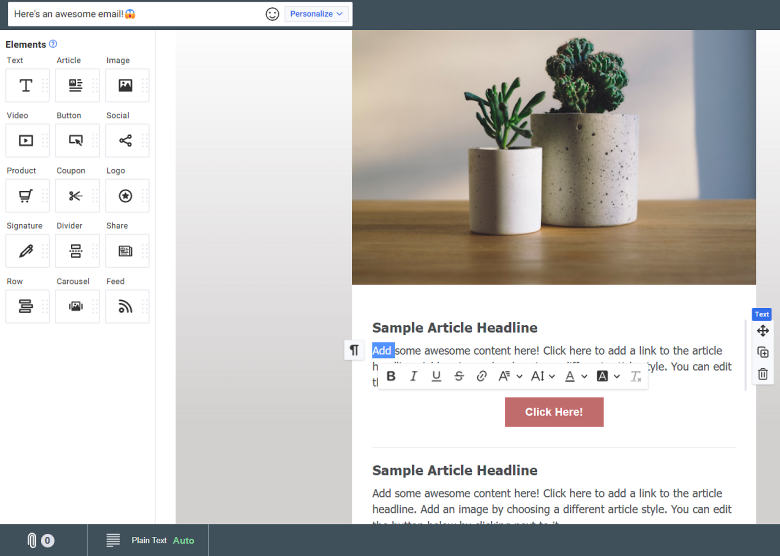 If you're finding it hard to create unique designs with Klaviyo's limited email template library, AWeber has the email design wizard you need!
AWeber's has its own AI-powered "Smart Designer" that can help you create branded emails
with the press of a button. All you need to get started is your website URL. Combine that with AWeber's 700+ high-quality,
fully customizable email templates
,
and you have a recipe for success. It usually takes me less than 20 minutes to craft a beautiful-looking email using AWeber's tools. Although not as good as Brevo's,
AWeber's free plan is a lot better than Klaviyo's
. You can test most of the platform's premium features, including AMP emails, dynamic content, landing pages, and sign-up forms. Since looks do matter in email marketing and superb editing tools are rarely available for free, I recommend you check out AWeber's free plan today.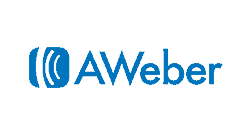 Save up to 19.2 % on your AWeber plan!
Limited-time offer - Don't miss it!
78 users used this coupon!
Features
Hundreds of integrations. AWeber integrates with many online tools, including popular e-commerce platforms like Shopify, payment systems like PayPal, and many CRM, social, and productivity apps.
Stock image library. If you've ever designed an email using an online editor, you know that finding the right images takes time. I can't blame Klaviyo for not offering an image library (it's not the industry standard), but I can commend AWeber for providing more than 6,000 curated stock images.
Landing pages. AWeber offers over 40 mobile-responsive landing pages you can use to keep your audience engaged. The landing page drag-and-drop editor is as easy to use as the email editor. Best of all, you can test the landing page feature on the free plan!
Advanced reporting. Klaviyo's analytics suite is okay, but it can't compare with AWeber's detailed reports on overall data, data trends, engagement trends, and contact information.
Learn more about why AWeber stands out by checking out our expert review.
Free plan available?
Yes, you can send up to 3,000 emails to 500 contacts monthly
Ease of use
Easy to use tools across the board
Customer support
Great support even on the free plan
Starting Price

$

12.50
Although Klaviyo does integrate with popular e-commerce websites and is sales-focused, its high cost is problematic. If you have an online store and want to use email marketing to drive sales and increase your revenue, switching to Omnisend is the sensible thing to do.
Omnisend can quickly pull data from your e-commerce platform, helping you build automations
that positively impact your bottom line. I put together a sales newsletter with several featured products in less than 10 minutes – the same newsletter took me much longer to create on Klaviyo. That said, Omnisend's core email features aren't as strong as those of other competitors listed here – email designs and customization are limited, which can be an issue if you can't find a template that suits your needs.
You should only consider Omnisend if you want to use email marketing to support your e-commerce activity.
Features
Generous free option. With Omnisend's free plan, you can send up to 500 emails and 60 SMS to 250 contacts monthly. That might not sound too impressive, but remember that this free plan comes with most of the platform's premium features (e.g., unlimited segmentation, A/B testing, 24/7 live chat support).
"Product Picker" feature. This tool allows you to insert any product from your store directly into their newsletter. If you're promoting several items at once, this neat feature can save you a lot of time.
Easy to use. Omnisend's UI looks good, but it also feels good to use. You can sign up, connect your e-commerce site, and send your first email in less than 20 minutes.
Excellent customer support. Klaviyo's response times aren't great. Whether on a free or paid plan, you can expect Omnisend's customer support team to be there when you need them.
Read our expert review to find out how Omnisend can give your e-commerce site a boost.
Free plan available?
Yes, you can send up to 500 emails to 250 contacts monthly
Ease of use
Easy setup and intuitive tools
Customer support
Excellent support round the clock
Starting Price

$

18.00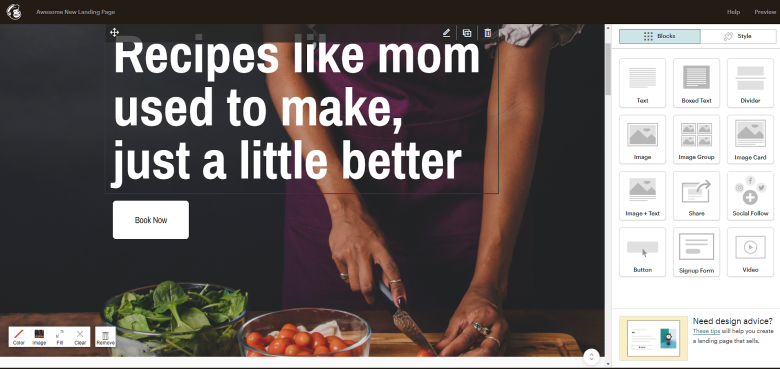 Mailchimp's one of the most well-known email marketing services, and I can see why. Its free version allows you to send 1,000 monthly emails, even if it's somewhat limited in terms of advanced email features. Free users don't have access to A/B testing or custom-coded templates, and you can only contact support via email for the first 30 days. Aside from that,
Mailchimp's very easy to get started with.
Signing up takes just a few minutes, and all the available tools feature small guides that pop up now and then, sharing all kinds of helpful tips and insights.
If Klaviyo's UI is causing you a headache, Mailchimp could help you simplify processes.
It's worth noting that Mailchimp is probably not the best choice if you're looking for a tool with advanced automation capabilities. Its rather rudimentary segmentation means you can't create automations based on complex parameters (e.g., move contacts between lists based on their viewing/clicking behavior).
Features
Landing pages on the free plan. Mailchimp is one of the few EMS that allows free users to access its landing page editor. Best of all, there's no limit to how many landing pages you can create as a free user.
Seamless integrations. If you struggle to integrate Klaviyo with your favorite apps, you'll be delighted with Mailchimp's integration capabilities. As a popular EMS, Mailchimp integrates natively with over 500 apps and platforms.
Intuitive email editor. Mailchimp's email template collection isn't as extensive as, say, AWeber's. However, its email editing tools are intuitive and easy to use. With your email copy ready, you can create beautiful, mobile-responsive campaigns in record time.
High deliverability rate. As you probably already know, deliverability has more to do with the marketer and less with the EMS itself. That said, Mailchimp manages to maintain consistently high deliverability rates – perhaps due to its insistence on limiting spam with relevant deliverability tips (e.g., on subject lines, opt-ins).
Our expert Mailchimp review includes more in-depth information about the platform's features.
Free plan available?
Yes, 1,000 monthly emails
Ease of use
Intuitive and beginner-friendly
Customer support
Great as long as you're not a free user
Starting Price

$

13.00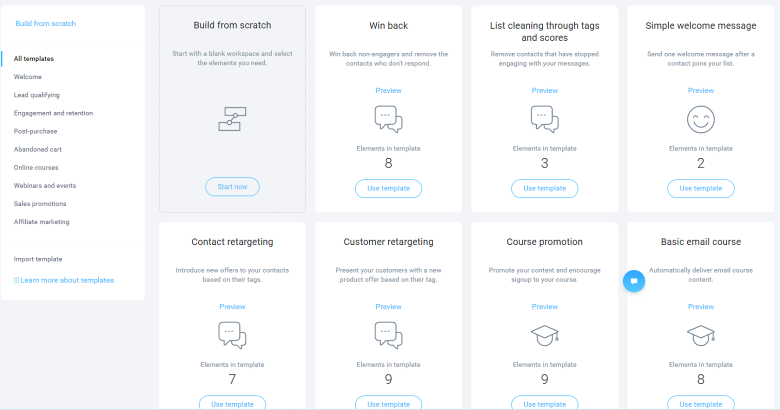 Much like ActiveCampaign, GetResponse is a robust platform that can do a little bit of everything.
Its tools might not be as advanced as ActiveCampaign's, but I found them more beginner-friendly.
The UI is pretty straightforward, with explanatory pop-ups that give tips on what each feature does and how to make the most of it. If you're looking for a service that can do more than Klaviyo but are also slightly intimidated by ActiveCampaign's complexity, you might want to check out GetResponse. Other key features include an outstanding landing page builder, sales funnels, and an integrated CRM solution.
Features
Great free plan. As a free GetResponse user, you can use the platform's easy-to-use, drag-and-drop builder to send 2,500 monthly emails to 500 subscribers. Other features include landing pages, website building, signup forms and popups, and more.
Affordable pricing. Considering everything it offers, GetResponse's plans are priced very competitively. I love how there are so many plan choices available based on the contacts/features included. As long as you take the time to pick the right plan for your needs, chances are you'll save quite a bit.
Webinar builder. As a paid user, you can use GetResponse to create unique webinars, use email marketing to attract attendees, and host your event without leaving the platform.
Readily-available support. Although GetResponse doesn't have phone support, its live chat and email support channels make up for it. You can contact a representative 24/7 and receive a prompt reply in 8 different languages.
Find out if GetResponse is the right choice for you by reading our expert review.
Free plan available?
Yes, 2,500 monthly emails
Ease of use
Easy to use despite its expansive set of features
Customer support
Excellent, even if your first language isn't English
Starting Price

$

15.58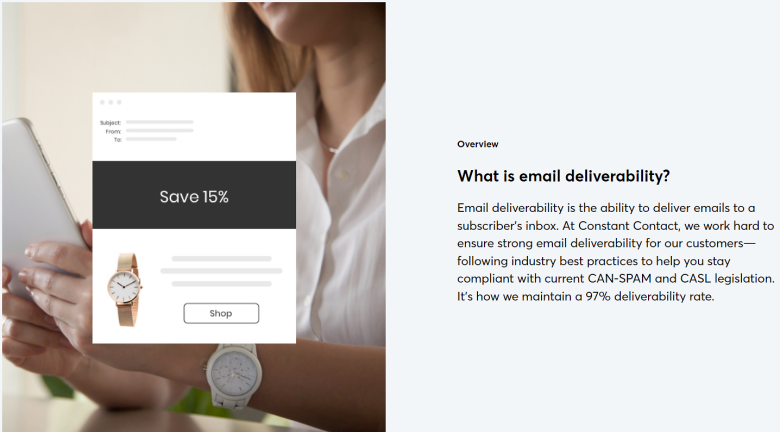 Like Mailchimp, Constant Contact is a platform designed with user-friendliness and ease of use in mind. Its intuitive drag-and-drop email editor is one of the best I've used in terms of usability and template customizability. There's even an option to create branded emails based on your brand logo and colors – impressive stuff.
Although it's easy to use, Constant Contact isn't simplistic.
It features A/B testing, advanced automation, and a slew of native integrations. The reporting tool is also impressive, offering specialized click heat maps, state-by-state stats, and e-commerce tracking. Constant Contact would've placed much higher if it weren't for the lackluster analytics suite – important engagement metrics like location and device info are missing. If you want to switch to a more intuitive email marketing platform than Klaviyo that gets the job done, I recommend checking out Constant Contact's 60-day trial.
Features
Long trial period. With most email marketing platforms, you must make do with either extremely feature-restrictive free plans or short trials. If you're located in the US, you can take advantage of its 60-day trial to test everything the platform has to offer with only one restriction: 100 contacts.
Advanced segmentation. Constant Contact's segmentation capabilities are slightly better than Klaviyo's. If you have enough data about your contacts, you can use various definitions to create new filters and get as specific as you want.
Event management tool. You can use CC to organize classes, seminars, workshops, fundraisers – you name it. It's a neat little feature that allows you to build customizable registration forms with just a few clicks. You can then easily create an email invitation to promote your event and a landing page to fit additional details.
Excellent deliverability. Constant Contact's one of the few platforms with an almost perfect deliverability rate. Its spam policy is surprisingly strict and doesn't allow most forms of affiliate marketing.
Learn more about Constant Contact's features by checking out our updated review.
Free plan available?
No
Ease of use
Easy to use despite its expansive set of features
Customer support
Excellent, even if your first language isn't English
Starting Price

$

12.00
These Klaviyo Alternatives Get More Done for Less
Klaviyo is a decent email marketing platform with some interesting features. Still, it's not user-friendly, and its pricey plans tend to scare marketers away. Whether you're new to email marketing or have created hundreds of successful email campaigns, you'll find more value elsewhere.
If you're looking for a feature-packed platform that can do it all, I recommend you check out ActiveCampaign's advanced tools.
Currently, it features one of the most advanced automation systems on the market, and there are hundreds of pre-built automation recipes to help you get started.
If you're new to email marketing or are just looking for a budget-friendly EMS to get things done, Brevo should undoubtedly be on your radar.
The
generous free plan
 and the platform's intuitive UI make for an impressive combo –  and the excellent customer support doesn't hurt.
If design is a priority, AWeber's massive email template library is too good to ignore.
The platform features a robust editor and a clever "Smart Design" AI that can help you create branded templates with the click of a button. The advanced automation suite will help you deliver those beautiful email campaigns to more contacts.
| | | | | |
| --- | --- | --- | --- | --- |
| | Free Plan | Best Feature | Best For | |
| ActiveCampaign | ✘ | Advanced email automation | Experienced marketers looking for advanced tools | |
| Brevo | ✔ | 300 sends per day on the free plan | Beginners looking for an affordable and easy-to-use EMS | |
| AWeber | ✔ | Email editor and analytics | Larger teams and businesses looking to cut down on design costs | |
| Omnisend | ✔ | Seamless integration with e-commerce websites | Marketers and businesses with online stores | |
| Mailchimp | ✔ | Hundreds of native integrations | Beginners looking to integrate with various 3rd-party apps | |
| GetResponse | ✔ | Advanced marketing tools | Companies looking to drive value with a wide range of marketing tools | |
| Constant Contact | ✘ | Excellent deliverability | Marketers who appreciate stringent spam policies | |
FAQ
What is Klaviyo?
Klaviyo is a growth marketing platform that uses both email and SMS to reach existing customers and attract new leads. Although Capable, Klaviyo isn't very user-friendly, and its expensive plans make it a less-than-ideal choice for most marketers.
How much is Klaviyo?
Klaviyo's pricing isn't great. There's a free option with a limit of 250 contacts and 250 monthly email sends. The Email plan starts at $20 for 251-500 contacts, while the Email and SMS plan starts at $35 for the same number of subscribers plus 1,250 SMS/MMS credits.
Which is better: Klaviyo or Mailchimp?
Mailchimp is better than Klaviyo. Unlike Klaviyo, it offers a generous free plan, hundreds of third-party integrations, and beautiful landing page templates. Mailchimp ends up being quite a bit cheaper than Klaviyo for the same number of contacts, which is surprising since it's not the cheapest EMS out there.
Is Klaviyo worth the price?
Klaviyo is a capable platform that can, at least feature-wise, stand its ground against the fierce competition. Still, you'll be much better off with a top competitor (such as Brevo), and you won't look back. Trust me, I forgot my Klaviyo login details not long after I made the switch – and I have yet to reset my password!
What is the best alternative to Klaviyo?
It all depends on what you need. ActiveCampaign is the best all-rounder with industry-leading automation and excellent customer support. Brevo is a great alternative if you're on a budget but want to gain access to advanced features and SMS marketing. With its fantastic email editor, AWeber is the best solution for marketers looking to cut down on design costs. Check out our list of the best email marketing services for more options.