great news, I've found a way to hire a logo design pro for as little as $5!
Click here to skip ahead and learn my secret.
I'll also tell you how you can try making your own horse-themed logo for free. For added inspiration, here are nine of my favorite horse logos from around the web.
9 Best Horse Logos
How to Find an Awesome and Affordable Horse Logo Designer
With all the detailed work that goes into making an unforgettable horse logo, it makes sense to turn to a designer who has been to the logo rodeo before. And if you look in the right place, you can find one without worrying about your
animal logo
eating up your budget. Fiverr is a hub for online freelance services where you can hire an experienced logo designer for as little as $5. Not bad at all, right?
Using Fiverr's search tools, you can review hundreds of designer profiles to find one whose aesthetics match your brand, and whose prices match your budget.
When you're sizing up designers on Fiverr, make sure to check out their portfolios, prices, delivery times, and most importantly, customer reviews. Enter keywords to narrow your search and find designers with the most relevant experience.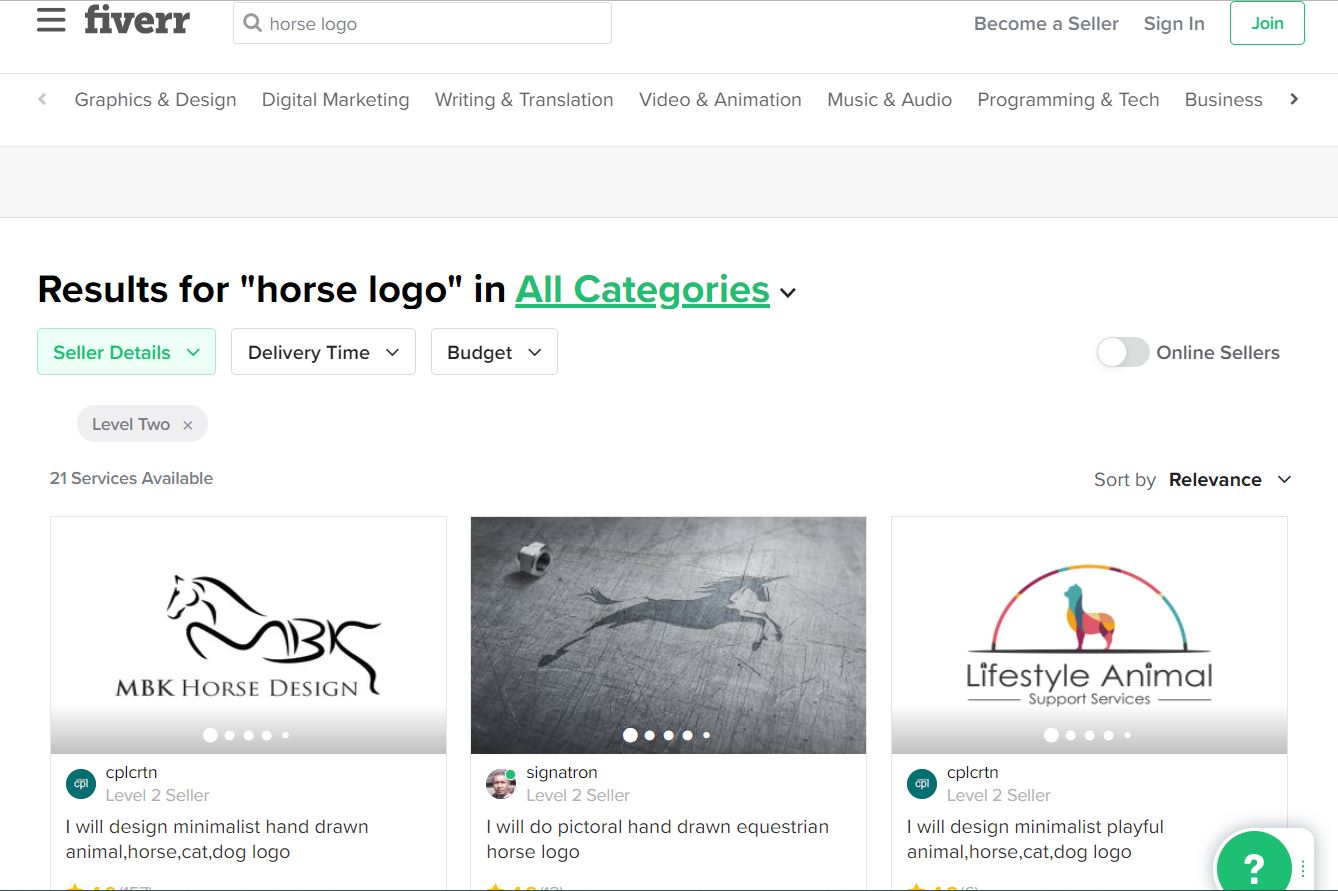 If doing all this searching on your own feels a little intimidating, you can call on Fiverr's logo design wizard for help.
The wizard will ask you some questions about your logo project, and then filter for the designer listings that best match your requirements.
Other Advantages of Using Fiverr:
Choose from thousands of skilled designers from around the world.
Messaging feature – communicate quickly and directly with designers using the desktop messaging platform or the free Fiverr mobile app.
No hidden charges, and your payment for the gig will be held in escrow. If your designer doesn't come through for you, you can cancel the gig and get your money back.
Many designers offer a variety of basic and premium gig options to fit any budget.
If you have a slightly larger budget, you can use the Fiverr Pro option to find the most trusted professional designers. They deliver extremely high-quality work for far less than traditional design agencies.
How to Make Your Own Horse Logo
Want to roll up your sleeves and experiment with creating your own horse logo design? There are plenty of DIY horse logo makers online, and many of them are free to use.
Just bear in mind that while you can design your logo for free, you'll have to pay a fee to download it in a usable form.
If you love the logo you create, the price will be worth it. If you hate it, you can forget it and pay nothing. And if you
kind of
like your design, you can snap a screenshot of it, then hire a Fiverr designer to refine it into a horse logo that really shines. One of my favorite online logo design tools is
Wix Logo Maker
. All you need to do is answer a few questions about the logo you want, and the artificial intelligence (AI) designer will generate a bunch of customizable logo designs for you to choose from. Here's how it works in detail:
1. Log in or sign up.
Go to the Wix Logo Maker homepage
 and click on
Start Now.
At this point, if you don't have a Wix account, you'll be redirected to the registration page. Creating an account using your email or social media ID is free. If you already have a Wix account, just click
Log In
.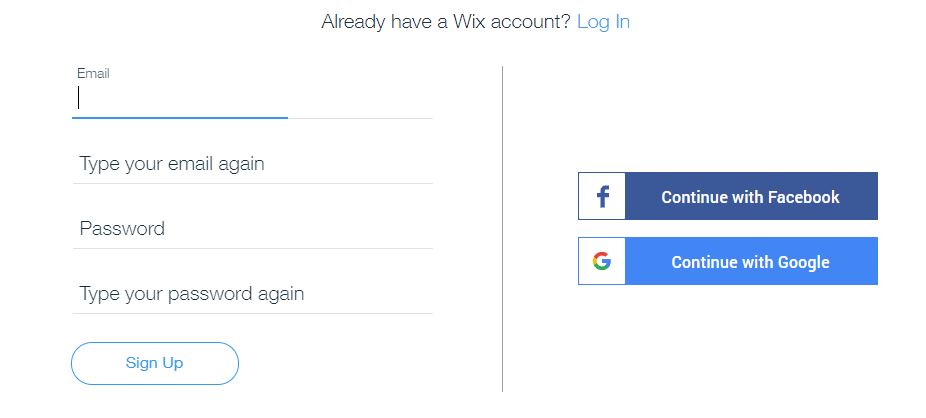 2. Input your business name.
The first official step in creating your logo is entering the name of your business, along with a tagline or slogan if you have one. Then click
Let's Go
. You'll see that you can skip the steps that follow if you wish, but you'll get far better logo designs if you provide as much information as possible.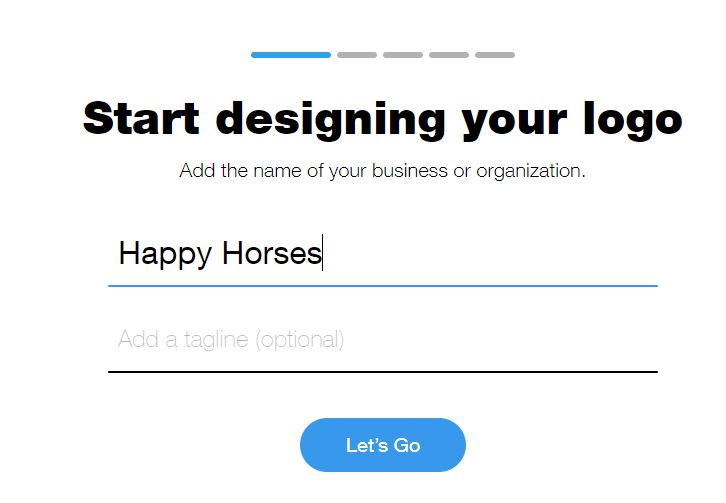 3. Specify your business category.
Describing your business gives the AI a better idea of the types of logos that would work best for you. Try to enter a category that the AI is likely to recognize, like "horse farm," "horse grooming," "express delivery," etc. Then click
Next
.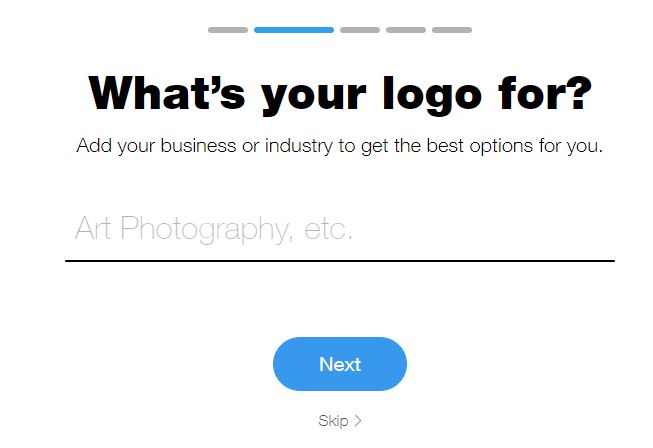 4. Choose the preferred style of your logo.
From the keyword cloud, pick one or more style descriptions that match your company's personality. Click
Next
when you're done.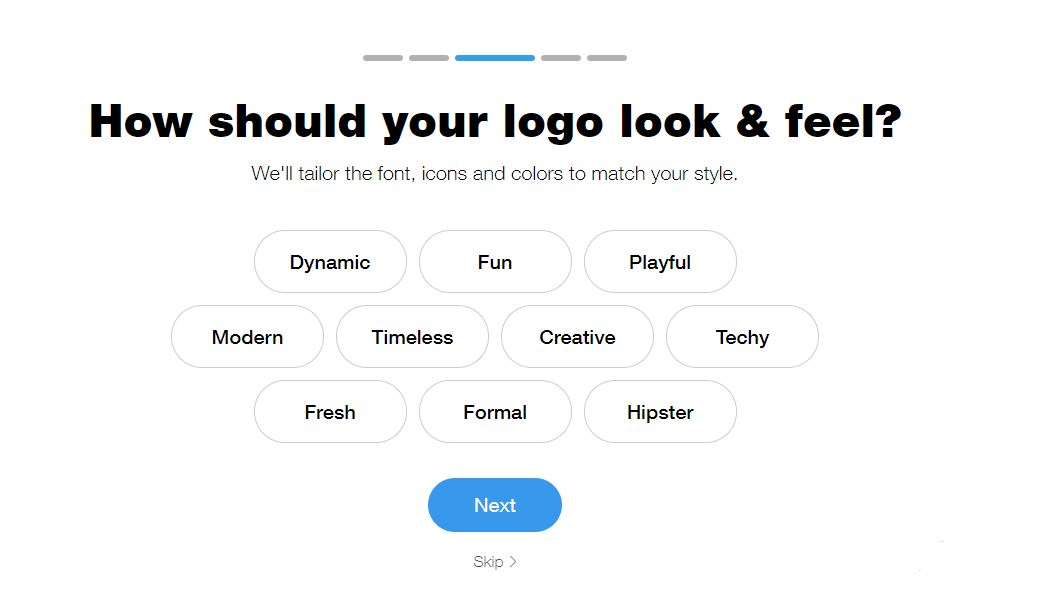 5. Choose logos you like to help Wix Logo Maker get to know your preferences better.
Ten logo examples will now be displayed for you, two at a time. On each screen, choose the one you like better, or click on
I don't like either of them
. These are
not
suggested designs for your logo. They're just general examples to help the logo maker's AI fully understand your style.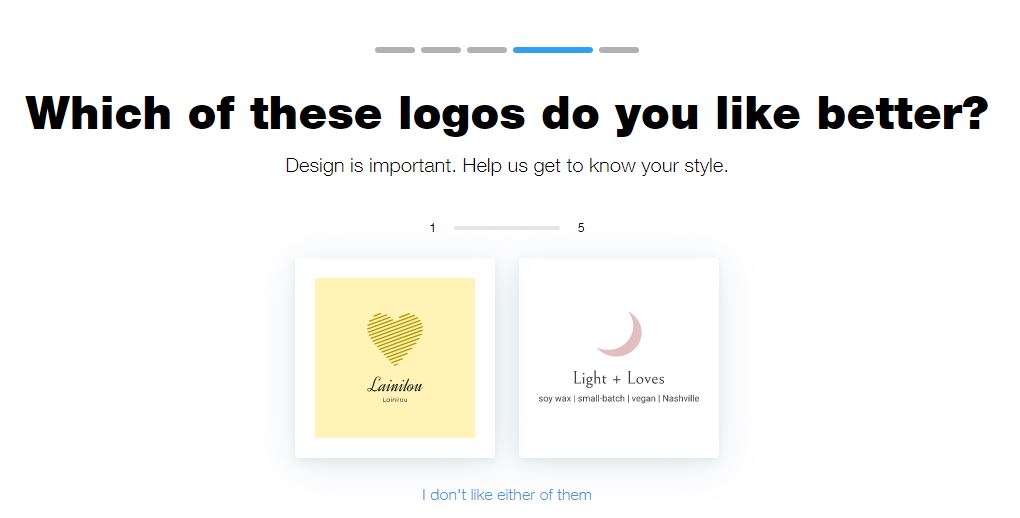 6. Where will you use your logo?
On this page, click to check the options describing where you'll be using your logo (e.g., website, business cards, social media, etc.), then click on
Next
. Some logo designs only work well at large (or small) sizes. Completing this step helps to ensure that you get a that's easily readable at all sizes you need.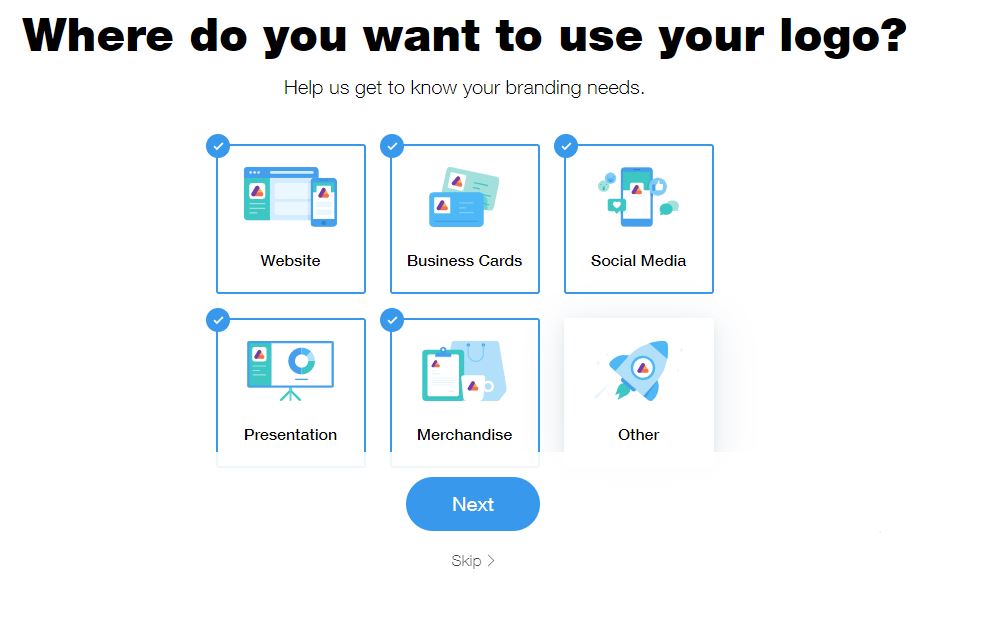 7. Choose the icon that's just right.
Now that Wix Logo Maker has generated several logo designs for you, you can start customizing. First, make sure the horse image has the feeling you want for your brand. If it doesn't, click
Replace Icon
, then enter "horse" or 'horses" in the search bar. Whichever image you choose will appear in the rest of the logos you see.
8. Choose a logo to customize.
Scroll through the logo design options and click on the one you want to use.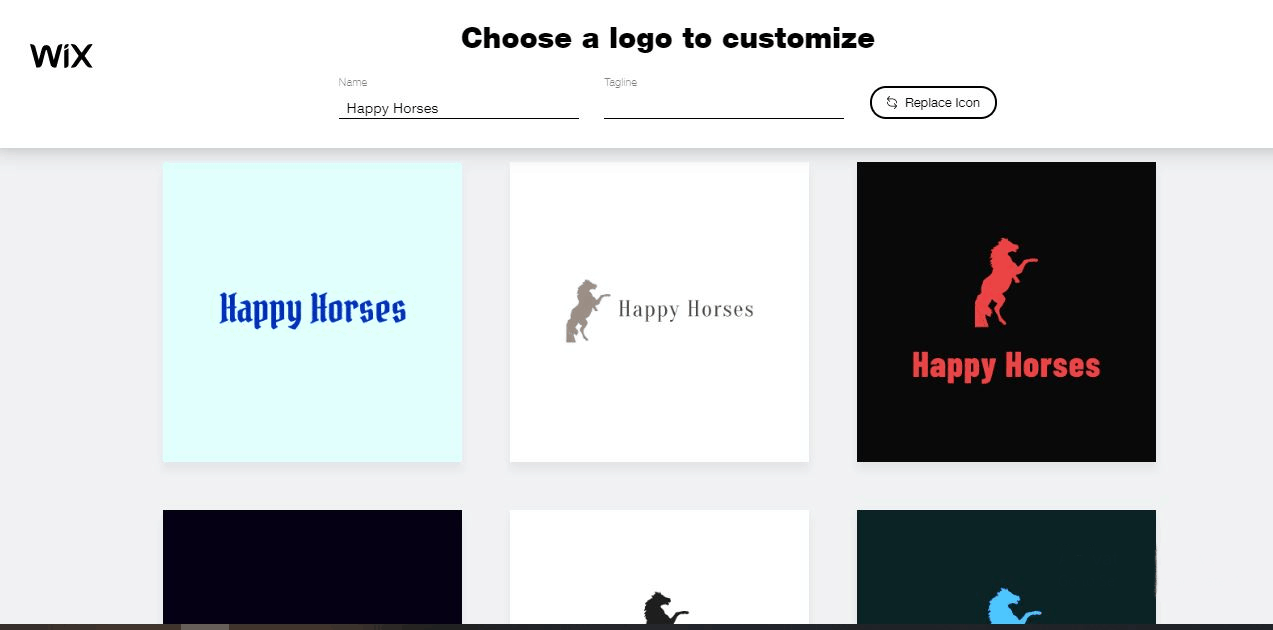 9. Final customization
You'll now be taken to the editing page. Here, you can customize the logo by changing the fonts, text color, icon color, background, and more. And if you find yourself regretting your choice, just click
Try Another Design
.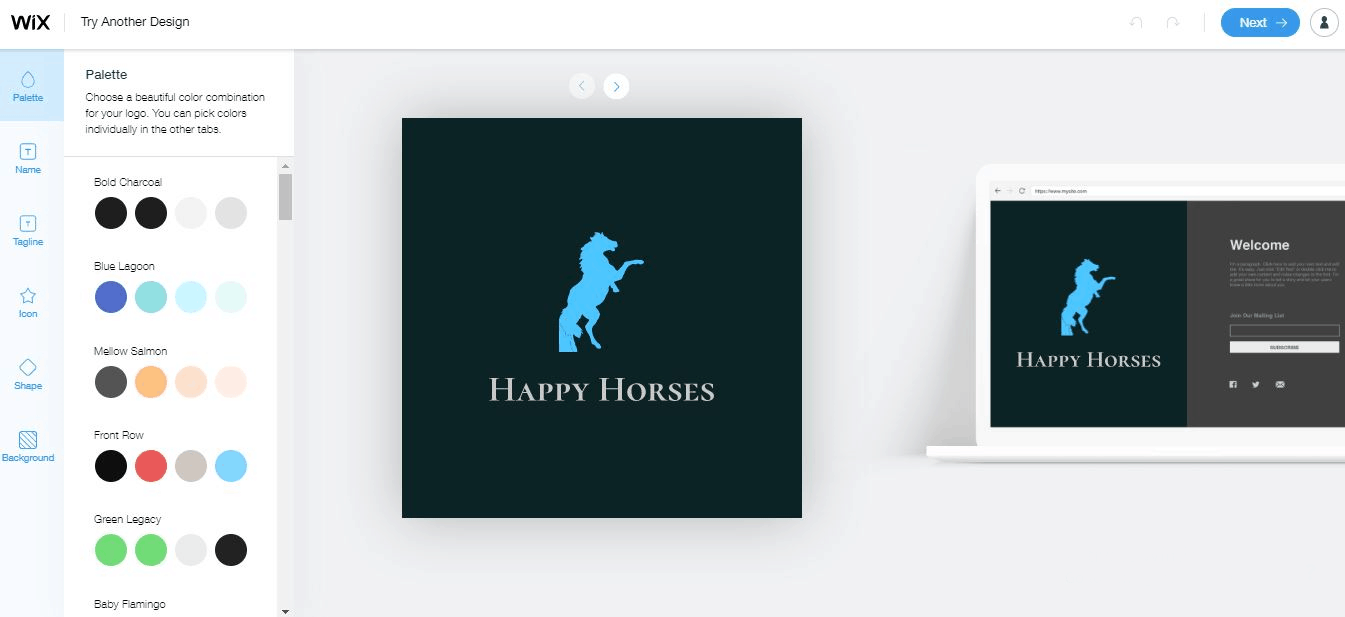 10. Pay for your logo, download it, and you're done.
Once you're satisfied with your logo, hit
Next
to purchase it. If you don't think the logo you've created is great for your business, just skip this step. Because you created an account, you can come back later and make further edits to the design.
Wix is best known as a website builder
, so it's no surprise that price options include getting your logo plus a website. If you don't need a website, just click
Get Your Logo
.
If you want to print your logo at large sizes (like on signs and t-shirts), you'll want the Professional package,
which includes scalable vector files and full commercial usage rights.
Top Alternatives to the Wix Logo Maker
Every online logo maker has a different set of icons, layouts, and fonts. So if you don't love what you're getting with Wix Logo Maker, I recommend trying these other options:
Tailor Brands offers a slightly more visual presentation than Wix Logo Maker during the question-and-answer process. You can create as many logos as you want through a single monthly subscription.
Looka gives you interesting logo customization options, including layout changes.
Budget-friendly LogoMaker works differently than the other horse logo design tools I've mentioned. Rather than generating logos using AI, it has a library of logo templates to choose from and customize.
Final thoughts
Whether you choose to
hire an experienced logo designer on Fiverr
 or create your own logo, it's worth investing a little time, money, and effort to get your logo just right.
A great horse logo is the first thing people will notice about your brand, and the last thing they'll remember.
Take the iconic Ford Mustang logo, for example: a free-roaming horse galloping into the unknown. The design is simple, but the impact is unforgettable. One look, and you know you're encountering a car with raw power and speed. That's what a great logo designer can do for you. For more logo design and branding ideas, don't miss our list of the
top logo design services
.