the most successful logos trigger a positive emotional response from consumers
. And if you haven't already heard, there's a whole field of psychology devoted to understanding the meaning behind colors.
Colors evoke certain moods which in turn influence buying behavior.
Take yellow, for example. How come the McDonald's logo has golden arches? What's the significance of the bright yellow of Best Buy's logo? When it comes to building a brand's visual identity, everything has to be thought out in intricate detail.
What Does Yellow Illuminate About Your Business?
First and foremost,
yellow is an
attention-grabber
.
It compels people to think and act
, mostly due to its association with yellow traffic lights and traffic signs. According to Road Traffic Signs, yellow lights and signs are purposefully used to warn the public about hazards. The yellow, in particular, triggers viewers to slow down and take notice. Therefore, businesses that use yellow in their logo also want to be clearly noticed. They want to be perceived as being
accessible to the masses
. In addition,
yellow can connote passion and happiness due to its association with the sun.
And according to Fast Company, a business magazine that specializes in design (among other things), yellow has the power to:
Encourage cheerfulness and optimism
Increase warmth
Stimulate the mind
Spark a fun, youthful attitude
Now, doesn't it make sense why a smiley is yellow in color?
Yellow-inspired logos inspire positivity and make consumers want to smile, too.
Big Brands that Embrace the Light of Yellow
Yellow might be a common logo color in a wide array of industries precisely because the color naturally pops out, but
some of the most successful brands deliberately use yellow in their logo for other strategic reasons.
These companies are well aware that a yellow logo is highly visible because of its vibrancy, but they also know that yellow, when used alone, can be overly stimulating — if not downright irritating — to the eye. That's why most brands
introduce a secondary color into their logo so that it stands out without completely blinding the consumer
. So as you'll see, none of the logos below are exclusively yellow. But they all demonstrate how a brand can cleverly use the color to make itself shine.
Yellow Promotes Fast and Cheap Dining
Every color conveys a message and, with yellow, the key message seems to be of bargain prices and speed.
According to Art Therapy, it also frequently affects
appetite
by encouraging your stomach to growl a little bit more fiercely. This makes yellow the ideal logo color for big foodservice companies like burger chain McDonald's and family diner Denny's.

It's also the perfect hue for attracting the attention of hungry passers-by.
Say that your tummy is rumbling and you're driving down a busy road looking for somewhere to eat — how could you not spot the golden arches? They're like a beacon of light at the end of a deep, dark tunnel. Just like McDonald's, Denny's has introduced red as a second complementary color in its logo. Why? Because red has also been known to increase one's hunger. Genius. For more information about red and what it can do, here's our article about the
power of red and whether it's a good color for your logo
.
Yellow Encourages You to Bargain-Shop
Yellow's association with bargain prices also makes the color ideal for retail stores with a low-price propositioning,
such as Best Buy and IKEA. Electronics retailer Best Buy uses a big yellow price tag as a clearly identifiable symbol of reduced cost and unique price cuts.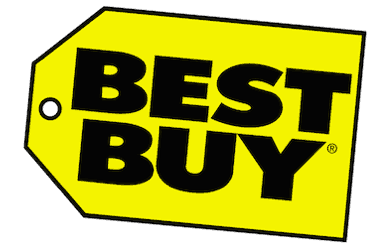 And guess what?
Grabbing a bargain makes consumers happy, which is the exact emotional reaction that yellow is renowned for.
Best Buy's logo also features black font, which provides a spectacular contrast to the yellow. The sole purpose of this is to create a bold combination, much like the yellow and blue pairing in the logo of Swedish homeware store IKEA.

Like Best Buy, IKEA is praised for its low-price points by budget-conscious consumers, which is why yellow works exceptionally well for the brand. Plus, it just so happens that yellow and blue are the colors of the Swedish flag, which is a convenient coincidence!
Yellow Brings Out the Kid in Kids and Adults Alike
As a logo color, yellow conveys that a company is not only quick and affordable, but also fun and cheerful!
It plays on our childlike tendencies.
For instance, vibrant yellow is the ideal logo color for social media app Snapchat. Why? Well, it's a hue that brings out the kid in us and
promotes the element of fun
. This works perfectly for Snapchat, with its abundance of playful filters and features.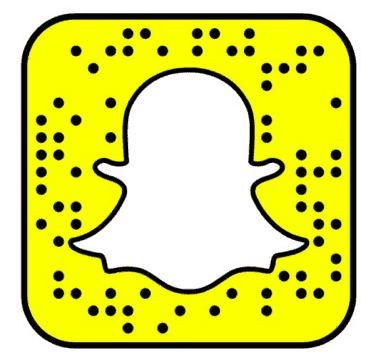 Due to its
fun and happy connotations
, yellow is also a great logo color for brands that target children. For instance, Toy Story and crayon company Crayola feature yellow as their primary color.

Incidentally, Crayola's secondary logo color is green. According to Think Design, green has a calming effect while representing growth, which is perfect for the little people in the world. The multi-colored rainbow is great, too, because it's naturally associated with kids and nursery rhymes.
Yellow Elevates You to Enlightenment
Well, maybe not quite "enlightenment" —
mental clarity
is probably a better phrase. According to ImagiBrand,
the brightness of yellow stimulates the logical side of the brain.
This makes the color an obvious logo color choice for informational companies, such as stationary brand Post-It and phone information company Yellow Pages.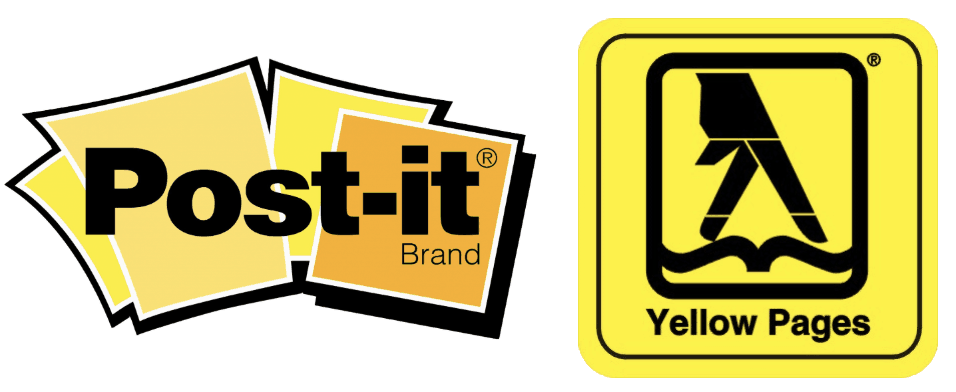 Should You Use Yellow No Matter What?
If yellow is a natural attention-grabber and generally communicates positivity and cheerfulness, you might think that your business could never go wrong with the color. However, it's not quite that simplistic. There are certain businesses for which yellow would not work very well:
High-end shopping. As yellow is associated with speed and low prices, a yellow logo is great if you're trying to make a quick sale or encourage an impulse purchase. If you sell expensive, high-end products or services, however, definitely steer clear of the color. You're better off going with colors that generally convey a more luxurious and exclusive vibe, like black or violet.
Healthcare industry. Thanks to the road industry, yellow can easily connote some kind of warning. This can trigger worry and frustration, which wouldn't be a good fit for the healthcare industry, especially considering that mental distress can exacerbate illness!
Funeral services. Yellow is all about sunshine and happiness; therefore, it might be inappropriate to use yellow as a logo color for funeral services.
Gender-focused stores. Yellow serves as a neutral hue. If you're expecting a baby but uncertain about the sex, consider painting your spare bedroom in yellow; it suits both genders. Hence, if you aim to specifically promote femininity or masculinity, yellow might not be the suitable logo color for your brand.
Long-stay accommodations. As yellow is associated with speed, it wouldn't work well with extended-stay hotels or B&Bs where the idea is that guests want to appreciate every precious moment of their vacation, especially if you hope that they'll stay longer.
Follow the Yellow Brick Road (to Success)
Choosing your branding color palette is not a decision you should take lightly. If the factors of speed, fun, and bargain prices represent your company well, you might want to consider yellow as your primary logo color. And
if yellow seems too vibrant alone, you can always introduce a secondary color to complement yellow.
For example, grey, navy blue, hot pink, and light purple could work well. But if you don't have a designer's eye and all of these considerations intimidate you, the
best logo design
services can help. You can find a professional logo designer for your brand, who will help you experiment with various shades and tones to achieve your signature look. Alternatively, for a less expensive option, you can check out DIY logo builders. Looka, for example, provides useful insights about color psychology. Feel free to read our thorough
review here
. Another good option is Tailor Brands, which suggests tried and tested color palettes for your logo. To learn more about Tailor Brands' features, here's our
expert review
of the platform as well.
And if you've narrowed down your favorites but are still struggling to pick a winner, why not pitch them to your target audience in the form of a survey or focus group?
After all, it's your target audience whom you need to impress if you want to take the yellow brick road to company success.
---
Sources
Road Traffic Signs
: https://www.roadtrafficsigns.com/traffic-sign-colors
Fast Company
: https://www.fastcompany.com/3028378/what-your-logos-color-says-about-your-company-infographic
Art Therapy
: http://www.arttherapyblog.com/online/color-psychology-psychologica-effects-of-colors/#.W74g2S-ZOu6
Think Design
: https://blog.logodesignguru.com/meaning-and-uses-of-colors-in-logo-design/
ImagiBrand
: https://imagibrand.com/the-psychology-of-branding-with-the-color-yellow-infographic/