readable
 – even at a distance! Some talented artists can even take your
own
handwriting or signature and translate that into the ultimate, personalized logo design. When it comes to working with a designer, experience doesn't often come cheap –
but I've found a way to score a professional logo design for just $5! Keep reading this article to learn my trick to getting an affordable, quality logo design
.
---
9 Best Handwritten Logo Designs
When we were looking for a new logo for this site, my colleague ran an experiment testing out many of the best-known online design services. Head over to his
extensive logo design service comparison
 to see which services he tested and how they ranked.
How to Get a Pro Design for $5
I'll be honest, my affordable logo design "trick" isn't really a trick after all. There aren't any gimmicks, scams, or fine print attached to this solution. You really
can
 get a $5 logo design, as long as you head to Fiverr to source your new designer. Fiverr is a freelancing platform where creatives can offer their services beginning at just $5. There are logo designers from all over the world connected to Fiverr, giving you access to thousands of inexpensive logo design options. Designers can set their package prices however they like, but many choose to remain at this entry-level pricing to stay competitive in the market. To start a commitment-free search for designers,
head to the Fiverr homepage
. Type "handwritten logo" into the search bar to pull up the relevant designer profiles. Scroll through the results until you find a designer you want to explore further.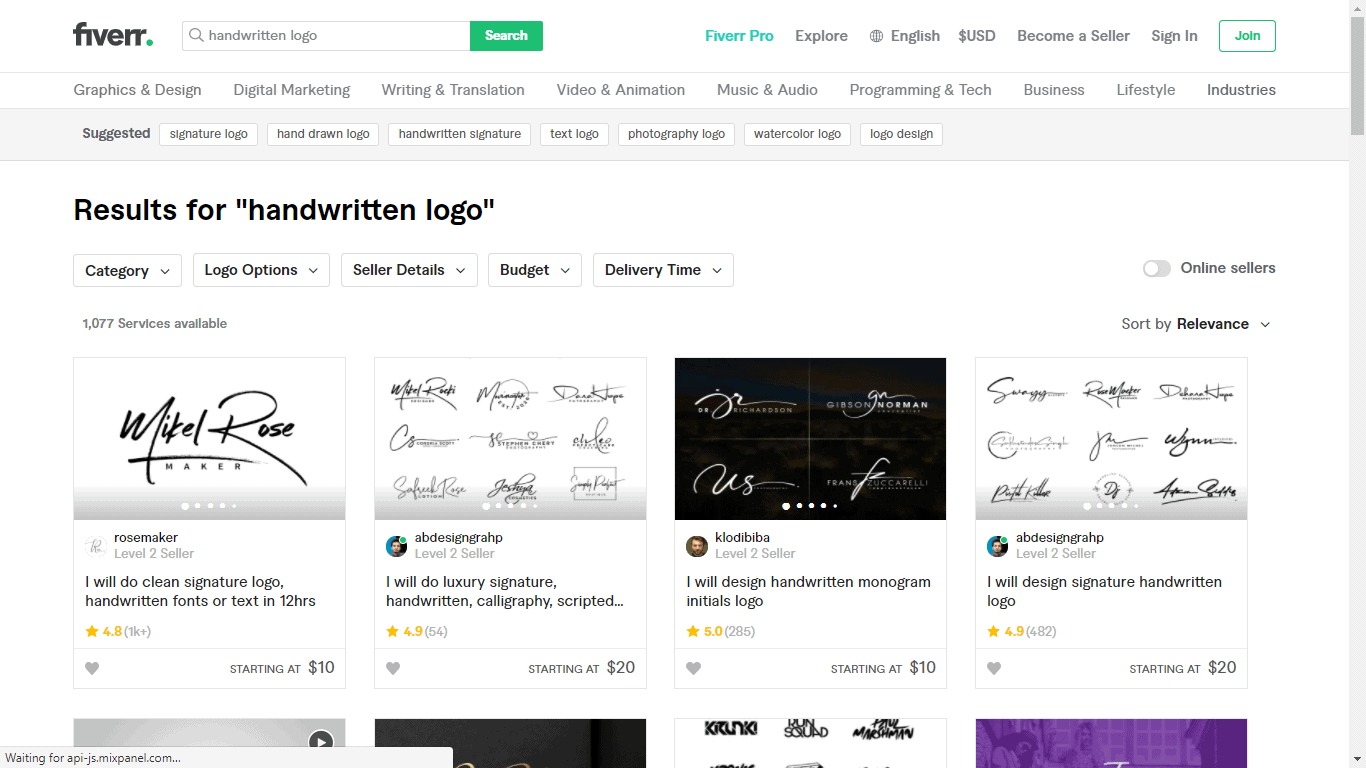 Clicking on a result will take you to the full view of the gig, where you can find more information like customer reviews, packages, and pricing. If you want to contact the designer with any questions you may have, click
Contact Seller
to message them directly. When you're ready to hire a designer, click
Continue
to move ahead.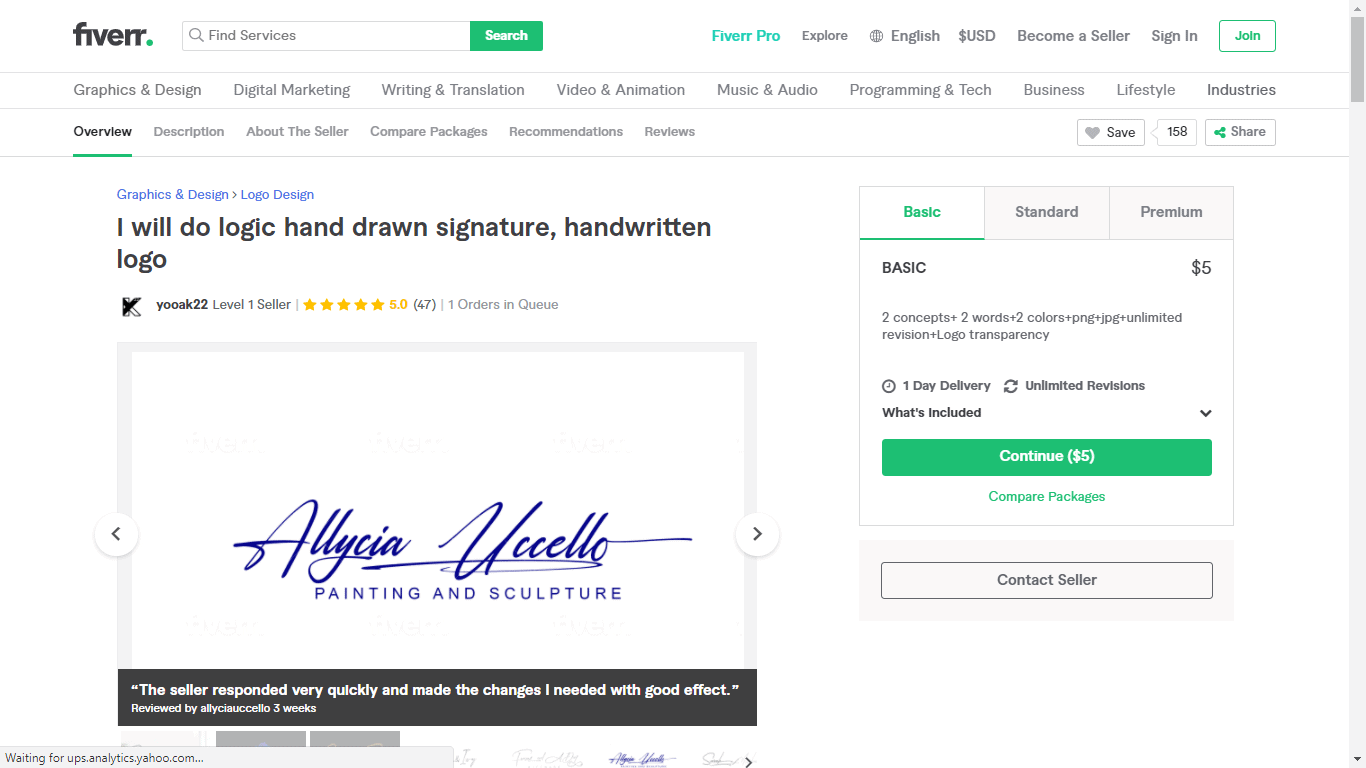 On the payment preview page, you'll see the final cost of your design package and the included services. Once you're satisfied with what you see, click
Continue to Checkout
to pay. You'll then be able to leave instructions and guidance for your designer – this is where you can upload any handwriting samples or inspiration you may have.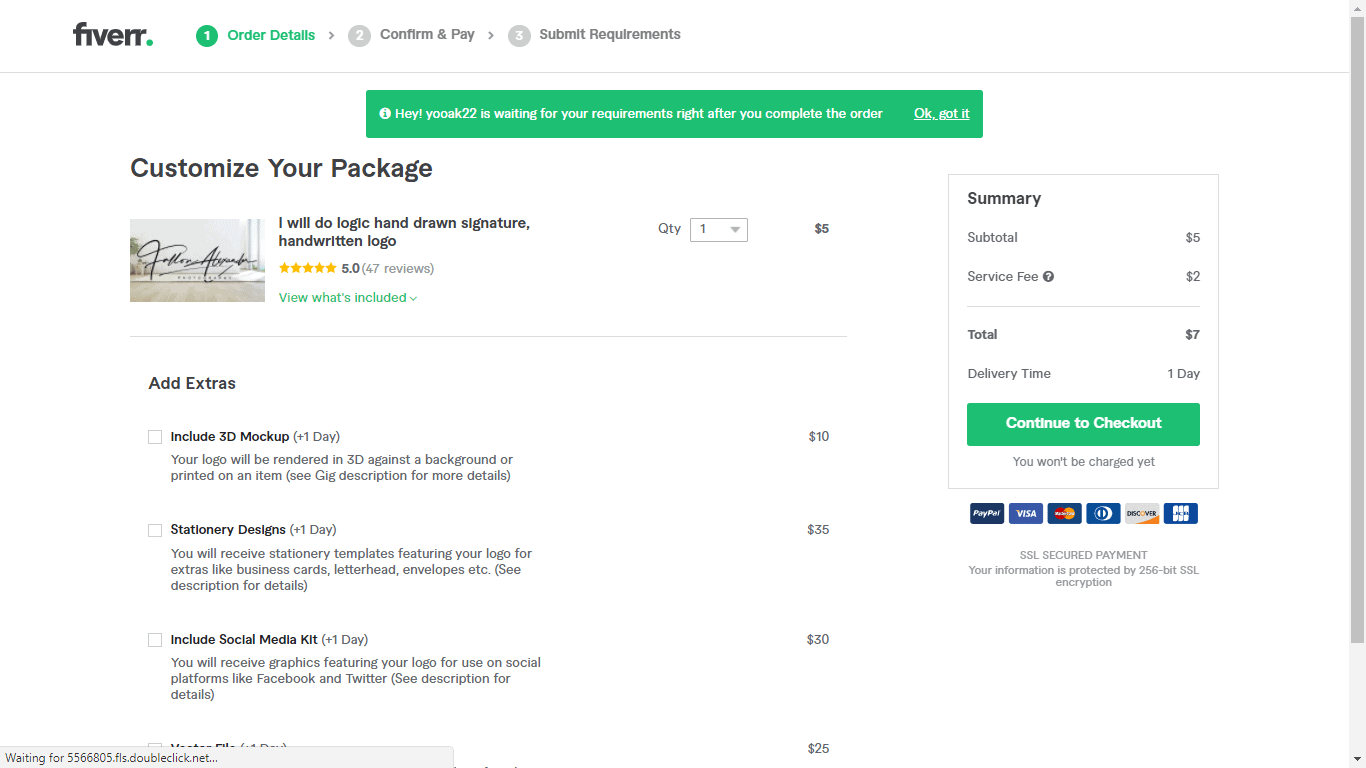 And, that's it! In just a few days, your new logo will be delivered to you and ready to use in the real world. Here are a few other great reasons I like using Fiverr:
Useful search filters – If you need to find a designer with specific qualities, you can narrow your searches with filters like Seller Details and Budget. Under the Logo Style filter, you'll find a Signature option – which could be just the thing for a handwritten logo.
Package extras – Designers can offer package add-ons for a small, additional fee. These can include expedited delivery, transparent files, 3D mockups, and business card design.
No surprise fees – When you enter your payment details, your funds are held in escrow and no additional fees can be added without authorization. This gives you peace of mind that you'll never be hit with surprise costs after you've hired your designer.
Seller level – Each designer is placed in a seller level based on their time-on-site and customer reviews. Choose a designer with a high seller level to better ensure a quality experience.
To learn more,
read our in-depth Fiverr logo design review
.
How to Make Your Own Logo Design
If you don't want to employ a designer, you can create your own logo. Nowadays, there's no need to spend money on costly design software to achieve this. You just need to locate the appropriate logo maker and you could get a new logo in a snap. My #1 recommendation is Wix Logo Maker. This tool has lots of benefits, but my favorite is the intuitive artificial intelligence (AI). You'll start by answering a few simple questions, and the built-in AI will use that data to generate logo suggestions tailored to you. You'll get hundreds of personalized templates to choose from, which you can then customize to perfection. To get started,
head to the Wix Logo Maker homepage
 and sign up for a profile. Your logo design will be automatically saved here in case it needs to be accessed later on. Enter your company details (name and tagline) and click
Let's Go
.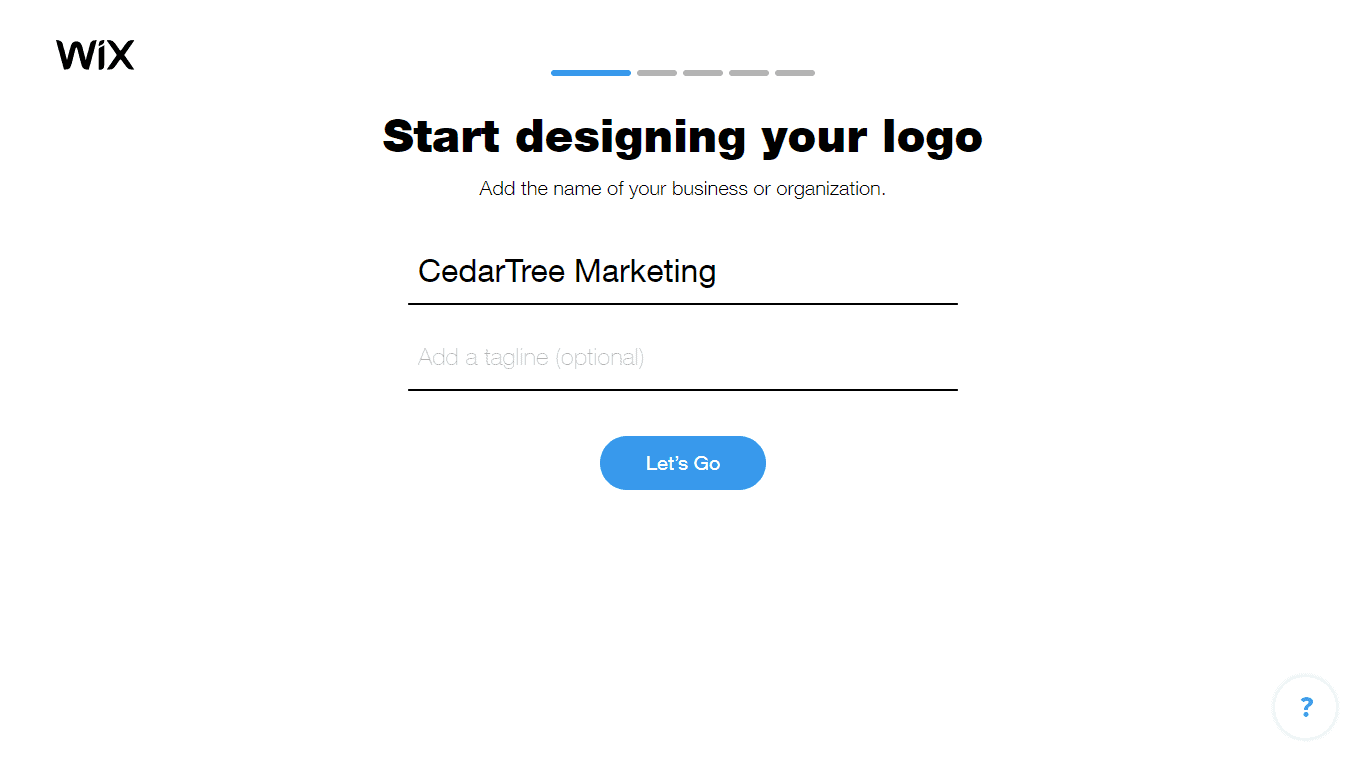 Start typing the name of your industry into the search bar. Once you find it, or the closest match, select it from the dropdown menu and click
Next
 to move ahead.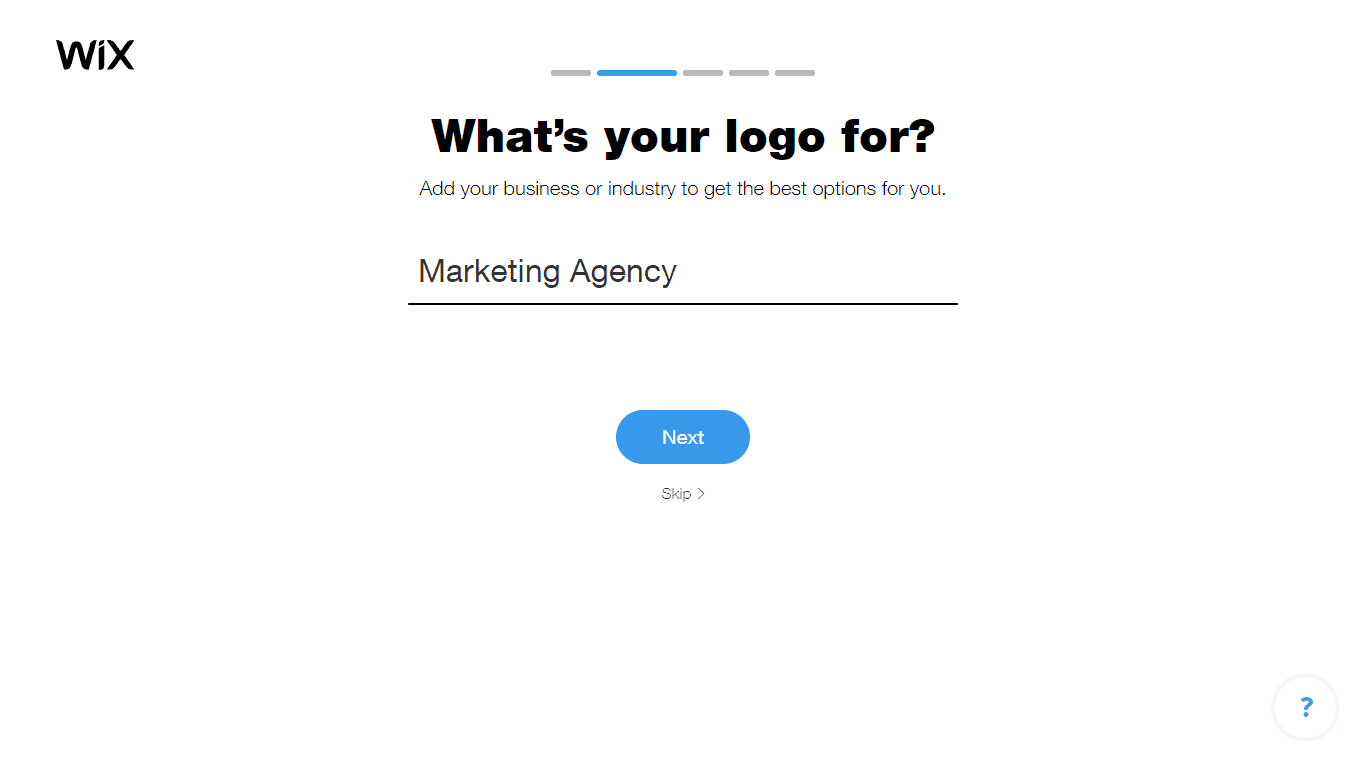 Imagine you were briefing a designer – how would you describe your ideal logo? Wix Logo Maker gives you a selection of words to choose from to make this process even easier. Simply choose as many as apply.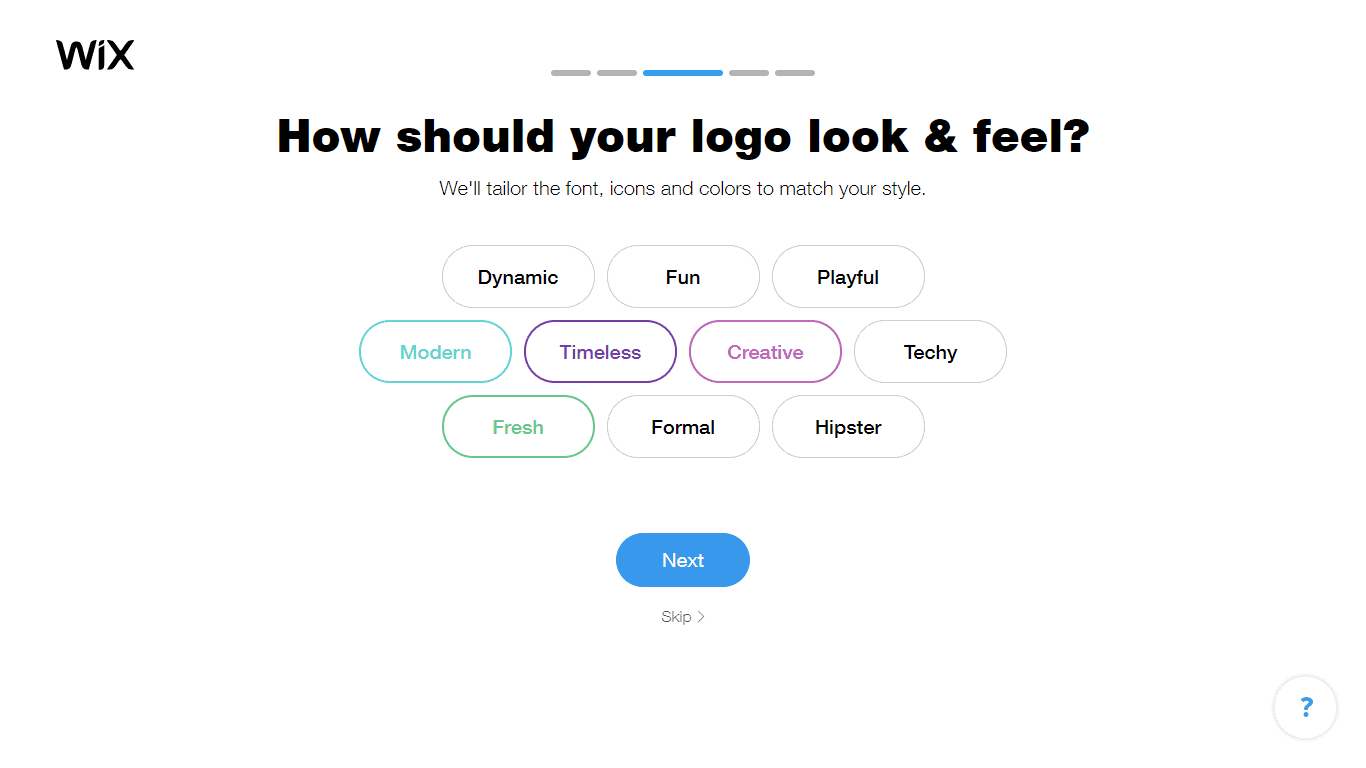 Next up comes a sequence of logo pairs. In each pair, choose your preferred design to help the AI learn your likes and dislikes.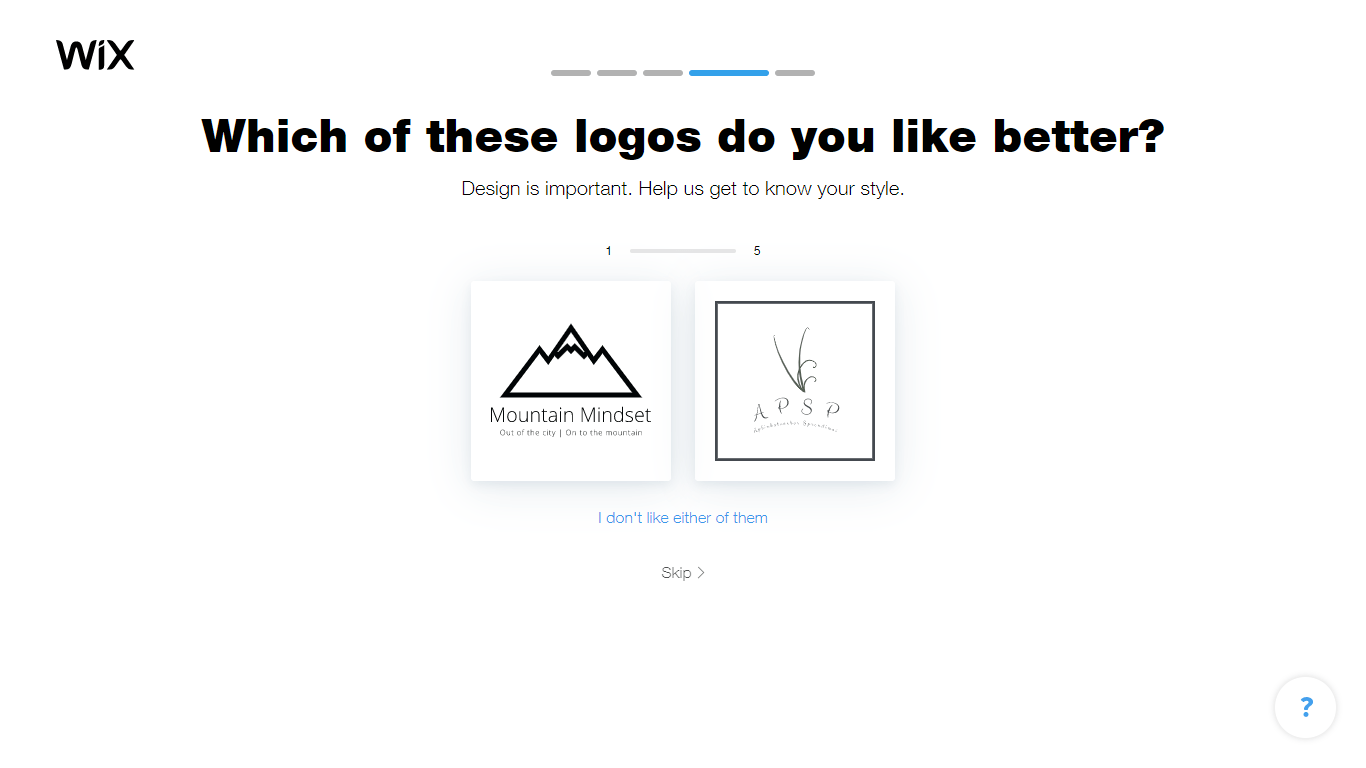 Where do you want to use your logo? Choose from the options, such as social media, merchandise, and website – or select them all if you're unsure.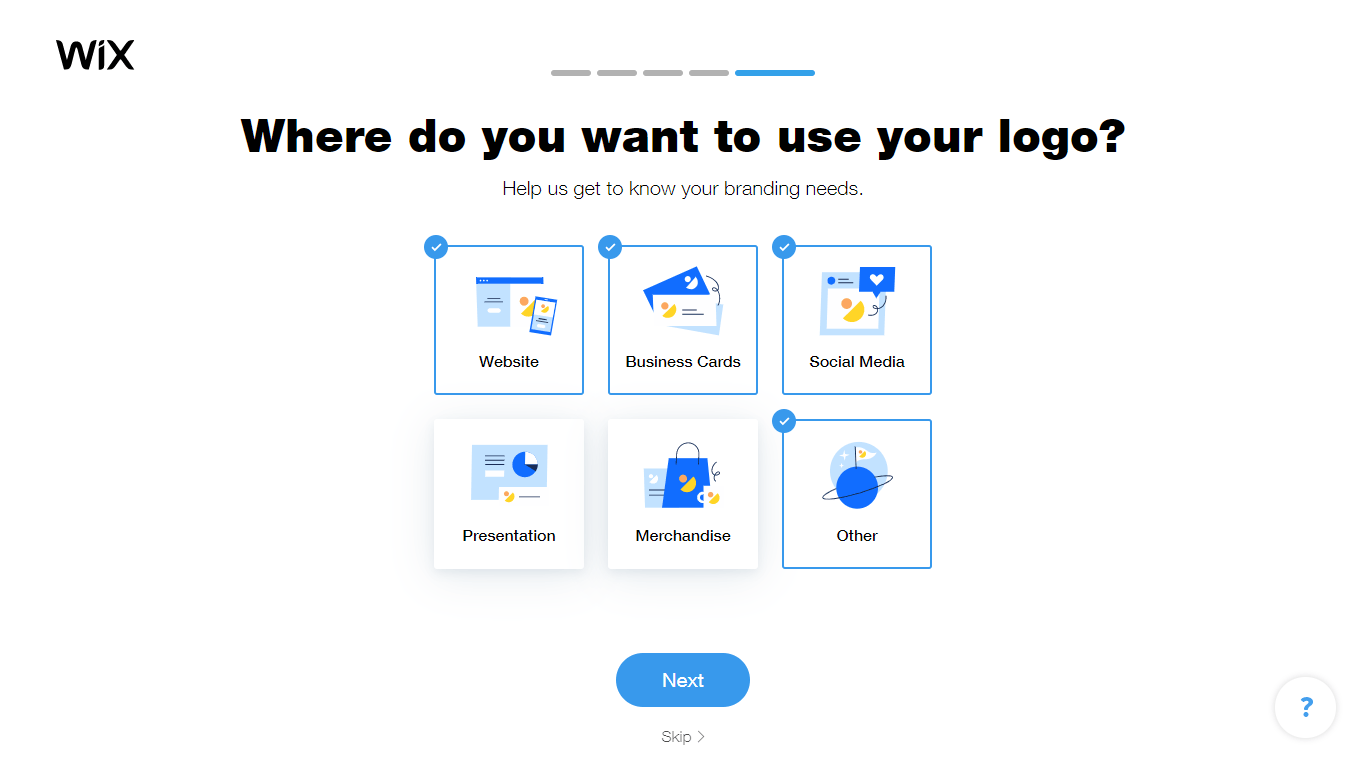 It's time for your logo suggestions! Take your time as you scroll through the results. If you reach the end of the page, the
Load More
button will bring up more suggestions.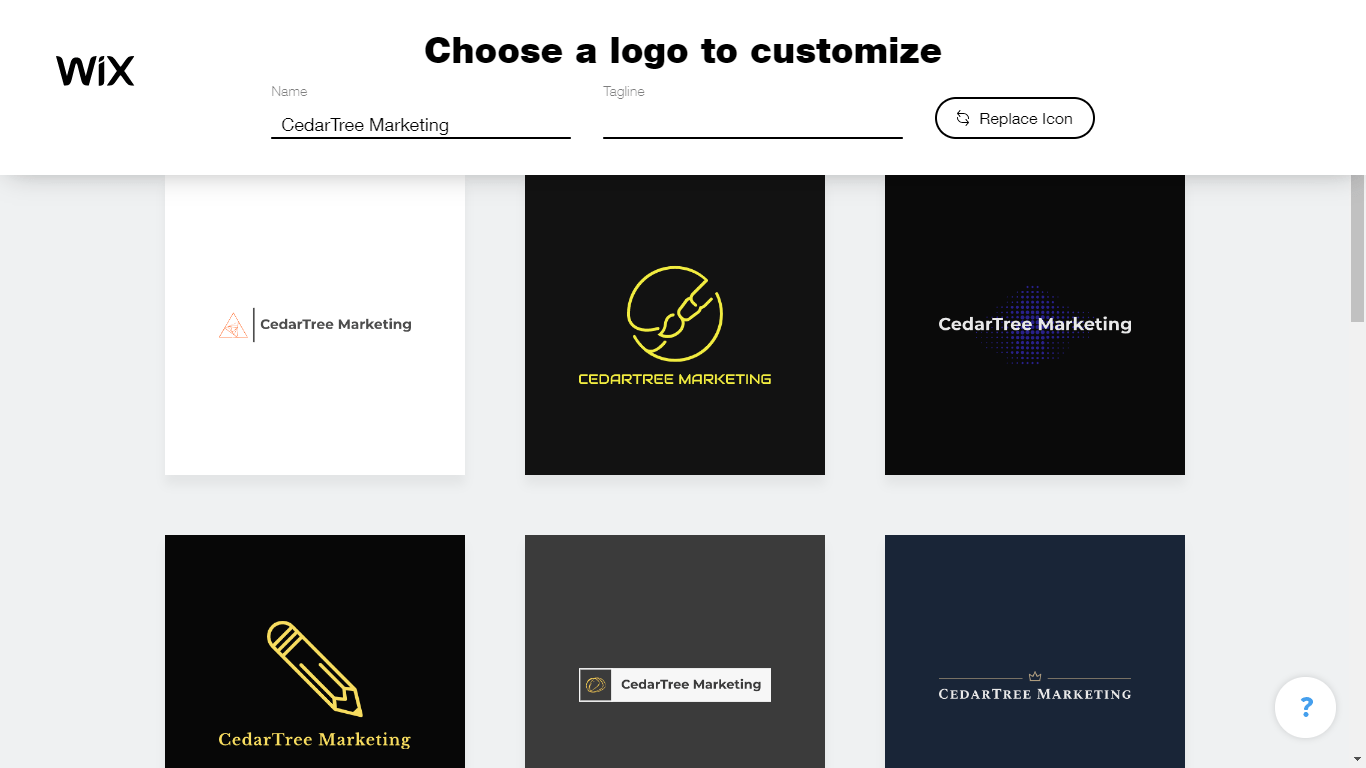 If you want to see your other icon options, just click
Replace Icon
and search for a term that matches your industry or company name. If you're open to new icon ideas, search "handwritten" to pull up icons in that style.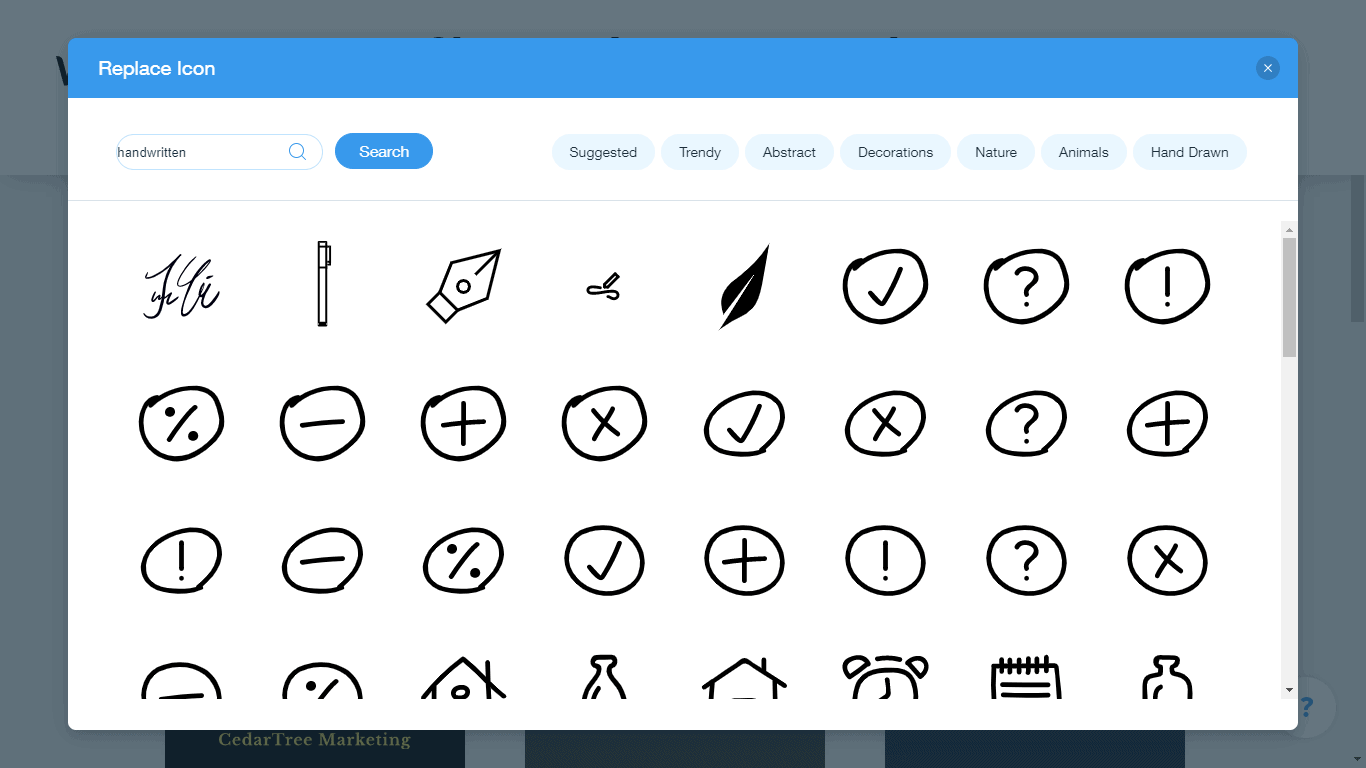 When you are ready to start editing a logo, click
Customize
to move into the logo editor. Here, you'll find tons of powerful creative tools to make your logo your own. The first step is going to be finding the perfect handwritten font and you'll have more than 200 unique styles to choose from. Afterward, complete the design by adding shapes, icons, and creating a color scheme.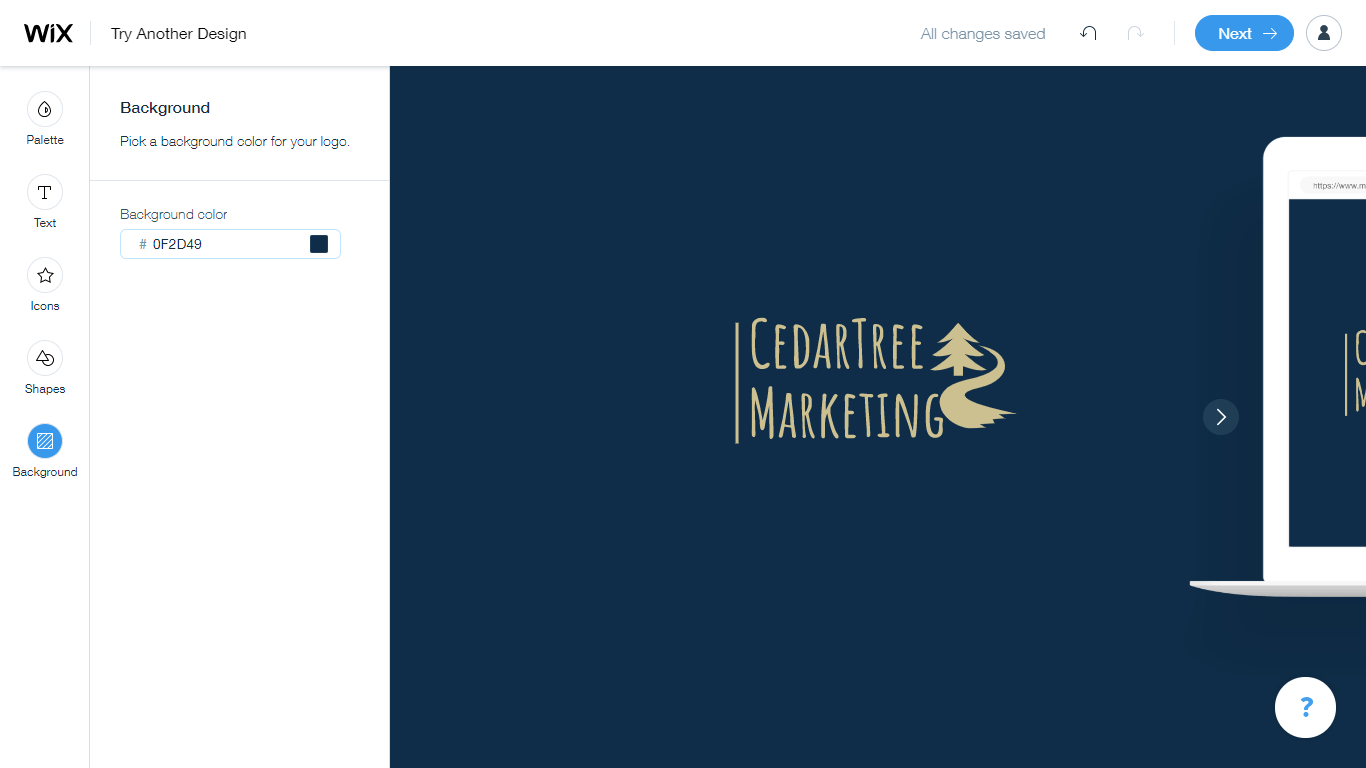 When you've finished editing, click
Next
to pay and download your logo in high resolution. If you're not ready to part with your money just yet, you can download a free, smaller-size version of your logo, which is handy to keep for future comparisons or to use to brief a designer.
Wix Logo Maker Alternatives:
Looka – If your company requires marketing materials such as website and business card design, Looka offers the perfect solution. Looka allows you to obtain your new logo design and branding, both showcasing your fresh logo, all in one convenient location.
DesignEvo – Low on time, but still need something quality? DesignEvo has 10,000+ fuss-free logo templates that are ready to use. Search the database for handwritten templates or use the customizing features to tweak the template of your choice.
Interested in Wix Logo Maker? Read our
in-depth Wix Logo Maker review
to find out more.
In Conclusion
You no longer need to spend hundreds on logo design to guarantee originality and quality.
Fiverr can connect you with talented designers from across the globe at super-affordable prices
. Even if you're working with a tiny budget, you don't need to settle for a low-quality design.
Wix Logo Maker uses state-of-the-art AI to make DIY logo creation a smooth process
. Even if you're a complete beginner, this tool will ensure you end up with an attractive logo that works for your business. Still not sure what the best option for your new logo is? Why not check out my colleague's
expert logo design service review
 to see what other platforms are out there?