how do you know what's best for your business? 
A professional logo designer can give you all the answers you need, and you can hire one for a
lot
less money than you might expect.
Click here to jump ahead
and learn my trick.
I'll also show you how to use an online logo maker, so you can try making your own logo or experiment with ideas before hiring a designer. And to help get your creative juices flowing, I'll also share some of my favorite food logos (
skip ahead to see those logos now
).
9 Best Food Logos
Hire a Great Designer for a Great Price on Fiverr
As you can see, a skilled logo designer can work some pretty amazing, brand-boosting magic. But you might be worried that you can't get a well-designed logo without breaking the bank. That's what I used to think, too.
Then I discovered Fiverr, a low-cost platform with freelancers in a wide range of categories, including graphic design.
Fiverr offers logo design services (called "gigs" on the site) starting at just $5,
so it's a great choice for small businesses on a tight budget. Now you might be thinking, "Well sure, but you get what you pay for." Fiverr is often an impressive exception to that rule – I've been surprised more than once by the quality of work I've received for the minimum price. To see some sample logos and read more about how the platform works, check out our
full Fiverr review
.
Notable Fiverr Features
Search filters help you quickly find the talent pool that best fits your project.
You can easily browse freelancer profiles, work samples, and client reviews.
Designers offer basic, standard, and premium packages to suit every budget.
Contact designers via the website's built-in messaging system, or use the free Fiverr mobile app to easily connect with freelancers on the go.
Browsing the Fiverr Site
To get started, just
go to the Fiverr homepage.
You don't need to sign up to start searching. Under
Graphics and Design
in the site's main menu, you'll find
Logo Design
as the first subcategory.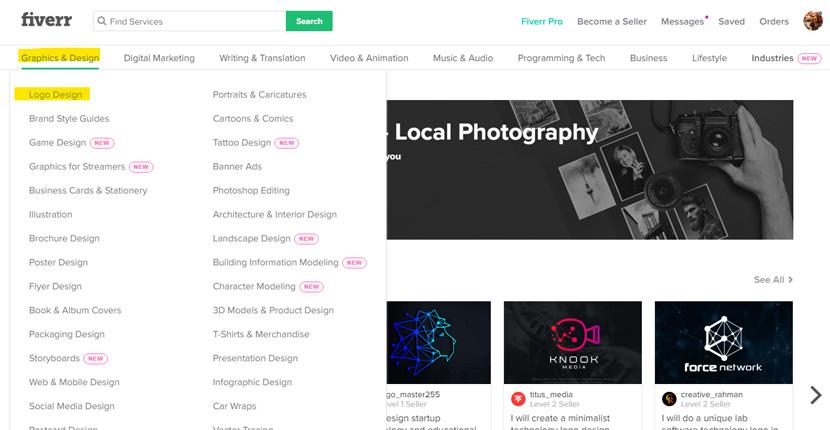 Find Your Ideal Food Logo Designer
Once you've entered the logo design area, you can enter keywords for your logo or brand in the search box.
Or you can get help from the logo design search wizard, which finds freelancers whose styles match your design preferences.
You can narrow your options down with criteria like the file format(s) you need, your projected budget, and your preferred delivery time. (Note: many designers do charge extra for expedited services.) Not surprisingly, gigs priced at the $5 minimum will sometimes come from newer designers. The financial risk is minimal when you hire these designers, and like I said,
some of them will definitely surprise you with their talent and dedication.
A freelancer with great reviews and an impressive portfolio might cost you a little more, but you'll still get great value. In fact, you might still spend less than it costs to get your logo from a "free" logo maker, for reasons that I'll tell you about below.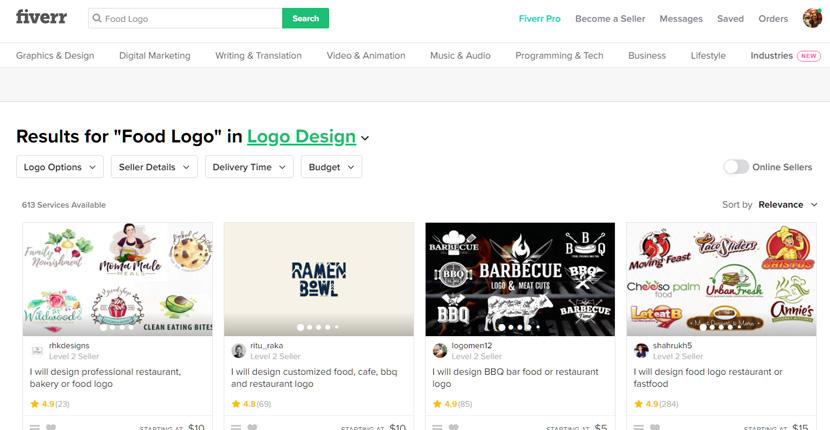 How Fiverr Did in Website Planet's New Logo Contest
If you want to learn more about what the designers on Fiverr (and other sites) can do for you, you'll want to read about my colleague's
logo design service comparison project
. He hired logo creators from several different design services, asking them to come up with a new Website Planet logo. He was pleasantly surprised by the results he got for very low prices on Fiverr, and I was, too!
How to Make Your Own Food Logo
If you're the do-it-yourself type, you'll be happy to know there are some really nice logo makers you can try out for free. You might be able to produce an eye-catching logo even if you have zero design experience. And if things don't go quite that well,
you'll at least get a clearer idea of how you want your logo to look, which will help you get the most out of hiring a designer.
Let me show you how easy it is to create a logo with Looka, a food logo maker powered by artificial intelligence (AI). The best part is that
you can use Looka to design as many logos as you want for free
– you pay only if you decide to use one of the designs. If you'd like to know more before you get started, read our
in-depth Looka review
.
Create a Looka Account
Technically, this step isn't a must, but creating an account is free, and I found out the hard way why you should do it. After trying out a few designs, I discovered that
although you don't need an account to use the logo maker, you can't save your work without one.
So just
go to the Looka homepage
, sign up with your email address or social media account, and you'll be good to go.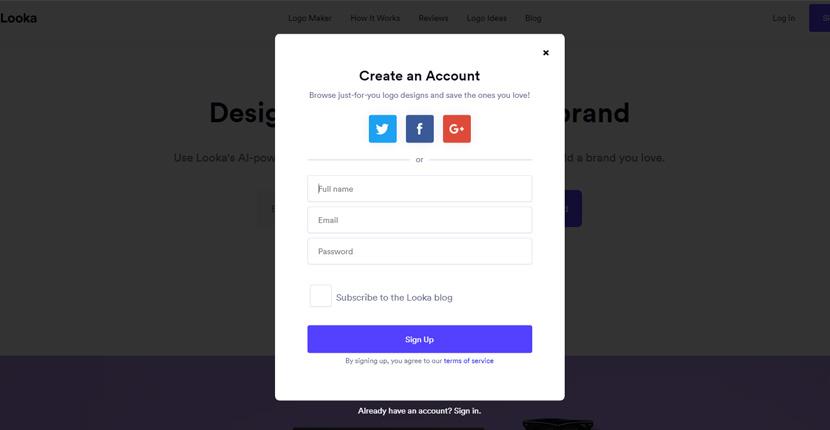 The Logo Design Process Is as Easy as Pie with Looka
Next, you'll answer a handful of design-related questions, which helps the AI logo maker to generate sample logos for you to consider. First, you'll tell Looka a little bit about your industry.
There is no "food" category, unfortunately, but you can choose keywords such as "cooking," "catering," or "restaurant."
Even if your business doesn't actually have anything to do with food, but you just want a fun food-themed logo to promote it, keywords like these are a good place to start.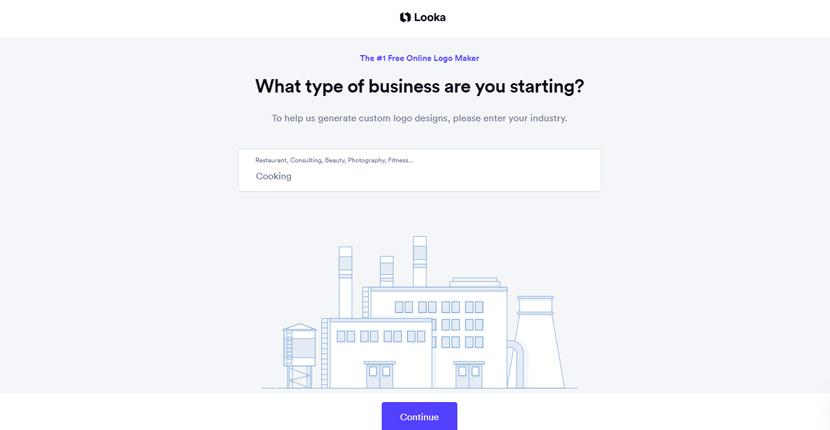 Next, Looka will show you a collection of logos that the AI designer has previously created. You can choose up to five designs that you like best. This helps the tool understand your preferred design style.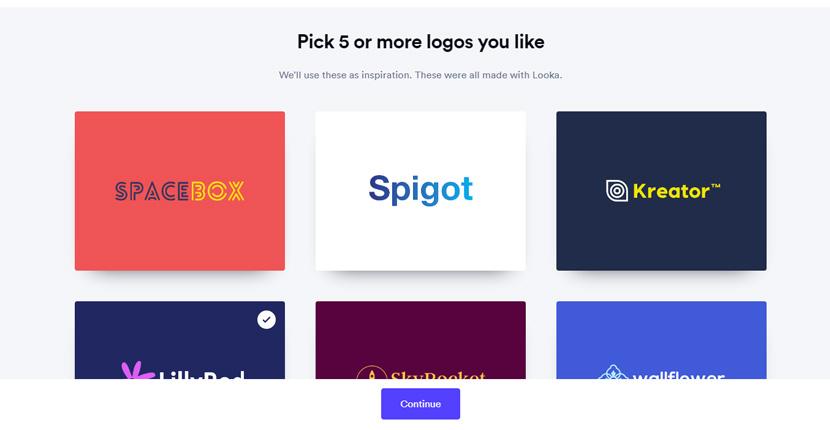 The next couple of questions involve color swatches. You can pick from color groups such as warm, cool, and vivid colors. Once you choose your favorite group, you'll select specific color ranges.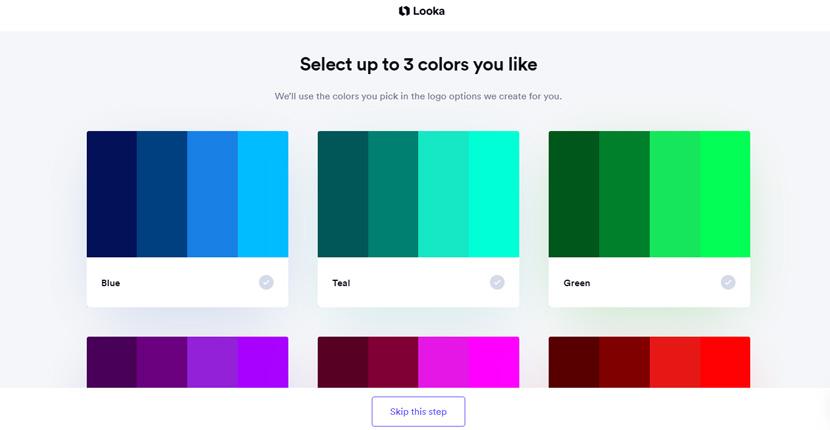 Expert Tip:
If you want to tap into the power of color psychology in your logo,
consider choosing colors in the green, red, orange, and yellow families
. These colors tend to stoke people's appetites. (Don't believe it?
Take a look at the famous food-related logos below
, and you'll see how effective these color choices are.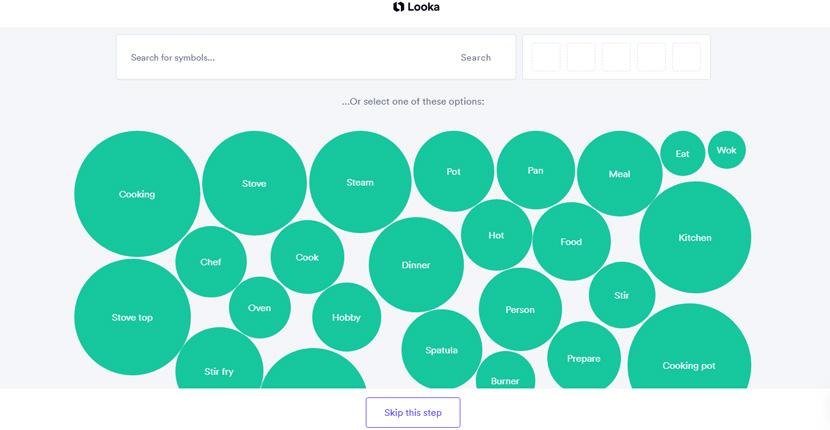 In the next step, you'll
choose from a vast library of industry-related artwork
. You can go straight to the symbol library by entering keywords in the search box, or you can choose a word from the keyword cloud (shown above) to help you find appropriate icons. You can also skip this step, but you'll get more interesting logo design options if you complete it.
Choose a Generated Logo Design
Once Looka has all your answers, it will start generating logo designs for your consideration. You can "like" any logos that catch your eye by clicking the heart icons (which saves them for you). Or
if you see one design that really stands out, simply click on it and you'll go straight to the logo design editor.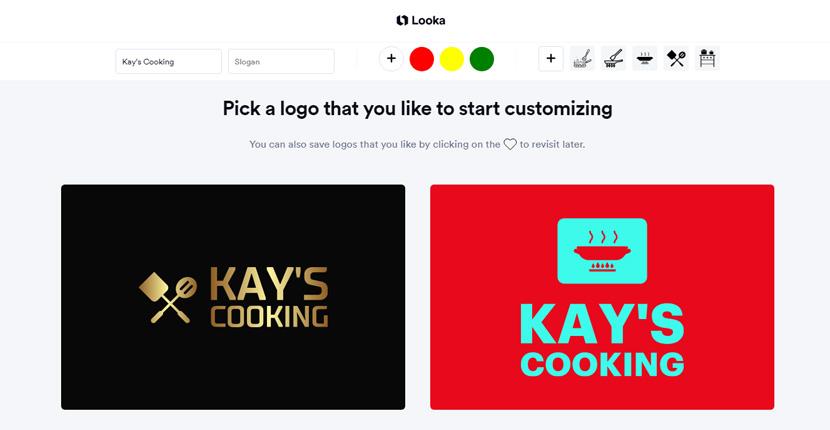 Editing and Previewing Your Logo
In the design editor, you have several options to play with, including background color changes. There's a color picker tool, or you can choose from a handful of gradient swatches if you want to add extra flair to your logo. You can also choose a different icon/symbol from the library, or change the company name and slogan fonts. Your options to change your logo's layout are limited (no clicking and dragging), but you can make minor adjustments to fine tune your design.
You can also preview how your logo will look on business cards, websites, and stationery.
(Looka doesn't offer printing services, but there is a business card template that you can bring to any printing service.)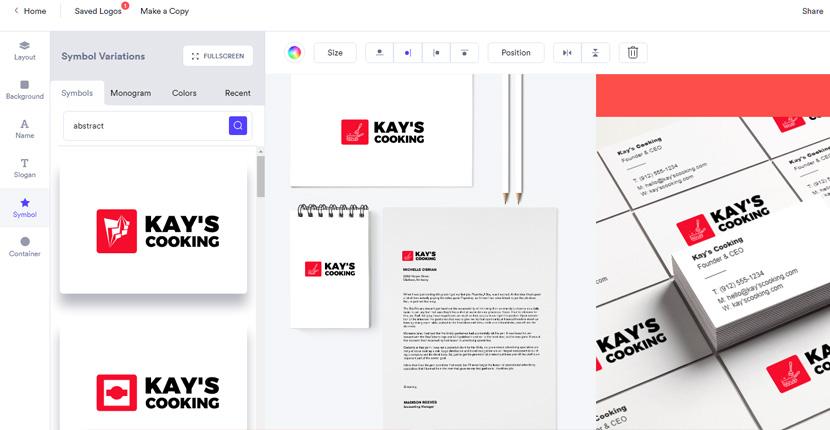 Expert Tip: Take some time to look at the various product previews before you commit to your final logo design. Make sure that the icon and text look clear and readable at different sizes, especially if you plan to print your logo on everything from business cards to billboards.
Purchasing Your Looka Logo
Looka's free logo maker comes with a catch that you'll run into with most similar tools:
you can design your logo for absolutely no cost, but if you want to actually use the logo, you'll need to pay for it.
Once you're satisfied with your design, you can choose from three packages. The Basic package gives you a low-resolution file with your logo on a solid background, which really isn't suitable for business use. It's essentially a "starter" logo image. For example,
you could share it with a Fiverr graphic designer as a reference point, then ask the designer to create something similar,
but more dynamic and unique (and in a more usable format). The Premium package gives you high-resolution files suitable for print and website use, along with full commercial usage rights. This package also includes unlimited design changes, so you can go back into the logo maker and update your design anytime. The Enterprise package gives you everything in the Premium package, plus a free social media kit and a print-ready business card template, along with a Google ads credit to help you promote your brand.
Food Logos Created with Looka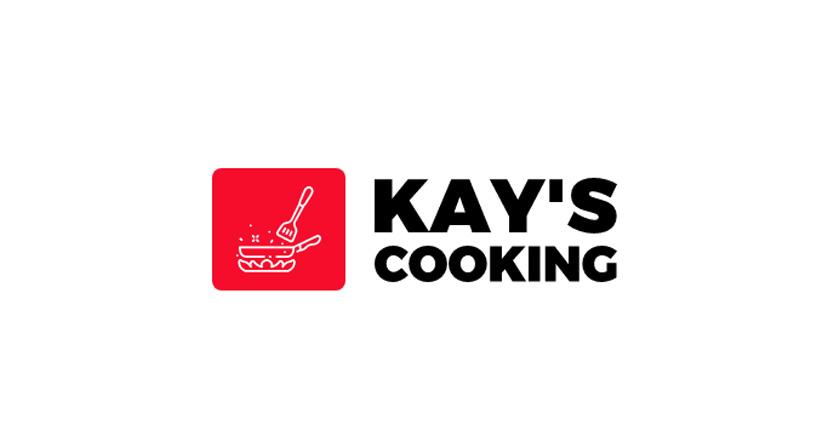 This logo draws some inspiration from the YouTube logo, so it would work really well if you have a channel dedicated to cooking videos.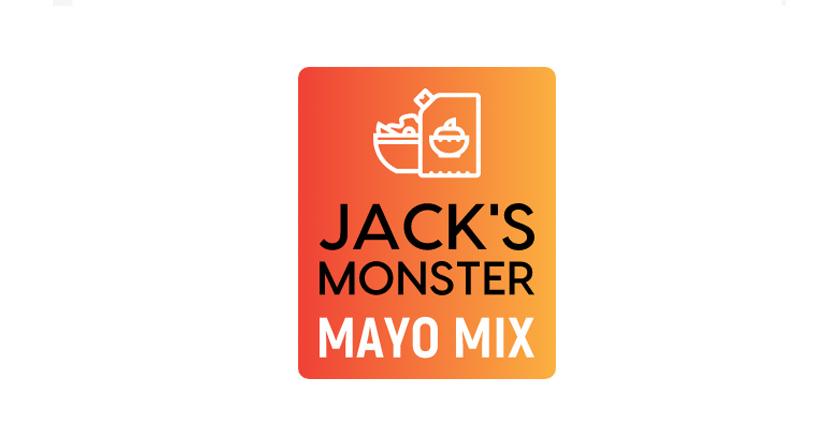 This logo could work well as a product label. The design features a subtle gradient background that's enticing but not distracting. The text is easy to read at a glance, which is great for building brand recognition.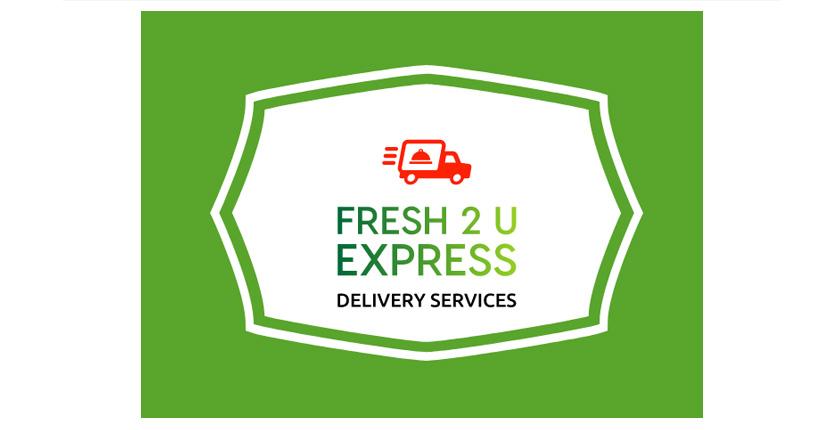 This logo would work well on promotional postcards and two-sided business cards. You could also print the design on magnetic signs if you have a fleet of vehicles making food deliveries.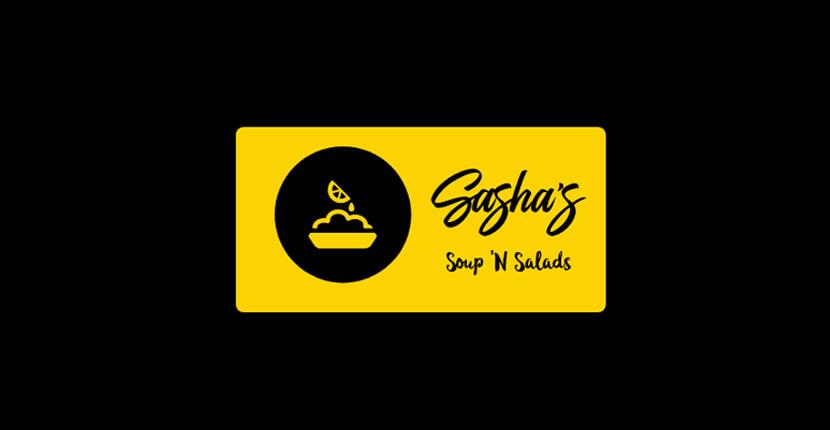 This design looks great against a solid background, or you could apply a gradient effect to make it stand out on restaurant menus and server name badges.
Famous Food Logos That Feed Your Need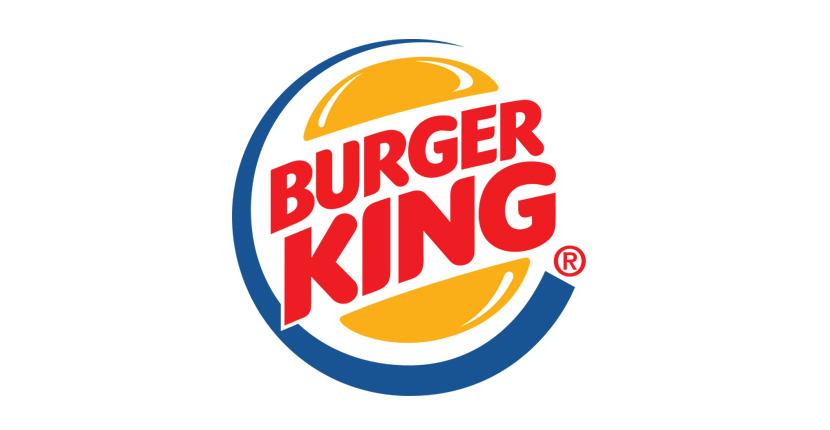 Burger King's
logo has evolved a little over the years, but it has always perfectly represented the company's signature product: the hamburger. The logo also effectively uses red and yellow, colors associated with hunger.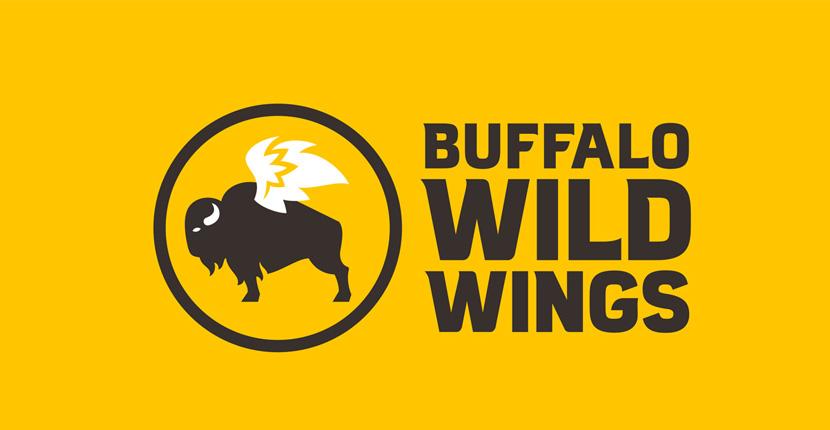 Buffalo Wild Wings'
name and logo were born when the company's founders recognized the widespread desire for Buffalo-style chicken wings across the US. You know what you'll get at this sports bar/restaurant chain, because it's all in the logo. (FYI, the name "Buffalo wings" refers not to the animal, but to the city of Buffalo, New York – the alleged birthplace of the recipe.)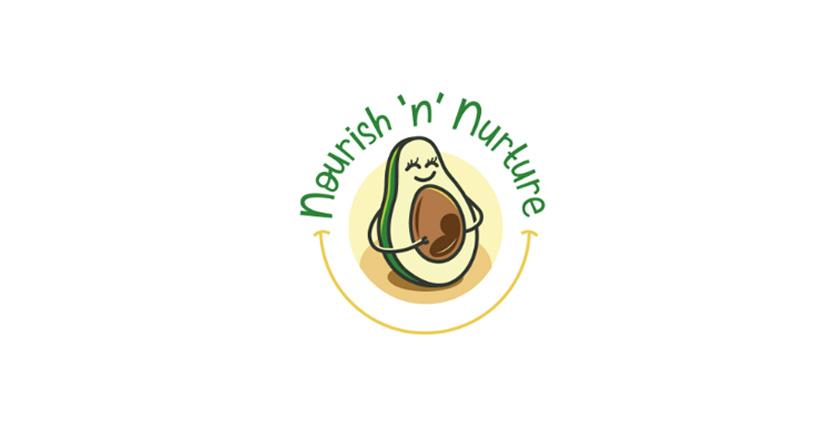 Nourish 'n' Nurture
is a brand that encourages healthy eating for expectant mothers. The use of a mama avocado with a little "peanut" inside her belly conveys this message cleverly and beautifully.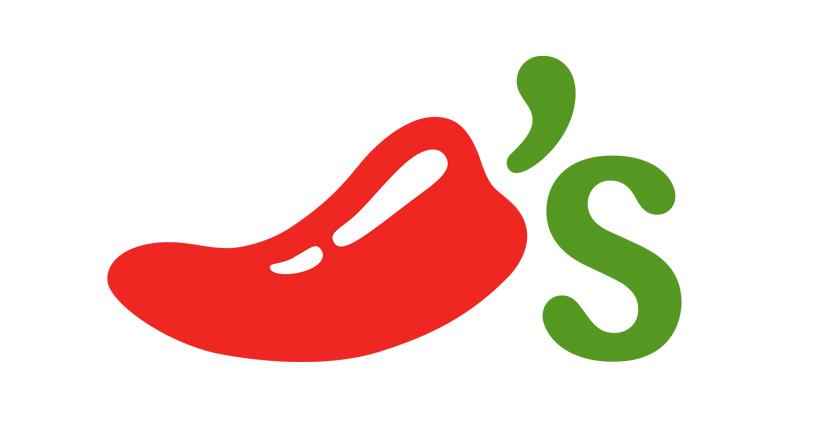 The
Chili's Bar and Grill
logo has evolved to the point where a picture and a single "s" are all it takes to convey the brand's name. I love the use of the pepper's stem as an apostrophe. The image looks spicy and appetite-inducing, without any extra bell peppers and whistles.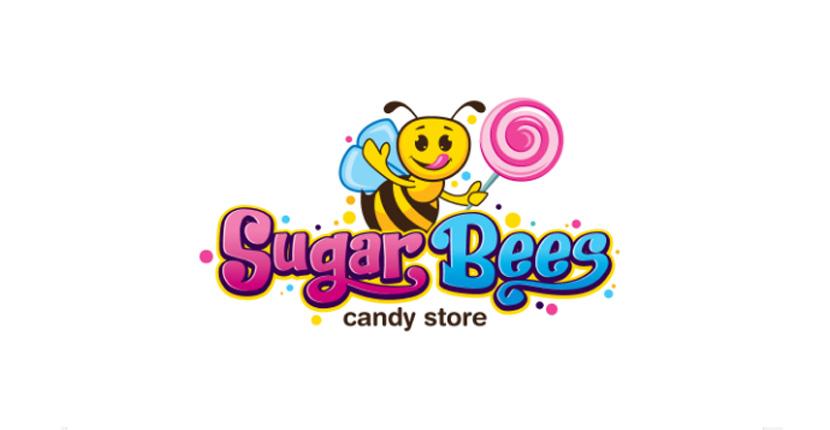 This sweet logo for
Sugar Bees
features a whimsical design that's sure to make kids (and parents) smile. It would work well on promotional materials and apparel, while still being easy to read on store signs and banners.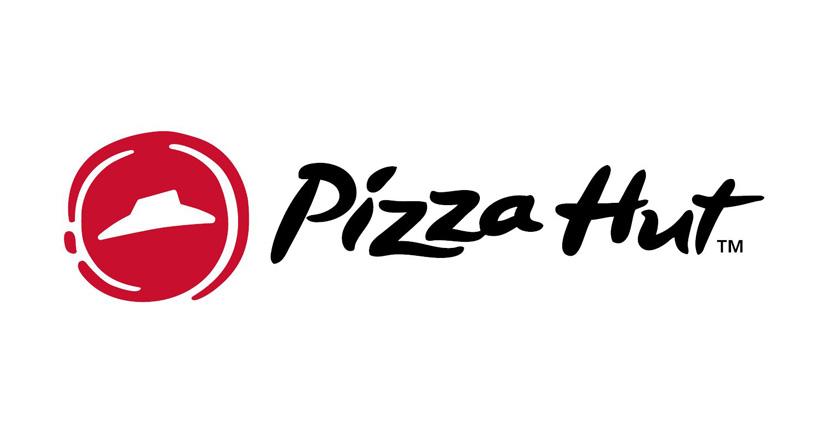 Through many changes over the years, there has been one constant in
Pizza Hut
's logo: the iconic "hut" roof design that you'll find on many of its stores. The design actually serves an almost subconscious dual purpose, vaguely suggesting the shape of a pizza crust tossed into the air by a cook.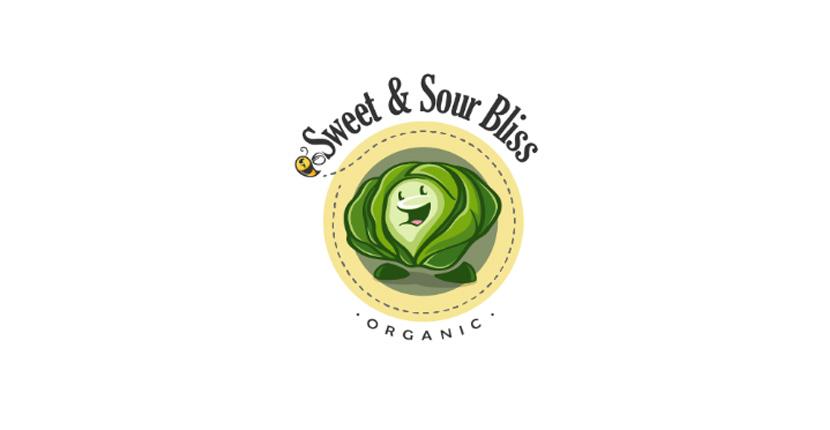 Here's an adorable logo concept from
Sweet and Sour Bliss.
The company sells organic fermented products, which you might associate with icky smells and sour tastes. But this logo gives the brand a lighthearted feeling, winning customers over with a joyful, leafy smile.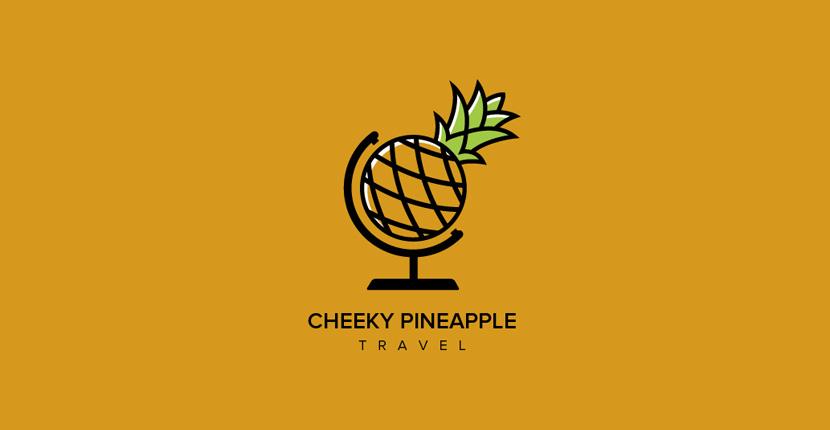 Here's a great example of a food-related logo design that isn't for an actual food product. The
Cheeky Pineapple Travel
logo cleverly combines the fruit with a globe, conveying both the company's name and its mission: targeting young adults with a lineup of group tours.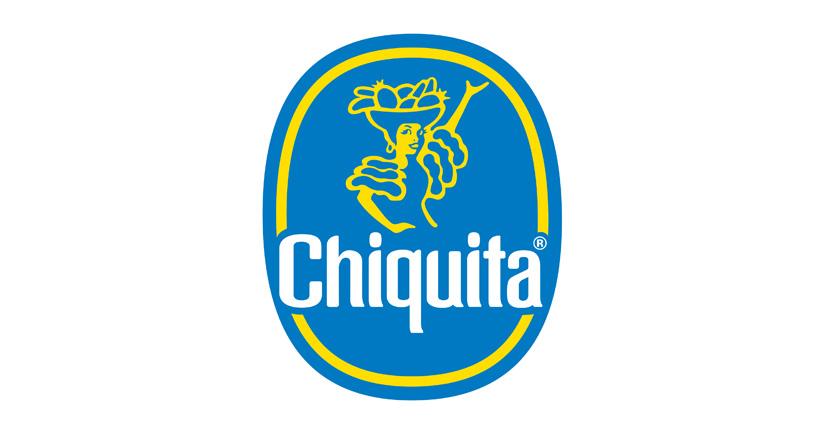 The
Chiquita
banana company's instantly recognizable logo began with the Miss Chiquita Banana mascot, which later evolved to include a fruit hat. This iconic character even has a memorable jingle to match her bold personality.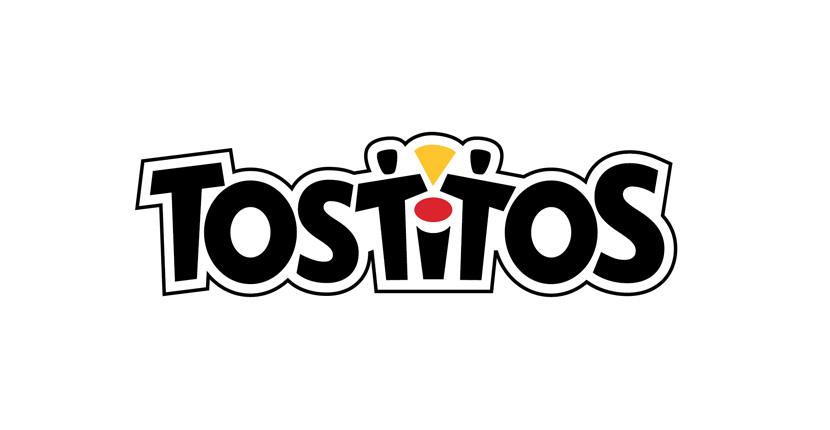 Let's wrap things up with the current logo for
Tostitos
tortilla chips. The design makes clever use of the brand name to give a subtle nod to the product itself. Notice that the middle t's form a pair of people dipping a tortilla chip into a bowl of salsa.
Snack on These Ideas – Some Final Thoughts
You've gained insight into the factors that contribute to creating a memorable food logo. Now, dedicate some time to thoughtfully ponder your specific branding objectives. It's possible that you're holding an innovative snack product or aiming to promote a recipe book. Alternatively, similar to Cheeky Pineapple Travel, your services might be entirely unrelated to food.
If you can get a clear sense of how a food image would fit into your branding, you'll be well on your way
to a logo that gets people talking and makes them smile. Don't be afraid to ask others for their input, either. Often, it takes two or more heads to come up with a logo that packs a genuine "wow" factor. Most importantly, have fun giving your imagination space to run wild! Whether you decide to
hire a designer on Fiverr
 or strike out on your own with a
DIY logo maker
, enjoy the journey.