you may be surprised by how little it actually costs.
From hiring a pro to trying out a DIY logo creator, there are plenty of affordable ways to create a quality logo featuring this iconic bird of prey. Does the idea of hiring a professional designer for as little as $5 appeal to you?
Jump down to find out how.
9 Best Eagle Logos
Recently, my colleague spent several months testing the best logo design services available. He hired logo designers on
Fiverr
(as well as
DesignCrowd
and other platforms) to create a new logo for Website Planet, and rigorously tested the quality of the designs. I couldn't believe it when I saw the results! You can find out more in his
full comparison of the top logo design services
.
Can You Really Hire a Professional Designer for $5?
Big brands spend millions on logo rebrands, but you don't need a small fortune for a high-quality logo.
Whatever your budget, there are thousands of designers on Fiverr just waiting to deliver the eagle logo that you've been dreaming of!
If you're wondering how professional logo designers can possibly afford to sell their services for as little as $5, it's not because they rush or produce low-quality work
. Freelancers on Fiverr may be building up an online portfolio, designing as a side hustle, or they might live in a country where wages and/or living costs are lower.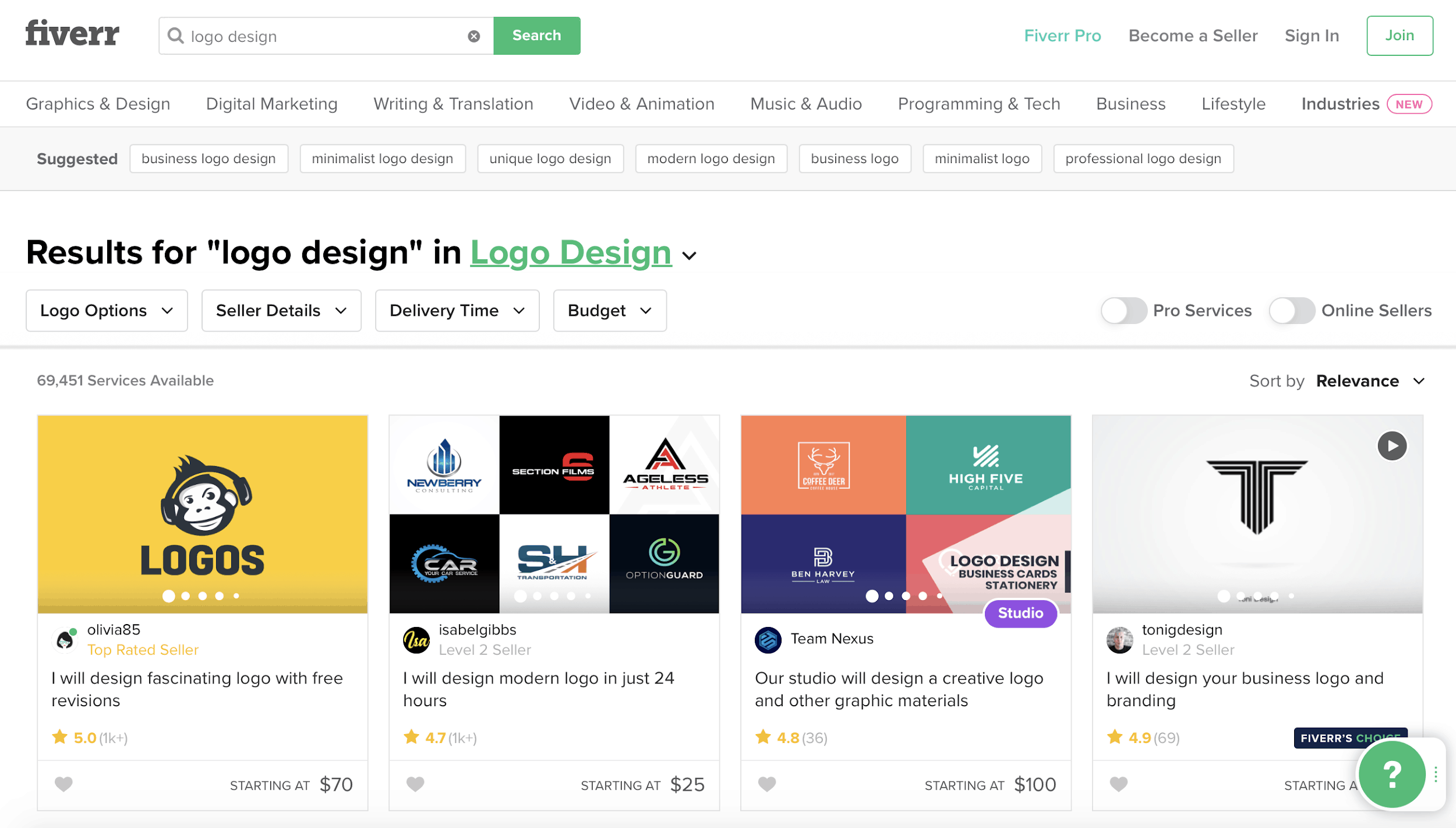 Designers will post their services at different levels, so there are options to suit every budget. More experienced logo designers might charge more than $5, but there are plenty of really affordable designers to choose from if you want the lowest possible costs. What makes Fiverr exceptional?
You'll have lots of options. There are designers who specialize in different kinds of logos, such as minimalistic or modern, and there are more than 70,000 logo design services posted on Fiverr. Whatever style of eagle logo you're looking for, you'll find it here.
It's secure. Fiverr doesn't release payment to the designer until you've approved the design, so you're guaranteed to get your logo (or get your money back).
You don't have to wait. You may pay more for a fast turnaround, but if you need a new logo quickly, there are designers who offer an express, 24-hour service.
You can revise your design. Most designers on Fiverr will make changes (revisions) to your logo design if you're not 100% happy with the first draft. You may have to choose a slightly more expensive package option to get more than one revision, but it's worth it to get the perfect logo.
How to Make Your Own Eagle Logo
Maybe you're not keen on trusting a stranger with your new logo or you feel like you have the skills to bring your creative vision to life on your own. Gone are the days of struggling with complex design software to create a logo;
now you can choose from a variety of online logo creators to
make any animal logo
.
The most user-friendly logo creators use artificial intelligence (AI) to generate a selection of logos to choose from and then customize.
All you do is answer a few questions and sit back while the platform does its work. Alternatively, if you already have a strong idea of what you want your logo to look like, you could choose a template-based logo creator for more creative control. There are a variety of logo makers to choose from, and most allow you to create your logo for free. You'll only pay when you're ready to download a high-resolution image of your design.
Top DIY Logo Creators
Wix Logo Maker is my top recommendation for an AI-based logo creator.
Here's why:
The easy-to-use editor is ideal if you're a beginner or short on time,
There are plenty of customization options to further refine your logo; you can change the font, color, size, and more.
You'll find a large range of eagle icons and symbols to incorporate into your logo designs.
You'll get full commercial use rights of your logo.
To learn more, don't miss our
in-depth Wix Logo Maker review
.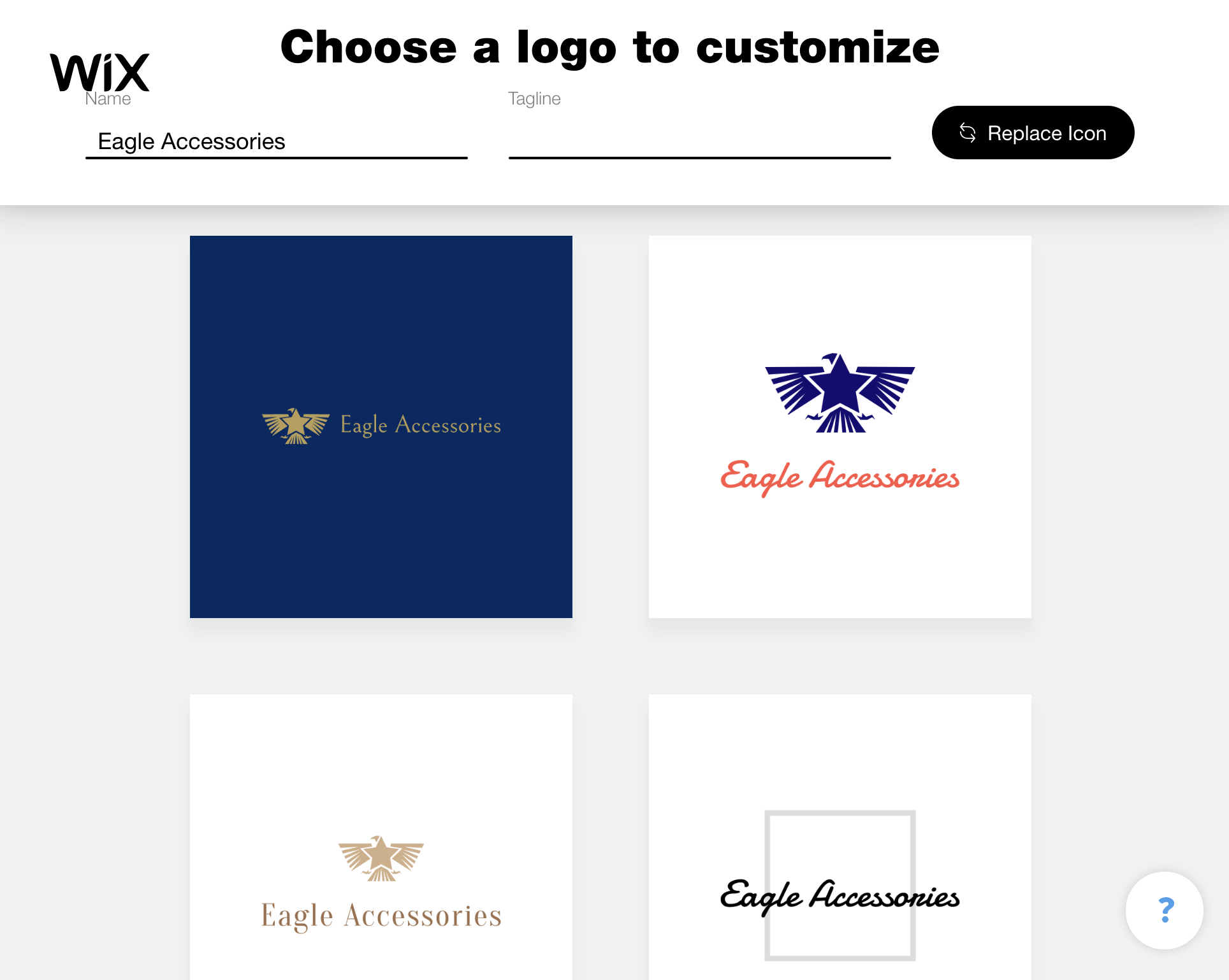 DesignEvo
is a nice alternative if you want to create your logo from a template. It offers over 10,000 templates, with a great selection of ideas for eagle logos. Designs can be fully customized with fonts, colors, and backgrounds, and there's a (limited) free plan, too.
Get Your Eagle Logo For an Affordable Price
If, like me, you're surprised by how little a unique, professionally designed logo actually costs, or intrigued by the idea of an AI-generated logo, why not get started with your new eagle logo today? It's quite interesting how it can work out cheaper to
hire a professional designer on Fiverr
 than to try and make one yourself using a logo creator. But if you do want to try it on your own,
Wix Logo Maker
 is pretty cheap, easy to use, and by far the best DIY logo creator I've tried! Still undecided? Check out more options on our
list of the top logo design services
.